Track & Field Wall of Honor Reception
ABOUT THE EVENT: All are welcome to join our Track & Field community for an afternoon reception and ceremony honoring our 2020 Wall of Honor Inductees. Admission includes lunch, light refreshments, beer and wine. Click the blue button above to register online or the flyer to the right for more info.
HONOREES:

Joe Hayes '62, Rich Dillon '62, Paul Daly '62, & John Tietjen '62 (Indoor National Champions – Two-Mile Relay 8:00.0)

Jose Bautista '76 (Led Molloy to the 1975 CHSAA Cross Country Championship)

Jessica Conter '08 (Scored 26 points leading Molloy to both Indoor and Outdoor CHSAA Titles)

Brittany Dombrowski '09 (Holds New York State Catholic Javelin record)

Dylan Dombrowski '07 (Set NYC Catholic records in Javelin and Decathlon)

AJ Power '84 (Dedicated coach for over 25 years)

Rebecca Power '08 (Set CHSAA record in the Pole Vault and won 11 Individual City Titles)

Rafael Ramos '96 (Ranked #2 in the USA in the 300M)

Ed Walsh '66 (Set New York State Catholic record in the 3 Mile Run)
---
Alumni Education Network Reception
When: Thursday, March 26, 2020 | 4:30pm
Where: Molloy (William J. Murphy Library)
Who: Alumni in fields of Education, Mental Health, Occupational Therapy, Physical Therapy, Speech Therapy, Counseling
Admission: Free (Suggested Donation of $20)
Contact: alumni@molloyhs.org or Chris Dougherty '91 at cdougherty@molloyhs.org
Molloy is proud to announce its second Alumni Education Network Reception on Thursday, March 26th sponsored by President Richard Karsten '81 and the Stanner Alumni Center. Stanners are invited to join us at Molloy for small bites, refreshments, and networking opportunities. The event will also feature guest speaker Jack Flynn '94, Director of Student Conduct at St. John's University.
---
Molloy Blood Drive
When: Tuesday, March 10, 2020 | 8:00AM – 2:00PM
Where: Archbishop Molloy High School
Who: All Welcome
Contact: Ms. Maria Gallagher, RN | mgallagher@molloyhs.org
Molloy's annual Blood Drive, sponsored by the New York Blood Center (NYBC), is set for Tuesday, March 10th from 8:00am–2:00pm in the Jack Curran Gym. Alumni and family members are invited to join our students and faculty in giving the gift of life. According to the NYBC, one in three people will need a blood donation sometime during their lives, and with blood lasting only 42 days, donations are critically important throughout the year. No advanced signup is required. Share the flyer to the right or click the following link for info on eligibility. | Download NYBC Brochure
---
Women at Work Panel
When: Wednesday, March 11, 2020 | 2:15pm
Where: Molloy's Ralph DeChiaro Theater
Who: All Welcome!
Contact: alumni@molloyhs.org
Molloy's GERLL Club (Girls Empowerment for Real Life Leadership) will host its next Women at Work panel discussion on Wednesday, March 11th at 2:15pm in the Ralph DeChiaro Theater. We will be joined by five panelists who will share their experiences as professional women, insights and advice, and participate in a Q&A. Fields that will be represented include law, public service, medicine, art and science. Alumni and parents are invited to attend. We look forward to this inspiring event! (More information about our panelists will be shared on social media next week. Follow us on Instagram, Facebook, Twitter and LinkedIn)
If you are a Molloy alumna and would like to participate in a future Women at Work panel please contact alumni@molloyhs.org. Let's connect!


Sold Out Wine Tasting Explores Pacific Northwest Wines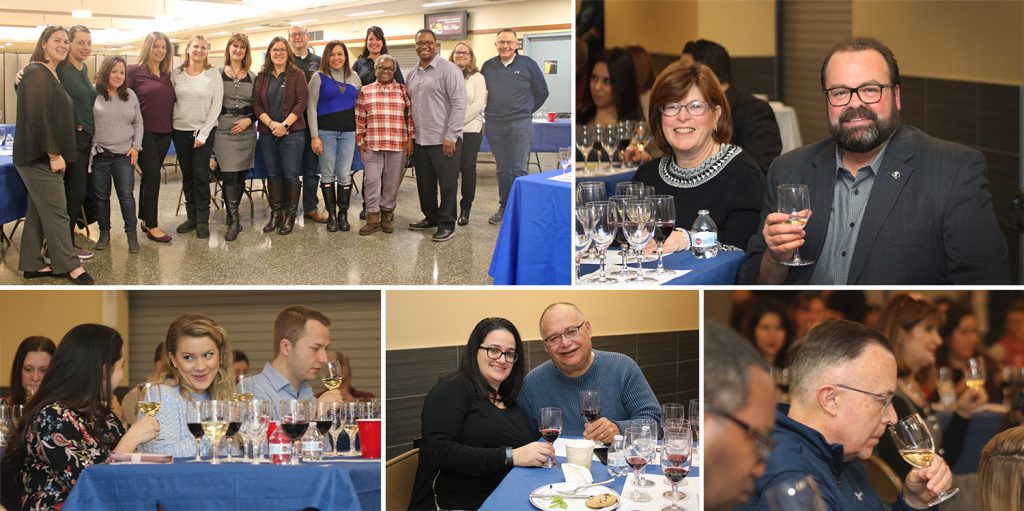 Earlier this month, Molloy hosted 70 alumni, parents, and friends for its latest Wine Tasting! Mr. Jim Sheehan '75, Molloy's in-house wine expert, led an enthusiastic crowd through a tasting of six carefull selected wines from the Pacific Northwest United States. Wines featured included: Chateau Ste Michel (Pinot Gris, Vintage 2017), A to Z Oregon Chardonnay (2018), The Four Graces (Willamette Valley, 2017 Pinot Noir), Colene Clemens Vineyards Dopp Creek (Pinot Noir 2017), Columbia Crest (Cabernet Sauvignon 2016), Substance Washington State (Cabernet Sauvignon 2017). Participants learned techniques to evaluate each wine based on taste, aroma, color, finish, and much more. A few lucky winners walked away with a few prize bottles at the end of the night after answering some tough trivia questions. Good thing they were paying attention!
In case you missed the event, Jim shared a bit about what makes Pacific Northwest wines so interesting to him: "Although the wines of the Pacific Northwest United States don't carry the immediate cache of those from California, there are many splendid wines from Oregon and Washington State, many of which are more affordable than their California cousins. The climate and terroir of a number of appelations in the Willamette Valley, Oregon, share strikingly close characteristics with those of Burgundy, the region which sports the most dynamic and expressive Pinot Noirs in the world. And in Washington, Cabernet Sauvignon, Merlot, Syrah and a diversity of red blends lead the way with quite a few stunning, unexpectedly expressive stars."
We would like to extend a special thank you to Ms. Heather Green-Wresch (Director of Admissions) for organizing this year's event, and to our Parents Guild for their volunteer efforts during setup and breakdown. If you have any questions about the Molloy Wine Tasting or the wines featured please contact alumni@molloyhs.org.

---
Longtime Softball Coach Maureen Rosenbaum To Be Inducted Into GCHSAA Hall of Fame This Spring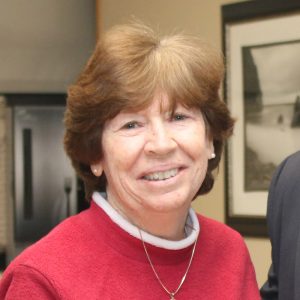 The Catholic High School Athletic Association (CHSAA) has announced that Ms. Maureen Rosenbaum, Molloy's longtime varsity softball coach, will be inducted into the GCHSAA Hall of Fame on Thursday, April 2nd at Russo's on the Bay. Coach Rosenbaum has been a dedicated coach at Molloy for the past 19 years. She spent one year as JV softball coach and 18 years as varsity softball coach. She was also Molloy's inaugural JV volleyball coach. Under Coach Rosenbaum's leadership, Molloy's varsity softball team has won two State Championships (2011, 2015), finished as State Finalists three times and State Semi-Finalists four times, won six City Championships, finished as City Finalists three times, and won nine Brooklyn/Queens Diocesan Championships. She also led the JV softball team to a championship in its inaugural season (2001).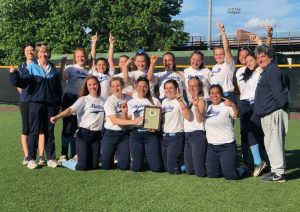 Coach Rosenbaum has been previously recognized as coach of the 2011 Mayor's Cup Inaugural Game, a recipient of six Coach of the Year Awards (NY Post, Times Ledger, Daily news, and Queens Courier), the 2011 ESPN Coach of the Year, and the 2015 Class "AA" State Co-Coach of the Year. In addition, approximately 30 of Coach Rosenbaum's former players have gone on to play college ball to date. Six former players will be active as of spring 2020.
Congratulations "Rosie" and thank you for your hard work, dedication, and leadership! Contact alumni@molloyhs.org for more information about the GCHSAA Hall of Fame event.
---
Marist Presidents & Principals Meet in Queens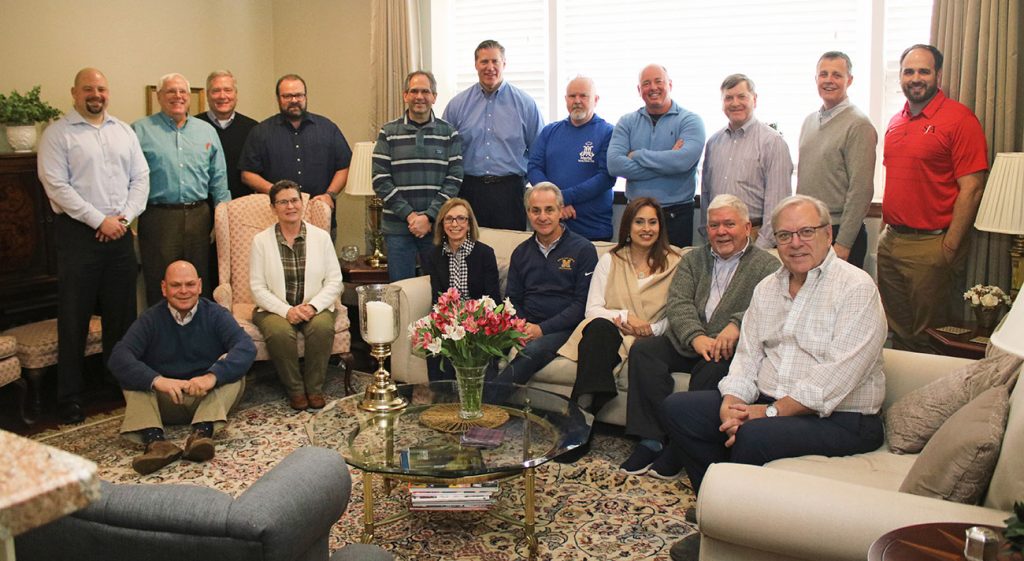 On February 11th, President Richard Karsten '81 and Principal Dr. Darius Penikas attended a meeting of all the presidents and principals of Marist schools in the United States. The meeting was held at the Marist Brothers Provincial Office in Forest Hills, NY. During the meeting, Mr. Karsten and Dr. Penikas shared a report which included news about Molloy's recent capital projects, new additions to the school's curriculum, and an update on how the initiatives outlined in Molloy's Strategic Plan are being put into action.
---
Karla Hernandez '12 Shares Peace Corps Story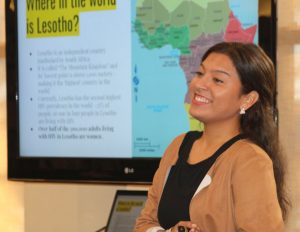 Molloy's G.E.R.L.L. Club (Girls Empowerment for Real Life Leadership) recently welcomed Karla Hernandez '12 as a guest speaker to share her amazing story. Over two years ago, Karla decided to join the Peace Corps. Before she departed for her assignment, Karla went through 11 weeks of training which included cross-cultural immersion, language classes, and informational classes about working with youth and people with HIV. After training, Karla was sent to Lesotho, a small, landlocked country within the border of South Africa. There she worked as a teacher for an organization called Good Shephard Center for Teenage Mothers (run by the Good Shephard Sisters). Karla worked with a group of teenage mothers daily and taught life skills, computer skills, financial literacy, physical education (she accompanied her students on daily runs), nutrition, professional development, and more. "In Lesotho, teenage mothers only have one school in the country where they are allowed to go, and that's where I worked," explained Karla.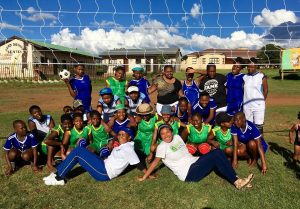 Karla shared that one of the greatest challenges facing not only teenage mothers but all of Lesotho is the prevalence of HIV. "Lesotho ranks second highest in the world in cases of HIV. A lot of my work was related to reproductive health and HIV prevention." Another serious issue in Lesotho is gender-related violence. "The center provides counseling, but a lot of the volunteers, myself included, engage in psycho-social support," said Karla.
Karla worked outside the Good Shephard Center as well, providing her services at a community clinic. While there she introduced a life skills curriculum and a health-focused program in English at the preschool. "The sisters wanted us to teach more English and integrate more health topics related to childhood. I taught many skills they could bring back to their communities."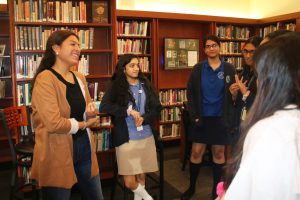 "When I went to Lesotho I didn't know anything about the place," said Karla. "Reflecting now, the most rewarding thing was seeing people have that 'aha!' moment – when my students realized it was possible for them to be leaders, compete in sports, and start their own businesses. The Peace Corps is about helping people bring out their best qualities and strengths."
After 27 months, Karla returned to the United States in December. Her experience in Lesotho helped her confidence grow, and she is considering continuing her work in global public health. For now she is enjoying being back home – including back at Molloy! At the conclusion of her presentation, Karla fielded questions from our students and even showed off some local garments she brought home from Lesotho. Thank you, Karla, for inspiring our students with your amazing story! | More About The Peace Corps
---
Now Open! "City/Game: Basketball in New York"

Pictured above L-R: Entry of City/Game: Basketball in New York Exhibit at the Museum of the city of New York; Tweet posted by Kenny Anderson '89 while viewing his game-worn Molloy jersey at the exhibit.
The Museum of the City of New York (MCNY) has opened City/Game: Basketball in New York. The exhibit "intertwines New York's vibrant history of street and playground basketball with the narratives of the players, coaches, and moments that have made the city's high school, college, and professional game the stuff of legend." Molloy is represented with items including vintage photos of the late Jack Curran, a ball signed by Lou Carnesecca '43 and one of his championship teams, and a game-worn high school jersey sported by Kenny Anderson '89. The exhibit will run through January 3, 2021. The MCNY is located at 1220 Fifth Avenue at 103rd Street in Manhattan and is open daily from 10am-6pm. Click the following links for more info or watch the trailer below: Press Release | Museum Website | Exhibit Website
---
I A.M. Green Club Organizes Fundraiser for Australia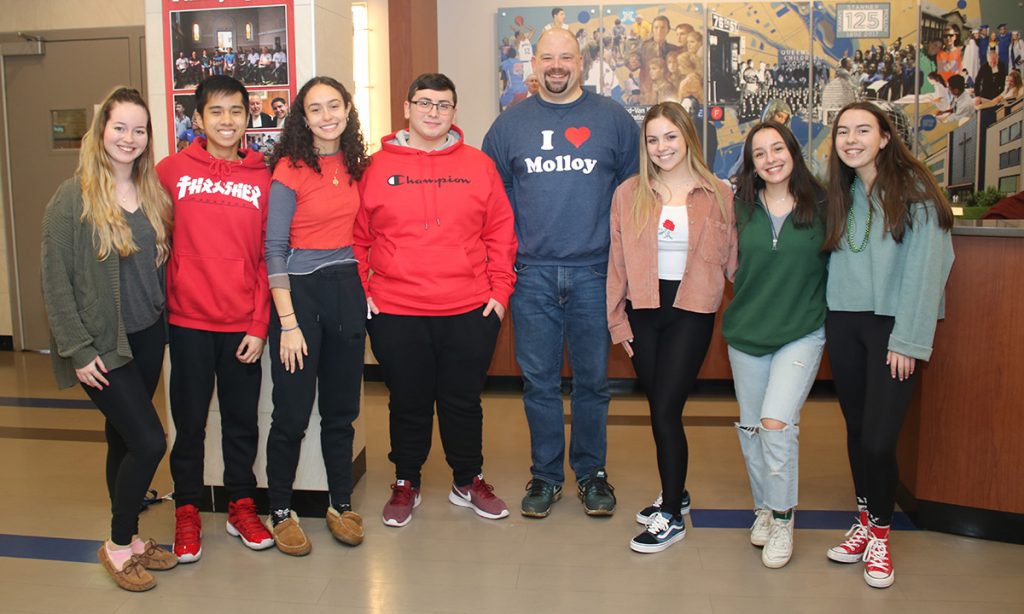 During the week of February 10th, members of Molloy's I A.M. Green Environmental Club organized a schoolwide fundraiser to support the response to the recent devastating wildfires in Australia. The money raised by each homeroom was split between The Red Cross and the World Wildlife Fund. Students who made a donation earned a dress down day on Valentine's Day. Pictured above are senior members of I A.M. Green with our Principal, Dr. Darius Penikas.
---
Freshman Softball Player Gets Creative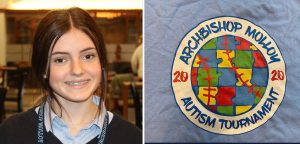 Freshman softball player Allie Atwell '23 recently created the logo pictured right for the Annual Autism Tournament. Molloy players will wear shirts bearing Allie's logo instead of their usual jerseys when they participate in the tournament this coming spring. According to Coach Lou Santos, Molloy softball players raise over $8,000 for autism research every year at the tournament.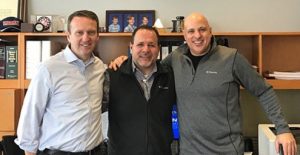 Pictured above L-R: Matt Abrusci '85, John Fanuka '85, and Tom Sartorio '84. Tom and John have been working together at The Royal Bank of Canada for several years, and once Matt joined their team a few weeks ago, John felt it was time to send a picture in to The Beehive!
---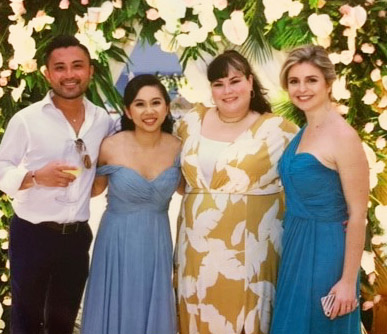 Tiffany Corro '16 recently attended the wedding of her sister, Zoulaika Khristanne Auerbach (TMLA '06) and brother-in-law, Ian Auerbach. Friends of the bride Anton Agoncillo '06, Lana (Belasic) Bansen '06, and Jill Santos '06 also attended the wedding and joined Tiffany for a Stanner photo. The catch? The wedding was all the way at the Crimson Resort and Spa in Mactan Lapu Lapu City, Philippines.
---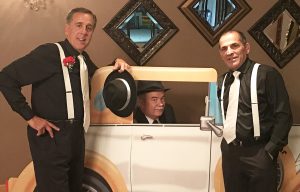 The following was submitted by Robert DiOrio '75: "Unbeknownst to each of us, three Stanner alumni recently attended a roaring 20s party in Philadelphia. Pictured from left to right: Robert DiOrio '75, John McGahan '76; and Frank Schiotis '76. Apologies to our wives, but what a surprise for us to see each other and to talk all night about our days at Molloy."
---
On February 8th, Ryan Contino '96 was honored by the Staten Island Athletic Club with the Scott LaPiedra Award. This award is given annually to "a city worker who has excelled at the sport of running."
---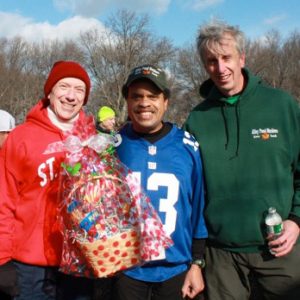 The following was submitted by John Doyle '77: In 2008, Robert Pasqual '77 searched for a race to run on Superbowl Sunday and could only locate one local race held by the NYRRC. As with all their races it was sold out and it was relatively expensive. So as any smart entrepreneurial Stanner would do, Bob decided to start his own race with the help of his track club, the Alley Pond Striders. The goal was to create an event that would be both a fun and family-friendly experience while also somewhat unique to pay due respect to the pseudo-holiday known as Super Bowl Sunday. Bob created a 3×1 mile relay so a family, or group of '77 Stanners, could participate. He replaced the standard relay baton with a mini football and modeled the award ceremony after a tailgate party with barbecue and "munchie" prizes. The race, held at Alley Pond Park and known as the Alley Bowl, has now run for 10 years with the largest number of entrants being close to about 70 individuals or 20 teams. Participants travel from the Bronx, Long Island, New Jersey, and Manhattan. The most successful team, the Front Runners, are regular participants and have won the event five times! Pictured: John Doyle '77, Bob Pasqual '77, and Peter Hoey '77, third place winners at Alley Bowl X.
---
Prayer Intention
Please keep Eugene Devine '90 in your prayers as he continues his recovery from a recent health matter.



We are saddened to share the passing of John Francis Leonard '64 on February 19, 2020. John was a proud Stanner and longtime supporter of Molloy. He was born April 25, 1947, in Brooklyn, New York. After graduation, John attended St. John's University and subsequently earned a Juris Doctorate at St. John's University School of Law. He served for many years as a Court Officer in the New York State court system. In 1988, he moved to New Jersey and served as Municipal Court Judge in Dunellen, South Bound Brook, and other municipalities. A loyal friend to both people and animals, he is survived by his wife of 48 years, Eileen, daughters Patricia and Barbara, and son John, as well as other family and friends. Please keep him and those who loved him in your prayers. | Memorial Page

Please pray for the repose of the soul of Fr. Edward F. Boes, SA, '77, who passed away February 26, 2020. Fr. Edward was born in Brooklyn, NY. He became a Friar of the Atonement in August 1992, professing first vows in 1994 and final vows in 1997. Fr. Edward was ordained to the priesthood in 1998. In 1997, Fr. Edward received his Master of Divinity degree in Theology from Washington Theological Union in Washington DC. He served as Associate Pastor of St. Joseph the Worker Parish in Vancouver, BC from 1996-2000. He was novice director at the St. Francis Novitiate at Graymoor from 2000-2005 and served as Chaplain at St. Joseph's Rehab Center in Saranac Lake in 2005. In 2009, Fr. Edward was appointed Rector of the Church of Sant'Onofrio at Gianicolo in Rome. As of 2019, Fr. Edward was the Friars' Novice Director at the Assisi Novitiate and he served on their International Board of Admissions and their Formation Team. Please keep Fr. Edward and his family in your prayers. | Memorial Page

We are saddened to share the passing of Thomas Ward '52 on January 1, 2020. Thomas served with the US Navy during the Korean War, and later earned a BS in Industrial Relations from leMoyne College. He spent 21 years working at GE and was later appointed Senior VP of Human Resources at Rubbermaid in 1980. In retirement, Thomas pursued his passion for photography, travel, and learning. He cared greatly for, and supported the Boys and Girls Club of Sarasota. He is remembered as an amazing husband, father, grandfather, and friend providing love, counsel, and lifelong memories. Please keep Thomas and the Ward family in your prayers. | Memorial Page

Please pray for the repose of the soul of Vincent J. Flaherty 62, who passed away on January 26, 2020. | Memorial Page