Dear Stanner Community,
We would like to provide an update regarding the latest on Molloy's response to the spread of COVID-19. As of this writing there has not been a single confirmed case of COVID-19 at Archbishop Molloy High School. Our primary goal in everything we do is to ensure safety and well-being of our students. In light of emerging concerns and the speed with which this situation is evolving, we believed it wise to use Friday March 13th as a test run for continuing learning without face-to-face instruction. Molloy leadership used this time to continue to assess the situation and the best way forward. In addition, all Molloy related activities such as club meetings, retreats, and athletics are suspended through March 17th. These actions will allow us to:
Perform a thorough cleaning and disinfection of our entire facility in accordance with CDC standards.
Initiate a distance learning approach.
Provide us time to better assess the development of this pandemic in our society and plan accordingly.
Students were instructed to bring home their books and iPads on March 12th and to use their time on March 13th to check for communication from their teachers via Edmodo, Google Classroom, and email.
Molloy's calendar already designated both Monday and Tuesday as days off (Walkathon Holiday, St. Patrick's Day). All faculty, staff, and students will be contacted via Stanner email and our website by 8:00 PM on Monday the 16th with information about how we will proceed over the next weeks.
In addition, the Stanner Alumni Center has taken steps to ensure the safety and health of our community by postponing two upcoming events in March. These include:
POSTPONED: Track & Field Wall of Honor Reception (3/21/20)
POSTPONED: Alumni Education Network Reception (3/26/20)
We will provide more information about these events, such as rescheduled dates, when it becomes available. We apologize for any inconvenience this may cause. Thank you for your understanding and cooperation as we act with the best interests of our community in mind. At present, alumni events planned for late spring, including the Stanner Golf Classic (May 4th) and Walk/Run for Karina (May 16th), remain on our events calendar unchanged, however we will continue to monitor this developing situation and keep you as informed as possible about our plans.
Should you have any questions regarding alumni events please contact the Stanner Alumni Center any time at alumni@molloyhs.org. For the latest updates on Molloy's response to COVID-19 please visit our homepage at www.molloyhs.org or follow our social media feeds.
Sincerely,
Richard Karsten '81, President
Dr. Darius Penikas, Principal


Stanners Support Annual Blood Drive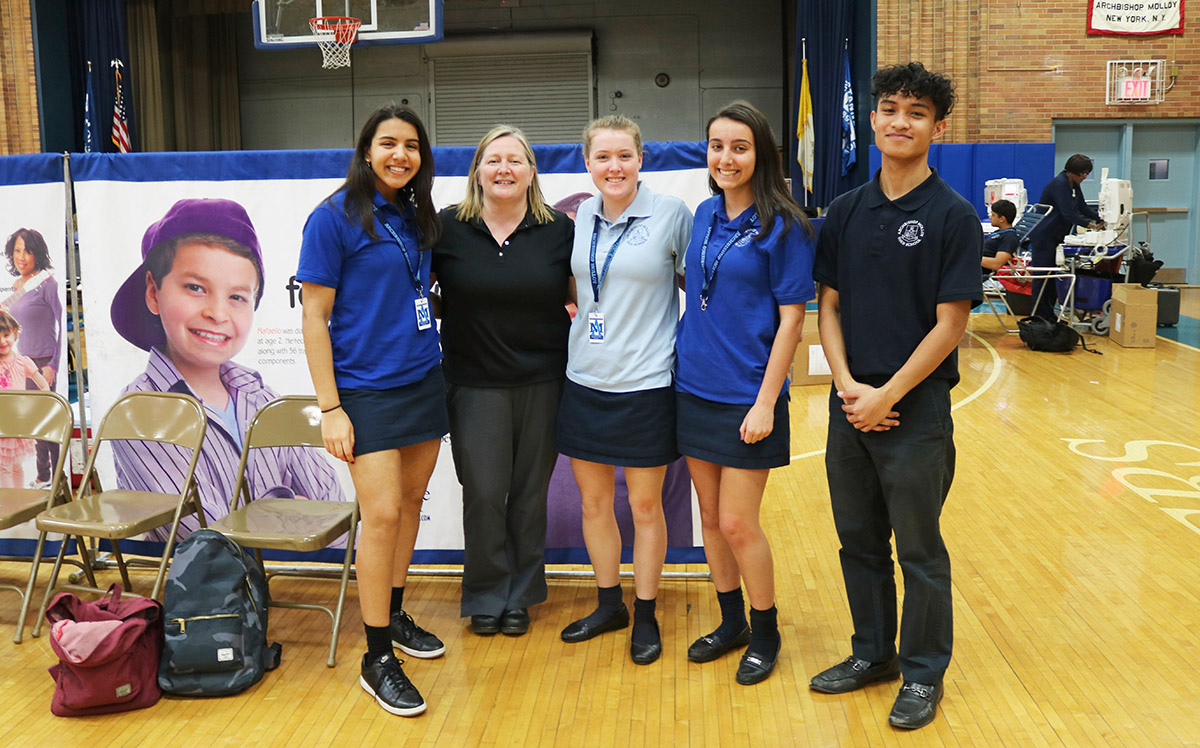 On March 10th, 90 students, faculty, and members of our community donated 114 pints of blood for people in need. Molloy's Annual Blood Drive was organized by Ms. Maria Gallagher, RN, and donations were collected by the New York Blood Center. 24 people were able to donate on the Alyx Machine, which allows a donor to give two units of blood. Thank you to everyone who donated blood, to Ms. Gallagher for all of her hard work, and to the NY Blood Center for spending the day at Molloy. Our next Blood Drive has been tentatively set for Tuesday, March 9, 2021.
---
Seniors Present at NYC Science & Engineering Fair
Six Molloy seniors were selected to present their research and compete in the New York City Science and Engineering Fair on March 8th at Citi Field. The following seniors represented Molloy at the fair:
Agnes Kowalczyk: Effect of Appendectomies on Serotonin Levels in the Gastrointestinal Tract (NYU)

Olga Mavridis: Observational Learning of Material Behavior in Mice (NYU)

Caitlin O'Neil: Cell Analysis of Gut Endoderm Morphogenesis (Memorial Sloan Kettering)

Tara O'Reilly: Influence of Instagram on Adolescents' Eating Behaviors (Molloy)

Johnathan Overton: What Influences Food Decisions in a High School Student Population (Weill Cornell)

Khushalee Oza: Maintaining Road Safety with the Arduino and NeuroSky Device (Hofstra)
In related news, based on his work at Hofstra University, Phillip Barbera '21 has been included as an author in two research papers. These will be presented at the southeastern and northeastern annual Geological Society of America meeting on Sunday, March 22nd at the Hyatt Regency Reston, Lake Anne. The papers are: Trace Metal Analysis in Long Island Marsh Cores and Sediment Grain Size Analysis in Long Island Marsh Cores. Science Research teacher Ms. Mary Mallia said of these achievements, "It is amazing what our students can accomplish!"
---
Congrats to Our Champs!

The Beehive extends sincere congratulations to Molloy's Boys Freshman Basketball Team and Coach DeSarno on winning the CHSAA City Championship, and to our JV Girls Basketball Team and Coach Harnischfeger on winning the CHSAA City Championship!
---
Senior's Art to be Featured in Museum Exhibit
Senior Genèvieve Puglissi '20 won a Gold Key Regional Award for her artwork "Good Omens" at the Scholastic Art & Writing Awards competition. Her work will be exhibited at The Metropolitan Museum of Art from March 20th to May 25th. Scholastic Art & Writing Awards is the nation's longest-running and most prestigious scholarship and recognition program. There is first a regional competition within the United States that students must apply to. There are approximately 340,000 works submitted. Winners can receive a gold key, silver key, or honorable mention. Gold key recipients' works in both art and writing are automatically considered for national-level consideration and receive a physical gold key.
---
Class of 2020 Presents Senior Showcase
In February, members of the Class of 2020 presented their senior showcase! The show was largely written by the senior class and co-directed by the seniors and Theater Director Ms. Shannon Winters' 06. The theme of the show was "Freaky Friday" which was all about swapping places with someone the complete opposite of yourself. For instance, senior Jake Temkin '20 found out what it would be like to be our principal, Dr. Penikas (pictured below far left)! In all the seniors presented two spirited performances and made lasting memories taking center stage.



---
Jim Kinnier Stanner Golf Classic
Alumni, parents, corporate sponsors, and friends have continued the annual tradition of the Jim Kinnier Stanner Golf Classic since 1987. In that time, over $2 million has been raised through the outing in support of the scholarship program at Archbishop Molloy High School. These scholarships have impacted many bright young men and women. Whether signing up as a single golfer or a foursome, reserving a sponsorship package, purchasing a journal ad or raffle tickets, volunteering, or making a tax-deductible donation, you make a significant difference in the lives of our students. Click the links above to contact us or find more information. A digital invitation is also available for download on our website.
---
Walk/Run for Karina – Save the Date
When: Saturday, May 16, 2020
Where: Archbishop Molloy High School
Who: Everyone!
Contact: Matt Rizzotti '04 | mrizzotti@molloyhs.org
We invite the Molloy community to join us on Saturday, May 16th for our fourth annual Walk/Run for Karina. Together we will remember and celebrate the life of Karina Vetrano '04 with a spirited Walk/Run, 5K Race, Kids Relay, and other festivities. Please stay tuned for a schedule of events, registration form, and more information. We look forward to sharing this special day with our community.


Class of 1977 Gathers

by John Doyle '77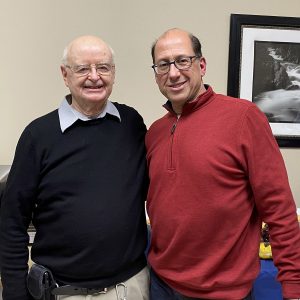 Earlier this winter, about 30 Stanners from the Class of 1977 continued a tradition, which they started about 10 years ago, namely celebrating friendship, nurturing the Marist bond, and continuing to realize the school motto – Not For School, But For Life. However, this year we broke with tradition by breaking bread at Molloy instead of Dee's Restaurant (Forest Hills). As nostalgic as it was, some were skeptical about the change, yet it turned out to be a priceless and unforgettable evening. We literally sat in the same faculty cafeteria where decades of amazing faculty and administrators probably sat and spoke about the troubled Class of 1977. If the walls held memories, or if one of our engineering alumni had created a "time turner", we could have listened to their words of wisdom and saw ourselves through their eyes. Well fortunately we had the next best option – we each shared our own pearls of wisdom and recollections – and we were blessed with the presence of Br. James Maher and Br. James Norton '63. Those four hours in the faculty cafeteria were magical and flew by almost as quickly as our 43 years since graduation in 1977 and the 60 years of our lives.
Many shared stories of near misses where seconds and choices avoided suspension or other penalty, but most of our stories simply reminded us of all that we had to be thankful for. Our Stanner education was more than the classroom ABCs and more than the extracurricular – it was a shaping of our values, the reminder of God's presence in our lives and service to others, and an appreciation and love for one another. Yes, that night took some planning, as well as some help from Molloy administration and food services (thank You President Richard Karsten '81 and Alumni Development Director Craig Katinas '93), but most importantly it took people who care about and value the bond that is at the core of who we are – our Marist and Stanner DNA. May "God Bless All Stanners" and their families!
Addendum: The participating members of the Class of 1977 were kind enough to make a generous gift to Molloy on behalf of the class. The kindness of our alumni will directly benefit the students we serve. Thank you, Class of 1977!

---
Class Updates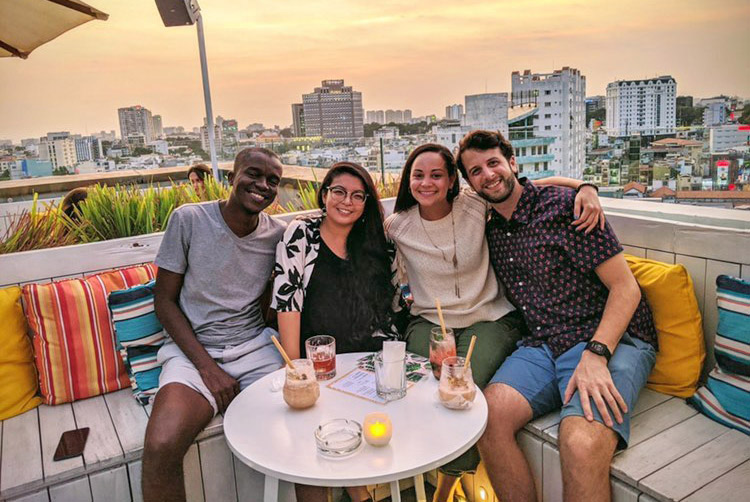 Katherine Azcona '07 submitted this great update: "After posting about visiting Vietnam on my Instagram story, Mary Perez '07 reached out to let me know that she lives in Ho Chi Minh City. We were both in the Class of 2007 and I was also traveling with my boyfriend and another fellow classmate – Tim Hanna '07. We met up with Mary and her boyfriend Stewart for dinner and drinks twice while in Saigon. We caught up like 13 years had not passed by. Mary and Stewart met in Vietnam where they are both English teachers. Mary has been living there for the past five years. This meeting reminded us that Non scholae sed vitae truly lives within every Stanner!"



Please pray for the repose of the soul of Brian Juodzevich '68, who passed away on February 22, 2020. Please also keep Brian's family in your prayers.

Please pray for the repose of the soul of John DiMeo, father of John DiMeo '92, Doug DiMeo '95 and Jeff DiMeo '96, and brother-in-law of Brother James Norton. Please also keep John's family in your prayers.