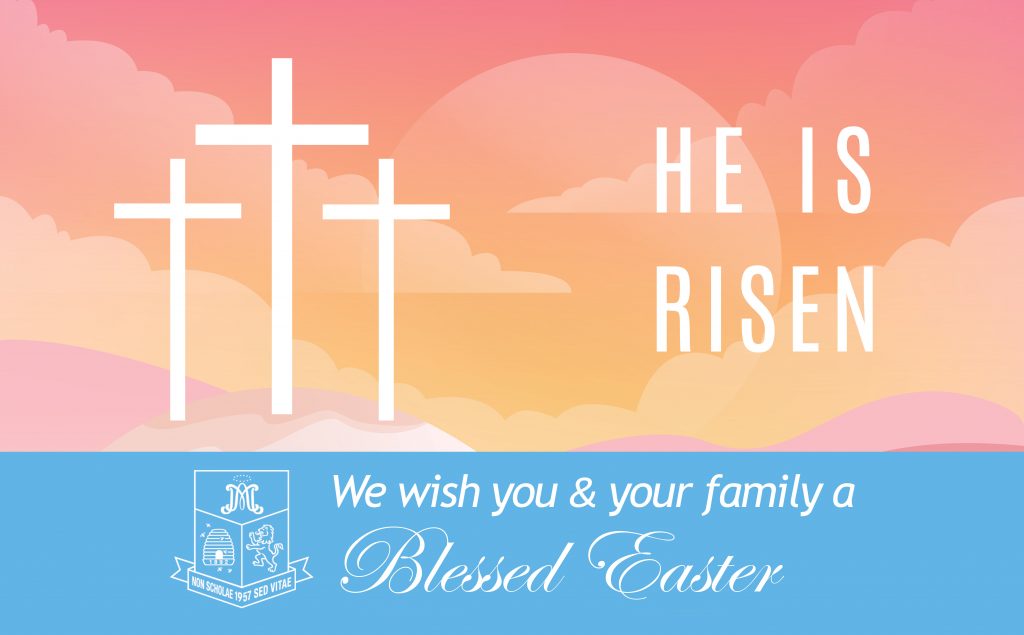 ---
Remembering Br. Bob Andrews, FMS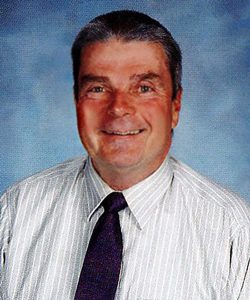 It is with sadness that we share the passing of Br. Bob Andrews, FMS, on April 7, 2020. Br. Bob joined the Molloy faculty in 1975 and served Molloy for over 40 years. He taught social studies and religion while also enjoying a nearly 50 year coaching career between his time at St. Helen's and Molloy. He was a passionate Track & Field and Cross Country coach who helped countless Stanners tap into their full potential. He retired from teaching in June 2015, but remained on Molloy's coaching staff in retirement.
During Br. Bob's tenure, Stanner teams won a NY State Cross Country Championship and 17 New York City Catholic Indoor and Outdoor Titles, as well as over 75 Brooklyn/Queens Catholic Sectional Championships. Under Br. Bob's tutelage, Molloy athletes won 3 Catholic Individual Cross Country Races and 11 New York State individual titles.
Br. Bob attended St. Peter's High School for Boys and ran for Coach John Tobin. He was Cross Country Captain at Marist College where he graduated with a degree in History in 1969. Br. Bob completed his Master's Degree in Religious Studies at Webster College.
Br. Bob is a member of the CHSAA Hall of Fame, the Armory Hall of Fame, the US Track & Field Hall of Fame, and resides on Molloy's Track & Field Wall of Honor. The Marist Brothers have announced that due to current restrictions on public gatherings, a Memorial Mass for Br. Bob will be held at a later date. For now, we ask that you please keep Br. Bob, the Marist Brothers, and all who know and love him in your prayers.
We invite you to send your remembrances and photos of Br. Bob Andrews to alumni@molloyhs.org.


Watch Our Holy Week Virtual Liturgy
If you missed Wednesday's live stream at 10:00AM, don't worry! Our Holy Week Virtual Liturgy is available for viewing below.

---
This Week In Distance Learning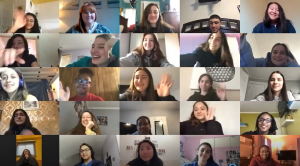 As distance learning has progressed since March 13th, Molloy's administration and faculty have been exploring new ways to conduct classes and engage students. The initial phase of distance learning focused on a smooth transition with established tools in Molloy's Learning Management System (LMS). That means utilizing apps that both teachers and students were already familiar with such as Google Classroom, Edmodo, and Schoology. Now, in phase two, teachers are employing video conferencing and screencasting at a greater frequency. Apps such as Pro Zoom, Educreations, Screencastify, and Loom are proving to be essential tools that allow teachers to inject their personal classroom styles into their virtual lessons. Teachers can appear on camera, "screencast" or share their iPad or laptop screen with students, or even record voice-over on any video. A note on Pro Zoom: it offers a much higher level of security than the non-licensed basic version, meaning sessions between Molloy's teachers and students or counselors and peer groups are safe and secure.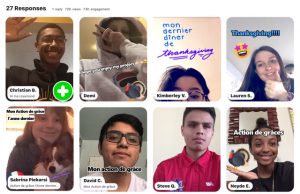 Several teachers recently shared news from their virtual classrooms with The Beehive. Ms. Shannon Winters '06 shared that her freshman class is reading Romeo and Juliet while her AP Literature class is reading Jane Eyre. Ms. Winters noted that using Pro Zoom with her AP Lit class (pictured above) has been great because "it has fostered great discussions similar to what we had been doing in face-to-face classes." In Mr. Ed Shannon's '84 Criminal Justice class, students are researching the history of the FBI. With approximately 11,400 special agents and over 16,000 other employees in administrative, technical, and supportive roles, the FBI has the broadest jurisdiction of any federal agency. Discussions have included FBI leadership, what types of crimes the agency initially investigated, and how the role of the FBI has changed since 9/11. Ms. Rosamond's French class recently used the Flipgrid app during a virtual class (pictured left). The app allows multiple users to record videos at the same time. The assignment focused on using the past tense in French, and students were asked to talk about their last Thanksgiving.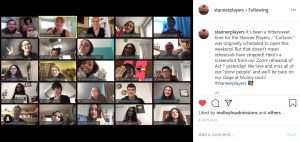 We also have some club updates! First, the staff at The Stanner newspaper is working on their spring issue, which will focus on the impact of COVID-19. They expect it to be released sometime after Easter. Speaking of publications, the Yearbook moderators report that Molloy's 2020 Yearbook has been approved for print! Students will receive their yearbooks later this spring. On March 27th, Ms. Winters met with the Stanner Players on Zoom to check in on the cast and crew. Their spring musical, Curtains, was originally set to run from April 2-5, but it was unfortunately postponed. Ms. Winters and the Stanner Players shared positive messages with each other and decided that, although their musical was postponed, they still wanted to hold virtual rehearsals on Zoom to keep the spirit of the show alive. "The show must go on" as they say! (Pictured right: Stanner Players Zoom rehearsal). Ms. Winters also asked alumni and current students to share their memories from past performances on Instagram. The response was overwhelming as tons of photos and videos were shared! You can find all of these memories under story highlights @stannerplayers.
NEWS FROM STEAM CLUB: STEAM Club members Amir Sattaur, Samantha Correa, Charles Chelstowski, and Xavier Mallo, are working on a design for TCEA's 3D Engineering Design Contest. TCEA is a Texas-based organization devoted to advancing technology in education. The competition started in February and is open to all students in the US. The prompt for this year's 3D design challenge is to develop a solution associated with wildfires in Australia.

In February, before the initiation of distance learning, the team met daily to record their Engineering Design Process (research, plan, prototype, test, document and commercialize) in an engineering logbook. They started to design a robot that's purpose is to facilitate the work firefighters endure in digging trenches for fire prevention (pictured right).

During distance learning, the team meets and collaborates in the cloud. Students share their work and ideas via Google Drive and emails. Charles, the team's principal 3D designer, successfully created the 3D prototype of the invention. "I was thinking of naming it Zeus," said Charles. "In Greek legends, Prometheus was the one to give fire to humanity. In this idea, that's the reason we have forest fires. Zeus punished Prometheus and tried to take the fire away. If our robot is fighting fires, it sort of fits." The team quickly accepted the name Zeus. The team has since been working on commercializing the Zeus Bot. The deadline for the submission was March 31st and the contest results will be announced in May.
---
Molloy Donates Lab Goggles to NewYork–Presbyterian
On March 31st, Molloy's administration, faculty, and alumni teamed up to help local healthcare providers. Allie Riccardi '08, who works at NewYork–Presbyterian Weill Cornell, contacted her former science teacher, Mr. Mark Verdi, to express her team's critical need for face shields to treat COVID-19 patients. Mr. Verdi put in a call to Principal Dr. Darius Penikas to suggest donating Molloy's supply of lab goggles. After consulting with our registered nurse, Ms. Maria Gallagher, the donation was quickly approved! Next, Mr. Jim Sheldon '88 and Br. Roy George '62 collected all the goggles from Molloy's labs (pictured left). Mr. Sheldon later dropped the goggles off at the home of Allie's fiancé, Charlie Gotard '08 (pictured center), while Allie was enjoying a well-deserved rest. Charlie once played for Coach Sheldon back when Molloy had a hockey team in the 2000s. Thank you Mr. Verdi, Mr. Sheldon, Br. Roy, Ms. Gallagher, Dr. Penikas, Allie and Charlie for making this donation possible! (Staff at NewYork–Presbyterian Weill Cornell wearing Molloy's lab goggles)
---
Pray Daily Novena with the Marist Community
US Provincial Brother Patrick McNamara and Molloy have been praying a novena every day from April 1st through April 9th. We have been using the Prayer of Pope Francis to Our Lady, Health of the Sick. Our intentions are for those who are sick with the COVID-19 virus, for healthcare professionals and all who are serving the sick, and for each other. If you would like to participate or catch up on the past week please find and recite the prayer below. Click the blue button to visit our website to recite the prayer along with members of the Marist community in daily videos.

O Mary, you shine continuously on our journey as a sign of salvation and hope. We entrust ourselves to you, Health of the Sick.
At the foot of the Cross you participated in Jesus' pain, with steadfast faith.
You, Salvation of the Roman People, know what we need.
We are certain that you will provide, so that, as you did at Cana of Galilee,
joy and feasting might return after this moment of trial.
Help us, Mother of Divine Love, to conform ourselves to the Father's will
and to do what Jesus tells us: He who took our sufferings upon Himself, and bore our sorrows to bring us,
through the Cross, to the joy of the Resurrection. Amen.
We seek refuge under your protection, O Holy Mother of God.
Do not despise our pleas – we who are put to the test – and deliver us from every danger, O glorious and blessed Virgin.
---

Senior Spotlight – Jade Rivera '20
As distance learning continues, Jade Rivera '20 has been working on assignments in AP Chemistry, AP Calculus BC, and AP Composition. Over the past few weeks, Jade has been using the Zoom video app to connect with teachers and classmates, as well as Khan Academy (free online course resources), Notability (note taking), Google Classroom, and Edmodo (class and club communications). In her downtime, Jade has connected with friends via FaceTime and Snapchat, while Gmail has been her "best friend." She has also participated in Netflix parties where she and her friends watch the same thing "together" while in their own homes.
She offers some words of encouragement to her classmates: "These past few weeks have been difficult. Our world has been turned upside down in a short time. Although it's difficult, let's adapt with it. Doing everything from home might not be the easiest, but it gives us what we all long for: TIME. Take advantage of this time for self-improvement and reflection. Learn something new. Do something with your family. We all have wished for school to be over, but now we long for normalcy. Take this time to remember what you had and appreciate it when it comes back. Stay safe!" Jade has taken her own advice by devoting more time to playing piano and ukulele, and painting and drawing. Looking ahead, Jade hasn't decided on her college yet, but she plans to study Biochemistry on a Pre-Pharmacy track.
---
Kumar '20 Wins Scholarship, Molloy Honored With Grant
Senior Cayla Kumar '20 has been selected by AXA Equitable as one of the winners of its inaugural Equitable Excellence Scholarship at the $2,500 level. As a result of Cayla's scholarship, Molloy will receive a grant of $1,000 in honor and appreciation of its ongoing dedication to Cayla and its community.
The Equitable Excellence Scholarship is a signature national program funded by Equitable Foundation and supports the company's mission to honor the courage, strength, and wisdom of students in pursuing higher education and making their dreams a reality.
Congratulations, Cayla, and thank you AXA Equitable for the generous grant!
---
Looking Back: Women at Work Panel (March 11, 2020)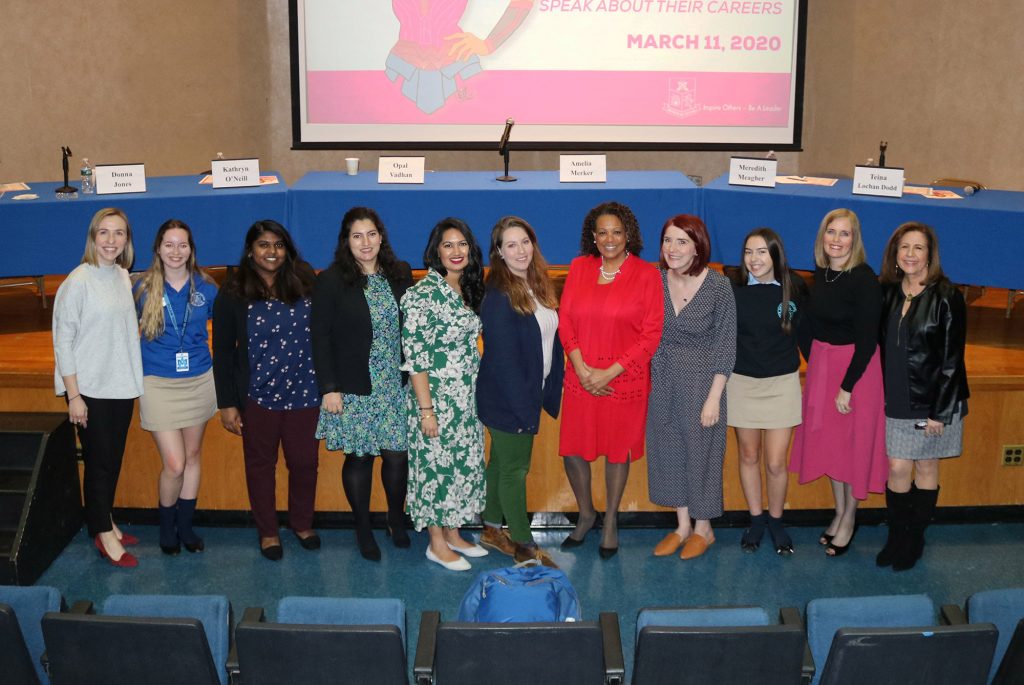 Pictured L-R: Ms. Sabina Kobinski '04, Jaimie Arocho-Kelly '20, Ms. Teina Lochan Dodd, Ms. Katheryn O'Neill '04, Ms. Opal Vadhan '11, Ms. Amelia Merker '10, Ms. Donna Jones, Ms. Meredith Meagher, PhD, '04, Elizabeth Sullivan '20, Ms. Kerry Henning, and Ms. MaryAnn Safrey. Special thanks to Ms. Safrey, Jaimie and Elizabeth for information provided for this story.
On March 11th, before the start of distance learning, Molloy's GERLL Club (Girls Empowerment for Real Life Leadership) hosted a very special Women at Work panel event after school. The panel featured alumnae and friends of Molloy representing fields including healthcare, law, development/non-profit, education, visual arts/design, and communications. The discussion focused on the experiences of each panelist within their industry, while each shared unique insights and professional advice.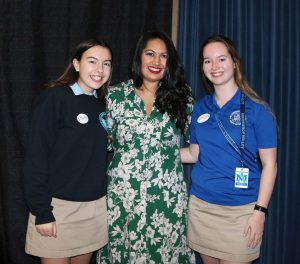 Moderator Ms. MaryAnn Safrey encouraged GERLL Club members to independently handle details of the event including recruiting the panelists. "I wanted to empower our students to contact the panelists, follow up on emails, and create questions. I mediated some, but our club leaders, Elizabeth Sullivan '20 and Jaimie Arocho-Kelly '20, were responsible, mature, and independent in their preparation." Ms. Safrey also noted that the audience enjoyed the comfortable cross-conversation among the panelists. "The panel picked up on one another's comments and elaborated on many issues relating to their careers and women in particular," said Ms. Safrey. (Pictured right: Elizabeth Sullivan '20, Opal Vadhan '11, and Jaimie Arocho-Kelly '20)
A brief Q&A session led to the conclusion of the event. Each panelist was later presented with a complimentary gift as a show of thanks. "It was another extraordinary panel with accomplished, inspiring women," raved Ms. Safrey.
"I think the Women at Work panel is one of the most beneficial events Molloy has to offer," said Jaimie. "It was so inspiring to hear these women share their stories and advice, and it was special that four of the six panelists graduated from Molloy. It's such a great opportunity for students to build connections in the numerous professional fields that were represented, and the panelists were really great at offering these connections. Two of them even offered me internships if I was interested. Organizing and hosting the event was such an amazing opportunity for Lizzie Sullivan and I, and we hope other Stanners can continue to benefit from future panels."
ABOUT THE PANELISTS:

Ms. Teina Lochan Dodd is a Registered Nurse practicing in the ICU of a Level 1 Trauma Center in Massachusetts. She treats many kinds of patients including those suffering from severe physical traumas.

Ms. Donna Jones has worked in education for over 26 years. She is currently the Superintendent of Schools for the Patchogue Medford School District in Suffolk County. She manages and oversees the daily operations of the 7,500 student school district.

Ms. Meredith Meagher, PhD, '04 is a Development Manager at the Coalition Against Trafficking in Women (CATW), an international non-profit organization based in NYC. She previously lived in Ireland for seven years where she worked at the Immigrant Council of Ireland and Ruhama, a frontline service organization in Dublin which works with women affected by human trafficking and gender-based violence.

Ms. Amelia Merker '10 is a Project Coordinator for the Exhibits Experience team at the New York Hall of Science, where she helps coordinate new exhibit projects and refurbish exhibits. Previously, Ms. Merker was a Design Lab Resident, designing and developing activities and experiences around engineering and design concepts to educate visitors of all ages.

Ms. Kathryn O'Neill '04 is an Assistant District Attorney in Queens County. She earned her J.D. from Boston University School of Law in 2011. Ms. O'Neill initially practiced civil litigation at a firm where she worked to obtain Medicaid benefits for residents of nursing homes and rehabilitation centers. She has since prosecuted crimes from domestic assaults to robberies and homicides. Her work extends to several other significant bureaus/units within Queens County.

Ms. Opal Vadhan '11 is the Executive Assistant and Trip Director to Secretary Hillary Rodham Clinton. She previously worked on the National Advance Team for Hillary for America. A Pace University graduate, Ms. Vadhan was named to Pace's "30 Under 30" list of influential young adults and is a two-time NY Women in Communications scholarship winner. Her past work experience also includes The White House, Sony Music Entertainment, NBC Nightly News, MSNBC, and The Rachael Ray Show. She has also been an avid volunteer with the Marist Young Adult program.

GERLL Club is seeking alumnae in a variety of industries to sit in on future Women at Work panels! If you are interested in serving as a panelist please contact alumni@molloyhs.org.
---
Looking Back: Janelle Boyd '09 Visits Molloy (February 2020)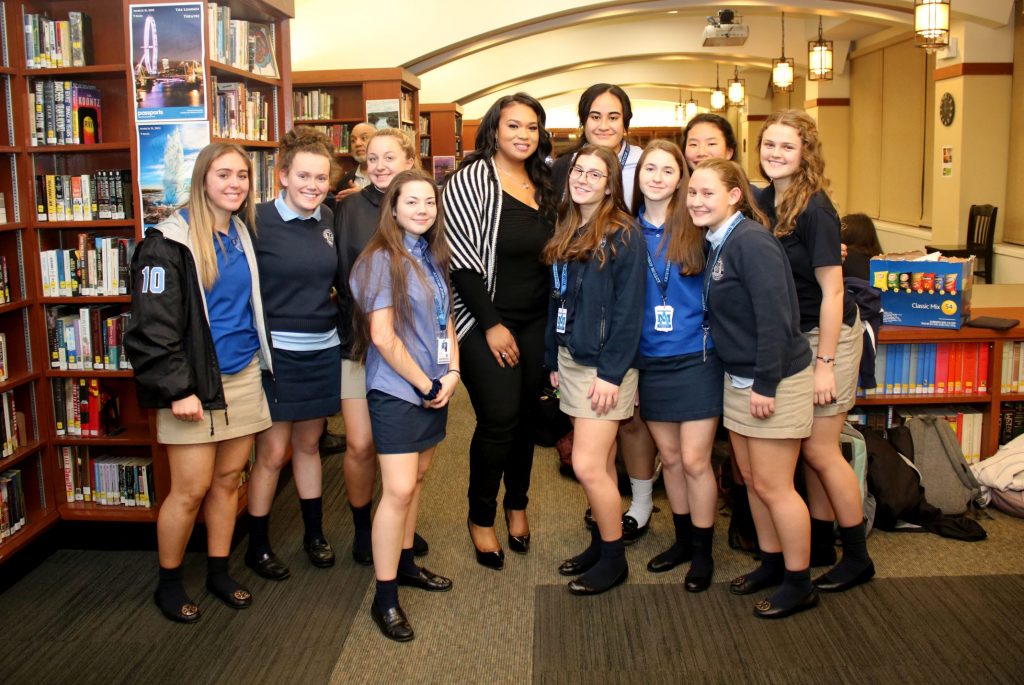 In February, Molloy welcomed former softball star turned global women's advocate Janelle Boyd '09 as a guest speaker. Janelle offered a riveting and enthusiastic presentation about how she started out as a talented teen lacking confidence and ultimately became a leader on the field of play and on the world stage. When Janelle started her Molloy softball career she did not always feel like she belonged. Over time, however, she began to realize the importance of believing in herself and that she was the best player on the field whenever she stepped across the foul line. She used the metaphor of a tea pot being repeatedly shaped, molded, and tempered under extreme heat time and time again until it reached its highest-quality form. Janelle was like that teapot, pushing herself and working hard everyday until she could be where she wanted to be. Janelle's performance over her four years at Molloy earned her placement on the All-City Softball Team and the honor of NYC Player of the Year.

MORE ABOUT JANELLE: Janelle Boyd is a Cornell University grad and a Youth Ambassador for Voices of African Mothers, a non-profit organization recognized and supported by the United Nations. Janelle has addressed the UN body several times on the progression of women and girls globally. She has traveled to Africa on behalf of her organization as a public speaker. Janelle has, for the past 7 years, held the position of Staffing Manager for the world renowned multi-billion dollar international staffing firm Robert Half International Inc. When not partnering with various organizations to identify, recruit, select and hire top talents, she is joining arms with non-profit organizations to help communities through different charitable endeavors. Janelle is also the founder of Dezire2Inspire, an organization geared toward the empowerment of young women. D2i has partnered with several female empowerment organizations like Voices of African Mothers, Today's Girl Tomorrow's Woman, Church City Youth, Kingdom House Youth Ministries, Angelic Home of Hope and others. For the past 5 years, Janelle has been a part of the conversations held at the Commission on the Status of Women Conference, hosted by the UN.
---
Faculty Update
Foreign Language teacher Ms. Liwia Rosamond shared that her family recently joined in an evening cheer for essential workers who are on the front lines serving and caring for our communities.


Mike Contino '68 checked in to report that he and his wife Judy and their family are all well. Mike shared that their son Patrick Contino '00 is a Customs & Border Protection Supervisory Officer at JFK Airport and that he has been appointed to the COVID-19 Task Force. Mike is looking forward to the day he can come back to Molloy for a visit. "Our best to all. We are thinking of Molloy each day. Stay well and GO STANNERS!"
---
Ed Kerswig '88 recently checked in with the Stanner Alumni Center and shared the following kind note: "During my time at Molloy there was a lot going on with me, yet some of my teachers, Lou Santos, Bill Niklaus, and Br. Ed Francis, believed in me. Honestly, at the time, I could not figure out why. Yet they did. It took me a while through a lot of depression, but looking back on things there were times when the belief Mr. Santos, Mr. Niklaus, and Br. Ed had in me did creep in. Ultimately, I'm proud to say that I'm currently a Nationally Certified Pharmacy Technician here in Massachusetts. I'm helping people the way my time at Molloy helped me. During this COVID-19 pandemic things as a Pharmacy Tech have been challenging to say the least. Yet I've been able to stay calm and do my job without taking things personally. That compassion, empathy, understanding, patience, and not taking things personally are among the lessons I learned at Molloy. I may not have realized the impact Molloy had on me at the time, but I do now. In a recent 'Thank You' email to Mr. Santos I stated 'Non scholae sed vitae is so true.' That is not an understatement. I've changed so much, both with my working on myself, and with the lessons I learned at Molloy."
---
New Jersey-based journalist Rob Jennings '89 read our last Beehive and was prompted to share a Molloy memory: "I found myself reminded of Molloy just the other day. I was writing a story about how a college track and field team made up for losing their opening home meet by making a video showing them all working out separately at home. A senior told me, 'Nothing really prepares you for this. We still have loose ends that didn't really get tied up.' The spring season would have been her final opportunity to compete. I thought back to the end of my spring track season at Molloy, JV squad, 1987, when Coach Frank Gambino '74 gathered us for some final remarks. He said (paraphrasing) 'there's something special about being on a team, for most of us it is fleeting, and so you've got to savor the experience.' It was the sort of thing you hear as a teen and it lodges in your head, but you don't really absorb until years later, when the days of being on a team are over. I didn't stick with track after my sophomore year, to my enduring regret. #StannerStrong!"
---
Tatiana Requijo '13 is a third-year medical student at Weill Cornell Medicine. She is part of the Coronavirus Student Service Corps at Weill Cornell working in collaboration with NewYork-Presbyterian Hospital (NYP) to support the Healthcare Heroes program. This program partners with local businesses and distributes meals to individuals working on the frontlines of the COVID-19 pandemic.



As noted at the top of today's Beehive, we pray for the repose of the soul of Br. Bob Andrews, FMS, who passed away on April 7, 2020. Please keep Br. Bob, the Marist Brothers, and all who know and love him in your prayers. We invite you to send your remembrances and photos of Br. Bob to alumni@molloyhs.org.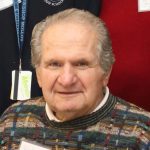 We are deeply saddened to share the passing of Mr. Henry Viola, beloved husband of Dorothy and father of the late Michael Viola '84. The Violas honored the memory of their son, Michael, through the establishment of the Michael H. Viola Memorial Scholarship. Michael's scholarship was the first established Named Scholarship in Molloy's history. The Viola's commitment to providing a deserving student in need a Stanner education has created a ripple effect inspiring countless others to provide scholarship to students in need who wish to attend Molloy. We are forever indebted to Mr. and Mrs. Viola for their selfless dedication and commitment to helping students receive the gift of education. For decades, Michael's scholarship has benefited many deserving students in need. Please keep Henry, Dorothy, and their loved ones in your prayers.

We ask the Molloy community to please pray for the repose of the soul of Joseph Lewinger, who passed away on March 28, 2020. Mr. Lewinger was a beloved assistant principal, teacher and coach at The Mary Louis Academy. Together we pray for Mr. Lewinger, his family, and the entire TMLA community. Molloy's Principal, Dr. Darius Penikas, offered a remembrance. "The CHSAA and The Mary Louis Academy lost a great educator. Joe Lewinger was a highly respected family man, teacher, coach, administrator, and leader. May perpetual light shine upon him."

We are saddened to share the passing of Giacomo "Jack" Virdone. Jack was the owner of Alba's Pizzaria and Restaurant, which is located just steps from Molloy. Jack was well known and beloved in our Stanner and Briarwood communities. We extend our deepest sympathies to the Virdone family as well as Jack's many colleagues and friends at Alba's and in Briarwood.

We are saddened to share the passing of Thom McCarthy '65 on April 2, 2020. Thom served on Molloy's School Board during the 1990s and early 2000s, and more recently worked as a professor of marketing at St. John's University. Please keep Thom and the McCarthy family in your prayers.

Please pray for the repose of the soul of Francis Boccabella III '99. | Memorial Page | Full Remembrance

We are saddened to share the passing of Kieran J. Burke '43 on March 15, 2020. A graduate of St. Ann's Academy, Kieran served New York City for over 33 years as a highly decorated NYPD Detective and Sergeant – much of his career at the 44th precinct in the Bronx. A US Navy veteran of WWII and Korea, he was a very proud Seabee. Please keep Kieran and his family in your prayers. | Memorial Page

Please pray for the repose of the soul of Vito Cassata '77, uncle of Ms. Jennifer Morrell. Vito, a Vice President at New York-Presbyterian Queens, passed away on March 15, 2020 after a courageous battle with cancer. He is survived by his wife, Debbie, and his children, Christopher, Lisa, and Joseph.

Please pray for the repose of the soul of Thomas Kratzer '75, brother of Michael Kratzer '84.

Please pray for the repose of the soul of Thomas Carney, uncle of James Horan '99 and Mike Carney '05.

Please pray for the repose of the souls of all who have passed during this COVID-19 pandemic and keep in your prayers all who are ill or caring for others.