#GivingTuesdayNow – THANK YOU!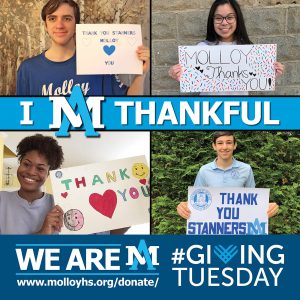 Tuesday, May 5th was #GivingTuesdayNow, a global day of action for giving and unity in response to COVID-19. Our theme (pictured below) was highlighting the resiliency of our students, the dedication of our faculty and staff, and the presence of our alumni. Together we are a caring and compassionate community with strong Marist values (Read more about our theme).
While the full extent of the impact of COVID-19 is still unknown, we do know it has created significant hardships. Over the past 10 years, and throughout our history, Molloy has been equal to meeting many challenges thanks to the generosity of our community. Your support has continually strengthened our mission to provide a quality Catholic Marist education to amazing young men and women. Thousands of Molloy students and families have been positively impacted by your support. Molloy is fully committed to meeting our students' needs during this challenging time.
On #GivingTuesdayNow your gifts to The Fund For Molloy helped address:

Needs assistance grants

Continued acquisition of and updates to remote learning technologies
From everyone at Archbishop Molloy High School – THANK YOU for the thousands of dollars you generously donated on #GivingTuesdayNow. Every dollar will directly impact Molloy's ability to help students and their families affected by COVID-19. If you didn't have a chance to make a gift on Tuesday, please know that gifts made to The Fund For Molloy today and moving forward will all help our students and families who have been impacted by COVID-19. Please consider joining this critical effort by clicking the button below.
Of course, we invite you to reach out to the team at the Stanner Alumni Center any time with your questions, ideas, and Molloy memories. Once again, THANK YOU for your support, love, and leadership. God Bless All Stanners.

---

Read Historic New Issue of The Stanner
The staff at The Stanner newspaper invites you to download their first-ever digital-only issue (no physical copies will be printed due to distance learning). In this issue you will read news reports on the pandemic, personal reflections from our student-journalists, school news, tips for self-care, and more. The Stanner also pays tribute to two beloved educators whom we lost in April: Mr. Mike Harrison and Br. Robert Andrews. The Stanner staff thanks the Molloy community for your support and hopes you will enjoy reading this historic issue. Click the button below or the thumbnail to the right to download The Stanner, or visit www.molloyhs.org/stannernewspaper/ for our staff list and select archives.

---
Molloy Peer Groups Featured on CBS News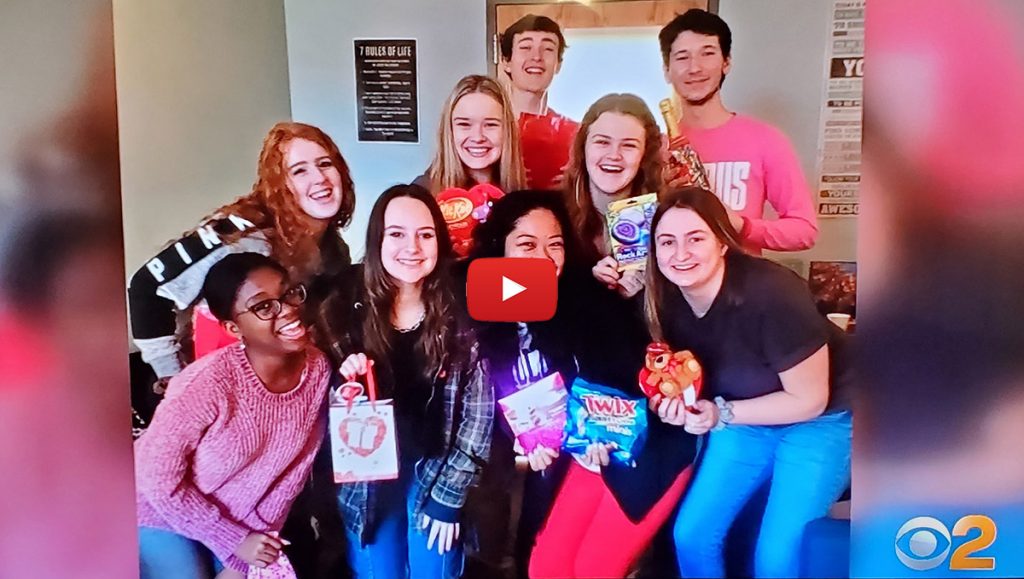 On April 30th, Guidance Counselor Ms. Kerry Henning and her Peer Group students were featured in a report on CBS2 Evening News. Ms. Henning spoke with reporter Hazel Sanchez about students' mental health and the role that Molloy's Peer Groups play during distance learning. "Hazel was very impressed with our program. The seniors were thrilled to be interviewed for TV and to proudly represent Molloy and our Peer Group program," said Ms. Henning. "They spoke about how important having the support of Peer Groups has been during this difficult time. They discussed the benefits of having a safe and confidential outlet that allows them to discuss their lives and their feelings, and to know that they have the support of their peers and counselors." Click the button below or the thumbnail above to watch the report.

---
This Week In Distance Learning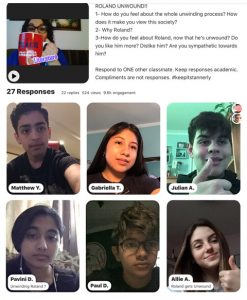 English Department: Ms. Mary Edward '13 and several other English teachers are using the video app FlipGrid to meet with their students. Ms. Edward described the app as a fun, teen-friendly, video discussion board. During a recent session (pictured right), Ms. Edward and her students discussed Unwind by Neal Shusterman. "The students talked about how they feel about the reveal of what it means to get unwound, and how they felt towards that character after his unwinding," explained Ms. Edward. "They also discussed how this process made them feel towards the book's society as a whole, and whether this scene made them more sympathetic to the character. They listened to each other's responses and explained why they agreed or disagreed with them."
Ms. K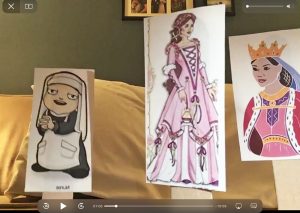 elly Edelman has been reading Romeo and Juliet with her freshmen. Ms. Edelman and her students meet on Zoom, where students will read for different characters. Last week, Ms. Edelman and her husband treated students to a Romeo and Juliet puppet show (pictured right), which they recorded using Loom. The show included explanations of the material throughout. "The students said it helped their understanding, and I heard it may even be up for a Tony Award," said Ms. Edelman.
Art Department: Ms. Terri Burke shared a few recent creations from her juniors and seniors. They were asked to draw a Tree of Life in honor of the 50th anniversary of Earth Day or in honor of family or friends. One submission combined the Earth Day theme with a lovely remembrance of Mr. Mike Harrison.
Language Department: Students in Señora Rosamond's and Señor Bronsen's classes will be paired online and create recorded study sessions In Spanish using Voice Memos.
Computer Science Department: Ms. Edit Boral has announced a virtual STEM Expo happening this month. "This event will be a fantastic opportunity to showcase our state-of-the-art STEAM program. We already have more than 50 submissions, including from Ms. Mallia's Science Research students," said Ms. Boral. University professors from different higher educational institutions, including alumna Catherine Soderberg '07, have graciously accepted to serve as off-site judges. | Click here for more information.
Mr. Larry Reilly's freshman Intro to Computer Science class is on Unit 4 of the Amazon Future Engineers Program. They are learning about programming loops and game development (pictured above). "Instead of doing the exact modules that become flat, I'm using the unit as a backbone for the students to create their own games using programming and an app called Flowlab.io," said Mr. Reilly. "When they're done, they can send their game to the Google and Apple app stores for public d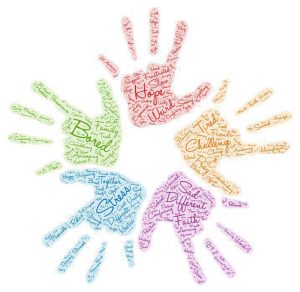 ownloads! Within a day of incorporating the app into our class, students went from choosing what platform they were developing for (mobile, pc, console), to genre (racing, adventure, etc…), to now first level creation."
Guidance: Using Google Classroom, Ms. Mary Kate McCaughey recently asked students in all of her homerooms to share words that came to mind during this time at home. She then put those words into a word cloud generator. Click on the thumbnail to the right to see the results of this project.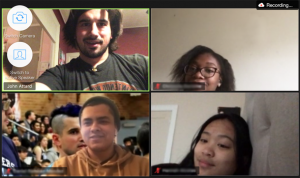 Campus Ministry: Virtual Encounter— Seniors who originally signed up for the April Encounter will be offered the first-ever Virtual Encounter from May 29-31. 63 seniors are expected to participate. Mr. Mike Germano '93 and his team of 23 faculty, alumni and Campus Ministry Leaders will do everything possible to make this a very worthwhile experience. Lantern— Since 2001, Lantern's mantra has been "a little piece of Esopus at Molloy". Catering to all grades, Lantern has always been an informal spiritual peer group that takes place in the chapel after school. Students from each grade level come together to pray and to talk to each other. Last week, Lantern welcomed special guests Rachel Burgos '16, Alex Velez '18, and Vanessa Diaz '19. There are three Lanterns remaining this year – all on Thursdays at 3:00pm – and, as always, all are welcome. Contact Mr. Germano at mgermano@molloyhs.org for details. Christian Marriage— Mr. John Attard '06 served as a guest speaker during recent Christian Marriage classes (pictured left). Mr. Germano created what he termed a "F.aculty M.arriage S.eries" so that other colleagues can serve as witness to all that marriage entails. Since its inception in 2018, many faculty have participated by telling of their marriage stories and what the sacrament means to them. Mr. Germano is truly grateful for their insight and their example to our seniors.
---
Pray Daily Novena with the Marist Community
US Provincial Br. Patrick McNamara again invites our Marist family to unite in praying a Marist Novena together. The prayer began on May 2nd and will conclude on Mother's Day, May 10th. If you haven't been following along it is not too late to catch up. We have been praying together during these 9 consecutive days and asking our Good Mother's intercession for the following intentions:
In thanksgiving for the favors and protection we received after our first Novena during this continued time of COVID-19 around the world.
For the sick and those who are caring for them.
And, as always, we remember to pray for each other – especially our mothers.
Click the button below to pray along with the Marist community.

---
Watch: "Molloy Misses You!"
On April 28th, Molloy shared a very special video with its students. The message was simple: Molloy misses you! The video features messages from faculty and staff as well as photo memories submitted by students and parents. We invite you to watch the video in the player above or on Molloy's Youtube channel.
---
Teacher Appreciation Week
As National Teacher Appreciation Week comes to an end, we want to be sure to thank all of our teachers and guidance counselors who play a huge role in our students' lives. THANK YOU for everything you do for our students!


Recognizing Our Essential Workforce and Frontline Heroes
The Beehive would like to shine a spotlight on our essential workforce and citizen volunteers who are serving our communities. Hospital workers, EMTs, NYPD, FDNY, food service, government, citizen volunteers – we want to hear from you! If you or someone you know should be recognized by Molloy, please reach out to us at alumni@molloyhs.org.
---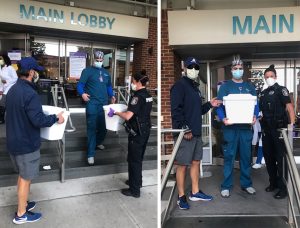 Mike McGuire '81 and Trinity Restaurant & Bar in Floral Park are feeding healthcare/essential workers through their campaign "Feed The Valiant". To date, the campaign has delivered over 1,800 meals to Northwell Health Long Island Jewish Hospital, Northwell Health North Shore University Hospital, NYU Winthrop University Hospital, NY Presbyterian/Weill Cornell Medical Center, Long Island State Veterans Home, and Good Samaritan Hospital, as well as first responders in Floral Park and neighboring towns. Mike and Trinity strive to provide quality meals to these heroes. "With the help of my purveyors and volunteers, we are bringing beef brisket and turkey dinners, breaded chicken cutlets and lobster mac & cheese. The nurses and doctors we meet are so grateful for food that has been made with great care. This effort will be remembered long after this crisis is over," said Mike. This Mother's Day, Alumni Development Director Craig Katinas '93 will be among volunteers that help Mike and Trinity deliver up to 300 meals to the staff at Weill Cornell. Craig is pictured right dropping off another donation to Winthrop NYU last week. Follow Mike's and Trinity's progress at #FeedTheValiant on social media.
---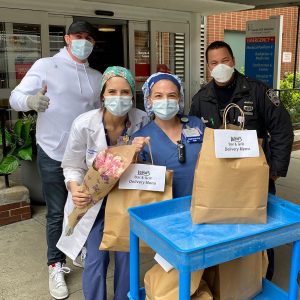 Mike Shea '02 has been raising money to help feed front line workers who are caring for and protecting our communities. The campaign is called "Feeding The Front Line". Mike has partnered with Luke's Bar & Grill on the Upper East Side to deliver meals to hospitals, firehouses, and police departments – all while supporting a small local business. The campaign has been running for about four weeks and over 1,000 meals have already been distributed between nearly 40 deliveries. Great job, Mike! | Follow Mike's progress at #FEEDINGTHEFRONTLINE on social media.
---

Pictured L-R: Dedicated employees Jennifer Kasworm and Natalie Tortora; Danny Salas (Chef), Adam Tortora '01 (Owner)
PRESS RELEASE: For 43 years, Fillmore's Tavern on 166th Street and 65th Avenue in Fresh Meadows, NY has been an establishment that the community can rely on for freshly cooked meals, delicious drinks, friendly service and a place to call home. Even though they were forced to close their doors to the public weeks ago due to the COVID-19 pandemic, some loyal employees, chefs and management have still been working in order to continue their take-out business. Another way they have been continuing to serve the community has been operating a "marketplace" at their front entrance where people can purchase canned goods, butchered meats, paper goods and affordable Grab n Go meals. After opening the marketplace and running the take-out business, Owner Adam Tortora '01 realized he wanted to do more to assist other essential workers. Community members, customers and more started sending him donations to sponsor meals for neighboring businesses that were deemed essential.
Tortora says, "Staying healthy is our main goal and if we can do some good for essential employees and keep people working during this time, we will do whatever we can". Currently they have raised more than $6,000 and have sent meals to the local police precincts, firehouses, and emergency rooms. Monica Rogan a Physician Assistant in the Emergency Room at New York Presbyterian Queens was working another long shift when the donation of meals arrived from Fillmore's Tavern. Rogan says "I can't begin to say how thankful myself and my colleagues were to receive these meals during our shift. Sometimes I am so caught up with caring for people that I forget to eat – it was a much needed meal. Thank you to Fillmore's Tavern and to those that have sponsored these meals so far."
The more meal sponsorships they receive, the more essential workers can continue to receive free meals to thank them for their dedication and tireless efforts to keeping this community going. A Go Fund Me page has been created where people can contribute to this great cause while also supporting a local business. "We want to continue to be able to provide meals to essential workers throughout this time, as it's important that we remember those that are risking their lives everyday", Tortora says. Visit www.fillmorestavern.com for more info.
---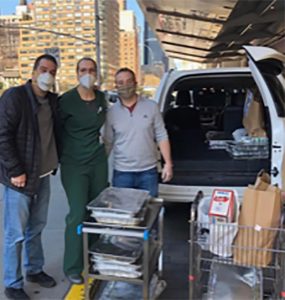 Good news from Long Beach, where Sal Ciccone '11, owner of Baldoria Restaurant, teamed up with his father's Local 817 theatrical teamsters to donate meals to NYU Langone Hospital and Cornell Medical Center. Thank you to this great Stanner family!
---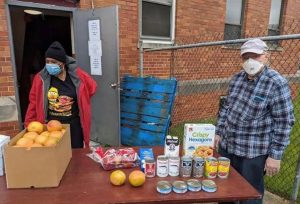 Joe Caruana '78 and other volunteers are doing their part to feed families in need by coordinating contactless care package pickups every Monday and Thursday morning outside the St. Teresa of Avila food pantry. This effort is expected to run through June. Joe and his fellow volunteers have helped feed over 400 families so far.
---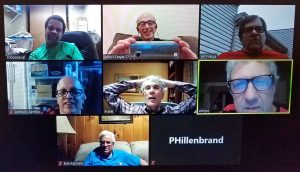 Several members of the Class of 1977 recently enjoyed a Zoom reunion. Pictured: Rob Pasqual '77, John Doyle '77, Art Frasca '77, Anthony Tantillo '77, Frank Dorsa '77, Joseph Arrigo '77, and Bob Kennelly '77. Not pictured but on the call: Peter Hillenbrand '77.



Please pray for the repose of the soul of Charles Lovejoy '79.

Please pray for the repose of the soul of Eugene F. Shelley '60. | Memorial Page

Please pray for the repose of the soul of Kenneth J. Casey '64.

We are saddened to share the passing of Anna Zaccone, grandmother of Michael Graffeo '99 and Salvatore Graffeo '01 and aunt of John Blanco '03 and Christopher Trinchese '04. Please keep Anna and her family in your prayers.

We are saddened to share the passing of Millie Robinson, grandmother of Julia Clarke '20 and incoming freshman Dylan Clarke '24. Please keep Millie and her family in your prayers.