Fund For Molloy Will Help Students Affected By COVID-19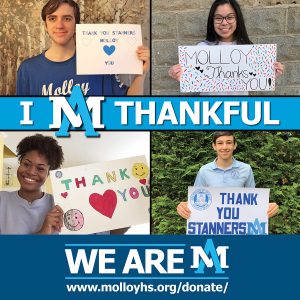 Over the past 10 years, and throughout our history, Molloy has been equal to meeting many challenges thanks to the generosity of our community. Your support has continually strengthened our mission to provide a quality Catholic Marist education to amazing young men and women. Literally thousands of Molloy students and families have benefited from your support.
While the full impact of COVID-19 is still unknown, we do know it has created significant hardships. Molloy is fully committed to helping meet our students' needs during this challenging time.
To date, over $535,000 has been dedicated in support of:
Needs Assistance Grants
Continued acquisition of and updates to remote learning technologies
Every dollar you give today and moving forward to The Fund For Molloy will directly impact Molloy's ability to help students and their families affected by COVID-19. Please consider joining this critical effort by clicking the button below. Should you have any questions, please reach out to Alumni Development Director Craig Katinas '93 at ckatinas@molloyhs.org any time.
On behalf of everyone at Archbishop Molloy High School, THANK YOU for your generosity.



Faculty & Staff Make Special Deliveries To Honor Seniors
Spring is normally a time of great celebration as Molloy recognizes the hard work and achievements of our senior class. Unfortunately, this spring has been different for many reasons, and as a result our seniors have seen highly anticipated events canceled or postponed. Molloy's administration, faculty, and staff are committed to celebrating our historic Class of 2020 and recognizing their many accomplishments.
On May 21st, administrators, faculty, and staff visited the homes of dozens of seniors to deliver awesome lawn signs! President Richard Karsten '81 personally made several deliveries (pictured right). "There were smiles under many of those masks," said President Karsten. "It was wonderful to see some of our seniors in person after many weeks of distance learning. The Class of 2020 has so much to be proud of. They have overcome many challenges to finish their high school careers strong. We will miss them, but we know they will go on to be great representatives of Molloy at many prestigious colleges this fall. We will be rooting for them every step of the way."
Check out photos of some of the sign deliveries below, or visit our Facebook and Instagram pages this weekend to see more. More deliveries are expected to be made in the coming days!
---
See Our First Virtual Science Research Symposium!
Alumni and friends are invited to enjoy Molloy's first Virtual Science Research Symposium! This is a great opportunity to see the creativity and hard work of our students in action. The symposium features video presentations by seniors as well as thorough research by sophomores and juniors.
Ms. Mary Mallia, moderator of our Science Research program, explains: "Congratulations to all students that took part in the Science Research Symposium; a culmination of student work from the Science Research Program. This is a three-year program wherein students learn about and conduct original research. In sophomore year, our students explore scientific literature; their projects are presentations of scientific journal articles. The juniors are presenting their project designs. The seniors are reporting the findings of their completed scientific investigations. Seniors worked side by side with researchers at Memorial Sloan Kettering Cancer Center, New York University, Hofstra University, and Weill Cornell Medical Center. All seniors presented their research at the New York City Science and Engineering Fair in early March, and one of our juniors was authored in two published research papers. We are very proud of all the students' accomplishments!"
We have shared one of our favorite senior projects below, but we encourage you to click the button below to browse many more wonderful projects! The video featured in The Beehive comes from Tara O'Reilly '20, who has done some fascinating and important research titled The Influence of Instagram on Adolescent's Eating Behavior.

---
Winners Announced In First Virtual STEAM Expo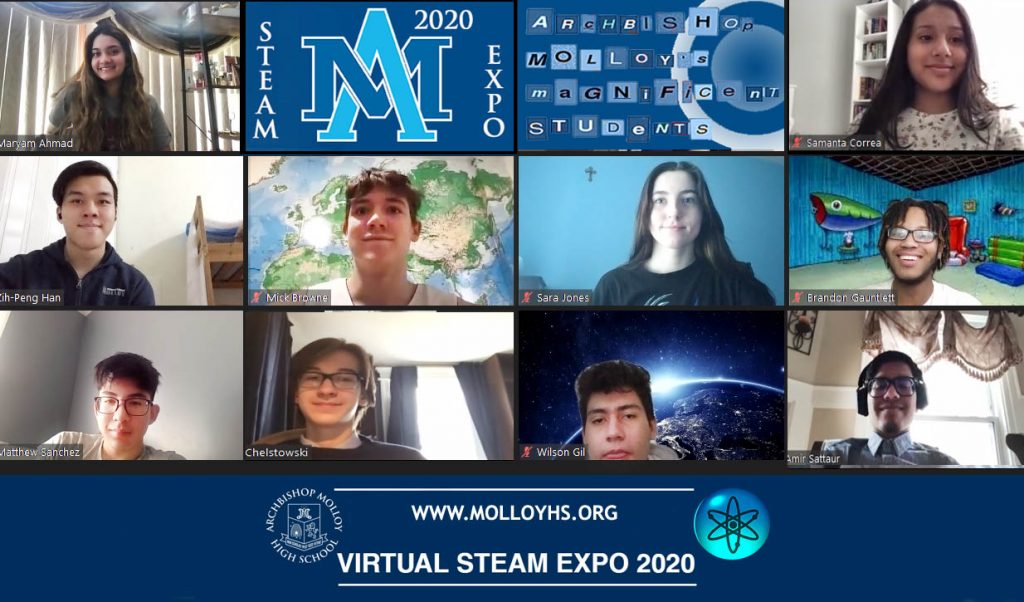 Winners have been announced in Molloy's first Virtual STEAM Expo! Each year, Molloy's STEAM Expo (in collaboration with the Science Research Program) showcases the amazing creativity and talent of Stanners in the realm of Computer Science and Engineering. This year's virtual event featured a panel of judges including Molloy's President Richard Karsten '81, Professor Christopher Malinowski of Long Island University, graphic artist Ms. Michele McGrade, and Professor Catherine Soderberg '07. Judges selected the very best projects out of more than 160 entries in four categories: Robotics, Science Research, App Development, and Computer Graphics / 3D Design.
We have shared one student video in The Beehive, but we invite you to click the button below to see many more outstanding student creations. The project below is a memory game created by Matthew Rivera and Sebastian Sabogal, winners of Most Socially Useful Project in the Robotics category. Thank you to Ms. Boral, Ms. Mallia, our judges, and all of this year's participants for making our first Virtual STEAM Expo a great success!

---
Comp Sci Students Featured In Tech Blog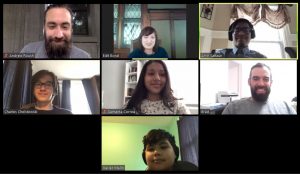 Molloy 3D Engineering Design team members, Amir Sattaur, Samanta Correa, Xavier Mallo, Charles Chelstowski and their mentor, Ms. Boral, have been featured in TCEA's (Texas Computer Education Association) Tech Blog in regard to the team's Zeus Bot 3D design. This design was submitted to TCEA's 3D Engineering Design Contest earlier this spring. The competition challenged students to design a solution for Australia's wildfires, but its in-person component was canceled due to COVID-19. Still, Molloy's team designed the Zeus Bot adhering to the competition's original requirements. The focus of the interview, led by technology columnist Andrew Roush, was to share experiences, procedures and methodologies applied in a competition that moved from an in-person environment to a virtual one. Students also had a chance to talk about their project and the engineering design process. Only two schools in the United States, Molloy and Brazoswood High School from Houston, TX, were selected to be featured in the blog. Click the link below to read the blog.
Pictured: Zoom interview led by tech columnist Mr. Andrew Roush (top left). Also pictured: Ms. Boral, Amir Sattaur, Charles Chelstowski, Samanta Correa, Mr. Brad Whitehead (Brazoswood teacher), and Xavier Mallo.
---
Remembering PFC Louis Willett '63 This Memorial Day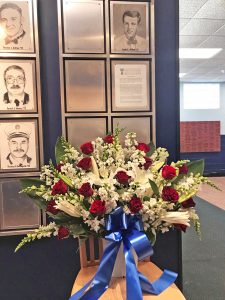 Each year, the Class of 1963 remembers their classmate, the late PFC Louis Willett '63, with a floral arrangement that is placed near his sketch in the Stanner Hall of Fame. PFC Willett was posthumously awarded the Medal of Honor "for conspicuous gallantry and intrepidity at the risk of his life above and beyond the call of duty." He was mortally wounded on February 15, 1967 in Kontum Province, Vietnam, while protecting his platoonmates from heavy enemy fire, saving their lives in the process. PFC Willett is the only Stanner to be awarded the Medal of Honor.
Due to the temporary closure of Molloy's campus, the Class of 1963 was unable to send their floral arrangement as planned. Capt. Larry Seible '63, representing his class, instead sent his well wishes and expressed that PFC Willett has not been forgotten. However, Mr. Jeff Gallagher '88, was able to continue the tradition in a different way. Each year, Mr. Gallagher reads PFC Willett's Medal of Honor citation with his history class prior to Memorial Day. This year, Mr. Gallagher volunteered to briefly visit Molloy and place a smaller arrangement of flowers near PFC Willett's sketch. Thank you, Mr. Gallagher, for helping to continue this tradition.
We invite you to click the button below to read PFC Willett's full Medal of Honor citation. Together, let us remain ever mindful of PFC Willett's legacy and sacrifice. We also remember all who have served, Stanners and friends, who selflessly gave their lives in protection of our country.

---
Alumni Spotlight: Tristan Bhiro '16 Applauds Molloy's Computer Science Program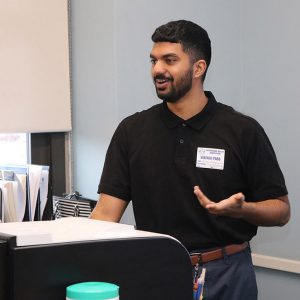 In early March, Molloy welcomed Tristan Bhiro '16 as a guest speaker in several Computer Science classes. Tristan is a senior at Pace University where he is majoring in Information Technology with a minor in Computer Science. His studies have focused entirely on Cybersecurity. "I've always enjoyed building things and solving problems. Computer Science is essentially studying the ways in which you can efficiently solve complex problems with code, and Cybersecurity is a field where this critical thinking is applied to building solutions that protect an organization's data/our personal data," explained Tristan.
Tristan explained why he wanted to serve as a guest speaker at Molloy. "I had an amazing four years at Molloy. I feel that I grew a lot during my time there and was fortunate to have some of the most influential teachers in my life there. It's in Stanner nature to give back, and knowing that Molloy is teaching more rigorous Computer Science courses, it was the perfect opportunity to share what I've been learning with Molloy students."
Last year, Tristan attended a Molloy event which featured a presentation by Dr. Adam Young, who initiated the area of study known as Cryptovirology in 1996 with Moti Yung at Columbia University. Cryptovirology is the study of the applications of cryptography to malicious software. "When I heard about Dr. Young's presentation, I was ecstatic. I was so happy that Molloy was hosting an event to introduce their students to this area of study, and I was even more excited that alumni could attend," said Tristan. "I was able to network with Dr. Young thereafter and he kindly put me in contact with a former colleague who ended up interviewing me for a summer internship at MITRE, which is where I have been working ever since. So, in short, that presentation was quite literally life changing."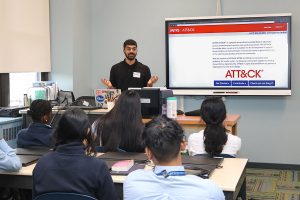 Tristan has high hopes for the future of Molloy's Computer Science program. "Throughout my time at Molloy, we did not have any classes related to that area of study. Clearly, the new curriculum has been great because the students understood technical concepts very quickly and were asking thoughtful questions that professionals I currently work with are trying to answer." Tristan also thanked Ms. Edit Boral, who welcomed Tristan into her classes. "Her students are lucky to have her!"
Looking ahead, Tristan's long-term goals include "continuing engineering security solutions that serve public interest and ultimately help improve our nation's security posture."
---
Virtual Team Celebrations
Coach Alison Scalice and her varsity lacrosse team celebrated Senior Day virtually! Teammates made posters and delivered speeches in honor of the team's seven graduating seniors.
Coach Nicole Nowak '08 hosted a virtual awards night for her varsity volleyball team. Special tribute was paid to the team's eight graduating seniors. Coach Nowak and Assistant Coach Nicole Russo '17 delivered goodie bags to players' homes, which contained homemade cookies and cake pops, and silly senior awards created by the juniors. Former coaches Ms. Kelly Edelman and Ms. Teresa Sorrentino also joined the virtual celebration as a surprise. Ashley Calle '20 recieved the Coaches Award and Erin Dugan '20 was named MVP. | See more photos on our Facebook page!
---
Distance Learning: Foreign Language Update
Molloy's foreign language teachers have assigned some exciting new projects for students in order to foster development of their speaking and interpersonal communication skills in their language. Three Spanish 2 teachers paired each of their students with another Spanish 2 student in a different teacher's class. The students recorded themselves speaking only in Spanish for 20 minutes as they reviewed together the contents of textbook chapters. Some students added music, sound effects or even video to accompany their recorded review sessions. The response from students was overwhelmingly positive. One student reported that she enjoyed the project "because it was fun and allowed us to communicate with each other during this very difficult time."


Recognizing Our Essential Workforce and Frontline Heroes
The Beehive would like to shine a spotlight on our essential workforce and citizen volunteers who are serving our communities. Hospital workers, EMTs, NYPD, FDNY, food service, government, citizen volunteers – we want to hear from you! If you or someone you know should be recognized by Molloy, please reach out to us at alumni@molloyhs.org.
---
Alum Launches Fundraiser Benefiting Molloy Students
Dante Giraldi '17, a rising junior at Villanova University, has kicked off a fundraiser for a great cause. Dante's #CRUSHCOVID campaign is raising money for several organizations including Molloy. Dante's goal is to help students who may have tragically lost a parent or guardian to COVID-19, to provide supplies and meals to first responders, and to help the Blau Weiss Gottschee Club in Queens. Dante will run anywhere from 1 to 26.2 miles based on the total raised after three weeks. Dante has set the goal of his fundraiser at $20,000. For more information on how you can support Molloy through Dante's campaign please click the following links or watch the video below: Fundraising Page | Villanova Article
Dante Giraldi, a rising junior at @VillanovaU, has started the #CrushCovid campaign to raise money for #COVID19 related response efforts. He hopes to raise $20,000 to help NYC first responders and provide financial aid to @Molloyhs & @BWGSoccer. Read more: https://t.co/j3iJZK1RKl pic.twitter.com/T9SKccvtXN

— The Villanovan (@TheVillanovan) May 19, 2020
---
#EsopusEssentials
The Marist Brothers' Center at Esopus has been running a campaign on social media called #EsopusEssentials, celebrating "the many hands and hearts at work" during the COVID-19 pandemic. Julia Karsten '09 and Kayla Karsten '12 are featured together as this week's #EsopusEssential nominees! Click the thumbnail image to the right to enlarge and read about the amazing work of the Karsten sisters. Congratulations, Julia and Kayla, and thank you for all you have done to help others!
---
Class Updates
Math teacher and track coach Mr. AJ Power '84 encourages Stanners to make a plasma donation in memory of all those we have lost to COVID-19. "Three decades ago I shared a classroom with Dr. Bob Englert. He put out a request to the Molloy faculty to donate platelets to help cancer patients like himself. I donated then, and after his passing I continued what in retrospect was probably a bit too sporadically since. Myself and most of the Molloy track coaches were infected, but fortunately we have all recovered. I was tested at Mount Sinai on April 15th and have since made my first convalescent plasma donation at the NY Blood Center. While I have no empirical evidence or research on the possible benefits of convalescent plasma, I can only offer the anecdotal report from a worker at the donation center who stated that it has been highly effective. Patients ventilated for several weeks with a very poor prognosis have reportedly improved dramatically after receiving plasma. If you have a positive COVID-19 antibody test I ask you to consider donating convalescent plasma. If you have not been exposed please consider donating platelets. The need is great. I have included some links to help the process: NY Blood Center | Mount Sinai | Stony Brook | National COVID-19 Study
---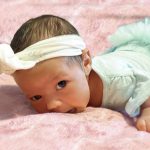 Congratulations to Jessica (Conter) Mirrieles '08 and her husband, Neptaly Mirrieles, who recently celebrated the birth of their daughter, Eva Lynn Mirrieles. Eva was born on April 6, 2020 at 7 lbs 8oz and 20.5 inches. "We look forward to her joining the future Stanner Class of 2038 and running on the track team!"
---
Dr. David Lewandowski, M.D., '04 is a Critical Care Medicine fellow at Montefiore Medical Center, after completing his residency in Emergency Medicine at NYC H+H Lincoln Medical Center in the South Bronx. During the COVID-19 pandemic a CBS film crew spent a week with David's team in Critical Care Medicine, following them and observing in their ICU as well as their Critical Care consult service where they help manage patients in the Emergency Department. CBS aired the special titled "Bravery and Hope: 7 Days on the Front Line" last week, but it is now available for viewing online. "I wanted to share this with the Stanner community, as it is rare to get insight into the happenings within a hospital – especially during this crisis now that visitors are not allowed," said Dr. Lewandowski. "Our department also has a pair of Stanners, Dr. Peter Dicpinigaitis '79 and myself, that are serving our community by treating patients in the intensive care unit." Dr. Lewandowski can be seen assisting during the rapid response team intervention near the end of the special. | Watch: "Bravery and Hope: 7 Days on the Front Line"
---
Scott Malone '91 has been named politics editor for Reuters News in Washington, D.C. In 15 years with the wire service, Scott covered events ranging from the Boston Marathon bombing, the Olympics and the Super Bowl, to Pope Francis' historic 2015 visit to the United States. He fondly remembers his time writing for The Stanner and the great writing advice of Jim Sheehan '75 and Dennis Vellucci, who set him on the path to a career in journalism. Scott lives in Alexandria, Virginia, with his wife, author Lee Gjertsen Malone, and their daughter, Nora.
---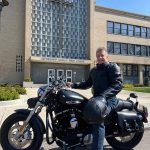 Ken Balbi '81 recently spent part of his quarantine taking a ride on his Harley Davidson motorcycle. Ken decided to make a quick pitstop by Molloy's front entrance. Click photo to enlarge.



Please pray for the repose of the soul of Katherine Carroll, wife of Edward Carroll '71, who passed away this past November due to complications from a fall. They were married for 43 years. Katherine is also survived by two daughters.

Please continue to pray for the repose of the souls of all who have passed from COVID-19. Please also pray for those who continue to be affected by this disease, and for all essential workers who are serving our communities.