Molloy Announces Council for Diversity & Inclusion
In response to reported past and present student experiences of racism and sexism within our school, the School Board and Administration at Archbishop Molloy High School announce the creation of the Council for Diversity & Inclusion.
The Council is an independent advisory group that will work with the School Board and Administration to share insights and make recommendations about policies and procedures pertaining to diversity and inclusion. It is driven by a dedicated group of alumni, parents, faculty, staff, and industry experts who are committed to cultivating a truly inclusive institutional culture at Molloy. Called by our founder St. Marcellin Champagnat to care for the "least favored," and rooted in our shared Catholic Marist Charism, we are committed to creating a school community where everyone can succeed, especially those from communities who have been marginalized by society.
Our hope is to build a community where students, faculty, and staff of every race, ethnicity, nationality, culture, immigration status, academic learning style, gender, sexual orientation, religion, and socioeconomic background can thrive.
Read brief introductions about our Council members by clicking the images below or click the blue button to visit our website for full member bios and future recurring updates.

---
Junior Represents Molloy at MIT's Quantum Computing Camp
This past summer, Junior Samanta Correa '22 won MIT's scholarship to represent Molloy at the university's virtual Quantum Computing Camp. Samanta shares her experiences in this exciting camp:
"The MIT Quantum Computing Camp is a week-long summer camp that introduces youth to the field of quantum computing. This camp aims to diversify the field of quantum computing by focusing on reaching out to underrepresented groups in STEM, such as young women.
This week-long course was not only informative, but also interactive. There were engaging, daily activities in which students could get a look at and practice topics covered in the lectures. The lectures were taught by MIT alumni that finished their Ph.D. in a quantum field. We listened to three lecturers that each specialized in one topic of three: quantum physics, quantum mechanics, and quantum computing. The breakout rooms, in which we performed the activities, were hosted by MIT Ph.D. students. In these smaller groups, we used a simulator made by IBM to simulate a quantum computer. We imputed quantum gates that we learned about during the lectures to simulate how quantum computers work. We also learned how to use the qBraid simulation platform to run quantum algorithms in Python.
This camp not only focused on quantum computing, but also taught the difference between quantum and classical computing. As quantum physics is full of complicated mathematics, the professors in this camp did an excellent job of simplifying it for students to comprehend.
Overall, this camp was a terrific experience! I believe it can entice many more high school students to continuously explore the field of quantum." – Samanta Correa '22
CLICK HERE TO READ MIT'S COVERAGE OF THEIR QUANTUM COMPUTING CAMP
---
Rob Dittus '15 One of Two New Marist Postulants
On September 8, 2020, the Marist Brothers officially welcomed Molloy alumnus Rob Dittus '15 as one of two new Marist postulants. This means that Rob and his fellow postulant, Ryan Richter, are beginning a year of exploring the Marist Brotherhood and deepening their relationship with Jesus Christ. They will use this time to decide whether the life of discipleship is their calling. Br. Patrick McNamara, US Provincial, and other Marist Brothers welcomed Rob and Ryan on what was the Feast of the Nativity of the Blessed Virgin Mary. The Marist Brothers humbly ask that you pray for Rob and Ryan as they begin this new chapter. The last Molloy graduate to join the Marist Institute was Br. Dan O'Riordan '85, who now serves as Vice Provincial alongside Br. Patrick.
---
Varsity Softball Players Celebrate Teammate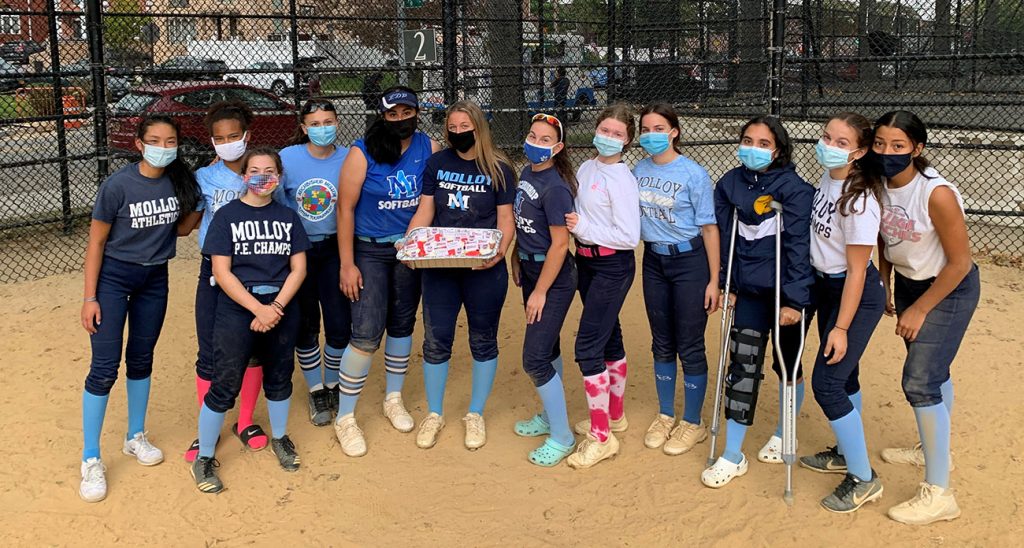 After practice earlier this week, Molloy's Varsity Softball Team held a celebration for teammate Angie Rama '22, who recently committed to playing ball at University of Massachusetts Amherst. Angie would join UMass Amherst in fall 2022. Angie is currently Molloy's starting third baseman, often batting cleanup. She is also part of the team's pitching staff. Thank you to Coach Catie Massowd '07 for sharing the accompanying photo.
---
Track & Field Season Opens With A Win
Congratulations to Molloy's Girls Varsity Cross Country Team, who opened their season by winning the Jan Mitchell Classic over St. Francis Prep and Monsignor McClancy 29-37-63. Sophomore Grace Murphy '23 won the race in 16 minutes 29 seconds, which is the third fastest time in Molloy history. The event took place at Iona Prep on October 3rd. | Click Here for Full Results
---
Marist Brothers Update from Champagnat Hall
The Marist Brothers USA communications team recently shared an update from the community of brothers at Champagnat Hall in the Bronx, including former Molloy faculty members Br. Philip Robert and Br. Gerard (Jogues) Cormier. Click the following link to read the update. | Update on Marist Brothers at Champagnat Hall
---
In Case You Missed It: Molloy's Reopening
Just in case you missed our last Beehive, please click the following links for news about Molloy's reopening as well as our full Reopening Plan. Molloy continues to monitor all developments related to the spread of COVID-19 and follow the guidance and recommendations of New York State, the NYS Department of Health, and the CDC.
News Update: A Unique Reopening


Virtual Molloy Oktoberfest – Join Us On Zoom!


When: Thursday, October 22, 2020 | 6:30PM
Where: Zoom Video App
Who: Stanners & Friends Ages 21+
Admission: $50 per person
Contact: alumni@molloyhs.org | 718.441.9210
Brewery Website: www.otherhalfbrewing.com

ABOUT THE EVENT

Join the Stanner Alumni Center and Joy Reichenbach of Other Half Brewing Co. for a virtual beer tasting. Topics will include the history of Other Half Brewing Co., origins of the featured beer styles we'll be tasting, and a side-by-side comparison of each beer (list below).

Joy Reichenbach is the Manager of Operations & Communications at Other Half Brewing Company, as well as a Certified Cicerone® and founder of joylovesbeer. Joy has held many roles in the beer industry and has a passion for traditional beer styles and beer education.

ADMISSION INCLUDES
---
Virtual Open House – 10/18/20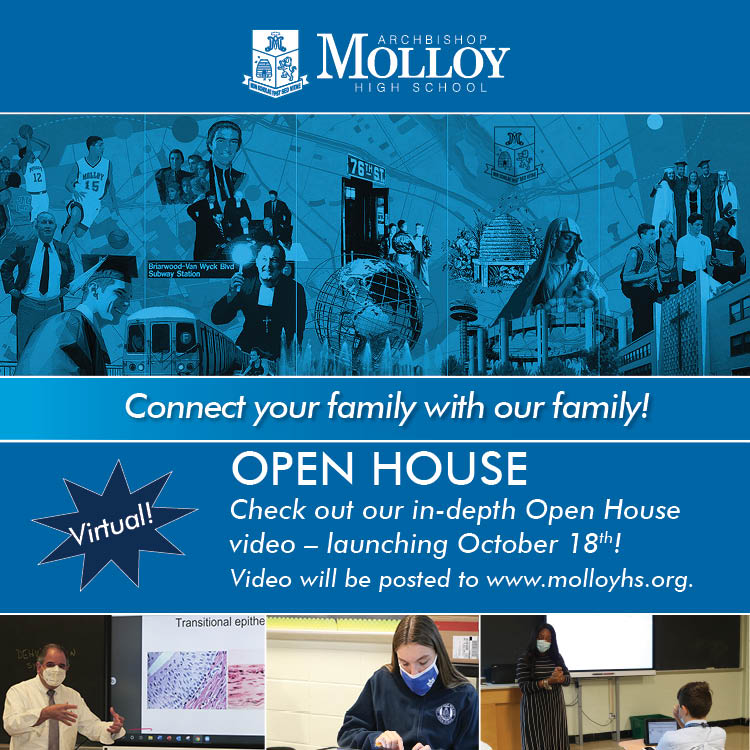 ---
Stanner Alumni Reunion Postponed
Please click the image below to read our announcement regarding the Stanner Alumni Reunion. Contact Alumni Development Officer Matt Rizzotti '04 at mrizzotti@molloyhs.org or 929.446.4470 for more information.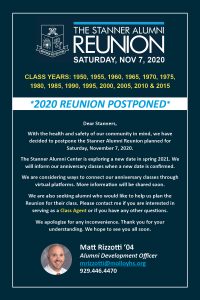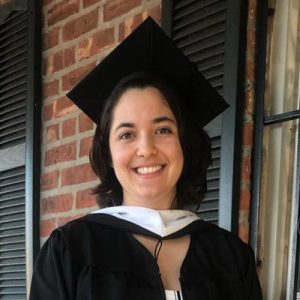 Congratulations to Natalie Picon '14, who earned her Master's Degree in philosophy from Fordham University in May. Natalie posted to social media thanking her classmates, professors, and mentors at Fordham for their unconditional support, trust, and dedication.
---
AJ Mastropietro '95 is a Thermal Engineer in NASA's Jet Propulsion Laboratory. In the spring, AJ and his team developed VITAL (Ventilator Intervention Technology Accessible Locally) to help treat patients suffering from severe COVID-19 symptoms. The team worked tirelessly to build a working and successfully-tested prototype at Mt. Sinai Hospital in just 37 days. Click the following link to read more about VITAL or watch the video below. | Article on NASA-Developed Ventilator "VITAL"
---
Joe Adamec '63 has retired from his position as a Senior Guidance Counselor at Bishop Hendricken High School in Warwick, Rhode Island, after a career in Catholic education. His colleagues at Hendricken wrote a tribute to Joe that appeared in the school's Class of 2020's May Senior Newsletter. It reads as follows: "For thirty-eight years, Joe Adamec has graced the halls of Bishop Hendricken High School with his intellect, professional knowledge, creative spirit, indomitable sense of humor and charm. He has guided many Hawks through the challenges of finding their perfect fit for college and has shown generosity to his colleagues by mentoring each and every person who was wise enough to seek his tutelage. We wish him well in his new chapter and are blessed that he will continue to offer his expertise to our department and community in areas of finance and special projects." – Credited to Nancy Rocha, Director of School Counseling, Bishop Hendricken High School.
---
Congratulations to Mike Connolly '90, who recently opened Billy & Pete's Social in Larchmont, NY. Billy & Pete's is now serving gourmet pizzas, salads, and mini donuts and accommodating outdoor seating and takeout. | Website | Instagram | Facebook
---
Richard Schneider '71 has retired from his position as Dean of Engineering at Manhattan College. He is now enjoying teaching part-time and pursuing his love of fast cars.
---
Father Ed Sheridan '71, former pastor of the Church of St. Rosalie in Hampton Bays, is now serving the Diocese of Rockville Centre as the Vicar for Clergy.
---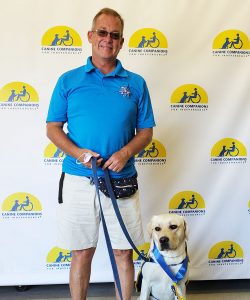 In August, Molloy's favorite pup, Joss II, celebrated his Matriculation Day, marking the start of his professional training with Canine Companions for Independence. Joss had been accompanying his trainer, Mr. AJ Power '84, to school daily up until remote learning began in March. Joss sends a big thank you to all the students and faculty at Molloy for helping him with his training – and for all the pets and treats.



We are saddened to share the passing of Henry F. Rudolf '61 on July 21, 2020. Please keep Henry and his family in your prayers.

Please pray for the repose of the soul of Shenita Powell, mother of Ashantay Powell '20.

Please pray for the repose of the soul of Jean Harms, mother of Charlie Harms '73 and Chris Harms '76, and grandmother of Emily Harms '09. Jean passed away on August 5, 2020. She was always very proud of her connection to the Stanner family for over 50 years. As a long-time local bank branch manager, whenever part-time positions became open, Jean's first call was to Molloy to seek candidates, who were invariably hired, and excelled. Please keep Jean and the Harms family in your prayers.

In our last Beehive, we incorrectly noted the date of passing of our dear friend, James J. Smith '73. James passed away on August 11, 2020. He was a longtime supporter of the Jim Kinnier Stanner Golf Classic, serving as Golf Chair in 1996. An active presence in the Stanner community for many years, he was also well known in the travel industry as well as for his advocacy for individuals with special needs. According to an article in Travel Market Report: "Jim Smith was a one-of-a-kind pioneer in our industry going back to his days at GEM. He had a larger than life personality with tremendous passion for our industry and the people in it. He also had a heart and a soul that was larger than life. He will be sadly missed by all of his friends and colleagues." Please continue to keep James and his family in your prayers. | Read Full Article About Jim Smith in Travel Market Report