Virtual Stanner Networking Event
Contact: alumni@molloyhs.org
When: Tuesday, November 10, 2020 | 6:30pm
Where: Zoom
Who: All are welcome
Admission: Free!
REGISTRATION IS NOW CLOSED
ABOUT THE EVENT
Join the Stanner Alumni Center on Zoom as we discuss navigating the job market during the COVID-19 pandemic. Our conversation will be led by a panel of talented Stanner professionals. Click the blue button above to register. You can submit questions for the panelists in advance using the registration form on the event page. Click the thumbnails below to read more about our panelists. | PANELISTS: Opal Vadhan '11 – Executive Assistant to Secretary Hillary Rodham Clinton; Morrell Gaskins '12 – Associate Director of Recruiting, COOP Careers; Jason McGann '96 – Managing Director, PineBridge Investment; Matt McLaughlin '87 – Partner-in-Charge, Venable LLP.
---
Virtual Remembrance of Br. Leo Richard
Contact: alumni@molloyhs.org
When: Saturday, November 14, 2020 | 12:00pm
Where: Zoom
Who: Past & present SMILE & Peer Group participants. All Stanners & Friends
REGISTRATION IS NOW CLOSED
ABOUT THE EVENT
Past and present participants of Molloy's SMILE and Peer Group programs are invited to join us for a virtual remembrance and celebration of the life of founder Br. Leo Richard, FMS, who passed away 25 years ago. We will also remember those SMILE and Peer Group counselors who are no longer with us. We will reflect on Br. Leo's legacy and how his work helping young people continues to make an impact today. SMILE members have always come together over pizza. We encourage you to sign onto Zoom with a slice from your favorite local pizza place!
HIGHLIGHTS
Opening prayer led by Msgr. Ed Doran.
Other special guests include Vice Provincial Br. Dan O'Riordan '85 & SMILE moderator Mr. Chris Dougherty '91.
Breakout rooms for reflection & discussion.


Vincent Piazza '94 Visits Stanner Players Virtually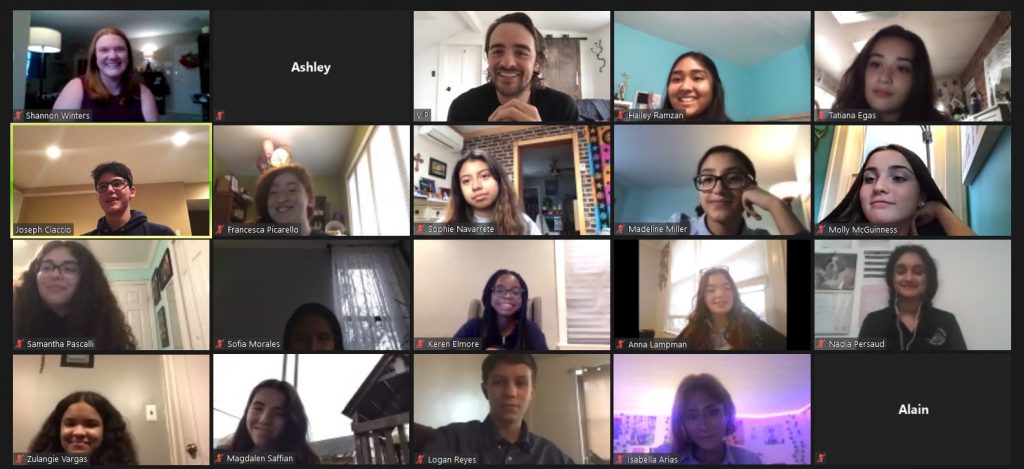 Actor and screenwriter Vincent Piazza '94 was kind enough to visit the Stanner Players and Director Ms. Shannon Winters '06 as a virtual guest speaker via Zoom. Vincent talked about a range of topics including his path to acting, how to work with casting agents, how to mentally focus and prepare for scenes, how to identify with and become a character, and how to build confidence as an actor while managing doubt. He also shared stories from throughout his career, including being cast by Clint Eastwood as Tommy DeVito in the musical drama film Jersey Boys, despite limited prior experience singing. "It was a very 'lived in' musical, meaning the film featured actors who had done the actual musical onstage hundreds of times. I had done it zero times, but I worked with great people who put up with some of my early flubs," joked Vincent.
Later in the conversation, Vincent discussed some of the ways the pandemic has affected film, television, and theater. While COVID-19 has caused a significant financial strain on the industry as a whole, the pandemic will also inspire many original works in the near and distant future. "We're going through something generational together, and we all are living experiences that are uniquely our own," he explained. "I hope you'll all consider writing your experiences down. Preserving this moment is invaluable. You'll look back on what you wrote and how this snapshot in time has affected your life."
Thank you, Vincent, for spending time (virtually) with our students!
---
Champagnat Hall Welcomes Br. Aquinas Richard Home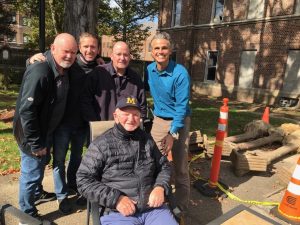 After extended rehab in New Jersey, we are happy to share that Br. Aquinas Richard '48 has returned home to Champagnat Hall, the Marist Brothers' residence in The Bronx. Vice Provincial Br. Dan O'Riordan '85 and some of Br. Aquinas' former student-athletes recently visited him to welcome him back.
---
New Compilation of Stanners' Best NYC Marathon Finishes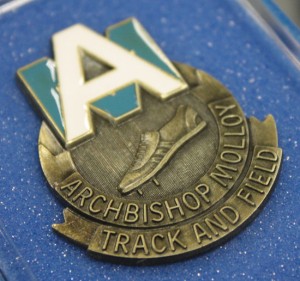 In honor of NYC Marathon season, Coach Joe Dombrowski recently shared some interesting stats that he has been collecting for some time: Stanners' all-time best NYC Marathon finishes. The list currently features 57 alumni spanning six decades of graduates. The top three times on the list from first to third are Dan McGrath '01 with 2:23.04 in 2008, Keith Forlenza '05 with 2:33.57 in 2010, and Stephen Bione '07 with 2:36.31 in 2018.
We invite all Stanner runners, especially those who have run the NYC Marathon at any point, to click the button below to review the list. Please help us continue to build the list by sending your best NYC Marathon times or any corrections to alumni@molloyhs.org.
List updated as of 11.17.20.

---
First City Titles for Girls Cross Country!
Congratulations to Molloy's Cross Country athletes, especially our Girls Varsity and JV teams, who won their first City Titles in the history of our Girls Cross Country program! Due to a logistical issue, no team photos were taken, however photos will be taken next week and we will feature them in our next Beehive. Congratulations, Stanners! Results from Halloween weekend:
Varsity & JV Girls are both Brooklyn/Queens and City Champions! These are the first City Championships in the history of Molloy Girls Cross Country.
Varsity Boys placed 2nd in Brooklyn/Queens.
Senior Marina Tsimisiris '21 finished at 17:15.4 (#14 all-time AMHS Cross Country) and led the girls to their first City title.
Junior Julia Brophy '22 won the Brooklyn/Queens JV Race.
Molloy finished first in Brooklyn/Queens overall.
Full Results: https://live.fultonaccuratetiming.com/meets/6678
---
Annual Walkathon Goes Virtual
With COVID-19 restrictions still in place, Molloy's annual Walkathon needed to be reimagined. In October, Ms. Murdocca, Director of Student Activities, announced that the Walkathon would be fully virtual. Students were encouraged to either walk socially distanced in their own neighborhoods or participate in any of a series of virtual activities hosted by Molloy's various clubs.
Students participated in a number of unique activities, one of which was a "Maskathon" which saw students draw masks with various original designs (special thanks to Ms. Burke, Mr. DaGrossa, and Mr. Chowske '81 for this info). Asian Club hosted an "Origami-thon" during which club captains taught members a few origami folding patterns including crabs and ghosts. 75 members of Asian Club participated in this exercise in classic Asian craft (special thanks to Ms. Callagy '05 and Ms. Rosamond for this info). Some students participated in a virtual "Puzzle-thon" moderated by Library Assistant Ms. Therese Krische.
The Walkathon is Molloy's annual student fundraiser, which in the past has raised money for capital projects including renovations to the cafeteria, Jack Curran Gymnasium, lockers, first floor chapel, upgraded equipment in the Ralph DeChiaro Theater, new exterior exit doors, a new main entrance and lobby, and air conditioning in every classroom. These completed projects, supported by the Walkathon, have all since improved the quality of student life and helped maintain Molloy as a safe and modern learning environment.
Pictued below: "Maskathon" drawings, and the "Origami-thon" "Puzzlethon" on Zoom.
---
Guidance Addresses COVID-19 Related Anxiety
The COVID-19 pandemic has impacted many aspects of our daily lives. During these past months, many of us have changed the ways in which we live, work, learn, and interact with one another. While some of these changes have become more routine, the uncertainty that comes with the pandemic can lead to anxiety, creating a need for mental health awareness.
Molloy's guidance department has recognized that anxiety related to COVID-19 is very real and something that affects both students and teachers. According to the Mayo Clinic, anxiety can create feelings of nervousness and restlessness, increased heart rate or rapid breathing, fatigue, concentration and sleep problems, and other issues. Guidance counselors are addressing COVID-19 anxiety with students and providing additional resources that can help acknowledge and ease these feelings.
"Anxiety in teens has been on the rise for years, and these unsettled times have only added to that rise," said Guidance Counselor Ms. Kate McCaughey. "For teens, altering the routine of going to school every day is a challenge, especially for those who thrive on routines and having a place to be themselves. They need a place where they can feel safe, secure, and understood while they work through feelings of stress and anxiety." Ms. McCaughey and the entire guidance staff are working to inform students and faculty about these very normal struggles and that there are ways to address them. "If we project kindness and compassion, something the Molloy community has regularly shown, we can help those who are feeling most anxious about this time," said Ms. McCaughey. Guidance Counselors have advised faculty to look for anxiety among students, and they continue to provide resources on how to address anxiety. Some of these include a meditation app called "Stop. Breathe. Think.", coping with "Zoom Fatigue", and even focusing one's thoughts through journaling.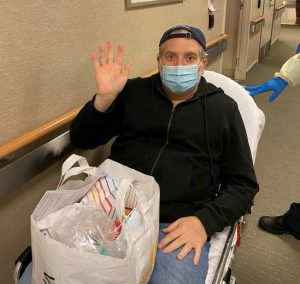 In October, Kevin Browne '83 was featured on NBC's Today. Kevin, Deputy Chief Nurse at Memorial Sloan Kettering Cancer Center (MSK), shared his story of survival and faith. In March, Kevin began battling severe COVID-19 symptoms. He was soon admitted into the care of his colleagues at MSK. Fortunately, after weeks of battling the disease, Kevin would recover. When he was discharged, the MSK staff sent him home to applause. Six months after he was discharged, Kevin finally returned to MSK to thank his colleagues and get back to work. He told Today that his fearless colleagues and faith in God were the driving forces in his recovery. | Click Here to Watch Kevin Browne on Today
---
Congratulations to Jason Pitera '01 and his wife, Joanna, on the birth of their daughter, Sophia Genna, born on October 2nd. Congratulations to big sister Alana as well!
---
A script written by Kevin Rice '97 has been picked up by Netflix for a film adaptation. According to The Hollywood Reporter, Born to Be Murdered is "set in Athens and the Epirus region of Greece and tells of a vacation couple who fall prey to a conspiracy with tragic consequences." The film is tentatively scheduled to debut sometime in 2021. | Click Here to Read More
---
Joseph Gannon '62 shares memories of his days at Molloy. Joe was the only Bronx resident in the Class of 1962. He spent four years on the Q44 bus from the Bronx to Jamaica. "It was actually an easy commute," said Joe. "I remember my days fondly. I got the Stanner Spirit medal twice and was active in the Student Activities Committee. I also spent four years with the Sodality Club under Br. James Maher and Br. Bonaventure." Joe keeps in touch with several of his classmates including Br. Roy George '62, Jim Murphy '62, and Fr. Elias Mallon, S.A. '62 (Graymoor Friars). "Jim Murphy was Chief of Deacons in Rockville Centre. He was the sole deacon on the altar with the Pope in Madison Square Garden. Fr. Mallon works at the UN for Catholic Near East Services and writes extensively."



We are saddened to share the passing of Jeffrey Ford, son of Maria Ford (retired, Stanner Alumni Center) and Thomas Ford '64, and brother of Terrence Ford '98. Jeffrey passed away on Thursday, October 29, 2020. Jeffrey is survived by his loving wife Carolyn, parents Maria and Tom, sister Jennifer, brother Terrence, sister-in-law Ledja, nephew Thomas, and nieces Sarah and Bree. Please keep Jeffrey and the Ford family in your prayers during this difficult time. | Click for Memorial Page

Please pray for the repose of the souls of Brendan McGuire (age 37) and Vincent McGuire (age 21), sons of Kieran McGuire '72, both of whom passed away of cancer this October.

Please pray for the repose of the soul of Dorothy Kramer, sister of Mary Mallia and godmother of CJ Mallia.

Please pray for the repose of the soul of Br. Brendan Brennan.

Please pray for the repose of the soul of Br. Eugene Trzecieski.

Please pray for the repose of the soul of John Shea, brother of Br. Richard Shea.