Business of Sports Virtual Networking Event
When: Tuesday, Dec 1, 2020 | 6:30pm
Where: Zoom
Admission: Free!
Contact: alumni@molloyhs.org
REGISTRATION IS NOW CLOSED
ABOUT THE EVENT: Join the Stanner Alumni Center on Zoom as we host a panel of industry experts for a discussion about the dynamic Business of Sports. Topics will include general networking, personal branding, and more. All are welcome! Submit a question for the panel when you RSVP! "We are truly excited to have such an outstanding array of industry experts sharing their thoughts and experiences in the sports industry," said Alumni Development Director Craig Katinas '93. "Over the course of the next few months we will continue this network series in the areas of Television Production, IT, and more. We welcome our alumni to contact us if they would like to share their expertise as a future panelist or thoughts on what we can offer to enrich our community moving forward."
PANEL: Rosalyn Gold-Onwude '05, Sports Broadcaster, ESPN, TNT & More | Monica Ferreira Gimlett '06, Director of Strategy, NFL Partnerships | Adam Behnke, Chief Business Officer, Queensboro FC | Ed Kull '99, Director of Athletics, Fordham University. | Read more about our panelists by clicking the thumbnails below.
---
Virtual Yoga & Meditation

–

REGISTER SOON
When: Sunday, Dec 13, 2020 | 11:00am
Where: Zoom
Who: All are welcome!
Admission: Free. Suggested donation to Karina Vetrano Memorial Scholarship
Contact: alumni@molloyhs.org
Join Jennifer Kelleher '04 on Sunday, 12/13 at 11:00am on Zoom for Gentle Yoga. Jennifer guides you through a slow-flowing sequence of sacred geometric poses intentionally designed to organize, align, and inspire your entire being. Finish feeling energetically taller, totally renewed from the inside-out, and with greater clarity and direction for your day and week. Better than a massage! This is a gentle class, appropriate for beginners and the most advanced yogis alike.
---
Updates On Thanksgiving Liturgy & Stanner Games
Dear Stanners & Friends,

Each year, we love to see our alumni when they visit Molloy, especially in celebration of our annual Thanksgiving Liturgy. Unfortunately, due to ongoing restrictions related to COVID-19, most alumni visits have not been possible since Molloy reopened in September. Additionally, we are saddened to share that due to these restrictions as well as logistical challenges, we are not able to offer this year's Thanksgiving Liturgy in either a physical or virtual setting for our alumni. We apologize for this disappointing news, but we thank you for your understanding and support. Please continue to read The Beehive for updates regarding our ongoing response to COVID-19 during the 2020-21 school year.

Looking ahead, Stanner Games directors Joe Dombrowski and AJ Power '84 have announced that the 2021 Stanner Games have been canceled due to the ongoing pandemic. Coach Dombrowski and Coach Power thank you for your understanding and extend their best wishes to all past Stanner Games volunteers. They look forward to seeing you at the next Stanner Games, which is tentatively scheduled for January 15, 2022.

Once again, thank you for your understanding. If you have any questions, please contact us any time at alumni@molloyhs.org. We wish everyone a happy and safe Thanksgiving.

Sincerely,

The Stanner Alumni Center

Stanner Alumni Center Hosts First Virtual Networking Event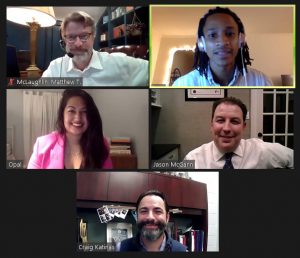 On November 10th, the Stanner Alumni Center hosted its first Virtual Alumni Networking Event. Stanners tuned in from across the United States via Zoom to learn from a panel of distinguished professionals, which included: Opal Vadhan '11, Executive Assistant to Secretary Hillary Rodham Clinton; Morrell Gaskins '12, Associate Director of Recruiting, COOP Careers; Jason McGann '96, Managing Director, PineBridge Investment; Matt McLaughlin '87, Partner-in-Charge, Venable LLP.
The discussion focused on navigating the job market during the COVID-19 pandemic. Topics included how to prepare for and conduct a successful job interview on Zoom, personal branding, curating one's Internet footprint, using social media to your advantage, best practices for interview follow-ups, and much more. Our panel was also gracious enough to provide a document containing many of the "Do's and Don'ts" that were discussed during the event as a resource for all Stanners. Click the blue button below to download the document.
Thank you to our outstanding panel, Ms. Nancy Cantalino for her technical support, and all our alumni and friends who joined us. We look forward to hosting more virtual networking events in the near future (including the Business of Sports on December 1st! Click here for more info.).

---
Amazon Engineers Virtually Visit Molloy Students
by Ms. Edit Boral
During the first and second week of November, Molloy students had a chance to virtually meet and chat during their computer science classes with the following four guest speakers from Amazon (pictured left to right in the gallery above):
Litmanovich Lenara, Recruiting Coordinator on the Amazon Consumer Team
Terence Truong, Solutions Architect Amazon Web Services (AWS)
Amit Lodh, Senior Leader and Solutions Architecture Manager on the AWS Team
Jaswanthi Meganathan, Engagement Manager, AWS
Each Amazon volunteer was thrilled to connect and share insights from their computer science journey with Amazon Future Engineer (AFE) students and Ms. Boral. They talked about what it's like to actually study computer science in college and work in the tech industry, including at Amazon. Students also had a chance to ask questions and connect with the volunteers on LinkedIn. Molloy's Computer Science program offers students the opportunity to obtain Amazon Certificates. These certifications carry weight when pursuing future job opportunities – particularly at Amazon.
Click the button below to read the full story, including comments from our students.

---
Sports Updates: Lots of City Champs!
Congratulations are in order for several Varsity and JV teams who have been crowned City Champions this fall! Congratulations to:
Girls Varsity Cross Country – B/Q & City Champions! (1st in Program History)
Girls JV Cross Country – B/Q & City Champions! (1st in Program History)
Girls Varsity Tennis – B/Q & City Champions!
Girls JV Soccer – City Champions!
Boys JV Soccer – City Champions!
On Saturday, November 21st, the Girls Varsity and JV Cross Country teams will finish their seasons at Van Cortlandt Park in support of the Esopus Runners event honoring the late Br. Bob Andrews. This run will be in lieu of the canceled NYS Federation Championship.
---
Cole Anthony Drafted By Orlando Magic – 2020 NBA Draft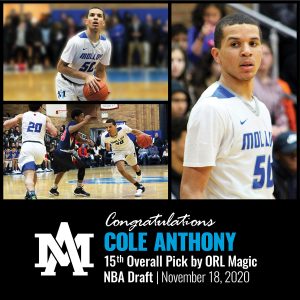 On Wednesday, November 18th, Cole Anthony was drafted 15th overall by the Orlando Magic in the 2020 NBA Draft. Many Stanners and friends would agree that 2016-2018 was one of the most exciting times in Molloy basketball history, as Cole Anthony, Moses Brown '18, and Khalid Moore '18 teamed up to form an elite trio that led Molloy to a City Championship game in 2017 and another exciting playoff run in 2018. During his time at Molloy, Cole tallied over 1,000 points, entered Molloy's top 10 scorers all-time, and was consistently rated as an elite high school player in national rankings.
Although Cole ultimately left Molloy to attend Oak Hill Academy for his senior year, Cole will always have strong ties to Molloy as well as many friends in our community. We extend our sincerest congratulations to Cole and wish him all the best during his professional playing career. For more information about Cole, check out the following link to "Becoming Cole Anthony" produced by Bleacher Report. You can also watch a trailer for the series in the embedded Tweet below, which features other Molloy basketball greats.
Starting as a freshman on varsity for one of the most storied NYC high school programs is rare. But @The_ColeAnthony did that 🙌

Watch the point guard's rise to NBA draft prospect in "Becoming Cole Anthony" (@FinishLine) https://t.co/haa2DkUp4C pic.twitter.com/tJgx29onV7

— Bleacher Report (@BleacherReport) November 18, 2020
---
Lay Marist Council Update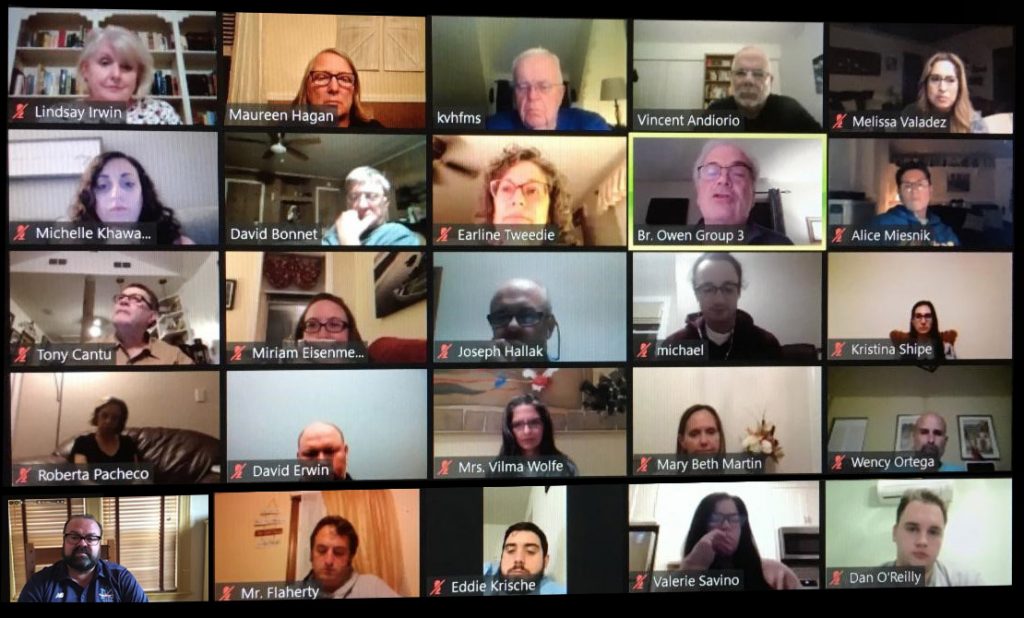 Members of the Lay Marist Council USA, including President Richard Karsten '81, have met with most of the Brothers' communities to share information about what has been happening with the Lay Marist movement since the appointment of the Council in May. On November 11th and 12th, the Council shared a similar presentation with lay Marists in the general community via a zoom call. 40 people attended, and hopefully many will be ready, along with the Brothers, to join the first cohort in the formation process. The tentative date for beginning is January 2nd, the Feast Day of the Institute.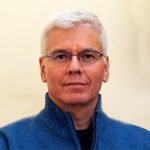 Br. Ben Consigli '80 recently published an article uplifting article titled "Forcing the Spring". Br. Ben believes we must "force the spring in our winters of anxiety or past frustrations or helplessness. A spring reborn out of its ordinary time/season, amid a pandemic, that generates a vision and courage to reinvent our world." | Click Here For Full Article
---
Dr. Vincent G. Desiderio '66, a board-certified orthopedic surgeon at Sibley Memorial Hospital in Washington, D.C. for 41 years, was recently honored by his colleagues with a small retirement party. Dr. Desiderio's colleague, who shared the accompany photos, shared that "I wish you could have seen his face light up when he saw his high school photos. He was really touched." During his career, Dr. Desiderio practiced out of Rothschild & Desiderio MDs and was affiliated with Sibley Memorial Hospital, Howard University Hospital, Washington Hospital Center, Providence Hospital, and Washington D.C. VA Medical Center. Dr. Desiderio has been an expert in physical medicine and rehabilitation, as well as neuromuscular medicine. He earned his medical degree from Georgetown University School of Medicine, and he completed residencies in general surgery at Veterans Affairs Medical Center and in orthopedic surgery at Georgetown University Hospital. Congratulations on your outstanding career and retirement, Dr. Desiderio!
---
Earlier this year, Henry Roubian '85 was promoted from Investigator Corporal to Investigator Sergeant, assigned to the Office of the Sheriff in Nassau County.


Please pray for the repose of the soul of Darren Welty '87, brother of late 9/11 hero Timothy M. Welty '85, FDNY. | Click Here for Memorial Page

We were recently informed that James Kelmer '60 sadly passed away in the year 1978. This information was shared with us by Hank, an old friend of James who had been searching for him online. According to Hank, James was "the sixth man on Molloy's always outstanding basketball team." Please keep James Kelmer in your prayers.