Virtual Yoga & Meditation

–

REGISTER SOON
When: Sunday, Dec 13, 2020 | 11:00am
Where: Zoom
Who: All are welcome!
Admission: Free. Suggested donation to Karina Vetrano Memorial Scholarship
Contact: alumni@molloyhs.org
Join Jennifer Kelleher '04 on Sunday, 12/13 at 11:00am on Zoom for Gentle Yoga. Jennifer guides you through "a slow-flowing sequence of sacred geometric poses intentionally designed to organize, align, and inspire your entire being. Finish feeling energetically taller, totally renewed from the inside-out, and with greater clarity and direction for your day and week. Better than a massage!" This class is appropriate for beginners and the most advanced yogis alike. Register soon!


#GivingTuesday – THANK YOU!
On behalf of the administration, faculty, staff, and students at Molloy, THANK YOU for your generosity on #GivingTuesday (12/1/20). Your gifts to The Fund For Molloy on Giving Tuesday and throughout the 2020-21 school year will:
Allow Molloy to continue to invest in new technology for hybrid learning and resources to ensure the health and safety of all students, faculty, and staff.
Directly help students and their families who have been affected by COVID-19, especially those students who have suffered the loss of a parent or guardian, or whose parent or guardian has experienced loss of income.
Molloy is so grateful for all you do to provide our students and faculty with the best educational experiences and opportunities possible. Your support is deeply appreciated on Giving Tuesday and everyday. Once again, THANK YOU for your generosity, and "God Bless All Stanners!" | Click the thumbnails below for more information.
---
Community Remembers Br. Leo Richard, SMILE Counselors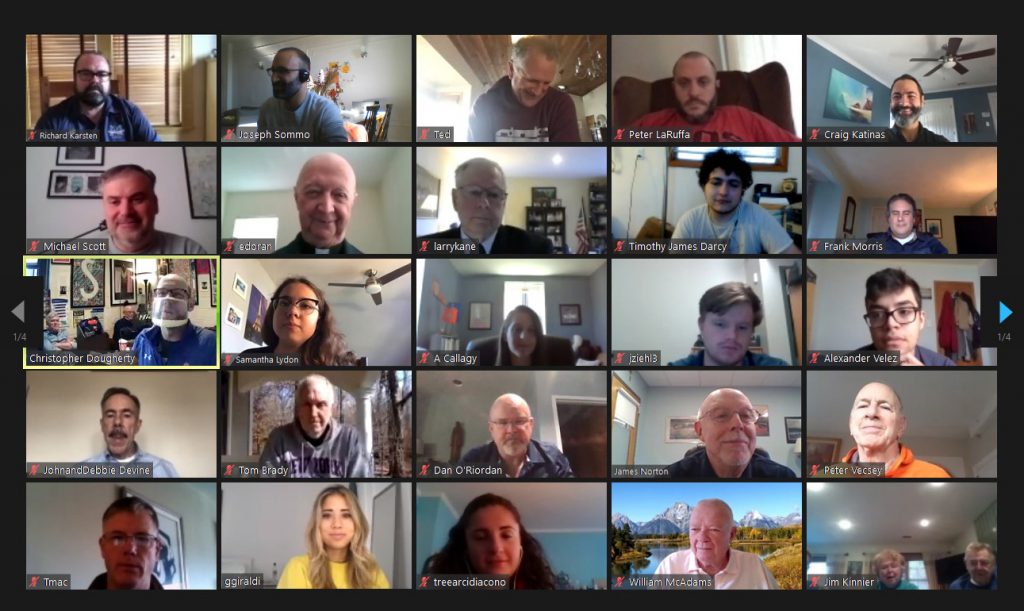 On November 14th, over 100 Stanners and friends gathered on Zoom to honor the memory of the late Br. Leo Richard, FMS, and past counselors of the SMILE program who are no longer with us. 2020 marks 25 years since Br. Leo's passing. The idea to host an event honoring the legacy of the beloved SMILE founder was first conceived by Br. Dan O'Riordan '85. After mentioning the idea in passing to current SMILE moderator Mr. Chris Dougherty '91, there was no way the event wouldn't happen!
The Virtual Remembrance of Br. Leo was initially planned for June, but the pandemic pushed those plans back. Fortunately, Zoom allowed perhaps even more members of our community to gather virtually from across the country. Those who attended represented each decade of graduates from the 1960s all the way to the 2020s. Those who attended were a blend of past and present SMILE and Peer Group participants, counselors, PGLs (Peer Group Leaders), and members of the Morris family (Br. Leo's family). Other special guests included Msgr. Ed Doran, Br. Dan, Richard Lally, Br. James Norton '63, Ray DiStephan '87, Joe Egan '89, and Jim Kinnier.
The event included an opening prayer led by Msgr. Doran, a reflection and presentation led by Br. Dan, a virtual guided tour of SMILE locations around Molloy led by Mr. Dougherty, and breakout rooms that allowed generations of Stanners to discuss the legacy of Br. Leo and what SMILE means to them. And of course, as with all past SMILE events, all participants were encouraged to secure a slice from their favorite local pizzeria. Mr. Dougherty made sure to have an Alba's pizza in The Cave, noting that Alba's was a Br. Leo's favorite spot.
"Seeing the Morris family and friends, and Molloy alumni from New England to Las Vegas, and from Kentucky to Ontario, just added so much to this amazing celebration of the life and legacy of Br. Leo Richard," said Mr. Dougherty.
Guidance counselor Ashley Callagy '05 shared her reaction to the event. "It was very special. I'm so honored to have been part of it, as well as this great work that continues. As our breakout room said, Br. Leo is still at Molloy, and in other schools, and on the beach, and all around." College Guidance Counselor Mr. Ted McGuinness '81 shared something interesting after the event. "I recently uncovered 10 Laws of Self-Esteem, which is a document put together by Br. Leo with Dr. Davis. I am pleased to share it with all who attended the event, and those who couldn't, via the Virtual SMILE Museum." You can download the 10 Laws of Self-Esteem by clicking the blue button below to visit the SMILE Museum.
THANK YOU to everyone who attended the event, as well as to all SMILE and Peer Group alumni everywhere. Please know that the good work of Br. Leo and all past SMILE counselors continues each day on Manton Street with every new generation of counselors and PGLs.
Note: We plan to upload the event to Youtube, however it requires some fine-tuning before it is ready! We hope to have it uploaded by the release of our next Beehive. In the meantime, you can watch the guided tour led by Mr. Dougherty in the video player below. Thank you for your patience!

---
Giraldi '17 Helps Molloy Students With #CRUSHCOVID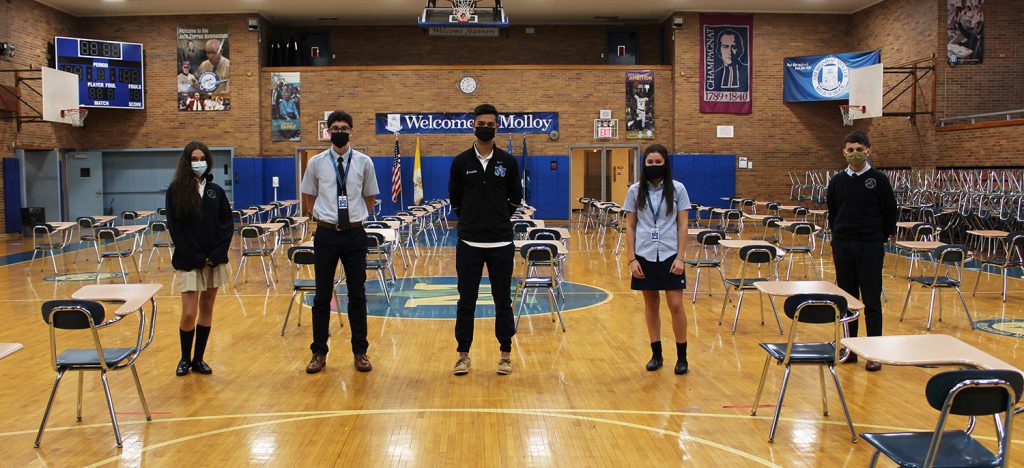 Back in May, Dante Giraldi '17 decided he couldn't sit by while the COVID-19 crisis was affecting so many people in the communities he loves. Dante launched an online fundraiser called #CRUSHCOVID, which would provide frontline workers with supplies and meals, benefit his beloved Gottschee Soccer Club of Queens, and help Molloy students affected by COVID-19. Dante's hard work and outreach helped #CRUSHCOVID raise $5,445 for these three causes.
Dante recently visited Molloy to present his donation to Molloy. During his visit, Dante took the opportunity to speak with several students after school, sharing advice based on his own experiences at Molloy and in college. A portion of the funds raised through Dante's campaign have since helped Molloy provide meals to students who have lost a parent or guardian to COVID-19, or to students whose parent(s) may have experienced loss of income. Funds have been credited to these students' "my kids spending" lunch cards. Thank you, Dante, and everyone who generously supported the #CRUSHCOVID campaign. Your kindness has helped several Molloy students during this difficult time.
*Note: Dante is pictured with the students he spoke with during his visit. A photo with the students directly benefiting from Dante's donation was not taken out of respect for their privacy. Pictured with Dante: Christian Rosig '22, Olivia Sweeney '22, Lucia Vucetic '24 & John Wise '22.
---
#EsopusRunners Remembers Br. Bob Andrews, FMS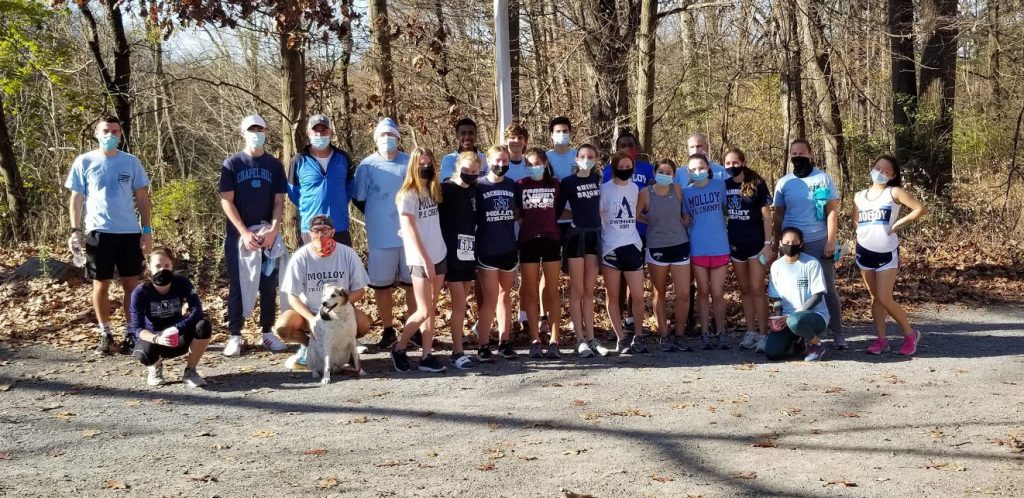 On November 21st, members of the Molloy community participated in the Esopus Runners 5K race at Van Cortlandt Park. This year's special race was held in memory of our beloved Br. Bob Andrews, FMS. | Click Here To Visit Esopus Runners Online
Br. Dan O'Riordan '85, who was one of the main organizers of the event and a close friend of Br. Bob for many years, shared the following: "I had the privilege to join a number of current and alumni members of the Molloy Track Family as we remembered long-time Molloy coach, Br. Bob. Folks joined for a belated #EsopusRunners 5K run, which began on the flats of Van Cortlandt Park and ended at the bridge, after two laps at the infamous back hills. Br. Bob spent almost 50 years cheering on generations of XC 'harriers' to great success in those same hills. His booming voice of encouragement will forever be heard there and in the quiet of the hearts of all of us who were lucky to have been coached by him. After the race, we shared breakfast, a prayer for Br. Bob, and many inspiring stories of the impact he had on so many of our lives. The younger Stanners of today were encouraged to continue to live and build Molloy's track legacy and family spirit in the years ahead. God Bless All Stanners!"
---
Br. Dan O'Riordan '85 Launches Second Book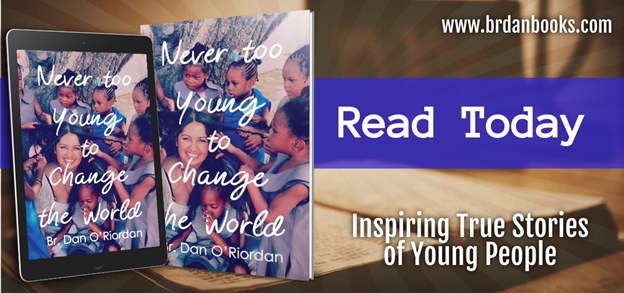 Congratulations to Br. Dan O'Riordan '85 on the launch of his second book, Never too Young to Change the World.
A note from Br. Dan: "We live in a time and world that desperately needs heroes. So many people struggle today to find hope and sometimes question whether God is listening to the many needs of our current time. The pages of this book are filled with inspiring true stories of young people who, despite their age, have dramatically impacted our world. Each of these young individuals are responding to many of the needs in our world by living their faith and being witnesses of hope and love.

Each story illustrates the divine greatness in all young people and offers examples of how blessed our world is to have so many unsung and quiet heroes who are impacting our world, one person at a time. Read and be amazed and inspired by these young ambassadors of faith, hope and love. Many of the young people highlighted in the book are graduates of Archbishop Molloy High School, including Opal Vadhan '11 on the cover.

All proceeds from the book will support the Marist Brothers' Center in Esopus. The book is available on Amazon.com. Click Here to get your copy today."
---
Thanksgiving Liturgy Goes Virtual
We hope all Stanners and friends had a happy and safe Thanksgiving. Normally, we would have celebrated together at our annual Thanksgiving Liturgy. This year, Molloy's Liturgy went virtual on November 24th. The Liturgy was celebrated in the first-floor chapel by Fr. John Serio '71. It was broadcast live to all students, faculty, and staff.
While this year has been challenging in many respects, we believe it is important to carry on important traditions such as including our alumni and Stanner families in the Thanksgiving Liturgy in some way. In turn, we have made the Liturgy available for viewing on Youtube. In case you missed it, click the player below to watch the Liturgy any time.

---
Molloy's Online Store – December Sale!
Molloy's online store is now offering 20% off your purchase of $85 or more until December 31st. If you would like to order new Molloy gear for your families- get your orders in by December 13th to ensure delivery before Christmas. Please click the image below to be directed to our online store.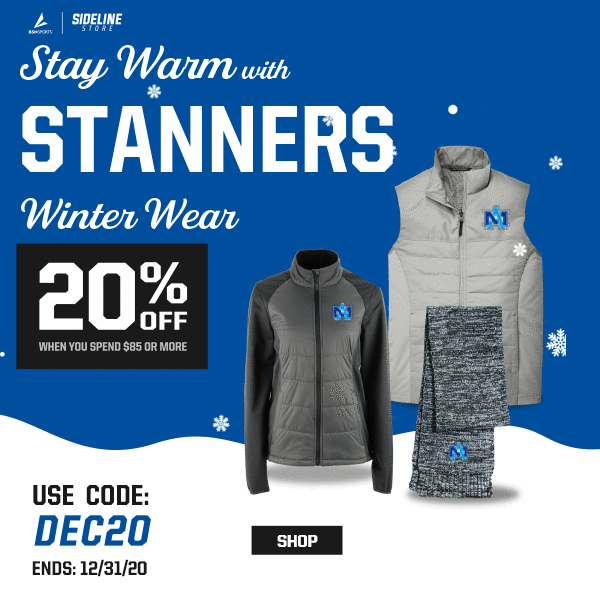 Carissa Jordan '04 Launches "Benjamin Talks"
Carissa Jordan '04 is thrilled to announce the launch of Benjamin Talks, a financial literacy initiative. Benjamin Talks aims to take the taboo out of money talk and make the next generation fluent in finance. With the innovative Benji Bank and creative, digestible content, Benjamin Talks works to educate, engage and empower children to know their worth, no matter what path they choose to take in life. Co-Founded by two moms with backgrounds in finance, Carissa Jordan, along with her partner, Nikki Boulukos, realized there was no blueprint for teaching young children about money. Carissa recognized the power of understanding money from a very young age. As the oldest of three children in a blue-collar household, Carissa began tutoring and babysitting by 12 years old. She quickly taught herself how to budget and always stuck to a financial plan.
As Stanners like to tout, 'Non Scolae Sed Vitae,' Carissa turned to the Stanner network for expert advice in the legal and accounting fields. By using the LinkedIn alumni page, Carissa worked with John Coster IV '08 and his team at Duane Morris for legal counsel. Carissa also reconnected with Kristy Caruso '04, who helped broker Benjamin Talk's business relationship with EisnerAmper. To learn more, visit BenjaminTalks.com and follow along on instragram @BenjaminTalks. Carissa can be contacted directly at Carissa@benjamintalks.com.



Please pray for the repose of the soul of Brian J. McNerney '62. Brian passed away on Thanksgiving morning, November 26, 2020.| Click for Memorial Article

Please pray for the repose of the soul of Anthony Lea '66, brother of Nigel Lea '68. Anthony passed away on April 22, 2020. | Click for Memorial Page

Please pray for the repose of the soul of Thomas A. Eifler '62, who passed away on June 4, 2020. A touching tribute, written by Mrs. MaryAnn Eifler, has been shared with the Molloy community: Click here to read the full tribute to Thomas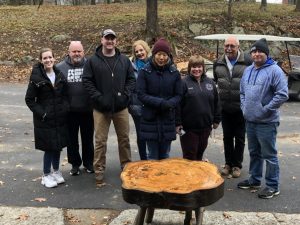 It was with great sadness that Molloy announced the passing of Sae Joong Suh '01 in the September 25th issue of The Beehive. The Marist Brothers' Center at Esopus has since remembered Sae, a longtime Esopus volunteer, with a unique tribute. The MBCE recently had to remove the large tree in the courtyard of the center. Sae's name was carved into the tree and a coffee table was made from that section of the tree. The table was then presented to Sae's sister shortly before Thanksgiving.