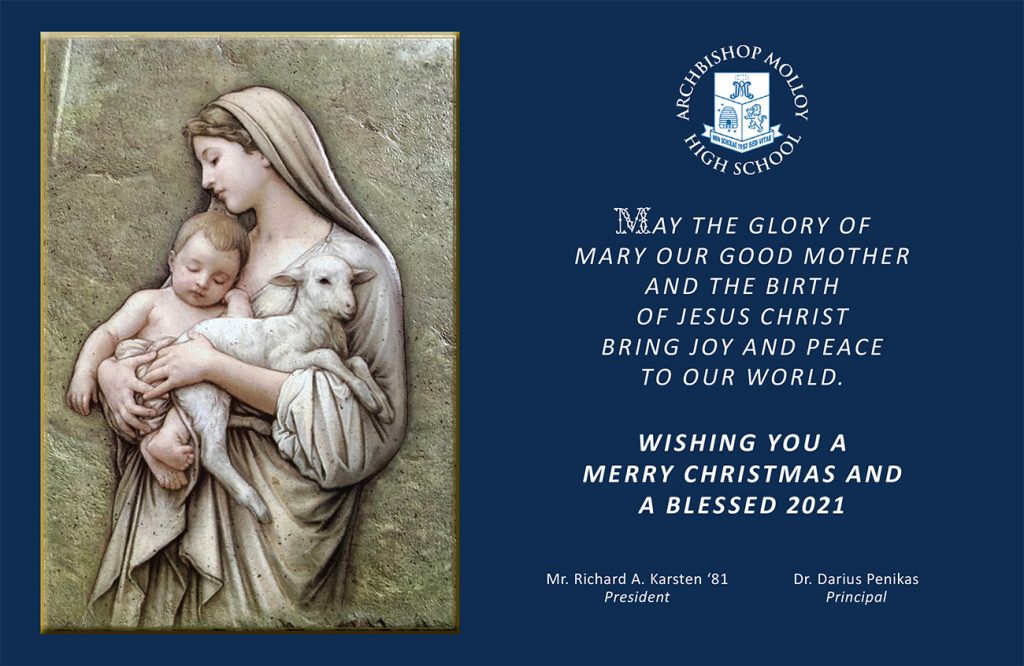 Molloy Hosts Business of Sports Networking Event
On December 1st, the Stanner Alumni Center hosted its first Business of Sports networking event. We were fortunate to present a discussion led by four industry experts, each with a unique perspective on this diverse and exciting field. Panelists included: Rosalyn Gold-Onwude '05, Sports Broadcaster, ESPN, TNT, & More; Monica Ferreira Gimlett '06, Director of Strategy, NFL Partnerships; Adam Behnke, Chief Business Officer, Queensboro FC; Ed Kull '99, Director of Athletics, Fordham University. Topics included general networking, building a personal brand, gaining an advantage by learning new skills, and more. Thank you Ros, Monica, Adam, and Ed! This was the first of what we hope will be more events geared toward the Business of Sports. Use the video player above to watch the event!
---
Recent Virtual Events Now Available on Youtube

The Stanner Alumni Center has made several recent virtual events available on Molloy's Youtube channel. We are committed to providing important resources for our community, including the advice shared during our virtual networking events, as well as the beautiful remembrance of Br. Leo Richard that took place several weeks ago. Visit www.youtube.com/archbishopmolloyhighschool1957 to watch these events any time:
Virtual Stanner Networking Event – 11/10/20 – featuring Opal Vadhan '11, Morrell Gaskins '12, Jason McGann '96, and Matt McLaughlin '87.

Virtual Remembrance of Br. Leo Richard – 11/14/20 – featuring Msgr. Ed Doran, Chris Dougherty' 91, Br. James Norton '63, Br. Dan O'Riordan, and more.

Business of Sports Virtual Networking Event – 12/1/20 – featuring Rosalyn Gold-Onwude '05, Monica Ferreira Gimlett '06, Adam Behnke, and Ed Kull '99.
---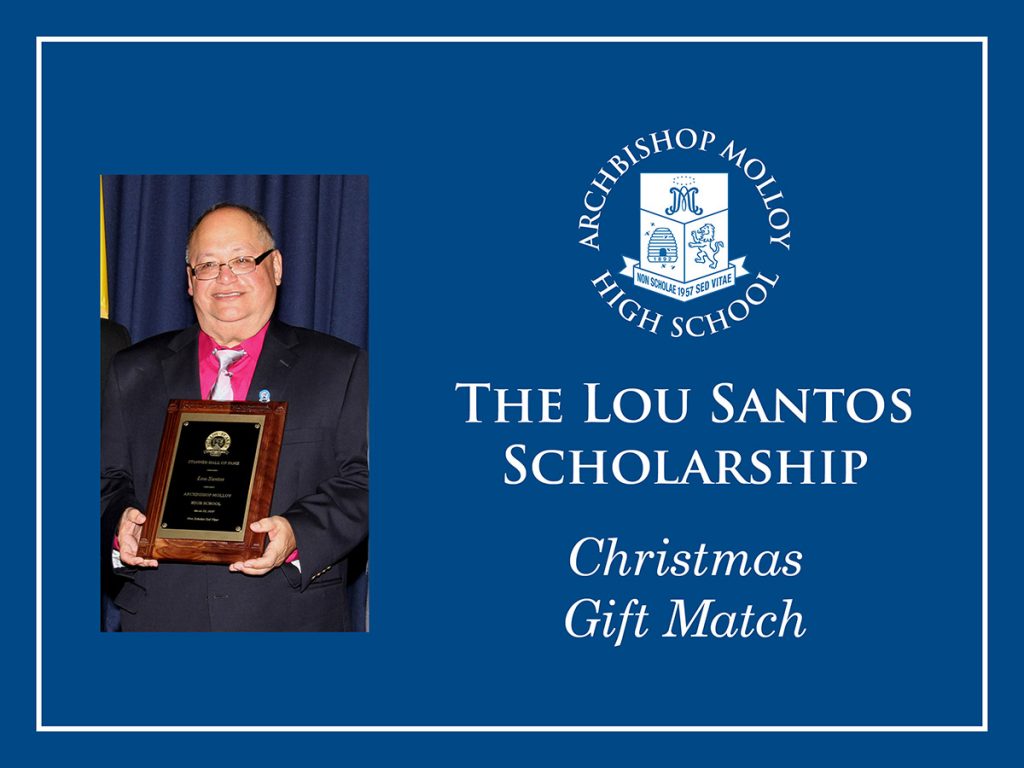 During this blessed time of Advent, Archbishop Molloy High School is grateful to all Stanners and friends who continue to support our students and our Marist mission.
Recently, an anonymous donor generously offered to spread Christmas cheer by initiating a $20,000 Gift Match in support of The Lou Santos Scholarship.
Known as "Coach Lou" to many Stanners, Mr. Santos has served the Molloy community as a teacher, coach, and friend for over 40 years. The scholarship in Mr. Santos' name will benefit a Catholic student with demonstrated financial need.
The Gift Match begins now and runs through January 15th. The match will be 1:1, meaning your gift of any amount will be matched dollar for dollar up to $20,000. Your gift of $50 becomes $100; $150 becomes $300, $250 becomes $500, and so on! We hope you can help us meet this gift match in honor of Mr. Santos. Visit www.molloyhs.org/donate/ and make a gift to The Lou Santos Scholarship today.
We wish you and your loved ones a Merry Christmas and a Happy and Healthy New Year to come.

---
Kelleher '04 Leads Virtual Yoga & Meditation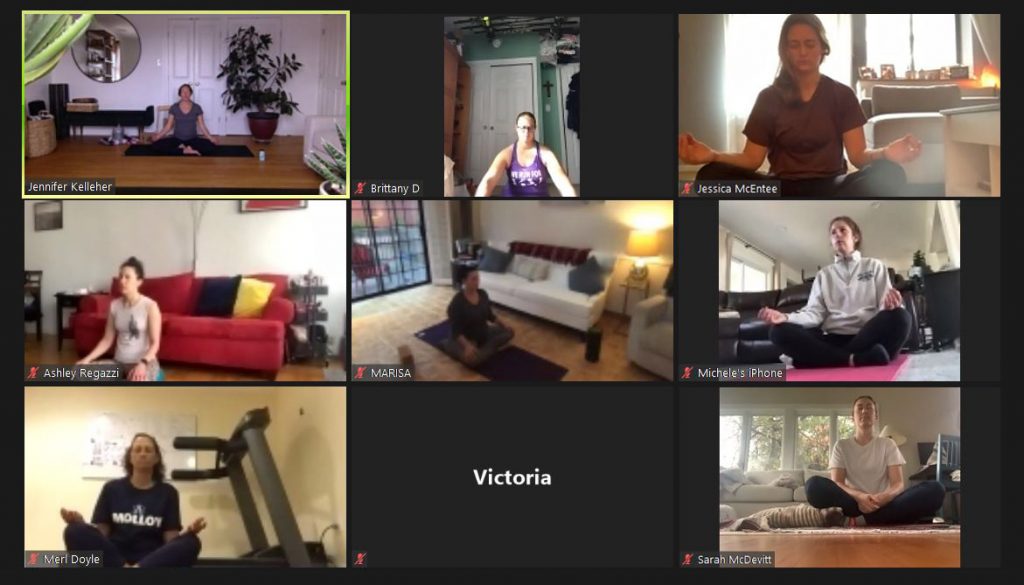 Thank you to Jennifer Kelleher '04 for hosting her latest Virtual Yoga & Meditation for the Molloy community. Stanners and friends enjoyed a gentle yoga session as Jen guided them "through a slow-flowing sequence of sacred geometric poses intentionally designed to organize, align, and inspire one's entire being." This session was suitable for beginners and advanced yogis alike. The event was free to attend, with a suggested donation to the Karina Vetrano Memoial Scholarship, benefiting young women entering Molloy in the future. Thank you to everyone who participated, as well as to those who made a gift to Karina's scholarship.
Jennifer Kelleher is a certified yoga instructor and is experienced working with large groups and individuals. Learn more by following Jen on Instagram: @jennifer_kaitlin.
---
Read The New Issue of The Stanner Newspaper!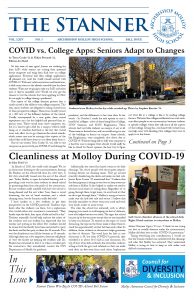 Molloy's student journalists invite alumni and friends to read the newest issue of The Stanner. Molloy's student newspaper has roots dating back to St. Ann's Academy over 75 years ago. Today's newspaper features school and real world news, student opinions, senior spotlights, the latest team results, and more. Many of the articles in this issue examine how COVID-19 has impacted life at Molloy and the world beyond Briarwood. Congratulations to Editors-In-Chief Tessa Cooke '21 and Nikita Persaud '21, Associate Editors Juliette Leveau '21 and Kamara Nyahuma '21, and the entire staff on an impressive first issue in this unique 2020-21 school year.
Click the link below to access the newspaper. You can also visit www.molloyhs.org/stannernewspaper/ to find recent past issues as well as select archives.

---
Guidance Hosts Virtual "Freshman Meet Up"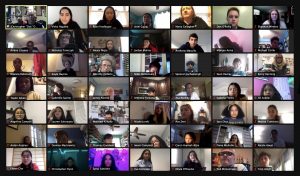 Earlier this month, over 200 students and faculty, including 150 freshmen, attended a virtual "Freshman Meet Up" on Zoom. Guidance Chair Mr. Chris Dougherty '91 explained that the goal of the event was community building, especially among the freshman class. "The Class of 2024 did not have a Freshman Camp, a Mass of the Holy Spirit, Freshman Field Day, Walkathon, fall retreat at Esopus, and they haven't even had homerooms yet due to the hybrid schedule," said Mr. Dougherty. "Some freshmen who have been fully remote since September haven't even been to Molloy for any classes. We wanted to bring the freshmen together with this event to connect them with upperclassmen, teachers, peer group leaders, and each other."
The event featured spirited conversation and breakout rooms for smaller groups. The meet up took place multiple days to accommodate everyone who wanted to participate. "We were thrilled with the turnout and overall feedback," said Mr. Dougherty. "We were even able to host another one on December 17th after word spread that it went so well."
---
Students Virtually Attend "Exploring the Ethics of AI" Panel Discussion Sponsored by Microsoft

by Ms. Edit Boral
On December 8th, Molloy computer science students virtually joined some of the nation's top AI experts for a panel discussion about artificial intelligence (AI). The panel talked about how AI works, why it matters, and what ethical implications it has. The event was organized by Code.org and sponsored by Microsoft. Knowing that AI impacts our entire world, students were excited to learn about some of the cool ways that AI is used as well as about algorithmic bias and the future of work.
"I was most interested learning about the use of Artificial Intelligence in farming in Ghana. I was surprised that AI had such a wide reach, even in agriculture," said Charles Chelstowski '23. "This panel taught us a lot and it really expanded my view on AI. There are many things that AI helps us do in society surrounding our everyday lives such as machines in factories. It was important to me that the panel brought up career opportunities in the AI world such as software engineering and data analytics which both interest me," said Kaelem Bent '23. "On the other hand, I was surprised to learn that AI offers job opportunities not only to those who work in the field of computer science or math, but also for people in art or music," added Isha Patel '23.
---
4th Annual 3D Christmas Ornament Competition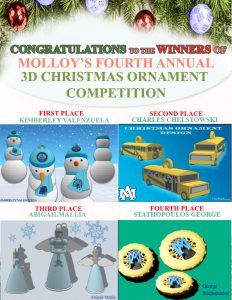 by Ms. Edit Boral
President Richard Karsten '81 had a difficult decision in selecting the winners of our 4th Annual 3D Christmas Ornament Design Competition this year, as we had many fantastic submissions. However, the following artifacts stand out based on creativity, technique, and the Christmas spirit:
First place: Kimberly Valenzuela '21
Second place: Charles Chelstowski '23
Third place: Abigail Mallia '23
Fourth place: George Stathopoulos '23
Congrats to our winners and everyone who submitted designs. Click the thumbnail to see the top designs.
---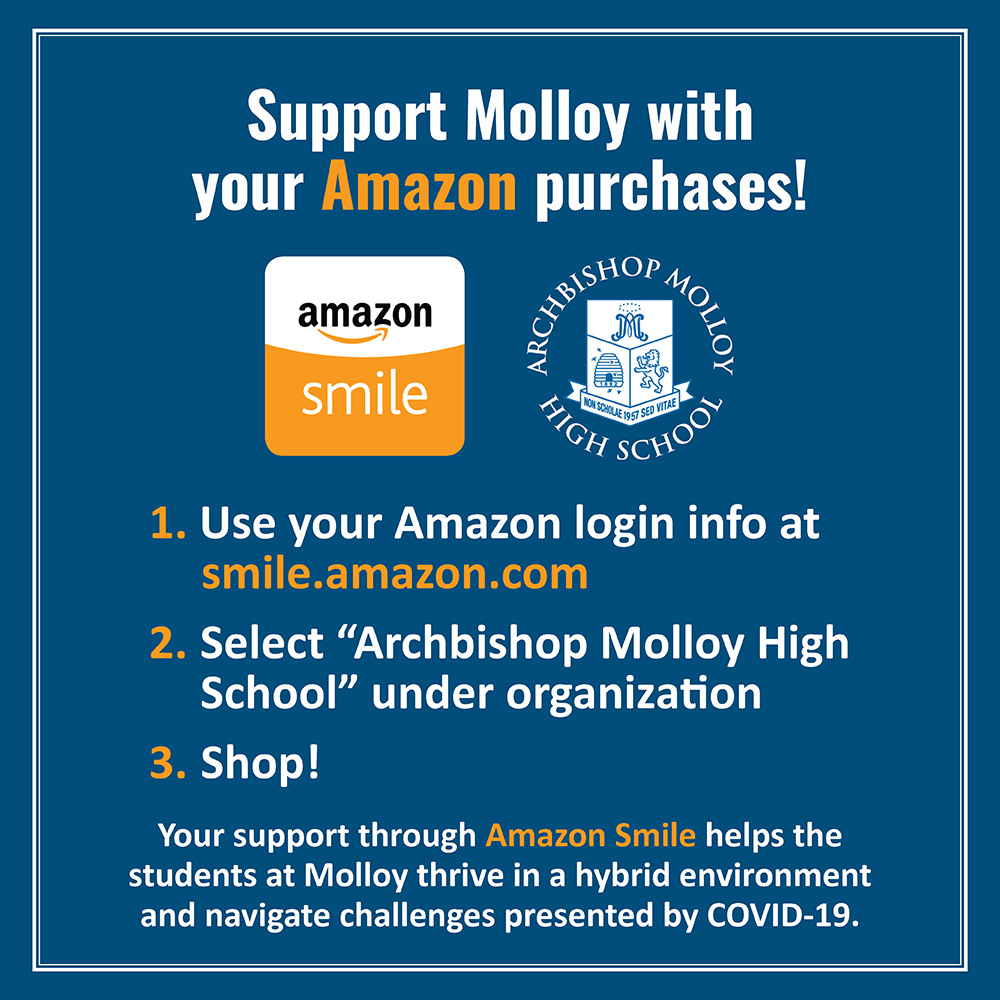 Nicole Marino '12, a surgical physician assistant by day and artist by nature, has released a new hardcover book featuring her original anatomy-themed artwork. Nicoolers' Atlas of Anatomy features 100 pages of sketches and full-color pieces exploring "your extraordinary internal and external organs paired nonsensically with ordinary curiosities." Nicole dares you to "jump into a cerebral spinal fluid universe." Learn more about this colorful and provocative Queens artist on Instagram @nicoolers. You can see an extended preview of Nicoolers' Atlas of Anatomy or purchase it at Blurb Books.
---
Congratulations to Victoria LoBosco '11 and Joseph Smallwood '11, who were married on Saturday, November 7, 2020. "This day would not have happened if Joe and I never met at Molloy! It will always be a special place for us," said Victoria.
---
George DeHaven '72 shares that he retired on June 1, 2020 after over 38 years practing law as a member of Rivkin Radler LLP. Congratulations, George!
---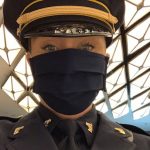 Congratulations to Lauren (Diffendale) Howard '04, who was promoted to a Sergeant by the NYPD on November 24, 2020.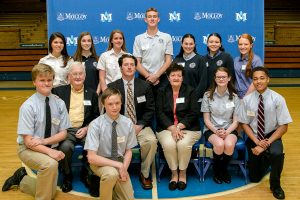 It is with great sadness that Archbishop Molloy High School shares the passing of John J. Cawley, of Flushing, New York, who passed away on December 9, 2020, at the age of 86, leaving to mourn family and friends. He was predeceased by: his parents, Thomas Cawley and Katherine Cawley; his sisters, Helen Cawley, Josephine Mulqueen and Pat Flatley; and his son Michael Joseph Cawley '87. He is survived by: his wife Margaret; his children, Brendan '92 and Kristin; his granddaughter Kathryn Michael; and his brother Thomas Cawley, II. He is also survived by his many nieces, nephews, cousins, friends.
Through the Firefighter Michael Cawley Memorial Scholarship, Mr. Cawley and his family have provided the gift of education for so many students at Molloy. Because of the commitment of Mr. Cawley and the Cawley family, Michael's scholarship has and continues to make a significant impact on Stanners whose parent(s) or guardian(s) are members of the FDNY. Thank you, Mr. Cawley, for your kindness, friendship, and generosity for so many years. We ask the Molloy community to please join us in prayer for John J. Cawley and the Cawley family during this difficult time.
Pictured: John Cawley seated (left) with wife Margaret, son Brendan '92, and many recipients of the Firefighter Michael Cawley Memorial Scholarship (2015-16 Academic Year).
---

Please pray for the repose of the soul of Gábor F. L. "Edward" Hariss '62, who passed away on February 25, 2020. He was 75. He is survived by his loving wife of 53 years, Nubia, their daughter, Ann-Marie, three brothers, three grandchildren, and extended family. The following remembrance was provided by the Hariss family. | Click Here to Read Full Remembrance