Stanner-Owned & Operated Restaurants: Take Our Survey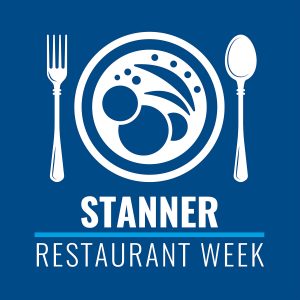 As we all continue to navigate the challenges of COVID-19, the Stanner Alumni Center recognizes that the restaurant / food services industry has been and continues to be significantly impacted throughout the pandemic. Many Stanner-owned and operated restaurants are among the many businesses that are working within strict health and safety guidelines, including restrictions on indoor dining and a model based on takeout, delivery, and outdoor dining in the cold winter months.
We would like to celebrate Stanner-owned and operated restaurants by promoting these businesses during an upcoming "Stanner Restaurant Week". Molloy wants to do its part to help these businesses by encouraging our community to support them however they can. We invite restaurant owners/operators and food service managers to fill out a brief survey to help us collect important data that will help us promote your businesses in the coming weeks. Click the button below to begin the survey. Please complete the survey by January 31st. (If you encounter any problems with the survey please contact alumni@molloyhs.org).

---
Reminder: Lou Santos Scholarship Gift Match Through 1/15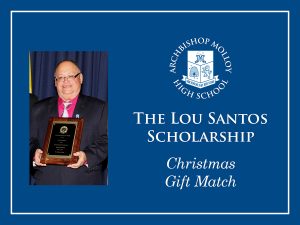 Archbishop Molloy High School is grateful to all Stanners and friends who continue to support our students and our Marist mission. Recently, an anonymous donor generously offered to spread Christmas cheer by initiating a $20,000 Gift Match in support of The Lou Santos Scholarship.
Known as "Coach Lou" to many Stanners, Mr. Santos has served the Molloy community as a teacher, coach, and friend for over 40 years. The scholarship in Mr. Santos' name will benefit a Catholic student with demonstrated financial need.
The Gift Match began just before Christmas and will run through January 15th. The match is 1:1, meaning your gift of any amount will be matched dollar for dollar up to $20,000. Your gift of $50 becomes $100; $150 becomes $300, $250 becomes $500, and so on! We hope you can help us meet this gift match in honor of Mr. Santos. Visit www.molloyhs.org/donate/ and make a gift to The Lou Santos Scholarship today.
THANK YOU for your continued support of Molloy's mission, and may you find happiness and good health in 2021.

---
Stanner Life Magazine Coming Soon – Update Your Address
The Stanner Alumni Center has completed its latest edition of Stanner Life magazine and is currently preparing for printing and distribution. Now would be the perfect time for you and your family to update Molloy with your preferred mailing address, especially if you or your children have recently moved to a new home.

To update your preferred mailing address or other contact information, visit www.molloyhs.org/update/ or email us directly at alumni@molloyhs.org. Look out for Stanner Life later this month.
---
Molloy Celebrates Advent Liturgy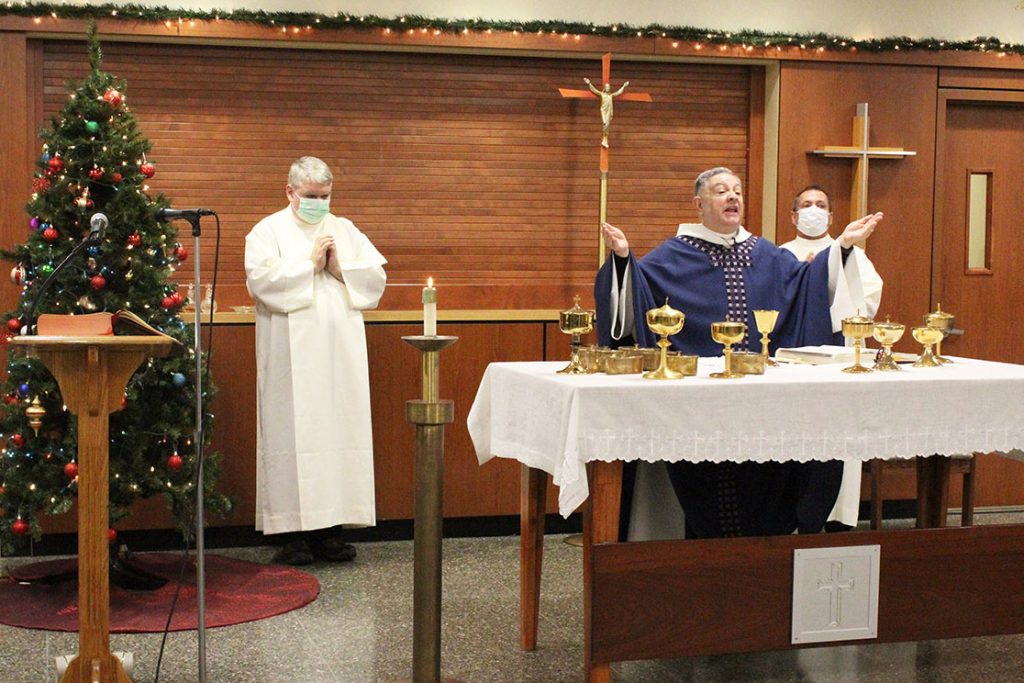 On December 18th, Molloy celebrated its annual Advent Liturgy. Celebrant Fr. Joseph Gibino joined a limited number of students and faculty in the cafeteria for the socially distanced Liturgy. Students in classrooms and at home also had the opportunity to watch a live broadcast. In a time when many school events have not been able to take place as normal, the opportunity to celebrate Liturgies in some form is a blessing for our community. Thank you to all those who made the Advent Liturgy possible.
---
Students Participate In Virtual CPR-AED Training
In November and December, over 230 Molloy students participated in virtual CPR-AED training. These students were the first of eight virtual training sessions that will be offered by the Dominic A. Murray 21 Memorial Foundation during the 2020-21 school year. Over 900 Molloy students are signed up to participate in the remaining sessions.
The Dominic A. Murray 21 Memorial Foundation is a not-for-profit 501c3 organization. "DomHeart21" provides heart screenings for early detection, training in CPR and AED, and lifesaving equipment to eliminate sudden cardiac death in young people. They are committed to expand CPR-AED training, AED access, and heart screenings, so that no family loses a child for lack of screening, training or life-saving equipment.
---
Lay Marists Update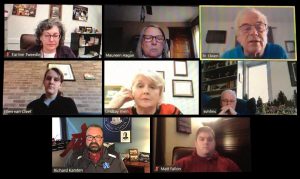 The Council for Lay Marists USA is excited to share that 54 people from the US Province were part of the first cohort in their new formation program, known as the Marists of Champagnat. They began their formation with an opening prayer on January 2nd. After spending the month of January in prayer and discernment, the group will begin attending webinars on various Marist topics. The five webinars will be held approximately every 3 weeks. Finally, the month of May will again be spent in prayer and retreat, with a commitment ceremony and celebration held on June 6th. This formation program is part of a new effort led by Lay Marists USA to deepen the relationship of Lay Marists across the globe, and reaffirming their role in the Marist Mission to make Jesus Christ known and loved through the education of young people. The Council for Lay Marists USA consists of Richard Karsten '81 (NY), Br. Owen Ormsby '74 (NY), Lindsay Irwin (TX), Br. Ken Hogan (NY), Ellen Salmi Van Cleef (KY), Earline Tweedie (MA), Maureen Hagan (NJ), and Adam Wouk. (Pictured: Members of the Council met recently on Zoom to discuss the Marists of Champagnat) | Click Here to Learn More about the Marists of Champagnat
---
Molloy Donates iPads To Local Catholic Academy
In December, Archbishop Molloy High School donated five iPads to Resurrection Ascension Catholic Academy. The donation was facilitated by Mr. Matt Morgado '08, Information Technology Coordinator, and Mr. CJ Mallia, Vice President of Technology & Innovation. Joann Heppt, Principal of Resurrection Ascension, thanked Molloy for its gift, noting that one-to-one devices are especially essential right now as schools reduce the use of shared devices and students continue to adapt in the unique circumstances created by the COVID-19 pandemic.
---
News From Virtual Enterprise
Mr. Joe Touzin and the seniors in his Vir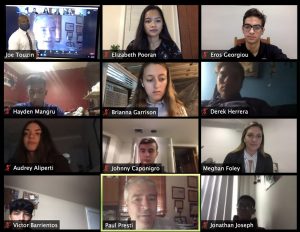 tual Enterprise class recently conducted a Zoom meeting with Mr. Paul Presti, the New York metro area regional director for the Virtual Enterprise program. Mr. Presti was accompanied by two of his colleagues, Elizabeth and Meghan. During the meeting, students discussed their business ideas, the modified competition calendar (due to COVID-19), and best practices for their original businesses. According to their website, Virtual Enterprise is an "educational non-profit that transforms students through authentic business experiences, preparing them for fulfilling, financially secure futures."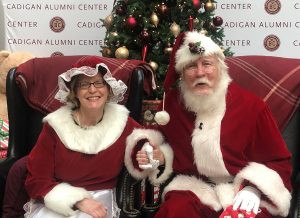 In December, Rick Reilly '63 and wife Judy were selected to be Mr. and Mrs. Claus for the 2020 Winter Wonderland Festival at Boston College. Rick shared that it was a wonderful and fun time despite needing to socially distance from the visiting children.
---
Congratulations to Nick Sena '15, who earned his master's degree in Data Analytics from Adelphi University in December 2020.
---
Peter Savidge '86 shares the following: "Molloy brought us together and a lifetime of friendship has kept us together! Several Class of 1986 grads went on a trip to St. Thomas for a week-long Catamaran boat trip in November. Special thanks to Chris Halmy '86 for getting us together. Pictured left to right: Peter Savidge '86, Tim O'Sullivan '86, Herman Bernal '86, Matt Poole '86, Jerry Green '86, Chris Halmy '86, and Brian McNulty '86.


35th Annual Jim Kinnier Stanner Golf Classic – SAVE THE DATE
When: Monday, May 3, 2021
Where: North Hills CC, North Hempstead CC, Garden City CC
Important: Capacity limited to 72 golfers per course
Contact: mrizzotti@molloyhs.org | 917.464.4470
Join us for the return of the Jim Kinnier Stanner Golf Classic on Monday, May 3, 2021. All proceeds from Molloy's annual alumni golf outing directly benefit our outstanding students. This year, the outing will be a little different. Capacity will be limited to 72 golfers per course. In addition, Molloy will comply with all CDC and New York State health and safety guidelines as we continue our response to the COVID-19 pandemic. The event will also not include dinner, but there will be other gourmet meals and exceptional service provided throughout the day. Please save the date! Please contact Matt Rizzotti '04 (see above) for more information.



We are saddened to share the passing of Kevin M. Tennant '69 on December 18, 2020. Kevin was a proud Stanner and beloved by his family and friends, including many Molloy classmates with whom he shared a bond with for over 50 years. We extend our sincerest condolences to all who loved Kevin, and we ask our community to please keep Kevin in your prayers.| Click Here for Memorial Page

Please pray for the repose of the souls of Paul Bruccoleri and Jeanne Bruccoleri, who passed away on December 18, 2020, and December 20, 2020; parents of Paula Fazio; father-in-law and mother-in-law of Gino Fazio '81; grandparents of Daniela Fazio '14, Julianna Fazio '17, and Isabella Fazio '18; extended family of John Fazio '87 and Gaetano Fazio '01. We ask our community to please keep the Fazio family in your prayers. | Click Here for Memorial Page (Paul Bruccoleri) | Click Here for Memorial Page (Jeanne Bruccoleri)

Please pray for the repose of the soul of Giacomo Raimo, father of Jim Raimo, Executive Director of the Marist Brothers' Center at Esopus.

Please pray for the repose of the soul of Joseph T. McElroy '62, who passed away June 19, 2020.