Reminder: Stanner Restaurant Week Survey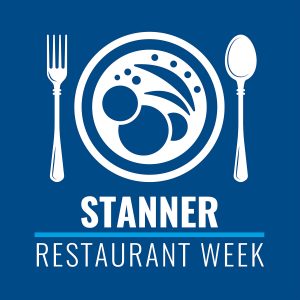 In our last Beehive, the Stanner Alumni Center announced plans for an upcoming Stanner Restaurant Week, during which we will invite our community to celebrate and support Stanner-owned and operated restaurants. We are currently conducting a survey to collect important data about Stanner-owned and operated restaurants. If you haven't yet, please click the blue button below to take the survey. Restaurants near and far are welcome to participate.
As we all continue to navigate the challenges of COVID-19, the Stanner Alumni Center recognizes that the restaurant / food services industry has been and continues to be significantly impacted throughout the pandemic. Stanner-owned and operated restaurants are among the many businesses that are working within strict health and safety guidelines, including restrictions on indoor dining and a model based on takeout, delivery, and outdoor dining in the cold winter months. Molloy wants to do its part to help support these restaurants through this difficult period.
Please complete our survey by January 31st. Once we receive your completed survey, you will be contacted by a member of the Stanner Alumni Center with information about next steps. Look out for Stanner Restaurant Week in February!

---
Br. Dan O'Riordan '85 Elected Next Provincial of US Province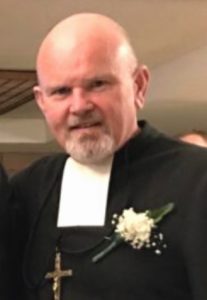 Congratulations to Br. Dan O'Riordan '85, who has been elected to serve as the next Provincial of the Marist Brothers United States Province. Br. Dan will begin Provincial duties at the USA Province Chapter Meeting, scheduled for April 2021.
Br. Dan has been a Marist Brother for over 29 years. After graduating from Molloy, he earned a BA from University College in Cork, Ireland, and an MA from Marist College in Poughkeepsie, NY.
Br. Dan entered the Marist Brothers Novitiate in 1992 and took his perpetual vows in 1998. He grew up in Whitestone, NY and was a member of St. Mel's Parish. He also spent much of his youth living and playing sports in Ireland. His parents, Connie and Rita O'Riordan, were devout Catholics and passed on their faith to him as his first teachers in life.
Over the years, Br. Dan has served as a teacher, coach, counselor, Development Director, and Campus Minister at numerous Marist high schools around the United States. He also served his USA Province as one of their Vocations Directors and spent the last six years as Vice Provincial.
Br. Dan has coordinated more than one hundred mission service trips, allowing many young people the opportunity to serve the least favored in communities around the world. He has led numerous pilgrimages and continues to be a featured speaker on youth retreats and youth gatherings, where he encourages young people to find ways to answer God's call and use their gifts and talents to respond to the many needs of our world. Br. Dan is also the author of two books, most recently Never Too Young To Change The World.
---
In Observation of Martin Luther King Jr. Day
On Monday, January 18th, we observed Martin Luther King Jr. Day, honoring the legacy of a champion for equality, justice, and service. Please take a moment to join in the following video reflection, written and presented by senior Kamara Nyahuma '21.
---

Archbishop Molloy High School congratulates all of its accepted students and is excited to welcome the Class of 2025 to the Stanner Family! Molloy reviewed approximately 2,000 applications for only 400 available seats. Over $1 million in scholarships was awarded to the Class of 2025. Academic scholarships were awarded based on the results of the TACHS exam and elementary/grammar school grades, while Named Scholarships continue to be awarded now through February. Students were accepted from many schools from around the New York City metropolitan area including Our Lady of Mercy (Forest Hills), Our Lady of Hope (Middle Village), St. Sebastian (Woodside), St. Elizabeth (Ozone Park), Middle Village Prep, Our Lady Queen of Martyrs (Forest Hills), MS 207 (Howard Beach), PS 49 (Middle Village), William Spyropoulos School (Flushing), Divine Wisdom (Bayside), Holy Child Jesus (Richmond Hill), Sacred Heart (Bayside), and many more.
Each accepted student received a personalized welcome video, and in total these videos have been viewed and shared hundreds of times by the accepted students and their families! The deadline for enrollment is currently set for February 5th. Once again, congratulations to all of our accepted students! Special thanks to our Admissions Department: Ms. Heather Green-Wresch, Mr. Edwidge Turenne'98, and Mr. Jonathan DiDonato '01.
---
Lou Santos Scholarship Gift Match – THANK YOU!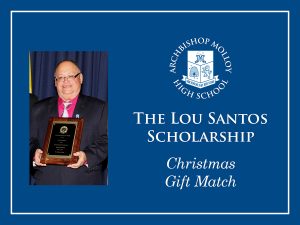 Recently, an anonymous donor generously offered to initiate a $20,000 Gift Match Challenge in support of The Lou Santos Scholarship. The Gift Match ran from late December through January 15th. We would like to thank our community for supporting this Gift Match in honor of our beloved teacher, coach, and friend Lou Santos. Known as "Coach Lou" to many Stanners, Mr. Santos has served the Molloy community for over 40 years. The scholarship in Mr. Santos' name will benefit a Catholic student with demonstrated financial need. Once again, THANK YOU for your continued generosity in support of our students.
---
Attention: Speech and Debate Alumni
Molloy's Speech and Debate Team is reaching out to any alumni who may have once been involved with the team in the past. The team is seeking experienced Stanners who may be interested in sharing advice or serving as future tournament judges. If you were once involved with Molloy's Speech and Debate team, or have experience in this area and would like more information about this inquiry, please contact alumni@molloyhs.org.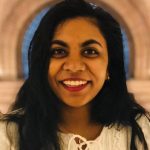 Janet Narain '15 is an Email Marketing Coordinator with 1-800-FLOWERS. She is a graduate of Hofstra University with a BBA and MBA in Marketing. Janet shares her perspectives on the marketing industry on her new blog, shewhomarkets.com. Recent posts explore "Inclusive Marketing and Why It Matters" and "Creative Marketing in the World of Video Games."
---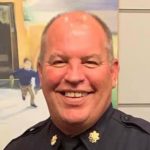 Anthony Makowski '82 recently retired from his position as Major for the Palm Beach County School District. After 36 years in law enforcement (20 with NYPD and 16 with PBCSD), Anthony says he is looking forward to spending more time with his family in retirement.
---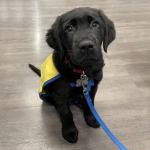 Earlier this month, Molloy welcomed a new Canine Companion trainee. Wontan traveled all the way from California to live and train with Mr. AJ Power '84. In recent years, Mr. Power also trained several other pups, including Cabral, Derek, Chaucer, and Joss. Even though students and faculty miss all the pups who have moved on, we are excited to welcome Wontan to the halls of Molloy and look forward to helping him on his journey toward becoming a certified Canine Companion.


Runner Safety Awareness Week – Virtual Events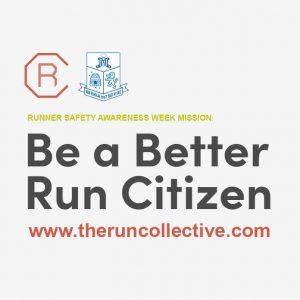 Last year, Molloy partnered with The Run Collective to host an event addressing safety and awareness issues for runners, with a special focus on predatory behaviors targeted at women. The Run Collective "strives to make the world a safer place to recreate through awareness, education, discussion, and activism." This month, Molloy has again advocated for this initiative as we invited Stanners and friends to participate in free virtual events offered by The Run Collective. These events have been part of Runner Safety Awareness Week, January 18-24, 2021. TRC hopes to inspire you to be a safe and conscientious runner while looking out for others.
For the Stanner family, this is an important issue that hits home. We continue to remember Karina Vetrano '04 and in doing so are committed to being advocates for runner safety and awareness.
Although many of the events have already taken place, there are still free events to explore this weekend! Visit www.theruncollective.com for more information.
---
35th Annual Jim Kinnier Stanner Golf Classic
When: Monday, May 3, 2021
Where: North Hills CC, North Hempstead CC, Garden City CC
Important: Capacity limited to 72 golfers per course
Contact: mrizzotti@molloyhs.org | 917.464.4470
Join us for the return of the Jim Kinnier Stanner Golf Classic on Monday, May 3, 2021. All proceeds from Molloy's annual alumni golf outing directly benefit our outstanding students. This year, the outing will be a little different. Capacity will be limited to 72 golfers per course. In addition, Molloy will comply with all CDC and New York State health and safety guidelines as we continue our response to the COVID-19 pandemic. The event will not include dinner, but there will be other gourmet meals and exceptional service provided throughout the day. In addition, raffle tickets purchased last year will be carried over to this year's raffle. Please save the date! Please contact Matt Rizzotti '04 (see above) for more information.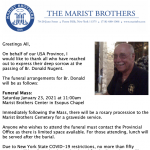 Please pray for the repose of the soul of Br. Donald Nugent, FMS, who passed away on January 17, 2021. Br. Don served as the Director of the Marist Brothers Center at Esopus for many years. He was beloved by countless Stanners and other Marist students who experienced formative retreats, camps, and service programs at Esopus. We have shared information regarding funeral arrangements in the image to the right (click to enlarge). Due to COVID-19 restrictions, in-person attendance is limited, however the funeral Mass will be livestreamed on the Marist Brothers USA Facebook page this weekend. More information is also available on the Brother Donald Nugent Tribute Page on Facebook. | Funeral Mass: Saturday, January 23, 2021 at 11:00 AM | Zoom Info for Funeral Mass – Meeting ID: 811 8184 4440, Passcode: 669320 | Also will be livestreamed on MB USA Facebook (see link above).

Please pray for the repose of the soul of Steven D. Lecarie '74.

Please pray for the repose of the soul of Benjamin J. Giglio '84.