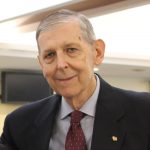 Dear Molloy family, we ask that you please keep Stanner Hall of Famer
Tom Konchalski '64
in your prayers. Mr. Konchalski is currently in hospice care.
In spring 2020, Mr. Konchalski announced his retirement after over four decades of influential work as a renowned high school basketball scout. Mr. Konchalski is well known for his self-produced HSBI Report, a comprehensive pamphlet circulated among New York City's basketball coaching community. He rated and evaluated thousands of high school basketball players during his legendary career, recognizing and touting many outstanding players who went on to successful collegiate and professional playing careers. Among the players Mr. Konchalski scouted are Kenny Smith '83, Kenny Anderson '89, Sundiata Gaines '04, and Russ Smith '09. In retirement, Mr. Konchalski's work continues to impact the sport of basketball, especially in his hometown of NYC.


Stanner Restaurant Week – Extended Through February 14th!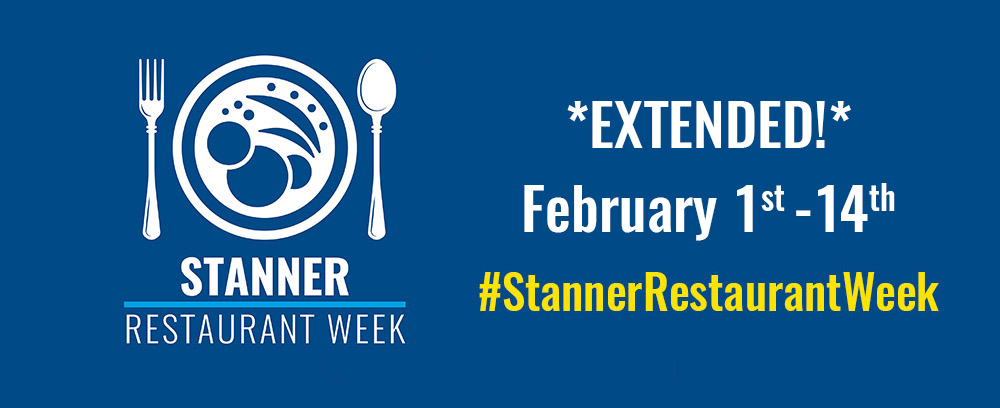 On February 1st, we launched Stanner Restaurant Week! We are raising awareness for Stanner-owned and operated restaurants, especially during this time of challenges related to the pandemic.
We have built a directory on our website at www.molloyhs.org/stannerrestaurant/ where you can find Stanner-owned and operated restaurants near you. We expect to add more restaurants to the directory in the coming days and weeks as they become known to us.
We encourage our community to patronize these restaurants by ordering takeout or delivery, or safely participating in indoor/outdoor dining (where permitted). If you can't order right now, you can still help these restaurants simply by spreading the word to family and friends. Use #StannerRestaurantWeek on social media to share your experience.
Due to the snowstorm earlier this week, the first couple of days of Stanner Restaurant Week got off to a slow start, so we will be EXTENDING this promotion into next week. We will be highlighting participating restaurants on social media through February 14th. After that date, this directory will become a permanent feature on our website, so be sure to check back frequently for any new restaurants. We will also share news of updates in future issues of The Beehive.
If you know of a restaurant with Stanner connections that is not listed in the directory, please contact alumni@molloyhs.org or click the survey button below to submit information. Thank you to all participating restaurants and thank you to our community for joining us in supporting these businesses.


---
Coming Soon: Stanner Life Magazine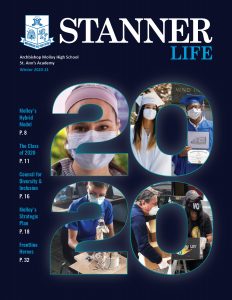 We are happy to share that the latest edition of Stanner Life magazine is headed to mailboxes everywhere this month. Our new issue features some of the biggest stories from 2020 and the first half of the current school year, including Molloy's Hybrid Model, the Council for Diversity & Inclusion, and the historic Class of 2020. You will also find stories about our faculty retirees, an update on Molloy's Strategic Plan, alumni who have served as frontline workers or volunteers during the pandemic, and more. The cover design includes a reference to hybrid learning and pays tribute to frontline workers, alumni volunteers, and our Class of 2020.
If you do not receive Stanner Life this month, please contact the Stanner Alumni Center directly at alumni@molloyhs.org to update your address and request your copy. Multiple copies are also available upon request. If you missed the opportunity to honor a frontline worker or alumni volunteer in our magazine, you can submit updates to The Beehive any time.
---
Students Enjoy Presentation by Netflix Engineer
On January 23rd, computer science students virtually attended (The Knowledge Society) TKS Talks with Delivery Engineering Director at Netflix, Amy Smidutz. Amy talked about her journey working at the world's largest tech companies like Netflix, Amazon, and GoDaddy, as well as introduced students to niche fields of engineering like Chaos Engineering.
Computer Science 110 student Anthony Kerr '23, who observed the presentation, shared the following: "One important lesson I learned from Amy Smidutz is to always be curious. When something intrigues you, take the time to explore it. You may end up finding your passion. By exploring her curiosity for technology, Amy Smidutz found her passion at just seven years old. She also met many like-minded people who shared her love for computer science and engineering. Smidutz's initial curiosity led her to many life-changing opportunities and eventually becoming the engineering director of one of the biggest companies in the world, Netflix. At the end of the live stream, she shared with us some great advice to propel our futures:

Even if you are feeling alone, always remember that there are people like you in the world, and eventually you will find them.
Be intentional in the environments you want to be involved with. Make the most of your opportunities.
Ambition creates manifestation.

Attending this event and seeing computer science being actively used in different fields reinforced my belief that the programming skills I am currently learning at Molloy will be strong assets in my future."
---
Watch Livestream of Boys Varsity Swim Meet on 2/6
Archbishop Molloy High School's Boys Varsity Swimming team is set to face off against Xavier High School on Saturday, February 6, 2021 at 2:00pm. We invite our community to watch the meet via livestream and help cheer our Stanners to victory. Click the link above to access the livestream. The link will also be available on our homepage at www.molloyhs.org.
---
AMHS Virtual Enterprise Headed to City Competition
Seniors in Molloy's Virtual Enterprise class have received an Honorable Mention in the Queens East division, qualifying the class for the 2021 NYC Business Plan City Competition later this month. Molloy's young entrepreneurs will strive for excellence at the event in hopes of qualifying for the final competition to be held this spring. Principal Dr. Darius Penikas is proud of the class' achievements. "This is a big win and a tangible example that, not only have we brought this wonderful program to Molloy, but we have quickly ascended among the ranks of the best Virtual Enterprise schools in New York City. Congratulations to our outstanding seniors and good luck in the competition," said Principal Penikas.
---
French Club Hosts Virtual Baking Party
The Beehive recently received photos from French Club! Back in December, members of the French Club made French macarons together over Zoom. Students who didn't have all the ingredients for macarons participated by making other treats like brownies, cupcakes, and cookies. Freshman Carolina Rodriguez '24 made an impressive display of macarons that spelled out "French Club" (pictured), while Club President Julia Chichel '21 also successfully made a batch of macarons. Senior Sabrina Piekarski '21 led the meeting. This virtual event is a great example of the creativity and community that many of Molloy's clubs have been exhibiting during this unique school year. Special thanks to moderator Ms. Liwia Rosamond for sharing photos and information for this story.


35th Annual Jim Kinnier Stanner Golf Classic

– SAVE THE DATE
Join us for the return of the Jim Kinnier Stanner Golf Classic on Monday, May 3, 2021. All proceeds from Molloy's annual alumni golf outing directly benefit our outstanding students. This year, the outing will be a little different. Capacity will be limited to 72 golfers per course. In addition, Molloy will comply with all CDC and New York State health and safety guidelines as we continue our response to the COVID-19 pandemic. The event will not include dinner, but there will be other gourmet meals and exceptional service provided throughout the day. In addition, raffle tickets purchased last year will be carried over to this year's raffle. Please save the date! Please contact Matt Rizzotti '04 (see above) for more information.


Brendan F. McSheehy, Jr. '70 shared the following update with the Stanner Alumni Center:
"Greetings from the recesses of Appalachia! It's hard to believe it's been 50 years since graduation. In 1970, I probably wondered what my 50th reunion would be like. My classmates who have already passed miss out…. And thanks to COVID-19, the rest of us '70s will also. I did make it back for my 45th and [Lord willing] look forward to a 55th in 2025. However, one 'senior skill' is learning to better live in the moment.

My first day memory of AMHS was walking up the hill from Queens Boulevard and seeing shiny black shoes attached to a black cassocked version of Mr. Clean [with folded arms] – Br. Leo Richard. Instant epiphany to straighten up my act! That's a life memory – enough so that I attended his recent Zoom remembrance. I wasn't in SMILE, but I was in Dr. Murphy's afterschool groups.

I was given the free choice to half retire on January 1, 2019. Two years in, I'm still adjusting. Connie will say she is still trying to figure out which half retired. I've joined a couple of non-profit Boards and upped my running miles. That's more than enough about me except to say I will be FOREVER grateful for everything Molloy gave me."
---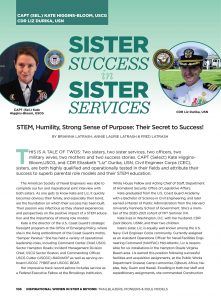 Capt. Paul M. Higgins '68 is a nuclear physicist who once captained a nuclear submarine. Now Capt. Higgins' two daughters are following in his footsteps. A recent issue of the Naval Engineers Journal focuses on Women in STEM, which in the past was considered a male-dominated field. The two women highlighted in the article are Capt. Higgins' daughters, Capt. (Select) Kate Higgins-Bloom, USCG, and CDR. Elizabeth "Liz" Durika, USN, Civil Engineer Corps (CEC). Capt. Higgins says he is very proud of their accomplishments and believes their paths were inspired in part by the education he received from the Marist Brothers at Molloy in the 1960s, which in turn influenced him as a father and role model. Capt. Higgins-Bloom and CDR. Durika represent a generation of women in STEM who are routinely breaking down barriers and inspiring even more young women to enter the field. You can read the article by clicking the following link. | Read Sister Success in Sister Services in the Naval Engineers Journal (Vol. 132, No. 3)
---
Terry Shugrue '73 is counting down the days until his second retirement after 41+ years with Turner Construction. The last time Terry retired (for one week) he was asked to help with an old client he had worked with since 1997. For the past two years, Terry has worked with PeaceHealth in helping them develop a $1B master plan for their hospitals in the Northwest and Alaska. Their efforts landed them a project in Eugene, Oregon in 2020 that involved removing over 300,000 square feet of old buildings at their University District Campus. In November 2020, Terry and Turner were awarded master plan work at three hospital campuses (Southwest Medical Center in Vancouver, WA; RiverBend Campus in Springfield, OR; University District Campus in Eugene, OR). The overall value of those projects is estimated at $800M. The projects will take several years to complete, keeping Terry's colleagues busy while he officially retires from Turner – for real this time. "I guess my job is done as I was successful in assisting them reconnect with an old friend / client, PeaceHealth," said Terry. "Now onto Palm Springs to start my consulting business, Shugrue Construction Consulting, LLC."


Share Your Remembrances of Br. Don Nugent, FMS

Molloy was deeply saddened to share the passing Br. Don Nugent, FMS, in January. Br. Don served as the Director of the Marist Brothers Center at Esopus for many years. He was beloved by countless Stanners and other Marist students who experienced formative retreats, camps, and service programs at Esopus. Now we invite you to share your memories of Br. Don so we may create a memorial page on Molloy's website. | Click Here to share your remembrances of Br. Don
---

We are saddened to share the passing of Joseph F. Purschke '86 on January 24, 2021. Joe was a proud Stanner and a dedicated supporter of the Jim Kinnier Stanner Golf Classic for many years. We extend our deepest sympathies to the Purschke family. We ask our community to please keep Joe and the Purschke family in your prayers. | Click Here For Memorial Page
---

Please pray for the repose of the soul of Paul F. Lindner '71. Paul passed away on January 10, 2021. He was a respected and beloved religion teacher at St. Mary's High School in Manhasset for 32 years. He also served as an adjunct professor in theology at St. John's University. Paul is survived by his son, Paul, ex-wife, Joann, and many grateful students and friends. Paul's AMHS classmates Henry Pitman '71, Jim Pietrosh '71, and Ray Muller '71 offer their prayers and condolences to the Lindner family. We ask the Molloy community to please keep Paul and his family in your prayers. | Click Here for Memorial Page