Molloy Mourns Legendary HS Basketball Scout Tom Konchalski '64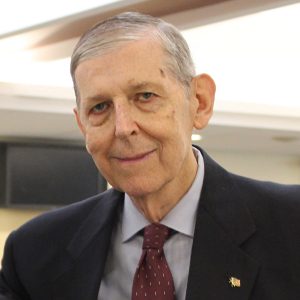 It is with great sadness that Archbishop Molloy High School mourns the passing of Stanner Hall of Famer Thomas Konchalski '64 after a courageous battle with cancer. Mr. Konchalski passed away on February 8, 2021 at the age of 74. He was a native and longtime resident of Forest Hills, Queens.
For over 40 years, Mr. Konchalski established himself as one of the most knowledgeable and highly respected high school basketball scouts in New York City. He was well known for his self-produced HSBI Report, a comprehensive, hard-copy only pamphlet circulated among New York City's basketball coaching community. Mr. Konchalski consistently rated and evaluated thousands of high school basketball players annually. He had an eye for top talent, scouting many elite players who went on to successful collegiate and professional playing careers. Among the players Mr. Konchalski scouted are Kenny Smith '83 (North Carolina, 2X NBA Champion), Kenny Anderson '89, (Georgia Tech, NBA All-Star), Sundiata Gaines '04 (University of Georgia, NBA), Russ Smith '09 (Louisville, NCAA Champion, NBA), Moses Brown '18 (McDonald's All-American, UCLA, NBA), and the list goes on. Mr. Konchalski's work and influence also extended beyond NYC, as he scouted players throughout the east coast and beyond.
Mr. Konchalski was also known for his keen memory, as he could recall most of if not every player he scouted throughout his career – regardless of the level of fame they achieved. A loyal Stanner, Mr. Konchalski attended countless basketball games in the Jack Curran Gymnasium as well as many of Molloy's alumni events. Each visit to his alma mater was marked by conversations with friends, former players, alumni, and fellow scouts. He would always greet everyone with a firm, friendly handshake, and we would marvel at his recollection of players, stats, and moments.
Mr. Konchalski retired in May 2020, but not before carving out an inspiring legacy that will continue to impact the sport of basketball for years to come, especially in his hometown of New York City. He also leaves a legacy of faith in God, kindness, and respect that serves as an example for all of us to follow.
Molloy will share more information as it becomes available. Please keep Mr. Konchalski and his family in your prayers.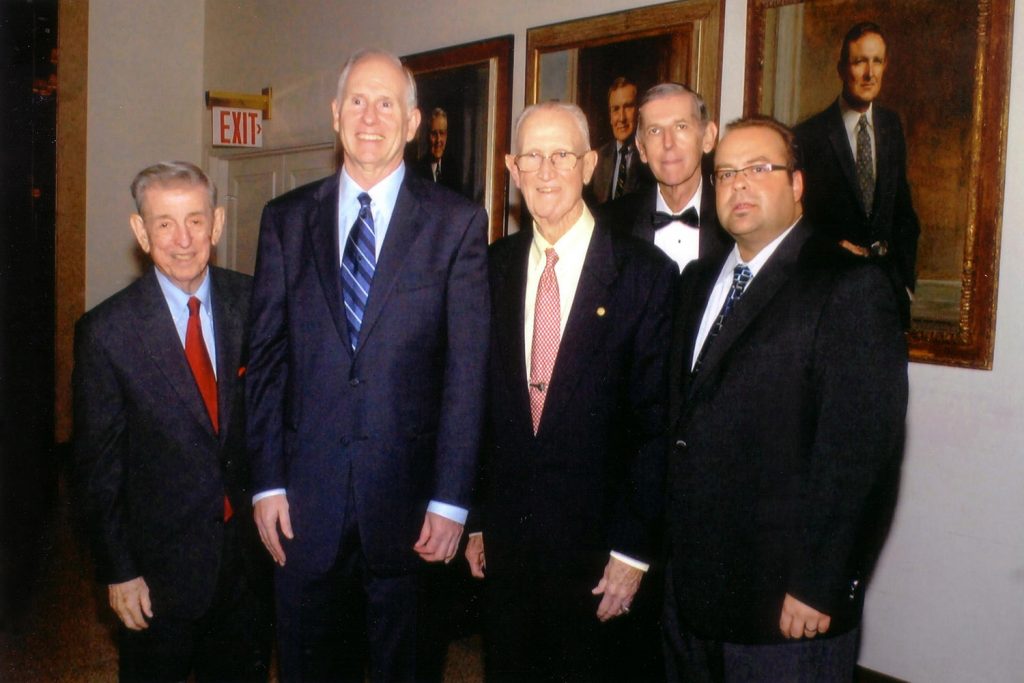 Pictured above: Coach Lou Carnesecca '43, Coach Jim Larrañaga '67, Coach Jack Curran, Tom Konchalski '64, and President Richard Karsten '81.

Statement from President Richard Karsten '81: "Mr. Konchalski was an excellent talent scout who evaluated and helped nurture many of the brightest stars in New York City basketball. The breadth of his knowledge and expertise laid a foundation that many have celebrated and emulated with a great deal of respect. Beyond his legendary career, Mr. Konchalski was an even better friend to so many people, not only in our school community, but throughout the world of basketball. He was also a faith-filled man who believed in the power of prayer and compassion for others. We at Archbishop Molloy High School pray that Mr. Konchalski is now at peace in God's care."

Statement from Athletic Director Mike McCleary: "Tom was a good friend to me, to the late Coach Jack Curran, and to Molloy for many years. He was highly respected in his field; there was not a person who wouldn't pick up the phone when he called, whether it was Coach K or Pat Riley. If someone sought his help, he did everything he could to help them. He was a gentleman always and an angel here on Earth."

News Articles: Obituary | New York Times | Forbes | NY Magazine | Washington Post | The Athletic | The Tablet | Newsday | Duke Basketball Report | Yahoo! Sports | QNS.com | Queens Chronicle | NY Post | Forest Hills Patch
---
Stanner Restaurant Week –

PERMANENT on Our Website!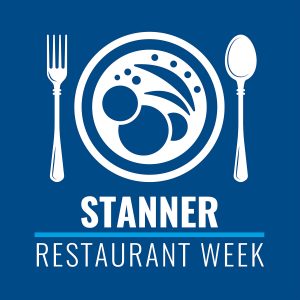 We would like to thank everyone who supported our extended "Stanner Restaurant Week" promotion, especially during what has been a snowy few weeks! Whether you patronized a Stanner-owned or operated restaurant, spread the word to family and friends, or simply bookmarked the new directory on our website, you helped to raise awareness for many businesses in need of our support. Our restaurant directory and Google Map have received nearly 10,000 views! This is a wonderful show of interest and support for these restaurants.
The Stanner Alumni Center recognizes that the effects of the pandemic will continue to impact the restaurant industry for many months. In turn, the Stanner Restaurant Week directory is now a permanent feature on Molloy's website. We look forward to updating the directory with more Stanner-owned and operated restaurants as they become known to us. We encourage everyone in our community to continue to contact us with new information so that we may continue to build out the directory and raise awareness. We also look forward to forming stronger relationships with restaurant owners so that we can promote this event annually.
In the weeks ahead, the Stanner Alumni Center plans to help raise the profile of other Stanner-owned and operated small businesses. More information about this initiative will be shared soon. In the meantime, please continue to support Stanner restaurants. Click the links below to visit the directory or to fill out our survey to have your restaurant added.


---
Edwin Casimir '13 To Join Marist Conversations Live
---
New Stanner Life Magazine is Out Now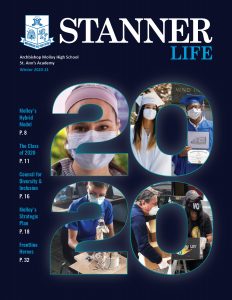 We are happy to share that the latest edition of Stanner Life magazine is out now. Our new issue features the biggest stories from 2020 and the first half of the current school year, including Molloy's Hybrid Model, the Council for Diversity & Inclusion, and the historic Class of 2020. You will also find stories about our faculty retirees, an update on Molloy's Strategic Plan, alumni who have served as frontline workers or volunteers during the pandemic, and more. The cover design includes a reference to hybrid learning and pays tribute to frontline workers, alumni volunteers, and our Class of 2020.
Please note that some zip codes will receive the magazine before others and the mailing does take some time to complete through USPS. If you do not receive Stanner Life this month, please contact the Stanner Alumni Center directly at alumni@molloyhs.org to update your address and request your copy. Multiple copies are also available upon request. If you missed the opportunity to honor a frontline hero or alumni volunteer in our magazine, you can send updates to The Beehive.
A digital version of the magazine is now available on our website. CLICK HERE to download a PDF edition.
---
Students Honored by Knights of Columbus
Pictured left: Sabrina Tsoupros '22 and Cher Mei '22 pose with Dr. Penikas, Deacon Luis Taylor, Robert Schnell '79, Sen. Joseph P. Addabbo Jr. '82, and Mr. Joseph McAteer. Right: Dr. Penikas and President Karsten '81 join Maya Cwalina '21, Gerard Casey '21, and Philip Chrostowski '24 in the library. Pictured below, top row left: Winner Bronwyn Miller '23.
Several Molloy students were recently honored by the Juniper Valley Council #14578 of the Knights of Columbus as winners and first runners up in their Catholic Citizenship Essay Contest. Congratulations to winners Philip Chrostowski '24, Maya Cwalina '21, Bronwyn Miller '23, and Sabrina Tsoupros '22, and first runners up Gerard Casey '21 and Cher Mei '22. The essay prompt these students responded to was: "Discuss how trusting God during a difficult time has helped you or someone you know find the strength and hope to endure. Consider especially those times when it was a challenge to understand why something was happening, and any lessons about faith and hope you or someone you know may have learned from this experience."
Finalists selected from Molloy's winners will receive a small cash prize and move on to the state level of competition. From there, state finalists move on to an international judging panel where larger prizes become available. The contest aims to provide an opportunity for students to earn extra money for college while sharpening their writing skills.
On February 5th, Molloy hosted a brief, socially distanced presentation during which students were awarded certificates in-person and virtually. Joining in the presentation of certificates were Knights of Columbus Grand Knight Robert F. Schnell '79, Joseph McAteer (Past Grand Knight) of the Juniper Valley Council, NYS Senator Joseph Addabbo Jr. '82, and Deacon Luis Taylor, Faithful Navigator of the General Stephen Moylan Assembly. Students who attended virtually received their certificates the following week on the days their cohorts were scheduled to attend school.
Special thanks to Mr. Schnell, Sen. Addabbo, Mr. McAteer, and Deacon Taylor, and congratulations once again to Philip, Maya, Bronwyn, Sabrina, Gerard, and Cher!
Founded on the principles of charity, unity and fraternity, the Knights of Columbus was established in 1882 by Father Michael J. McGivney, assistant pastor of St. Mary's Church in New Haven, CT, and a group of parishioners. Their intent was to bring financial aid and assistance to the sick, disabled and needy members and their families. Father McGivney's Beatification towards sainthood was Saturday, October 31, 2020.
---
The Tablet Highlights Molloy Peer Groups During Pandemic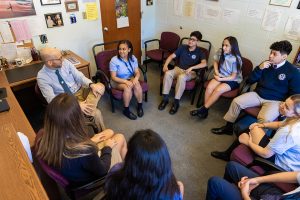 For decades, Peer Groups has been one of the most important parts of Molloy's Guidance program. Founded by Br. Leo Richard and perpetuated by generations of dedicated counselors and peer group leaders, Peer Groups fosters the concept of "likes on likes" as senior peer group leaders counsel and mentor sophomores. The program was famously profiled by Francis X. Clines of the New York Times back in 1973, and in the years since it has continued to serve as an inspiration for similar programs at other schools.
In 2020, people across the globe began to struggle with not only the physical effects of COVID-19, but the emotional impact of a pandemic. The pandemic has caused trauma associated with isolation, anxiety, fear, and loss, and it has affected our collective mental health in many other ways – both seen and unseen. In turn, Molloy's Guidance program, including Peer Groups, takes on an even more critical role in the mental health wellness of students.
Reporter Erin DeGregorio recently featured Molloy's Peer Groups program in The Tablet, highlighting how Peer Groups serves as a much-needed source of comfort, inspiration, and hope during these challenging times. Guidance Chair Mr. Chris Dougherty '91 says the article "it is a wonderful reflection of our kids, programs, Guidance department, and Stanner High during the pandemic." (Note: Peer Groups photo is from spring 2019)

---
Ash Wednesday Message from Marist Brothers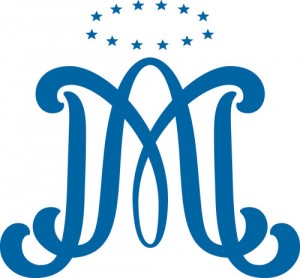 Dear Marists of Champagnat,
On February 17th, Ash Wednesday, we began the 40 days of Lent. One year ago, all of our lives were so different. For many of us, living through the many pandemics of our lives and the experience of COVID-19, has been a living Lent. So, what difference can these next 40 days make?
For your reflection, I'm attaching a message from Pope Francis on Lent 2021 as well as two publications from our Marist brethren from the Society of Mary. Many thanks to these wonderful reflections.
Pope Francis calls on us to renew our faith and to draw from the 'living water' of hope. From his recent writing, Fratelli Tutti, he reminds us that we are called "to give hope by speaking words of comfort, strength, consolation, and encouragement, and not words that demean, sadden, anger or show scorn." What a great Lent 2021 resolution!
The Marists give us a guide to finding Mary's way throughout the Lenten Gospels and on the Way of the Cross. Are you and I ready to ponder more profoundly the Cross and Resurrection of Jesus Christ? What a great Lent 2021 invitation!
Let these 40 days be different from the past year for us all. May we all be blessed with redemptive grace! Each day, let's remember to pray for each other, especially all the children and young people throughout the world.
Message from Pope Francis | Society of Mary Lenten Calendar | The Way of the Cross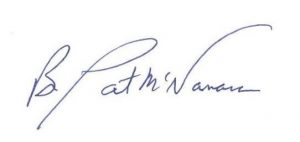 Br. Patrick McNamara, FMS | US Provincial
---
Students Surprise Ms. Winters

Recently, during Catholic Schools Week, Molloy's AP Literature class decided to jump in on a recent TikTok trend to surprise their teacher with a heartwarming show of thanks and appreciation. After Ms. Shannon Winters' ('06) students signed onto Zoom for their Wednesday morning class, everyone turned off their cameras, which according to Ms. Winters was quite unusual. "After asking twice if anyone was going to turn their cameras on for class, they all turned their cameras on at the same time to reveal they were hold up "Thank You" signs," said Ms. Winters. "It was extremely moving to get this message of gratitude from my students because this year has been so incredibly challenging on so many levels. The fact that they took the time to coordinate this means the world to me."
---
Comp Sci Competition Focuses on Environmental Issues
Advanced Computer Graphics class students Isabella Ronacher '23, Stutee Oke '23, and Matthew Gregoire '21 recently submitted original artwork to the EarthX – Eco-Art Competition. The theme of the competition is "No Time to Waste" and the goal is to raise awareness about environmental issues important to the competitors while creating art that moves others to take action. The striking submissions from Isabella, Stutee, and Matthew show that "No Time To Waste" can be interpreted in powerful, very different ways.
---
Molloy Donates Athletic Uniforms to Children in DR
In January, Molloy worked with Mr. Hector Algarroba to donate athletic uniforms to underprivileged children in the Dominican Republic. This donation, an annual effort by Molloy, was spearheaded once again by Mr. Lou Santos.


35th Annual Jim Kinnier Stanner Golf Classic –

REGISTER NOW
Join us for the return of the Jim Kinnier Stanner Golf Classic on Monday, May 3, 2021. All proceeds from Molloy's annual alumni golf outing directly benefit our amazing students. This year, the outing will be a little different. Capacity will be limited to 72 golfers per course. Molloy will comply with all CDC and New York State health and safety guidelines as we continue our response to the COVID-19 pandemic. The event will not include dinner, but there will be an extended cocktail hour at each course as well as other gourmet meals and exceptional service provided throughout the day. Raffle tickets purchased in anticipation of last year's event (which was ultimately cancelled) will be carried over to our 2021 raffle.
You can get a head start on registering by downloading your digital invitation. Clicking the link above or thumbnail to the right to download. Invitations with raffle tickets will also arrive in the mail soon. Please contact Matt Rizzotti '04 (see above) for more information.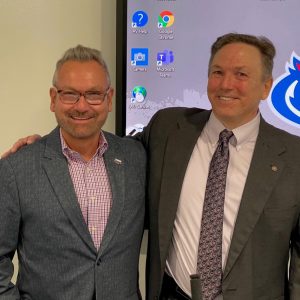 High school best friends Frank Rainer '77 and Rudy Molinet '77 have teamed up to work with Rudy's Executive Master in Healthcare Administration (MHA) students at Florida Atlantic University (FAU) in Boca Raton, Florida. Frank is the Chief Legal Officer and Senior Vice President at Memorial Healthcare Systems, one of the largest non-profit safety net healthcare systems in Florida. Rudy is an Adjunct Professor and Program Administrator at FAU teaching leadership courses to Executive MHA and MBA students. FAU is a public university with over 30,000 students and the most diverse university in the Florida State University system.
During his presentation, Frank discussed a myriad of issues related to the law as it applies to healthcare executives. The students got a kick out of the fact that Frank and Rudy were best friends at Stanner High over 40 years ago and have stayed in touch. They explained Molloy's motto-Not For School, But for Life and the importance of fostering relationships over the years to achieve success.
(Note from Rudy: The picture of Frank and I was taken with masks off for only a few moments, but masks and social distancing were observed during the whole presentation. Both Frank and I have been fully vaccinated and felt comfortable taking masks off for just a few seconds.)
---
Congratulations to Dr. Flavio G. Gaudio, MD, '85, who has received the 2019-2020 Jeanne and Herbert Siegel Award for Excellence in Emergency Medicine. The recognizes an Emergency Medicine faculty member who has demonstrated clinical excellence, professional achievement, innovation, and dedication to the field of Emergency Medicine. "I owe my pursuit of medicine to the lessons of compassion and caring for others I learned at Molloy," said Dr. Gaudio in a message to The Beehive. Click the following link to read the full story: Dr. Flavio Gaudio Receives 2019-2020 Jeanne and Herbert Siegel Award for Excellence in Emergency Medicine



Please continue to pray for the repose of the soul of Thomas Konchalski '64.

Please pray for the repose of the soul of William F. Jaenike '56, who passed away on January 1, 2021. | Click here for Memorial Page

Please pray for the repose of the soul of Francis J. Kogel '54, who passed away in 2020. Please also keep Francis' wife Gloria and her family in your prayers.

Please pray for the repose of the soul of Maryann Ingenito, mother of James Ingenito '86. | Click Here for Memorial Page