35th Annual Jim Kinnier Stanner Golf Classic
Join us for the return of the Jim Kinnier Stanner Golf Classic on Monday, May 3, 2021. All proceeds from our annual alumni golf outing will benefit future Molloy students through our scholarship program. This year we will comply with health and safety guidelines in response to COVID-19. Capacity will be limited to 72 golfers per course. The event will not include dinner, but there will be an extended cocktail hour at each course as well as other gourmet meals and exceptional service throughout the day. Raffle tickets purchased for last year's event will be carried over to this year's raffle. Click the links above for more information or to download your digital invitation.
---
GERLL Club Presents: Molloy's Got Talent
Join us for our very first MOLLOY'S GOT TALENT, sponsored by GERLL Club (Girls Empowerment for Real Life Leadership). This virtual concert will feature talented faculty, students and alumni. We encourage you to sit back, relax and enjoy the show from the comfort of your home. The event will take place on Thursday, March 25th at 7pm. Tickets are $20 per person. All proceeds will support Molloy's Girls' Leadership Scholarship Fund, benefiting young women entering Molloy in the future. After you register, a link to the show will be sent by email the day of the event. The show can be viewed on Thursday, March 25th or any day thereafter. We hope that you will join us as we continue to celebrate Women's History Month by supporting the Girls Leadership Scholarship Fund. Click the button above to purchase your ticket(s).
---
GERLL Club Presents: "Queens Women in Medicine" Panel
Join Molloy and GERLL Club (Girls Empowerment for Real Life Leadership) for its latest Women at Work panel titled "Queens Women in Medicine." Guest speakers include Dr. Chimene Liburd (Executive Physician, Founding Member of "Chief" based in Washington D.C.) and Dr. Rachel Villanueva (Board Certified OB/GYN, Women's Health Expert, Minority Health Advocate). This virtual event is open to the public.
---
GERLL Club Presents: Cash Calendar Raffle
ABOUT THE EVENT: The Girls' Leadership Scholarship Fund, facilitated by a committee of women educators representing Archbishop Molloy High School, is sponsoring its second CASH CALENDAR RAFFLE and cordially invites and encourages you to join us for this event. ALL proceeds will support the Girls' Leadership Scholarship Fund and will benefit academically gifted female candidates with exceptional leadership potential who may be seeking admission to Molloy. The CASH CALENDAR RAFFLE will be a culminating event in celebration of March, which recognizes International Women's Day and which is designated Women's History Month. Thank you for your interest in and support of our efforts towards promoting girls' leadership at Molloy. Click the button above for more info on how to play and to reserve your boxes.


Lenten Food Drive Update
We extend our deepest thanks to the Molloy community, as so many generously supported our Lenten Food Drive earlier this month. Thanks to the kind donations of students, alumni, Stanner families, and friends, Molloy exceeded its original goal of 2,121 non-perishable food items by collecting over 2,500! All donations will be distributed between Holy Child Jesus food pantry in Richmond Hill and the St. Joachim & Anne food pantry in Queens Village, in turn helping to feed many families in need. "Under the circumstances, it was wonderful to see so many people wanted to help. This was a very successful drive," said Mr. Mike Germano '93, Director of Campus Ministry. Pictured: Anthony Kerr '23 (center), Julia Goncalves '23 (front right), Aaliyah Germano '22 (front left), President Richard Karsten '81 (mid row right), Principal Dr. Darius Penikas (mid row left), and Mr. Germano (back row)
---
Tom Konchalski Remembered by NY Times, SLAM Magazine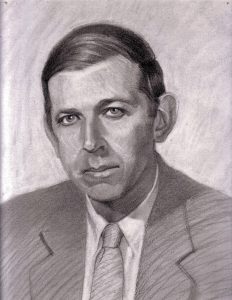 Tom Konchalski '64, the legendary high school basketball scout and architect of the renowned HSBI Report who passed away last month, has been remembered by Kevin Armstrong in a fascinating new piece for the New York Times. The article, published on March 18th, paints a picture of a one-of-a-kind talent and consummate professional who impacted the sport of basketball, and countless young athletes, for the better. The article also features some striking photography. Click the following link to read more (*note: a subscription is needed to read the full article). | Guru, Genius, Gentleman, Scout (NYT)
SLAM Magazine also published a wonderful remembrance of Tom Konchalski on March 19th. Ben Osborne remembers him as a devout Catholic, an inspiration to coaches, players, and journalists, and as a man with enough knowledge to qualify him as a living encyclopedia. Click the following link to read the full story. | SLAM Online Remembers Tom Konchalski
---
Let's Keep Supporting Stanner Restaurants!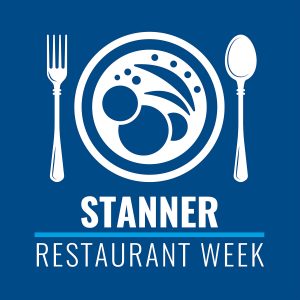 The effects of the pandemic figure to impact the restaurant industry for months to come. With this in mind, the Stanner Alumni Center encourages our community to continue to support Stanner-owned and operated restaurants. After the initial success of our "Stanner Restaurant Week" promotion in February, we plan to continue to raise awareness for these businesses as the weather gets warmer and indoor dining increases. Easter is April 4th, and it could be a great opportunity to support these businesses, whether by making a reservation or picking up a meal to go. You can browse the Stanner Restaurant Directory on our website (click the button below) and refer to each restaurant's website for information about any upcoming Easter promotions. If you know of a Stanner-owned or operated restaurant not on our list, please contact us at alumni@molloyhs.org.

---
Molloy Celebrates Unique Spirit Week
From March 5th-15th, Molloy celebrated Spirit Week! This annual tradition gives students and faculty an opportunity to show their school spirit through a variety of dress down days and activities. This year, with COVID-19 precautions in place, many activities were offered virtually. Activities including virtual karaoke, virtual crepe making (French Club), virtual meditation, and many other events that were hosted by various clubs. Dress down days included Molloy Day, colors day (seniors = blue, juniors = red, sophomores = yellow, freshmen = green), Heritage Day, character/decades/meme day, and Pajama Day. There was also a tie-in with the Lenten Food Drive to encourage more donations of non-perishable food items. Students who participated in the dress down days, activities, or Lenten Food Drive received points for their class, with the winning class (seniors0 earning an additional dress down day later this year.
---
Freshmen Enjoy First Day Retreat at Molloy
Due to the COVID-19 precautions in place at Molloy since September, many school events have been postponed or cancelled. The freshman class has had a unique journey at Molloy so far, as it has not been able to celebrate Freshman Camp, Freshman Field Day, or many other traditions that help build community and form friendships. Retreats at Esopus were also postponed at the start of the year. Retreats are an important part of school life as they help to instill community and encourage personal and spiritual growth. Thankfully, more activities have been possible as the year has progressed. Freshmen were recently invited to grow in faith and make new friends during a day retreat on March 13th. The retreat took place at Molloy and attempted to capture the spirit of a trip to Esopus.
"The freshmen were immersed in activities that focused on creating a sense of community in true Stanner fashion," said Ms. Dorothy DeNoto, one of the organizers of the retreat. "They were able to see why they were chosen by God, what some of their blessings were despite the Pandemic, and how although the pandemic has left us all broken in some way, we were also given the grace of God in other ways. Through activities such as outdoor icebreakers, dodgeball, group sharing, meditation, and free time, our freshmen were able to experience in person our Stanner Spirit as a connected Marist Family."
---
Download The New Issue of The Stanner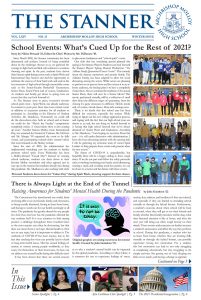 Molloy's student journalists invite alumni and friends to read the newest issue of The Stanner. Articles include a look at recent and upcoming school events, mental health awareness during the pandemic, information about the Student Advisory Board, senior spotlights, a club spotlight about the Afro-Caribbean Club, an update on our computer science department, and more. Congratulations to the staff on releasing another excellent issue during this unique school year.
Click the link below to access the newspaper. You can also visit www.molloyhs.org/stannernewspaper/ to find recent past issues as well as select archives.

---
Mental Health Awareness During the Pandemic
Mr. Chris Dougherty '91, chairperson of Molloy's Guidance Department, was recently featured in a news segment produced by Currents regarding students' mental health during the pandemic. Commentary by Mr. Dougherty is included alongside thoughts from counselors and students at The Mary Louis Academy. This news segment helps to shed light on the continuing issue of students' mental health and the role schools play in providing support. Although COVID-19 statistically does not physically affect young people at the same rate as older at-risk populations, the pandemic has caused increased feelings of anxiety and isolation among teens and children. Recognizing this, Mr. Dougherty and other counselors continue to provide support through individual and Peer Group sessions as well as through the SMILE program. Molloy's Guidance Department also hosted a virtual Mental Health Night on March 23rd to provide important information about mental health awareness to students and their parents. Click the player below to watch the news segment. For more about how Molloy is supporting students' mental health during the pandemic, click the following links. | The Tablet: Peer Guidance Program Builds Everlasting Bonds | Molloy Hosts Virtual Freshman Meetup
---
Sports Update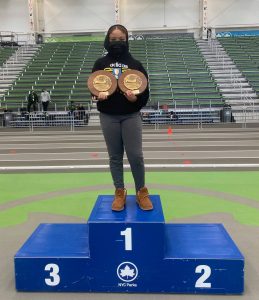 Like many other aspects of school life, sports at Molloy have been very different this year. Several teams were given the opportunity to compete in the fall, and the boys varsity swimming team did have a season, however girls varsity swimming and all basketball teams were not able to compete. As of March 22nd, low-risk spring sports were permitted to resume. The CHSAA indicated that baseball, softball, lacrosse, tennis, and golf must hold a requisite number of practices before their first scrimmage or game. Outdoor track has already begun. Unfortunately, basketball and volleyball appear unlikely to be moved to spring. We will provide more information as it becomes available.
During winter track & field season, Abigail Jefferies '22 was named Athlete of the Week after achieving 55mH (8.95) and Shot Put (35-5), the latter being the #4 mark in NYC this year. In March, Abigail won the 55hh and ranked #1 in New York State and #4 for Shot Put in New York State. In 2nd Long Jump, Grace Murphy placed 3rd in 1000m and 4th in 1500m. (Pictured right: Abigail Jefferies '22)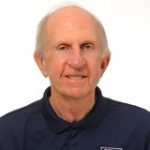 Steve Konchalski '62, known to many as Coach K, has announced his retirement after 46 years as head coach of the St. Francis Xavier University men's basketball team (Toronto, Ontario). He retires as the winningest men's basketball coach in Canadian college history. He finishes with an overall win-loss record of 919-576 (.615%). Konchalski has been inducted into the Acadia Sports Hall of Fame, the Canadian Basketball Hall of Fame, the STFX Sports Hall of Fame, and the Nova Scotia Sports Hall of Fame. In 1999, he was the inaugural recipient of the Frank Baldwin Memorial Award for dedication to basketball in Nova Scotia. Click the following links for more information. Congratulations, Coach K! (Photo and information courtesy of STFX Athletics)
Press Links: STFX Athletics | | The Telegram | The Catholic Register
---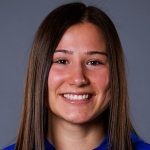 Congratulations to Kelsey Carr '20, who was named BIG EAST Softball Freshman of the Week earlier this month. Carr earned the honor after hitting .400 with two home runs and seven runs driven in. As a pitcher, Carr earned two wins and 13 strikeouts in 11.1 innings. Prior to beginning her softball career at Seton Hall in 2021, Kelsey played multiple positions and pitched for Molloy. She was an exceptional player for Molloy, as she was named First Team All-State by the NYS Sportswriters Association and helped the Stanners achieve three consecutive CHSAA Championships, including a State Championship runner-up finish. Kelsey was unable to compete during her senior year at Molloy due to the pandemic, however her previous achievements on the field and excellent academic standing earned her a scholarship to Seton Hall.
(Photo and information courtesy of Seton Hall Athletics)



We are saddened to share the passing of Brian T. Hogan '96 on March 20, 2021. Brian was a proud Stanner and Track & Field alum. He recently celebrated the 25th anniversary of the '96 City Championship team with his former teammates, in a virtual event organized by Br. Dan O'Riordan '85. Brian once served as a Campus Ministry Leader under Br. Dan, and he was also a decades-long volunteer at Esopus. Please keep Brian and his family in your prayers. | Click Here for Memorial Page and Visitation Information

We are saddened to share the passing of Margaret P. Gallagher, mother of faculty member Jeffrey Gallagher '88. Margaret passed away on March 17, 2021. Please keep Margaret, Jeff, and their family in your prayers during this difficult time. | Please Visit the Thomas F. Dalton Funeral Home Website for Visitation Information

Please pray for the repose of the soul of Ben Abit, father of Otoja Abit '03. Mr. Abit passed away on March 6, 2021.

Please pray for the repose of the soul of Anne Miele Marotta, spouse of Aelia (Al) Marotta '68. | Click Here for Memorial Page

Please pray for the repose of the soul of Joseph Abruzzo, father of Salvatore Abruzzo '83 and Gaspare Abruzzo '87. Mr. Abruzzo passed away on March 4, 2021. | Click for Memorial Page

Please pray for the repose of the soul of Fr. Bob Hogan, JS, brother of Br. Patrick Hogan, FMS. Fr. Bob served as a Jesuit missionary in the Philippines and taught there for over 68 years. He previously served the Marist Brothers as a retreat Chaplin. In 2005, Fr. Bob was the first Chaplin for the St. Marcellin Champagnat Society, bringing 25 student and faculty volunteers to Lourdes, France to serve people in need.

We were recently informed of the passing of Joseph P. Policastro '63 on October 12, 2020. Please keep Joseph and his family in your prayers.

We were recently informed of the passing of Frederick J. Weber '77 on September 15, 2020 following complications from a prolonged illness. Frederick is the brother of Stephen Weber '83. Please keep Frederick and his family in your prayers.