Inaugural Black Excellence Townhall Reflects on Black Identity and Professionalism
Archbishop Molloy High School Hosts Virtual Townhall
by Yvette Villanueva '07, PR Committee, Council for Diversity & Inclusion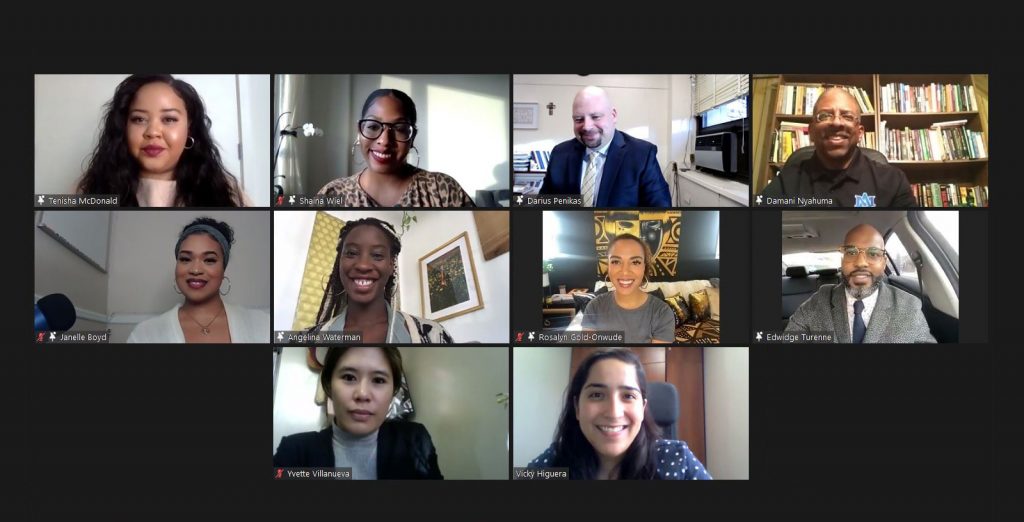 What does Black Excellence mean to you?
Entrepreneur and Chair of the Archbishop Molloy Council for Diversity & Inclusion, Tenisha McDonald hosted the inaugural Black Excellence Townhall virtual event at Archbishop Molloy High School in Briarwood, Queens NY on Monday, March 1st, 2021. The discussion of Black Excellence provided a space safe for panelists to explore questions of Black Identity and Professionalism—how they contributed to their successes and what they have had to overcome to be the person that they are today.
"For me as a Black woman, Black excellence means making the most out of the resources in which I'm provided and shaping and stepping into the fullness of my own Black identity and celebrating it, while also navigating the obstacles that arise because of that celebration," McDonald said as she kicked off the panel via Zoom.
McDonald is a 2007 Molloy graduate who earned her BA at Cornell, MA at Queens College, and is currently pursuing her PhD at Princeton University. She is the founder of Writer's Ink NYC, LLC, a content writing and editing company based in New York City.
The panel, organized by Archbishop Molloy's Council for Diversity & Inclusion, consisted of public speaker Janelle Boyd; broadcaster and sports anchor Rosalyn Gold-Onwude; New York State Court Sergeant Elder Bro. Damani Nyahuma; Molloy Director of Admissions Edwidge Turenne; board-certified behavior analyst & behavioral health specialist Angelina Waterman; and Minorities in Sports Business Network founder Shaina Wiel.
For Wiel, Molloy is a big reason why she is in her industry today. "Black Excellence means to me, being able to be your whole self at all times," she said. "I'm a Queens girl at heart, so being able to walk into a meeting with the NBA and sit with C-Suite level people and still have my hoop earrings on and my baby hairs popping, that's what Black Excellence means to me."
Wiel, a 2004 Molloy alumna, is a sports marketing professional who has worked with powerhouses such as ESPN, the NBA Family, Samsung, and Coca Cola. She has earned her BA from Penn State and MA in Sports Management from Columbia University. She is the founder of Minorities in Sports Business Network, an organization that empowers minorities working in the sports industry, and has been featured in Forbes.
Panelists discussed the importance of representation in each of their fields. During a trip to New Guinea for a speaking engagement, Boyd recalled how empowering it felt to be surrounded by other Black professionals. "It's the Day of Independence, and the stage is full of important people, delegates, some in African garb, military attire, people from surrounding countries, a king and queen, president and first lady…and I pan around to the most important people, and guess what? They look like me."
Boyd is a 2009 Molloy graduate, a Cornell University graduate, a Youth Ambassador for Voices of African Mothers, and has been involved in UN-hosted conversations held at the Commission on the Status of Women Conference. She is the founder of Dezire2Inspire, an international initiative with the mission to empower women and girls everywhere.
Panelists discussed how being Black in work environments also includes uncomfortable exchanges. Nyahuma provided insight to address needed changes when working with diverse colleagues. "Sometimes you hear Whites will say 'I don't see color. I don't care if you're white, black, blue, purple, etc.', and I say 'No, I want you to see me as a Black man. I need you to see me and understand me in the skin I'm in, because I'm comfortable in that skin, and if you detach me from my Blackness, then you can't see me.'"
Nyahuma is a parent of a current student at Molloy and an ordained elder within the Presbyterian Church. He has an MA in History from City College and has served twenty-six years as a Sergeant within the New York State Court System.
For Gold-Onwude, while being a female Black professional comes with its unique challenges, it also provides self-confidence. "I would say my journey of really stepping into myself as a woman, a Black woman, naturally comes with age and experience, finding myself…people have tried to suppress that. They want you to fit in, sound and look a certain way, not paying attention that you're a woman in a male-dominated space, in a high-profile position."
"I've decided fully at this point in my life and career, I won't hide who I am, and I feel like the best success I've had has been when I've leaned in on my identity, because who I am is what's separating me," said Gold-Onwude.
Gold-Onwude is a 2005 Molloy alumna and Stanford University graduate, where she earned her BA and MA and played on the women's basketball team. She is a Sports Broadcaster whose career spanned including hosting ESPN's First Take, Basketball analyzing across ESPN, NBA on TNT, Pac-12 Networks, NBA TV, MSG Networks, NBC Sports, and the 2016 Rio Olympics on NBC.
Molloy's inaugural Black Excellence Townhall was a new kind of conversation and an important milestone for the school. "This forum provided an important educational opportunity for students, faculty, and our broader community," said Principal Dr. Darius Penikas. "Molloy looks forward to offering these types of opportunities in the future."
The Black Excellence Townhall was the first of many events that the Council for Diversity & Inclusion is excited to organize for the benefit of the Molloy community.
[Pictured above: panelists and members of Molloy's Council for Diversity & Inclusion. Top Row: Tenisha McDonald '07, Shaina Wiel '04, Principal Dr. Darius Penikas, Elder Bro. Damani Nyahuma; Middle Row: Janelle Boyd '09, Angelina Waterman '07, Rosalyn Gold-Onwude '05, Edwidge Turenne '98; Bottom Row: Yvette Villanueva '07, Vicky Higuera. Visit www.molloyhs.org/diversity/ for more information.]
---
Stanner Talks – Business of MLB – THANK YOU!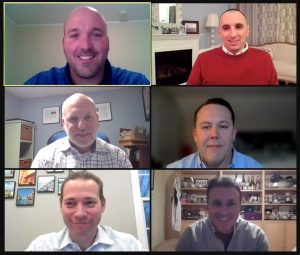 Thank you to our wonderful alumni at Major League Baseball, as well as to everyone who attended our first "Stanner Talks" virtual event. The discussion of "The Business of Major League Baseball" was a great success as five alumni in five different areas of MLB discussed their careers and Molloy memories. Thank you to Marc Caiafa '90, Senior Vice President, Production for MLB Network and NHL Network; Anthony Avitabile '91, MLB Vice President, Risk Management; Matt Bourne '91, MLB Senior Vice President, Communications; Nick Trotta '95, MLB Senior Director, Global Media, Programming & Licensing; and Steve Arocho '00, MLB Senior Director, Communications & Youth Engagement.
Read more about our next Stanner Talks featuring Mike Baxter '02 under "Upcoming Events" in today's Beehive.
---
Late Lt. Michael Davidson '99 Honored in Floral Park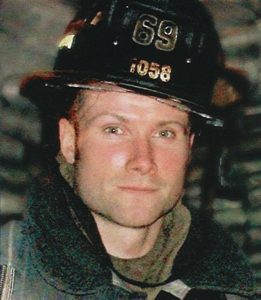 On March 23, 2018, Lt. Michael R. Davidson '99 was tragically killed while responding to a fifth-alarm fire on a film set in Harlem. Lt. Davidson, a decorated 15-year veteran of the FDNY, and a member of Engine Company 59 at the time of his death, was remembered as a selfless hero and a loving husband and father. The loss of Lt. Davidson has been felt by many in the FDNY and Stanner communities.
Recently, the Floral Park Post Office dedicated its building to the memory of Lt. Davidson. A virtual ceremony was held on March 23, 2021, marking the third anniversary of Lt. Davidson's passing. The program featured the National Anthem performed by Molloy students Joseph Bruno '22 and Molly McGuinness '22, an invocation by Msgr. John Delendick, as well as remarks from Postmaster/Master of Ceremonies Harold Bonilla, District Manager Frank Calabrese, US Congresswoman Kathleen Rice, and Molloy President Richard Karsten '81.
President Karsten offered a Marist perspective: "Michael truly embodies the five pillars of the Marist Identity: Presence – He cared for his family and friends and championed such values in how he treated family, friends, colleagues, and those he served as a firefighter. Simplicity – Michael did many selfless and wonderful things, not for accolades, but simply because it was the right thing to do. Family Spirit – His happiness came from being a husband to Eileen and a father to Brooke, Emily, Amy, and Joseph. Love of Work – While not an easy path, Michael embraced being a firefighter and was committed to the values and beliefs of putting others above self. In the Way of Mary – Michael followed his journey just as Mary did, with faith, love, and quiet strength."
The newly dedicated Lt. Michael Davidson Post Office Building is located at 35 Tulip Avenue, Floral Park, New York 11001. The ceremony came just weeks after the City Council passed two bills to improve the safety of NYC firefighters. Movie or television sets where pyrotechnics are used now require a safety manager to be present. We continue to pray for Lt. Davidson and his family, and we pray that this new legislation will help save lives in the future.
---
Molloy Celebrates Easter Liturgy
On March 31st, celebrant Fr. Patrick Flanagan joined the Molloy community for our Easter Liturgy. Some students and faculty were present for the Liturgy in the cafeteria, while a live broadcast was streamed to students in classrooms as well as students and parents at home.
---
Virtual Enterprise Class Qualifies for National Competition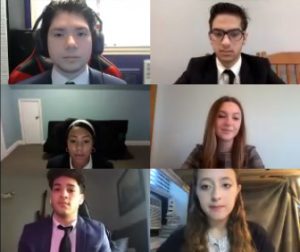 Earlier this spring, Molloy seniors placed fourth out of hundreds of schools in the NYC Championship Round of the Virtual Enterprise National Business Plan Competition. This achievement earned Molloy a spot in the 2021 National Championship Round in April 2021. This comes after Molloy began offering Virtual Enterprise as a senior elective just three years ago. A representative of Virtual Enterprise noted that Molloy's seniors exhibited "hard work and dedication to the competition during a challenging and unique school year." Molloy's team presented their "Teeny Opps" business plan, which is focused on turning a profit while helping teenagers find more jobs and more enriching opportunities.
While the entire class contributed to Molloy placing fourth, the team's six main presenters (Pictured right) are to be commended for their outstanding performance: Anthony Vargas '21 (CEO), Brianna Garrison '21 (COO), Eros Georgiou '21 (CFO), Emilia Wojciechowska '21 (VP of Marketing), Amaya Williams '21 (VP of Communications), and Jordan Molina '21 (VP of Digital Media).
---
Students and Faculty Share on "Gratitude Wall"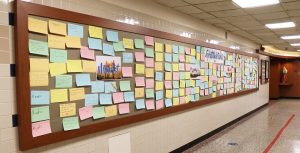 In March, students and faculty shared words of thanks, appreciation, and hope on a "Gratitude Wall" outside the William J. Murphy Library. The Gratitude Wall marks one year since the beginning of the pandemic. This project was launched by the new Comitas Committee, a group of faculty and staff volunteers whose goal is to provide positive events and experiences and promote kindness and support around school.
---
Computer Science Department News
Congratulations to all participants of the "Women's History Month" art contest that ended on March 28th. Each entry incorporated the theme "Women of the World" in a thoughtful and creative way. Thank you to graphic artist Ms. Michele McGrade for selecting the winners and to Ms. Higuera and Ms. Boral for organizing the contests. All submissions were exceptional, but the following artists stand out: 2D Category Winners First Row: 1st Place–Abigail Mallia '23; 2nd Place–Daphne Camacho '22; 3rd Place–Laura Marmol '23. | Digital Art Category Winners Second Row: 1st Place–Madeline Miller '23; 2nd Place–Anjanie Radhay '23; 3rd Place–Julia Guiadeen '22.
Congratulations also to all participants of the "Molloy for Queens Without Hunger" art contest that ended on March 10th. All submissions were exceptional, but the following artists stand out: 2D Category Winners First Row: 1st place–Anjali Seelall '21; 2nd place–Abigail, Mallia '23; 3rd place–Laura Marmol '23 | Digital Art Category Winners Second Row: 1st place–Maya Cwalina '21; 2nd place–JingYi Xie '23; 3rd place–Julia Guiadeen '22.


"Stanner Talks" featuring Mike Baxter '02
Continuing with our baseball theme as the Major League Baseball season gets underway, join us for an evening with Mike Baxter '02. Mike is a MLB alum (Padres, Mets, Dodgers, Cubs) and is currently a recruiting coordinator and assistant coach for Vanderbilt Commodores Baseball. In 2012, Mike made headlines when he helped preserve the Mets' first no-hitter with an incredible catch. During Mike's tenure at Vanderbilt, the Commodores won the NCAA Championship, and more recently pitcher Jack Leiter tossed a no-hitter. We are excited for a great conversation with Mike about these topics and more! Mike will share other highlights from his playing career, discuss his transition from playing to scouting and coaching, and more. Fill out the form below to RSVP. (Photo courtesy of Vanderbilt Athletics)
---
Jim Kinnier Stanner Golf Classic –

LIMITED AVAILABILITY
Join us for the return of the Jim Kinnier Stanner Golf Classic on Monday, May 3, 2021. All proceeds from our annual alumni golf outing will benefit future Molloy students through our scholarship program. This year we will comply with health and safety guidelines in response to COVID-19. Capacity will be limited to 72 golfers per course. The event will not include dinner, but there will be an extended cocktail hour at each course as well as other gourmet meals and exceptional service throughout the day. Raffle tickets purchased for last year's event will be carried over to this year's raffle. Click the links above for more info.
---
Spring Musical: Addams Family Quarantined Concert Version
The Stanner Players have been rehearsing virtually for their unique Spring Musical: "The Addams Family: Quarantined Concert Version". This version of "The Addams Family" has been adapted to suit the needs of theater during the pandemic. The show has been abridged to a one-act 90-minute production with updated references to social distancing and quarantine. The goal is to have all students in the cast physically present together for the performances, which will then be livestreamed to an at-home audience. Performance dates are scheduled for April 23rd and 24th at 7:00 PM.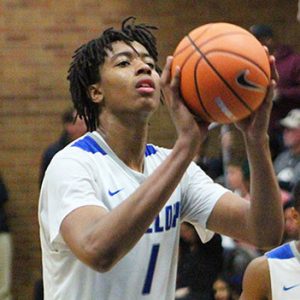 The Oklahoma City Thunder announced in a press release on March 28th that they have signed center Moses Brown '18 to a multi-year contract. This incredible news comes off Moses' recent success playing for the Oklahoma City Blue, the Thunder's G-League team. Moses was named G-League Player of the Week in February, and more recently was named First Team on the 2020-21 All-NBA G League Team. Moses has also appeared in 16 games with the Thunder over the course of the 2020-21 season, registering averages of 8.3 points, 7.9 rebounds, and 1.13 blocks in 17.5 minutes per game. He shot 61.9 percent from the field in those games. Moses had previously signed a Two-Way Contract with the Thunder in December, 2020. Congratulations, Moses!
---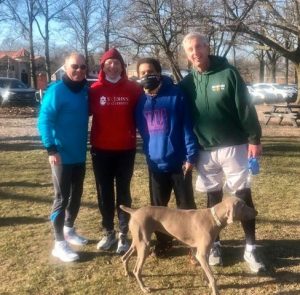 On Sunday March 14th, the Alley Pond Striders held their annual Alley Bowl 3 X 1 mile relay. There were Stanners aplenty in attendance. The President of the Striders is Larry Lutzak '69. The Race Director is Rob Pasqual '77. The Head Timer is Ken Kaiser '78. Three of the teams featured Stanners: Team Doyle featured John '77 & Merl Doyle (2nd place) Stanners '77 featured Mike Fox, Peter Hoey and Rob Pasqual (5th place), and Forest Park Runners team featured Kevin Brogan '78 (6th place). Pictured: The '77 crew, left to right, Fox, Doyle, Pasqual, Hoey.



Please pray for the repose of the soul of Noreen Strauser, mother of Bill Strauser '89 and Tom Strauser '91. Noreen passed away on February 10, 2021.

We were recently informed of the passing of Thomas P. Geraghty '62 on February 1, 2017. Thomas had been living in Port St. Lucie, Florida. Please keep Thomas and his family in your prayers. | Click Here for Memorial Page