35th Annual Jim Kinnier Stanner Golf Classic – THANK YOU!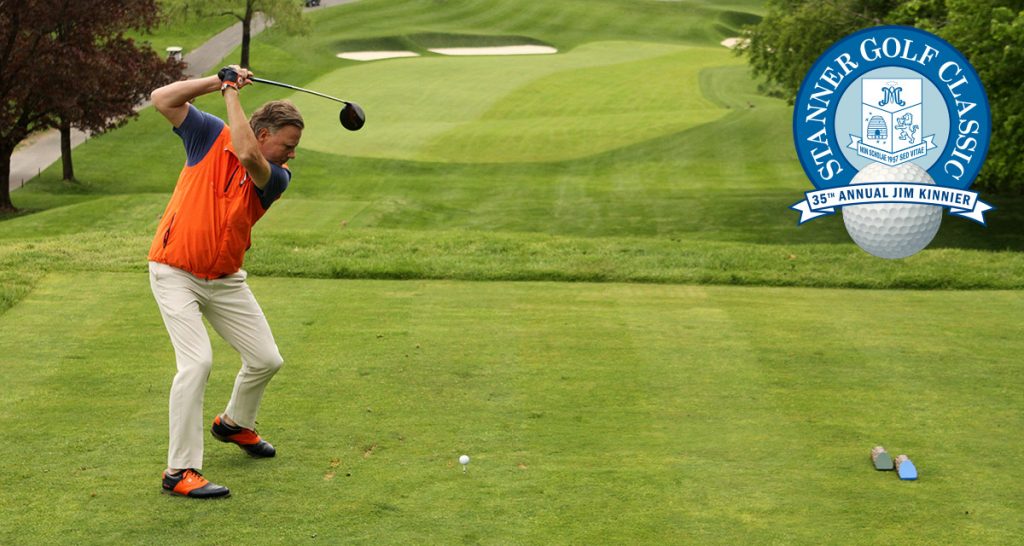 The Stanner Alumni Center would like to extend a big thank you to all our alumni golfers, corporate sponsors, volunteers, chairpersons James Jordan '01 and Carissa Jordan '04, and our IT staff and facilities staff, and everyone who helped make our 35th Annual Jim Kinnier Stanner Golf Classic a huge success. After the cancellation of last year's outing, it was wonderful to welcome our community back for this beloved event. Over 375 participants joined us this year.
Since 1987, the Jim Kinnier Stanner Golf Classic has raised over $3 million in support of Molloy's scholarship program. When it began, the outing consisted of several dozen alumni playing around and reconnecting at one golf course. In 2021, the outing has grown to accommodate hundreds of golfers across multiple golf courses.
Our 35th annual outing was unique for several reasons. We expanded to a fourth golf course for the first time, while each course had a limited capacity in order to offer the safest outing possible. A tennis tournament was added for the first time thanks to the work of co-chair Carissa Jordan '04, and our auction was held entirely online, with every item selling to the highest bidder.
We will provide more information about the 35th Annual Jim Kinnier Stanner Golf Classic soon, but for now, we again want to thank everyone who contributed to the success of this year's outing. While we tally up the numbers, please take a moment to click on the buttons below to read more about our co-chairs or to download our digital golf journal. More photos will be shared soon.


---
Stanner Players' First Virtual Musical Is A Hit!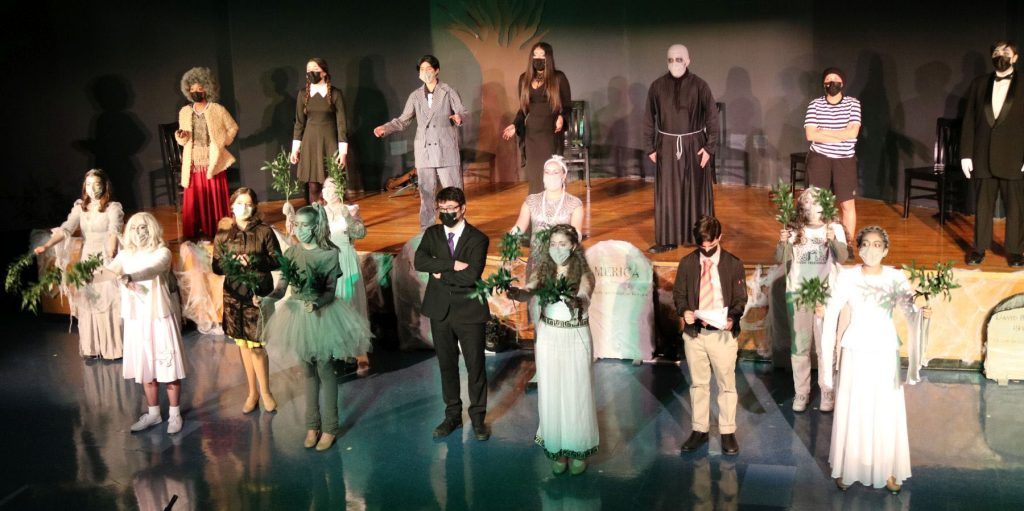 Congratulations to the Stanner Players and Director Ms. Shannon Winters '06, who recently presented their first ever virtual spring musical. Audiences enjoyed "The Addams Family: Quarantined Concert Version" safely from the comfort of home, while our Stanner Players were thrilled to perform together on-stage. The back-to-back shows were a tremendous accomplishment, especially considering the Players had only two weeks of in-person rehearsals. Click the button below to download the show program for more information about the cast and crew, as well as a note from the Director. (Photos by Tatiana Egas '22)

---
Teachers, Students Show Appreciation For Dr. Penikas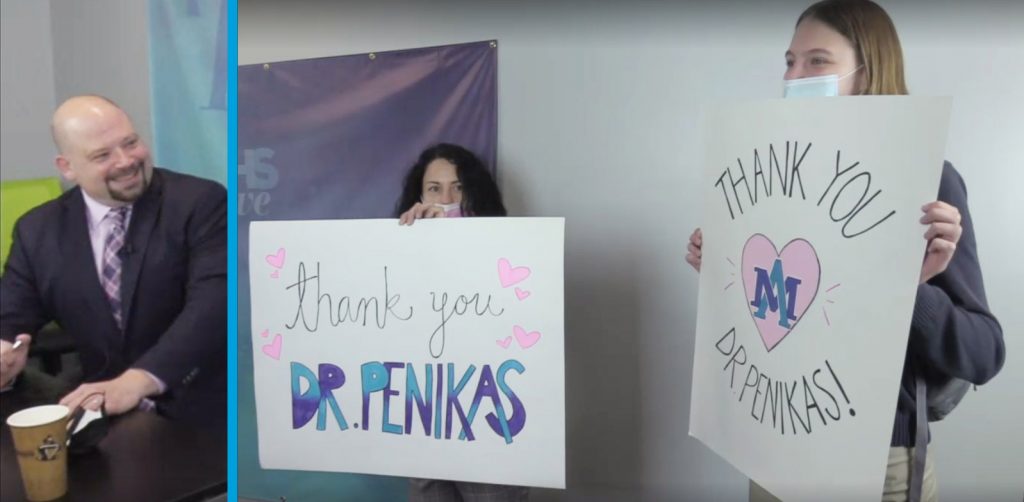 This past week marked Teacher Appreciation Week, a time for all of us to recognize and appreciate the hard work that our teachers have done to make hybrid learning a success during this pandemic year. The faculty and staff at Molloy decided to take this opportunity to recognize a particular individual for his efforts this year: Principal Dr. Darius Penikas. During the morning broadcast on May 7th, Mr. Gambino '74 and Mr. Sheehan '75 interrupted Dr. Penikas' routine announcements to present him with a restaurant gift certificate from the faculty and staff, a show of gratitude for his leadership and everything he has done to help keep Molloy an upbeat and caring environment throughout this year. A video featuring messages of thanks from students and faculty was played to end the broadcast, while poster boards for students and faculty to sign were hung in the first-floor hallway. (Pictured above: Dr. Penikas reacts as Ms. Murdocca and Maya Cwalina '21 show the thank you posters that students later signed during the day. Below: screen captures from the thank you broadcast.)
---
Recognizing Ms. Gallagher, RN, During Nurses Week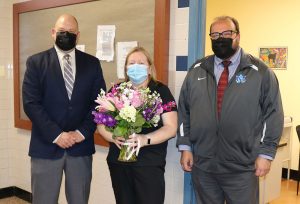 Thursday, May 6th marked National Nurses Day and the beginning of Nurses Appreciation Week. Principal Dr. Darius Penikas and President Richard Karsten '81, on behalf of the faculty, staff, and students of Molloy, thanked Registered Nurse Ms. Maria Gallagher for her tireless efforts to keep our school safe this year. Dr. Penikas and President Karsten presented Ms. Gallagher with flowers in recognition of her amazing work.
We also extend our thanks to the many nurses in our Stanner community. Thank you for all the work you do to help those in need, and especially during the COVID-19 pandemic.
---
2021 Virtual Science Symposium – Explore Student Research!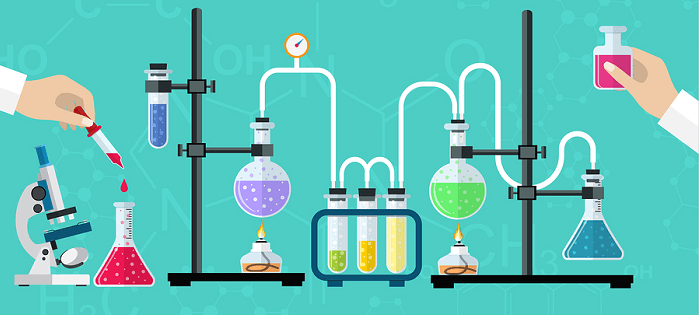 The Stanner Alumni Center invites you to enjoy Molloy's 2021 Virtual Science Symposium, featuring the work of talented students in our Science Research program. "Science Research is a three-year program where students learn about and conduct original research," explains Ms. Mary Mallia, moderator of the program. "In sophomore year, our students explore scientific literature; their projects are presentations of scientific journal articles. The juniors are presenting their project designs, while the seniors are reporting the findings of their original scientific investigations. Many of our students work side-by-side with researchers in labs in the New York City metropolitan area. When the pandemic hit and many labs closed, the students were forced to look elsewhere– projects were created using the resources at Molloy. The students produced amazing results." Click the button below to visit the Science Symposium.

---
See Amazing Student Work From 3rd Annual STEAM Expo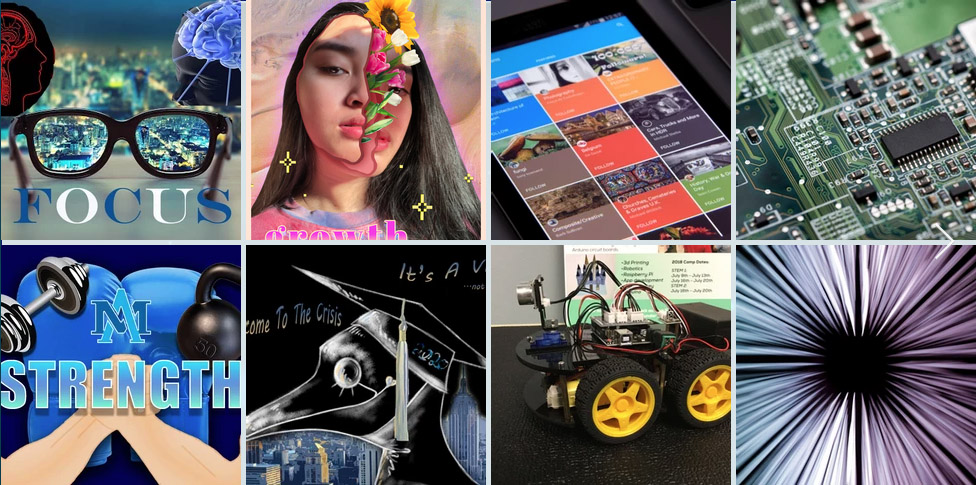 Molloy's annual STEAM Expo took place virtually this year. Every year, the STEAM Expo showcases some of the best artifacts that Stanners have to offer. A panel of judges, including President Richard Karsten '81, Graphic Artist Ms. Michele McGrade, Assistant Principal and Math Professor Dr. Des Flynn, and Software Engineer Eric Mun selected the very best projects out of more than 170 entries in three categories: App Development, Computer Graphics, and 3D Design. We invite you to review the impressive work of our students as well as this year's winners. Click the button below to visit our 2021 Virtual STEAM Expo.

---
Student Spotlight – Keren Elmore '22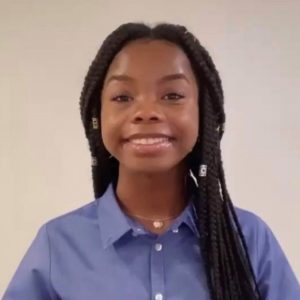 Keren Elmore '22 is a talented and ambitious junior who, despite the pandemic, has taken full advantage of her opportunities at Molloy. Keren has been a part of every Stanner Players production since her Freshman year, she is a member of the Afro-Caribbean Club, has participated in many Mock Trial tournaments, and is proud to be a founding member of GERLL Club (Girls Empowerment for Real Life Leadership). She has also served as a Peer Tutor and an Open House volunteer. Most recently, Keren continued to feed her passion for theater, playing the role of Grandmama in the Stanner Players' spring musical, The Addams Family: Quarantined Concert Version.
Outside of Molloy, Keren has enjoyed enrolling in courses through the NYU Collegiate Seminar Program, for which she was nominated by Mr. Gus Esgro, her college guidance counselor. Keren has also been involved with the NYU High School Law Institute, which she applied to on her own following her previous experience with NYU programming. For three hours every Saturday, from November through March, Keren virtually joined NYU law students in classes such as Criminal Law, Constitutional Law, and Speech and Debate.
Keren is an avid volunteer and youth leader in her local parish, Greater Allan Cathedral Church in Jamaica, Queens. In 2020, during the early peak of the pandemic, Keren used Facebook Live to broadcast religious and educational programming to the children in the parish to keep them engaged in the community. Keren tapped into her love of acting to produce over 50 episodes, with each one garnering over 1,000 views. She wrote scripts, filmed at her dining room table, and even implemented a sign language component into the broadcasts. Topics ranged from how to treat others with respect, to safety practices, to gospel passage discussions.
Keren says her faith had a lot to do with mentally and emotionally navigating the pandemic, especially after losing her grandfather. While this was a difficult experience, she realized that many other people were having a hard time too, and that she was in a position to help the kids in her community. Serving and helping others motivated her to make the most of a difficult situation. She also found peace in writing poetry about hope and social justice. She has plans to compile a book of her poetry this summer.
Keren hopes that there will be an opportunity to have more in-person classes and events during her senior year. She looks forward to "coming back" to the Molloy community, seeing her friends and teachers more regularly, and creating lasting memories.
---
Stanners Visit Queens Botanical Garden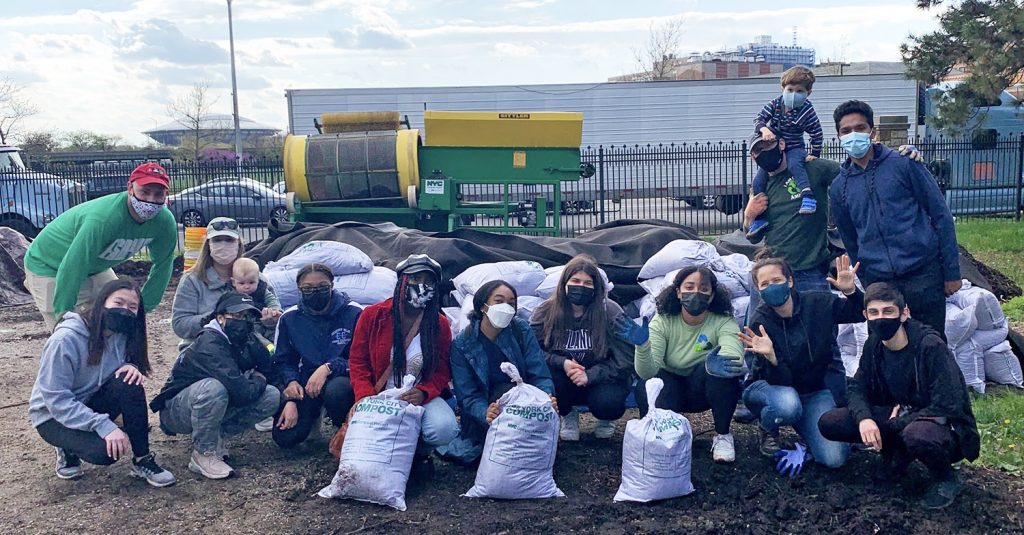 On April 25th, members of Molloy's I A.M. Green Club visited the Queens Botanical Garden in Flushing. The club enjoyed a tour of their compost facilities and a lesson on composting. Our students were also offered an impromptu tour of QBG's special exhibit flower patch. The visit concluded with students volunteering on a compost pile, filling large compost bags to prepare them for distribution while clearing out an area of natural refuse. The club ended their day by enjoying some pastries and bubble tea on Main Street in Flushing.
According to the Queens Botanical Garden, their NYC Compost Project offers compost-related educational opportunities and technical composting support, distributes compost, and processes over 4,500 lbs of food waste generated in Queens, NY. QBG is currently working on supporting communities to open neighborhood-based public food scrap drop off sites ensuring food scraps are composted locally.

Stanner Talks – Br. Ben Consigli '80 –

REGISTER NOW
When: Wednesday, June 2, 2021 @ 7:00pm
Where: Zoom (login info provided via email upon registering)
Contact: alumni@molloyhs.org | 718.441.9210
"Stanner Talks" is a new virtual event series highlighting Molloy alumni and their insights into intriguing careers. Our third Stanner Talks will feature Br. Ben Consigli '80, FMS, a former Molloy educator, former US Provincial, and current serving member of the Marist Brothers' General Council as the link for the Marist regions of Oceania and Europe. Br. Ben will join the Molloy community from his home in Rome, Italy, for a discussion about his life and service as a Marist Brother, as well as some of his writings, with a focus on his most recent work titled The Pandemic and Our Marist Mission, a reflection on the role of the Marist Mission during the COVID-19 pandemic. Click the buttons below to register or to read The Pandemic and Our Marist Mission.



Rob Chirico '70 has published a new book titled Poor Robert's Almanac. According to Rob: "As the title indicates, Poor Robert's Almanac is loosely an almanac, but perhaps more properly it is a type of calendar that features facts, trivia, and humorous tidbits for every day of the year. They range through the gamut of music, philosophy, food and drink, art, politics, the lives of the famous and infamous, as well as practically something from all of this crazy life, the universe, and everything. There is something for everyone. And, at a mere $5.99!" Poor Robert's Almanac is available now on Amazon.com. In other news, one of Rob's previous books, Onward Kitchen Soldiers, recently published as a paperback. Onward Kitchen Soldiers is available on Amazon.com.
---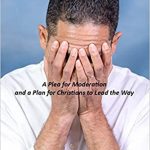 Daniel Holly '73 has published a new book titled Come On, People: A Plea for Moderation and a Plan for Christians to Lead the Way. According to the book's description, "A dozen years into this new century, Dan Holly watched personal political differences divide the racially diverse congregation at his North Carolina church. The author — a college professor with considerable experience in journalism and politics and a devout Christian — aims to heal the partisan divide. The book aims to motivate and empower Christians to lead conversations about faith's role in encouraging moderation and discouraging extremism. Anyone who believes in biblical principles can help lead the way, Holly argues." Daniel Holly's book is available now on Amazon.com.
---
Congratulations to Stanner Hall of Famer, Gaetano Fazio '01 and his wife Yolanda, on the birth of their son, Giovanni Antonio Fazio. Giovanni was born on January 28, 2021. Additional congratulations to Gaetano and Yolanda's families, including Giovanni's uncles Gino Fazio '81 and John Fazio '87. Best wishes from The Beehive!
---
After having six sons graduate from Molloy, in June 1989, Ms. Peggy Kramer received an honorary diploma from Molloy. She was the first woman in the school's history to receive this honor. The six Kramer siblings are: Frederick J. Kramer '75, John F. Kramer '77, Robert T. Kramer '78, Gregory P. Kramer '79, Joseph B. Kramer '80, and Thomas F. Kramer '89. In December 2020, Peggy retired from her position as a receptionist at the law office of her son, Gregory P. Kramer, Esq '79. CBS News recently broadcast a story about Peggy regarding her weekly uplifting piano performances for the Floral Park Village community during the COVID-19 pandemic. Click the following link to watch the segment. | CBS News – Peggy Kramer Story


We are saddened to share the passing of Joseph Mule '66 on April 30, 2021. After graduating from Molloy, Joseph attended Villanova University. He later attended John Marshall Law School in Chicago. He practiced law in New York for nearly 50 years. Joseph is survived by his wife of 43 years, Angela, and their two sons, Philip and Michael, two grandchildren, as well as his brother, Daniel Mule '69,. Please keep Joseph and his family in your prayers. | Click Here for Memorial Page

We are saddened to share the passing of Raymond J. Lux '73 on April 25, 2021. Raymond was an avid angler and enjoyed a long career at Con Edison. Please keep Raymond and his loved ones in your prayers. | Click Here for Memorial Page

Please pray from the repose of the soul of Robert Robinson, grandfather of Julia Clarke '20 and Dylan Clarke '24.

Please pray for the repose of the soul of Patricia Patenaude, mother of Br. Todd Patenaude, FMS.