Stanner Talks feat. Br. Ben Consigli '80 – RSVP Soon!
When: Wednesday, June 2, 2021 @ 7:00pm ET
Where: Zoom (login info provided via email upon registering)
Contact: alumni@molloyhs.org | 718.441.9210
Stanner Talks is a virtual event series highlighting Molloy alumni and their insights into intriguing careers. Our third Stanner Talks will feature Br. Ben Consigli '80, FMS, a former Molloy educator, former US Provincial, and current serving member of the Marist Brothers' General Council as the link for the Marist regions of Oceania and Europe. Br. Ben will join the Molloy community from his home in Rome, Italy, for a discussion about his life and service as a Marist Brother, as well as some of his writings, with a focus on his most recent work titled The Pandemic and Our Marist Mission, a reflection on the role of the Marist Mission during the COVID-19 pandemic. Click the buttons below to register or to read The Pandemic and Our Marist Mission.




Stanner Talks feat. Mike Baxter '02 –

Video Now Available!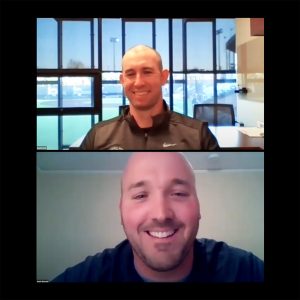 Earlier this spring, the Stanner Alumni Center was thrilled to welcome Mike Baxter '02 as a guest speaker for our second Stanner Talks event. This series of virtual events gives the Molloy community an opportunity to hear alumni share their insights into intriguing careers. Mike has had quite an intriguing career in sports thus far, from winning the City Championship at Shea Stadium as a member of Molloy's varsity baseball team in 2002, to recording two walk-off hits and making a no-hitter-saving catch for his hometown New York Mets, to winning an NCAA Championship as an assistant coach and recruiting coordinator with the Vanderbilt Commodores. Mike discussed all this and more during "Stanner Talks" back in April.
Missed the event? A recording of Mike Baxter's Stanner Talks is now available on Youtube! We are pleased to bring this virtual experience to those in our community who may have missed the live event. If you're a baseball fan, a Mets fan, a fan of Whitestone's Cherry Valley, or an aspiring player seeking advice, you don't want to miss this unique opportunity to hear straight from Mike. Use the player below to watch any time. (Pictured: Mike Baxter '02 fields questions from event MC & former Molloy teammate, Matt Rizzotti '04)
---
11 Student-Athletes Sign National Letter of Intent
The Beehive congratulates the 11 student-athletes who recently signed a national letter of intent to play their sport(s) at the college level. These Stanners have worked hard to stand out on the field of play and in the classroom, and this wonderful achievement is made even more remarkable due to the unique circumstances each one has navigated since spring 2020.
Christian Bien-Aime '21 – Adelphi University – Track & Field

Joseph Brennan '21 – Manhattan College – Swimming

Madison Capria '21 – Bentley University – Swimming

Maya Cwalina '21 – Amherst College – Basketball

Caterina Fox '21 – SUNY Delhi College – Soccer

Michael Frazzetta '21 – SUNY Maritime College – Baseball

Andre Gajtani '21 – St. Francis College – Soccer

Seamus Girdusky '21 – St. Francis University (PA) – Track & Field

Brooke Leahy '21 – Mount Saint Mary College – Basketball and Soccer

Kathryn Maio '21 – Manhattan College – Swimming

Matthew Paolo '21 – Adelphi University – Track & Field
---
Download the Spring Issue of The Stanner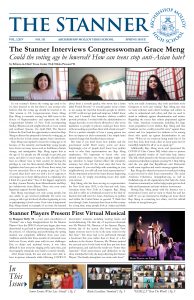 Click the button below to download your digital copy of Molloy's student newspaper, The Stanner!
The Stanner staff is proud to present their spring issue. Featured: Editors-In-Chief Tessa Cooke '21 and Nikita Persaud '21 interview Congresswoman Grace Meng, who represents New York's 6th congressional district (including Briarwood). Rep. Meng discusses several topics, including the power of teen voices and how young people can help stop anti-Asian hate and discrimination.
Also in this issue: an update on end-of-year senior events, creating the "Quaranteen'd" Senior Movie, the Stanner Players' first virtual musical, "returning to normal", and a look back at big spring events, including Spirit Week, Black Excellence Townhall, and GERLL Club's Women's History Month celebration.
Visit www.molloyhs.org/stannernewspaper/ to find other recent issues and select archives.

---
Track & Field Spring Updates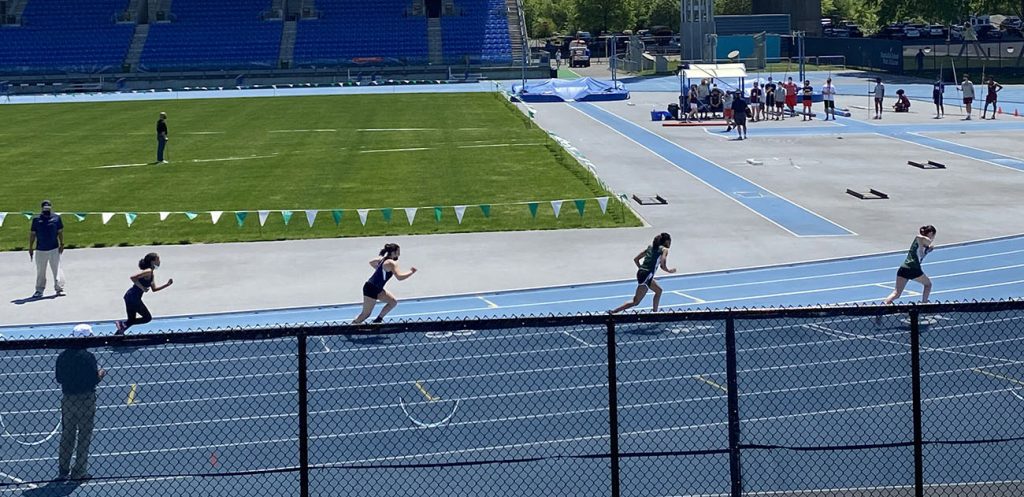 Photo by Cher Mei '22.
Congratulations to our Girls Track & Field team, who achieved first place in the Brooklyn/Queens Outdoor Sectional Championships on Saturday, May 15th at Ichan Stadium. Molloy placed second in the City Championships. The Brooklyn/Queens top three were: Molloy 67; St. Francis Prep 64; The Mary Louis Academy 51.

Congratulations to junior Abigail Jefferies '22, who was named Outstanding Field Athlete, winning the shot put (#4 in NYS) and long jump. She placed second in the 100 Meter High Hurdles (#3 NYS).

Congratulations to sophomore Grace Murphy '23, who is City Champion in the 1500 Meter Run, and Brooklyn/Queens Champion in the 2000 Meter Steeplechase (#7 NYS). Grace took second place in Javelin.

Congratulations to Senior Kate Maio '21, who is City Champion in Javelin (#3 NYS).

Congratulations to Senior Marina Tsimisiris '21, who is Brooklyn/Queens Champion in the 3000 Meter Run.

Congratulations to Freshman Brianna Rucker '24, who is Brooklyn/Queens Champion in the 400 Meter.
---
Celebrating Student Artwork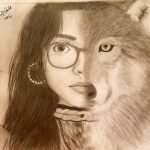 Art Teacher Ms. Terri Burke wishes to celebrate the creativity of her seniors by sharing the following work with The Beehive. Terri provided brief descriptions for the featured projects: Skateboard Project – design a skateboard skin; Balloon Dog – replicate the metallic look of Jeff Koons metallic balloon dog sculpture using colored pencils (3) and black and white; Colored Glass Bottles – further study with colored penciled, highlights and shadows; Half-Human Half-Spirit Animal – using pencil value skills to create a self-portrait; Robot Portrait – self-portrait using the planes in the face to create a mosaic look; Neurographic Art – design and style using line, shape, color, movement, rhythm, and pattern; Illustration with Skull – using the style of Mimi Ilnitskaya using the skull inspired by famous artist, and select images associated with each artist, and add them in and around the skulls.
---
1st Year of Quantum Computing Closes w/ "Giants" Panel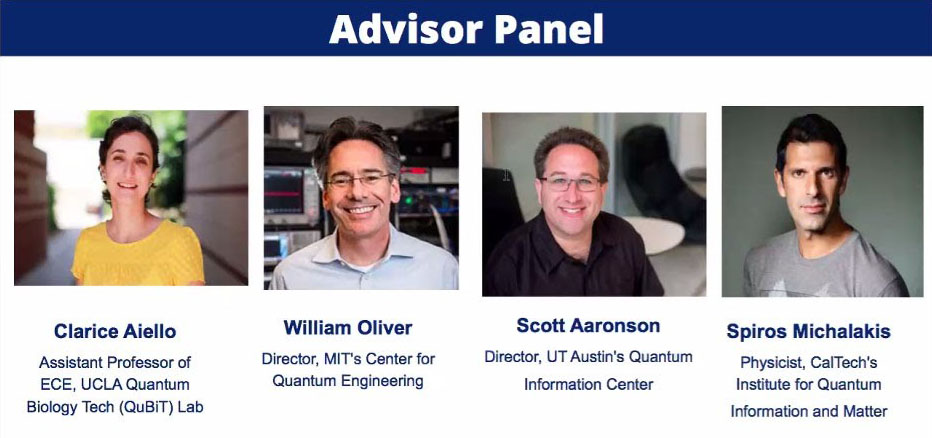 by Ms. Edit Boral, Computer Science Department
On Sunday, May 9th, Molloy Quantum Computing students participated in a panel discussion with top quantum computing researchers and faculty, as well as leaders from QxQ's (Qubit By Qubit) Advisory Board. The discussion was the finale of the "Qubit by Qubit: Quantum Computing" course offered for the first time to students all over the world.
Often referred to as the Giants of Quantum Computing, William Oliver, Director of MIT's Center for Quantum Engineering, Scott Aaronson, Director of UT Austin's Quantum Information Center and Spiros Michalakis, Physicist at CalTech's Institute of Quantum Information and Matter, shared their experiences with students. The Giants talked about how they got into Quantum Computing, what a day in their life looks like, as well as about the difficulties and future of quantum computing.
Molloy students are among the first high schoolers in the world who took "Qubit by Qubit: Quantum Computing" taught by MIT and Oxford researchers. Students who graduated from the course earned a certificate issued by The Coding School. Molloy is thrilled to be offering this course again next school year at no cost to students as our partnership with the QxQ program has been extended. Moreover, Professor James Freericks of Georgetown University has invited Molloy students to register for his upcoming edX course, "Quantum Mechanics for Everyone", which will start in the last week of June 2021.

---
Incoming Students Take Placement Exams
On May 8th, over 200 incoming students took at least one of two placement exams offered, including mathematics and world language. The Molloy administration wishes to thank all teachers, department chairs, security, and the facilities staff for their great work in providing a safe environment and efficient exam day for our incoming students.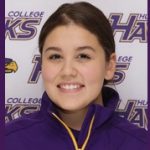 Congratulations to Brittney Salvador '16, who has been recognized by the CUNY Athletic Conference as 2020-21 Scholar Athlete of the Year. According to a press release, "CUNYAC recognizes its best and brightest student-athletes, who not only excel in athletics, but succeed in the classroom." Brittney, who plays softball at Hunter College, has exceled as a Chemistry major in the Special Honors College. She is also a two-time CUNYAC All-Star with a career batting average of .356, fielding percentage of .923, 93 hits, 82 runs batted in, 58 runs scored, and 11 home runs. Brittney's postgraduate plans include attending medical school. | Click Here for More Info | (Photo courtesy Hunter College)
---
After 25 years as a nursing home administrator, Louis Maltaghati '69 has returned to the real estate industry as a referral agent with Coldwell Banker. Louis is based in Sarasota, Florida, and invites Stanners in the area to connect. If you would like to reach out to Louis, please contact The Beehive at alumni@molloyhs.org. Louis also shared that he is proud of his son, who is attending Boston University and is majoring in electrical and mechanical engineering.
---
Bob Corrigan '63 recently shared some intriguing family history with The Beehive. Bob's granddaughter, Catherine Daly '21 (pictured), will graduate from Molloy next month. Catherine is a member of the National Honor Society, the Band and Chorus, the stage crew for the Stanner Players, and has served as a Peer Tutor and a volunteer at the Briarwood Shelter. She will attend Seton Hall in the fall.
Catherine is the sixth member of her family to graduate from St. Ann's/Molloy. As a member of the Class of 2021, Catherine is graduating exactly 100 years after the first member of her family, as her great-granduncle William "Bill" Christie (pictured far right first row), graduated with the St. Ann's Academy Class of 1921 (pictured). Bob was next in the family chain, graduating in 1963, and his brother Michael followed in 1964. Michael's son, Terence Corrigan, graduated in 1991, followed by Bob's grandson, Sean Daly in 2015, and now Catherine in 2021, completing the family's Stanner Century.
Bob also noted that Thomas J. O'Brien '21 is pictured with Bill Christie. O'Brien later became Monsignor O'Brien, the pastor of St. Malachy's Church (the Actor's Chapel) on West 49th Street. Msgr. O'Brien was among the inaugural Stanner Hall of Fame inductees in the 1980s.
---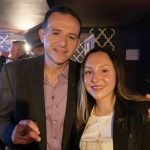 Joe Savino '86 recently connected with Justina Dinko '10 at the Spring NYPD Mounted Unit Cigar Night. Justina is currently assigned to the Mounted Unit that Joe retired from back in 2019. "Justina wasn't even born yet when I graduated from Molloy in 1986, or when I got appointed to the NYPD in 1989, but here we are, both Stanner alumni and NYPD mounties!"
---
Chuck Niebling '80 shares some news he's been meaning to The Beehive for a while! Chuck and Pam Niebling are pleased to announce the marriage of their daughter, Jillian Alexandria, to Ryan Michael Nichola, married back on 8-11-2018. They currently reside in Freehold Township, NJ. Pictured in the group photo are Chuck, Pam, Mr. and Mrs. Nichola, and Andrew and Matthew Niebling.



We are saddened to share the passing of Anton Semmler, father of former faculty member Carl Semmler. Anton passed away May 20, 2021. Please keep the Semmler family in your prayers. Visitation will be Sunday, May 23rd from 2:00-6:00pm at Lieber Funeral Home, 266 N Central Ave, Valley Stream, NY 11580. A funeral Mass will be held Monday, May 24 at 11:00am at St. Joseph's RC Church, 1346 Broadway, Hewlett, NY 11557. | Click Here for More Information

We are saddened to share the passing of Sean H. Kane '93 on May 16, 2021. Please keep Sean and his loved ones in your prayers. | Click Here for Memorial Page

We are saddened to share the passing of Thomas G. Oelkers '92 on May 16, 2021, following a courageous battle with 9/11 related cancer. Please keep Thomas and his loved ones in your prayers. | Click Here for Memorial Page

Please pray for the repose of the soul of Charlie Alben '64. Charlie passed away on May 15, 2021. | Click Here for Memorial Page

Please pray for the repose of the soul of Salvatore Buccellato '64.

Please pray for the repose of the soul of Brenda Lee Massowd, mother of faculty member Catie Massowd '07. Brenda passed away on May 13, 2021. | Click Here for Memorial Page

We are saddened to share the passing of Peter K. Madigan '60 on May 6, 2021. Please keep Peter and his loved ones in your prayers. | Click Here for Memorial Page

We are saddened to share the passing of Br. Bob McGovern, FMS. Br. Bob taught freshman math and biology at Molloy from 1957-1959, after which he taught in Texas and Florida. Br. Bob moved to the Philippines in 1967, where he served until his passing. Please keep Br. Bob and his loved ones in your prayers.

Please pray for the repose of the soul of Gloria Arrigo, who passed away on April 27, 2021 at the age of 91. Gloria sent her three sons to Molloy, Joseph Arrigo '77, Stephen Arrigo '83, and Christopher Arrigo '88. She believed in Molloy and was so happy to send her three sons there. She made a significant contribution to the Ralph DeChiaro wing when Molloy was accepting donations for its construction. She was a devout Catholic her whole life and did a wonderful job raising her three sons.

We were recently informed of the passing of Gregory J. Boyle '74 on July 3, 2019. Please keep Gregory and his loved ones in your prayers.