On May 3, 2021, the Stanner Alumni Center was excited to offer our first in-person event since early 2020. The 35th Annual Jim Kinnier Stanner Golf Classic welcomed many longtime golfers and sponsors back, as well as many new participants. It was great to see everyone.
This year's outing was historic for several reasons. First, the event expanded from three golf courses to four, which was part of the Stanner Alumni Center's effort to comply with capacity restrictions and social distancing guidelines and provide the safest experience possible. Second, expanding to four courses allowed for a record number of golfers, over 375! Third, our chairpersons, James Jordan '01 and Carissa Jordan '04, worked hard to recruit over 20 tennis players for our first-ever Tennis Tournament. Lastly, this year's outing raised over $239,000 in support of Molloy's scholarship program, surpassing our previous record by over $54,000! This wonderful accomplishment was made possible by the generosity and dedication of our amazing alumni, corporate sponsors, volunteers, and so many others. From everyone at Molloy and the Stanner Alumni Center, THANK YOU for supporting our students.
During the outing, Molloy announced two incoming freshmen will receive scholarships beginning this fall thanks to this year's Jim Kinnier Stanner Golf Classic. Congratulations to Mackenzie Clarke of Sewanhaka High School on receiving the Jim Kinnier Scholarship, and congratulations to Annabelle Montano of St. Stan's Middle School on receiving the John Gibbons Memorial Scholarship.
Jim Kinnier Stanner Golf Classic Photos Now Available
A photo gallery from this year's Jim Kinnier Stanner Golf Classic is now available! Click the button below to visit the gallery on Facebook. Photos by: Laura Angotta '07, Frank Bailey '75 Jonathan DiDonato '01, and Vicky Higuera. (Note: You do not need a Facebook account to view the gallery.)

---
Br. Ben Consigli '80 Joins Alumni & Friends For Stanner Talks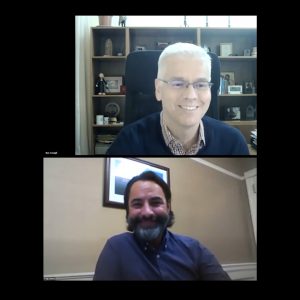 On June 2nd, the Stanner Alumni Center was blessed to be joined by Br. Ben Consigli, FMS, '80 for our third Stanner Talks. This virtual event series highlights Molloy alumni and their insights into intriguing careers. Br. Ben, a current serving member of the Marist Brothers' General Council as the link for the Marist regions of Oceania and Europe, discussed one of his recent writings, a reflection titled The Pandemic and Our Mission. In a conversation with event moderator Craig Katinas '93, Alumni Development Director, Br. Ben revealed what motivated him to write the reflection, how he identified his priorities and who he has been called to be during the pandemic, and how his relationship with God has impacted his journey through this difficult period.
In case you missed it, the event is now available on Molloy's YouTube channel. You can also view it in the video player below. We hope the words and experiences Br. Ben shares during this event will be of help to our community. Special thanks to Br. Ben for sharing his time and insights with us. Stanner Talks will return with new guest speakers this fall.

---
Update on Cohort System
In May, Molloy announced the end of the cohort system for seniors, juniors, and sophomores, with each class returning to in-person instruction five days per week. This became possible due to eased COVID-19 restrictions resulting from falling community infection rates. Students who have been opted-out for full distance learning may continue to do so, while those who are back on campus will continue to wear face masks as required for schools by the New York State Department of Health. After seniors enjoyed their last day of classes on May 26th, Molloy announced the end of the cohort system for freshmen as of June 1st. As with the other classes, opt-outs may remain fully remote if they prefer.
The New York City Department of Health has adopted New York State and CDC guidance in recommending that desks be spaced three feet apart in classrooms. This means that an overwhelming majority of classes will not need to have any students relocate to other rooms in the building, and all our in-person students will get an in-person classroom experience. This guidance still calls for six feet of spacing during lunch, and Molloy will continue its current arrangements of spaced out desks in the student cafeteria and Jack Curran Gym. In some rare cases, a handful of students will attend a few classes each week virtually from another room in the building. These students will rotate so that each student will have an equitable amount of in-person time. Molloy will continue to closely monitor the impact of these changes and is prepared to revert to the cohort system if necessary.
The 2020-21 school year has been a unique and challenging year that has required the tireless work and dedication of many individuals to create a safe and effective learning environment. Ending the cohort system and welcoming students back full-time, while also continuing an opt-out component for those who prefer it, is a tremendous accomplishment. Congratulations and thank you to our administration, faculty, staff, students, and Stanner families for all you have done to make this year a success.
Pictured Below: Seniors wear their college sweatshirts during a dress down day prior to their last day of classes.
---
Update on End-of-Year Events for Class of 2021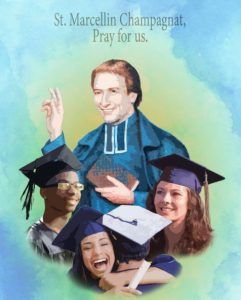 On Thursday, June 3rd, the Class of 2021 celebrated their Graduation Liturgy at St. Nicholas of Tolentine Church in Jamaica. The celebrant was Fr. Christopher Heanue. This gathering represented the last time our seniors will celebrate Mass together as a class, as well as one of the few class gatherings that have been possible this year. The Mass provided an opportunity for the Class of 2021 to reflect on what they have been through and accomplished together. The Liturgy was also livestreamed to family members at home. You can watch a recording of the Liturgy by clicking the button below.
Although so many events and memories have been lost to the pandemic, we are grateful that more in-person end-of-year events have become possible this spring. Our seniors, who celebrated their Prom on June 2nd at Leonard's Palazzo of Great Neck, are now looking forward to Commencement Exercises on June 21st on the great lawn of St. John's University, and a new event, the Senior BBQ, at Molloy on June 22nd.

---
Class of 1963 Remembers PFC Louis Willett '63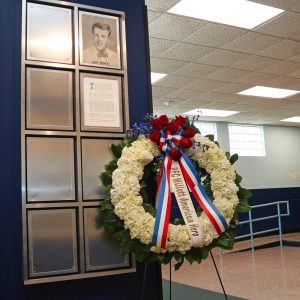 On Memorial Day, we remember the ultimate sacrifices made by the brave men and women of our armed forces. Each year, Molloy's Class of 1963 continues a special tradition in observation of Memorial Day, donating a memorial wreath in honor of their classmate, Private First Class Louis Willett '63. PFC Willett is a posthumous recipient of the Medal of Honor "for conspicuous gallantry and intrepidity at the risk of his life above and beyond the call of duty." He was mortally wounded on February 15, 1967, in Kontum Province, Vietnam, while purposefully drawing enemy fire away from his platoonmates, enabling their safe retreat. PFC Willett's bravery and selflessness continue to resonate with our community and especially our Class of 1963.
Click the button below to read PFC Willett's Medal of Honor citation. Together let us continue to remember the legacy of PFC Willett and of the many others who have made the ultimate sacrifice in service to our country.

---
Congratulations to the Diaconate Class of 2021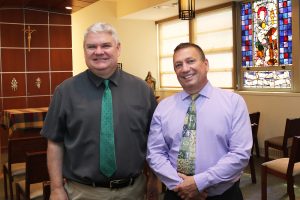 Archbishop Molloy High School congratulates religion teachers Mr. John Kramer and Mr. Michael J.B. McCarthy on being ordained as deacons as part of the Diaconate Class of 2021. Mr. Kramer and Mr. McCarthy were ordained by Bishop Nicholas DiMarzio at a ceremony at the Co-Cathedral of St. Joseph in Prospect Heights, Brooklyn, on May 29th.
---
Forest Hills Summer Camp Seeks Counselors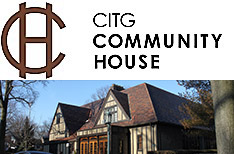 The Church in the Gardens (CITG) Community House of Forest Hills, Queens, is seeking counselors for its summer camp, scheduled to run from June 28 – August 20, 2021. The daily hours of the program are 8:15am – 4:00pm. Counselors are responsible for supervising and coordinating activities for children that range from ages 4 to 12. This is an ideal position for an individual who is interested in entering the education field and has experience working with children. Recent Stanner grads are encouraged to apply. Contact us at alumni@molloyhs.org if interested.


---
Sports Update
Congratulations to our Varsity Handball team, who were crowned City Champions!

Molloy's Track & Field team competed in the Intersectional Catholic State Championship on May 29th. Congratulations to Grace Murphy '23, who set a new Molloy record in the 2000-Meter Steeplechase and 1500 Meter Run. Congratulations also to our Intersectional Individual Catholic State Champions: Ike Anaege '21 in the Long Jump, and Abigail Jefferies '22, who was voted Outstanding Field Athlete while winning the 100-Meter High Hurdles, Shot Put, and Long Jump. (Track photo by Cher Mei '22)
---
Students Support May Baby Drive
In May, students donated baby items including diapers, wipes, and baby food. All items will be donated to The Bridge for Life. The fundraiser was sponsored by Molloy's Right to Life Club.
---
Video Broadcast Club – Now Streaming Anywhere!
On May 20th, students in Molloy's Video Broadcast Club test-streamed the varsity baseball game on Stanner Field, making it the first unofficial stream using the club's new "Hot Spot" technology. This enables the club to stream games and other events while not connected to Wi-Fi, giving them the capability to stream anywhere. The club later test-streamed and filmed the Girls Lacrosse Senior Day game vs. St. Francis Prep on May 25th, which is now available for viewing on Molloy's YouTube channel. Mr. Brian Klimas '98, the club moderator, said the Video Broadcast Club may attempt to stream a baseball playoff game. Information about future livestreamed games and events will be shared in The Beehive as it becomes available. You can watch the Girls Lacrosse game via the video player below.



Our Commitment to Keeping Our Molloy Family Connected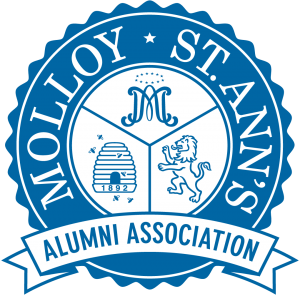 The Stanner Alumni Center is committed to offering a wide range of events for our Molloy family, to keep us connected safely through virtual and in-person events. As guidelines from the CDC, New York State, and New York City for in-person gatherings evolve, we are continuing to evaluate what events we can offer.
Recently, we have received inquiries regarding the status of future in-person alumni events, including the Stanner Alumni Reunion for the Classes of 0 and 5 which was postponed last fall, and the Stanner Alumni Reunion for the Classes of 1 and 6 which would be held this year. We ask for your continued patience as we finalize our plans to operate in-person events safely.
We are mindful of your health and safety, and our team plans to move forward in full compliance with CDC and NYC Department of Health guidelines for large gatherings. The Stanner Alumni Center will share more information regarding upcoming in-person events later this month. Thank you for your continued patience and support. We look forward to seeing you at Molloy soon!

Thank you to the family of Vincent Randazzese '94 for sharing this prayer intention.
"Vinny has wonderful memories of his days at Molloy. Currently, Vinny needs our prayers and assistance with a liver donor. As a young boy, Vinny was diagnosed with Cystic Fibrosis. Cystic Fibrosis is a progressive, genetic disease that causes persistent lung infections and limits the ability to breathe over time. Since the diagnosis he has needed medication to survive. Throughout, his life he has been taking medication for his pancreas and over time he has developed cirrhosis of the liver. There are new medications now to eradicate the disease in the lungs, but his liver won't tolerate the medications. These new medicines could give Vinny another 25 years or more of his life. Vinny's family members and close friends have been tested as potential liver donors. Unfortunately, none were matches. Vinny's family is seeking help from Molloy Alumni. The gift of organ donation is life saving and one of the greatest gifts we humans can give. The liver regenerates itself within 6-8 months and the donor will go on to have a normal healthy life. NYU hospital has excellent outcomes with liver donations and is one of the top facilities for this transplant."

"We ask anyone who may be interested in being a living liver donor or receiving more information about this life saving gift to contact Living Liver Donor Transplant Coordinator Patricia Tabamo at NYU Hospital by calling (212) 263-3621 or emailing Patricia.Tabamo@nyulangone.org. If you are unable to help, we ask that you please keep Vinny in your prayers." – Family of Vincent Randazzese '94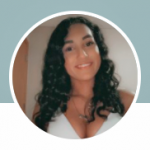 Nirmala Ariel Narine '19, a sophomore aeronautical engineering student at Rensselaer Polytechnic Institute, has been selected from 10,000+ applicants to participate in the 2021 Goldman Sachs Summer Insight Series. Nirmala is looking forward to her apprenticeship with Goldman Sachs and the opportunity to learn and network with students and professionals.
---
Pawel Sawicki '12 is a PhD student in the Ann and H.J. Smead Department of Aerospace Engineering Sciences at University of Colorado Boulder. He is also the lead author of a paper that won the AIAA Thermophysics Best Student Paper Award at SciTech 2021. Pawel's article is titled Influence of Chemical Kinetics Models on Plasma Generation in Hypersonic Flight, pertaining to modeling data and hypersonic flight conditions. In an interview with Josh Rhoten of CU Boulder, Pawel discusses the article, his time at CU Boulder, and more. | Click Here to Read the Full Interview.
---
Congratulations to Alyssa (Lebron) Lewis '09 and Stephen Lewis '09 on the birth of their second child. Stephen Michael Lewis Jr. was born on May 21, 2021, at 8:54am, 7lbs 4oz and 19 inches. All are doing well in the weeks since.




With incredible sadness, the family of George Martin Harmel Jr. Esq. '62 announces his death on May 19, 2021.
George was born in Jamaica, NY to Gloria and George Harmel. George is survived by his loving wife of 53 years, Maria (Monaco), Lara Harmel-Schulz Esq (Dean), Kimberly Harmel-Graves (Keith) and Kristin Harmel, plus 14 grandchildren: Nicholas, Gabriel, Samantha, Sophia, Julianna, Luke, Alexandra, Jessica, Noah, Emily, Raymond, Randall, Joslin, Sadie.
In his youth, George was a record-setting multi-sport athlete at Archbishop Molloy High School. He then attended the Air Force Academy and dedicated years with the Air Force Reserves. He continued his education at St. John's University ('68) and New York Law School ('72). George was admitted to both New York (73') and Florida Bar Associations, and practiced law as he passionately helped others for over 45 years.
Later in life, George focused on RV travel and the Florida sunshine. He loved watching the New York Giants and Yankees, adored his dachshunds and enjoyed German food. George's loving loyalty, strong ethics and contagious humor will be forever missed by family, friends, clients, and colleagues.
The Harmel family humbly asks that those who would like to honor George's memory may consider making a gift to The Brother Leo Scholarship at Archbishop Molloy High School. Gifts can be made online at by visiting www.molloyhs.org/donate/ and selecting The Brother Leo Scholarship from the dropdown menu.
---

Please pray for the repose of the soul of Joseph M. Keane '79. | Click Here for Memorial Page

We are saddened to share the passing of Peter G. Krokondelas '87 on May 29, 2021. Please keep Peter and his family in your prayers. | Click Here for Memorial Page

We are saddened to share the passing of Richard Nydegger '62 on May 20, 2021. Please keep Richard and his family in your prayers.

Please pray for the repose of the soul of Samantha Berkman, daughter of Edward Berkman '68.

Please pray for the repose of the soul of David Castelli, brother of Tatiana Morales '06.