Commencement Exercises at St. John's University

On the evening of Monday, June 21, 2021, 364 graduates participated in St. Ann's Academy's / Archbishop Molloy High School's 128th Commencement Exercises, held for the first time on the great lawn at St. John's University. After a year of hybrid learning and A/B cohorts, Molloy was excited to welcome the full graduating class in-person to participate in Commencement Exercises together. The ceremony was witnessed by administration, faculty, staff, and a limited number of family members. All present complied with COVID-19 guidelines for large outdoor gatherings.
The Class of 2021 endured many challenges over the past 15 months. The final months of their junior year ended with full virtual learning and uncertainty about the future. In September, they adjusted to Molloy's new hybrid model and settled into their cohorts. From September through March, many events and traditions that make senior year special did not take place. Despite this, the Class of 2021 participated in many school functions virtually to make the most of their opportunities to connect with each other. Whether logging on for the virtual Walkathon, planning virtual GERLL Club events and fundraisers, rehearsing for Molloy's first virtual spring musical, or producing the first virtual Senior Show, the Class of 2021 tapped into their creativity to make unique memories all their own. Thankfully, due to eased COVID-19 restrictions and falling community infection rates, Molloy welcomed the Class of 2021 back to Briarwood in May for full in-person instruction. Soon after their return, the Class of 2021 also enjoyed several spirited in-person events to end their high school journey, including Graduation Liturgy, Prom, and of course, Commencement Exercises. Our graduates are to be commended for their resilience and determination in not only completing their junior and senior years in the face of many challenges, but doing so while excelling. They will forever be part of a unique chapter in Molloy history.
To our Class of 2021: our administration, faculty, and staff are so proud of all you have accomplished and we know you will go on to do amazing things in our world. Remember the Marist Pillars: Presence, Simplicity, Family Spirit, Love of Work, and In The Way of Mary. Be confident, be leaders, and serve those most in need. We look forward to hearing about all your many triumphs. Please stay in touch, come back to visit when it is safe to do so, and let us know if we can ever be of help to you. God bless you and "God bless all Stanners."
Commencement Exercises photos by Sal Graffeo '01.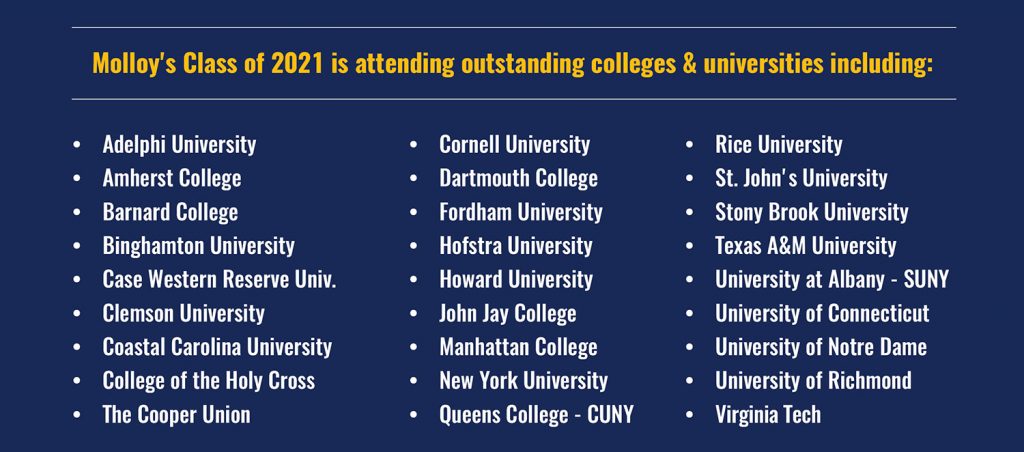 ---
Meet Our Valedictorian & Salutatorian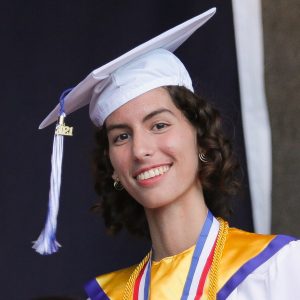 Congratulations to our 2021 Valedictorian: Lydia Saffian '21. Lydia, a recipient of The Tablet's All-Scholastic Award 2021, will attend Hillsdale College this fall. It is likely she will pursue a math major with a minor in English or Philosophy. Regarding extracurriculars, Lydia took part in a dance program at Hillsdale College last summer. Based on that experience, she would like to join the college's Ballroom Dance Club and Swing Dance Club. Lydia is also interested in the Hillsdale College Chesterton Society, Shakespeare Society, and Astronomy Club. Lydia's short-term goals include "learning a variety of subjects, and growing in my ability to integrate different subjects and apply them to the real world, while forming a better understanding of the world and of other people." Long-term, Lydia wants to continue to "grow personally and to discover and fulfill my purpose to the best of my ability." One way in which Lydia would like to impact the world is by "providing support and a sympathetic ear, and to help other people along their personal journeys, the way I have been helped by my friends and teachers throughout my time at Molloy." Reflecting on Molloy further, Lydia admits she was shy and unprepared for high school, or anything else, as a freshman. "My four years at Molloy have helped me to find incredible friends and teachers who have pushed me to challenge myself and grow. I am now far more confident, more capable, and ready to face the next chapter of my life."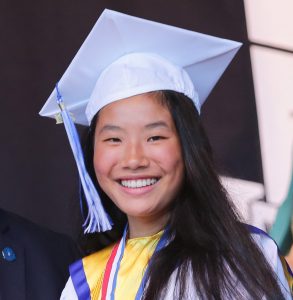 Congratulations to our 2021 Salutatorian: Nikki McNamara '21. Nikki will attend The University of Notre Dame this fall. She plans to study engineering because, "I've always had a knack for math and science, and I look forward to exploring their applications beyond the classroom." A varsity softball player at Molloy, Nikki looks forward to playing sports at Notre Dame, while also engaging in service opportunities. While unsure what particular field she will study, Nikki plans to earn an engineering degree and pursue a professional engineer license. Through engineering, Nikki hopes that "something I design will have a positive impact on the community." On leaving Molloy, Nikki reflected on four years spent with amazing faculty, staff, and students. "My teachers and coaches have continuously challenged me academically and athletically, which has shown me what I am capable of and taught me to have strong ambitions."
---
Molloy Hosts Senior BBQ
On June 22nd, our graduates returned to Molloy one more time to pick up their diplomas and enjoy the new Senior BBQ. This event was held in place of the Graduation Breakfast, which traditionally has been held indoors since 2003. The outdoor format allowed our graduates to gather safely outdoors while enjoying a meal together. Some lucky grads got to take home "Class of 2021" beach towels after their names were selected from a virtual raffle. Although the yearbook was not ready to be distributed at this event, graduates should check their email for more information about the yearbook in the coming weeks. We hope everyone has a safe and restful summer!

---
Senior Prom Photos!
On Wednesday, June 2nd, the Class of 2021 enjoyed their Senior Prom at Leonard's Palazzo of Great Neck. Click the button below to see the full photo gallery. (Note: All who attended were required to show proof of a negative COVID-19 test within 72 hours of the event.)

---
Download the "Senior Issue" of The Stanner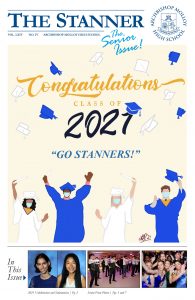 We invite our graduates, and our entire Molloy community, to download the Senior Issue of The Stanner! This issue is dedicated to our amazing Class of 2021. The cover features artwork by Editor-In-Chief Nikita Persaud '21, while the pages within include information about our Valedictorian and Salutatorian, senior spotlights, a senior reflection by Associate Editor Kamara Nyahuma '21, farewell messages from our faculty and staff, and a back-page tribute to some amazing senior athletes.
Click the button below to download your digital copy. You can also visit www.molloyhs.org/stannernewspaper/ to download other issues from this year or select archives from years past.

---
Stanner Alumni Center Recognizes Selfless Grad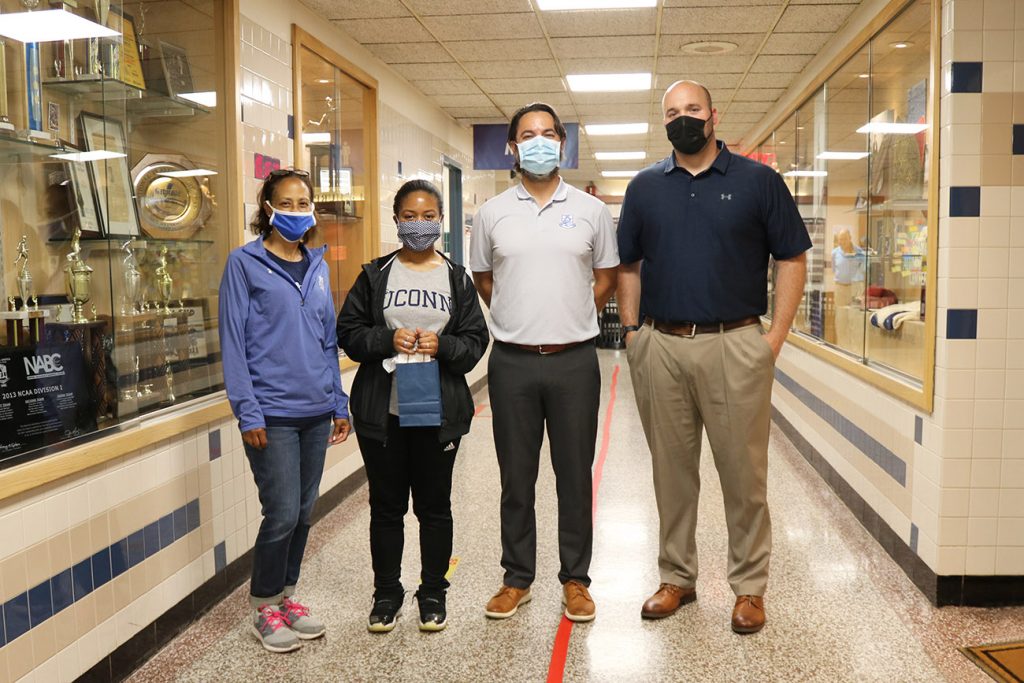 Pictured L-R: Merl Doyle, Kamara Nyahuma '21, Craig Katinas '93, and Matt Rizzotti '04.
Each year, the Stanner Alumni Center and generous alumni, by way of personal donations, proudly sponsor two prestigious awards to graduating seniors – the PFC Louis Willet Award and the Stanner Alumni Medal. The outstanding graduates who become recipients of these honors have demonstrated exceptional merits that embody the values and mission that we as Stanners cherish.
This year was no exception with the latest honorees, Morgan Arma '21 (Willet Award) and Nikki McNamara '21 (Alumni Medal), however, there was a student whose significant commitment to service, and support of alumni activities, functions, and communications for four years prompted President Richard Karsten '81 and the Stanner Alumni Center to provide a special award. At the conclusion of the Senior BBQ on June 22nd, Kamara Nyahuma '21 was presented this special award and recognition by Ms. Merl Doyle, Assistant to the President, and Craig Katinas '93 of the Stanner Alumni Center. Craig shared that "Since her first week at Molloy, Kamara routinely came into our office asking how she could help, and we are so grateful for the countless hours of service she volunteered to help champion our alumni advancement. From helping us with mailings, to prep work for the wide spectrum of events we conduct, to attending and participating in alumni events, Kamara was there time after time to help. We are so grateful for her selflessness and dedication and wish her all the best in her future endeavors." Kamara is excited to attend University of Connecticut this fall.
The Stanner Alumni Center wishes Kamara and all our graduates a wonderful summer and successful pursuit of their dreams.

Congratulations to Our Retirees!
All of us at Archbishop Molloy High School extend our sincerest congratulations and thanks to our five 2021 retirees for their hard work, dedication, and nearly 150 collective years of service to Molloy and our students:
Ms. Terri Burke | Art | 26 Years

Mr. Joe Dombrowski | Computer Science, Health, Track & Field | 38 Years

Ms. Kathy Loughran | Social Studies | 20 Years

Ms. Maureen Rosenbaum

| Physical Education, Varsity Softball | 21 Years

Mr. Lou Santos | Foreign Language, JV Softball | 43 Years
Ms. Rosenbaum and Mr. Santos both also announced that, although they are retiring from teaching, they will continue to coach Molloy's Varsity and JV Softball teams respectively. During Molloy's 128th Commencement Exercises on June 21st, President Richard Karsten '81, on behalf of the Molloy community, invited each retiree up on stage one by one to accept a plaque commemorating their many years of service to Molloy.
Mr. Santos, the longest-tenured of our retirees at 43 years, received a jubilant round of applause as President Karsten lifted the beloved teacher's arm up over his head. Several weeks earlier, on June 11th, faculty, staff, and students stood outside Mr. Santos' classroom, Room 205, and surprised him with cheering and applause as he left his classroom for the last time. Mr. Santos took the opportunity to share a few words of reflection with those who had gathered. "Br. Charles Marcellin hired me 50 years ago, and I didn't know it was going to be a lifetime commitment to the Marist Brothers, but without a doubt the Marist Brothers have been the most important people in my life. They educated not just hundreds of thousands of students, but my family, and gave me a great life. I thank you all. Thanks for the memories." Mr. Santos then boarded the elevator, and upon arriving at the first floor, he was greeted by even more faculty and students who had gathered to applaud him.
Please join us in congratulating and thanking our retirees! If you would like to send a note of congratulations or thanks, please email us at alumni@molloyhs.org or click the button below.

---
Molloy Announces Expansion of Computer Science Curriculum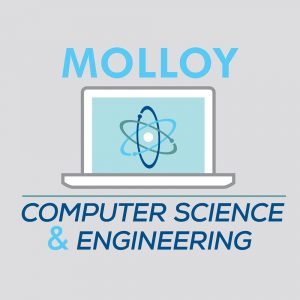 Archbishop Molloy High School is proud to announce the expansion of its Computer Science curriculum with the creation of the new Computer Science & Engineering Department. Ms. Edit Boral will serve as chairperson of the department. Ms. Janice Bonczek, Ms. Nancy Cantalino, and Mr. Larry Reilly will also serve in the department.
The mission of Molloy's Computer Science & Engineering Department is to teach the foundations of computer science and how to creatively address real-world issues while using the same tools and processes that computer scientists, artists, entrepreneurs, and engineers use to bring ideas to life. Our vision is to offer courses for the latest trends in computer science and STEM education, to embrace a spirited, creative, and collaborative environment while attracting excellent students, to grow our partnerships with institutions of higher education, and to expand the infrastructure needed to achieve our mission.
The Computer Science & Engineering Department will offer a diverse array of courses to students in all grades. Students will apply their skills in areas such as Java, Python programming, Arduino C, HTML and CSS, Adobe Creative Suite, drone programming and robotics engineering, 3D design and printing, app development in JavaScript, Scratch, and App Inventor, and much more. Through partnerships with Amazon Future Engineer – Project STEM, LIU Post, Qubit x Qubit, The Coding School, and IBM/MIT, students will learn from industry experts and engage in hands-on projects that will acclimate them with a rapidly-evolving technological landscape.

---
WTC Walk – Different Season, Same Memorable Experience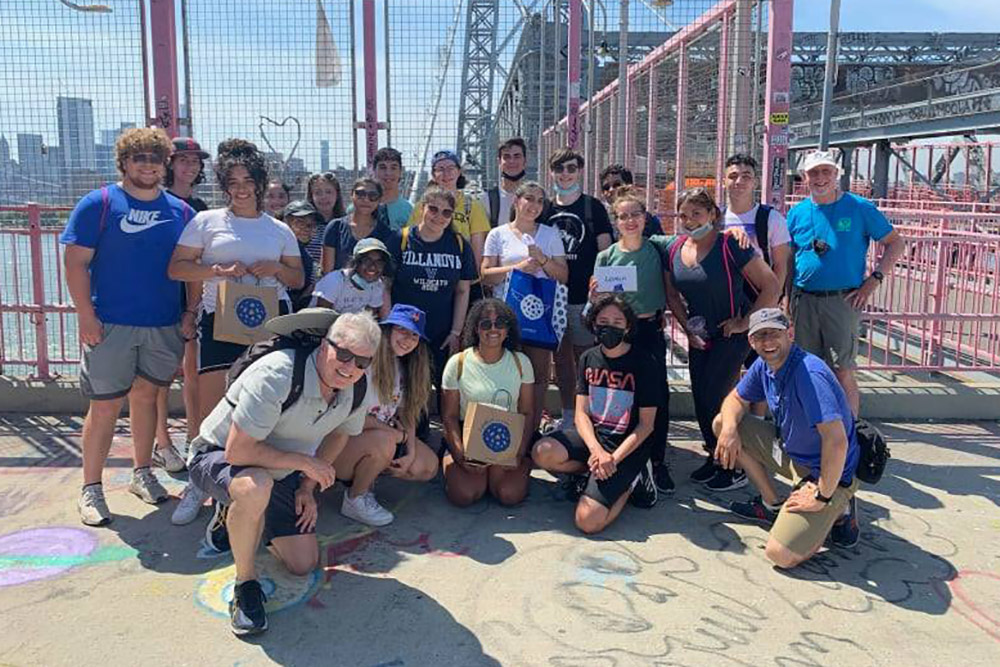 Last fall, Molloy's annual Walkathon went virtual in response to COVID-19 health and safety protocols. One senior event that unfortunately did not take place due to this new format was the annual World Trade Center Walk, an 11+ mile urban hike to lower Manhattan in honor of the late Br. Leo Richard.
Mr. Chris Dougherty '91, Guidance Department Chair and SMILE Moderator, has organized the WTC Walk in tribute to Br. Leo every year since 2005. Fortunately, due to eased COVID-19 restrictions, the walk was finally able to take place on June 17th. Mr. Dougherty accompanied over 20 seniors and faculty chaperones to lower Manhattan. Together they traveled through Briarwood, Kew Gardens, Forest Hills, Middle Village, Ridgewood, Williamsburg, the Lower East Side, Chinatown, and finally the Financial District. Ending at the reflective pools at the World Trade Center Memorial, the group joined in prayer and a moment of silence.
Christian Zamora '21, a senior who participated, said the event was bittersweet "being there with my fellow PGL's (Peer Group Leaders), some other seniors, a few faculty members, and Mr. Dougherty, knowing that it would be one of my last events with Molloy." Speaking on the legacy of Br. Leo, Christian said he gained a greater appreciation for SMILE's founder as well as the program's current moderator. "It seems like he [Br. Leo] was the kind of person to always be there for everyone he knew, and everyone loved him. I think Mr. Dougherty has done an amazing job in continuing Br. Leo's legacy. I've witnessed how much he does for others firsthand, especially since I'm one of those people he's done so much for. The WTC Walk is just one example of Mr. Dougherty's commitment to Molloy, and he did an amazing job organizing it. I'd recommend it to any future seniors who may be considering it, for the walk itself and to meet Mr. Dougherty, so they can have the opportunity to experience Br. Leo's legacy as well."
---
Have A Great Summer!
The Stanner Alumni Center extends our sincerest thanks and appreciation to all readers of The Beehive! Thank you for being a part of Molloy's journey throughout this unique school year. As we head into the summer months, The Beehive will operate on a reduced schedule, with one more issue in July and one in August. We will return to our bi-weekly schedule in September. Please continue sharing your alumni updates. Click the button below or email alumni@molloyhs.org any time. Have a wonderful and safe summer!



In Case You Missed It: In-Person Events Info Coming Soon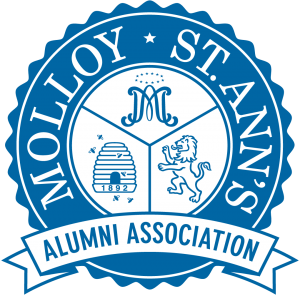 The Stanner Alumni Center is committed to offering a wide range of events for our Molloy family, to keep us connected safely through virtual and in-person events. As guidelines from the CDC, New York State, and New York City for in-person gatherings evolve, we are continuing to evaluate what events we can offer.
Recently, we have received inquiries regarding the status of future in-person alumni events, including the Stanner Alumni Reunion for the Classes of 0 and 5 which was postponed last fall, and the Stanner Alumni Reunion for the Classes of 1 and 6 which would be held this year. We ask for your continued patience as we finalize our plans to operate in-person events safely.
We are mindful of your health and safety, and our team plans to move forward in compliance with CDC and NYC Department of Health guidelines for large gatherings. The Stanner Alumni Center will share more information regarding upcoming in-person events in July via a separate email communication. You can also check our website periodically at www.molloyhs.org/alumni/ for news updates. Thank you for your continued patience and support. We look forward to seeing you at Molloy soon!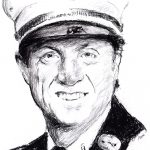 Experienced hiker Dr. Bill Endy '68 has announced that he plans to hike the Grand Canyon rim to rim, providing video updates on his new Youtube Channel along the way. Bill has also announced that if his Youtube Channel can reach 1,000 subscribers, it will become monetized, allowing him to donate all proceeds from his channel views to Molloy's John K. Gremse Graduation Assistance Fund. This fund helps students whose parents face an unexpected and overwhelming financial burden leading to their inability to pay for the remaining tuition in their child's senior year.
"I have financially supported the fund since it was founded. I believe in its mission and education is so very close to my heart. My other reason for doing this runs deeper," said Dr. Endy. "I remember the first day I met Jack. It was fourth grade. He had transferred in from Brooklyn as I recall. He did not know anyone at the school and it was quite obvious he did not want to be there that morning. We had been friends since that fateful date. Jack and I were an altar boy team at Holy Name of Mary grammar school. We attended fourth through eighth at HNM, then on to Molloy. Moreover, I was with Jack the night of our high school graduation. I remember like it was yesterday, standing near the parking lot while he was telling a group of us that he had not received his diploma. To say he was distressed was an understatement. So for me, the fund has a definitive moral imperative i.e. helping a young scholar finish his education at AMHS, but the fund is also personal."
---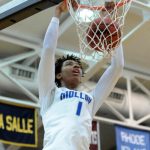 In recent NBA news, Moses Brown '18 was part of a trade between the Oklahoma City Thunder and the Boston Celtics that landed the 7'2" center back on the east coast. Moses enjoyed a breakout season that saw him sign a multi-year contract this past spring. In 43 games with the Thunder, Moses averaged 8.6 points, 21.4 minutes, 8.9 rebounds, and a 54.5 field goal percentage. He will look to make an impact with his new team during the 2021-22 season. | Links: CBS Sports | NBA.com | Forbes | NBC Sports
---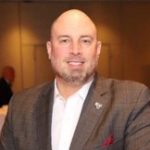 Congratulations to Ed Kull '99, who was recently named the 2021 Jack Coffey Award winner. Ed currently serves as the Director of Athletics at Fordham University. The Jack Coffey Award is presented to a Fordham administrator, alumnus, or coach for outstanding contributions and dedication to the university's athletics program. It is named for the late Jack Coffey, longtime baseball coach and graduate manager of athletics at Fordham. Click Here or the button below to read the full press release from Fordham University.

---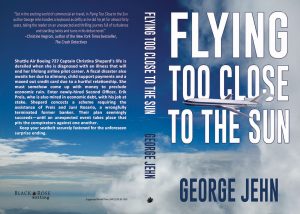 George Jehn's ('63) debut novel is Flying Too Close to the Sun, published by Black Rose Writing. This fictional story follows Shuttle Air Boeing 727 Captain Christina Shepard, who is is diagnosed with an illness that ends her career as an airline pilot. Other issues that impact Christina force her to make some atypical decisions to avoid financial ruin. Christina joins forces with other down-on-their-luck professionals, but unexpected events turn their plans upside down – and the conspirators against one another. Elements of the story are inspired by George's lived experience as a commercial airline pilot from 1970-2005. George flew for Eastern Airlines from 1970-1988 and US Airways from 1988-2005. Flying Too Close to the Sun is available now on Amazon.
---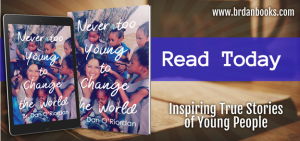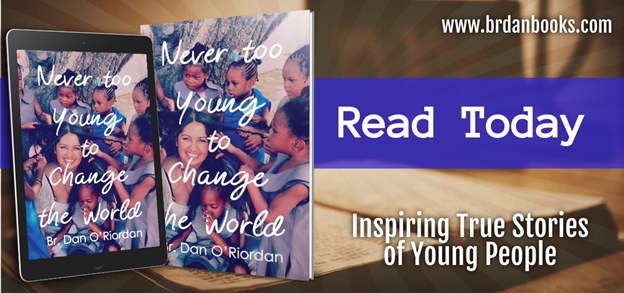 The Annual National Conference of the Catholic Media Association took place virtually June 8th – 9th. During the event, winners of the 2021 Catholic Media Association Book Awards were announced. Br. Dan O'Riordan, FMS, '85, Marist Brothers US Provincial, won awards for his first two books which were released in 2020. His book, A Plan B Camino 2020 took first place in the Pilgrimages / Catholic Travel category and his second book, Never Too Young to Change the World placed second in the Pastoral Ministry – Youth & Young Adult category. Click Here to see a list of all CMA Book Award Winners. Congratulations, Br. Dan!




We are saddened to share the passing of John F. "Jack" O'Connor '60 on April 16, 2021. Please keep John and his loved ones in your prayers. | Click Here for Memorial Page