Molloy Reunion Weekend –

REGISTRATION NOW OPEN!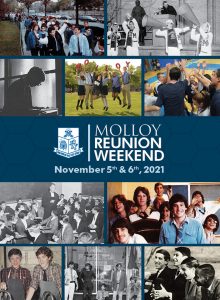 ABOUT THE EVENT: Archbishop Molloy High School, the Marist Brothers, and the Stanner Alumni Center are excited to welcome our alumni back to Manton Street for Reunion Weekend! The weekend will be divided into three sessions, welcoming alumni who missed last year's postponed Reunion (classes ending in 0 and 5), as well as this year's regularly scheduled classes ending in 1 and 6. The Reunion space will accommodate alumni both outdoors and indoors. Buffet-style dinner and open bar are included.
INVITATIONS: Physical invitations will be mailed very soon. If you need to update your mailing address or primary email, please contact alumni@molloyhs.org.
HOW TO REGISTER: Visit www.molloyhs.org/reunion/, find your class year under the correct date/session, and click the accompanying link for your class. Please take time to review the important health and safety information provided, then complete the registration form to purchase your ticket. If you have any questions about Molloy Reunion Weekend, please contact us at 718-441-9210 or email Matt Rizzotti '04 at mrizzotti@molloyhs.org. We look forward to seeing you.
*IMPORTANT: Our scheduled program is subject to change as we continue to monitor the latest COVID-19 developments. Thank you for your understanding.

5th Anniversary Celebration: Class of 2015 and Class of 2016

Date: Friday, November 5, 2021

Time: 7:00pm – 10:00pm
50th Anniversary Celebration: Class of 1970 and Class of 1971

Additional Classes: St. Ann's Alumni; Classes of 1960, 1961, 1965, 1966

Date: Saturday, November 6, 2021 – Session A

Time: Mass at 10:00am | Reunion from 11:00am – 2:00pm
Classes of: 1975, 1976, 1980, 1981, 1985, 1986, 1990, 1991, 1995, 1996, 2000, 2001, 2005, 2006, 2010, 2011

Date: Saturday, November 6, 2021 – Session B

Time: Mass at 6:00pm | Reunion from 7:00pm – 10:00pm


Opening Week at Molloy
This week, Molloy welcomed students, faculty, and staff back to Manton Street for the start of the 2021-22 school year! Each class enjoyed an orientation day during which they received homeroom and locker assignments, picked up workbooks and yearbooks, and took yearbook photos. The Class of 2025 visited Molloy the week prior to pick up their iPads.
Molloy is set to begin the year with full in-person instruction as well as in-person extracurricular activities. The CHSAA has also provided guidance for a return to fall sports. The week of September 13, 2021 will be the first full in-person week with all grades in attendance since March 2-6, 2020. Molloy continues to follow the recommendations of the CDC, NY State Department of Health, NYC Department of Health, and the Diocese of Brooklyn regarding indoor mask-wearing, enhanced cleaning and disinfection, and best practices for air filtration. Molloy remains ready to implement its previously successful hybrid model if deemed necessary.
Thank you to our students, faculty, staff, parents, and everyone who made our orientation week a success! We look forward to welcoming everyone back next week for our first full week of classes.
Pictured above: The Class of 2025 get used to their new surroundings on their first orientation day. Faculty and staff distribute workbooks and help the freshmen open those tricky lockers.
---
Remembering September 11, 2001
Please join Molloy in prayer for all who have been affected by the tragedy on September 11, 2001. We hold in our hearts our fellow Stanners, family members, friends, and all innocent lives lost. We pray for the families and friends who continue to mourn loved ones. We also pray for those who are battling 9/11 related illnesses some twenty years later.
We remain eternally grateful for the bravery and sacrifices of countless heroes who acted in the face of great danger on that day, as well as during the weeks, months, and years of recovery efforts.
As a special intention, we pray for the repose of the soul of Steven F. Devaney '89, retired FDNY, who passed away on September 5, 2021 after a courageous and prolonged battle with a 9/11 related illness. Steven spent an extended period working the recovery efforts at the World Trade Center. Thank you, Steven, and may you rest in God's care.
Pictured: A small memorial is erected near Molloy's main entrance each year on September 11th. The memorial is situated just under a plaque honoring our Stanner heroes lost on September 11th. Click each image to enlarge.
---
Students Impress In Amazon App Challenge
by Ms. Edit Boral
Pictured L-R: Sebastian, Tyler, screenshots of Sebastian's and Tyler's prototypes, and the criteria for the challenge. Click to enlarge.
Over the summer, Computer Science 110 (Programming with Python) students Sebastian Sanabria '23 and Tyler Tabarovsky '23 placed in the top 70 winners of the nationwide "GOAT: Decoding a Successful App" challenge created by Amazon and GOAT. Hundreds of feature prototypes went through multiple rounds of judging by Amazon employees, GOAT employees, and the GOAT CEOs themselves, and the judges selected Tyler's and Sebastian's prototypes as standouts based on innovation, creativity, and design.
"We had so many incredible submissions, and it's no small feat that your students won this challenge," said the GOAT: Decoding a Successful App team.
During the five-day long GOAT: Decoding a Successful App Challenge, students learned about the GOAT company and how different members of their team have developed the technology solutions that have helped them grow to be worth over a billion dollars. They also heard from Eddy Lu, GOAT's CEO and co-founder, as he described the importance of problem solving in successful entrepreneurship and app design….Click the button below to read the full story.

---
Ms. Safrey to Work with USA Marist Province
The Beehive has learned that Ms. MaryAnn Safrey will be joining the USA Marist Province staff, assisting the Province with Grant work. In February 2020, Ms. Safrey retired as an Assistant Principal and longtime English teacher here at Molloy. She is the author of several books and has worked with other non-profits in grant writing over the years. Congratulations, Ms. Safrey!
---
Children in Dominican Republic Receive Molloy Donation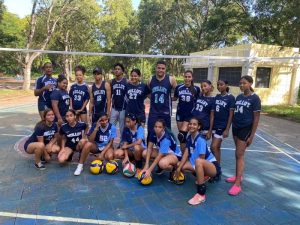 Earlier this year, Mr. Lou Santos worked with friend Hector Algarroba to donate Molloy athletic uniforms to underprivileged children in the Dominican Republic. This was part of an annual effort by Mr. Santos, Hector, and Molloy to help children in the Dominican Republic. Recently, Hector sent a photo of some of the recipients of Molloy's donation putting the uniforms to good use. Congratulations and thank you to Lou and Hector for continuing this wonderful tradition of giving.
---
Cross Country Camp Returns to Esopus
For the first time in 30 years, Molloy's Cross Country Camp returned to Esopus! Molloy's Cross Country athletes and coaches had a great camp in late August. The coaching staff shared a few photos from the experience with The Beehive. Congratulations to all involved on a successful "Harriers Hangout"!


Rob Dittus '15 and Ryan Richter are set to become Marist Novices during a ceremony this Sunday, September 12th at 3:00pm ET. You can witness the ceremony virtually by using this link or you can tune into the livestream on the Province's Facebook Page. Congratulations, Rob and Ryan!
---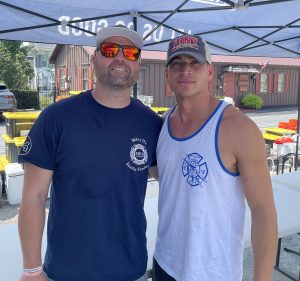 Pat Finegan '02 and Matt Catera '10 recently volunteered with the Stiller Foundation's Tunnel to Tower Never Forget Walk. Pat and Matt took a bus along with other firefighters from Queens to Hershey, Pennsylvania for a portion of the event. Upon arriving on August 27th, Pat and Matt helped setup tables, chairs, tents, cooking stations, stages and the 9/11 mobile museum for a ceremony which took place on August 28th. On the day of the ceremony, Pat and Matt cooked and served food for all in attendance and later helped clean up. Pat and Matt are both members of Engine 58 a.k.a. "The Fire Factory" in Harlem. The late Lt. Robert B. Nagel '63, FDNY, also a member of Engine 58, was among those tragically lost on 9/11.
---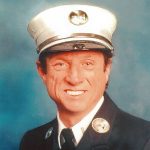 Kathy Gremse, widow of the late Lt. John "Jack" Gremse '68, was selected to read the names of souls lost on 9/11 during a ceremony at the World Trade Center Memorial Museum on September 12th. The names of those lost to a 9/11 illnesses will also be read, which is a special addition felt by the Gremse family, having lost Lt. Gremse to such illness in 2014. Kathy is expected to read her husband's name and share some words about him. Kathy, our thoughts are with you, Lt. Gremse, and your family.
Dr. Bill Endy '68 is continuing his own remembrance of Lt. Gremse. Dr. Endy, an experienced hiker at 71 years of age, plans to hike the Grand Canyon rim to rim in a little over one week from now. Dr. Endy will broadcast segments of the hike live on his Youtube channel, and he is trying to reach 1,000 subscribers on his channel to be able to monetize his videos and raise money for the Lt. John "Jack" Gremse Graduation Assistance Fund. This fund, established in memory of his dear friend, helps students whose parents face an unexpected and overwhelming financial burden leading to their inability to pay for the remaining tuition in their child's senior year. Please visit Dr. Endy's channel, subscribe, and follow his training journey as he gets set to hike the Grand Canyon rim to rim. | Visit Dr. Endy's Youtube Channel
---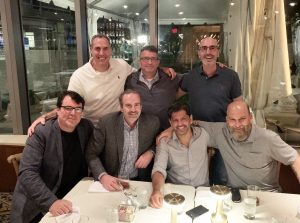 Members of the Class of 1983 recently gathered at Maiella restaurant in Long Island City, taking the opportunity to toast to their late classmate Robert Scandole '83 and all others lost on September 11, 2001. Pictured from bottom left: Peter Corrigan '83, Jim Shannon '83, Reaz Jafri '83, and Pascal Stingone '83; Top left: Craig Addeo '83, John Trumpbour '83, and Paul Galatian '83. (Click picture to enlarge)
---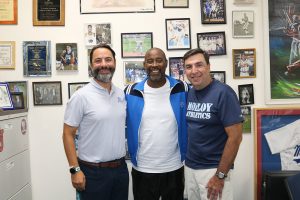 It was great to see Kenny Anderson '89 (@chibbs_1 on Twitter) during a visit to Molloy in August. Kenny was on location to film scenes and interviews for a documentary about NYC point guards that changed the game. Pictured: Craig Katinas '93 (Executive Director, Development), Kenny, and Mike McCleary (Athletic Director).
---
Leslie Corona '09 is the Senior Home Editor at Real Simple Magazine, covering decorating, cleaning, organizing, and pets. Over the summer, Leslie was a featured guest on the Today Show. During a live (virtual) segment, Leslie shared some helpful "summer cleaning hacks" to maintain everything from your grill to your garden. If you're interested in some cleaning tips for the waning days of summer, you can watch the full segment by clicking the following link. | Watch Leslie Corona '09 on the Today Show
---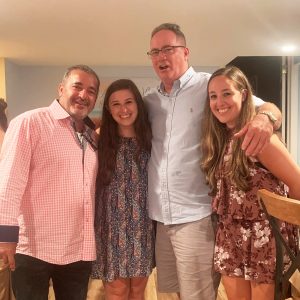 Sisters Melissa Foley '13 and Jennifer Foley '13 recently shared a Stanner connection that happened by chance! In August, Melissa and Jennifer attended a family gathering, and while there they struck up a conversation with two other guests who turned out to be Stanners from the Class of 1983: John Nolan '83 and Antonio Marciano '83. "We talked with John and Antonio for a good hour about all things Molloy," said Melissa. "They both graduated in 1983, but they still knew a bunch of the Marist Brothers and teachers we had. It was a breath of fresh air to be surrounded with Stanner pride!"
---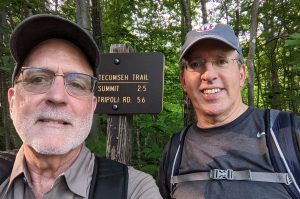 In July, Kevin Lange '76 met up with classmate Robert Serio '76 up in New Hampshire. Rob and Kevin were staying in nearby towns and arranged to meet up for a day in the great outdoors. Kevin and Rob managed to make it most of the way up the 4,003 foot peak of Mount Tecumseh, which is the shortest of New Hampshire's forty-eight 4,000 ft peaks. "We would have gone the whole way up, but we had dinner reservations," laughed Kevin. "Not bad for a couple of old guys. God bless all Stanners!"
---
Best wishes to Jillian Hubert '17, who plans to run the New York City Marathon this November to support research at Memorial Sloan Kettering Cancer Center.



We are saddened to share the passing of Steven F. Devaney '89 on September 5, 2021. Steven was a decorated firefighter who served the FDNY for 20 years before retiring in April 2020 due to illness related to his service at Ground Zero. Steven is survived by his devoted wife, Diana, their beloved children, Nicolas, Shannon and Ryan, family and friends. Please keep Steven and his loved ones in your prayers. | Click Here for Memorial Page | Click Here for More Information

Archbishop Molloy High School is deeply saddened to share the passing of Kaitlyn E. Mendoza '22 on August 18, 2021 after a brave battle with an extended illness. She was a talented and dedicated tennis player at Molloy. Kaitlyn loved spending time with her family, reading, and discovered her artistic abilities. Principal Dr. Darius Penikas shared, "Kaitlyn was a terrific Stanner and an incredible person who represented the best of our community. She was an outstanding student, a star athlete, a great friend, and a kind and compassionate soul. She packed a great deal into her life and left an indelible mark on her family, friends, teachers, and our entire school community." Please join us in prayer for Kaitlyn and her loved. | Click Here for Memorial Page

We are saddened to share the passing of Anthony Varagnolo '79 on August 26, 2021. Arthur Tringali '79, Anthony's cousin, shared the following: "Although an avid runner, Anthony was diagnosed with cystic fibrosis when he was 40 years old. In August 2008, he underwent a successful double lung transplant. Unfortunately, after surviving for 13 years, his body went into rejection. After graduating from Molloy, Anthony attended St. John's University and received a degree in Pharmacology. Throughout his career as a pharmacist, he worked in numerous hospitals in Queens, Manhattan, and Westchester County." Please keep Anthony and his family in your prayers.

Please pray for the repose of the soul of Dr. William J. Burke, DDS, '73. Dr. Burke passed away on August 23, 2021. Beloved husband of Nancy, loving father of Christine (Liam), Kathleen (Matthew), and Colleen (Jeff), cherished grandfather of Roisin and Eddie, and brother to Kevin (Pat), Patricia, and Daniel (Mary). Please keep Dr. Burke and his loved ones in your prayers. | Click Here for Memorial Page

We are saddened to share the passing of Conor J. Cronin on August 20, 2021. Conor is the son of James Cronin '83. Please keep Conor and the Cronin family in your prayers. | Click Here for Memorial Page

Please pray for the repose of the soul of John F. Moen '63. John passed away July 16, 2021. | Click Here for Memorial Page

The Stanner Alumni Center was recently informed of the passing of Thomas J. Lauro '68 on April 22, 2020. Please join us in prayer for Thomas and his loved ones. | Click Here for Memorial Page