Molloy Reunion Weekend –

REGISTER NOW!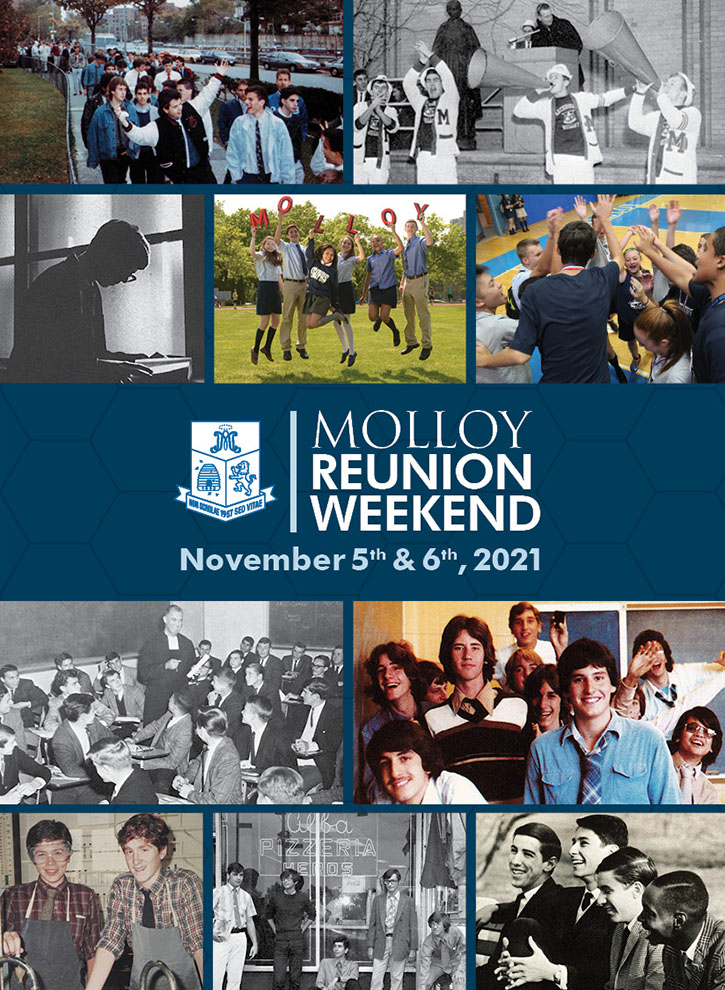 ABOUT THE EVENT: Archbishop Molloy High School, the Marist Brothers, and the Stanner Alumni Center are excited to welcome our alumni back to Manton Street for Reunion Weekend! The weekend will be divided into three sessions, welcoming alumni who missed last year's postponed Reunion (classes ending in 0 and 5), as well as this year's regularly scheduled classes ending in 1 and 6. The Reunion space will accommodate alumni both outdoors and indoors. Buffet-style dinner and open bar are included.
INVITATIONS: Physical invitations have been mailed and have begun to arrive in mailboxes. If you need to update your mailing address or primary email, please contact alumni@molloyhs.org so we can resend your invitation.
HOW TO REGISTER: Visit www.molloyhs.org/reunion/, find your class year under the correct date/session, and click the accompanying link for your class. Please take time to review the important health and safety information provided, then complete the registration form to purchase your ticket. If you have any questions about Molloy Reunion Weekend, please contact us at 718-441-9210 or email Matt Rizzotti '04 at mrizzotti@molloyhs.org. We look forward to seeing you!
*IMPORTANT: Our scheduled program is subject to change as we continue to monitor the latest COVID-19 developments. Thank you for your understanding.

5th Anniversary Celebration: Class of 2015 and Class of 2016

Date: Friday, November 5, 2021

Time: 7:00pm – 10:00pm
50th Anniversary Celebration: Class of 1970 and Class of 1971

Additional Classes: St. Ann's Alumni; Classes of 1960, 1961, 1965, 1966

Date: Saturday, November 6, 2021 – Session A

Time: Mass at 10:00am | Reunion from 11:00am – 2:00pm
Classes of: 1975, 1976, 1980, 1981, 1985, 1986, 1990, 1991, 1995, 1996, 2000, 2001, 2005, 2006, 2010, 2011

Date: Saturday, November 6, 2021 – Session B

Time: Mass at 6:00pm | Reunion from 7:00pm – 10:00pm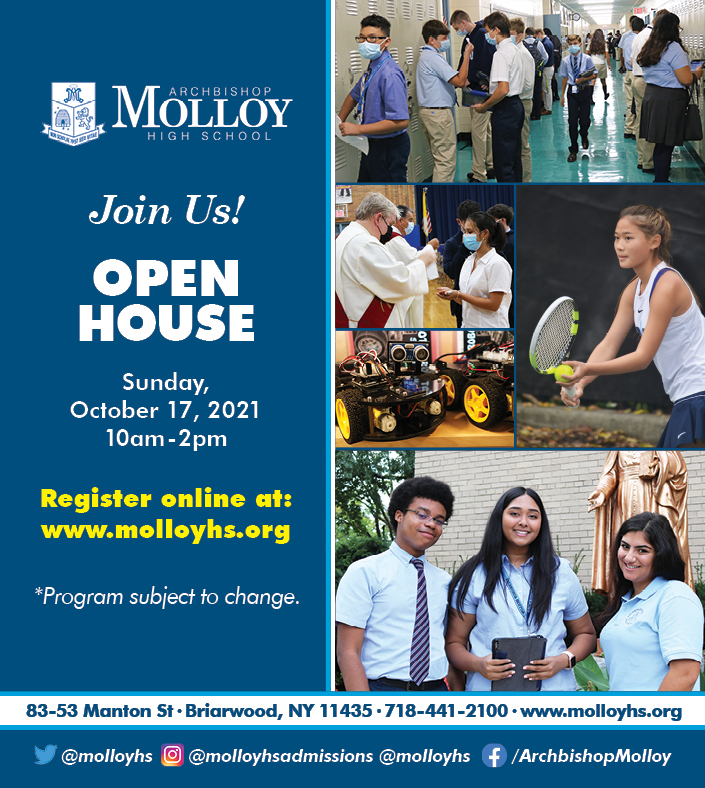 ---
Four Seniors Named Commended Students in 2022 National Merit Scholarship Program

Principal Dr. Darius Penikas and Archbishop Molloy High School have announced that Joseph Bruno '22, Jonatan Hernandez '22, Madison Peña '22, and Meghan Spanopoulos '22 have been named Commended Students in the 2022 National Merit Scholarship Program. A Letter of Commendation from the school and National Merit Scholarship Corporation (NMSC), which conducts the program, has been presented to these scholastically talented seniors.
About 34,000 Commended Students throughout the nation are being recognized for their exceptional academic promise. Although they will not continue in the 2022 competition for National Merit Scholarship awards, Commended Students placed among the top 50,000 students who entered the 2022 competition by taking the 2020 Preliminary SAT/National Merit Scholarship Qualifying Test (PSAT/NMSQT).
"Those being named Commended Students have demonstrated outstanding potential for academic success," commented a spokesperson for NMSC. "These students represent a valuable national resource; recognizing their accomplishments, as well as the key role their schools play in their academic development, is vital to the advancement of educational excellence in our nation. We hope that this recognition will help broaden their educational opportunities and encourage them as they continue their pursuit of academic success."
---
Students Virtually Visit the Amazon Fulfillment Center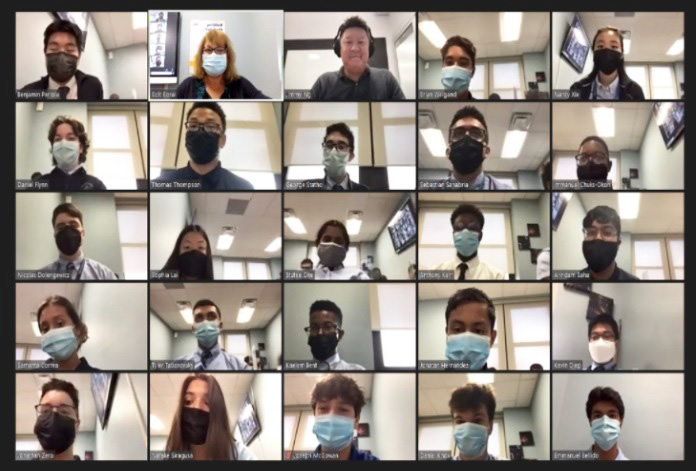 by Ms. Edit Boral | Pictured: Virtual Chat with Jimmy Ng.
Have you ever wondered how Amazon sends out packages so quickly? In September, Molloy Computer Science & Engineering students virtually visited the Amazon Fulfillment Center (FC) and learned about the technology behind it. This live virtual event helped students see the real-life implementation of computer science in a new, exciting way.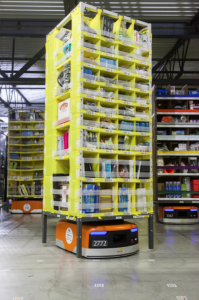 One of the most important parts of the FC tour was understanding how automation works and how to use algorithmic thinking to develop and test automated solutions. Students witnessed the process of putting cloud computing, quality control, and machine learning in effect. "The entire tour showed the importance of computer science and how it will continue to evolve and integrate into our everyday lives," said Nancy Xie '23. "Last year, we played a coding game in computer science class where we learned how to program an Amazon fulfillment center robot, Hercules, to deliver our friend's birthday present on time. So, I enjoyed watching the actual process come to life during the visit," Xie said.
AP CSA student Joseph McGowan '23 said: "When we think about ordering packages on Amazon, our biggest worry is most likely how fast will they arrive. During the Amazon Fulfillment Center Virtual Tour, we were able to get an inside look at the process it takes to get that item in our Amazon shopping cart from one of Amazon's fulfillment centers to our doorstep. Additionally, the tour highlighted the importance of robots and computer science in Amazon's various fulfillment centers (pictured right). It was very interesting to see the robots bring the desired item to the proper station in which that item will be packed and processed. Once done, the items then go through Amazon's SLAM machine (Scan, Label, Apply, Manifest) and are then given the proper shipping label. Learning about this process helped me understand that without computer science, fulfillment centers would not be able to operate. I enjoyed the tour immensely," McGowan said.
Besides the FC tour, students had a chance to participate in an inspiring chat with Amazon's technical program manager, Jimmy Ng, who gave them valuable advice. When asked about the qualities he possesses that allow him to be happy and successful at his job, Mr. Ng emphasized teamwork, empathy, and good writing skills. "I found Mr. Ng's virtual chat extremely helpful as it gave me an inside look at the type of environment and work required to be a successful employee at Amazon," McGowan said.
---
College Guidance Hosts Virtual Financial Aid Night
On October 5th, Molloy's College Guidance Department hosted a virtual Financial Aid Night for current students and parents. The event featured guest presenter Ms. Jacqueline Perez, Director of Financial Services at Vassar College in Poughkeepsie, NY. Topics ranged from defining types of aid, to what forms need to be completed, as well as best practices for the process. Over 100 students and parents attended the live event via Zoom, and a recording of the event was later shared with all current students and parents. Thank you to Ms. Perez for her time and insights.
---
Students Explore Extracurriculars At Activities Fair
On October 5th, students were encouraged to explore clubs and activities during the Activities Fair. This year, the fair was offered in both a virtual and physical format. Each club presented a video commercial to promote their club, while clubs were also represented with decorated posters lining the first-floor hallway. By participating in clubs and activities, students gain opportunities to make new friends, learn more about subjects of interest outside Molloy's curriculum, hone new skills, and create lasting memories.
Molloy offers over 60 clubs and activities including American Sign Language Club, Baking Club, GERLL Club (Girls Empowerment for Real Life Leadership), Model UN, SMILE, The Stanner Newspaper, STEM Club, The Stanner Players, Video Broadcast Club, a variety of cultural clubs, and many more. Visit www.molloyhs.org/activitiesfair/ for more information. Special thanks to Ms. Murdocca (Director of Student Activities) and all moderators and students who helped make the Activities Fair a success.


Please join us in prayer for Sue Fitzgerald, wife of Joe Fitzgerald '68, who is currently battling an illness.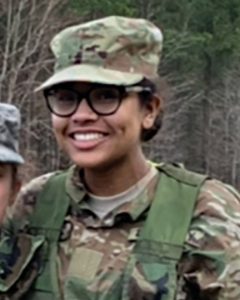 Congratulations to Sarah Rodriguez '18, who recently landed an internship in the office of U.S. Senator Tammy Duckworth of Illinois. Prior to this, Sarah completed cadet summer training at Fort Knox. An aspiring army pilot, Sarah gained valuable experience with a combat aviation brigade in the past year. She looks forward to soon completing the Reserve Officer Training Corps program (ROTC) at George Mason University.
---
Recently Joe Egan '89, Robert Figger '89, and St. Mary's alum Andrew Doulos joined Craig Katinas '93 at the Cherry Valley Club in Garden City for a great day of golf and camaraderie. This day was made possible by the generosity of Joe, Rob, and Andrew by way of their winning auction bid at the annual Jim Kinnier Stanner Golf Classic this past May. "It was a special Marist day having alumni from Molloy and St. Mary's play together and share the common bond of being taught by Marist Brothers. The icing on the cake is to know proceeds of this winning bid go directly to providing scholarship to deserving students at Molloy," said Joe. There were many great shots made on the course, but according to Craig, "The highlights for me were seeing Rob hit a 30-foot chip shot into the cup for birdie on 17, and Joe and Andrew hit some serious long drives throughout the day."
Learn more about the Jim Kinnier Stanner Golf Classic (to be held next on Monday, May 2, 2022) or other future alumni events: visit www.molloyhs.org/golf/ or contact alumni@molloyhs.org.
---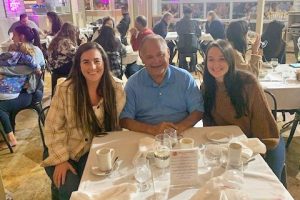 Retiree Lou Santos recently had dinner with two of his former softball players, Kaitlyn Biscotti '12 and Julianne Tracy '12. Lou shared a photo from the evening for The Beehive.
---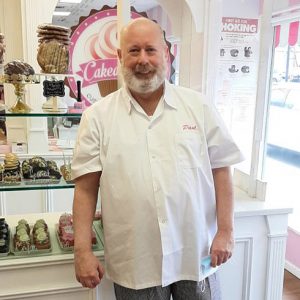 Actor Paul Galbraith '74 appears in The Cupcake Shop Chronicles Volume 1, the first in a trilogy of short films set entirely in a cupcake shop. "A young woman walks into the shop after her dreams tell her it's there she'll meet a man. What happens after is a lesson in dreams, love, and cupcakes!" Paul plays the role of the cupcake shop owner. The film has been accepted into five film festivals, including the Northwest NY Film Festival where it is up for an award. Volume II is set to film this Halloween. | Watch The Cupcake Shop Chronicles Volume 1



Please join us in prayer for the repose of the soul of Peter E. Vairo, father of Logan Vairo '08, Nicolette Vairo '09, and Emily Vairo '10. | Click Here for Memorial Page