Molloy Reunion Weekend –

2 WEEKS AWAY!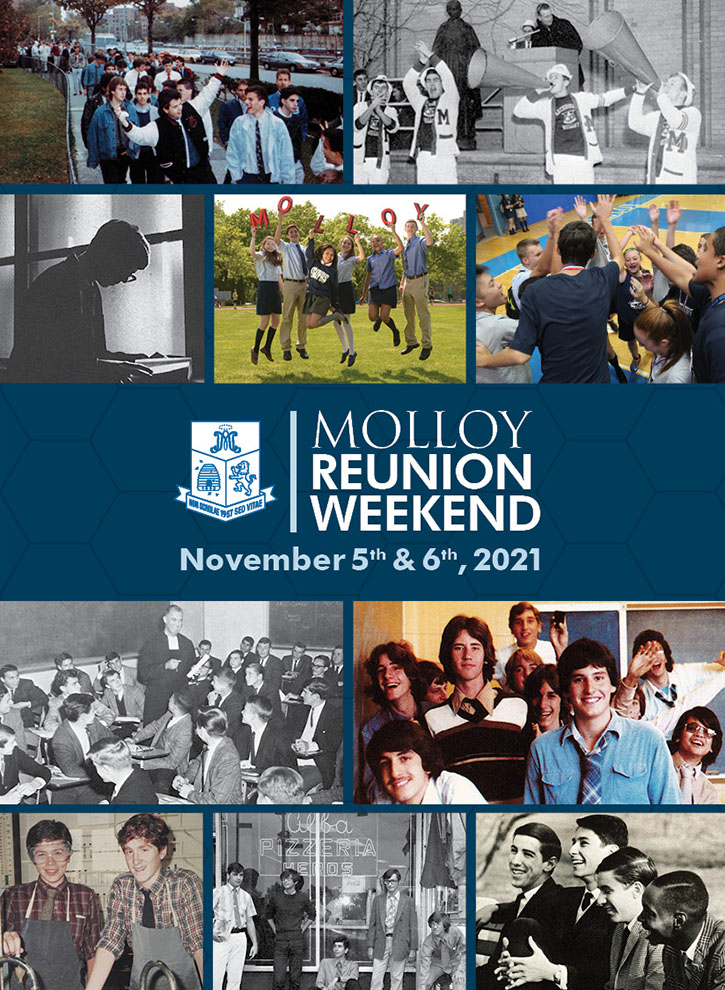 ABOUT THE EVENT: Archbishop Molloy High School, the Marist Brothers, and the Stanner Alumni Center are excited to welcome our alumni back to Manton Street for Reunion Weekend! The weekend has been divided into three sessions, welcoming alumni who missed last year's postponed Reunion (classes ending in 0 and 5), as well as this year's regularly scheduled classes ending in 1 and 6. The Reunion space will accommodate alumni both outdoors and indoors. Buffet-style dinner and open bar are included.
INVITATIONS: Physical invitations have been mailed. If you need to update your mailing address or primary email, please contact alumni@molloyhs.org. Digital Invitations can be downloaded on the Reunion webpage.
HOW TO REGISTER: Visit www.molloyhs.org/reunion/, find your class year under the correct date/session, and click the accompanying link for your class. Please take time to review the important health and safety information provided, then complete the registration form to purchase your ticket. If you have any questions, please contact us at 718-441-9210 or email Matt Rizzotti '04 at mrizzotti@molloyhs.org.
*IMPORTANT: Our scheduled program is subject to change as we continue to monitor the latest COVID-19 developments. Thank you for your understanding.

5th Anniversary Celebration: Class of 2015 and Class of 2016

Date: Friday, November 5, 2021

Time: 7:00pm – 10:00pm
50th Anniversary Celebration: Class of 1970 and Class of 1971

Additional Classes: St. Ann's Alumni; Classes of 1960, 1961, 1965, 1966

Date: Saturday, November 6, 2021 – Session A

Time: Mass at 10:00am | Reunion from 11:00am – 2:00pm
Classes of: 1975, 1976, 1980, 1981, 1985, 1986, 1990, 1991, 1995, 1996, 2000, 2001, 2005, 2006, 2010, 2011

Date: Saturday, November 6, 2021 – Session B

Time: Mass at 6:00pm | Reunion from 7:00pm – 10:00pm


Molloy Welcomes Nearly 2,000 Visitors To Open House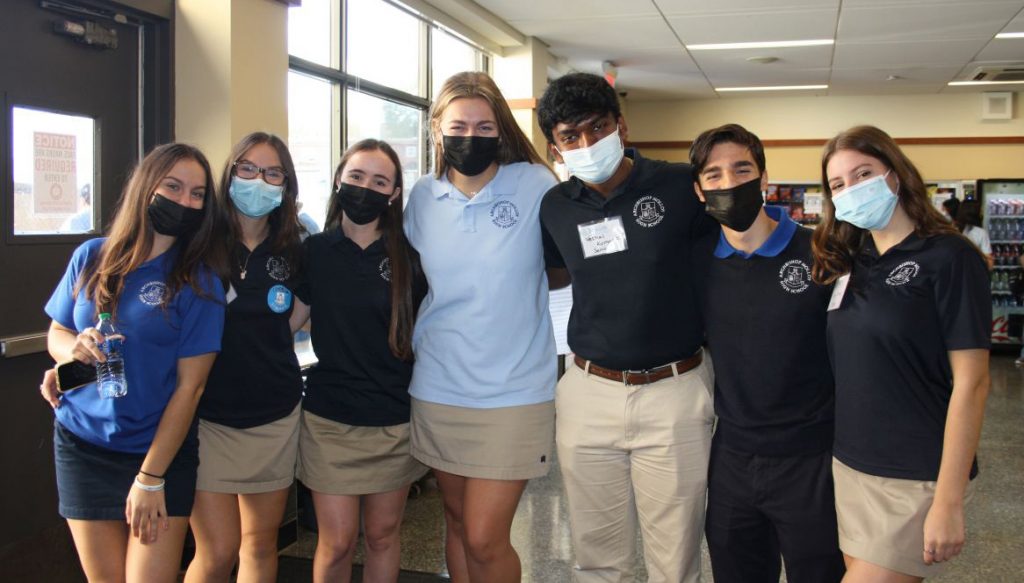 We had a great day on Sunday, October 17th, as nearly 2,000 visitors attended Molloy's fall Open House! Prospective students and their parents had the opportunity to hear from outstanding student speakers, meet student and parent volunteers, faculty, and staff, and learn more about our academic departments, spiritual programs, athletics, and wide range of extracurricular activities.
This year's Open House required visitors to pre-register for their desired timeslot as a health and safety precaution. In addition, many of the academic and extracurricular presentations were stationed outdoors on the track and ballfield. Student-guided tours gave visitors the opportunity to connect personally with our students while getting a closer look at our campus. Overall, it was a wonderful day and we are so grateful to everyone that showed interest in Molloy and have since reached out to learn more. Congratulations and thank you to our Admissions Department, including Heather Green-Wresch, Jonathan DiDonato '01, and Edwidge Turenne '98, for a successful Open House!
If you missed the opportunity to experience our Open House, please contact our Admissions Department at admissions@molloyhs.org for more information.
Photos by Photography Club members: Luna Celeste Fuentes '24, Samantha La Tempa '23, Sofia Morales '24, Aliana Rajkumar '25, and Serena Shao '24.
---
Parents Guild Welcomes Freshman & Sophomore Parents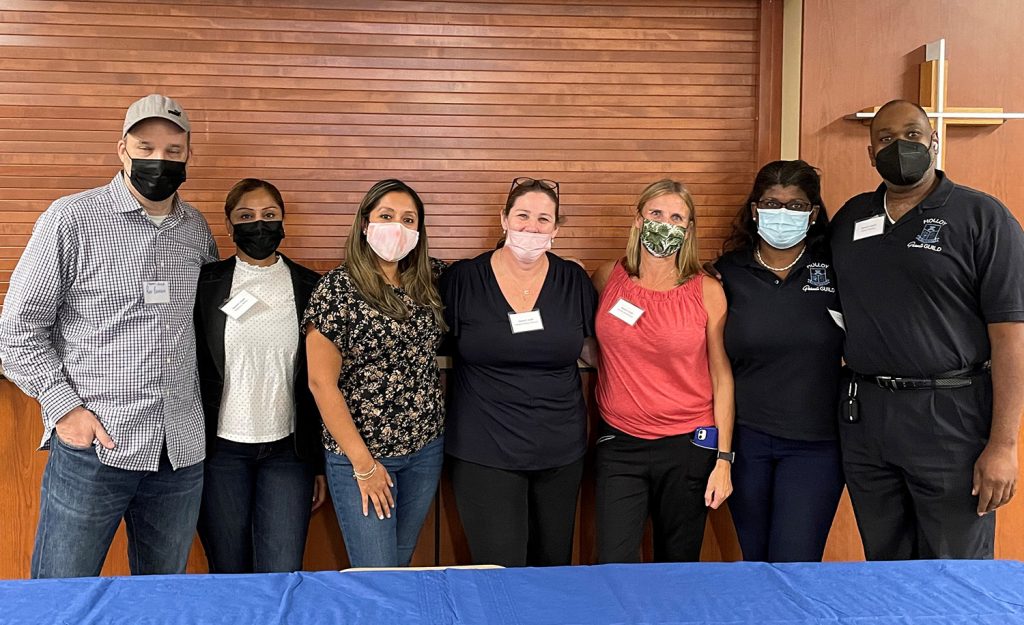 Back in 2019, Molloy launched its Parents Guild as a way to better engage with current parents through social events and volunteer initiatives. Organized by Heather Green-Wresch (Director of Admissions), the Parents Guild saw early success with great interest from Molloy parents. This year, recent retiree Lou Santos has joined Heather as a key organizer for the Parents Guild. Together, Heather and Lou are hoping to give Molloy parents more opportunities to network with each other and to get involved in the school community.
On October 9th, Molloy and the Parents Guild welcomed Freshman and Sophomore parents for a special evening reception. Heather and Lou got to meet many parents who either have just become part of our community or who were unable to participate last year due to COVID-19 restrictions. The parents in attendance were excited to learn more about the Parents Guild and expressed interest in volunteering in the future.
More information about the Parents Guild will be shared in The Beehive soon.
---
Congratulations To Our 2020-21 AP Scholars!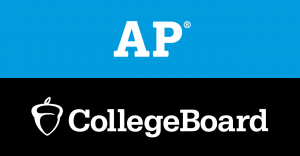 The College Board and Archbishop Molloy High School have announced that 83 students from Molloy's Classes of 2021 and 2022 have earned AP Scholar Awards in recognition of their outstanding achievement on AP Exams during the 2020-21 school year. This represents the second highest total number of students honored with AP Scholar Awards. This group of exceptional students also collectively achieved Molloy's highest ever average AP test score for any year (3.83). Last year, 425 Molloy students took 633 AP exams, which represents an all-time high. Over 700 exams are set to be administered during the 2021-22 school year. This is an indication that the AP program at Molloy is continuing to grow to new heights in terms of participation and achievement.
Molloy's administration, faculty, and staff congratulate our recent graduates and current students who were honored within the criteria for each category. Click the blue button below for the full list of Molloy's AP Scholars.

---
Alumni Participate In "Continuing The Arts" Panel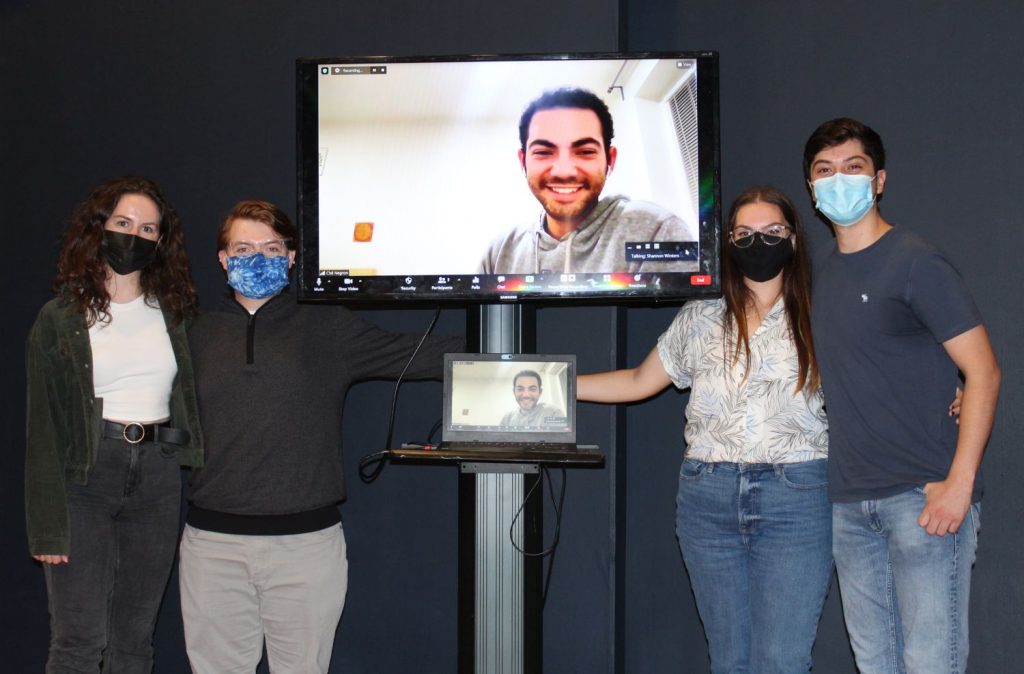 Left to Right: Katie Van Riper '17, Anthony Autera '19, Ché Negron '19, Allison Terranova '14, and Stephen Velez '16. Photos by Angelina Warren '22.
Earlier this month, the Stanner Players welcomed five alumni for a panel event titled Continuing the Arts. Students were invited to the Ralph DeChiaro Theater after school to hear from alumni who either continued to study theater or performing arts in college, and those who have chosen performing/acting as a career path. The panel featured:
Allison Terranova '14 – Manhattan College, BA '18, MA '22; Civil Engineer Major; Currently a Structural Engineering Designer.
Stephen Velez '16 – Adelphi University '20; Nursing Major; Currently a NICU Nurse at Mt. Sinai Hospital.
Katie Van Riper '17 – Boston College '21; Theater Major; Currently auditioning.
Anthony Autera '19 – St. John's University '25; Pharmacy Major.
Ché Negron '19 – Northwestern University '23; Theater Major.
All five panelists were heavily involved with numerous Stanner Players productions during their time at Molloy, especially Anthony who was either on stage or behind the scenes in all nine productions during his four years, and Ché who acted in all nine productions. In turn, each panelist credited the Stanner Players as fueling their desire to explore theater in college.
Students learned how the theater programs differed between the panelists' schools, including the number of productions and rehearsals typical of each program. For Allison, Stephen, and Anthony, the pursuit of their majors was the primary factor in their college choices, while Katie and Ché both sought colleges with reputable theater programs to prepare them for the future. Ché, who joined the panel virtually as he studies abroad in Prague, emphasized that acting is not the only way to continue working in theater, as writers, set and costume designers, and many other roles call for creative individuals. All panelists agreed that theater can be a great outlet for expression and a welcome diversion from typical college courses.
The panel later shared advice and insights with students during a Q&A, including how to balance theater rehearsals with college workload. Allison noted that theater helps to instill confidence and important communication skills that can help someone become well-rounded in whichever career path they choose.
Thank you to Ms. Shannon Winters '06 and our five panelists for this wonderful event!
---
Lt. Nick Minor '04 Serves As Guest Speaker
Last week, social studies teacher Ms. Diana Rayappa '04 welcomed classmate Lt. Nick Minor '04 as a guest speaker in her Criminal Justice class. Lt. Minor is a Commanding Officer in the NYPD's Movie and TV Unit. In this role, Lt. Minor works out logistics with directors, location managers, and production crews as they film across the five boroughs. The goal is to make sure that productions are not disruptive and that film crews are respectful of New York City's many neighborhoods. Lt. Minor discussed his career with the NYPD, shared stories about working with productions like Blue Bloods and Law & Order, and answered questions from the Seniors class. One thing that was very clear: with the plethora of streaming platforms seeking film permits across NYC, the Movie and TV Unit is busier than ever! Thank you to Lt. Minor for visiting Molloy.
---
Stanners Participate in LaValla Weekend
Earlier this month, students, and volunteers from Marist schools in New Jersey, New York, Massachusetts, Florida, Illinois, and Texas gathered together at the Marist Brothers' Center at Esopus for the ninth LaValla Service Retreat. The theme for the weekend was 'Caring for our Common Home.' The Marist Youth learned about things like climate change and how to be more environmentally friendly. They went through a simulation experience to understand the impacts of climate change and spent time working on various service projects around the Esopus property. At the end of the weekend, each school received money to plant a tree back on their respective school campuses, with the hope of continuing their sustainability efforts for the environment. Several current students, faculty, and alumni from Molloy were among the participants during this wonderful weekend.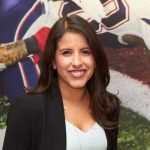 Monica Ferreira Gimlett '06 was recently spotlighted as part of the National Football League's #porlacultura campaign. Monica, the Director of Strategy for NFL Partnerships, was proud to share her story as part of the campaign. Click Here to see the video on LinkedIn.
---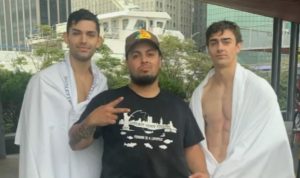 Raphael Jafri '15 and his roommate Jameson made headlines earlier this month when they rescued a man from the East River. On October 4th, Raphael and Jameson spotted a man in the water in distress near Pier 17 in Manhattan. Raphael and Jameson dove into the water and pulled the man back toward the pier, securing him with a life preserver and rope thanks to the assistance of a third good Samaritan. The story was featured on ABC Eyewitness News later that day. Click Here to watch the segment. Raphael is a graduate of the University of Notre Dame – Mendoza College of Business. He currently works as a Machine Learning Support Engineer at Labelbox. (Pictured L-R: Raphael Jafri, good Samaritan, and Jameson)
---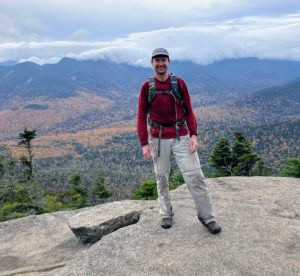 Bobby DeLay '00 shares that he recently completed the Adirondack 46 hike, summiting the 46 peaks above 4000'. Back in 2019, Bobby had bumped into Ashley Callagy '05 and her husband on one of the summits. Bobby shares that despite their relatively short stature, the Adirondacks are very strenuous mountains to hike, and much tougher than anything he has done in the Rockies or elsewhere out west. "It was a terrific challenge and I highly suggest it for other Stanners looking for beautiful views, clean mountain air, and friendly fellow hikers," he said. Bobby is an attorney for the US Environmental Protection Agency (EPA) working on clean air. "Folks at Molloy like Chris Dougherty '91 helped me see the importance of environmental protection and public service," said Bobby. "Spending time at Esopus made it real: how could you go there and not want to keep it beautiful?"
---
Congratulations to Matt Mussalli '88, who ran and completed the Boston Marathon on Monday, October 11th.



Please pray for the repose of the soul of Angelica Miano, who passed away on September 19, 2021. Angelica is the mother of Philip Miano '81 and Stephen Miano '86, and grandmother of Christian Cirillo '17 and Michael Cirillo '21.

Please pray for the repose of the soul of Daniel F. Lynch, father-in-law of John Coster '74.