Thanksgiving Liturgy & Light Reception –

Limited Capacity
When: Wednesday, November 24, 2021 | 8:45am
Who: Alumni, Family Members & Friends

Capacity: Limited to 100 Guests

All guests must wear a face mask while in the school building.
Contact: alumni@molloyhs.org
We are excited to invite our alumni, family members, and friends to attend our Thanksgiving Liturgy on November 24th. Mass will begin at 8:45am, after which guests will be welcome to enjoy a light reception in our student cafeteria. We look forward to seeing you as we pray together and celebrate all we are thankful for.
IMPORTANT:

Capacity is limited to 100 guests, and those who plan to attend must register in advance on Molloy's website. All guests must wear a face mask while in the school building. Click the blue button below to register.

---
Molloy Food Drive: November 15-19
by Lori Wilson, Director of Campus Ministry and Marist Mission
Even before the COVID-19 pandemic, New York City was facing a profound hunger crisis—particularly in the marginalized communities of the city. More than 2.5 million working-age New Yorkers were struggling to make ends meet. Nearly 1.2 million New Yorkers were experiencing food insecurity, including one in five New York City children. Those numbers surged during the pandemic and show no signs of receding. More than 1.5 million New Yorkers now experience food insecurity, including one in three children.
Alumni, family members, and friends are invited to join our students in a Thanksgiving Food Drive that will benefit Queens residents. Together we can help alleviate a little bit of the hunger our neighbors experience.
We are collecting the following items only: Any shape/size of pasta; tomato sauce; rice, beans, canned fruit, and canned vegetables.
When: November 15th-19th; Delivery to pantry on Monday, November 22nd at 3PM.
How: Bring the specific non-perishable foods listed above to Molloy. Please enter through our Manton Street doors and visit our security desk before leaving your donations.
To Be Donated To: Presentation Food Pantry on Parsons Blvd.
Next Steps: Learn more about how we can work on eradicating poverty. Check out these websites:


Molloy Reunion Weekend – THANK YOU!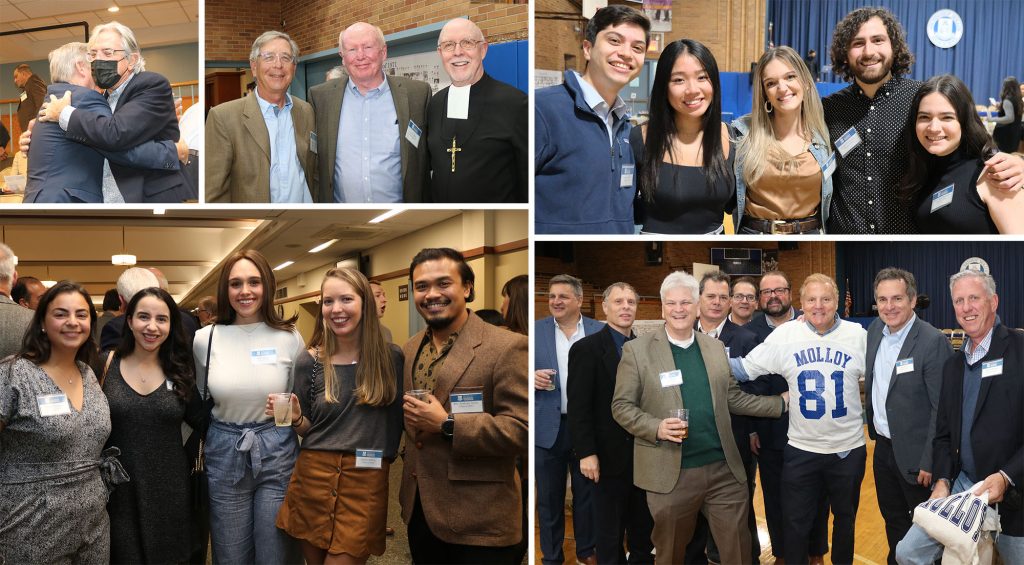 The Stanner Alumni Center would like to thank the over 500 alumni who joined us in celebration of Molloy Reunion Weekend! This year's Reunion was unique in that it was split into several sessions across two days. This new format helped make up for last year's postponed event and account for this year's regularly scheduled classes.
On Friday, November 5th, the Classes of 2015 and 2016 celebrated their 5th Anniversaries! On the morning of Saturday, November 6th, the Classes of 1970 and 1971 celebrated their Golden 50th Anniversaries! Graduates of the 1960s also joined us on Saturday morning and enjoyed touring the campus and seeing how much has changed and how much has stayed the same. On the evening of Saturday, November 6th, Molloy welcomed graduating classes ending in 0, 1, 5, and 6, including the Classes of 1975, 1976, 1980, 1981, 1985, 1986, 1990, 1991, 1995, 1996, 2000, 2001, 2005, 2006, 2010, and 2011.
PHOTOS COMING SOON!

We will have more coverage on the Reunion in our next Beehive, including the full photo gallery (We need a little more time to sort out the photos! Thank you for your patience.). In the meantime, thank you once again to our alumni for joining us on this historic occasion. It was wonderful to see our alumni in-person again. "God Bless All Stanners!"
---
"Stanner-A-Thon" Includes Walkathon, Field Day & More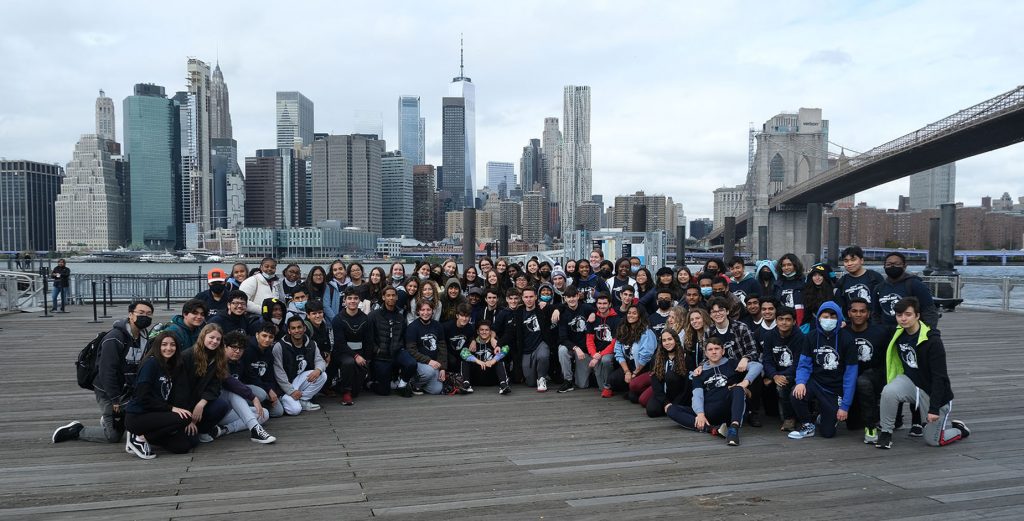 Pictured above: Seniors participate in the Br. Leo Memorial Walk.
In 2020, Molloy modified or postponed many beloved school events that allow students to experience our family spirit firsthand. Last year, Freshman Field Day was postponed, while the Walkathon was held virtually.
On October 29th, students and faculty were excited to once again celebrate Freshman Field Day and the Walkathon in-person. Both took place on the same day, which was rebranded as the Stanner-A-Thon. The Class of 2025 enjoyed Field Day, Sophomores and Juniors participated in the traditional Walkathon, and the Class of 2022 chose from several different senior events including the Br. Leo Memorial Walk, Game-A-Thon, and a Basketball Tournament. There was definitely plenty of school spirit in the air on this very exciting day!
In previous years, funds raised in support of the Walkathon have helped Molloy to install air conditioning in every classroom, purchase new school buses, add mirrors to the dance studio, provide brand new cafeteria tables for our students, construct a video broadcasting studio, and renovate our school library, gym, and chemistry lab. Money raised in support of this year's "Stanner-A-Thon" will be used to purchase equipment that will be the foundation of a soon to be constructed Virtual Reality/Artificial Intelligence Lab. Thanks to the ongoing support of our students, families, and greater school community, Molloy can continue to accomplish a great deal without impacting tuition.
Photos below by the following Photography Club members: Antonia Dey '24, Miles Jones '24, Stephen Krische '24, Ryan Ladd '25, Anna Lampman '24, Conor McCahey '23, Alvi Milla '24, Stephanie Mohabir '24, and Aliana Rajkumar '25.
---
Esopus Community Celebrates MBCE Hall of Fame Induction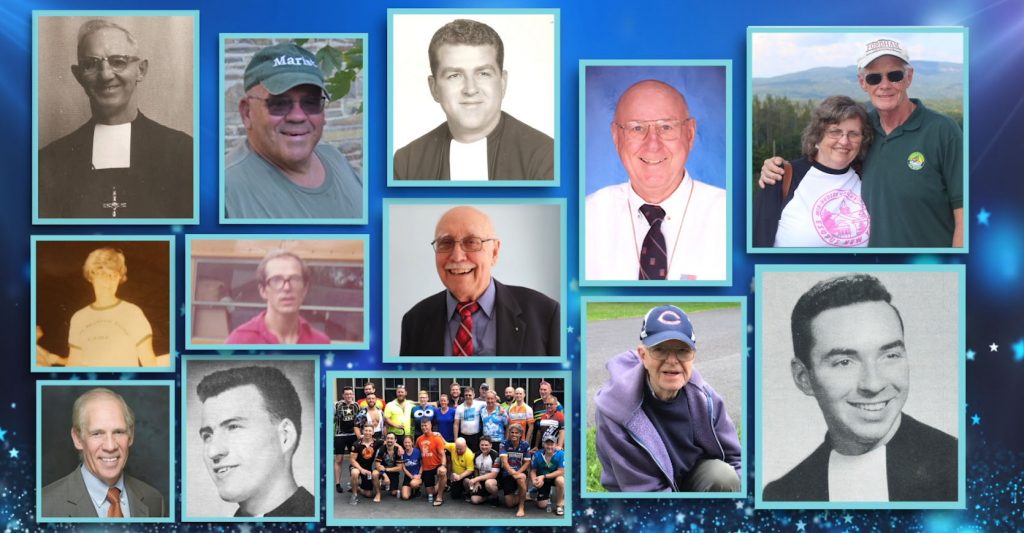 Congratulations to the Marist Brothers, the Esopus community, and the honorees of the Inaugural MBCE Hall of Fame Induction Ceremony & Celebration. On Saturday, October 23rd, the Marist Brothers' Center at Esopus honored many individuals who have made a positive and lasting impact on Esopus and the lives of young people for generations. Honorees included: Br. Dave Cooney, Br. Declan Murray, Br. Don Nugent, Edward & Patricia McCormack, Gerald Dunworth, Br. John Berchmans, Br. Raoul Molnar, Br. Steve Kappes, Tom Brophy, The Century Ride Honorees, and The Marist Encounter Program Honorees.
"This event was an inspiring tribute to many individuals who have made a difference in the lives of so many young people," said President Richard Karsten '81.
Craig Katinas '93, Molloy's Executive Director of Development, also attended the event, sharing "I was truly moved from the start with such a beautiful prayer service, time of reflection, and the video presentation that so eloquently shared the honorees' collective story."
In case you missed the event, click the links below to see various parts of the program, including a prayer service, video honoring all inductees, the induction ceremony, and reflections by Dave Cooney and Tom Brophy.
---
Marists of Champagnat: Upcoming Informational Zoom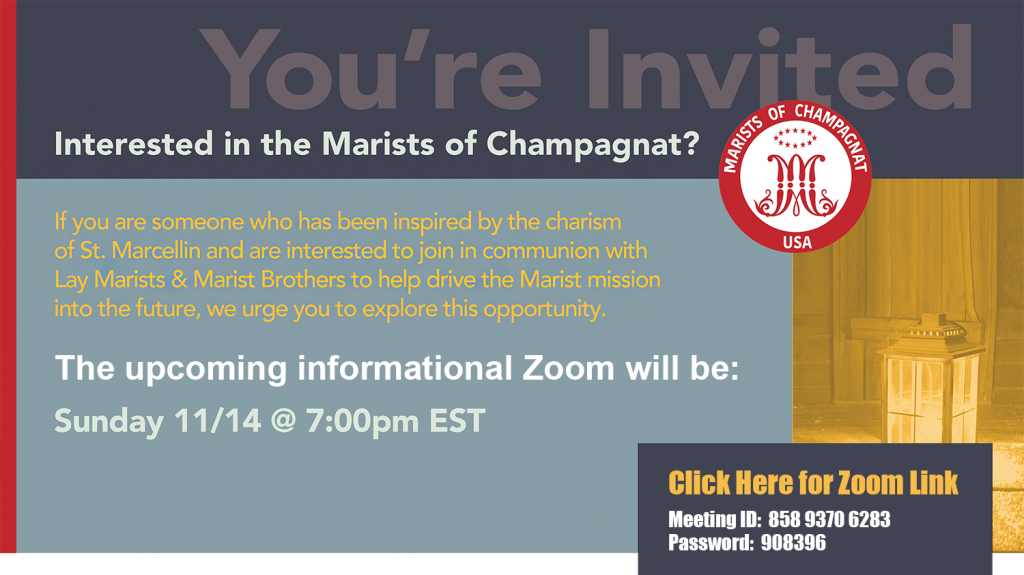 More Information: https://www.maristusa.com/laymarists or contact Lindsay Irwin at lindsayrirwin@gmail.com.
---
Relics of a Saint Visit Molloy
by Lori Wilson, Director of Campus Ministry and Marist Mission
On the morning of Wednesday, November 10th, the relics of Carlo Acutis, the youngest beatified person, visited Molloy's chapel. Students, faculty, and staff were invited to visit the chapel between 8:00am and 10:00am to pray, spend time in silence, or think about our call to holiness as Catholic Marists.
Carlo Acutis was an English-born Italian Catholic and an amateur computer programmer, best known for documenting Eucharistic Miracles around the world and cataloguing them on a website, which he created before his death from Leukemia. At 15 years old, he is the youngest contemporary person to be beatified. Born May 3, 1991 in London, Carlo passed away on October 12, 2006 in Monza, Italy. He was beatified in October 2020 and his Feast is October 14th.
A relic, in religion, strictly, is the mortal remains of a saint; in the broad sense, the term also includes any object that has been in contact with the saint. Among the major religions, Christianity, almost exclusively in Roman Catholicism, and Buddhism have emphasized the veneration of relics. We do not worship relics, but they serve as a tangible way for us to experience and reflect on the life of a person who has devoted their life to God's will, being God's "hands and feet" on Earth. Watch the video below for more information about Carlo Acutis.
---
Computer Science & Engineering: Nirmala Narine '19 and Dr. Casey Berger Serve As Guest Speakers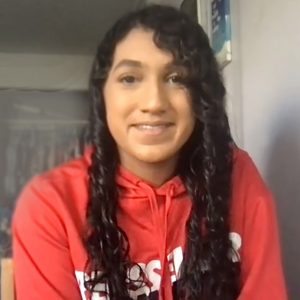 In October, Nirmala Narine '19 (pictured right) served as a guest speaker in several Computer Science & Engineering classes at Molloy. Nirmala is currently a junior Aeronautical Engineering major with a minor in music at Rensselaer Polytechnic Institute. During her virtual visit she discussed her college experience and how she landed an apprenticeship at Goldman Sachs last summer and more recently an internship with Boeing. She also discussed why computer science is essential in many fields today, and credited Molloy's Robotics class for giving her valuable coding experience going into Rensselaer.
"I was able to get the Boeing internship through the Engineering Accelerated Hiring Initiative (EAHI) where Boeing recruits from certain colleges through this program," said Nirmala. "It allows for students to pick which department and locations they would like to work in. I hope to be working in manufacturing within the company, especially for commercial airplanes."
Also in October, Dr. Casey Berger, a computational physicist, STEM equity advocate, and sci-fi author, visited virtually with Molloy's Quantum Computing class. During her visit, Dr. Berger discussed what led her to quantum, her research, and how she weaves her love of science and writing together.

---
Seniors Inducted Into National Honor Society
On October 20th, 100 members of the Class of 2022 were inducted into the National Honor Society. NHS is a prestigious, nationally recognized honor society that inducts students who fulfill the following eligibility requirements: Scholarship – 95.0 cumulative average at the end of the 3rd quarter of junior year; Service – consistent involvement in volunteer initiatives; Leadership – consistent involvement in extracurricular activities and demonstration of leadership; Character – an exemplary disciplinary record. Members of NHS meet throughout the school year and engage in a variety of monthly service activities that give them a chance to make an impact around Molloy. Congratulations to all our inductees, including NHS President Julian Kim '22 and Vice President Joe Bruno '22. | Click Here for Full List of Inductees
---
Return of Esopus Retreats
Esopus Retreats are back! We are very pleased to share that class retreats to Esopus have returned for the 2021-22 school year. Freshmen and Sophomores were the first classes to venture up to Esopus earlier this month over All Saints Day / All Souls Day weekend. The themes of the weekend were presence and "Faith-Filled Disciples", the latter considered one of the Marks of a Marist Student. "Be attention to people, be present to them. God is always present. Our challenge is to see each other the way God sees us." Special thanks to all our faculty, staff, and alumni volunteers who helped make our first retreat of the year a success.
---
Sports Updates
Congratulations to our Girls Varsity Tennis Team and Coach Mary Edward '13, winners of the Brooklyn/Queens Championship for the third straight year! The team also advanced to the State Semi-Finals match.
Congratulations to our Girls JV Soccer Team, who captured the City Championship on Wednesday, November 3rd, by defeating St. Francis Prep 5-1!
Congratulations to our Faculty and Staff, who defeated the Seniors 13-3 in this year's Seniors Vs. Faculty Softball Game (pictured below). Thanks to all participants and those cheering them on for a fun and spirited game!
---
Judge Karen Gopee Visits Criminal Justice Class
On October 25th, Judge Karen Gopee visited Ms. Diana Rayappa's '04 Criminal Justice Class as a guest speaker. Judge Gopee, a Stanner parent, shared that she pursued a career in law to help her community, including victims of domestic violence. While discussing her extensive law school experience, including the "toughest" first year, she encouraged students to put in the hard work now so that it pays off later in life.
Judge Gopee, who has been practicing law for 23 years, began her career working in the Brooklyn DA's office. She recently appeared on the ballot for Supreme Court Justice in New York State and was among six judges elected. She was appointed by Mayor DeBlasio as a judge in the Criminal Court for the 11th Judicial District of New York in 2015. Judge Gopee is a graduate of St. John's University School of Law. She is the first judge of Indo-Caribbean decent in NY State.
Thank you to Judge Gopee and Ms. Rayappa for offering this unique opportunity for our students.


Stanners Run The NYC Marathon
Congratulations to all Stanners and friends who ran the New York City Marathon last weekend! We are aware of several alumni who ran, including Dr. Frank Dorsa '77, Rob Jennings '89, Ashley Joyner '04, Jillian Hubert '17, and Shannon Pizzella '14.
For Rob, a reporter for NJ.com, it was his fourth NYC Marathon overall. After finishing with a time of 4:32:02, Rob wrote an opinion piece reflecting on running the 50th anniversary race after just turning 50 years of age. Click Here to Read Rob's Story at NJ.com. This year's race was the first for Ashley Joyner, who ran on behalf of Fred's Team and Memorial Sloan Kettering Cancer Center. Her final time was 6:54:54. What made Ashley's race special, beyond it being her first, was she had a cheering section of her Molloy classmates including Diana Rayappa '04 and Lisa Izquierdo '04. .Jillian Hubert, Molloy's Valedictorian in 2017, also ran the race for Fred's Team in support of research at MSK. Her official time was 4:11:47. Frank Dorsa finished his 16th NYC Marathon with an official time of 4:20:43. It was a great milestone for Frank, who five years earlier completed his 15th NYC Marathon with a broken hip. Shannon Pizzella finished with an official time of 5:08:07, and she was profiled by The Tablet newspaper leading up to the race.
There may be more Stanners who ran the race! If you or an alumnus you know ran the NYC Marathon this year, or any past year, please contact alumni@molloyhs.org and share your official time and your best time to date. We will add it to our ongoing list of NYC Marathon participants, which you can review at the following link (*Note: not yet updated with 2021 results). | Click Here for List of Stanner NYC Marathon Participants
Pictured Above left: Ashley Joyner; Above Right: Dr. Frank Dorsa and family.
---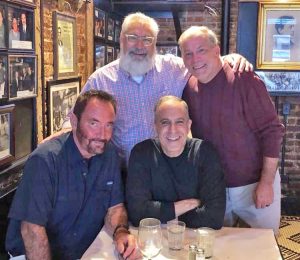 Matthew Wisseman '78, Edward Smith '78, Patrick Cahillane '78, and Frank Wild '78 met up at Pete's Tavern in Manhattan after 43 years. According to Ed, it was a great afternoon with many laughs and memories, and the four Stanners are looking forward to meeting up again.
---
Ed Kurpiel '71 shared photos from his recent Fast Eddie Open golf tournament with The Beehive. The event, held in Orlando, welcomed many Stanner participants. In support of the event, Molloy donated pullover quarter zips to the many participating alumni, courtesy of the Jim Kinnier Stanner Golf Classic.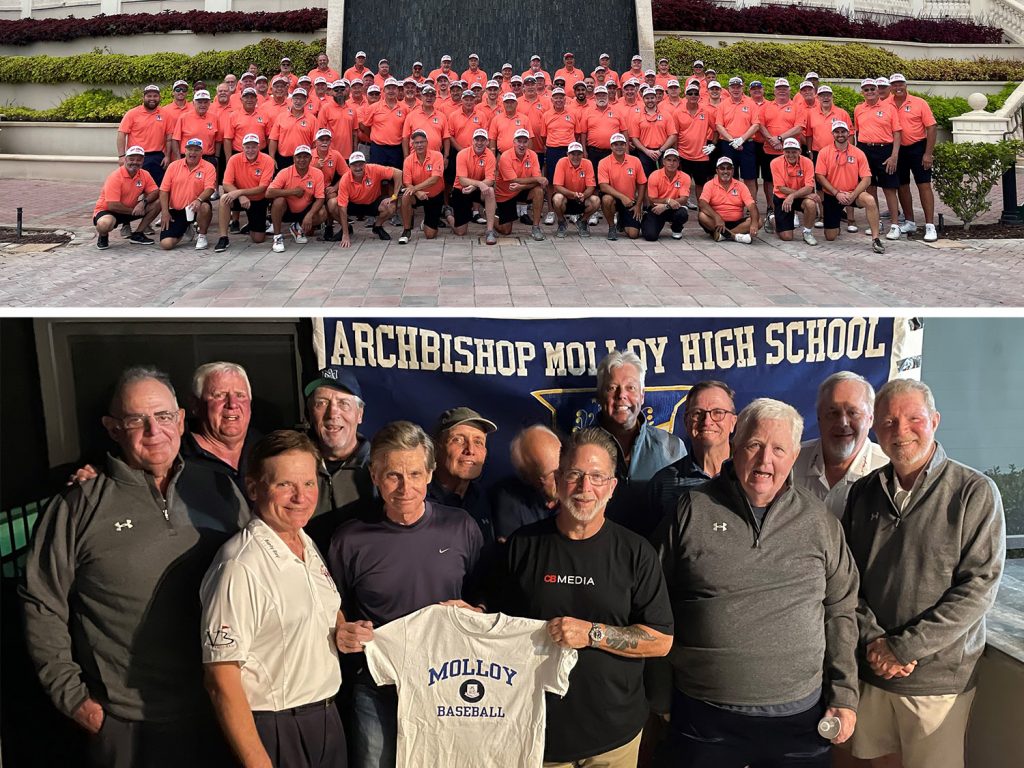 We are saddened to share the passing of Jennie Burnett, daughter of Kevin Burnett '69, and niece to Charles Endy '64 and Dr. William Endy '68. Jennie passed away on November 9, 2021 after battling a prolonged illness. Please keep Jennie and her family in your prayers.

Please pray for the repose of the soul of Lucy Sabbarese, who passed away on October 30, 2021. Lucy is the mother of Vincent Sabbarese '76, and aunt of Charles Giaconelli '79 and Michael Giaconelli '81.

Please pray for the repose of the soul of William Farrell, who passed away on October 13, 2021. William, grandfather of Andrew Visceglia '19, was a 1947 graduate of the Marist Brothers' Mount St. Michael Academy. He was always very proud that he and Andrew both shared in their Marist education.

We are saddened to share the passing of Scott Sepe '87 on June 8, 2021 after battling an illness. Please keep Scott and his family in your prayers.