Class of 2020 Brunch
When: December 21, 2021 | 8:45am Mass | 11:00am Brunch
Where: Molloy
Who: Class of 2020
Theme: Ugly Christmas Sweater
Health & Safety: Proof of Vaccination or Negative COVID-19 Test Required. Face masks must be worn in building at all times except when seated and eating/drinking.
Max Capacity for Mass: 100
Max Capacity for Brunch: 250
ABOUT THE EVENT: In March 2020, Molloy shifted to virtual learning for the first time in its history due to the spread of COVID-19. The remainder of the 2019-20 school year was virtual, which disrupted many traditions and end-of-year celebrations for the Class of 2020. We will never forget our amazing Class of 2020! Molloy is excited to welcome back members of the Class of 2020 for a special Brunch on Tuesday, December 21, 2021.
Tickets are available for Mass and Brunch (arrive for 8:45am) or Brunch only (arrive for 11:00am). Our theme for the event will be Ugly Christmas Sweaters so please dust off your favorite ugly sweater! If you have any questions, please contact the Stanner Alumni Center at alumni@molloyhs.org or 718.441.9210. We look forward to seeing you!


$125,000 Raised On Giving Tuesday 2021 – THANK YOU!
On November 30, 2021, Molloy joined communities and non-profits around the world by participating in #GivingTuesday, a global day of giving and unity. Molloy highlighted three special funds that impact Student Enrichment, Mission, and Scholarship, which our community generously supported:
The Murphy Scholars Program: Created in honor of Dr. Patrick Murphy, this program provides grants to students who enroll in unique summer programs at a college/university of their choosing.
The Brother Declan Murray Fund: Provides grants directly impacting Molloy's retreat, encounter, and summer programs, all held at the Marist Brothers' Center at Esopus.
The Lou Santos Scholarship: Awards a four-year scholarship to Catholic students from New York City with economic hardships.
Stanners and friends also took advantage of a special Gift Match Challenge to increase the impact of their gift! Our generous benefactors offered a 2:1 match for each dollar raised for the Br. Declan Murray Fund and the Lou Santos Scholarship, up to $50,000.
In Total, including the gift match challenges, foundation gifts, and individual gifts, $125,000 was raised in support of our Giving Tuesday initiatives! This is an incredible act of kindness by our community, and we are so thankful for your care and support.
"We thank everyone who responds so generously to #GivingTuesday and everyday," said Craig Katinas '93, Executive Director of Development. "These gifts have a direct impact on scholarships, student enrichment programs, retreats, summer camps, and so much more. On behalf of the Marist Brothers and all of us at Molloy, THANK YOU!"
Click the button below to learn more about this year's Giving Tuesday celebration.

---
Comp Sci & Engineering: Molloy Hosts Qubit by Qubit Event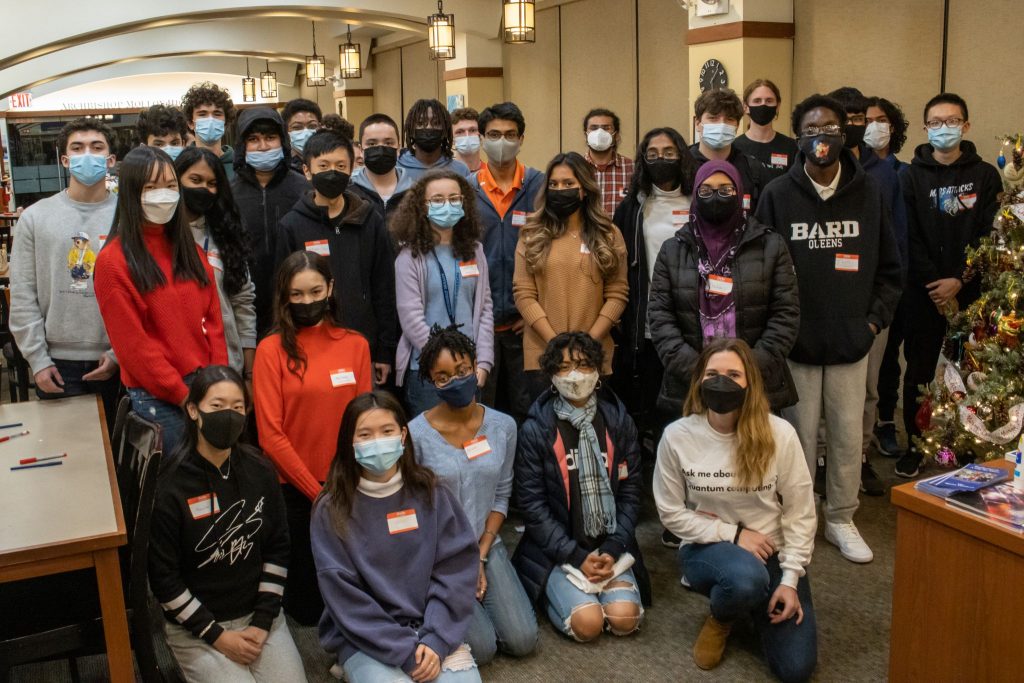 by Gisele Habibulla '25
On Friday, December 3rd, Molloy had the privilege of facilitating the first-ever in-person Qubit by Qubit: Quantum Computing "Meet-Up" for the Tristate area. More than 35 students from 10+ schools attended the event and met with their professor, Dr. Agarwal; the Vice President of The Coding School, Ms. Peltz; and several academic and industry leaders in quantum computing, such as research scientist from IBM, Bryce Fuller; and Ph.D. candidate in Quantum Computing from NYU, Wael Itani.
The Qubit by Qubit: Quantum Computing "Meet-Up" event gave students a chance to get to know one another while also furthering their understanding of quantum computing and possible future careers in this field.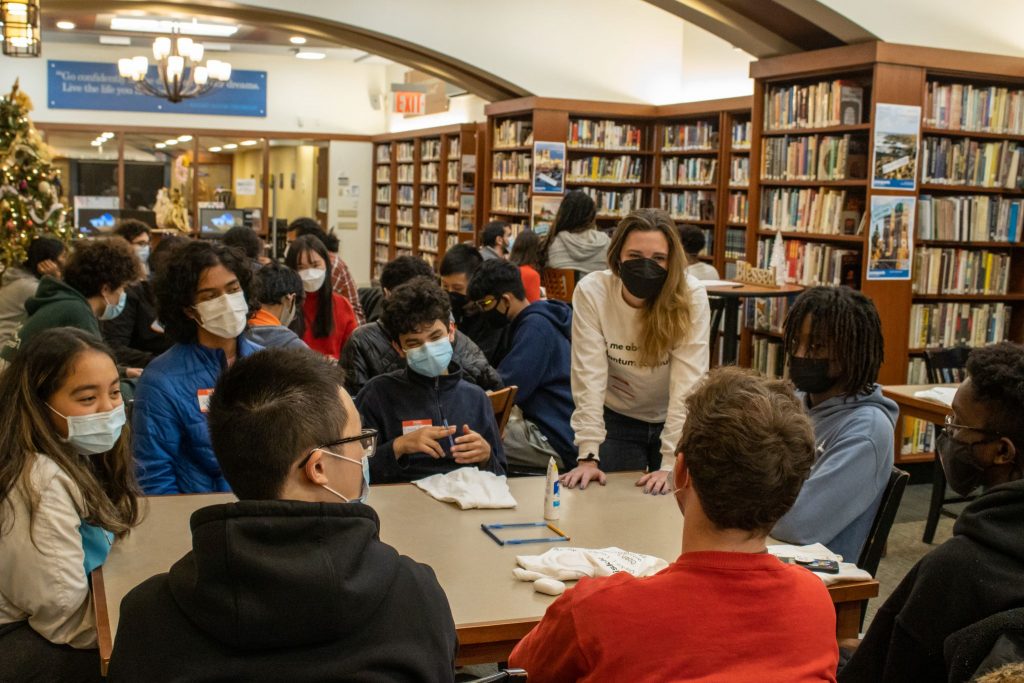 We started with a "Quantum Bingo," an activity in which all participants introduced themselves as we filled a bingo card with signatures from students/instructors who applied to each category. It included questions ranging from "someone who can describe quantum superposition" to "someone with the same favorite movie/TV show as you." This was the perfect opportunity to break the ice. The beauty of this activity was realizing how similar I was to the people in the room. I could surround myself with people who share a genuine passion for quantum computing.
Following this, each guest speaker had their own table by which students could rotate through to ask questions, listen to advice, and interact with quantum simulations. My favorite was Dr. Agarwal's demonstration with polarized paper, which selectively absorbs light vibrations. Here, we had a physical demonstration of how the 0 and 1 states in quantum computers work. Additionally, I enjoyed the variety of professionals in the quantum-computing field. I learned about how each speaker got into the study of quantum, found a college that provided a course for it, and how they chose to pursue it. I gained insight on how to apply my knowledge of quantum computing to future careers. For example, some speakers implemented quantum computing into medical practice, and others took a more social humanities route.
It was incredibly inspiring to have professionals in quantum computing visiting Molloy. I have always been interested in computer science, but I lacked direction on how to advance my skills. Through the QxQ: Quantum Computing course and events like these at Molloy, I can be confident in my next steps in this new field.
---
Download The Stanner Newspaper – Fall 2021 Issue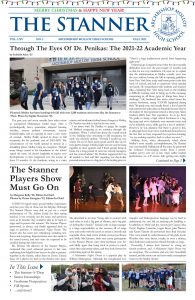 We invite our community to download the latest edition of The Stanner newspaper. For over 75 years, The Stanner has been St. Ann's/Molloy's home for school news and student opinion. Molloy's student newspaper is a multi-time winner of First Place General Excellence at The Tablet High School Press Awards.
In the first issue of the 2021-22 school year, The Stanner features interesting articles including: an in-depth interview with Principal Dr. Darius Penikas conducted by Isabella Arias '23, an introduction to the Student Diversity and Inclusion Committee by Associate Editor Loyca Jean '22, an update from our school nurse reported by Isha Patel '23, a review of survey data regarding mental health reported by Thomas DiBello '23, a spotlight on Molloy's environmental club I "AM" Green by co-Editor-In-Chief Petros Georgiou '22, a spotlight on the inspiring Stanner Players by co-Editor-In-Chief Margaret Kelly '22, an analysis of ableism hidden in social media by Associate Editor Ryan Curran '22, and more!
Click the button below to download your digital copy of The Stanner, or visit www.molloyhs.org/stannernewspaper/ to download past issues and select archives.

---
Marists of Champagnat – Register for Cohort 2 by 12/10

Who are the Marists of Champagnat?: "Lay Marist" refers to those in the Marist world who are not living out a religious vocation. The Marists of Champagnat began in 2020, and the term has since been used throughout the global Marist world to describe lay people and Marist Brothers together – in communion – moving forward into the third century of the Marist Institute. Marist Brothers are part of the Marists of Champagnat by virtue of their vows. Now, lay people are experiencing this formation program, at the end of which they will be considered Marists of Champagnat.
After a successful first cohort was completed earlier this year, the next cohort is preparing to begin their formation in January 2022. Those interested in joining Cohort 2 for Marists of Champagnat USA must submit a registration form by today December 10, 2021. Join the diverse group of 20+ Lay Marists and Brothers that have already committed to Cohort 2! Click the blue button below for more information.

---
Molloy Receives New Tree Following La Valla Weekend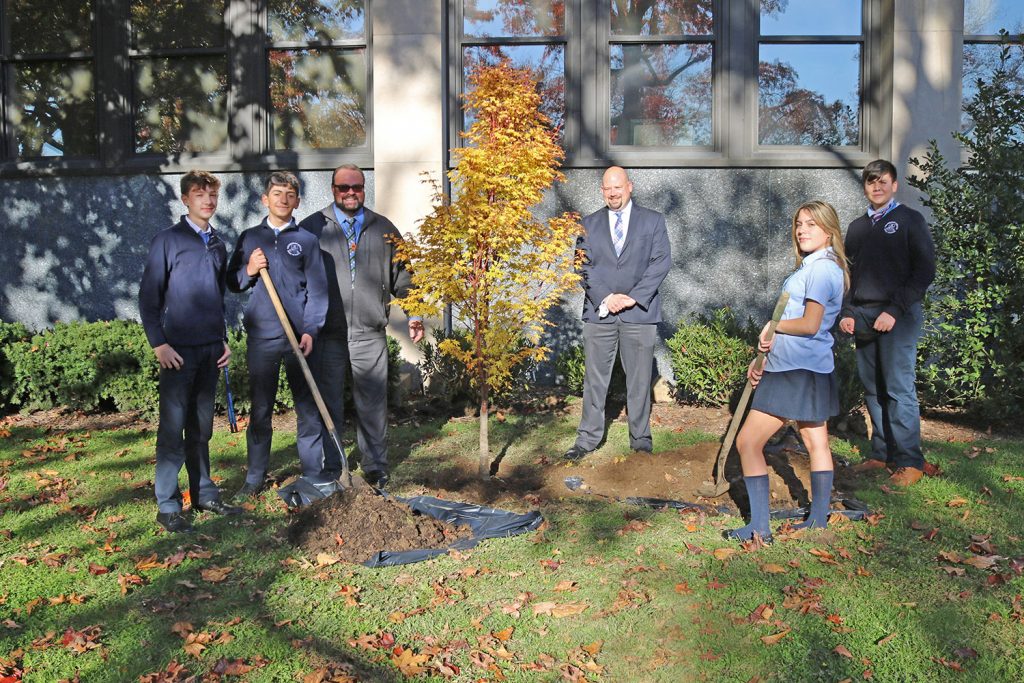 Back in October, Molloy students, faculty, and staff participated in LaValla Weekend, held at the Marist Brothers' Center at Esopus. They were joined by Marist school communities from across the US Province, and together they celebrated the environmental theme of "Caring for our Common Home." Those in attendance worked on service projects and discussed climate change and how we can all be more environmentally friendly.
In November, Molloy received a gift on behalf of the Marist community stemming from LaValla Weekend. A young Coral Bark Japanese Maple tree was accepted by President Richard Karsten '81 and Principal Dr. Darius Penikas. The tree was planted on Molloy's front lawn and we hope it will serve as a daily reminder of our responsibility to love and care for our planet.
---
Four Seniors Sign National Letter of Intent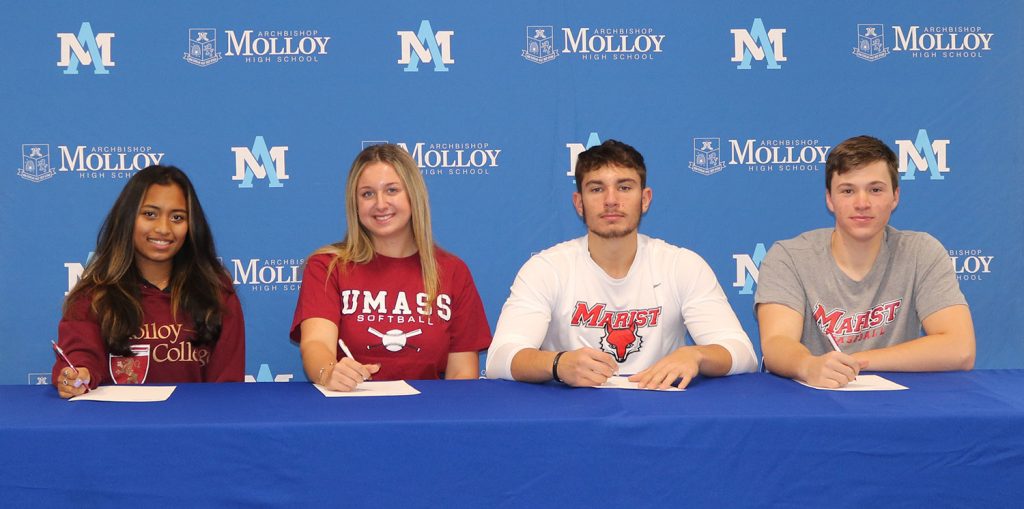 Congratulations to our four senior student-athletes who have signed a national letter of intent to play their sport at the college level: Mikaela Barriga '22, who will play Women's Soccer at Molloy College; Angelina Rama '22, who will play Softball at University of Massachusetts– Amherst; Bayram Hot '22, who will play Baseball at Marist College; and Steven Mazza '22, who will also play Baseball at Marist College.
Mikaela, Angelina, Bayram, and Steven took photos with their families, coaches, and friends during a small signing event in the student cafeteria on November 22, 2021.
---
Fall All-League Student-Athletes Announced
Congratulations to our All-League student athletes for the fall season:
Girls Varsity Soccer: Grace Murphy '23, Cait Dorry '24, & Leah Deliyannis '23.
Boys Varsity Soccer: JoJo Yu '22, Domenic Antonino '22, Casper Jankowski '22, & Andrew Zalot '22.
Volleyball: Samantha Alcotas '22
Girls Track: Grace Murphy '23, Isabelle Audrin '22, Aoife Garvey '25, & Camille Munoz '25.\
---
News From Boys Cross Country
by Mr. Joe Chowske '81
The tradition continues with the Boys Varsity, Sophomore and Freshman Cross Country teams taking many honors during the season at the legendary (at least among harriers) Van Cortlandt Park in the Bronx.
At the sectional level, the Freshman boys finished 4th with times from 9:19 to 10:19 for the 1.6 mile course. There is a bright and promising future ahead for these young and talented runners.
The Varsity boys finished 3rd in the Brooklyn/Queens sectionals with strong performances from junior Christian Audrin '23 at 26th place and a time of 14:15, as well as Sophomore Aiden Ke '24 finishing 32nd with a time of 14:50 for the 2.5 mile course. These two young men are poised for great seasons ahead. The Sophomore team finished 5th overall in Brooklyn/Queens.
In the CHSAA Championships, the Freshman boys finished 3rd out of the State and ran times from 9:12 to 10:04. Aiden Ke '24 finished 8th in the Sophomore race along with teammate Chris Dalton '23 who finished 23rd. The Varsity race saw Senior John Stravalle '22 finish 45th with a time of 14:46, securing a spot to run at the State Federation meet at Bowdoin County Park in Wappingers Falls.

Please join us in prayer for Samir Jhaveri '05, who has been dealing with a prolonged illness. Family and friends of Samir have provided the following information for your consideration: "Samir Jhaveri AMHS 2005 is his own superhero, fighting Berger's Disease since he was 19 years old. Now, his kidney is failing, and he needs help. Samir was diagnosed with a rare autoimmune disease that led to kidney failure in 2011. At that point, his superhero, his mom, donated her kidney to him. 10 years later the disease returned, and due to COVID-19 he was unable to get the treatment he needed. Unfortunately, the disease progressed, and his transplanted kidney is now failing again. Samir is seeking a generous kidney donor. Please be so kind as to watch his video and hear his story:
If giving the gift of life is something you would consider, please contact Samir directly at samir.jhaveri87@gmail.com. Samir sends special thanks to all the Stanners who participated in the creation of his video, including Diego Bonifaz '07, Elvin Ramos '07, Ariel Bautista '05, Patrick Burgi '05, Ellis Cortez '05, Glen Gratta '05, and Balty Contreras '05.


Job Opportunities
Employment Opportunity at Molloy
Communications Associate (Entry Level)
Archbishop Molloy High School is seeking outstanding candidates for the new position of Communications Associate.
This full-time position is entry-level and reports to the Communications Director. The Communications Department is a new department at Molloy which focuses on general communications, content development, marketing and branding, and special projects. The Communications Associate's primary focus is in the areas of social media management, creating content, publishing, personal engagement, and multimedia.
If you are interested, or if you know a potential candidate, please click here to review, download, or share the full job description.
Applicants should email a cover letter and resumé to Mr. CJ Mallia at cjm@molloyhs.org or click the blue button below to apply through Indeed.com.

Employment Opportunity at Summit Design & Forensics, Inc.
Structural Engineer (Entry Level) (Palm Beach, FL)

Summit Design & Forensics, Inc. is seeking a qualified entry level structural engineer. The successful candidate must be fluent in AutoCAD and capable of assisting with the generation of construction/shop drawings and preparing calculations for building structures. Project: restoration/structure steel on a landmark historic building on Palm Beach Island. Minimum of 1 year commitment. Summit offers a pleasant work environment, competitive salary, and opportunity for advancement. No experience required. Preferred: 1-2 years of experience as an engineer with a degree in Civil Engineering. Salary and benefits are negotiable. Housing allowance. No license required. If interested please contact alumni@molloyhs.org.
---
Catching Up With Nikki McNamara '21
The Beehive recently caught up with Nikki McNamara '21, Molloy's most recent salutatorian. Nikki shared an update about her experience this semester at the University of Notre Dame.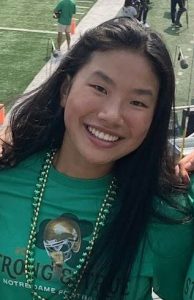 "Beyond academics, there is a strong sense of community, and the campus fosters a collaborative environment among students. As a Catholic university, the accessibility to Mass and other aspects of faith have made my first semester a more well-rounded experience," said Nikki.
Nikki is currently in the first year of Notre Dame's engineering program. "Although it's early, at the moment I intend to major in chemical engineering with a minor in bioengineering," explained Nikki. "I've always enjoyed chemistry and the more molecular aspects of biology, and I'm hoping to find a career that deals with pharmaceuticals and/or immunology."
Outside the classroom, Nikki has joined a handful of clubs, including the Society of Women Engineers, Notre Dame New York, kiND Club, and the Notre Dame Chapter of WishMakers (Make a Wish). "Women Engineers is great for networking, and my major discernment. NDNY helps to connect me with other students from New York, while kiND Club allows me to engage in small random acts of kindness around campus. These are all great opportunities to break up my workload, meet new people, and explore my passions," said Nikki. She also runs regularly and participated in the Domer Run 5K. A softball player at Molloy, Nikki hopes to play softball at Notre Dame in the spring or next fall.
Nikki says her overall experience at Notre Dame has been reassuring. "I know now that I made the right decision back in April."
---
Class Updates
Congratulations to Jim Mahony '74, who completed the 2021 New York City Marathon with a final time of 4:53. This was Jim's 39th consecutive NYC Marathon! Congratulations also to Jim's son, Tim, who finished his second consecutive NYC Marathon with a time of 2:56.



Please join us in prayer for the repose of the soul of Peter MacDonald '81, uncle of Alexandra Alimaras '13. Peter passed away on November 27, 2021. He was a retired sheet metal mechanic, having been employed by Local Union 28 for 37 years. He was proud to be a Local 28 member and was steadfastly passionate about the importance and benefits of unions to American society.
In addition to his loving wife of 29 years, Terry, survivors include his two cherished daughters, Margaret Catherine MacDonald and Charlotte Elizabeth MacDonald, a sister, Sharon Mac Millan, two brothers, John MacDonald and his wife Carolyn, and James MacDonald, sisters and brothers-in-law, Catherine Bukosky and her husband Michael, Elizabeth Alimaras and her husband Gregory, and Andrew Hernon and his wife Nancy, as well as many nieces and nephews. He was predeceased by a brother, Allan B. MacDonald, Jr.
Please read more about Peter's life here: Click Here for Memorial Page