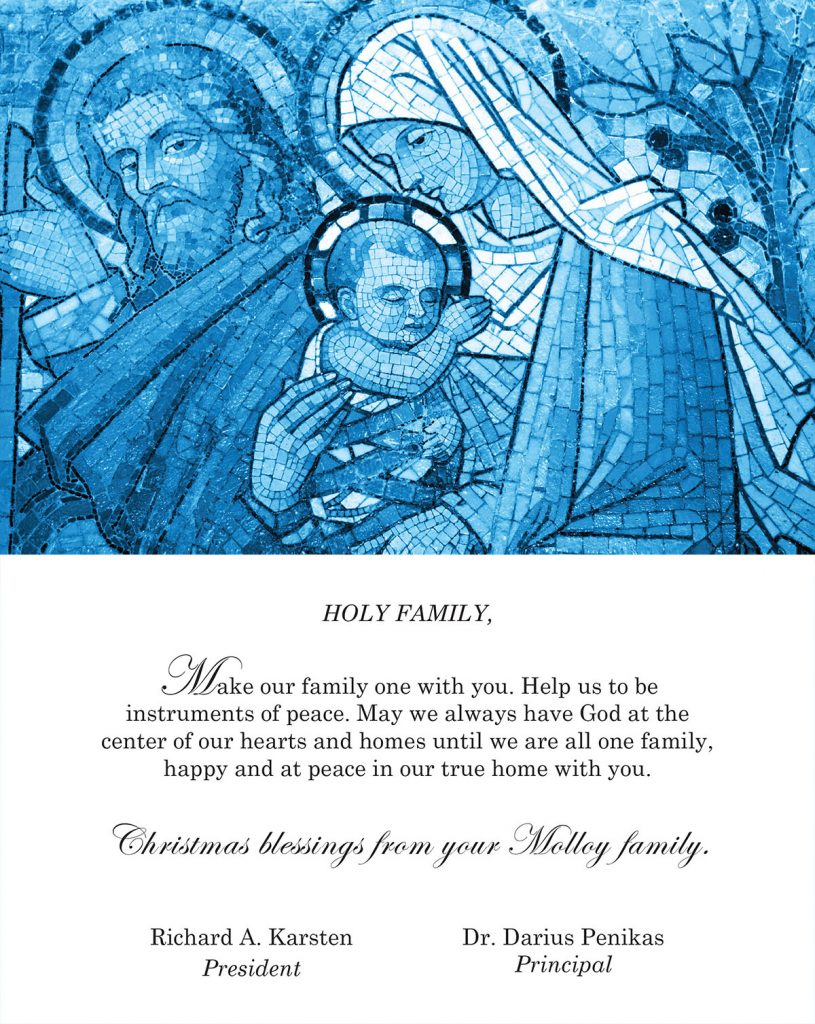 Christmas Concert Highlighted by Talented Stanners & Guests
On December 15th, Archbishop Molloy High School hosted its annual Christmas Concert. Families and friends were treated to an evening of festive carols and traditional songs performed by Molloy students as well as guests representing Fordham Preparatory School, Mount St. Michael Academy, and St. Catharine Academy.
Music teacher Ms. Ya-Ting Yang directed the first portion of the evening, leading Molloy's Concert Band, Sophomore Chorus, and String Ensemble through a diverse set of songs including Jingle Bell Rock (Beal and Boothe/Huff), First Noel (Cindy Blevins) and even the James Bond theme Skyfall (Adkin and Epworth / Johnny Vinson). Mr. Kenneth A. Farnum Jr. served as accompanist for the Sophomore Chorus.
Molloy was excited to welcome the MultiQuire to perform for our community, featuring special guests from Fordham Preparatory School, St. Catharine Academy, and Mount St. Michael Academy. Our guests performed songs including Jazz Gloria (Natalie Sleeth) and I Saw Three Ships (Janda & Becaud / Leavitt) among others. Mr. Farnum served as director for this special presentation.
The second half of the evening was highlighted by Molloy's Junior/Senior Chorus, directed by Mr. Jim Sheehan '75. Mr. Farnum once again served as accompanist. The Chorus performed many songs of the season including Night of Silence / Silent Night (D. Cantor/F. Gruber), O Come O Come Emmanuel/O Antiphons (D. Ducote, M. Balhoff, G. Ault), and Have Yourself A Merry Little Christmas (H. Martin, R. Blaine). Featured singers included Joseph Ciaccio '22, Ryan Curran '22, Jenna Dooley '22, Ryan Jaipaul '22, Nuzhat Jannat '22, Samir Patel '22, and Anisha Singh '22. Soloists included Joseph Bruno '22, Hailey Checo '22, Molly McGuinness '22, and Magdalen Saffian '23. The evening concluded with all of the choruses joining together to perform one final set.
Click the button below to download the event program for a full listing of songs and credits. Congratulations to all performers and directors, and thank you to all who made this wonderful evening possible. Special thanks to Ms. Christine Tudor for facilitating the Artwork Slide Presentation.
(Photos by Camila Cabrales '25, Luna Celeste Fuentes '24, Petros Georgiou '22 & Ryan Plut '22. Video courtesy of Ozzie Egas '02. Featured performers and songs in the video: AMHS Junior/Senior Chorus — 1. Let It Snow (J. Styne / S. Cahn); 2. I'll Be Home For Christmas (K. Gannon, W. Kent, R. Ram); 3. The Angels' Gloria (19th Century Chant de Noel) | Combined Choruses (AMHS Sophomore Chorus, AMHS Junior/Senior Chorus, Fordham Preparatory School Chorus, Mount St. Michael Academy Chorus, St. Catharine Academy Chorus) — 1. O Holy Night (A.C. Adam, J.S. Dwight)

---
Stanners Support Campus Ministry Toy Drive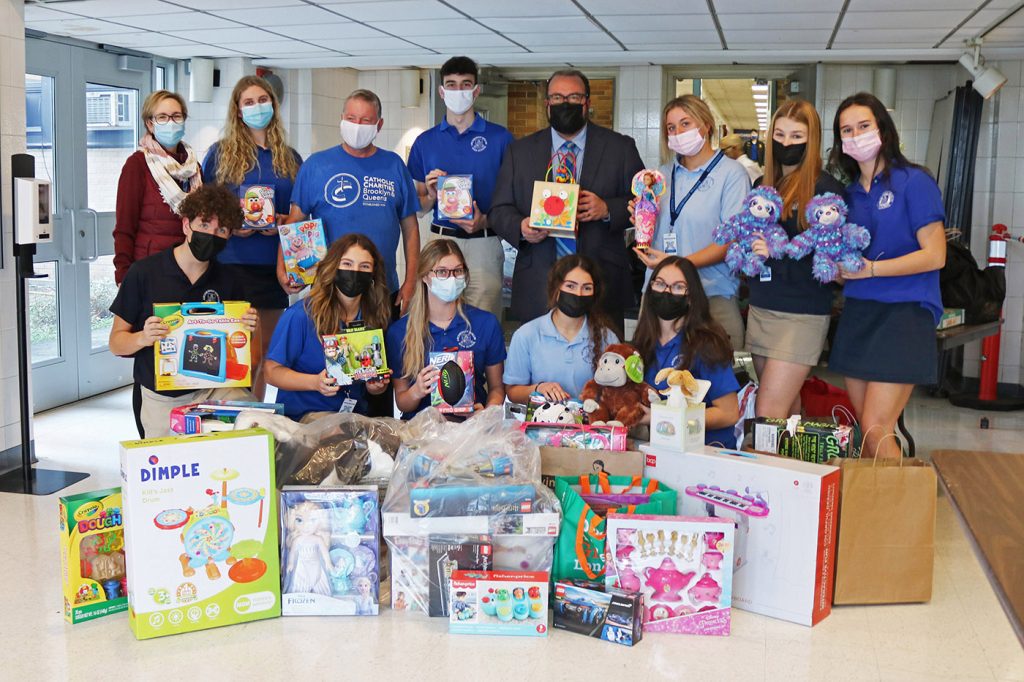 On December 10th, Catholic Charities visited Molloy to pick up dozens of new toys and gift cards, which were collected through Campus Ministry's annual Toy Drive. In total, over $2,000 in gift cards and a van and car full of toys were donated by the Molloy community. These donations will serve families in Queens this Christmas.
Students also supported another drive organized by Campus Ministry this month, donating new socks and underwear, hats, gloves, blankets, and coats to be distributed at a shelter in Manhattan.
---
Molloy Presents MBCE With Giving Tuesday Donation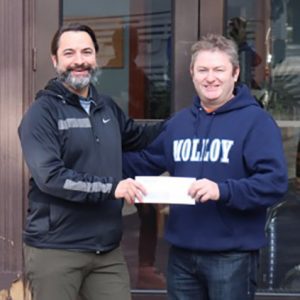 This Giving Tuesday, November 30th, the Marist Brothers' Center at Esopus (MBCE) raised $7,580 thanks to the generosity of their constituents. In addition, Craig Katinas '93, Executive Director of Development at Molloy, visited presented Tomas O'Riordan, Executive Director at MBCE, with a check for $10,000 on behalf of Molloy alumni. On Giving Tuesday, Stanners and friends participated in a Gift Match Challenge which supported the Br. Declan Murray Fund. This fund provides grants directly impacting Molloy's many programs at Esopus. "We are truly thankful to the founders of the Br. Declan Murray Fund for generously providing this critical grant to help the MBCE to continue to offer accessible and affordable retreats, encounters, and summer camps," said Craig.
---
Fifth Annual 3D Christmas Ornament Competition
The Computer Science & Engineering department is proud to announce the winners of Molloy's Fifth Annual 3D Christmas Ornament Competition! The competition's judges, President Richard Karsten '81, and our new Alumni Development Officer, Rebecca Wagner '14, selected the winning designs based on creativity, 3D techniques, and a link to Molloy.
Joseph Castano '24 was named the first place winner, Alexandra Cedrowski '22 earned second place, and Ayden Montalvo '24 earned third place. Fabio Colindres '24 earned an honorable mention.
Congratulations to the winners and the participants! CLICK HERE to see all the amazing entries and 3D simulations.
---
Second Annual Coding Competition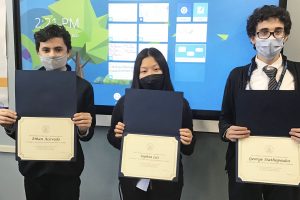 Congratulations to all participants and the winners of the 2nd annual school-wide Amazon Cyber Robotics Competition. In this CoderZ competition, 62 Stanners attempted to solve challenging robotics missions at the virtual Amazon Fulfillment Center. Each mission was scored based on the correctness of the solution and the time needed to complete it.
The best robotics coder and the winner of the competition is Ethan Acevedo '25, who scored 4931 points. Sophia Lai '23 won second place with a score of 4595 points. George Stathopoulos '23 took third place with a score of 4223 points.
---
"Christmas Cheer Committee" Starts New Tradition
Shortly after school on December 17th, Assistant Principal Dr. Des Flynn '97 led student volunteers on a festive musical parade through the halls of Molloy. The "Christmas Cheer Committee" performed Feliz Navidad by José Feliciano with a variety of instruments as they walked through each floor of Molloy. The parade surprised and delighted students who were packing up for the Christmas break. Dr. Flynn is hoping to make this an annual tradition to help spread a little more Christmas cheer.
Photos by Petros Georgiou '22 & Sofia Morales '24.


Class of 2020 Brunch

—

Postponed
Dear Class of 2020,
With COVID-19 cases rising, and out of an abundance of caution, Molloy decided to suspend all classes, activities, and events beginning 12/20 through 1/2. As a result, we unfortunately have to postpone the Class of 2020 Christmas Brunch. Your safety is our number one priority.
We sincerely apologize for having to postpone. We see the effect COVID has had on your class and can only imagine how frustrating it has been. Know that we will celebrate your class as soon as we are safely able to. We are looking forward to hosting a special event for the Class of 2020 in the spring. More information will be shared soon.
We pray for your understanding and wish you a safe and Merry Christmas with your loved ones and a very Happy New Year
— The Stanner Alumni Center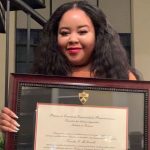 Congratulations to Tenisha McDonald '07 for earning her second Master's Degree from Princeton University. Tenisha is a PhD candidate studying English Language and Literature at Princeton. She is founder and CEO of Writer's Ink NYC and serves on Molloy's School Board as a member of the Diversity & Inclusion Committee. Tenisha is also Chair of Molloy's Council for Diversity & Inclusion.
---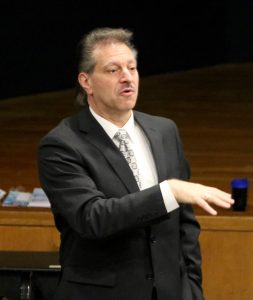 Thank you to Senator Joseph P. Addabbo Jr. '82, who spent the day at Molloy on December 10th serving as a guest speaker in several social studies classes. Sen. Addabbo shared that, prior to ever running for office, he started out simply by using his voice to try and help better his community. He encouraged students to use their voices to reach out to their local representatives. Sen. Addabbo also discussed his career in politics and the importance of hearing the needs of constituents, especially those of younger generations, whether they are of legal age to vote or not. Sen. Addabbo also took questions and engaged in a few spirited debates with Molloy's Seniors. Thank you once again to Sen. Addabbo for visiting Molloy, and thank you to Ms. Diana Rayappa '04 for coordinating Sen. Addabbo's visit.
---
Victoria Bruno '17 visited Molloy in December to serve as a guest speaker after school. Victoria is in her fifth year of the physician assistant program at St. Francis University. As part of the program, Victoria was required to conduct a capstone research project and present her findings. She chose to research concussions in adolescent sports, having played softball and soccer at Molloy. During her presentation to Molloy's softball players and coaches, Victoria discussed the definition of a concussion, vulnerable populations, signs and symptoms, diagnostics, and treatments. Victoria also shared that she chose to pursue the physician assistant program because it allows for more flexibility in the medical field, although she would like to start her career in surgery. She will soon begin her medical rotations through the university.
Special thanks to Catie Massowd for providing information for this story. Pictured left to right: Lou Santos, Maureen Rosenbaum, Victoria, Catie Massowd '07, and Julianne Keyes '09.
---
In December, Billy Rabold '13 and Derek Southerland '13 made an appearance in The Tablet newspaper in a photo with Bishop Robert Brennan, the new Bishop of the Diocese of Brooklyn. Bishop Brennan was visiting his alma mater, St. John's University, where he graduated in 1984. After celebrating Mass on campus, Bishop Brennan attended the men's basketball game versus Fordham, where he would took photos with Billy, Derek, and other alumni. Visit the link above and scroll through the photo carousel to see the photos (note: subscription required). A photo of Billy and Derek with Bishop Brennan is also featured in the December 11th print edition of The Tablet.
---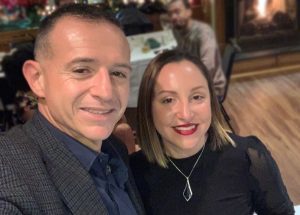 Joe Savino '86 recently connected with Justina Dinko '10 at the NYPD Mounted Unit Christmas party. Joe retired from the NYPD Mounted Unit in 2019 after serving for 30 years. Justina is currently serving as an NYPD Mounted Unit Officer.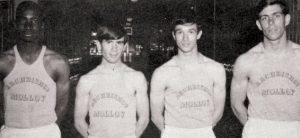 We are saddened to share the passing of Francis Gallagher '68 (pictured 2nd from left) on December 15, 2021. Frank was a member of Molloy's record-breaking 1968 Mile Relay team who set a school record of 3­­­­­­:18.1 that still stands today (Kevin Krenn 49.5 | Francis Gallagher 49.4 | Richie Gumbs: 48.7 | Philip McCluskey 50.5). Please keep Frank and his loved ones in your prayers.

Please pray for the repose of the soul of Robert P. Wernly '71, who passed away on December 14, 2021. | Click Here for Memorial Page

We are saddened to share the passing of Deacon James Burns '61 on November 29, 2021. Deacon Burns served at Sacred Heart parish in Monroe for 16 years. He was ordained by Cardinal John O'Connor in 1988. At Sacred Heart, 1988-2004, he faithfully participated in the parish's sacramental and liturgical life. His ministry was with youth, young adults and adults, and he was engaged in sacramental preparation of parishioners. He served the parish of Fryeburg in Portland, Maine, from 2014-2019. Born in the Bronx, he was a graduate of Archbishop Molloy High School, and was an electrician in New York City for 43 years. For most of his career, he worked for Arc Electrical Corp and Forest Electric at the World Trade Center. He also served in the Air National Guard for six years. Deacon Burns is survived by his wife of 55 years, Clare; sons, James, Thomas, Christopher, Patrick and Kevin; and 12 grandchildren.

Please pray for the repose of the soul of Patricia McGee, mother of Donald McGee '68.

Please pray for the repose of the soul of Josephine Dantini Buell, maternal aunt of Br. Patrick McNamara.

We were recently informed of the passing of Michael J. Counihan '64, who passed away September 4, 2019. Please keep Michael and his family in your prayers. | Click Here for Memorial Page