Happy Martin Luther King Jr. Day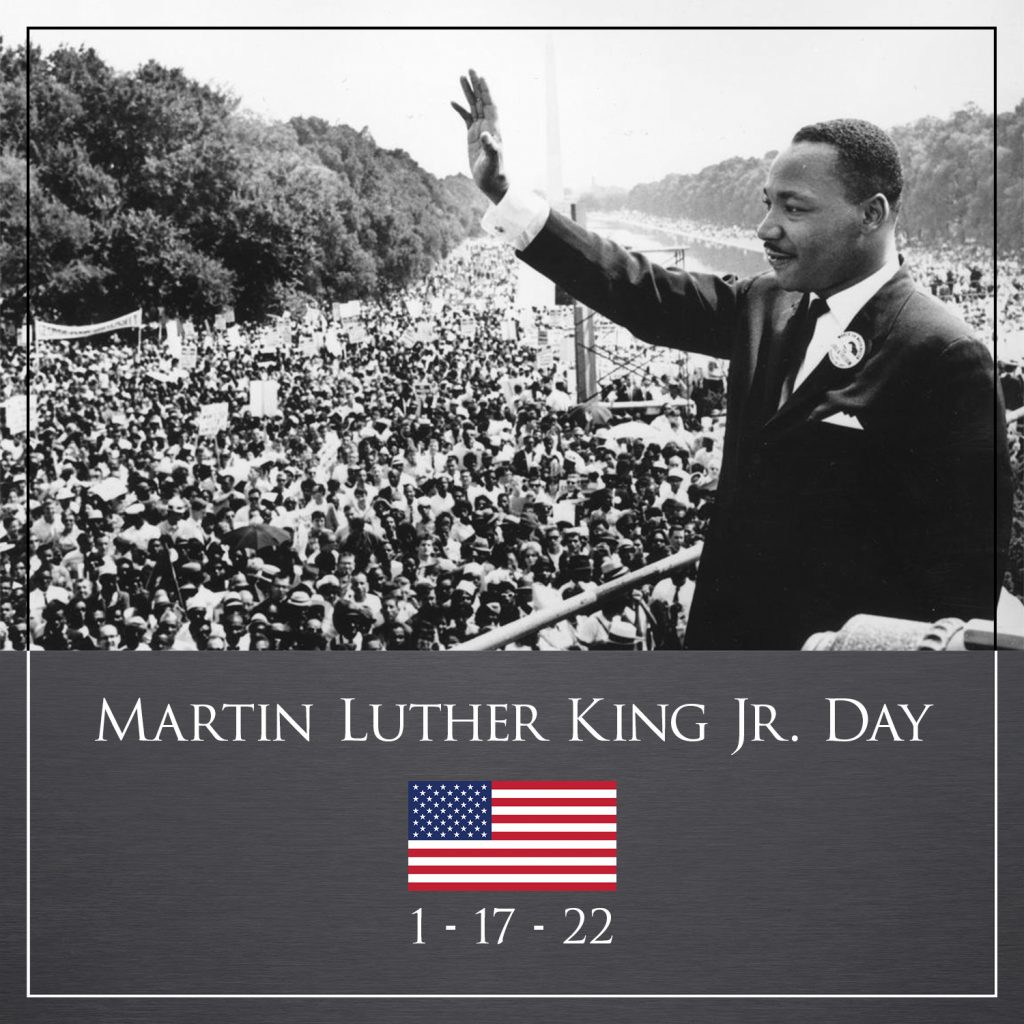 On Monday, January 17th, we honor the life, impact, and legacy of Dr. Martin Luther King Jr., a profoundly inspirational leader and activist in the American civil rights movement. During Molloy's homeroom announcements on Friday, January 14th, Principal Penikas spoke about Dr. King's legacy of courage, compassion, love, and tireless pursuit of justice, while encouraging Stanners to think about what they can do to embody this legacy. The morning broadcast concluded with a tribute video dedicated to Dr. King, which featured excerpts from his "I Have A Dream" speech, delivered on August 28, 1963, during the March on Washington for Jobs and Freedom.
Photo courtesy of the Library of Congress.
---
Congratulations To All Accepted Students!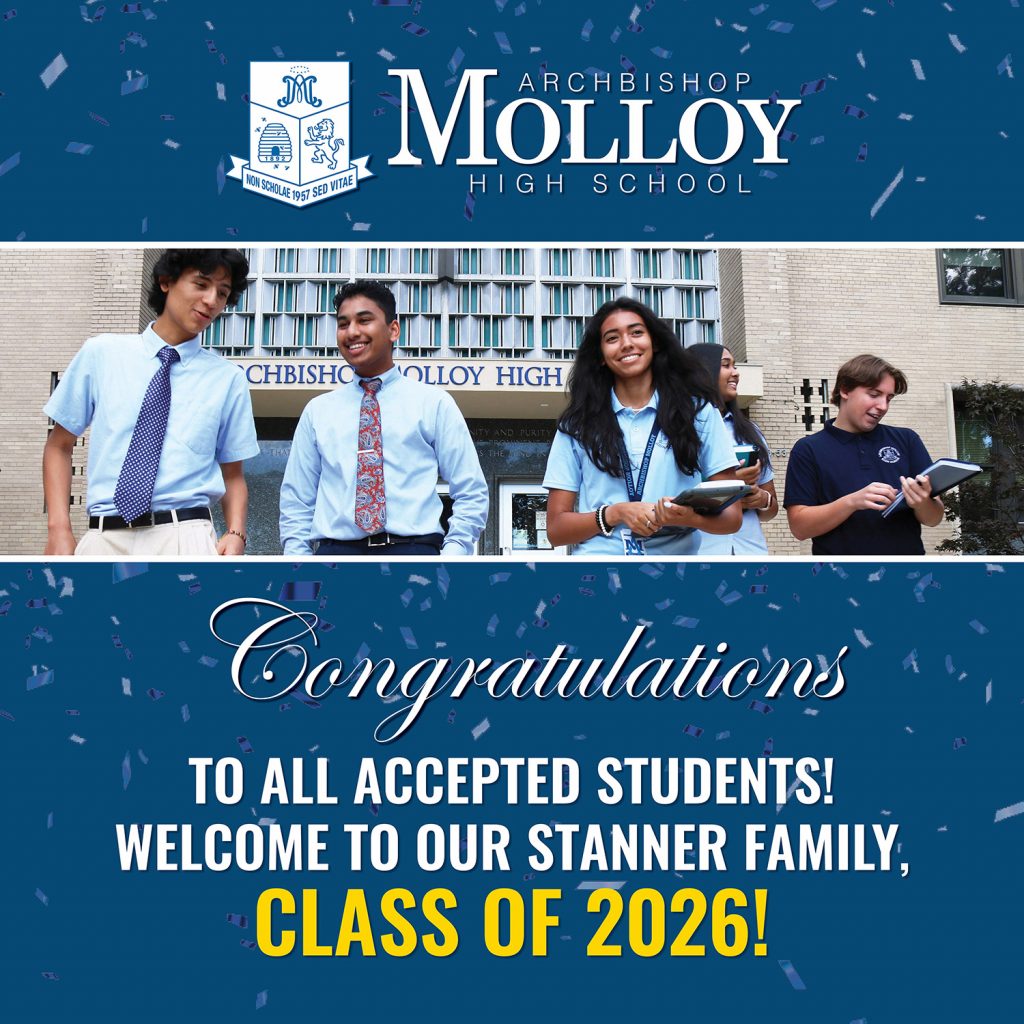 On January 12, 2022, it was the distinct pleasure of Archbishop Molloy High School and our Admissions Department to congratulate all accepted students and invite them to join our Class of 2026! Each accepted student received a personalized welcome video via email that they were able to download and/or share on social media with family and friends.
Molloy considered approximately 2,000 applicants for 400 available Freshman seats. Our accepted students bring exceptional records of academic achievement, and we are excited to see them flourish and take advantage of all Molloy has to offer.
Accepted students and their families have been invited to enjoy Molloy's Virtual Winter Open House on January 20th, which will be hosted by members of the Stanner community on Zoom. More details will follow in an email set to release early next week.
---
Council for Diversity & Inclusion Seeks New Volunteers

The Council for Diversity & Inclusion is an independent advisory group that works with Molloy's Administration and School Board to share insights and make recommendations about policies and procedures pertaining to diversity and inclusion at Molloy.
Since its inaugural year in 2020-21, the Council has been driven by a dedicated group of alumni, parents, faculty, staff, and industry experts who are focused on cultivating a truly inclusive institutional culture at Molloy.
The Council for Diversity & Inclusion is seeking new volunteers to serve on a variety of committees within the Council. If you are interested in this opportunity, please follow these steps:
Email beehive@molloyhs.org to express interest.
We will share an online survey with you via email. Please fill out the survey with your information and click submit.
Your survey will be reviewed and followed-up on by a member of the Council.
Thank you to the Council for Diversity & Inclusion for their continued support, and to all who may inquire about serving on the Council in the near future.

---
Marist World Celebrates Foundation Day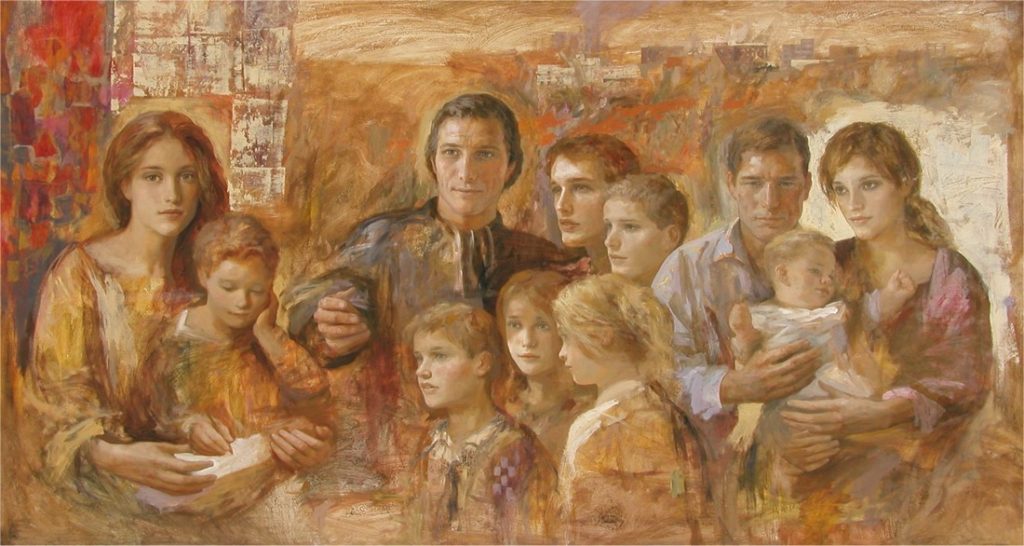 On January 2nd, the Marist World celebrated Foundation Day, marking the founding of the Marist Brothers on January 2, 1817. To understand the significance of this date, it is helpful to get a view into Marcellin's thinking, planning, and acting from the time he arrived in LaValla on August 13, 1816, to the beginning of the first Marist community on January 2, 1817. The Marist Brothers have provided an overview of the people and events that gave shape to the Marist legacy we have inherited. Click the button below to read Today In Marist History: 205th Anniversary of the Foundation of the Institute.

---
Good Luck at Stanner Games!
The Beehive wishes best of luck to all student-athletes and coaches set to participate in this weekend's Stanner Games at the 168th Street Armory in Manhattan. On Sunday, January 16th, over 80 Molloy coaches, student, alumni, and parent volunteers will work one of the premier invitational events of the indoor Track & Field season. Our alumni volunteers represent every decade from the 1960s through the 2010s! Student-athletes from Molloy and many other schools will compete in a full gamut of events – everything from team relays and long jump to hurdles and pole vault. Congratulations to the Molloy Track & Field program for continuing this beloved annual tradition. Good luck to all participants and thank you to our coaches and volunteers! Please check out some photos from Stanner Games past in the gallery below.
---
Campus Ministry Fulfills Clothing Drive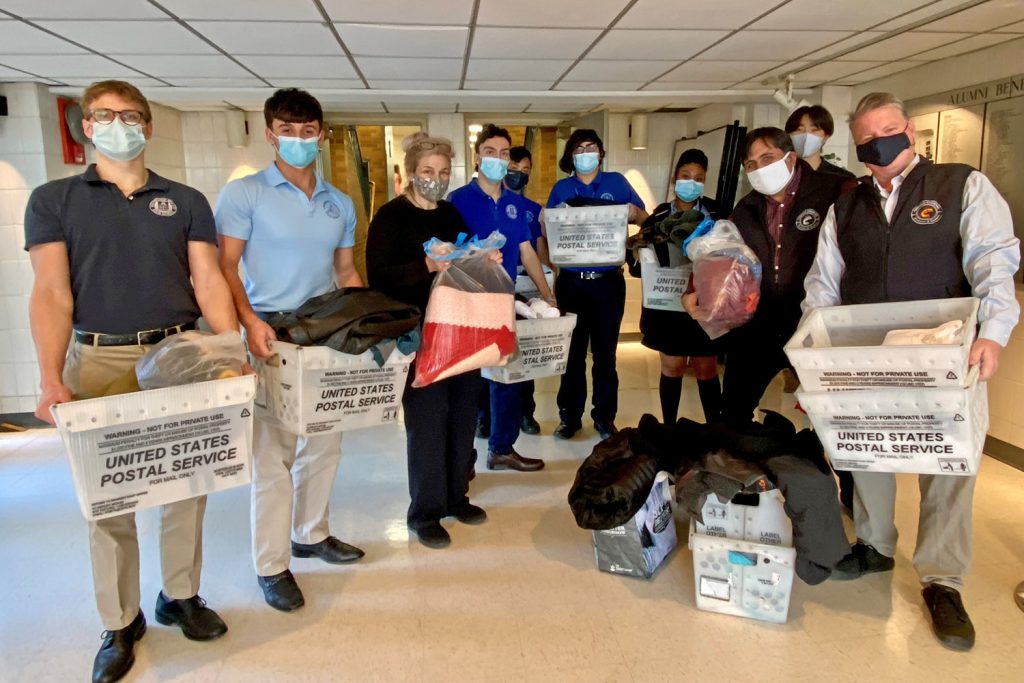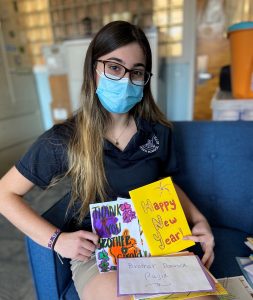 Before Christmas break, students were scheduled to participate in a Breakfast Run, serving breakfast at and delivering clothing donations to a New York City shelter. Unfortunately, those plans were postponed at the last minute. On January 12th, Catholic Charities visited Molloy (pictured above) to pick up the clothing items that were collected by the Molloy community, including new men's socks and underwear, gloves, hats, scarves, and other items. These donations will be distributed to people in need on Molloy's behalf. The Breakfast Run will be rescheduled for later this year.
In addition, students worked with Campus Ministry to make New Year's / Thank You Cards (pictured right) to be sent to all the Marist Brothers in the United States. "We are seeking simple ways to make a difference in the world," said Ms. Lori Wilson, Director of Campus Ministry.
---
Sophomores Create Relief Sculptures
In January, sophomores in Ms. Christine Tudor's art class created three-layered relief sculptures. Designs were all original and many were inspired by landscapes or pop culture. As part of this project, students learned about Lorenzo Ghiberti's relief bronze sculptural doors on the Baptistery of San Giovanni in Florence, Italy, as well as the difference between low and high relief sculptures. They found or created an image and drew it on a cardboard backing, then built the image up with three layers of cardboard shapes – background, middle ground, and foreground. The sculptures were then painted in acrylic paint. The gallery above represents just some of the creative results from our students!

Please pray for Br. Philip Robert, FMS, who is on hospice care at Champagnat Hall. Br. Philip taught at Molloy from 1957-1966.
Please pray for Glenn Gray '65, who is dealing with an illness. Glenn is in need of a kidney transplant.

Maurice Herrera '87 has been appointed as chief marketing officer (CMO) of Adtalem Global Education, a leading workforce solutions provider and healthcare educator. In this role, according to a press release, Maurice is responsible for leading all company-wide marketing initiatives, including driving student enrollments and building brand awareness for Adtalem's portfolio of institutions. He brings nearly 30 years of marketing leadership from multinational consumer packaged goods companies, such as Campbell's and PepsiCo, and direct-to-consumer companies, such as Weight Waters and Avis Budget. Click the button below to read the full press release.

---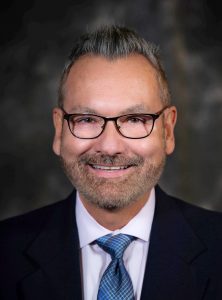 Rudy Molinet '77 has been appointed to the board of Directors of Holy Cross Hospital, a private Catholic, non-profit community hospital in Fort Lauderdale, Florida. According to a press release, Rudy is CEO and executive coach at Artemis Synergies Consulting, a full-service consulting practice specializing in strategic planning, management development, executive coaching, and corporate restructuring in the healthcare industry. He is a board-certified healthcare executive, professor, mentor, and leader in his field. Rudy is an adjunct professor at Florida Atlantic University in Boca Raton, Florida, where he teaches leadership and strategic planning courses and provides executive coaching in the college of Business, Executive Education programs. A first-generation immigrant and refugee from Cuba, he is passionate about diversity, equity and inclusion. He has received numerous awards for his work in the community, including the "Voice of Equality Award" from Equality Florida, the state's premier LGBTQ+ civil rights organization. Rudy, who began his career as a nurse in a Catholic hospital, says he hopes "to make Molloy and the Marist Brothers proud with my service." Click the button below to read the full press release.



Archbishop Molloy High School is saddened to announce the passing of Jane Karsten, mother of President Richard Karsten '81. Jane passed away on January 10, 2022. Please keep Richard, her grandchildren, Julia ('09), Kayla ('12), and Ryan ('13), and the Karsten Family in your prayers. May her soul Rest In Peace in the arms of our Lord. | Click Here For Memorial Page

Please pray for the repose of the soul of John "Jack" Kean '51, brother-in-law of School Board member Br. Kevin Handibode. John passed away on January 9, 2022.

Please pray for the repose of the soul of Faustin F. Callagy '48, grandfather-in-law of Ashley Callagy '05. Faustin passed away on December 29, 2021. For three years as a teenager, Faustin studied in Esopus to be a Marist Brother. Although he did not profess his vows, he did go on to graduate from St. Ann's Academy, a Marist Brothers school, in 1948. He went on to enjoy a career as a New York City firefighter, first following his grandfather's footsteps at Engine 71 in the Bronx, and retiring as part of Engine 306 in Bayside. Please keep Faustin and his family in your prayers. | Click Here for Memorial Page

We are saddened to share the passing of Thomas C. Schwind '66 on December 28, 2021. Thomas, a resident of Atlanta, GA, attended Fairfield University where he graduated with a degree in history. He was retired from a career at Macy's. He is survived by his two remaining siblings, Jane Rutkowski and Joanne Schwind.

Please join us in prayer for the repose of the soul of Emmanuela Florence Turenne, beloved sister of Admissions Director Edwidge Turenne '98. Emmanuela passed away suddenly on December 25, 2021. Please also keep Edwidge and the Turenne family in your prayers during this difficult time. Memorial services are scheduled to take place out-of-state on Saturday, January 15th at 11:00am ET, however there will be an opportunity to join virtually. Click the link below to join the virtual service. Please note you may need to download the GoToMeeting app on your device. Virtual Service Link: https://www.gotomeet.me/EmmanuellaTurenneFuneral

Please pray for the repose of the soul of Rita A. Pollner, wife of Len Pollner '52. Rita passed away December 24, 2021. Rita and Len celebrated their 65th wedding anniversary this past November.
---
---