Stanner Games 2022 A Big Success!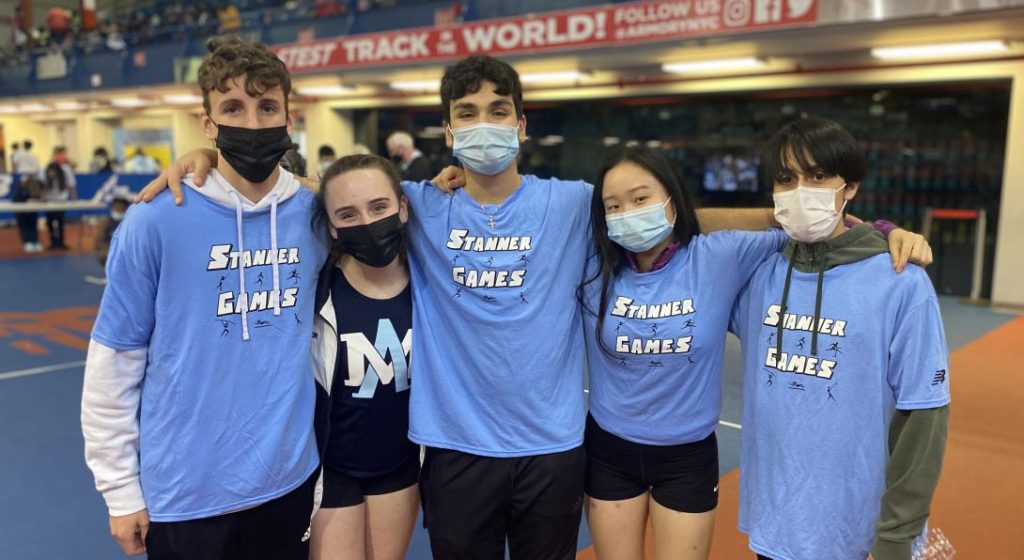 On Sunday, January 16th, Molloy's student-athletes once again competed in the annual Stanner Games at the legendary Armory in Manhattan. The event featured 87 teams, 1,608 individual events, and 1,775 total athletes. 839 athletes competed in relay events.
According to Coach AJ Power '84, the overall event was a huge success. "Molloy had a strong performance across the board, with student-athletes competing in every event. The highlight for our team was Abigail Jefferies '22, who medaled in the 55M High Hurdles."
The caliber of competition is very high at Stanner Games. Student-athletes represent New York, Connecticut, New Jersey, Pennsylvania, and even Florida. Christian Dohler, of North Broward Prep High School in Florida, was one of the top performers at this year's Stanner Games. The son of Stanner Games official Artie Dohler '82, Christian won the Triple Jump and finished 5th in the Boys' 300M Dash. Artie and Christian are pictured with Jim Feeney '82 in the gallery below, top row center. During the meet, Christian made a point to visit the Armory Wall of Honor, where he took a photo with the plaque of the late Br. Bob Andrews, FMS (Pictured below, top row left).
"The bottom line for Molloy is that our kids get to compete among the best," said Coach Power. "Also, the kindness & dedication of our volunteers are what set Stanner Games apart. The best meet in the country only runs because of our volunteers – alumni, parents, students, and friends. It meant a lot to have over 70 volunteers come back and safely donate their time during the pandemic. It is a testament to the dedication of our track community. Thank you all."
Photos courtesy of Cher Mei '22.
---
Rebecca Wagner '14 Joins Stanner Alumni Center
Say hello to the newest member of the Stanner Alumni Center, Rebecca Wagner '14! Rebecca joined the team as Alumni Development Officer at the end of 2021. While at Molloy she was involved in a number of activities including swimming, chorus, Freshman Camp and more. Now, she comes to us after completing a master's degree in human resources management while working at The University of Scranton for almost two and a half years. Rebecca always has a smile on her face and loves to make conversation with anyone she meets.
Rebecca will be working on a number of initiatives and looking to make many new connections with our alumni. She has already made her presence known on Instagram @molloyhsalum, where she has launched new features including weekly Molloy Trivia and alumni "Stanner Spotlights" which will begin soon.
We are excited to welcome Rebecca back to Molloy! Feel free to contact her with any alumni news, photos, stories, or questions at rwagner@molloyhs.org and don't forget to follow @molloyhsalum on Instagram.
Pictured: Rebecca shared some of her favorite Molloy memories on our Alumni Instagram, including good times at Esopus, with the Swimming Team, and with great friends including future colleagues Jim Sheehan '75 and Dan O'Reilly '14.

---
Molloy's Model UN Excels at January Conference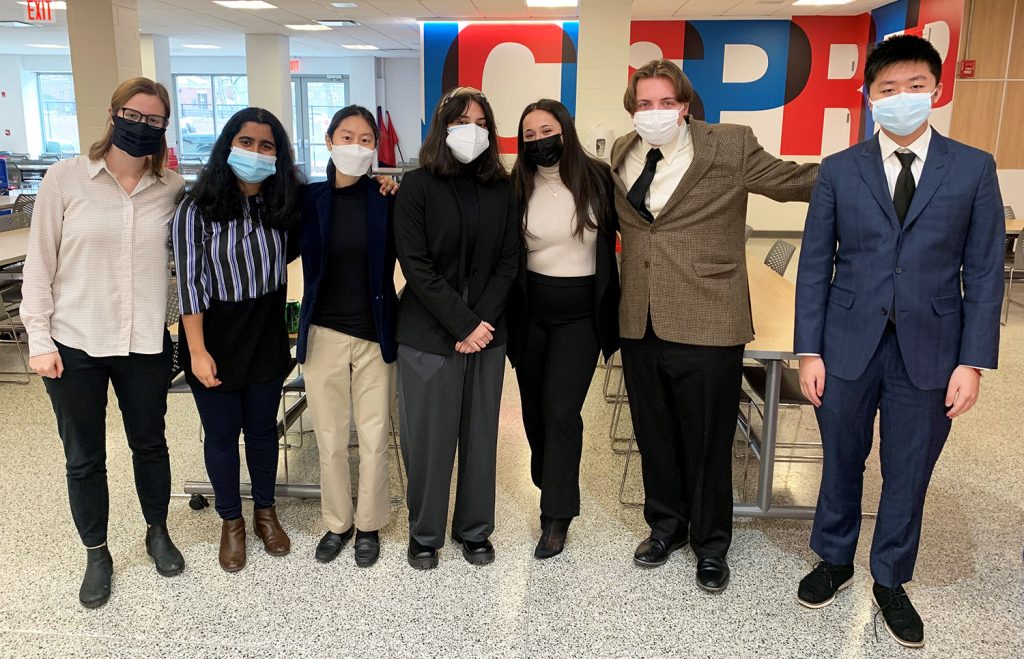 by Ms. Abigail Hipkin and Bianca Basone '15
On Saturday, January 15th, Molloy's Model United Nations Club attended Saint Francis Prep's "PrepMUNC XV" Model UN conference. The group of seven, consisting of Ryan Curran '22, Sabrina Nagle '22, Stutee Oke '23, Madison Pena '22, Lauren Soh '22, George Stathopoulos '23, and Justin Wang '24, excelled at the conference, representing a diverse list of countries in both the General Assembly and United Nations Human Rights Council.
Some of the issues discussed were the HIV/Aids crisis, Syrian detention camps and the human rights abuses that occur within them, child labor for mining, and the illegal firearm trade. Out of the dozens of students from two other schools, Molloy's very own senior Sabrina Nagle was honored as the "Best Delegate" in the Human Rights Council for her representation of the Philippines (pictured below left).
Saturday's conference was the first one to be held in-person in two years, and the experience made the participating Stanners excited for the future of the club. Congratulations Model UN club and congratulations Sabrina!
---
Stanners Hope to Use World Language Skills In Service Abroad
By Señor Bronsen Stoltz and Bianca Basone '15
An important goal at Archbishop Molloy High School is to make sure students are utilizing what they learned in the classroom and applying their knowledge to the outside world, demonstrated in the school motto, "Non scholae sed vitae." The collaboration between Señor Bronsen's Spanish 3 classes and Campus Ministry's Ms. Lori Wilson is a great example of how students can use what they learn after they graduate!
For the past two weeks, Spanish teacher Señor Bronsen took a break from the traditional class structure of learning Spanish language skills, and instead taught his students how they could use their knowledge of the language to have amazing experiences all around the world. Señor Bronsen explained how to book flights and find accommodations so that they may vacation, study, or even work abroad.
However, as one of the Marks of the Marist Student is to be an agent of justice and service, the Spanish classes also learned how to utilize their language skills and newfound knowledge of travel in regards to service. As Campus Ministry Director, Ms. Wilson was invited into all five Spanish 3 classes as a guest speaker. She shared with students her volunteer experience in Haiti, Africa, and Mexico, bringing items from these countries into the classroom so students could get an up-close look at the brilliance of other cultures. Being able to speak Spanish can propel Stanners into volunteer and service positions around the world, and not just in English-speaking countries.
When asked about the experience, Señor Bronsen stated, "It's been a great way for Ms. Lori Wilson to meet over 186 students… and for them to get to know her as well in a more personal way." Stanners that weren't too familiar with Campus Ministry now know where her office is and are encouraged to stop by and discover service opportunities locally and abroad that they may not have been aware of. "I can tell from the students' questions that they were very much engaged, interested, and intrigued. [Their] world view was widen[ed] just a little bit more from this collaboration," Señor Bronsen proudly stated about this experience. He recommends other teachers invite Ms. Wilson into their classrooms as well so that more students can learn how to get involved in Campus Ministry and find out more about opportunities in which they can utilize their new language skills.
---
Admissions Update on Accepted Students
This winter, Molloy's Admissions Department received close to 2,000 applications for the Class of 2026. Decisions were received by families on Wednesday, January 12th, in which accepted students were invited to attend the Virtual Winter Open House the following week. Around 500 families participated across three sessions of the Virtual Open House, learning about Molloy's mission, culture, and academic practices from members of the administration. Each session was hosted by Admissions Directors Ms. Green-Wresch and Mr. DiDonato '01, and insight was given by several other members of the administration – Principal Dr. Penikas, Assistant Principals of Academics Mr. Cameron, Ms. Cuomo, and Dr. Flynn '97, Assistant Principal for Students Mr. Auer, Vice President of Technology & Innovation Mr. Mallia, Guidance Counselors Mr. Dougherty '91, Ms. Henning, and Ms. McCaughey, and I.T. staff members Ms. Bonczek and Mr. Morgado.
Officially registered students are invited to attend the Spring Welcome Event, currently scheduled for Saturday, April 30, 2022. We look forward to welcoming new Stanners and are excited for their experiences in the years to come! Congratulations Accepted Students!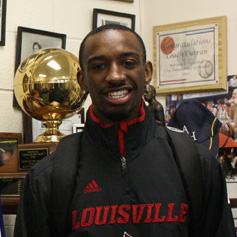 Congratulations to Russ Smith '09, who had his No. 2 jersey retired by the Louisville Cardinals men's basketball program on January 22nd. A banner featuring Russ and his No. 2 now hangs in the rafters at the KFC Yum! Center in Downtown Louisville. "Russdiculous" is among Louisville's all-time leading scorers with 1,908 points and leads the program in steals with 257. | Click Here for More Information
---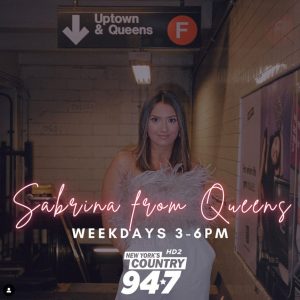 Congratulations to Sabrina Sergio '14, also known as "Sabrina from Queens" on New York's Country 94.7 radio! Sabrina is rejoining the station and will be the on-air host weekdays from 3:00-6:00pm. Sabrina previously worked as a Senior Activation Coordinator with Audacy, Inc. and in a similar role at Entercom. You can follow Sabrina on Instagram @sabrinafromqueens and be sure to tune in! (Photo courtesy of Sabrina Sergio)
---
Thomas Nolan, LCSW, '63, has written Men on the Cusp, published by Archway Publishing. Thomas has maintained a private practice as an individual and family therapist for more than forty years. In Men on the Cusp, Thomas acknowledges that many men struggle to share their ideas and emotions and have trouble defining the deeper meaning of being a father, son, brother, and partner. Thomas explores how men can take more control over their lives, how they can work better alongside women, and how they can get a clearer sense of direction. This self-improvement book attempts to help men shift with the times by learning insights that will help them step up, reach out, and move forward. Men on the Cusp is available on Amazon in print and on Kindle.


In Memoriam: Remembering Br. Philip Robert, FMS

We are saddened to share the passing of Br. Philip Robert Ouellette, FMS, on January 17, 2022.
Br. Philip Robert entered the Marist Postulancy in 1947 and the Marist Brothers Novitiate in 1948. He professed his first vows on July 26, 1949. After completing a BS in Spanish at Marist College, he began his teaching career at Central Catholic High School in Lawrence, MA in 1953. He also served as a teacher at Archbishop Molloy High School, Briarwood, NY (1957-66), at John Coleman High School in Kingston NY, (1968-70) and as a counselor at Queen of Angels in Newark, NJ, (1994-96).
During his Apostolic career, he also served the Marist Brothers as Provincial (1980-85), as Vice Provincial (1977-80), as Vocation Director (1970-77), as a member of the General Council in Rome (1985-93) as a Parish Pastoral Associate in Epiphany Parish in Moorefield, WV (1998-2006) and as a Spiritual Director in Esopus (2006-2015).
He earned an MA in Spanish from Fordham University in 1960 and an MA in Counseling from St. John's University in 1973. He professed his Final Vows on August 22, 1954 as well as the Vow of Stability in May 1966.
More information is available by clicking the button below for a Memorial Booklet. Please keep Br. Philip and the Marist Brothers in your prayers.

---
In Memoriam: Remembering Anthony Perrone

We are saddened to share the passing of Anthony (Tony) Perrone on January 21, 2022. Tony was an accomplished Track & Field coach at Molloy during the late 1960s and throughout the 1970s. During his tenure, Molloy won 13 CHSAA Championships between Cross Country, Indoor season and Outdoor season. He helped coach Molloy to several Triple Crown seasons (championships in Cross Country, Indoors, and Outdoors) and coached many student-athletes to impressive school, CHSAA, city, and state records. Please keep Tony and his loved ones in your thoughts and prayers.
---

Please pray for the repose of the soul of Robert DiTroia, father of Conor DiTroia '16 and Heather DiTroia Gonzalez '07, and Brother-In-Law of Dr. Des Flynn '97. Robert passed away on January 23, 2022. Services were held in Toms River, NJ this past week.

Please pray for the repose of the soul of Donald McShea, who passed away on January 13, 2022. Donald was the father of Dan McShea '82 and Ed McShea '86, and grandfather to Donald McShea '21. Please keep the McShea family in your prayers.

We are saddened to share the passing of Robert D. Swann '71 on January 7, 2022. We are grateful that Bob was able to reunite with his Molloy classmates this past November, as the Class of 1971 celebrated its 50th Anniversary. Please keep Bob and his loved ones in your prayers. | Click Here for Memorial Page