Enter Our Cash Calendar Raffle!
Attend Our Fashion Show!
Events Sponsored by GERLL Club, Supporting the Girls' Leadership Scholarship Fund
The Girls' Leadership Scholarship Fund, facilitated by a committee of women educators representing Archbishop Molloy High School, is sponsoring its second CASH CALENDAR RAFFLE and cordially invites and encourages you to join us for this event.
The raffle drawing will take place during the 2nd Annual Fashion Show on April 9th.  1st prize is $500, 2nd prize is $200, and the 3rd prize is $100. Please click the link above or the button below to learn more about our Fashion Show and how you can join in the fun for a great cause.
ALL proceeds from the CASH CALENDAR RAFFLE will support the Girls' Leadership
Scholarship Fund and will benefit, and hopefully serve to attract, academically gifted female
candidates with exceptional leadership potential who may be seeking admission to Molloy.
Click the button below for full details on how to play and to make your raffle choices. The CASH CALENDAR RAFFLE will be a culminating event in celebration of March…which recognizes International Women's Day and which is designated Women's History Month. Thank you for your interest in and support of our efforts towards promoting girls' leadership at Molloy.



"Navigating The Job Market" Available on Youtube
Earlier this week, the Stanner Alumni Center hosted Part 2 of the Stanner Talks Series: Navigating the Job Market. We were delighted to welcome back six young alumni professionals from a variety of fields including finance, accounting, real estate, engineering, and homeland security. The focus of the event centered on younger generations navigating the job market as they look for jobs and promotions within their industries. Discussion topics ranged from how to make yourself stand out in the hiring process to discussing the importance of internships, and more. We are so grateful to all who attended as well as our panelists for such an insightful and interesting evening.
Missed the panel? Want to hear all the great advice? Don't worry, you can view the recording of the event on Youtube (video player above). We encourage anyone who wants to network further and connect to reach out to Rebecca Wagner '14 at rwagner@molloyhs.org. As the panelists pointed out, networking never stops!
---
Ash Wednesday Marks Beginning of Lent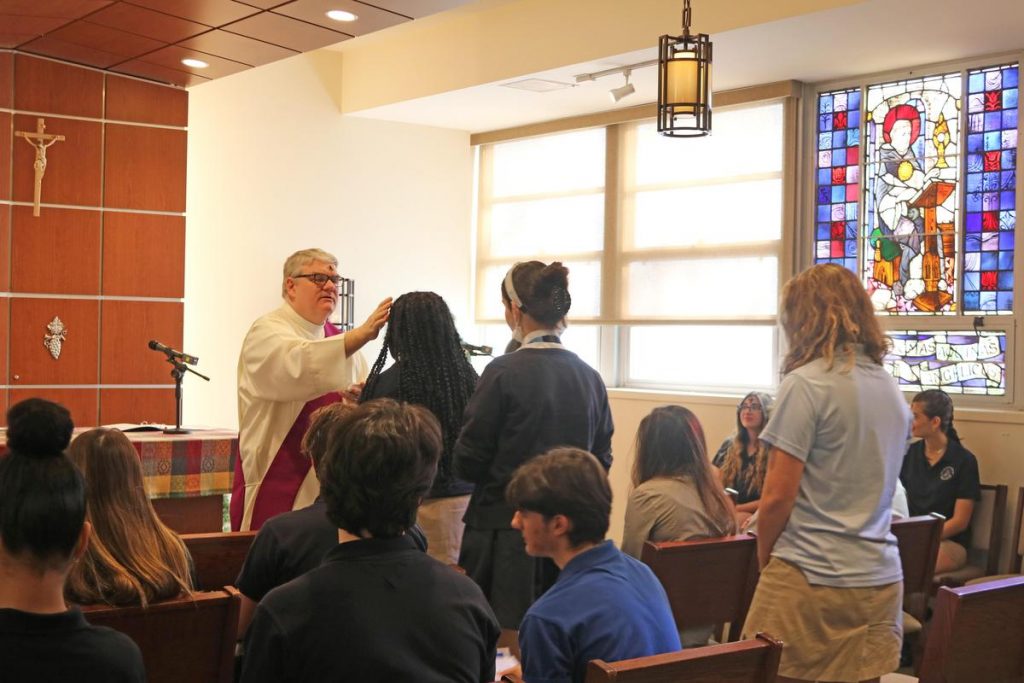 On Ash Wednesday, March 2nd, ministers visited all homerooms to distribute ashes to Stanners and faculty in celebration of the first day of Lent. Mass was live-streamed to all homerooms, while a few students and faculty participated in the Chapel. To make Lent more meaningful, Molloy has chosen to practice the theme of solidarity all through the season. The Catholic social teaching principle of solidarity is about recognizing others as our sisters and brothers and actively working for their good.
This season, our focus is to be in solidarity with our fellow Marist schools in Venezuela. We will work with Ayuda a Educar, a non-profit acting to help teachers in underprivileged schools, as well as contribute to the upkeep of those schools and provide benefits to students in need.
Additional opportunities for solidarity are a sneaker drive for people in the Dominican Republic, a breakfast run for people without housing, a baby drive for mothers in need, and daily prayer services. Molloy will also host activities and events to raise awareness of the challenges faced by the people of Venezuela, and we will pray together for the people in Ukraine. Click the blue button below for more information about all of the initiatives planned for this Lenten season.
We love like Mary; we feel another person's struggle, and so we continue to practice our Mission.
Photos courtesy of Stephanie Mohabir '23.

---
Students Lead During Black History Month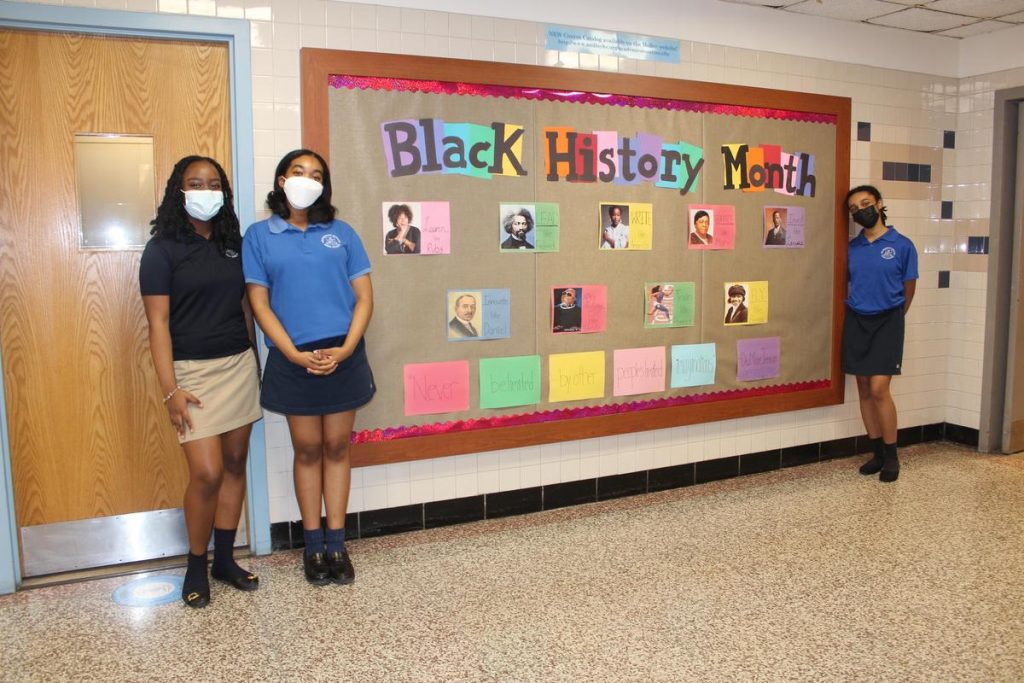 Each year, Black History Month is a time to reflect on and lift the inspiring and impactful voices and work of historical and contemporary Black leaders. While February is now behind us, every day can be used to educate ourselves about Black History. Seniors Ava Aimable '22, Autumn Hill '22, and Loyca Jean '22, members of our Afro-Caribbean Club as well as our Student Diversity & Inclusion Committee, are leaders at Molloy. Together they planned and implemented many initiatives to create a special celebration for our school throughout February!
Kicking off the month, Ava, Autumn, and Loyca edited and narrated a Black History Month introductory video that was played during the morning homeroom broadcast (this video is on Molloy's Instagram feed). Each week of February, the Afro-Caribbean Club presented Black History Month trivia during homeroom and on Instagram, and they also created a series of biographical videos highlighting inspiring Black leaders. The Afro-Caribbean Club decorated Molloy's first-floor hallway with signage and photos of prominent Black leaders, and the club also sponsored a screening of the film Hidden Figures in our theater on February 17th.
On February 28th, upon our return from Winter Break, Molloy held a dress down day in support of a fundraiser for Marist Missions in Haiti. Also on February 28th, Afro-Caribbean Club sponsored a homeroom parade, which saw club members and friends flying the flags of many nations throughout the halls of Molloy!
Special thanks to Ava, Autumn, Loyca, the Afro-Caribbean Club, moderator Mr. Edwidge Turenne '98, and the Student Diversity & Inclusion Committee for their hard work!
---
Students Virtually Visit MIT's Quantum Lab
by Gisele Habibulla '25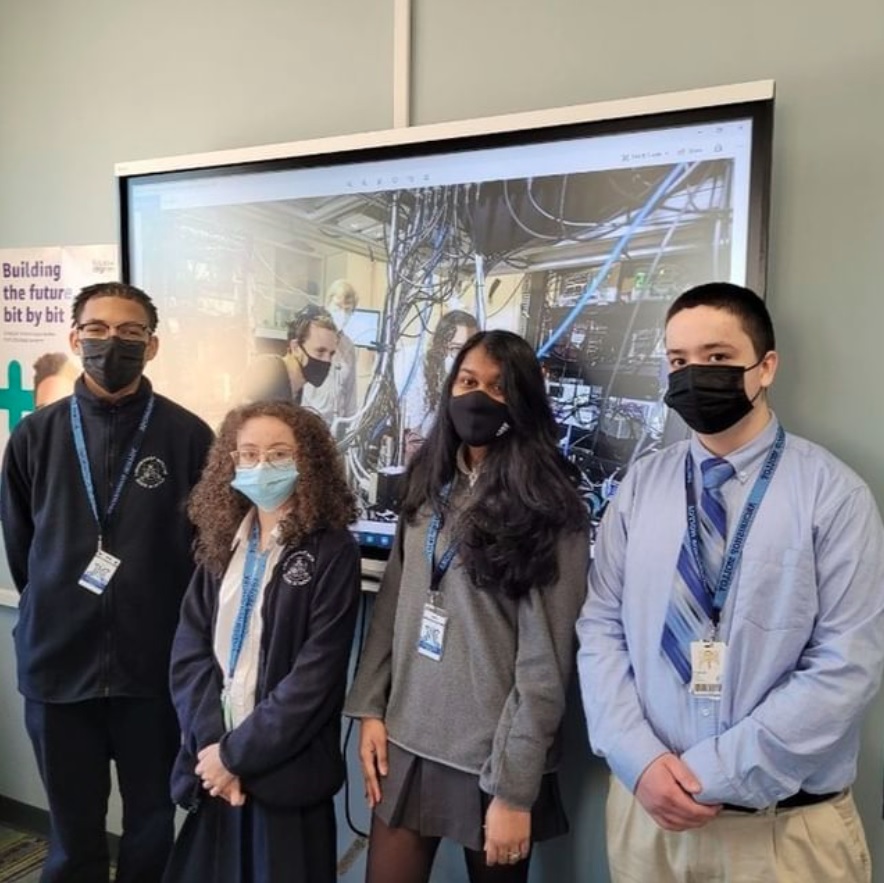 "Super Bowl Sunday" wasn't the only thing Quantum Computing students had to look forward to on February 13th. Qubit by Qubit organized a virtual tour of MIT's labs for all the aspiring computer scientists in the program. Just before our weekly lecture, everyone had the opportunity to take part in this interactive visit led by Ph.D. research fellow, Sarah Muschinske. Here, students received insight on what a day at MIT looked like for a quantum computing researcher, as well as how some of the laboratory equipment worked and how the scientists used them. For instance, the downstairs lab contains all the physical computers, stabilizing, and cooling systems, and links to the lab upstairs which converts all the data into standard computers. This allows the researchers to work with the collected information in a more office-like setting….

---
Recent Track & Field Highlights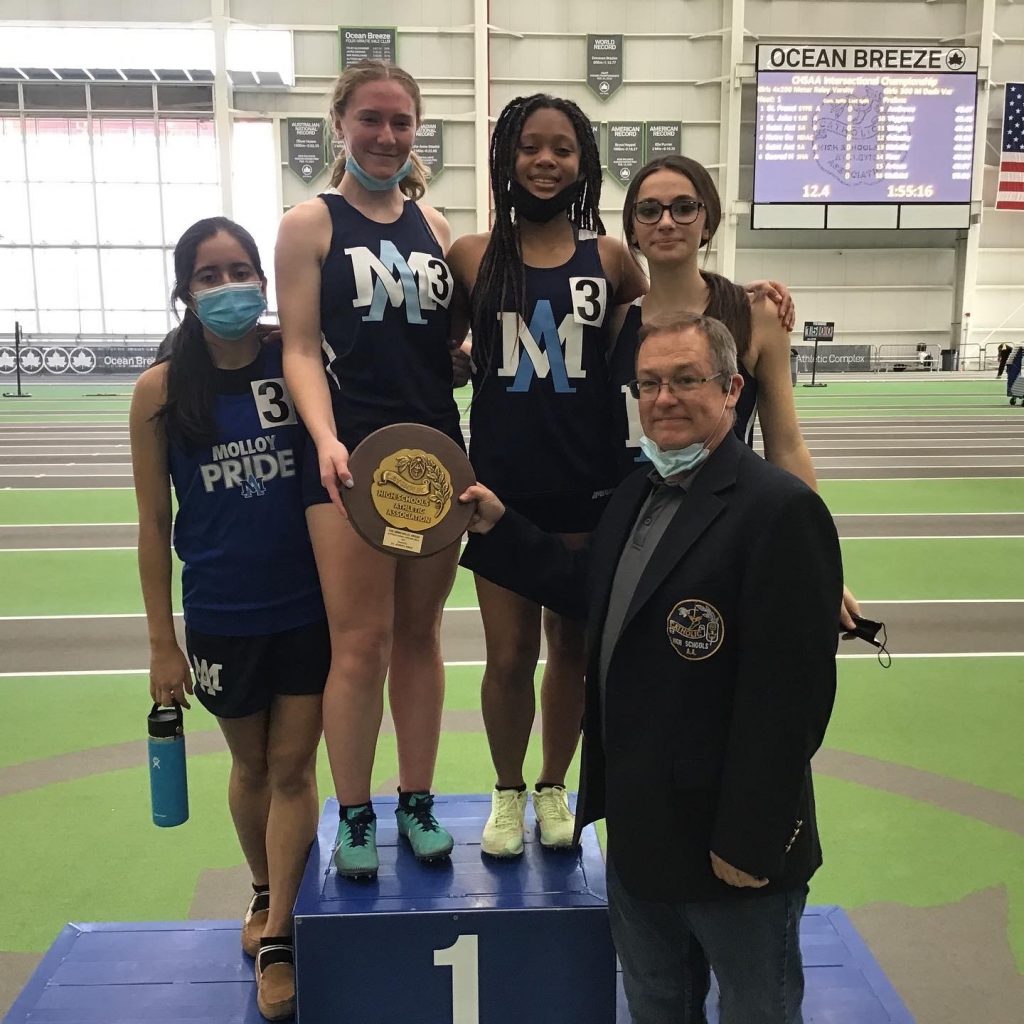 Congratulations, Molloy Track and Field! Molloy Girls Track and Field placed 2nd in the CHSAA Intersectional Championships! (St Anthony 51, Molloy 30, Bishop Loughlin 24)

Abigail Jefferies '22 is the Catholic State Champion in the Shot Put! Abigail also placed 2nd in Catholic State Championships in the 55m High Hurdles and Long Jump, AND broke the school record for the Shot Put (39'3" Ocean Breeze Elite Meet on 2/26)

Eva Gonzalez '24, Brianna Rucker '24, Grace Murphy '23, and Brianna Poliseno '25 are the 4×800 Meter Relay Catholic State Champions! Eva Gonzalez is also the Catholic State Champion in the 600 Meter Run, only 0.5 seconds away from Molloy's school record!

Additional achievements include: Aoife Garvey '25 placing 3rd in the 3000 Meter Run; Camille Munoz '25 placing 4th in the Pole Vault; and Grace Murphy placing 5th in the 1000 Meter Run!
---
"Lolligram" Sales Raise Money for Homeless Women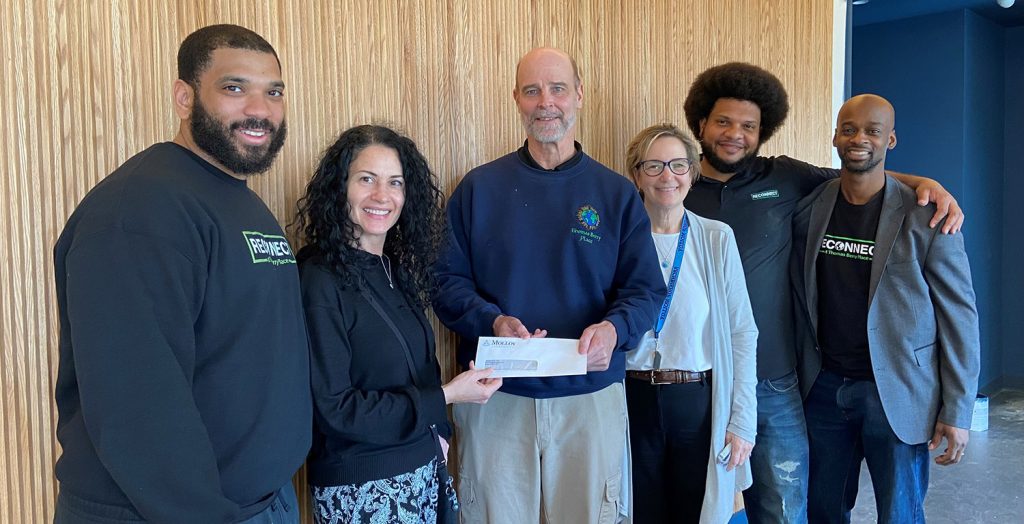 In February, in celebration of Valentine's Day, students supported two fundraisers benefiting homeless elderly women in Queens. The first fundraiser was a dress down day, which encouraged students to make a donation to earn the dress down day. The second fundraiser took the form of lolligram sales. Students raised money by purchasing and gifting lolligrams, lollipops accompanied by special messages. Through these fundraisers, Molloy students raised over $4,000 for Thomas Berry Place, which serves elderly homeless women by providing housing at the Bishop Molloy Retreat House in Jamaica, Queens. Pictured: Director of Campus Ministry Ms. Lori Wilson and Director of Student Activities Ms. Liz Murdocca present a check to Provincial of the Passionists Fr. James O'Shea and Thomas Berry Place staff.
---
Investment Club's Recent Success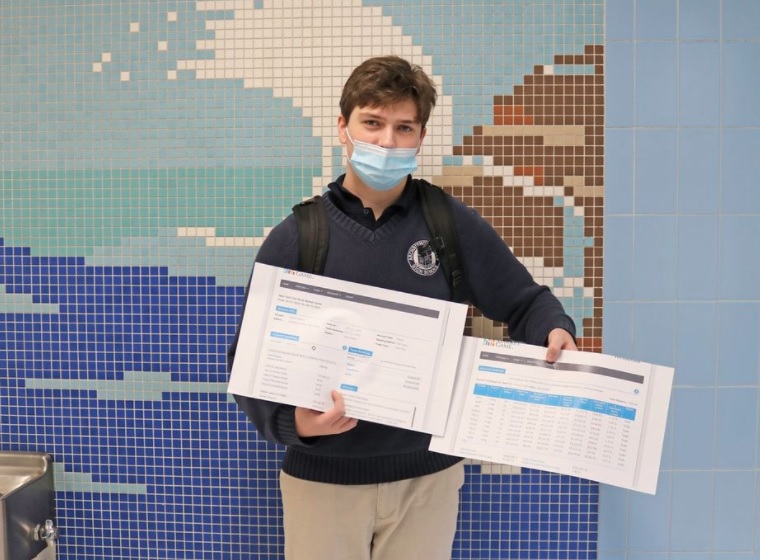 The Beehive would like to give a shout out to Molloy's Investment Club! Back on February 15th, our Stanners were on a roll, outshining hundreds of teams in the region. At the time, Team B was ranked 13th of 761, and our coordinator ranking (or the average of both Team A and Team B) was 22nd of 1,333! With about a 6% decrease in the S&P since the start of the competition in early February, Stanners managed to still be in the black. Pictured: Senior Joe McGowan '22 representing the Investment Club. Click thumbnails to enlarge.
---
French Club & French Classes Celebrate Food & Art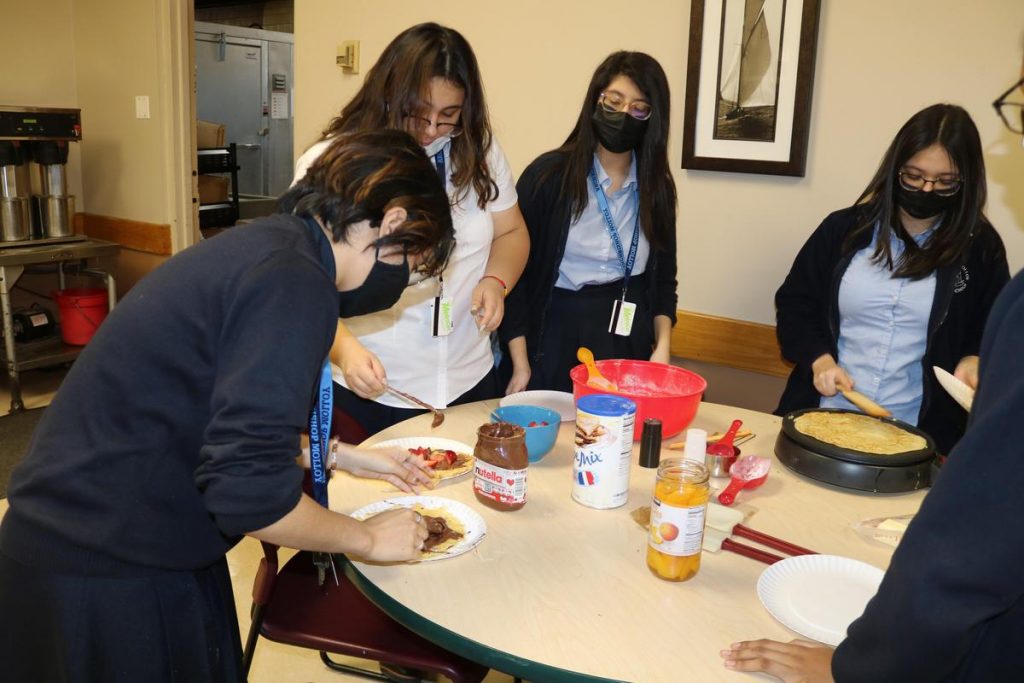 Before Winter Break, Ms. Rosamond and the French Club met after school for a crepe party! Club members made different kinds of crepes and sampled each other's creations. A few days later, Ms. Rosamond's Junior French classes celebrated their reading of The Little Prince, with students creating artwork and elaborately decorated cakes inspired by the novella.

36th Annual Jim Kinnier Stanner Golf Classic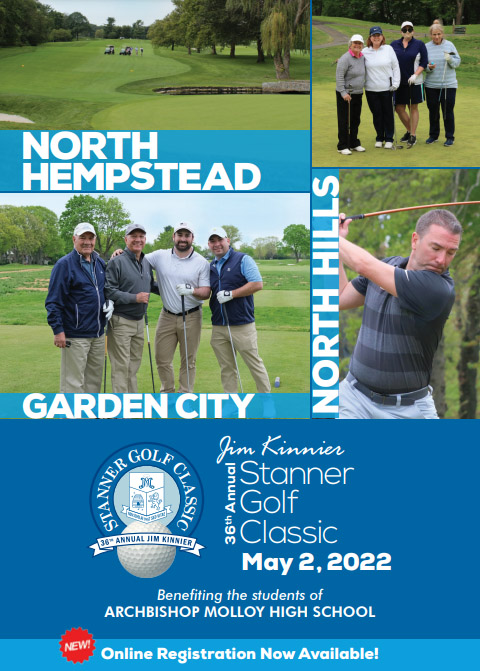 When: Monday, May 2, 2022
Where: Garden City Country Club, North Hempstead Country Club, North Hills Country Club
Who: Stanners, Corporate Sponsors, Family Members & Friends
More Information: www.molloyhs.org/golf/
Molloy is excited to host its 36th Annual Jim Kinnier Stanner Golf Classic on Monday, May 2, 2022. Since 1987, the Stanner Golf Classic has raised over $3 Million dollars in support of Molloy's scholarship program. These scholarships have impacted many academically gifted students who may be facing financial need.
2022 Chairperson: Anthony DiRusso '80 – Principal, DiRusso Electric
2022 Honorary Chairs: Dean Speranza and Robert Speranza – Nouveau Elevator
You can now register online for the first time! Click the buttons below to register online, download and print a physical invitation, or contact us.



---
Stanner Players Present: Into the Woods
When: March 31 @ 2:00pm | April 1& 2 @ 7:00pm | April 3 @ 2:00pm
Note: March 31st performance reserved for students & faculty only
Where: Molloy's Ralph DeChiaro Theater
Tickets: Coming Soon
This March and April, the Stanner Players will present Into The Woods, a musical with music and lyrics by Stephen Sondheim. All performances of Into The Woods will be offered live in Molloy's Ralph DeChiaro Theater! Into The Woods weaves together the stories of many well-known fairytale characters as they meet a Baker and his wife as they journey to find a cure for a witch's curse.
All are welcome to come out and support the Stanner Players this spring! Ticket information will be shared soon. Please save the dates!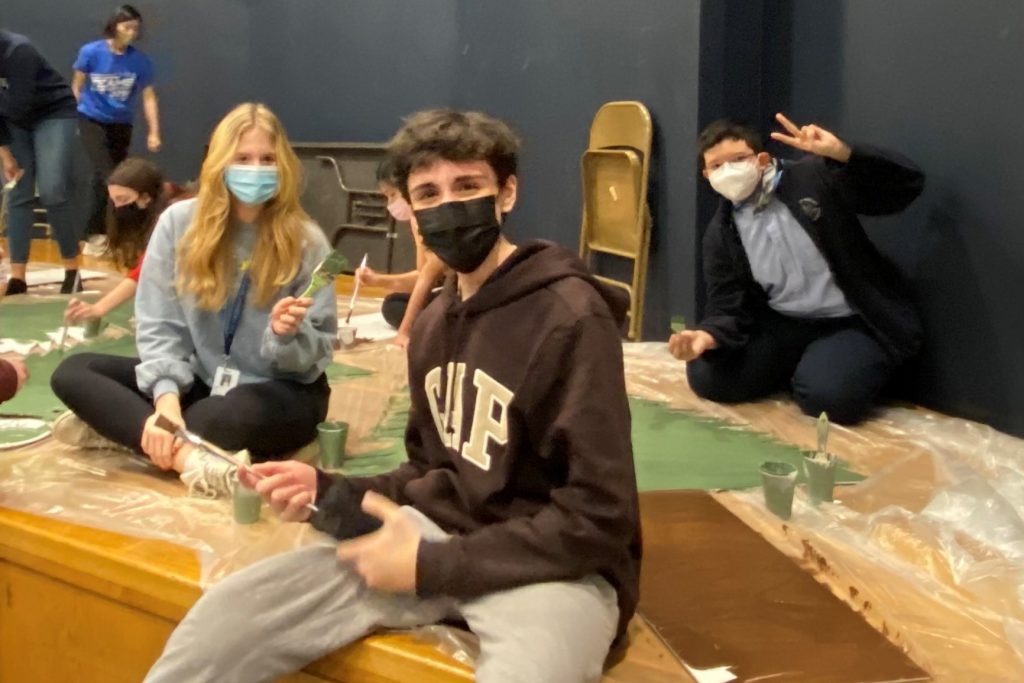 Pictured: Students from Molloy's art department help paint sets and decorations in support of the Stanner Players!

Take Our "Stanners In The Workforce" Survey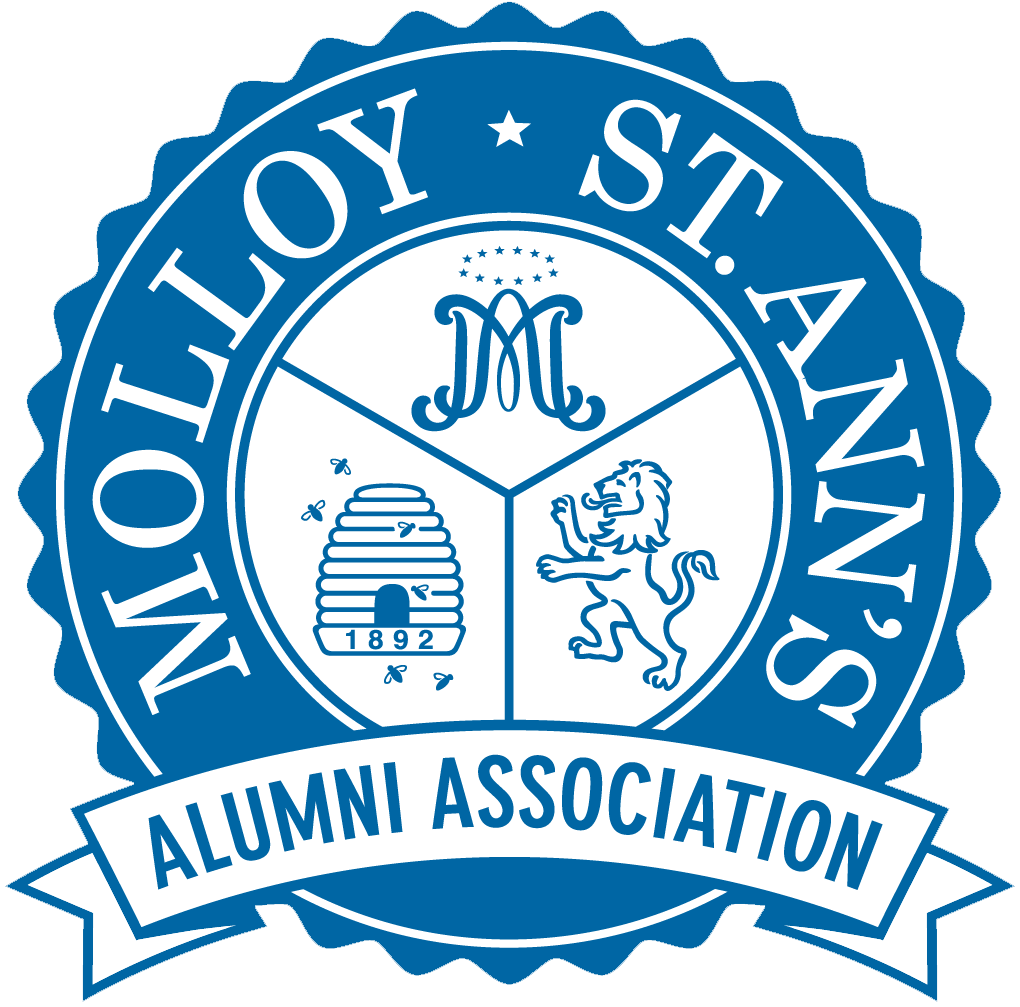 We are sharing this survey to learn more about Stanners in the workforce! The results of this survey will help the Stanner Alumni Center to create events, programming, and opportunities for networking, professional growth, student empowerment, and more. Not for school but for life isn't just a motto we say, but something we strive to live by. By responding to our survey, you'll have better opportunities in the future to stay in touch with old friends as well as develop yourself professionally. The survey will only take a few minutes, please respond by March 8th, 2022. Your responses are confidential. Thank you!

---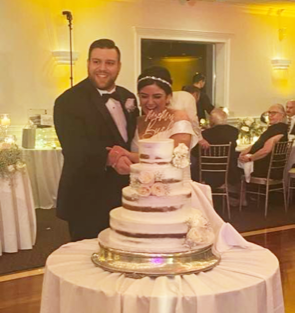 Congratulations to Joe Bush '12 and Kayla Figetakis '12, who tied the knot on February 26, 2022 in Port Jefferson, NY! Joe and Kayla first met during their Junior year in Br. Bob Andrews' US History Class. They sat right next to each other, started chatting, and the rest is history! Congrats, Joe and Kayla!
---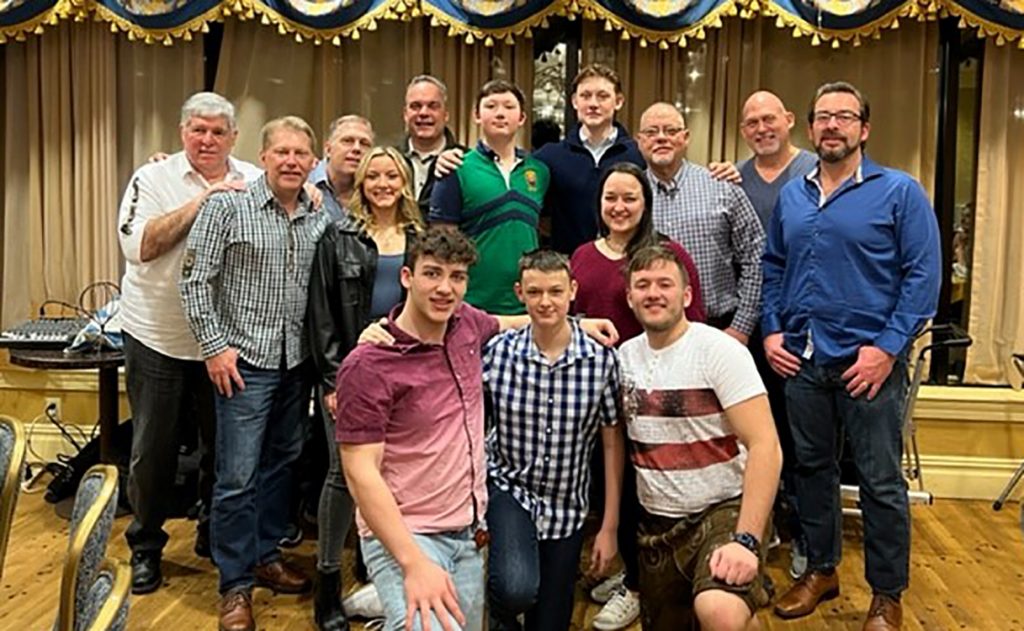 Last weekend, this group of Stanners found themselves celebrating the 30th (+2) Anniversary of "dSb" die Schlauberger – a German Alpine Rock band – at Villa Roma Resort in Callicoon, NY. Three of the band's members are Molloy alums: Rob Rom '86, Klaus Staab '84 and Tom Staab '87. Together with about 10 other bands, it was a fun, fully packed weekend celebrating German & Austrian culture. A mixture of family and friends, this group finds themselves together multiple times a year – but finally remembered to grab a group picture! They are looking forward to the next "fest" and to hopefully seeing more Stanners there.
In the photo (from left to right): Back row: Robert Schemitsch '78, Thomas Staab '87, Edmund Rom '87, Jan Czartoryjski '25, Adam Czartoryjski '20, Matthew Guile '79, Robert Rom '86, John Hickey '95 | Middle Row: Klaus Staab '84, Sabina Staab '20, Dorothy Ann Neubauer '10 | Front Row: Daniel Hickey '22, Alexander Rom '25, Erich Neubauer '22.

We are saddened to share the sudden passing of Nicole Grzesik '07 on February 27, 2022. Please keep Nicole and her loved ones in your prayers during this difficult time. | Click Here for Memorial Page
---
We are saddened to share the passing of John J. Blaney '65 on February 12, 2022. In appreciation of his Stanner experience and to honor his parents, John established The Florence and John Blaney Scholarship Fund, which provides scholarship to a deserving student to attend Molloy with financial needs. Please keep John and his loved ones in your prayers. | Click Here for Memorial Page
---
Please pray for the repose of the soul of Yianna Pavlakos, mother of Nicholas Andreou '22.
---
We were recently informed of the passing of George Petrich on September 10, 2021. George is the father of Joseph Petrich '85 and John Petrich '86. Please pray for George and his loved ones.
---
---