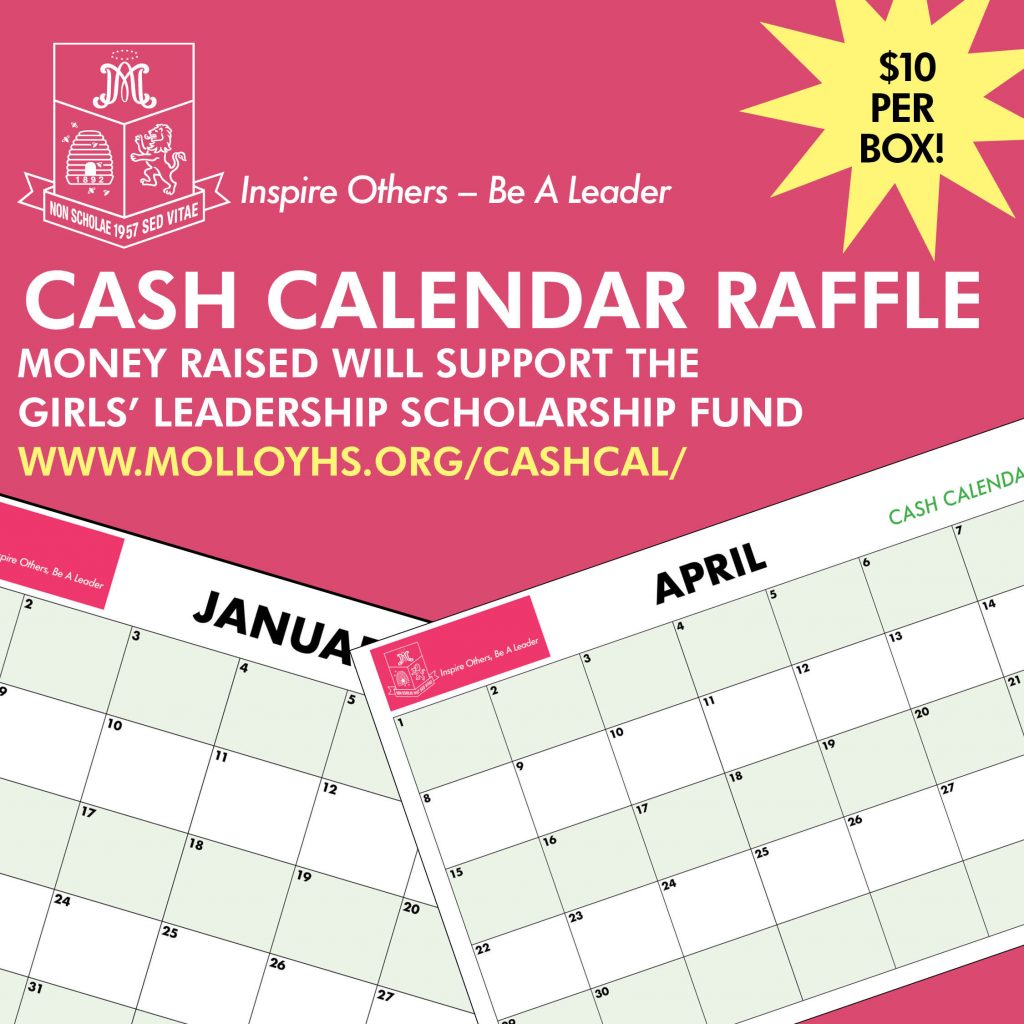 The Girls' Leadership Scholarship Fund, facilitated by a committee of women educators representing Molloy, is sponsoring its second CASH CALENDAR RAFFLE and cordially invites you to participate!
The raffle drawing will take place during the 2nd Annual Fashion Show on April 9th. 1st prize is $500, 2nd prize is $200, and the 3rd prize is $100. The Fashion Show will provide an opportunity for female members of the Molloy community and their guests to spend time together in a fun-filled and nurturing setting.
All proceeds from the Raffle and Fashion Show will support the Girls' Leadership Scholarship Fund and will benefit, and hopefully serve to attract, academically gifted female candidates with exceptional leadership potential who may be seeking admission to Molloy.
Click the buttons below or the flyers above for full details. Thank you for your interest in and support of our efforts towards promoting girls' leadership at Molloy.
---
Stanner Players Alumni Reception – REGISTER NOW!
Date: Saturday, April 2, 2022
Time: Reception @ 5:15PM | Performance @ 7:00PM
Where: William J. Murphy Library & Ralph DeChiaro Theater
Who: Former Stanner Players & Theater Arts & Improv Alums
Contact: Rebecca Wagner '14 | rwagner@molloyhs.org
Calling all former Stanner Players and Theater Arts & Improv alumni! Reconnect with old classmates and cast members, and reminisce about shows past while enjoying the talent and hard work of our current students. Follow us Into the Woods for a magical night of music, dancing, and more!
A special alumni reception will include wine, cheese and crackers, cookies and other refreshments. A special VIP section will be roped off for our alumni in the theater. Please join us on April 2nd!
*Note* – If you are not attending the alumni reception, please read the next story for info about general community tickets for Into The Woods. Thank you!
---


Come See The Stanner Players in Into The Woods!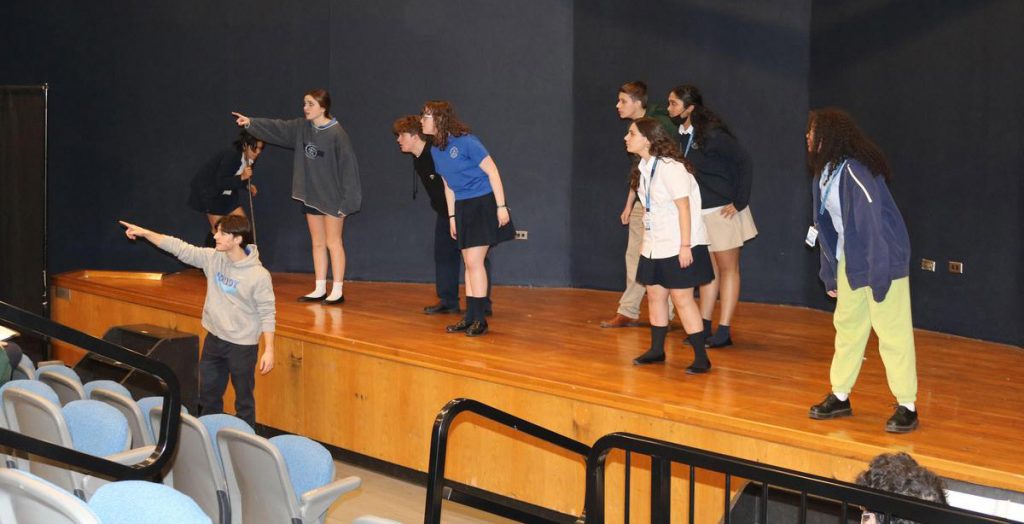 by Bianca Basone '15
In just two weeks, the Stanner Players will be taking center stage with their performance of Into the Woods! With music and lyrics by Stephen Sondheim, this popular musical depicts the interactions between multiple fairy tale characters, such as Cinderella and Little Red Riding Hood. According to Ms. Shannon Winters '06, resident English teacher and director of Molloy's Theater Program, "We've wanted to perform Into the Woods for over a year now, and we're excited that we're finally able to. Plus, everybody knows and loves fairy tales!"
Performances will be held March 31 through April 3, 2022, with the showing on March 31st being exclusive to students and faculty. Into the Woods will be one of the first shows performed in front of a full, in-person audience since the beginning of 2020, with the first being the Senior Show earlier this month. The Stanner Players will not be required to wear masks, but will still have the option to do so; the same applies to audience members. As the theater is open to all, there will be no livestream option for this performance, so make sure you buy your tickets to secure your seat!
Rehearsals for the show are going better than ever, with all Stanner Players, stage crew, and everyone else involved excited to be back in person working with each other. "The kids are very spirited," says Ms. Winters, "constantly talking and editing and working together." The Stanner Players themselves are especially excited because "basically everyone is a lead," and "everyone acting has solo lines," according to Ms. Winters.
Ms. Winters would like to highlight Joe Bruno '22, Molly McGuinness '22, and Keren Elmore '22, seniors that have been in every Stanner Player production during their four years at Molloy. Tatiana Egas '22, another senior that has dedicated her four years to the Theater Program, has been Stage Manager and has assisted in directing all productions! Pablo Ortega '22 and Angelina Warren '22 have acted as multiple-time Assistant Stage Managers. Ms. Winters is sad to see all of these bright and dedicated seniors leave Molloy, but proud of their accomplishments!
Come out and see Into The Woods! Click the blue button at the top of this article to purchase your tickets now. Don't miss out!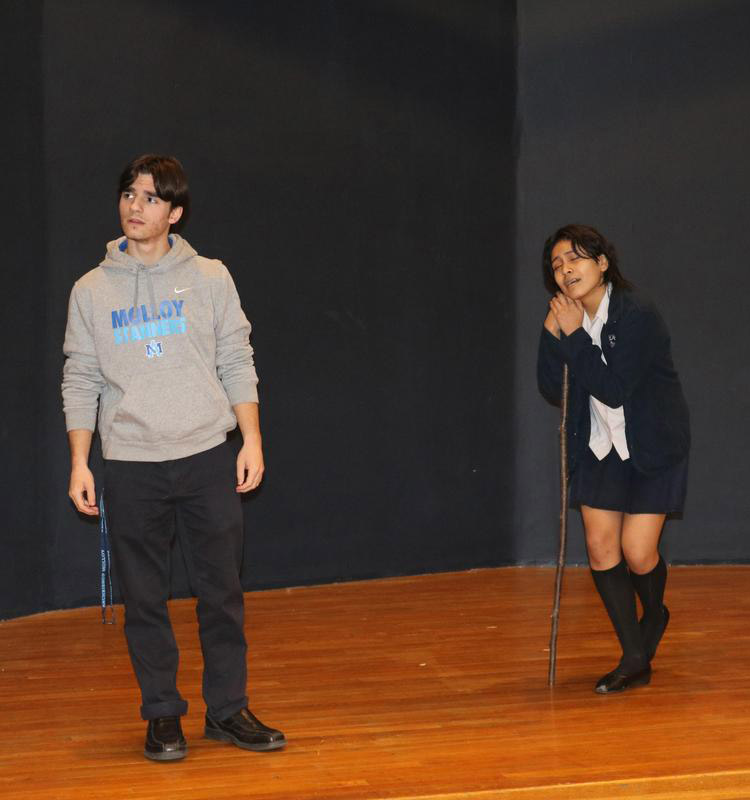 ---
Celebrating Women's History Month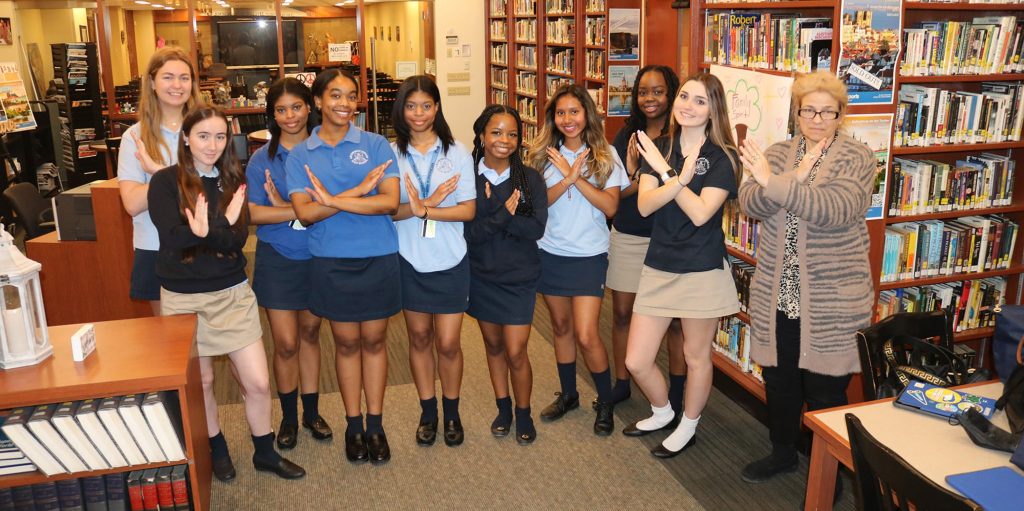 On March 8th, Molloy joined in the celebration of International Women's Day by shining a spotlight on the members of GERLL Club (Girls Empowerment for Real Life Leadership). Together, they supported the 2022 theme #BreakTheBias!

Throughout Women's History Month, the leaders of GERLL Club are working hard on a number of initiatives to promote inclusiveness and equity, and to empower the present and future women of Molloy. One such initiative is the Women at Work Panel, which will feature four outstanding women in Law Enforcement. The event will take place on March 22, 2022 at 3:30pm at Molloy. All are welcome. Click the flyer to the right for more info. You can read more about the other initiatives by scrolling back up to the top of today's Beehive.

Special thanks to the leaders of GERLL Club and moderators Ms. Henning, Ms. Kobinski '04, and Ms. Safrey for their inspiring efforts this month and every day to celebrate the women of Molloy.
---
Download Latest Stanner Newspaper – Winter 2022
We invite our community to download the latest edition of The Stanner newspaper! For over 75 years, The Stanner has been St. Ann's/Molloy's home for school news and student opinion. Molloy's student newspaper is a multi-time winner of First Place General Excellence at The Tablet High School Press Awards.
Click the button below to download your digital copy of The Stanner, or visit www.molloyhs.org/stannernewspaper/ to download past issues and select archives.

---
Next Week Is Spirit Week!
From March 21st through March 25th, Molloy's students and faculty will celebrate Spirit Week! Each day of the week will feature a different dress down day, after school event or activity, and contest/competition. Events include I A.M. Green Neighborhood Cleanup, Lip Sync Battle, and Spirit Games, and the Festival of Cultures (formerly International Day), while competitions include Faculty Photo Match, Candy Count, Tik Tok Video Contest, and more. Spirit Week will also feature daily fundraisers for Marist educators in Venezuela, who are struggling due to ongoing social, economic, and political issues.
Spirit Week is a great opportunity for students and faculty to show their "Stanner Spirit" by participating in many fun community-building or service-oriented opportunities. Click the calendar above to see everything in store next week. Special thanks to Ms. Murdocca, club moderators and leaders, faculty, and staff for all the planning going into next week!
---
Stanner Sports Updates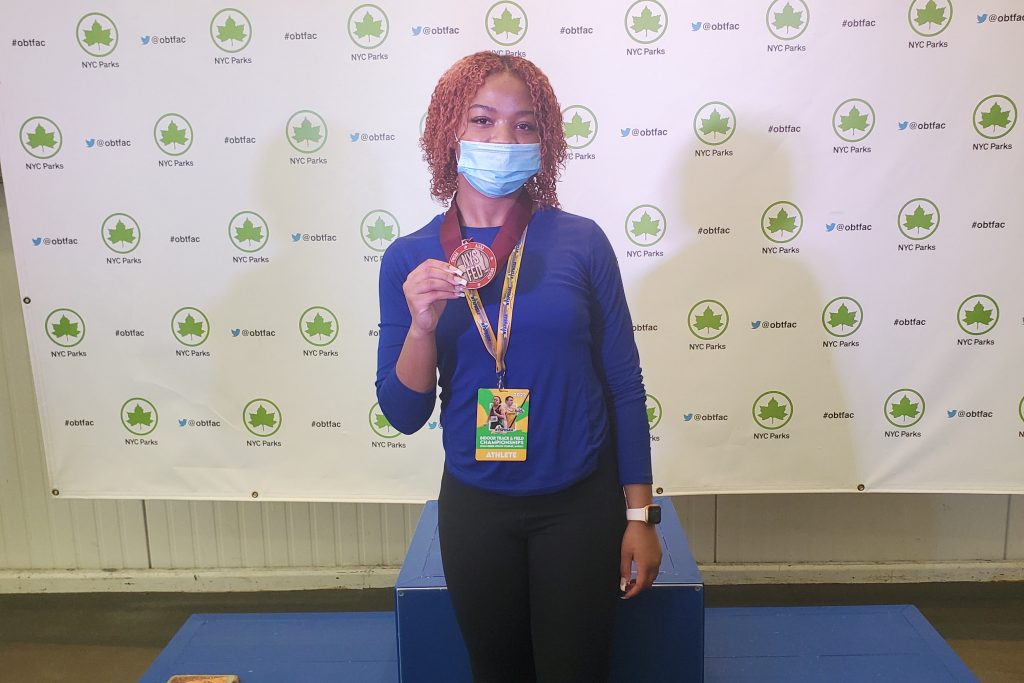 Congratulations to our Girl's JV Basketball Team! Earlier this month, they won the BQ and City Championship, defeating McClancy by a score of 51-43! A huge applause to all the players and coaches, well done!
A well-deserved highlight of Abigail Jefferies '22, a star Stanner Athlete! Earlier this month, Abigail placed 8th in the 55 Meter High Hurdles at the New York State Federation Indoor Track and Field Championships! We are proud to see her list of achievements grow during her great individual season. Congratulations!
On March 14th, we remembered Coach Jack Curran, who passed away nine years ago. *3/14/13*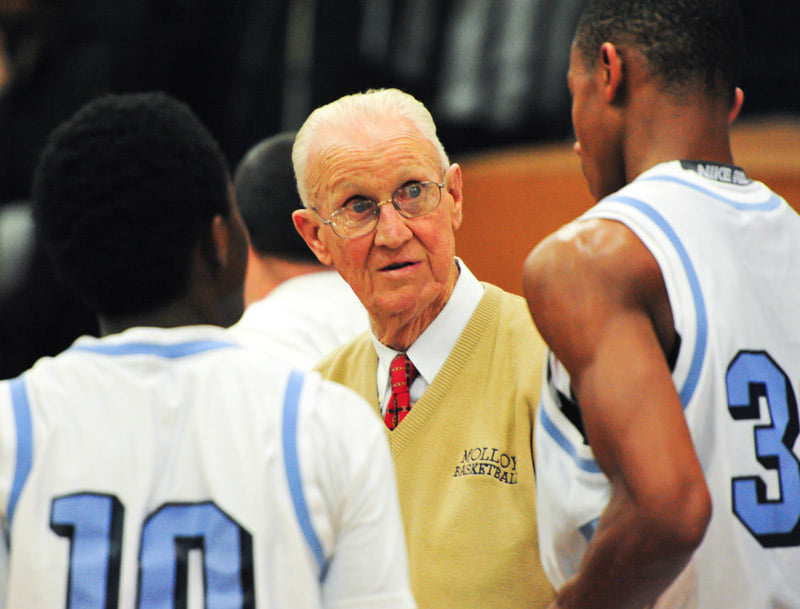 ---
Molloy Represented At Marist Youth Encounter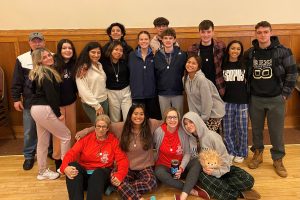 From March 4-6, students, alumni, faculty, and other Marist schools gathered at Esopus for a Marist Youth Encounter! Students from five Marist schools attended the retreat to "Encounter Christ." According to Ms. Wilson, Director of Campus Ministry, "This happens when the students learn about themselves, understand that they are not alone in their feelings, and get to relax, have a little fun, step back and be reflective."
---
It Feels Good To Be Back At Esopus!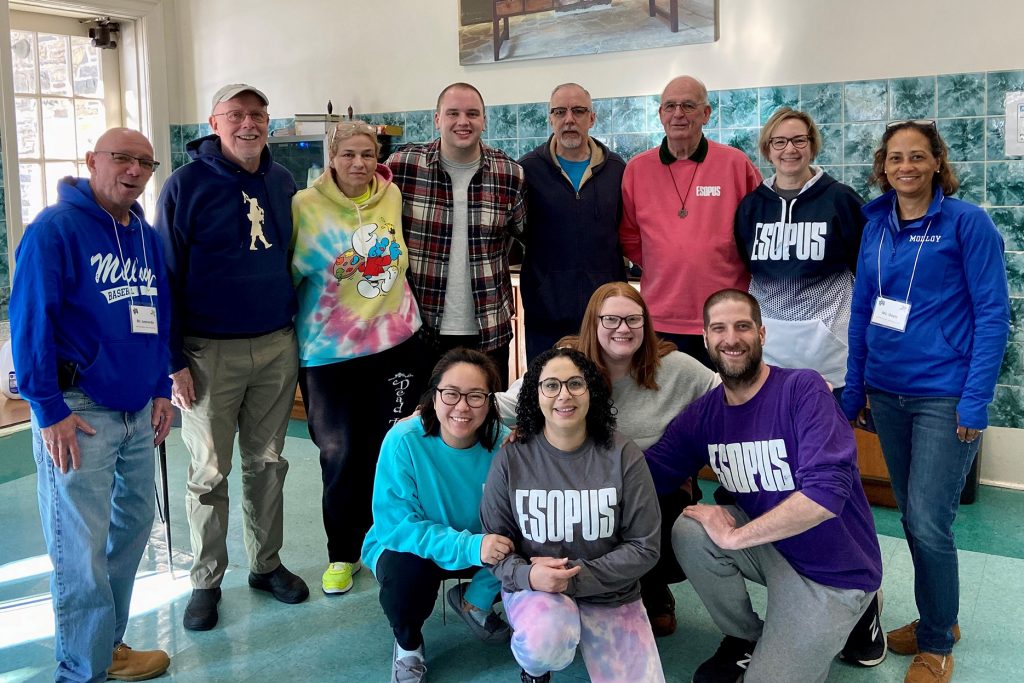 Between the recent Marist Youth Encounter and the return of class retreats, Stanners are feeling good about being back at the Marist Brothers' Center at Esopus! After two years of many postponed retreats, students have enjoyed more opportunities to visit the beloved upstate property. Recently, Sophomores enjoyed a retreat at Esopus, which was based on the Marist pillar In the Way of Mary. "We are all on a journey of faith, and this weekend allowed us to rest along that journey," said Ms. Wilson, Director of Campus Ministry. Pictured: Faculty and staff chaperones at Esopus.

Practicing Solidarity This Lenten Season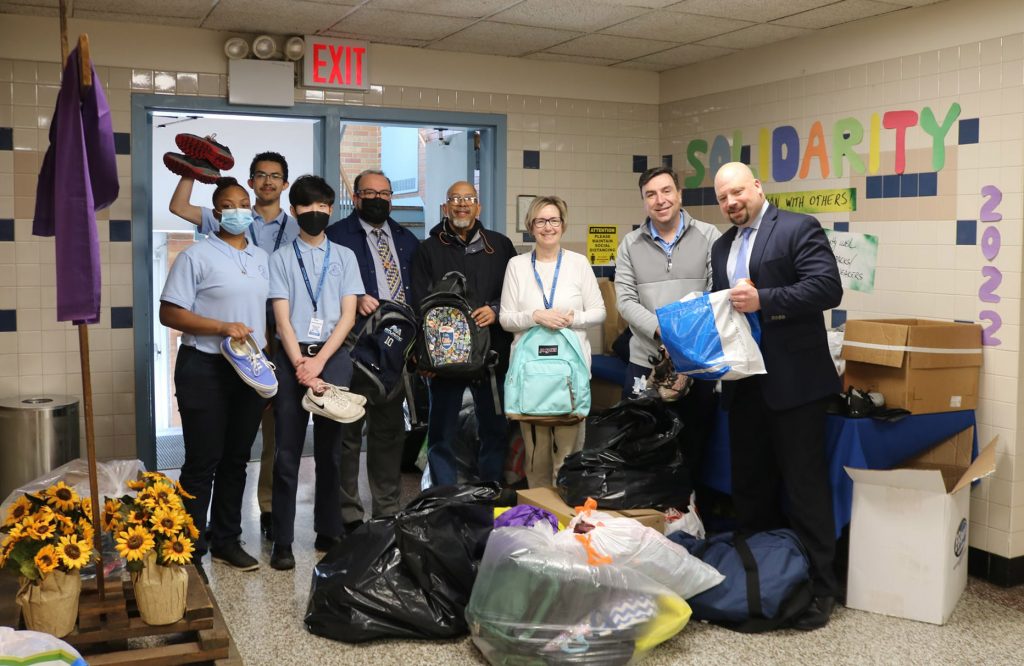 Earlier this month, Molloy and the Marist World began celebrating our Lenten theme of solidarity. It is our call to Solidarity that invites us to help others in a variety of ways. Molloy students, faculty, and our greater community have already been engaged in several drives during March. Read below to find out how you can participate in our remaining initiatives during Lent. There is an opportunity each week of Lent. Let's make the world a better place together.
March 7th – 14th – Thanks to a collaboration between Athletics, Campus Ministry, and the Marist Brothers at Molloy, Stanners were able to send bags full of supplies to the Dominican Republic this Lenten season. Students, parents, faculty, and alumni donated shoes and backpacks to be distributed to our brothers and sisters in need in the DR. The backpacks will be filled with school supplies, because according to Ms. Wilson, "The belief is that education is the key to change. Thank you to all who helped organize the drive, and to those who donated!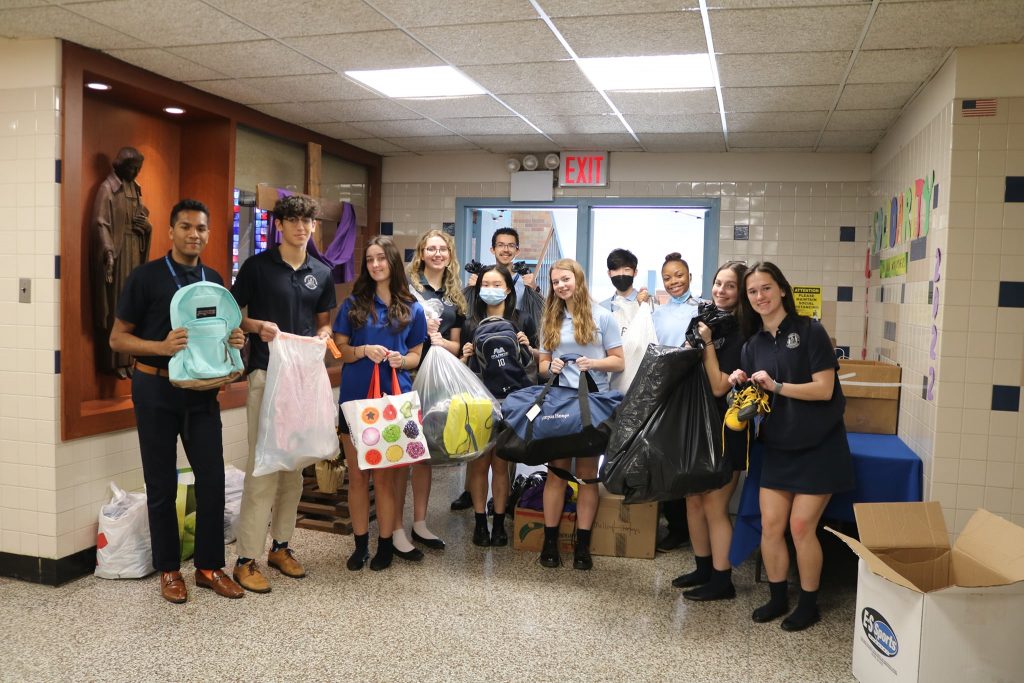 March 14th – 21st – We are practicing solidarity with homeless New Yorkers. Donations of new men's socks, underwear, gently used sweatshirts and pants can be dropped off at Molloy's security desk. All are invited to donate these items. A breakfast run coinciding with the delivery of donations will take place on April 2nd.
March 21st – 25th – During Molloy Spirit Week, Molloy will stand in solidarity with Marists in Venezuela. Economic, social, and political conditions have deteriorated to the point where the over 400 Marist educators and their families are struggling. There are currently 450 Marist teachers and almost 5,000 Marist students that attend nine impoverished Marist schools in rural areas of Venezuela. They are often deprived of the most essential necessities (i.e. food, medications, etc.). Teachers in these schools earn between $20 – $30 per month in salaries and the cost to feed one fellow Marist educator in Venezuela for a month is $27. More information will be shared at www.molloyhs.org.


Congratulations to Peter Farrell '64, who was inducted into the Track & Field Coaches Hall of Fame in December. Peter was a national record holder at Molloy, world record holder at Notre Dame, and coached numerous All-Americans, several Olympians, and one NCAA champion during his 40 year career at Princeton University.
---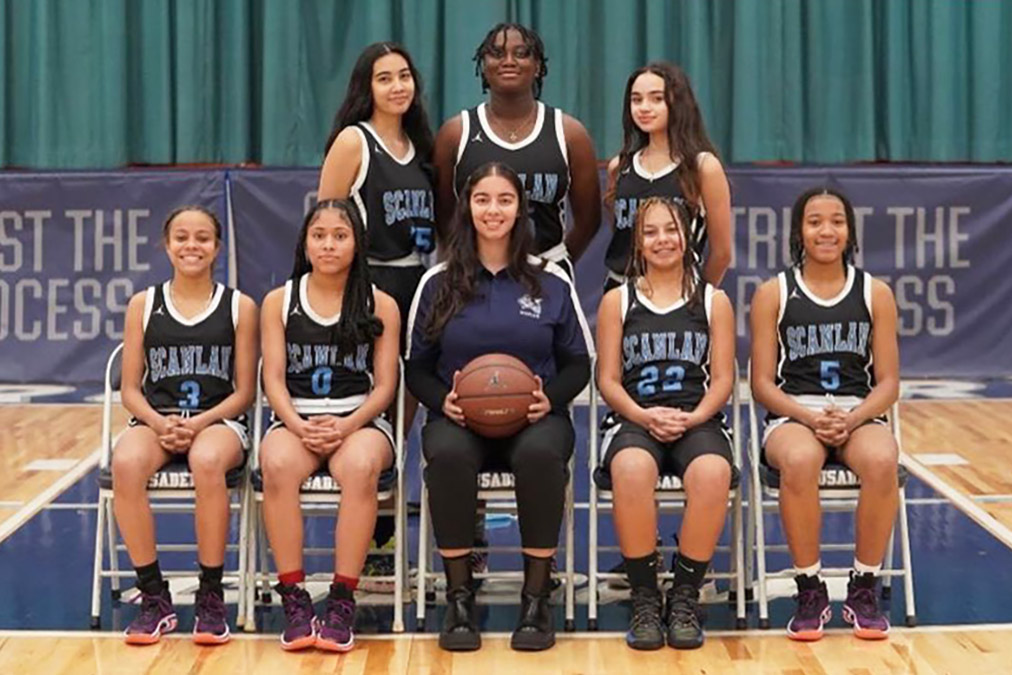 Congratulations to Nyasha Irizarry '14, who has been named CHSAA Girls JV Coach of the Year Tier 1! Nyasha is the Girls JV Basketball Coach at Monsignor Scanlan High School in the Bronx.
---
Members from the St. John's University Board of Trustees met for their quarterly board meeting in Rome this past week. While there, they were able to visit the Vatican Museums, The Coliseum & Forum, as well as attend mass led by Fr. Shanley at St. Peter's Basilica. The trip was highlighted by speeches given by two current St. John's students and Ozanam Scholars who are studying in Rome this semester. One of those speakers was Molloy Class of 2018 grad, Mikesha Withanachchi!
Pictured: Jim Shannon '83, Jim Galowski '81 and Joe Tarantino '76 with SJU Ozanam Scholar, Presidents Society member and AMHS alumna Mikesha Withanachchi '18.
---
Earlier this month, retired NBA star Kenny Anderson '89 shared an awesome photo from his visit to Molloy last summer. Kenny was at Molloy in August 2021 to film scenes and interviews for an upcoming documentary about legendary NYC point guards. The photo that Kenny shared was from an interview in our locker room, which featured lots of cool decorative pieces and fog for added effect! Thanks for sharing, Kenny! Follow Kenny Anderson on Twitter (@chibbs_1) and Instagram (@chibbs_1). We will share more information about the documentary when it becomes available.


Please pray for the repose of the soul of Marie Pellegrino, mother of Frank Pellegrino of Mount St. Michael Academy.
We were recently informed of the passing of John T. McCann '56 on November 30, 2020. Please keep John and his loved ones in your prayers. | Click Here for Memorial Page