Jim Kinnier Stanner Golf Classic – THIS MONDAY!

Molloy is excited to share that our 36th Annual Jim Kinnier Stanner Golf Classic is just days away! Since 1987, the Stanner Golf Classic has raised over $3 million dollars in support of Molloy's scholarship program. These scholarships have impacted many academically gifted students who may otherwise have been unable to attend Molloy due to financial difficulty.
Before we tee off on Monday, May 2nd, we invite you to click the buttons below to read our Digital Journal, place bids via our Online Auction, and learn more about this year's honorees. If you have additional questions, please contact the Stanner Alumni Center at 718.441.9210 or by email at alumni@molloyhs.org. We look forward to celebrating this beloved event once again with our wonderful community. We'll see you out on the courses!
Pictured L-R: 2022 Golf Chair Anthony DiRusso '80 of DiRusso Electric, Honorary Chairs Dean Speranza and Robert Speranza of Nouveau Elevator.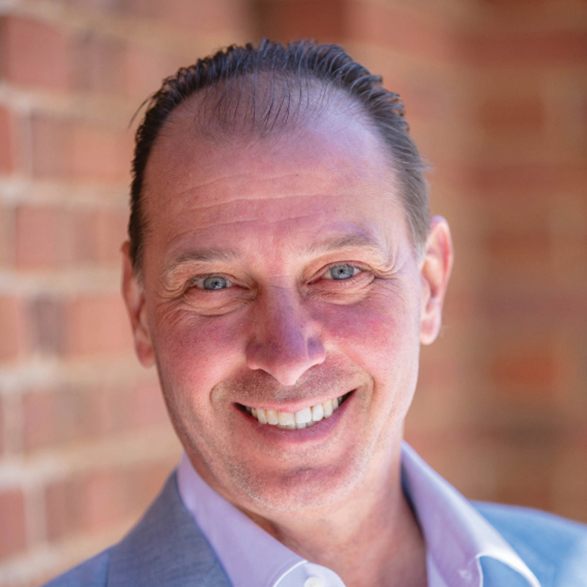 Molloy's Second Annual Fashion Show A Great Success!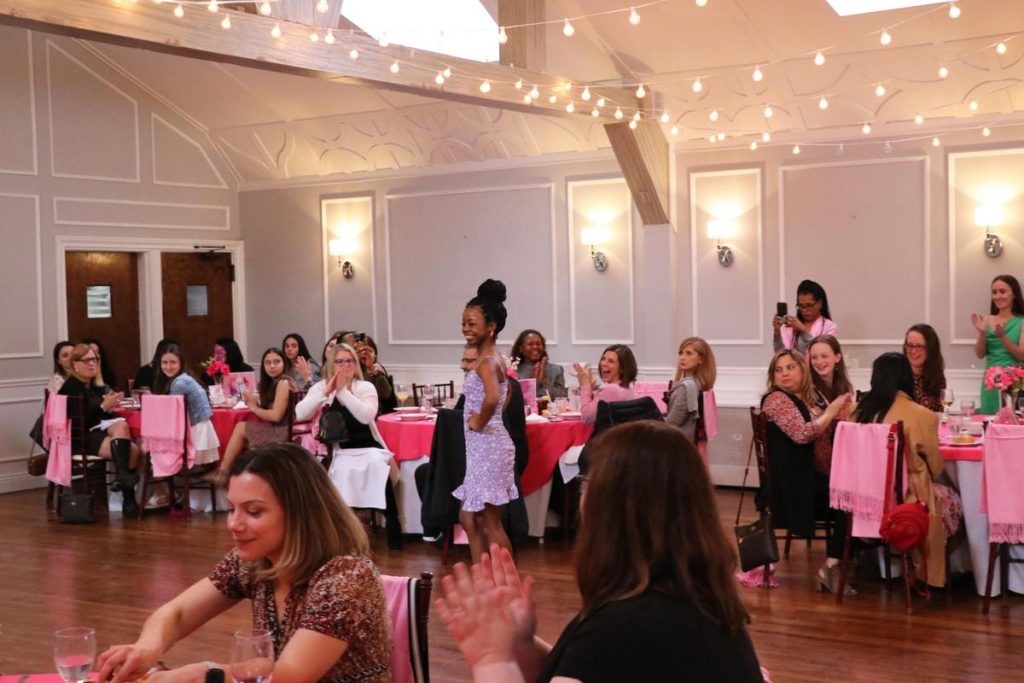 On Saturday, April 9th, the GERLL Club hosted its second Fashion Show! The event, which raised funds for the Girls' Leadership Scholarship Fund, hosted over 100 guests at The Stewart Manor Country Club. Faculty, administration, alumni, current students, parents, and even incoming freshmen and their parents attended the show, which was a great show of support across our community. Ms. Kerry Henning, guidance counselor and co-chairwoman of the event, said, "The current students welcomed the incoming freshmen and their mothers, who were very excited to become part of our Molloy family in such a genuine and fun way."
The clothes that were modeled were donated by a new business called RUSE, owned by a young, female business owner. Jess, the owner of the company, was "positive, kind, accommodating, and supportive of our cause," said Ms. Henning. Models included students, staff, and faculty, as well as family members and friends. These were: Students Keren Elmore '22, Klara Veresmortean '22, Margaret Kelly '22, Autumn Hill '22, Ashley Lancer '22, Molly McGuinness '22, Joe Bruno '22, Michael Providence '22, Cade Jaipaul '22, Joe Ciaccio '22, and Andrew Zalot '22; faculty and staff members Brian Yuska, Ed Cameron, Chris Autura '16, Brian Kelly '94, Michele McGrade, Mary Edward '13, Danielle Santucci-Gracchi, Dr. Penikas; and special guest Finn Penikas!
In the words of Ms. Henning, "The event was filled with warmth, joy, positivity and lots of love in the air. Everybody came together for a great cause and in turn won raffles, raffle baskets, shared a lot of laughs, enjoyed a beautiful fashion show, a delicious meal and danced the afternoon away. It was a very positive, fun, and intergenerational event. It truly was a wonderful afternoon."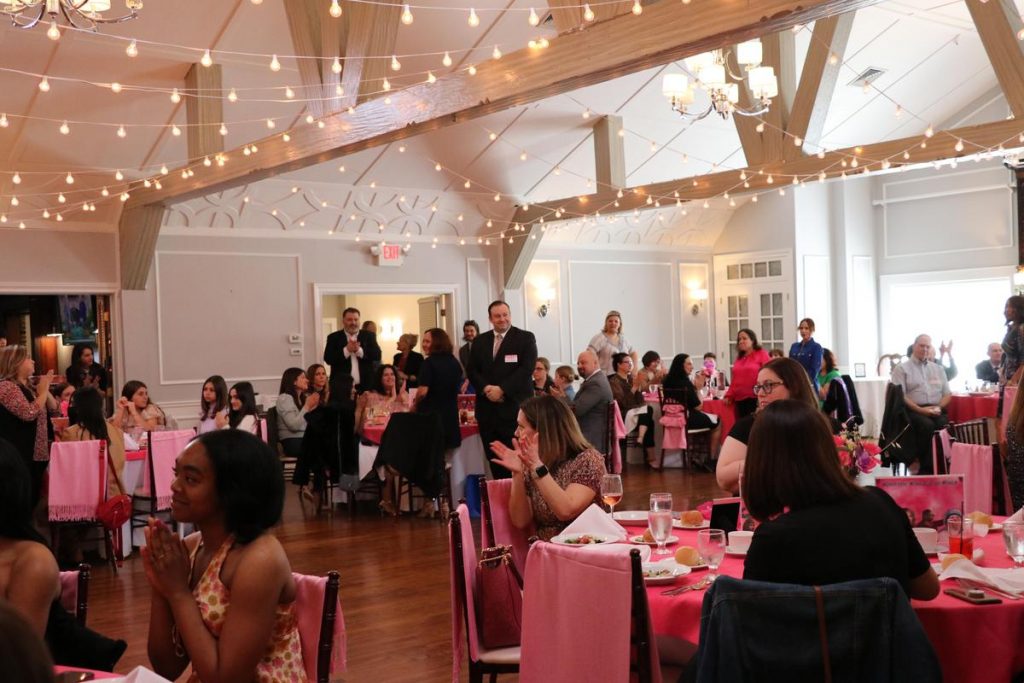 ---
Ms. Rosenbaum Inducted Into GCHSAA Hall of Fame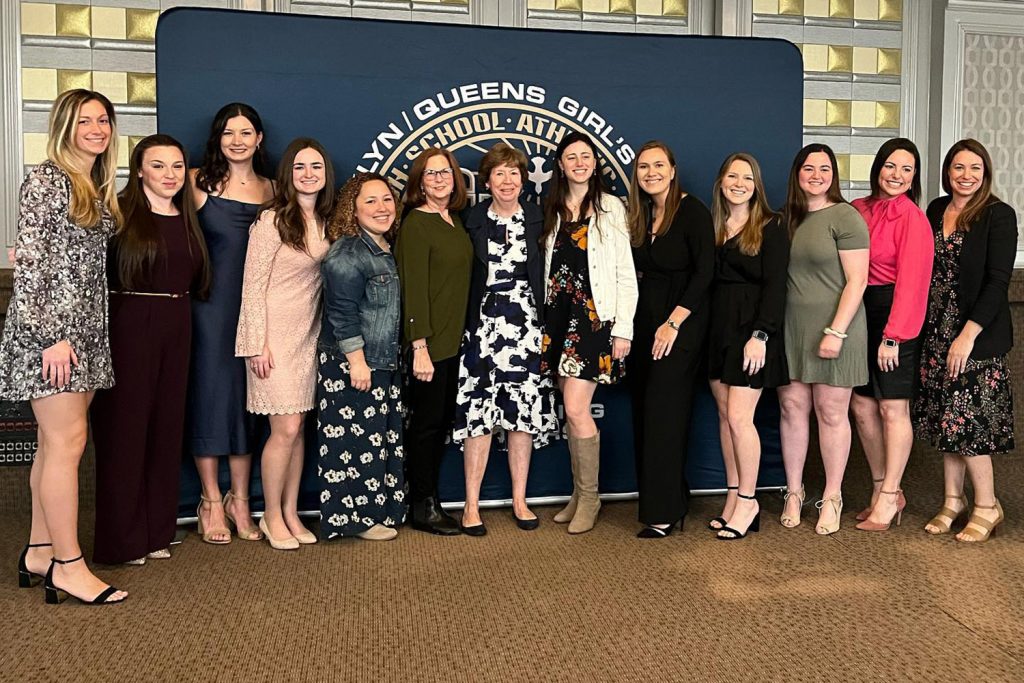 Congratulations to Ms. Maureen Rosenbaum, who was recently inducted into the Girls Catholic High School Athletic Association (GCHSAA) Hall of Fame! Ms. Rosenbaum has enjoyed an over 20-year career coaching Varsity softball at Molloy. She has coached countless talented student-athletes and has established an incredible legacy at Molloy.
Ms. Rosenbaum was inducted along with nine other honorees during an event at Russo's on the Bay in Howard Beach, Queens. Ms. Rosenbaum, also affectionately called "Rosie," was blessed to be joined by many of her former players, making for a big showing of Stanner support for our beloved teacher and coach.
Although Ms. Rosenbaum retired from teaching in 2021, she continues to coach Varsity softball at Molloy. Check out Ms. Rosenbaum's impressive resumé by clicking the image below, and click the blue button to read a great story by Jim Mancari (The Tablet) about all this year's honorees.
---
Dr. Alice Prince Visits Senior Linguistics Class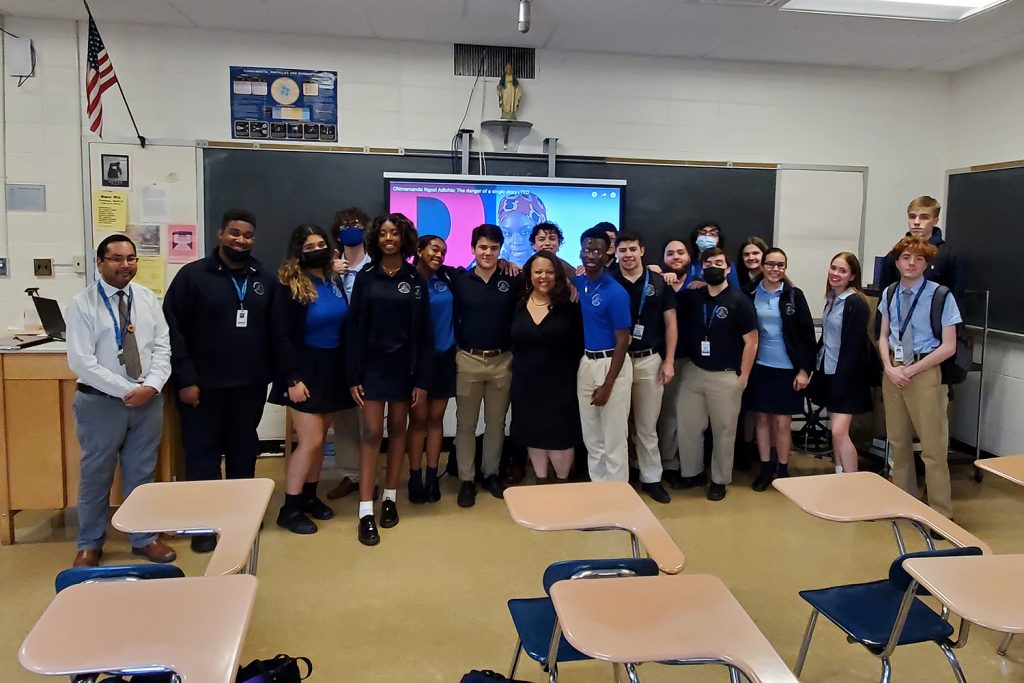 In April, Dr. Alice Prince attended Dr. Jonathan Mangar's '09 Senior Linguistics Class to host a presentation. Dr. Prince, who serves as a Diversity & Inclusion Consultant for Molloy, collaborated with the World Language Department to highlight the way language relates to how people treat each other. Dr. Prince used the class period to discuss "The Single Story," a term used by author Chimamanda Ngozi Adichie to explain the effects of judgment and bias, and relate it to sociolinguistics.
The linguistics course, entitled "Language, the World, and Us," teaches Stanners about the different aspects that make up a language. Additionally, Dr. Mangar explains how language is affected by culture, society, and thought, and examines dialect and accents. Kwame Opam '22 stated that the class is where he learned "to understand the origins of language," and how "[humans] subconsciously make things such as…voiced or voiceless noises," and Dr. Mangar wanted to show the connection between language and bias.
---
April Is Deaf History Month
April is National Deaf History Month, and as it nears its close, we wanted to share with our community the wonderful efforts of our ASL Club! Deaf History Month was created to raise awareness about the Deaf and Hard-of-Hearing community and celebrate their many achievements. The executive board members of the club decorated Molloy's first floor with info cards about the month and posters of prominent Deaf icons who have served as on-screen representation for the Deaf community. Check out the bulletin board on the first floor for some Deaf history in recent years! Special thanks to Ava Aimable '22, Caitlynn Christie '22, Ryan Curran '22, Autumn Hill '22, and Sophie Navarrete '23 for their efforts! Click photos to enlarge.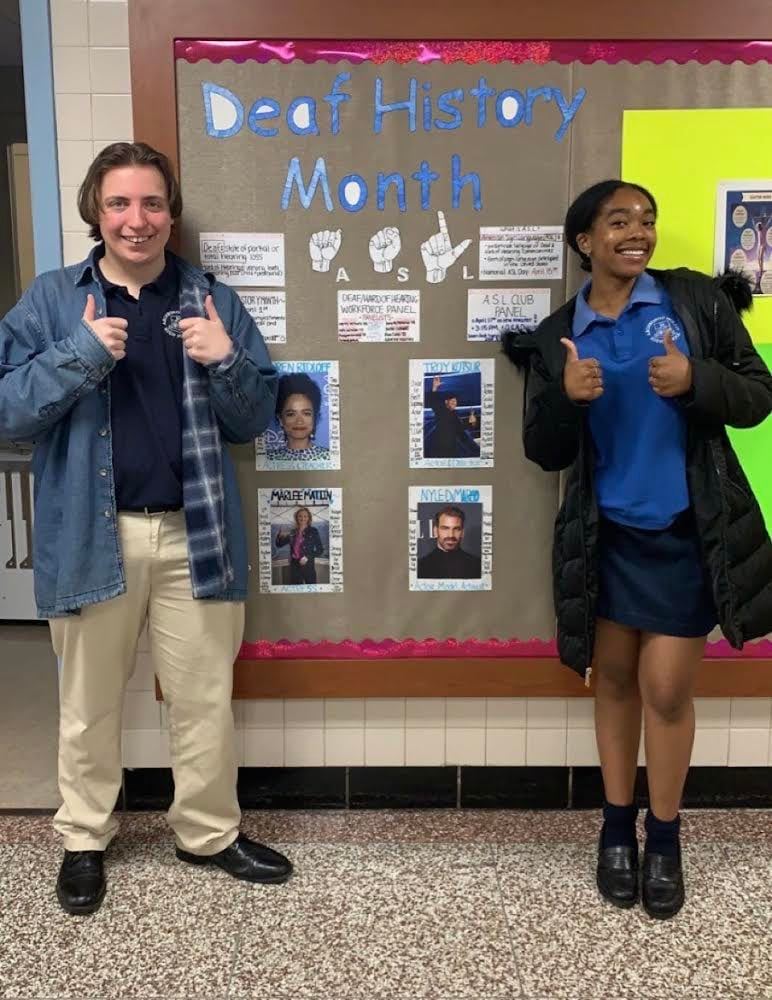 Earlier this month, our American Sign Language Club hosted Molloy's first Deaf & Hard of Hearing Workforce Panel. Panelists included a speech language pathologist, teachers of the Deaf community, audiologists, an ASL interpreter, a mental health counselor, and our very own Ryan Curran '22 representing the Hard of Hearing community. Questions were prepared by ASL Club members, and the event featured discussion about the importance of understanding and representing a marginalized group. When asked about his thoughts on the event, Ryan stated, "Being a part of the panel made me proud. I was able to share my voice regarding issues that I'm passionate about."
Panelists pictured: Dana McMenamin '09, Christine Ventura, Margaret Kimball '10, Kelly Whelan '13, Jaclyn Castoro '11, Ryan Curran '22, Adrienne Kearney, and Henry Ventura '05. | Standing members of the ASL Club Board: Ava Aimable '22, Autumn Hill '22, Julia Goncalves '23, Sophie Navarrete '23.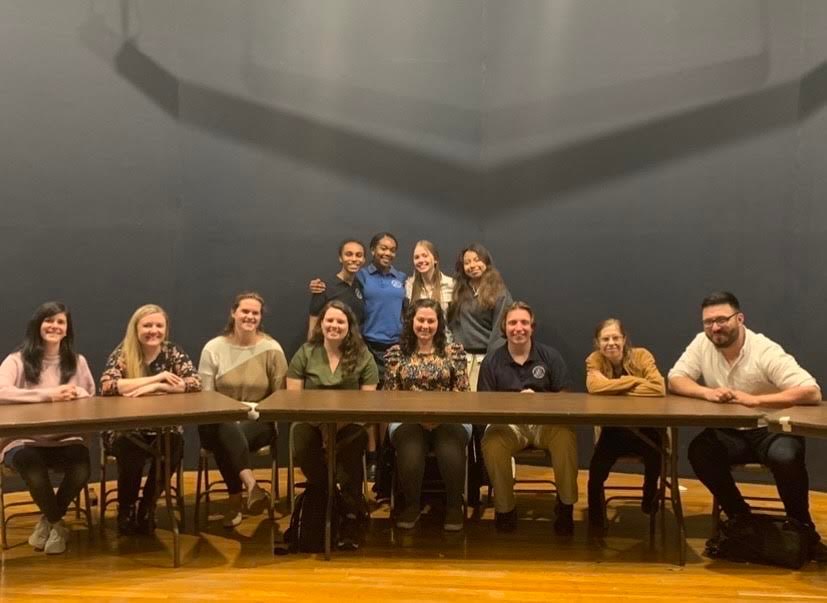 ---
Stanner Players Shine With Into The Woods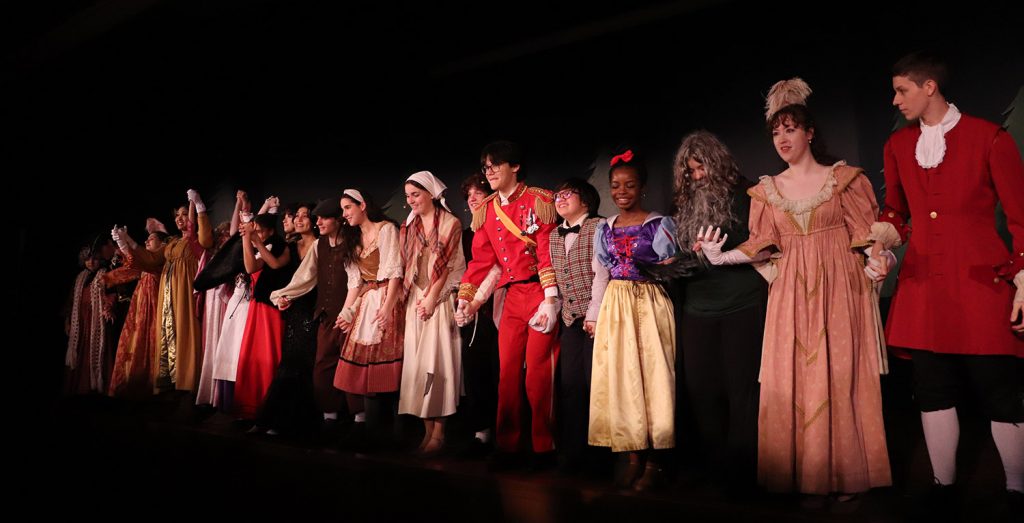 Congratulations to the Stanner Players, who enjoyed a successful weekend of performances of the popular musical Into The Woods (music and lyrics by Stephen Sondheim) in early April. For the first time since 2019, the Stanner Players welcomed full in-person audiences back to the Ralph DeChiaro Theater. It was a great weekend highlighted by a talented cast and stage crew. Congratulations to Director Ms. Shannon Winters '06 and all our Stanner Players!
Check out some great moments from the show captured by Photography Club's Ryan Plut '22.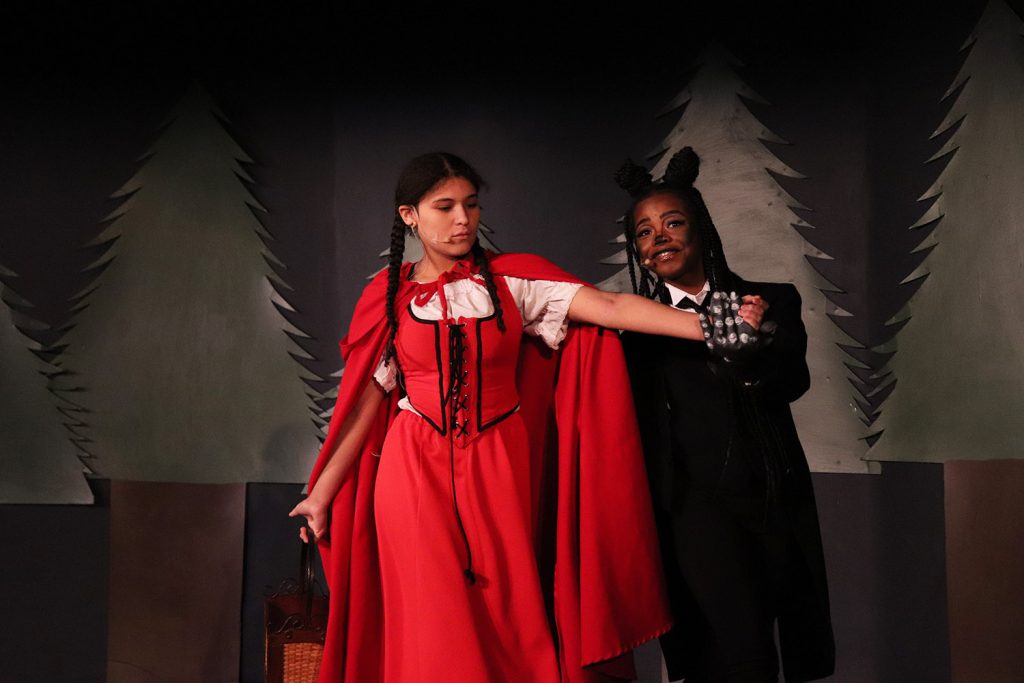 ---
Junior Leadership Ceremony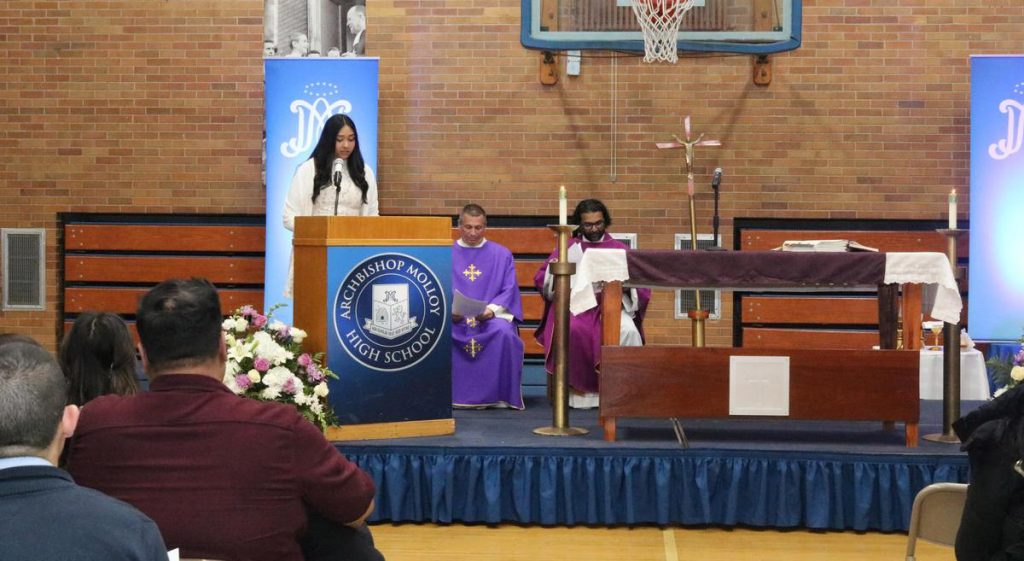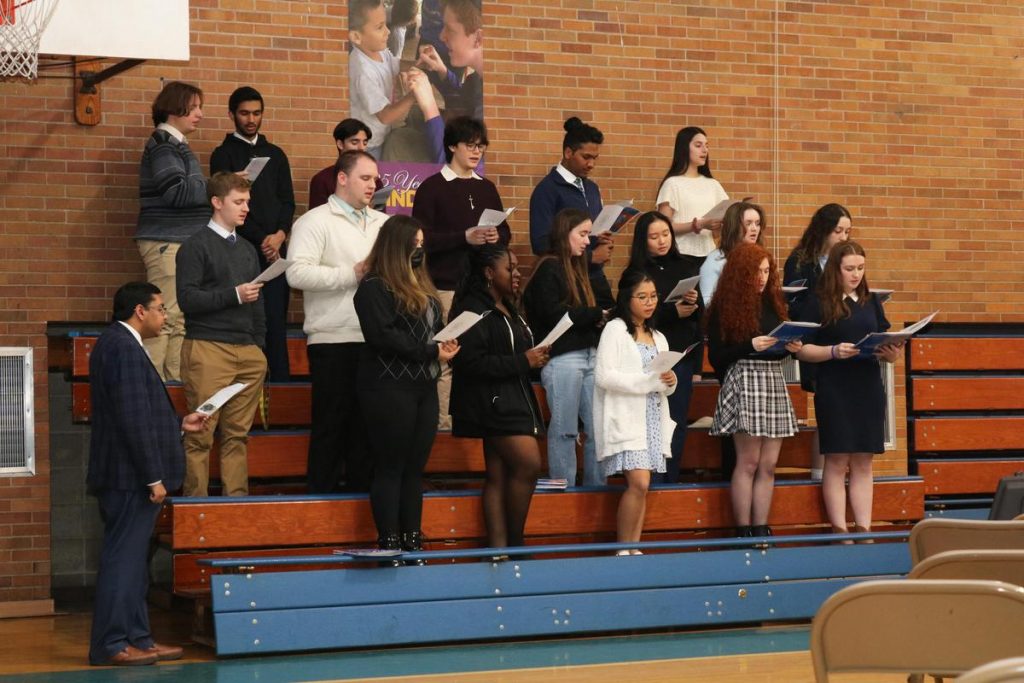 On Wednesday, April 7th, the Class of 2023 gathered together to celebrate their Junior Leadership Liturgy with friends and family. Father Liju Augustine led everyone in prayer as Juniors received their leadership pins and class rings, symbolically stepping into the role of mentors for younger Stanners.
Senior Joe Bruno '22 spoke to the Class of 2023 about what being a leader means to him, and encouraged them to fully step into positions of leadership at Molloy. After Mass, students and their families were invited to a small reception. Stanners proudly showed off their pins and class rings, excited to start their next chapter of high school! Congratulations, Class of 2023!
---
Advanced Art Class Visits The Met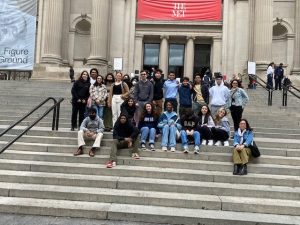 In April, Ms. Christine Tudor's Advanced Art class visited The Metropolitan Museum of Art to see modern art paintings and sculpture to deepen their understanding of styles and materials. After visiting the 19th and 20th century European painting and sculpture galleries as a class, students had the opportunity to explore the permanent collections. The visit served as a source of inspiration for upcoming art projects.
---
News From Campus Ministry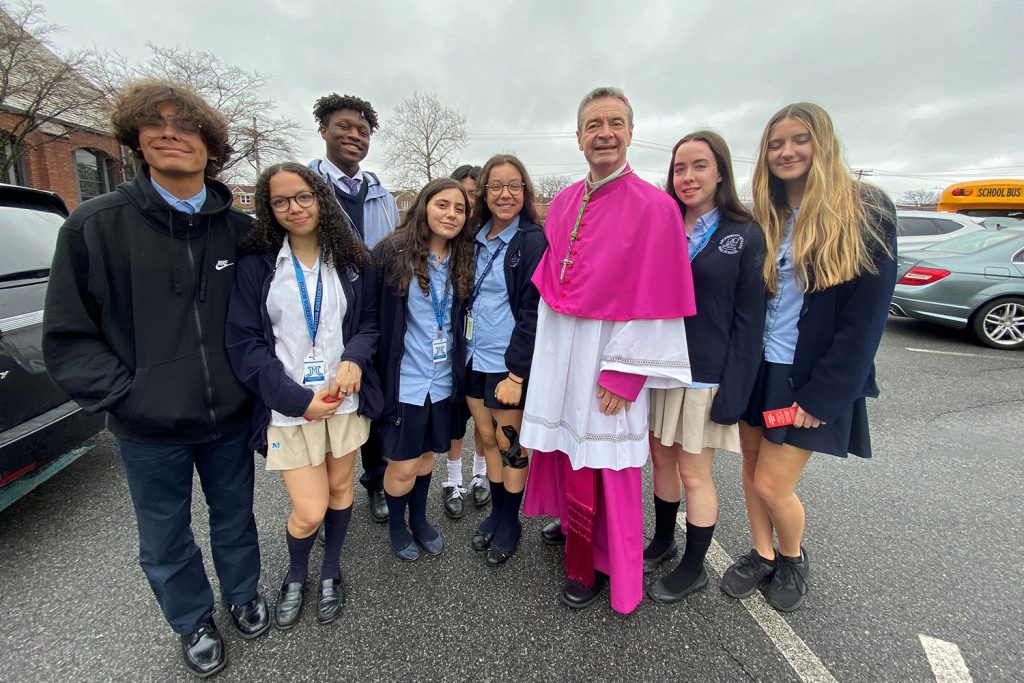 In April, Ms. Lori Wilson and Ms. Rose Haslbauer accompanied six students to fulfill a breakfast run to deliver food and clothing items to homeless New Yorkers. This act of kindness was part of Molloy's Lenten Solidarity. According to Ms. Wilson, the morning was "one of giving dignity to those who are marginalized." Ms. Haslbauer shared that, "Seeing students take time out of their weekend to help serve and uplift others by being the hands and feet of Christ is always an inspiring thing to witness."
On April 6th, Ms. Wilson joined 15 students at the 2022 High School Youth Rally for peace and unity, which was attended by Bishop Robert J. Brennan, the new Bishop of Brooklyn, and Archbishop Sorrentino, Archbishop of Assisi. The event included the Veneration of the Relic of Blessed Carlo Acutis (this relic visited Molloy and other Catholic schools earlier this year). At one point, Molloy students had the opportunity to meet and chat with Bishop Brennan (pictured)!
More recently, Ms. Wilson accompanied students on a service trip to El Paso, Texas, during which they learned about immigrant experiences. More coverage of this trip coming soon!
---

Stanner Players Alumni Reception Marks New Tradition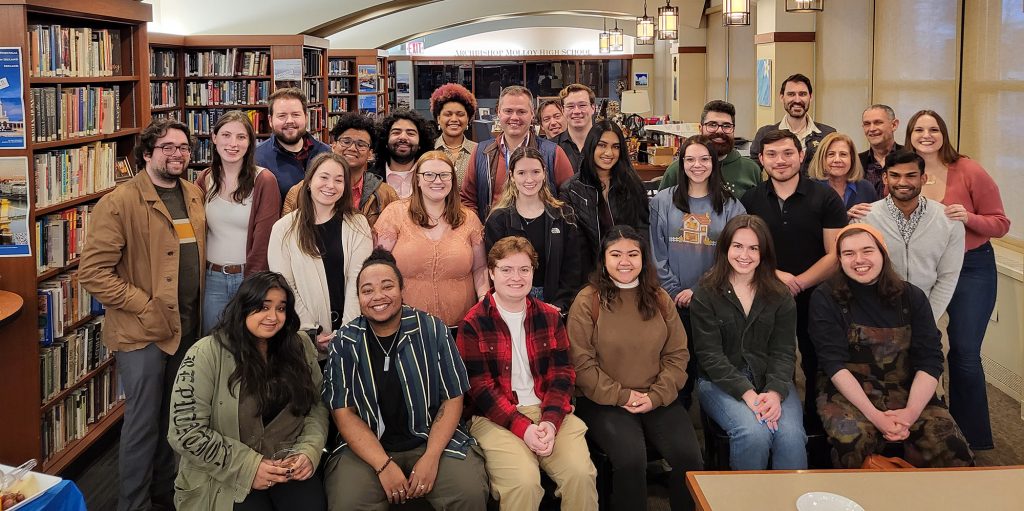 by Rebecca Wagner '14
On April 2, 2022, a group of over 25 Stanner Players alums got together in celebration of this year's spring musical Into the Woods. Alums from the 90's through the Class of 2020 returned to Molloy to see the show. The group reminisced about past productions, caught up with old friends and enjoyed a night of amazing performances by the current Players. The group sat in a special VIP alumni section during the show, cheering on the students as they performed. English teacher, '06 alumna and Director of Molloy's theater program, Shannon Winters, was beyond excited to welcome so many alumni back, most of whom she taught and directed. We hope to welcome back more Stanner Player alums (and former Theater Arts & Improv) next year during our spring musical weekend, making this an annual event and new Molloy tradition!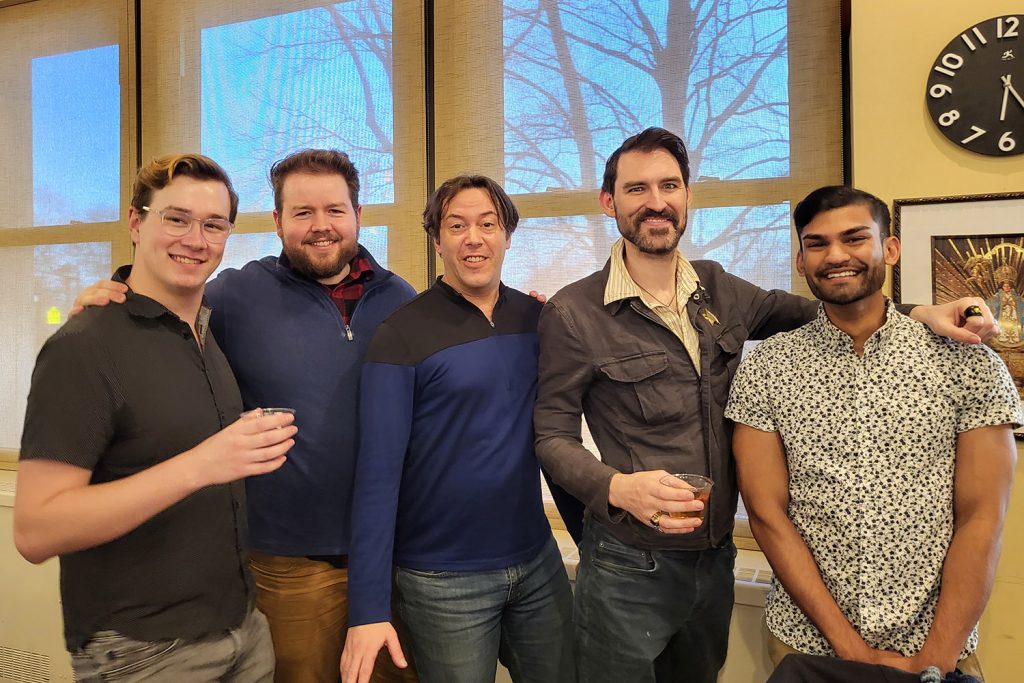 ---
Congratulations to Chris Caputo '98, who has been named the new head coach of George Washington University Men's Basketball. Prior to this role, Chris served as Assistant Coach to Jim Larrañaga '67 at the University of Miami. You can read more about Chris Caputo's new journey via Forbes and ABC News.
---
Congratulations to Anthony Sama '02, who was recently named the new Executive Director of the Alliance for Flushing Meadows Corona Park. Anthony replaces the recently retired Janice Melnick. According to QNS.com, Sama previously served as NYC Parks Director of Citywide Special Events since 2009. You can read the full story at QNS by clicking the button below.
---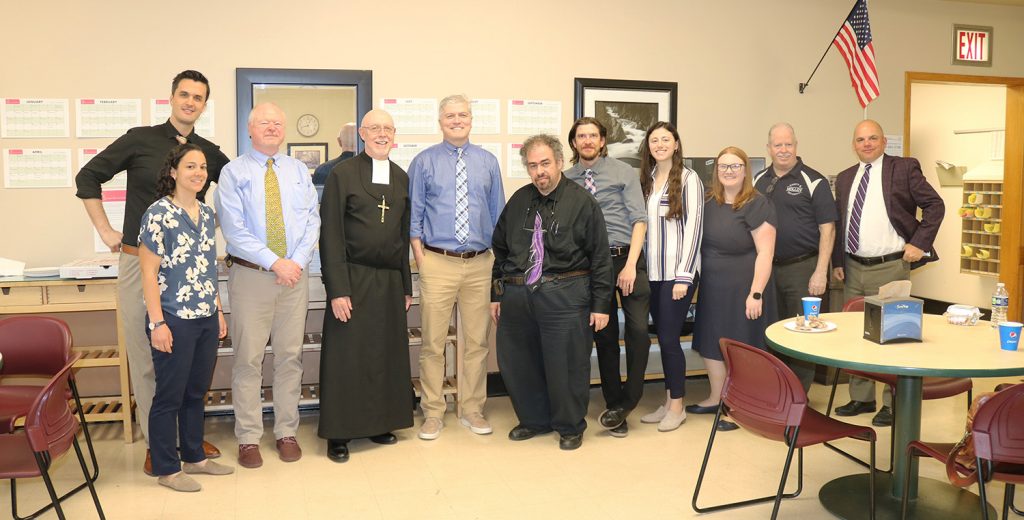 Recently, we celebrated the 50th Anniversary of Br. James Norton's '63 final vows! Faculty and staff gathered during lunch period to join Br. James for pizza and ice cream cake. When a Marist Brother professes their final vows, it signifies their commitment to religious life and to carrying out St. Marcellin Champagnat's mission of making Jesus known and loved.

Remembering Ms. Janice Rothe, née Bonczek
Archbishop Molloy High School is deeply saddened in mourning the sudden passing of our beloved colleague, teacher, and friend, Ms. Janice Rothe, née Bonczek, on April 8, 2022. She is survived by her husband Nicolas Rothe, her parents James & Suzanne Bonczek, her sister Allison (Angel) and her nephews James, Luca & Max. Also, her father / mother-in-law Bill & Susan Rothe, her brother-in-law Peter (Kim), and nephews Camden and Devon, sister-in-law Erica Kaufman (Brian), nephew Killian and niece Quinn.
Ms. Janice Rothe, née Bonczek, first joined Molloy's Information Technology (IT) Department in 2015, instantly taking on an integral role in the launch of our first one-to-one computing program. Through her position in IT, Ms. Rothe interacted with faculty and students daily, approaching each situation with kindness and patience. Her intelligence and expertise in the field of IT helped her to troubleshoot and solve a vast array of technological issues. She was a consummate professional, reliable, and always left us smiling.
Ms. Rothe was a pioneer for women in STEM at Molloy. The first female member of our IT Department, she also became involved with extracurricular activities such as Girls Who Code Club, through which she served as an inspiring role model for our students. Her confidence and the breadth of her knowledge of computer systems helped Stanner women to see themselves working in STEM in the future. More recently, Ms. Rothe joined Molloy's Computer Science & Engineering Department, teaching Intro to Computer Science. Extending herself to the classroom, she was able to connect with and inspire even more students.
In September 2021, Ms. Rothe was promoted to Information Systems Coordinator, in recognition of her outstanding work and influence over many years, as well as her key contributions during remote and hybrid learning. She was also integral to Molloy's conversion to a unified Learning Management System, known as Blackbaud. Principal Dr. Darius Penikas, in remembering Ms. Rothe, stated, "Simply put, Molloy would not be what it is today without Janice."
Personally, Ms. Rothe was incredibly generous, caring, patient, and a welcoming presence. She was a friend to all. We will always remember her sense of optimism, her passion for all kinds of media, and her love for the Molloy community. We will forever be grateful for her many contributions to Molloy, and for making all of us better people. Ms. Rothe will be deeply missed by our Stanner family.
Please join us in prayer for Janice, her husband Nicolas, family, friends, colleagues, and students during this very difficult time. Janice's family shares that donations can be made in her name to Archbishop Molloy High School, where she was a beloved colleague, teacher, and friend.
---
Remembering Firefighter Timothy Klein '08, FDNY
Archbishop Molloy High School mourns the passing of Firefighter Timothy Klein '08, who passed away on April 24, 2022. Firefighter Klein, of Ladder Company 170, was bravely responding to a 3-alarm fire in Brooklyn when the structure he was in partially collapsed. Firefighter Klein is the 1,157th member of the FDNY to lose their life in the line of duty. He was a six-year veteran of the department.
We pray for the repose of the soul of Firefighter Timothy Klein, that he is at peace in God's care. We pray for his loved ones, including his parents, Patrick and Diane; his sisters, Tara (Klein) Kirby '09, Bridget Klein '12, and Erin Klein '15; the FDNY; and Ladder Company 170. Firefighter Klein will be remembered as a hero and will forever be in our prayers.
News Coverage: You can watch a report from CBS News below, which highlights some of Timothy's Molloy experiences. The segment also includes an interview with Mr. Ed Shannon '84, who served as Timothy's JV Basketball Coach at Molloy.
Official portrait courtesy of FDNY
---
Please pray for the repose of the soul of George Behringer '81, who passed away on April 14, 2022. A memorial Mass will be celebrated during the summer in New York. | Click Here for Memorial Page and More Information
---
We are saddened to share the passing of Richard V. Brew '64, father of Amanda (Brew) Anello '05. Richard passed away on April 13, 2013. Richard served with the NYPD for many years, retiring in 1995 as a second grade Detective out of the 75th precinct. He opened his own private investigation business, and then became head of security at numerous shelters. During this time, he served as commodore at Riley's Yacht Club from 1999 to present. Please keep Richard and his loved ones in your prayers. | Click Here for Memorial Page
---
Please pray for the repose of the soul of Patricia O'Reilly, mother of Sean O'Reilly '92 and aunt of Dan O'Reilly '14.
---
Please pray for the repose of the soul of Dennis Breslin, who passed away April 1, 2022. Dennis attended Molloy in the 1960s, but left before graduating to explore the Marist Institute as a novice. He eventually left the novitiate and went on to enjoy a long career with the New York State Department of Corrections. | Click Here for More Information
---
---