---
Class of 2020 BBQ — SAVE THE DATE!
When: Saturday, June 18, 2022 @ 11AM – 2PM
Where: Molloy's Stanner Field
Who: Class of 2020
Registration will open soon!
Attention members of the Class of 2020: Come back to Molloy for a special BBQ to kick off summer! You'll receive your class gift and have the opportunity to sign yearbooks, play some games, and finally celebrate with your class! We've missed you!
This event will be a fun-filled BBQ out on Stanner Field. Bring blankets or folding chairs, your yearbook, and spread the word so we can get as many members of the Class of 2020 back as possible! Save the date: June 18, 2022!

Jim Kinnier Stanner Golf Classic — THANK YOU!
Archbishop Molloy High School and the Stanner Alumni Center would like to extend our sincerest thanks and appreciation to everyone who made the 36th Annual Jim Kinnier Stanner Golf Classic a great success! Despite the soggy weather on May 2nd, our golfers persevered and played a full round of golf.
This year's outing set a new record, with 390 golfers registered! Golfers were spread across four prestigious golf courses on Long Island, including Garden City Country Club, North Hempstead Country Club, North Hills Country Club, and Plandome Country Club. The event also included a tennis tournament with nearly 30 players at Huntington Country Club.
We would like to send a special thank you to this year's Golf Chair, Anthony DiRusso '80, our Honorary Chairs, Dean and Robert Speranza, our Golf Board, Jim Kinnier, the Gibbons Family, and all our staff and volunteers for their hard work to support this year's outing.
While we continue to count the final tally on money raised, and continue to finalize our full photo gallery, we would like to share a few photo samples from the day. Check out a preliminary sampling of photos below. You can also click the buttons below to read more about our honorees, download a digital journal, or contact us for more information. Lastly, the event featured a prerecorded video presentation, which you can watch via the video player below. Stay tuned for more coverage on the 36th Annual Jim Kinnier Stanner Golf Classic in our next Beehive, including a full photo gallery.
RAFFLE WINNERS ANNOUNCED

Attention raffle participants! The following winning raffle tickets were drawn. Congratulations to our winners: 1st Place ($5,000) – Ticket 22853 | 2nd Place (Trip to Las Vegas) – Ticket 1000 | 3rd Place (55″ HDTV) – Ticket 0753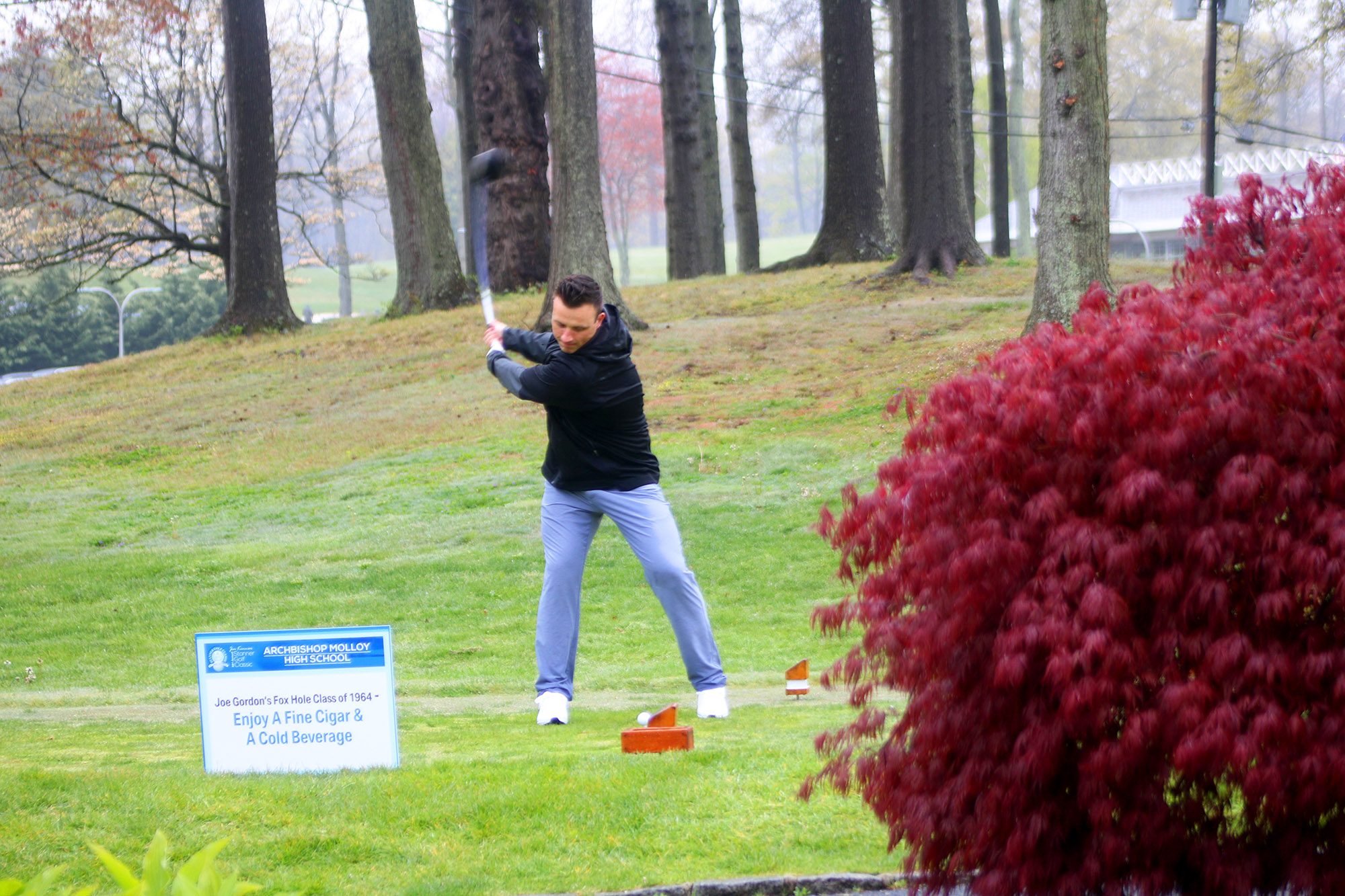 ---
Molloy Celebrates Day of AI
The Day of AI is an educational event created by Massachusetts Institute of Technology (MIT) wherein schools in the US and across the world introduce students of all backgrounds to foundational concepts in artificial intelligence.
"Artificial Intelligence is embedded in our daily activities. Therefore it is important that we understand how AI is transforming our lives and what changes it brings to society, economy and governance. Our mission is to make sure that Stanners understand how to navigate the world of technology and become AI literate," said Ms. Boral, the Chair of the Computer Science & Engineering Department.
To successfully teach the Day of AI, participating Molloy teachers attended MIT's online professional development training.
Molloy's new computer science teacher, Sharon Huang, who teaches Intro to Computer Science, said that her students enjoyed the hands-on activities. "As reality concave into the virtual metaverse, the significance is to make the students understand the fundamentals of AI, in order to continue their creativity in innovations. Within the classroom, exposure of the connection between the lessons and their personal favorites brings awareness to how much code is actually surrounding us," said Ms. Huang.
Mr. Joe Touzin's Entrepreneurship class, which placed top six in the nation in the Virtual Enterprise National Marketing Competition, evaluated the pros and cons of AI in social media. Mr. Touzin said "in general, the students found tremendous value in learning about the impact of Artificial Intelligence on people through social media platforms. Specifically, the students were intrigued by (and concerned about) the implications of misinformation and filter bubbles in online social media networks. Being that our class is centered on entrepreneurship, the students are eager to learn more about the underlying business models of social media companies and the rules and regulations that may be put in place to ensure social media companies operate in a more ethical and responsible way."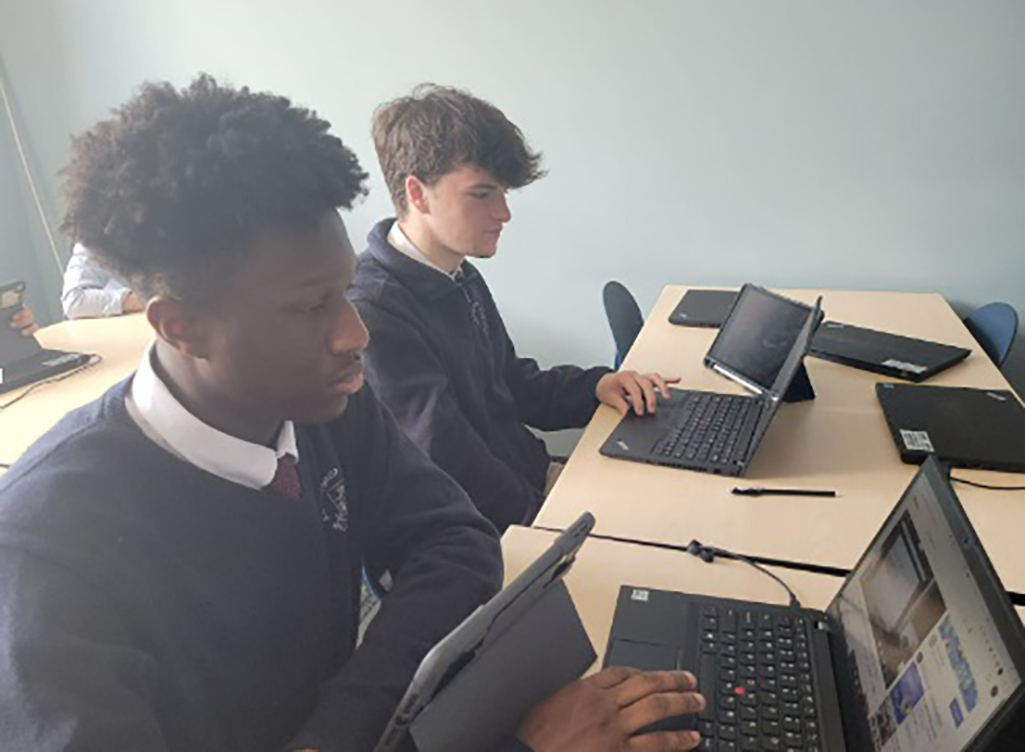 Pictured left to right: Daniel Knox '23 & Anthony Kerr '23 developing an image recognition app, Picaboo; Grace Roy's '25 AI artwork; A panel discussion hosted by MIT Professor Cynthia Breazeal and a diverse group of professionals from different organizations working with artificial intelligence.
There were many other AI activities across the school for this event. For example, the AP CSA class developed a face recognition app called Picaboo and later analyzed algorithmic bias and how AI can be used more fairly and equitably. After learning about what AI is, the Advanced Computer Graphics class created digital art about filter bubbles, machine learning, deep fake, or misinformation. Besides engaging in class activities, on May 13th, students participated in a live panel discussion of AI experts from MIT.
The Day of AI is only one of the steps Molloy is taking to introduce AI to students. Next year, Molloy will offer a new college-level AI course and an AI research opportunity at LIU Post.
---
Students Showcase Their Creativity at STEAM Expo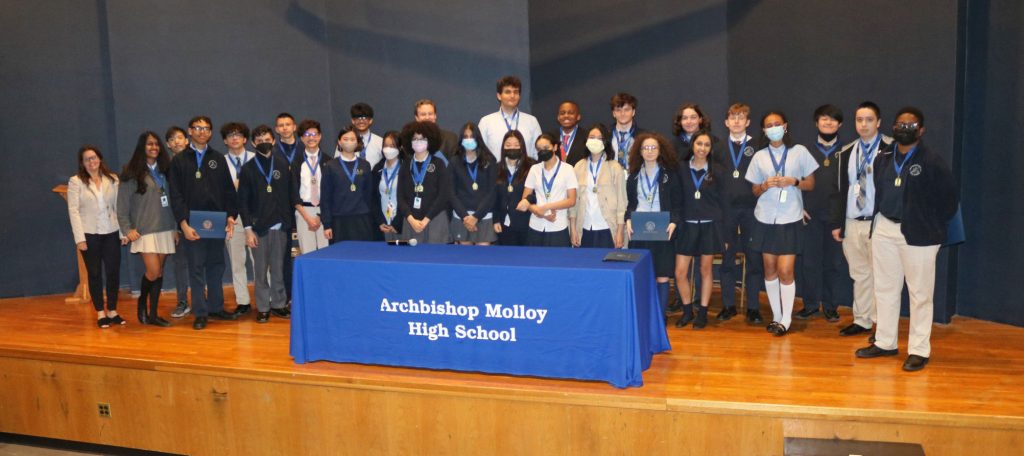 On Tuesday, April 26th, Ms. Edit Boral, Mr. Chris Autera '16, and the Computer Science & Engineering students hosted their annual STEAM Expo! Students, family members, faculty, and administration were all in attendance to support the hard work Stanners put into their projects. The event featured projects in app development, robotics, composing music in Python, 3D architectural design, quantum computing, and computer design. STEM Club member Samanta Correa '22 said that she is "happy Molloy is incorporating STEM into its community and is actively trying to get people involved." She continued, "The expo is such a fun and open event that encourages students to express their creativity in any form they prefer — art, engineering, even coding."
Displayed throughout the theater and library, Stanners showcased 3D designs of their dream homes, graphic design projects showing the importance of masks, apps that encourage health and safety, and robots that can potentially help humans to destress. Immanuel Chuks-Okah '22 created a Contactless Security Scanner, similar to a hotel key card (you can watch a demonstration at the bottom of this article). When asked why he chose this project, Immanuel stated, "During the era of Covid, I wanted to make something that would ensure we didn't have to touch too many things, like multiple keys and knobs." Dani Patel '23 wanted to combine her love for reading with her coding project, creating an app to suggest books for users to read next. She explained, "There are so many underrated, under-read books that I love and I wanted to make a platform to share them and suggest them to others."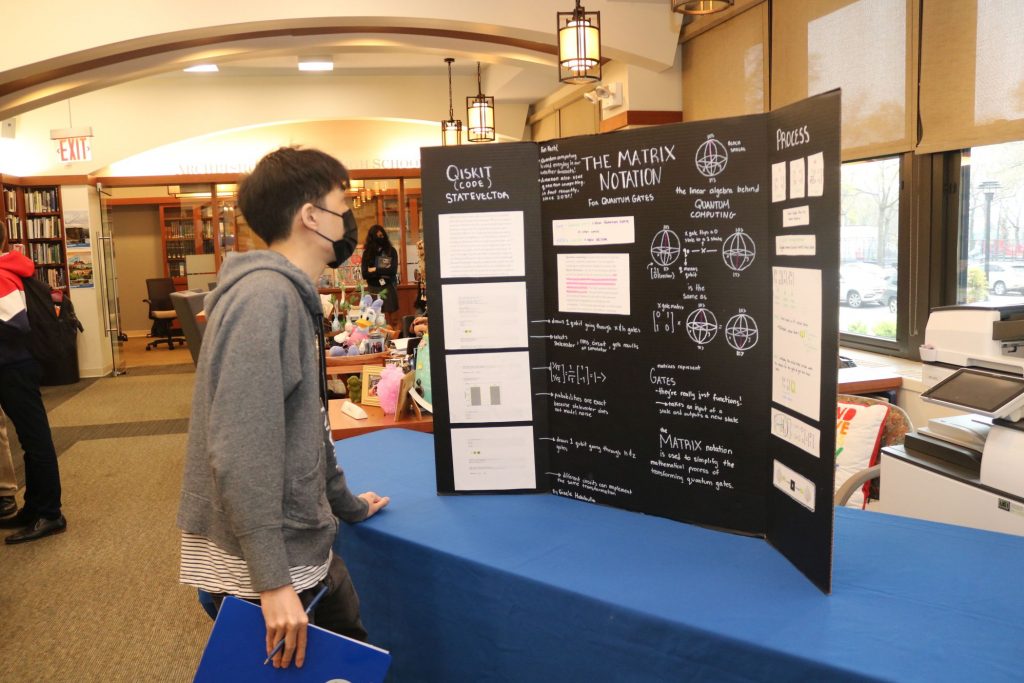 Judges included Molloy's President Richard Karsten '81, Professor Christopher Malinowski (LIU Post), Dr. Des Flynn '97, Ms. Ya Ting Yang, backend programmer and alum Eric Mun '17, graphic designer Ms. Michele McGrade, and architect Judy Weeks. Hosting the STEAM Expo and creating connections with professionals across the industry is giving Molloy students the opportunity to fully embrace this exciting field and explore its wide ranging possibilities. The panel of professionals selected the best projects out of more than 150 entries across numerous categories. Click the blue button below for our full story and a complete list of winners.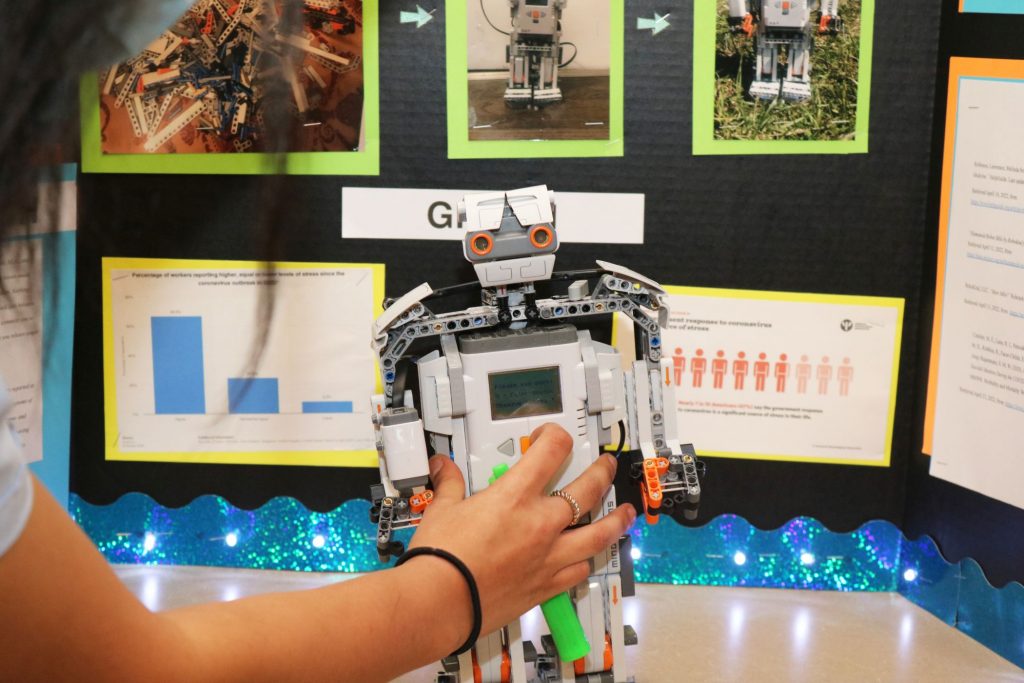 ---
Science Symposium Highlights Student Research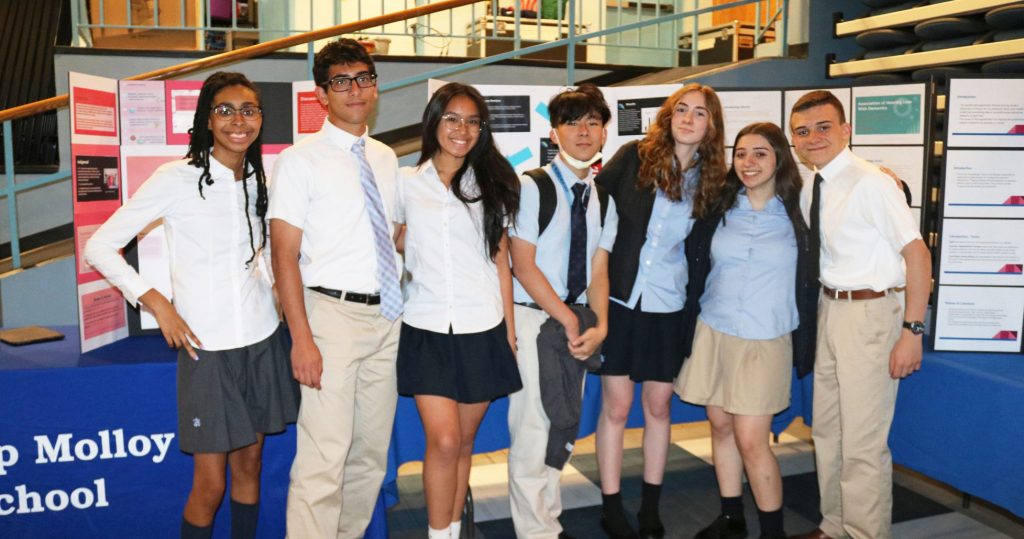 On Thursday, April 28th, Molloy hosted its first in-person Science Symposium in two years. Participants included members of Ms. Mary Mallia's Science Research Program, Stanners that have been conducting research for three of their four years at Molloy. Beginning their sophomore year, students commit to executing a three-year long project, and by their senior year, they have years of research experience to draw from in college and beyond. Due to COVID-19 precautions, the last two symposiums were held virtually, and so sophomores, juniors, and seniors all presented their research in front of an audience for the very first time. Students, family members, faculty, and administrators all attended the symposium to support the participating Stanners and enjoy their enthusiastic presentations.
Before presentations began, Ms. Mallia, Principal Dr. Darius Penikas, and Chair of the Science Department Mr. Michael Nadeau addressed the students and their guests, commending them on their commitment and rigorous research. Then, throughout the afternoon, guests were invited to interact with the student researchers and learn about their experiments. In the Ralph DeChiaro Theater, sophomore students presented their scientific literature reviews on a topic they found most compelling. Juniors presented a project plan outside of the theater, depicting a research plan that they will conduct throughout their final year in the program. In the library, seniors presented the real-world research they've worked on throughout the past year. While a few projects focused on the impact of COVID-19 on everyday life, others dealt with personality traits and twins, the relationship between video game animation and age, and food intolerance in different countries, among other topics.
In addition to great research work at the symposium, senior Paul Lanza '22 won the NYU Tandon School of Engineering STEM Impact Award! $1000 was awarded to a project of societal importance; his project was to design a scalpel blade using aluminum oxide. Junior Stutee Oke '23 was awarded the Honors Award (3rd Place) in the Finals. She researched the impact of supply chains on small companies.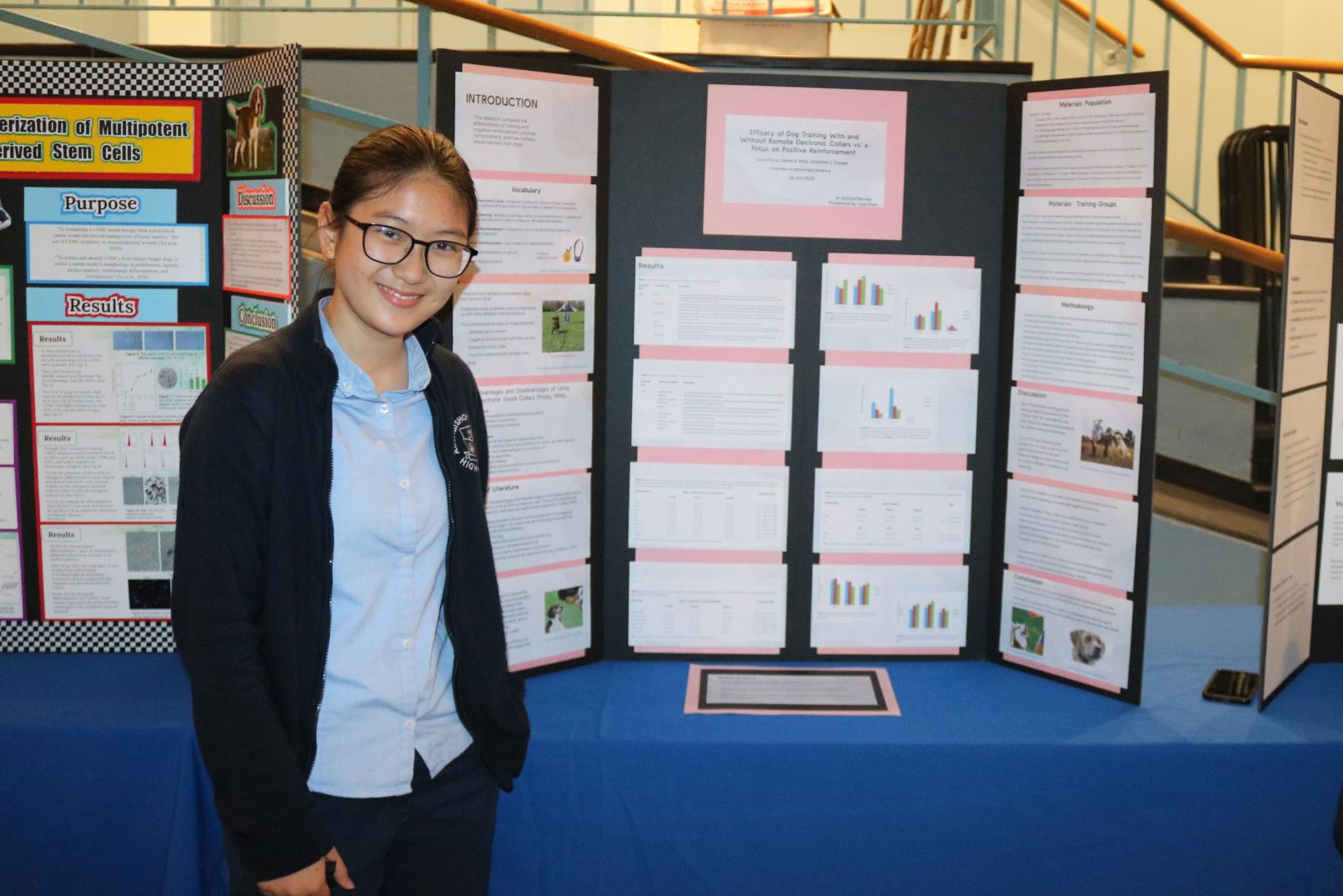 ---
Molloy Hosts Welcome Event for Incoming Freshmen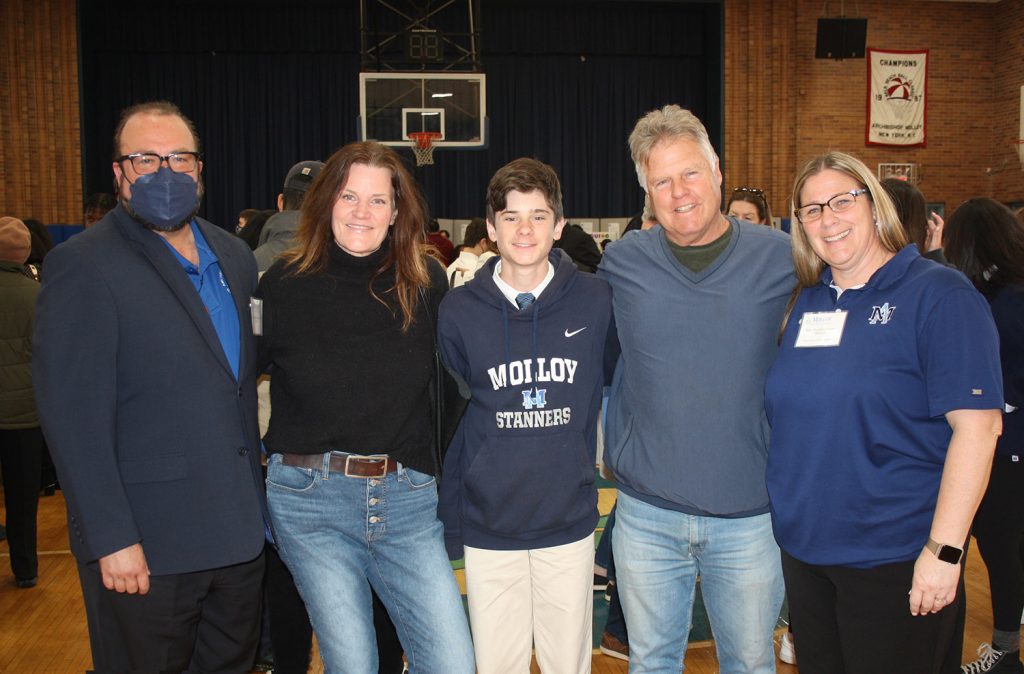 On Saturday, April 30th, over 350 families from the incoming freshman class visited Molloy for our Spring Welcome Event. Throughout the morning, students from the Class of 2026 got to speak with faculty, staff, and students, and stop by tables representing different departments — including Academics, Medical, Freshman Camp, Finance, Athletics, IT, Clubs & Activities, and more! Additionally, the incoming freshmen took their ID photos, had the opportunity to purchase apparel, and enjoyed some finger foods like hot dogs, cookies, and churros.
Mr. Jonathan DiDonato '01, Director of Admissions, shares, "The Spring Welcome Event was a major success! It is a truly fun and positive event where incoming freshmen and their families get to celebrate their acceptance and registration. Many families mentioned how everyone was happy to help and that the student volunteers were very enthusiastic. And of course, the students are a wonderful representation of our school. This was the event's second year, and we hope to continue this tradition in the years to come."
Many thanks to the members of the Class of 2026 and their families who joined us. Welcome to the Molloy family! Photos by: Camila Cabrales '25, Antonia Dey '24, and Mr. DiDonato '01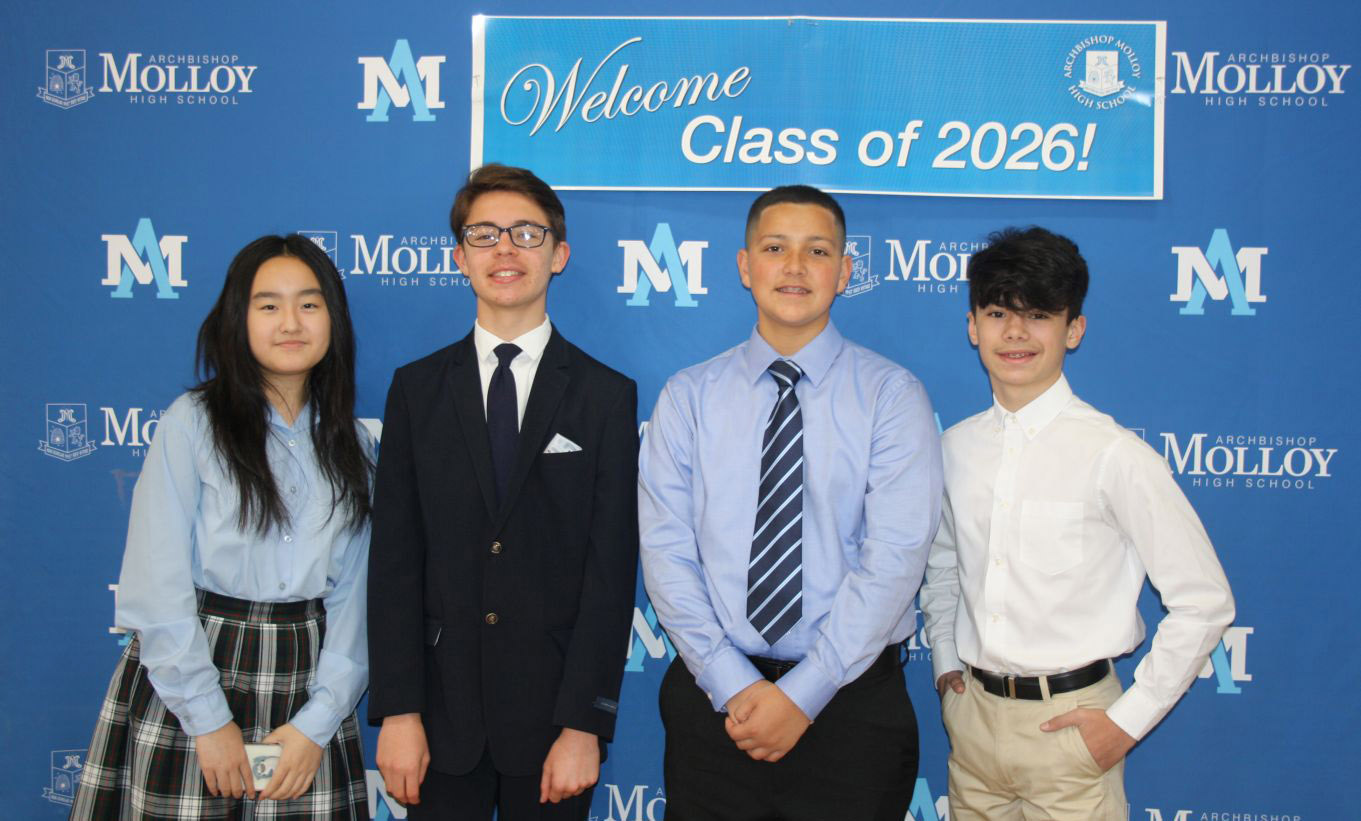 ---
Stanners Travel to El Paso for The Encuentro Project
In April, students from Archbishop Molloy High School and Mount Saint Michael Academy spent their Easter Break participating in The Encuentro Project in El Paso, Texas. According to their website, The Encuentro Project "offers participants a faith-based, multi-faceted immersion program in the El Paso-Ciudad Juarez border region to experience a deeper understanding of the complex migration reality and of the community." Molloy students also participated in this program back in early 2020, but this is the first time they were joined by a fellow Marist school. The students were chaperoned by Ms. Lori Wilson, Director of Campus Ministry & Marist Mission, Dr. Alice Prince, Molloy's Diversity & Inclusion Consultant, and Br. Todd Patenaude, FMS.
Each day of the five-day experience offered new and varying perspectives on immigration or the local community. One day, the group met with an immigration lawyer who explained the challenges of gaining US citizenship. "We learned the complications that come with the process and why it takes some people 7 years and others 30," said Ms. Wilson. Another day, students heard from two speakers about the aid given to migrants by a charity organization and the Catholic Church. "We were taught by a social worker about the hardships that migrants find, and were taught by a Jesuit priest about the history of the El Paso diocese and Catholic Social Teaching," explained Ms. Wilson. The group also encountered the reality of the migrant experience by working in a local shelter. This was said to be eye-opening, as coming face-to-face with those who are struggling, and hearing their stories directly from them, is much different than hearing a potentially different version elsewhere. "I feel that we will take the lessons we learned from this experience back to our own communities in pursuit of spreading awareness of the common human dignity we all share. We must think about what we can do to acknowledge that dignity," said Ms. Wilson.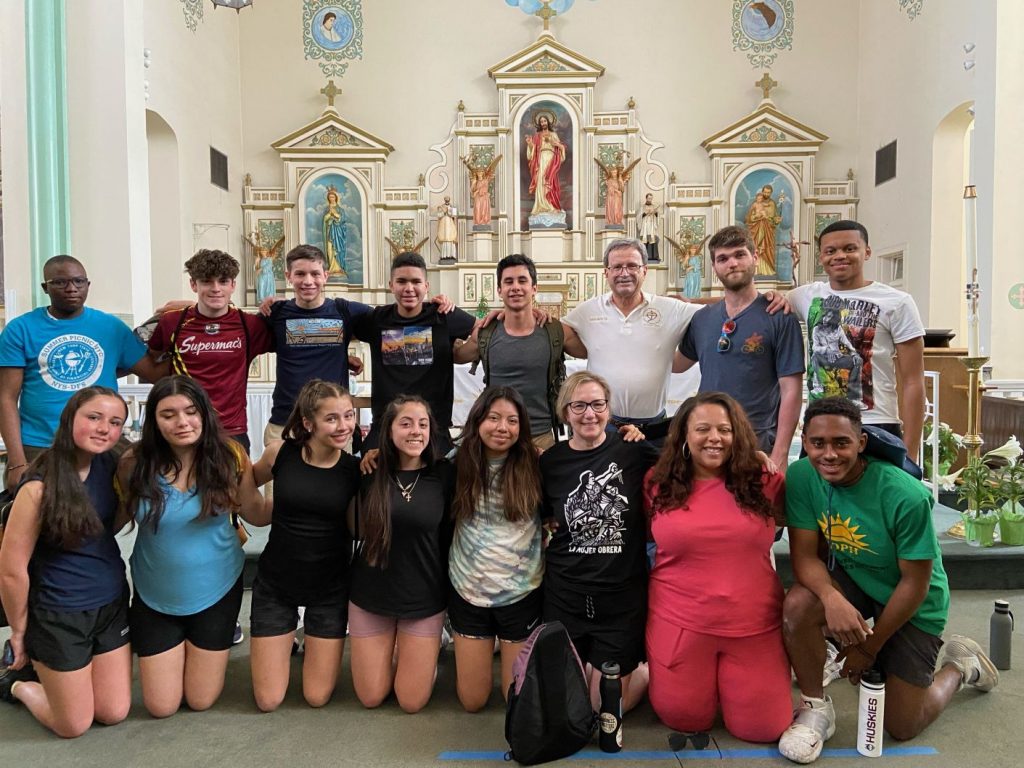 Day four featured many activities, including a presentation by border patrol officers, a spiritual hike up Mt. Christo Rey, a conversation with a psychologist, Maria, who spoke of immigrants she has worked with who are working through their trauma, and a visit to a pop-up art exhibit that included interviews with immigrants. The immigrants spoke of their concerns for themselves, their families, and their futures.
Service opportunities such as the immersion experience in El Paso reflect St. Marcellin Champagnat's call to all Marists, that we must serve the least favored in our society. Upon reflection, Stephanie, a Molloy junior, shared, "There's so much change that needs to be done in our world and the people [in El Paso] are willing to do it. I want to help. There's so much more everyone can do. Spending this week under the guidance of Ms. Wilson and Dr. Prince has taught me so much. This week has been humbling and a blessing from God."
---
Senator Addabbo Recognizes Molloy's City Champions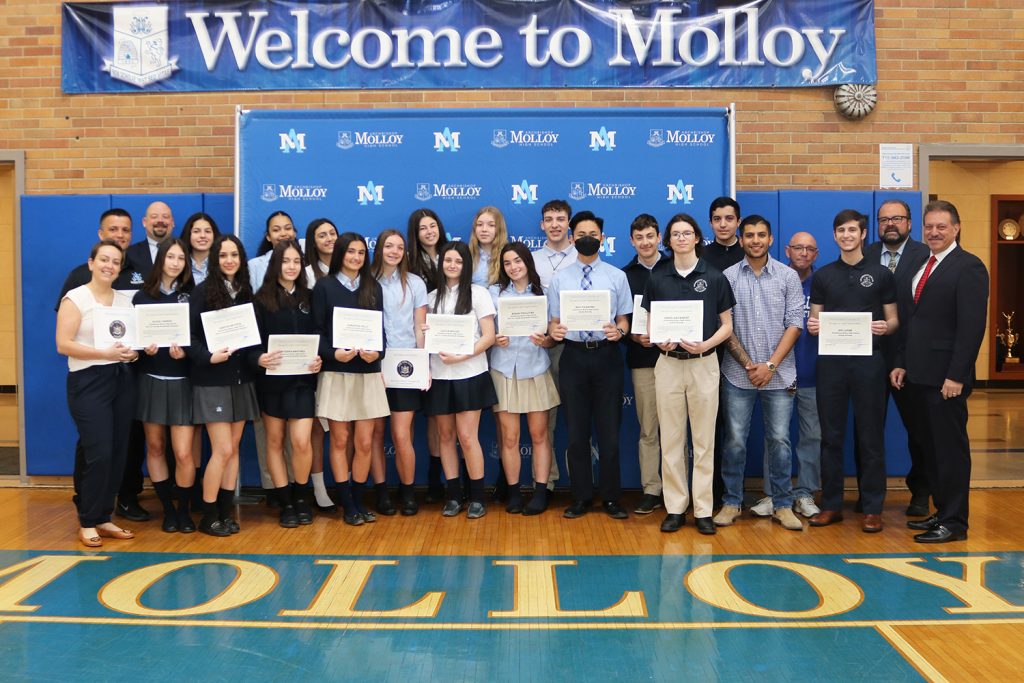 On April 29th, Senator Joseph P. Addabbo Jr. '82 visited Molloy to personally congratulate the Girls JV Basketball team and the Varsity Bowling team! Both teams won the City Championship this winter, and Senator Addabbo's office organized a small ceremony to recognize their achievements. Senator Addabbo, a Molloy alumnus, serves the district that includes the neighborhoods of Howard Beach, Glendale, and Middle Village, where many of our athletes hail from.
Mr. McCleary, Molloy's Athletic Director, shares, "I am thrilled that Senator Addabbo recognized our City Championship teams. He has always been great to Molloy and his constituents. We always look forward to him coming back to visit Molloy."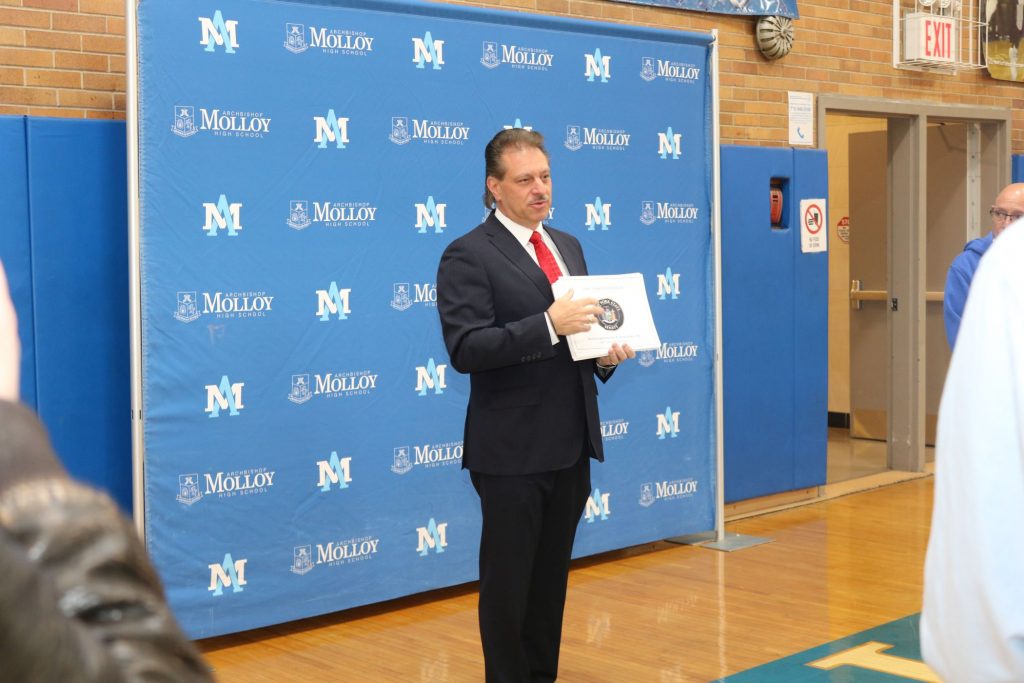 ---
Model UN Hosts Geography Challenge Party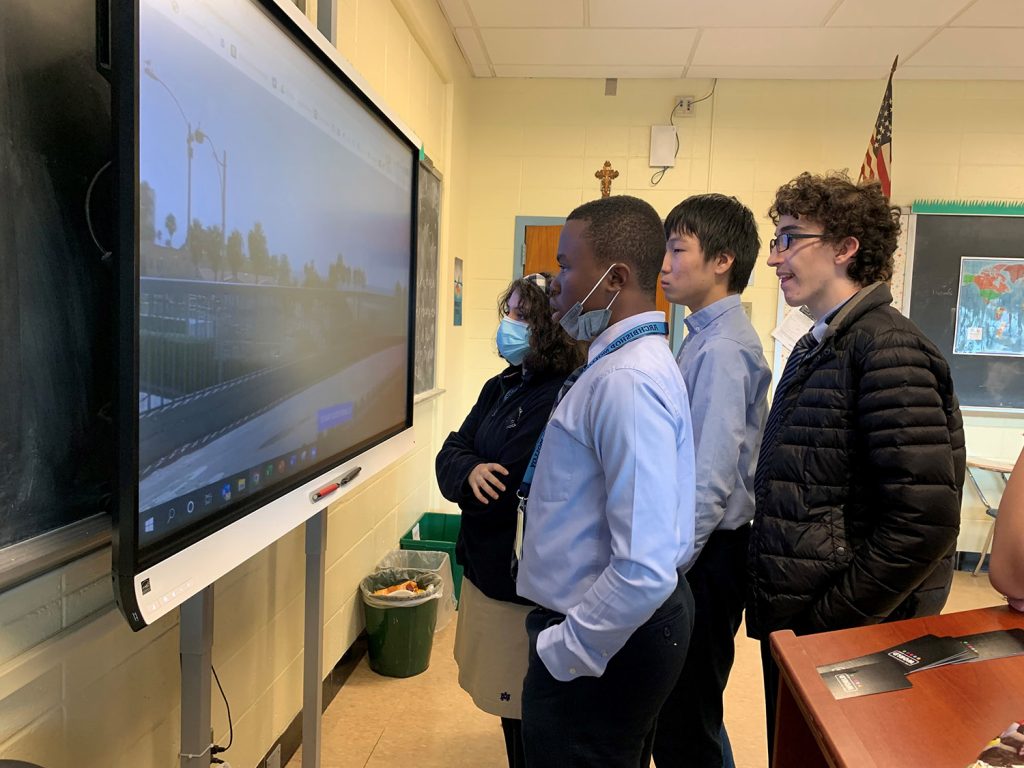 Molloy's Model United Nations Club hosted their first Geography Challenge Party on Wednesday, April 27th. Students brought food from places all over the world, including China, India, Taiwan, Mexico, Australia, and the US. The challenge was to see who could bring food from two places at the greatest distance from each other — the winner had licorice from Australia and crackers from the US. Club members also played several geography games, including US State Bingo, a geography card game, and the online game City Guesser. The students had a great time learning more about the world around them! Special thanks to Ms. Abbey Hipkin for providing information and photos for this story.

Congratulations to Mr. Chris Dougherty '91 and his wife Heartie on the birth of their second child, Helena Martha Look-Dougherty! Helena was born May 3, 2022 at 10:59am, 8 lbs 1 oz. Mom, dad, brother Xavier, and baby Helena are all doing well in the days since. Congratulations to all and welcome to the world, Helena!
---
Ms. Edit Boral, Chairperson of Molloy's Computer Science & Engineering department, reconnected with her former student Stephanie Szpylka '19 at the Science & Technology Education Conference at Queens College on Friday, April 29th. Stephanie, Molloy's 2019 Valedictorian, is currently majoring in math and computer science at Queens College. She was serving as a Teacher's Assistant in the Robotics Workshop at the conference. Stephanie shared with Ms. Boral that she plans to intern at JP Morgan Chase this summer. Recently, Stephanie was one of four student panelists serving the Queens College Center for Career Engagement and Internships.
---
Pro wrestler William Morrissey '05, formerly known as Big Cass, recently made an appearance on an episode of All Elite Wrestling (AEW) Dynamite! As Morrissey made his entrance into the arena, legendary announcers Jim Ross and Tony Schiavone hyped up the 7 footer by referencing his alma mater, Archbishop Molloy High School, and his high school coach, the late Jack Curran! It was an awesome moment for wrestling fans and Stanners alike. Check out the clip in the embedded tweet below.
---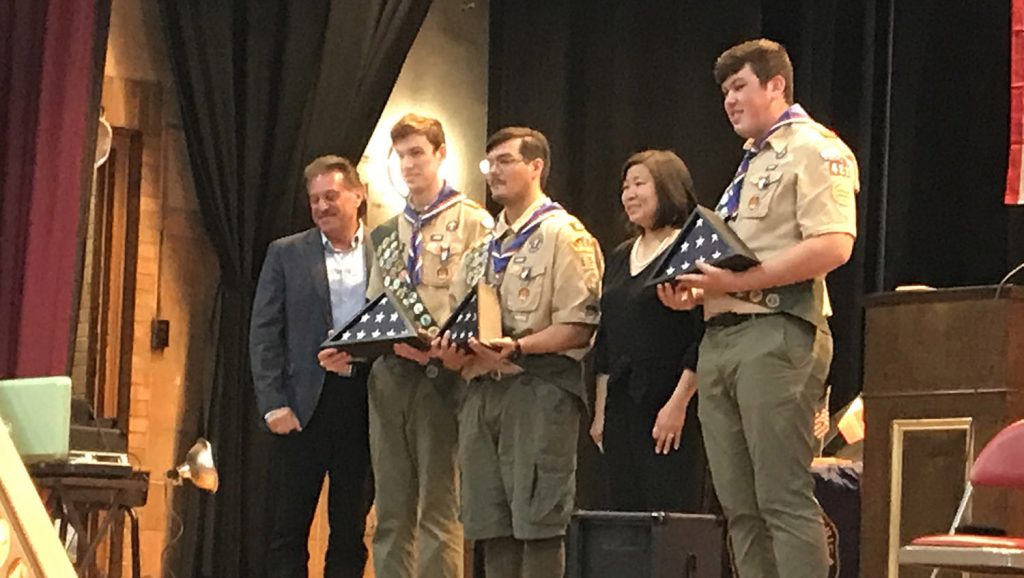 After a multi-year delay due to COVID-19, Nicholas Mezic '19 and Lukas Mezic '20 officially received their Eagle Scout award from the Boy Scouts of America. Their Court of Honor was held on Saturday, April 30th, 2022 by Troop 427 in Glendale, Queens. As part of the ceremony, Nicholas and Lukas were gifted a US Flag flown over the Capitol Building in Washington, D.C. by both Congresswoman Grace Meng and NYS Senator Joseph P. Addabbo Jr '82.
---
Dr. Dennis Carey '65 has penned a new work of historical fiction. Silver Strand The Long Beach Saga, published by Yerac Press, was released on April 1, 2022.
About the Book: Bridget O'Herlihy faces her demise as she is shipwrecked aboard the Mexico, some 200 yars from "the shining silver sands of a barrier beach 3000 miles away from her native Ireland." Something, however, saves her from her doom. Is it her prayers, her "plucky" resourcefulness, or the mystical power of the relic she holds?
Silver Strand traces the history of Long Beach from the 1837 shipwreck through Superstorm Sandy in 2012, paralleled by the mystery of the Lost Staff of St. Patrick. From notes about the Long Island Railroad's gilded age to tales of bootlegging and rumrunning from the roaring 20s, Silver Strand is a fascinating approach to telling the story of many historical eras in relation to Long Beach.
Dr. Carey's book is available for sale online. Click Here to learn more.
---
Michael Sweeney '72 spent 24 years with the New York State Police and 21 years as Chief Investigator with the NYS MTA Office of the Inspector General. He's also proud to be an official starter at the annual Stanner Games Track Meet. Mike is now retired and enjoying time with his 11 grandchildren. "My four years at Molloy are the most memorable years of my young life," said Mike. "I am looking forward to celebrating the 50th anniversary of the Class of 1972 later this year. 'God Bless All Stanners.'"

Please pray for the repose of the soul of Thomas Sheridan '71, who passed away on May 5, 2022.
---
---