---


Class of 2022 Enjoys Busy Final Week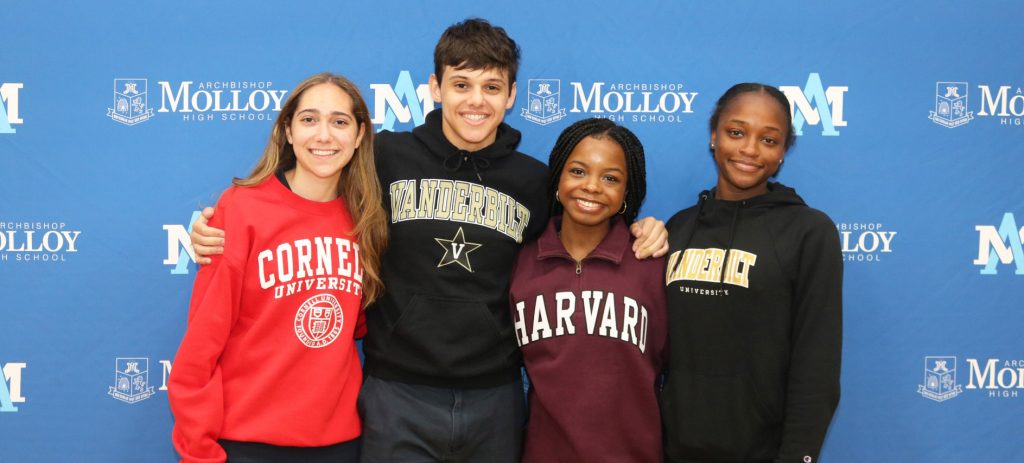 Sweatshirt Day!
On Thursday, May 19th, the Class of 2022 walked the halls of Molloy in their college sweatshirts!
A much loved tradition, seniors were encouraged to wear a shirt or sweater from the college or university they will attend in the fall. From Harvard to Vanderbilt, and Cornell to Columbia, Stanners are attending some of the most prestigious schools in the country! We're so proud of our seniors, and wish them the best of luck wherever they are headed.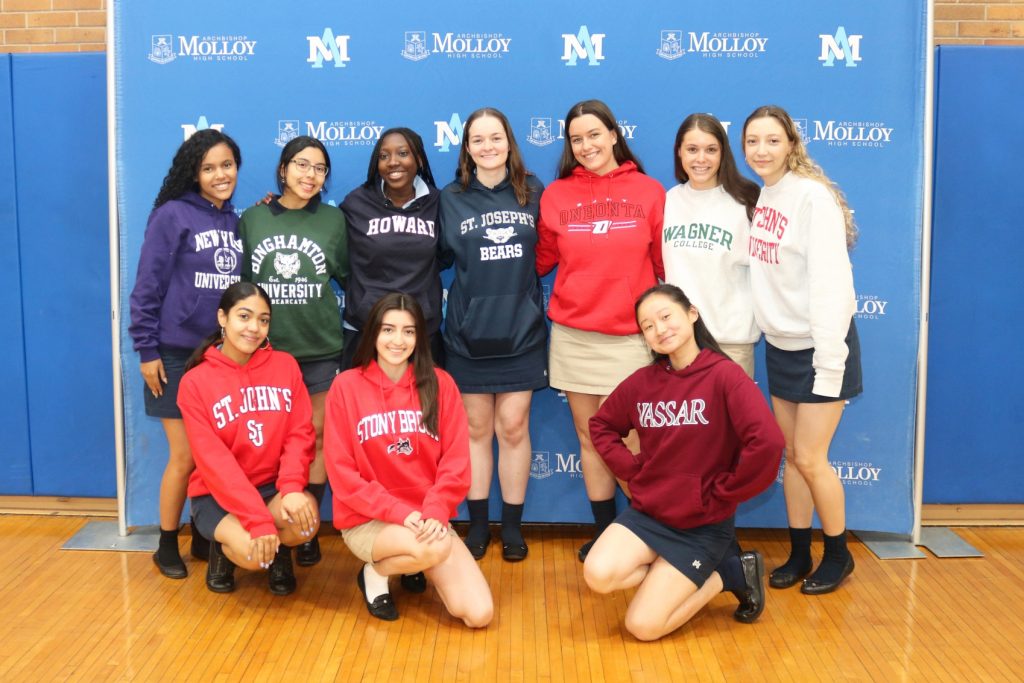 Señor Bronsen's "Fiesta Final"
Also on May 19th, in honor of the end of the school year, Spanish teacher Señor Bronsen put together a "Fiesta Final" for the juniors and seniors. During their lunch periods, Stanners were treated to fun music and party lights in a festively decorated cafeteria. During senior lunch, Señor Bronsen and his student interns organized an interactive Spanish lesson to put everyone's language skills to the test. It was great seeing the whole cafeteria participate, even the French and Italian students!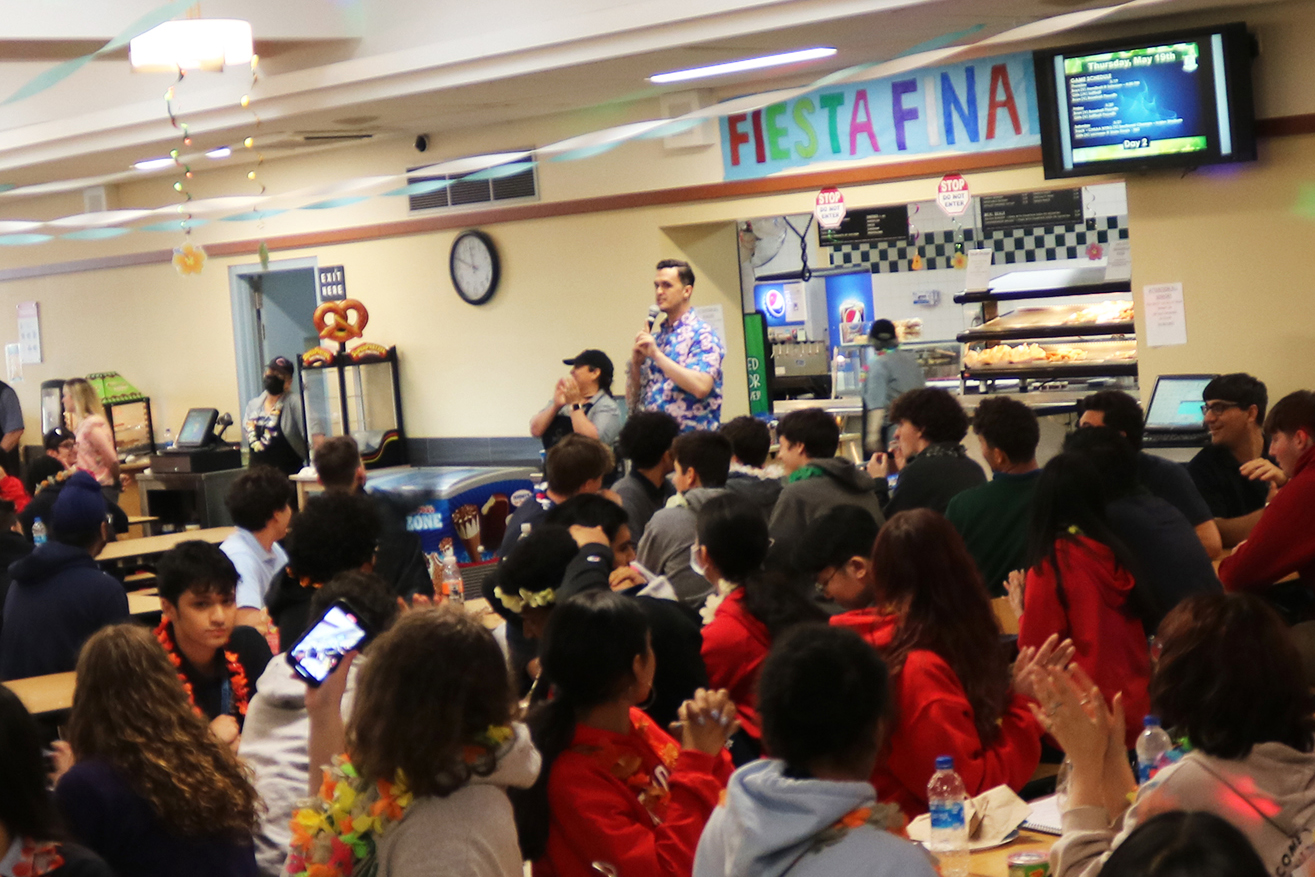 Seniors' Last Day
On Friday, May 20th, the seniors experienced a bittersweet day—their last day as Molloy students. The Class of 2022 has finished their classes, and soon these Stanners will officially be alumni. Seniors spent their last day signing each other's shirts, taking photos with their friends, and thanking their favorite faculty and staff members.
In addition to events and celebrations at school, Molloy has been honoring its seniors on social media with a series of "Senior Memories" submitted by the Class of 2022. Check out our Instagram feed @molloyhs to see some of the memories our seniors have shared.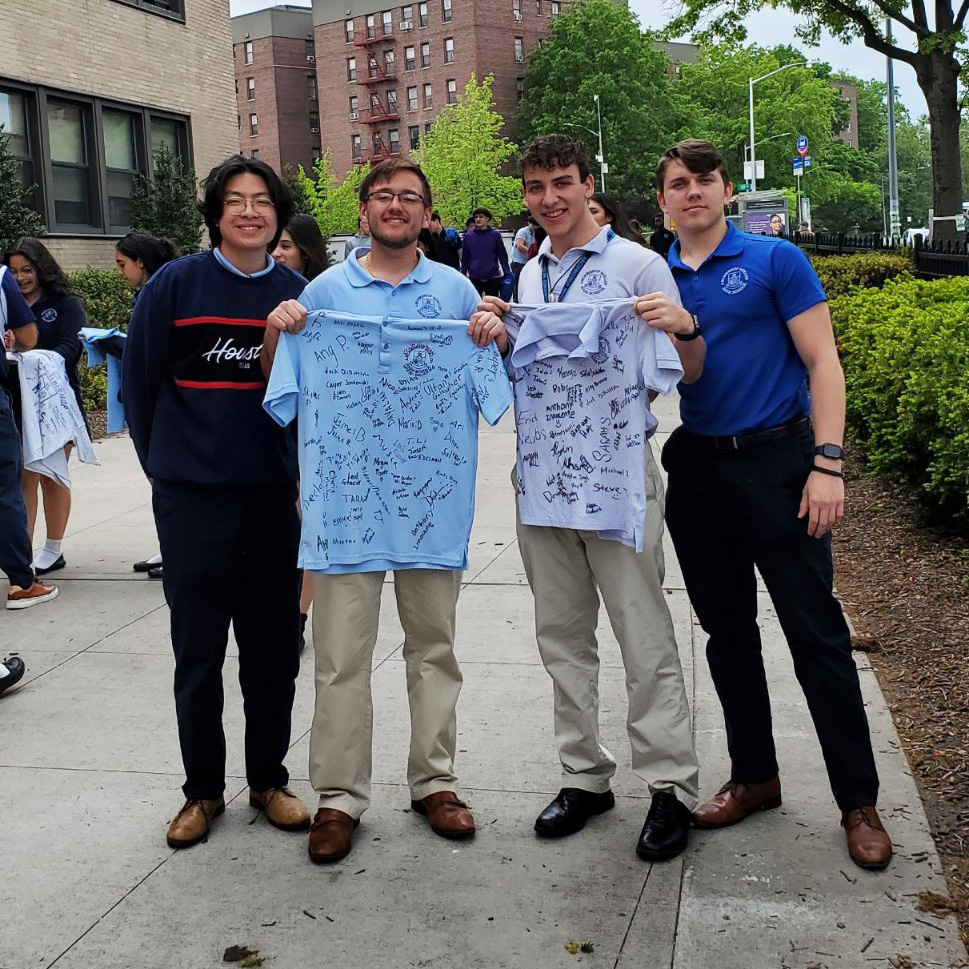 ---
Photography Club Featured in Online Exhibition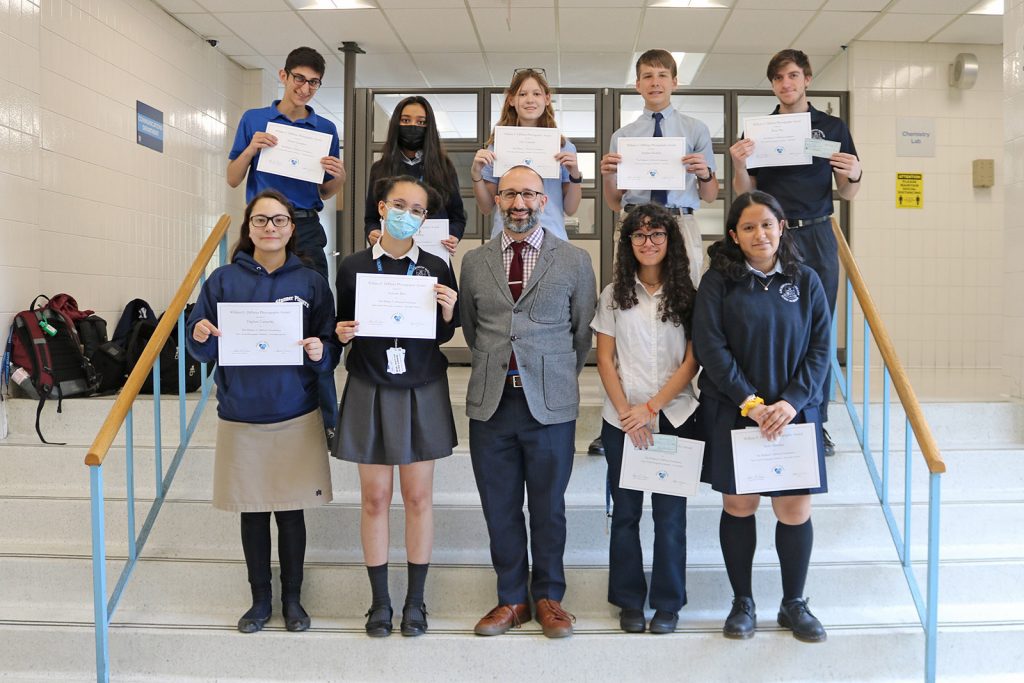 The William F. DiPietra Foundation provides grants and other monetary prizes to Media Arts students at Fordham University, Long Island University, and Archbishop Molloy High School. Founder and President, Helen DiPietra, created the foundation to honor her late son William, a proud Stanner and photography enthusiast.
William F. DiPietra graduated from Molloy in 1994 with the dream of pursuing a career in media. He received a B.A. from Fordham University and an M.A. from Long Island University, both in the Media Arts. Bill loved his work as a filmmaker, director, and screenwriter. Unfortunately, Bill suffered from a serious illness and passed away in 2017. To honor his legacy, Long Island University reached out to Helen to inform her that an award would be given to a college graduate in Bill's honor. Touched, Helen decided she wanted to create an award to assist Media Arts students, because that's what Bill was passionate about.
Starting off awarding a grant during graduation at Long Island University, the foundation grew to provide grants to Media Arts students at Fordham University and Archbishop Molloy High School, scholarship awards to students at St. Elizabeth Catholic Academy, and donations to EMS FDNY Help Fund, FDNY Honor Emergency Fund, and Ronald McDonald House. According to Helen, "Our mission statement is to provide grants to Media Arts students primarily at schools Bill attended, but also to causes that are especially significant to us, honoring his career as a firefighter as well." Mostly funded by friends and family, the foundation has awarded about $50,000 in grants over the last three years.
In addition to providing grants, Helen created a Photo Exhibition that invites students to submit their original photos to be displayed on the foundation's website. Initially highlighting college students, in its third year Helen reached out to Molloy and asked if there was a photography program available. Working with Mr. Joe Sommo '03, co-moderator of the Photography Club, parameters of the exhibition were established: students of the club would each submit five photos depicting a theme of their choosing. All participants were awarded an honorary prize, while the top three won a larger prize.
The top three Stanners of the 2022 exhibition are:
Stephen Krische '24 — "Around New York" — $200
Camila Cabrales '25 — "Seasons of the Sky" — $150
Ryan Plut '22 — "Color in Nature" — $100
The Stanners that have received an honorable mention and a $50 Amazon gift card are: Anjanie Radhay '23 – "Exploration of NYC" | Anthony Romano '23 – "Molloy Basketball" | Antonia Dey '24 – "Seasons" | Lily Connolly '24 – "Skyline Sunsets" | Petros Georgiou '22 – "Nature & Human Structure" | Sofia Morales '24 – "Paris, France" | Daphne Camacho '22 – "Adventures in Fiction"
Although for the last two years the foundation has presented awards at Molloy's graduation to Media students, this year Helen requested that awards be given to student photographers. "The Photography Club is a hidden gem," said Helen, "and I feel Bill would be really proud of what [Molloy is] doing."
Molloy is grateful to help honor Bill and promote such a wonderful foundation, while also celebrating the creativity of its students. Molloy hopes that the exhibit and the foundation continues to grow and inspire students interested in the Media Arts. To see the exhibition, visit www.wfdfound.com/photos-2022. Learn more about Bill and the foundation at www.wfdfound.com.
---
"TRIP" Panel Offers Students Great Insights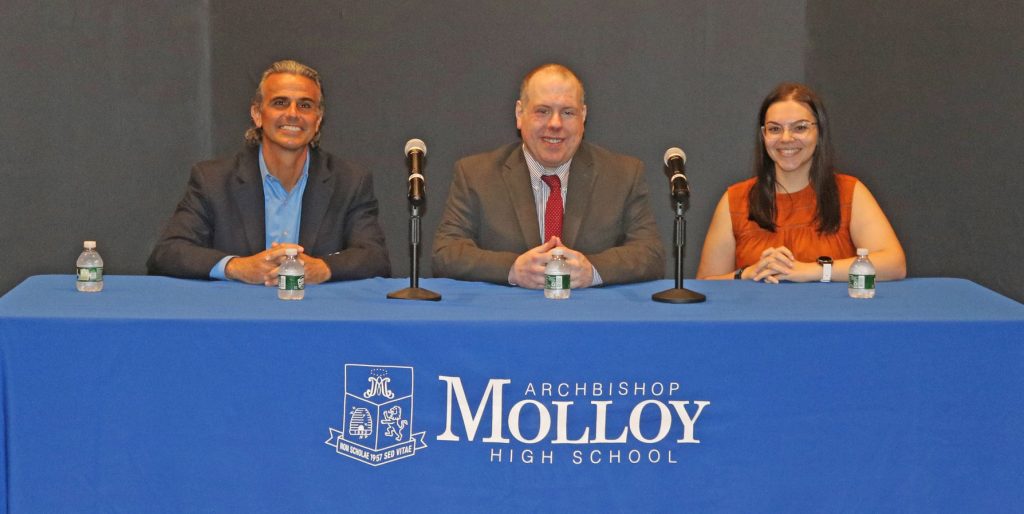 On May 16th, Molloy hosted its first Technology Research and Innovation (TRIP) Panel. Molloy's own CJ Mallia (Vice President, Technology & Innovation), as well as alumni Damian Sciano '85 (Director, Statewide Energy Data Integration, Con Edison) and Allison Terranova '14 (Structural Engineering Designer, Stantec), spoke to Stanners about their careers in technology and engineering.
Over the course of an hour, the panelists answered questions regarding why they entered into their field, the skills needed for certain careers, the competitive job market, the value of internships, and how a degree in Computer Science can be used in many different jobs.
---
Molloy Celebrates AAPI Heritage Month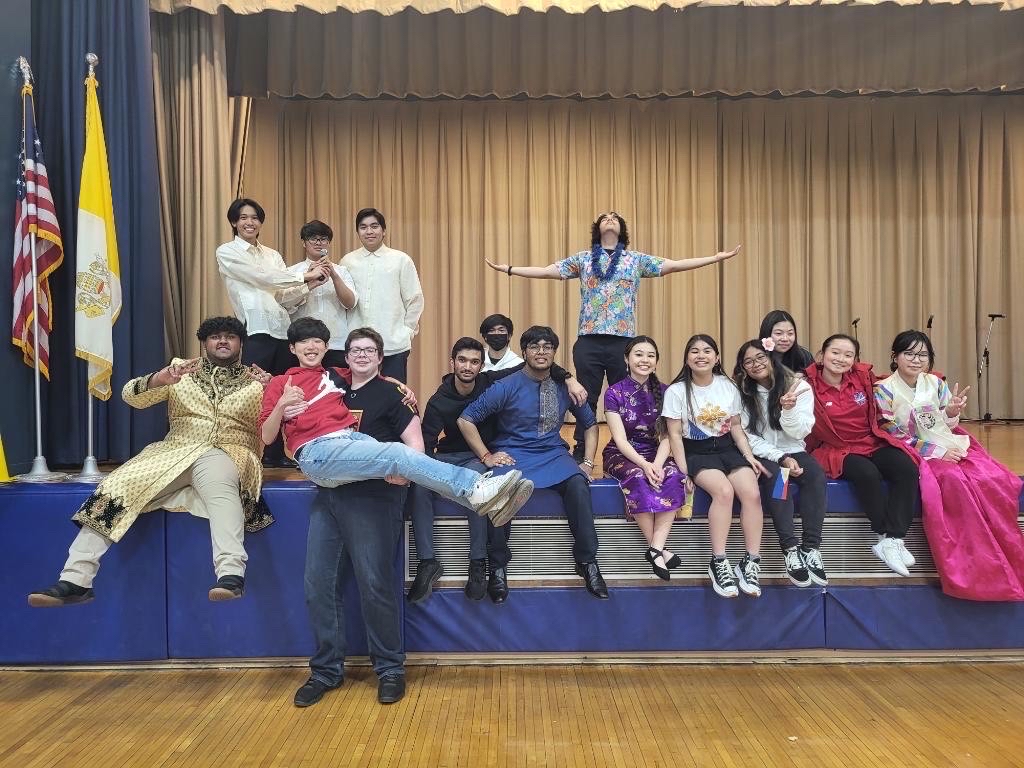 May is Asian American and Pacific Islander Heritage Month! We would like to highlight our Asian Club and their efforts to celebrate AAPI heritage and educate our school community this month.
Throughout the last few weeks, club members presented trivia questions on the morning announcements. Senior members of the club – especially the E-Board – are already missed! Ms. Rose Haslbauer, the moderator of the club, shares, "We had our AAPI Celebration earlier this month with a variety of snacks like Asian candy, lumpia, and jelly leche flan along with Thai tea and other drinks. We played games and did some K-Pop dances on Just Dance too. It was also our senior leaders – Yutthapol Sergeant, Hailey Legaspi, Keara Malazarte, and Keenu Paulino – last meeting/event, so we had a little send off for them. They also introduced our upcoming leaders – Sophia Lai, JingYi (Nancy) Xie, and Frank Wang." Thank you to Ms. Haslbauer and Asian Club. Answers to the trivia questions: A. Filipino Fishermen – C. 1849
---
Nine Seniors Sign National Letter of Intent This Spring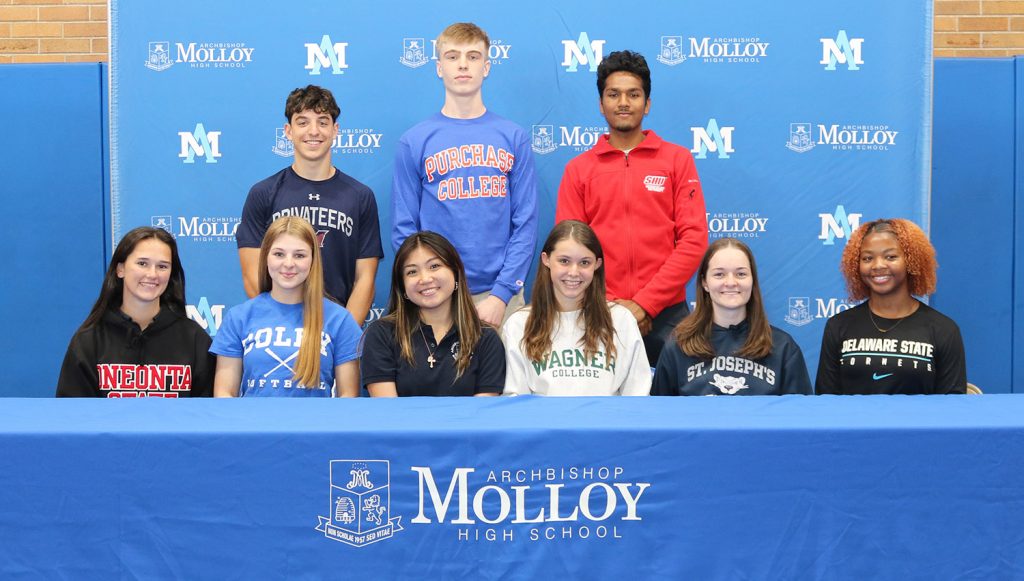 Archbishop Molloy High School congratulates the nine outstanding senior student-athletes who recently signed a National Letter of Intent to play their sport at their college or university beginning this fall. Molloy held a signing event in the Jack Curran Gymnasium on Wednesday, May 18th, which was attended by many family members, friends, and coaches who showed their support. Congratulations to:
Isabelle Audrin '22 – Wagner College – Girls Cross Country & Track & Field
Katherine "KC" Desarno '22 – Colby College – Softball
Kristen Donovan '22 – St. Joseph's University (NY) – Girls Basketball
Ryan Jaipaul '22 – Sacred Heart University – Boys Track & Field
Abigail Jefferies '22 – Delaware State University – Girls Track & Field
George Kanellopoulos '22 – SUNY Maritime College – Boys Soccer
Tara Nicholson '22 – SUNY Oneonta – Girls Soccer
Kyrsten Victorio '22 – Hunter College – Girls Volleyball
Desmond Ward '22 – SUNY Purchase – Boys Basketball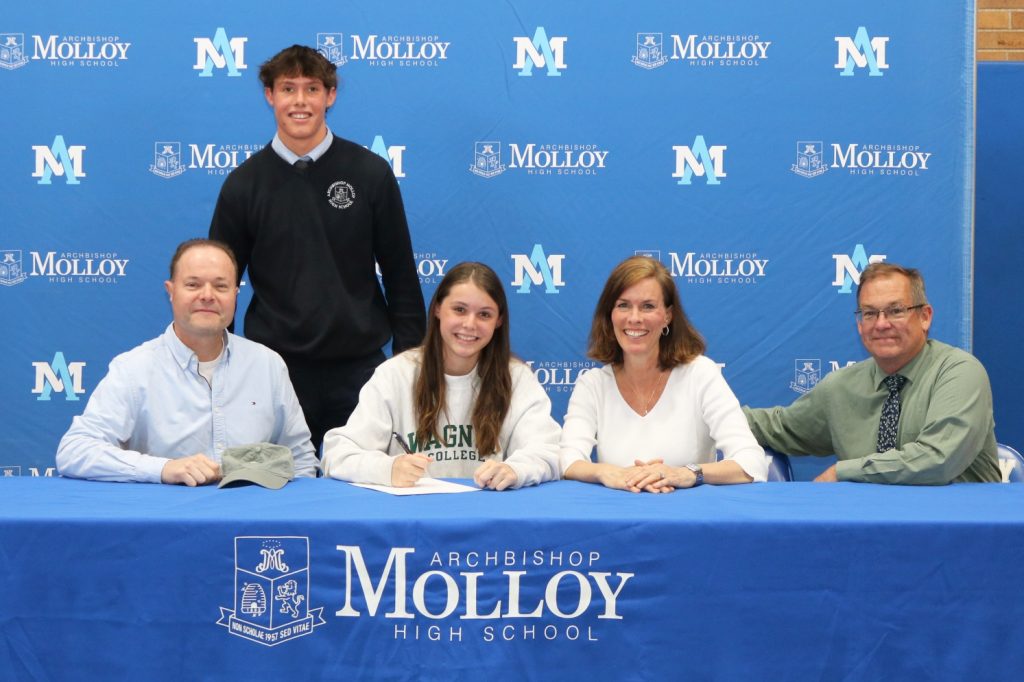 ---
Girls Varsity Softball Team Wins B-Q Championship!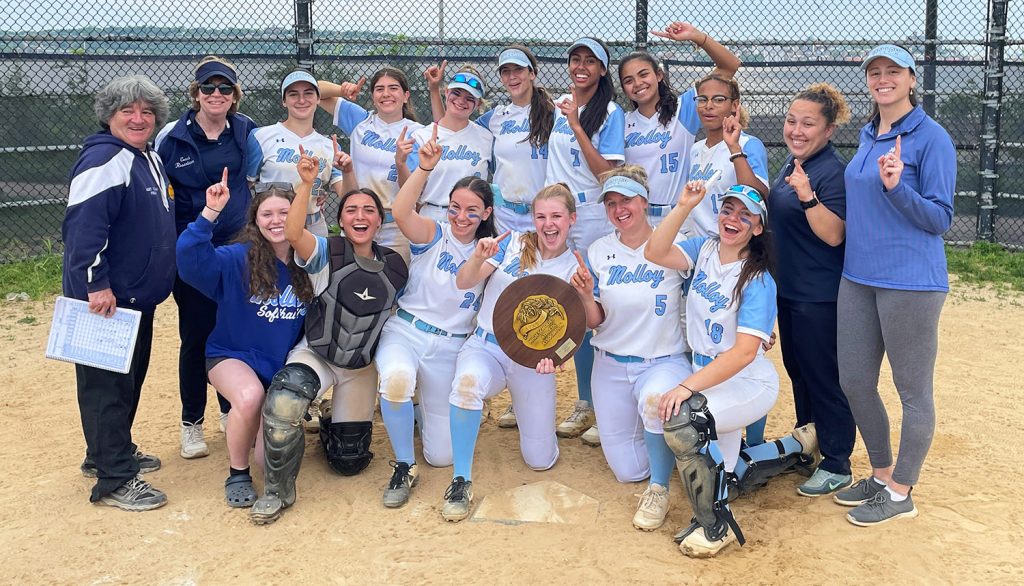 Congratulations to our Girls Varsity Softball team, who captured the Brooklyn-Queens Championship! Molloy defeated Xaverian High School 3-1 in a full team effort to win the Championship. Jaclyn Piazza '23 hit a clutch 2-run triple in the top of the 7th inning to help seal the win, while pitchers Sofia De La Rosa '23 and KC DeSarno '22 both had strong performances on the mound. Molloy advances to the State Championship Semi-Finals as the B-Q representative.
---
Download the Spring 2022 Issue of The Stanner
We invite our community to download the latest edition of The Stanner newspaper. For over 75 years, The Stanner has been St. Ann's/Molloy's home for school news and student opinion. Molloy's student newspaper is a multi-time winner of First Place General Excellence at The Tablet High School Press Awards.
The latest issue features a retro design that calls back to the late 1970s and early 1980s. The masthead on the front cover features bold letters with white outline and a sketch of the school, while the articles are arranged in four columns with headlines in a bolder, san-serif font. Some articles are also enclosed by thin borders, another retro design style of Molloy's past newspaper.
---
Seniors Top Faculty in Anticipated B-Ball Showdown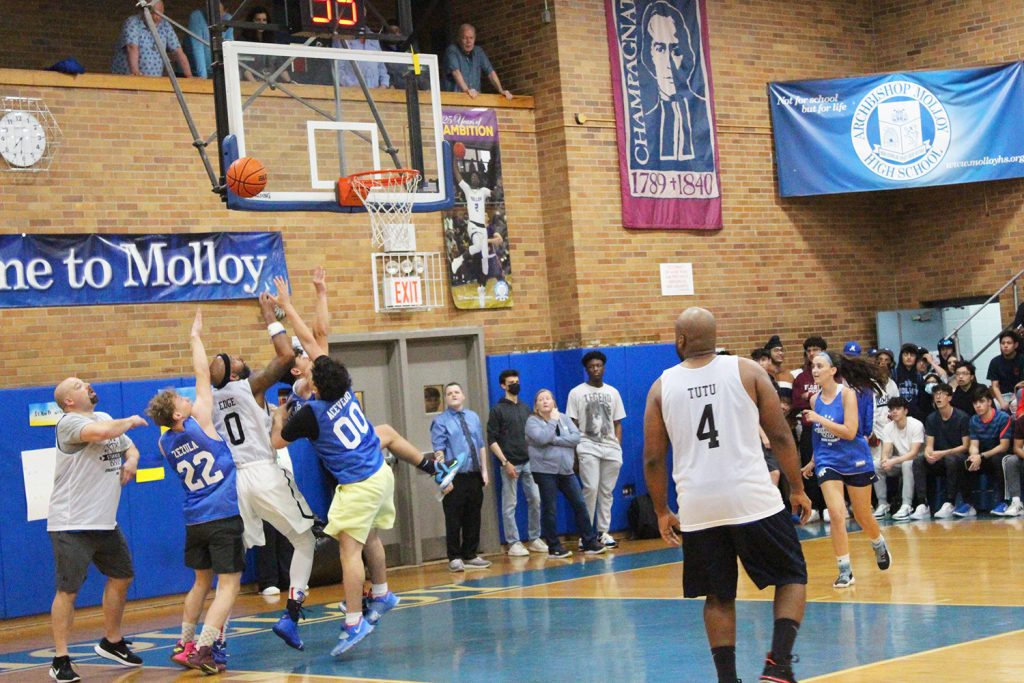 For the first time in three years, Stanners gathered in the Jack Curran Gym to witness one of the most beloved events of the school year: the Seniors vs. Faculty Basketball Game! Hosted on May 13th, the Molloy community was able to spend the night cheering on the seniors, watching the AMHS Step Team perform, and applauding the AMHS Dance Team. Of course, Stanners also reveled in the talent and enthusiasm of the Sassy Seniors and their epic performance!
The seniors held a narrow lead for most of the game, and held on to beat the faculty with a final score of 42-37.
During the game, thousands of dollars were raised in support of Ukrainian refugees. Thank you to everyone who supported this important cause.
Photos by Stephen Krische '24, Krystal Valentin '25, and Ms. Green-Wresch.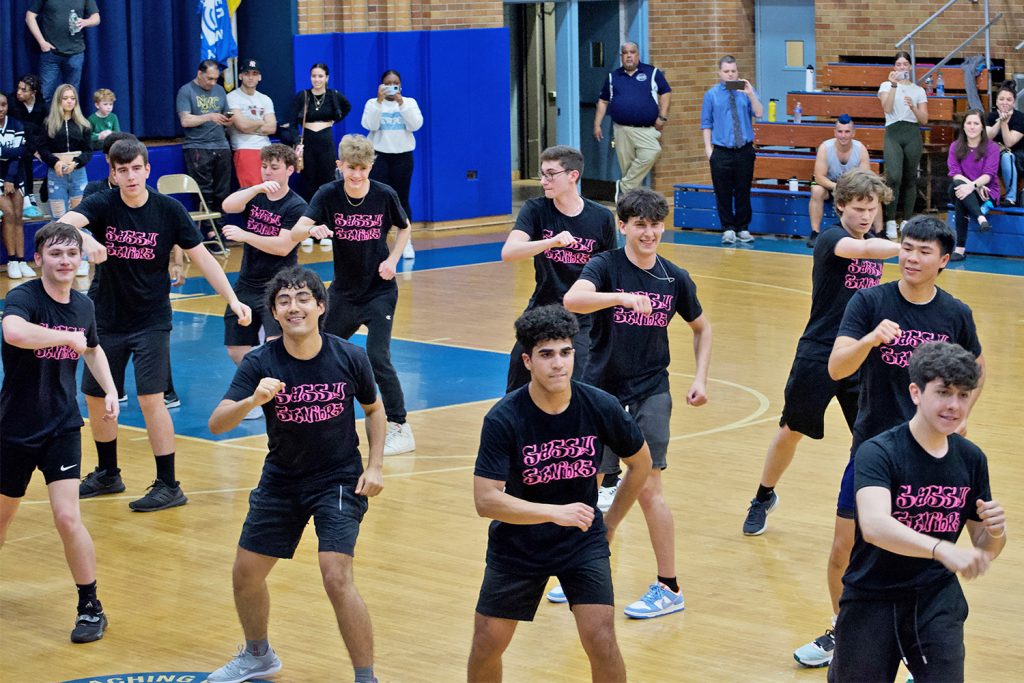 ---
Talented Stanners Shine at Spring Concerts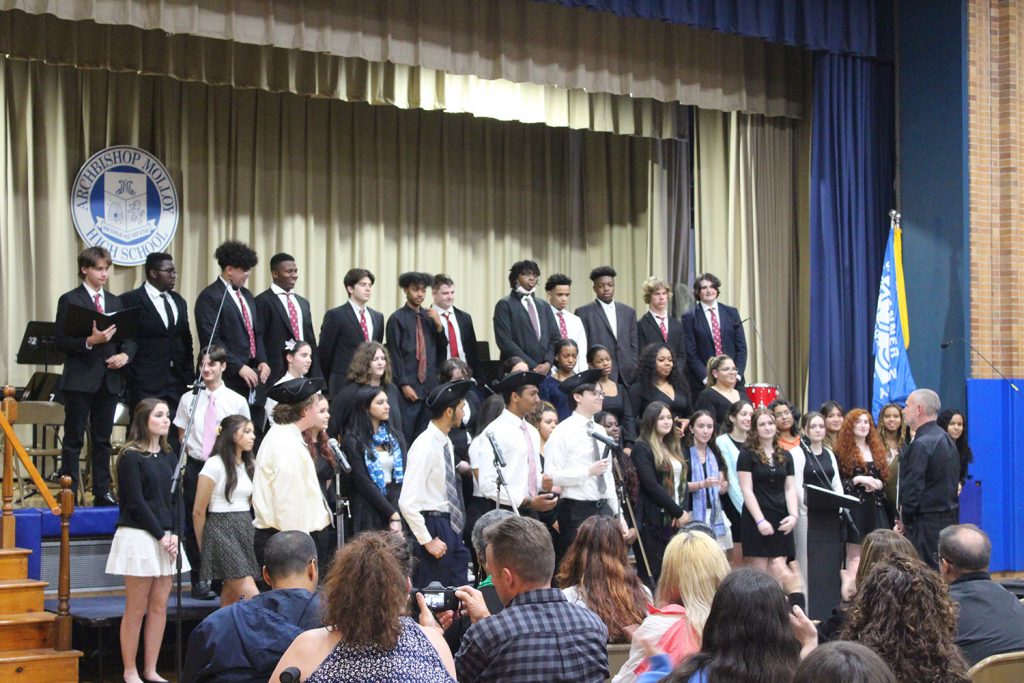 On May 17th and 18th, Molloy welcomed its community in celebration of its Spring Concert series, held in the Jack Curran Gymnasium.
The first evening showcased the Junior/Senior Chorus, directed by Mr. Jim Sheehan '75 and featuring pianist Mr. Kenneth A. Farnum, Jr. The event also welcomed the MultiQuire, which included students from Fordham Preparatory School, King School (Stamford, CT), Mt. St. Michael Academy, and St. Catharine Academy. Selections ranged from Musical Theater (West Side Story, Les Misérables, Hamilton, Little Women) to classical (Beethoven) to popular music (The Beatles), while several students took the spotlight with impressive solos (Joe Bruno '22, Joseph Ciaccio '22, Hailey Checo '22, Ryan Curran '22, Ryan Jaipaul '22, Molly McGuinness '22, Samir Patel '22) and duets (Anisha Singh '22, Kyrsten Victorio '22). Congratulations to Mr. Sheehan and all performers!
The second evening featured Molloy's Freshman Chorus, String Ensemble, and Concert Band, directed by Ms. Ya Ting Yang. Selections ranged from Musical Theater (West Side Story, Into the Woods) to popular music (Over the Rainbow) to film scores (Schindler's List, Jurassic Park, Stand By Me, Harry Potter). It was an inspiring evening full of fantastic music, and we congratulate Ms. Yang and all performers!
Check out the photo gallery below (photos by Luna Celeste Fuentes '24, Mateo Ramirez-Mendez '24, Krystal Valentin '25) and click the buttons below to download the evening programs and see a full listing of performances.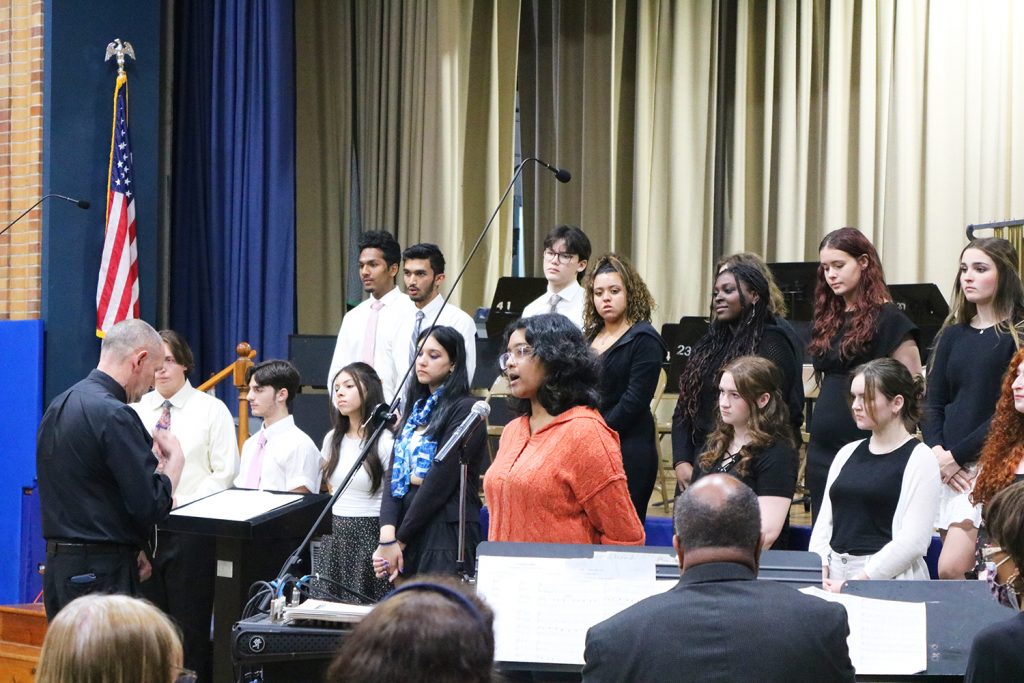 ---
Junior Participates in Congressional Art Contest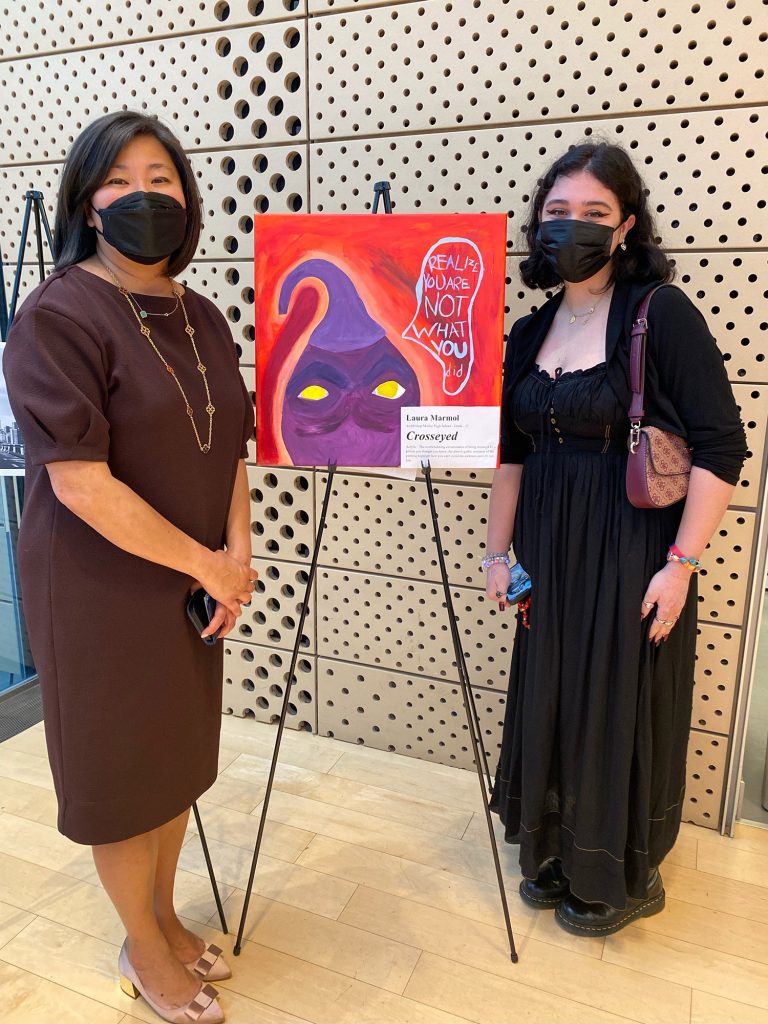 Junior Laura Marmol '23 recently submitted her work to a Congressional Art Contest presented by Congresswoman Grace Meng. Hon. Meng serves New York's 6th Congressional District, which includes Briarwood. Laura attended an event at Hon. Meng's office on May 21st.
The piece Laura submitted was called Crosseyed and utilized acrylic paint. "I didn't win, but seeing people look at and take pictures of my art was enough for me!" said Laura, who was proud to represent Molloy in the contest. She also thanked her teacher, Ms. Christine Tudor, for encouraging her to submit her work into the contest.
---
Track & Field Updates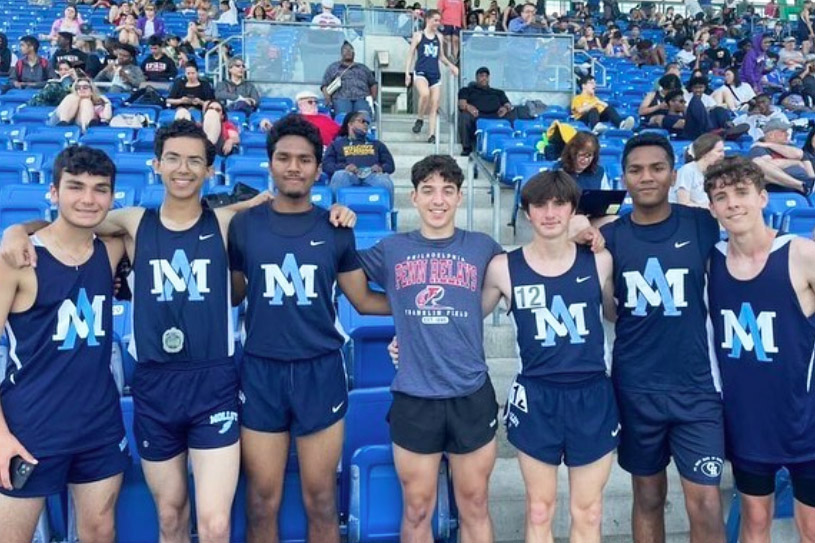 Congratulations to Eva Gonzalez '24, Brianna Rucker '24, Camille Munoz '25, and Grace Murphy '23, who recently set the Distance Medley Relay AMHS School Record with a time of 13:05.41. More achievements: the Sophomore Girls are Intersectional Champions. The Freshman Team came in 3rd place in Intersectionals. Eva Gonzalez '24 set a school record 800 Meter with a time of 2:18.41. Molloy Teams won the 800M and 400M! Camille Munoz '25 won the Freshman 400 IH. Saige Swift '25 won the Freshman Triple Jump.
Last weekend, the Varsity Boys Track & Field team placed 2nd in sectionals at the NY/BQ Sectional Championship. Cade Jaipaul '22 won the Brooklyn-Queens High Jump, and scored 1st in New York City. Ryan Jaipaul '22 won the Brooklyn-Queens Pole Vault. Congratulations to our Varsity Boys Track Team.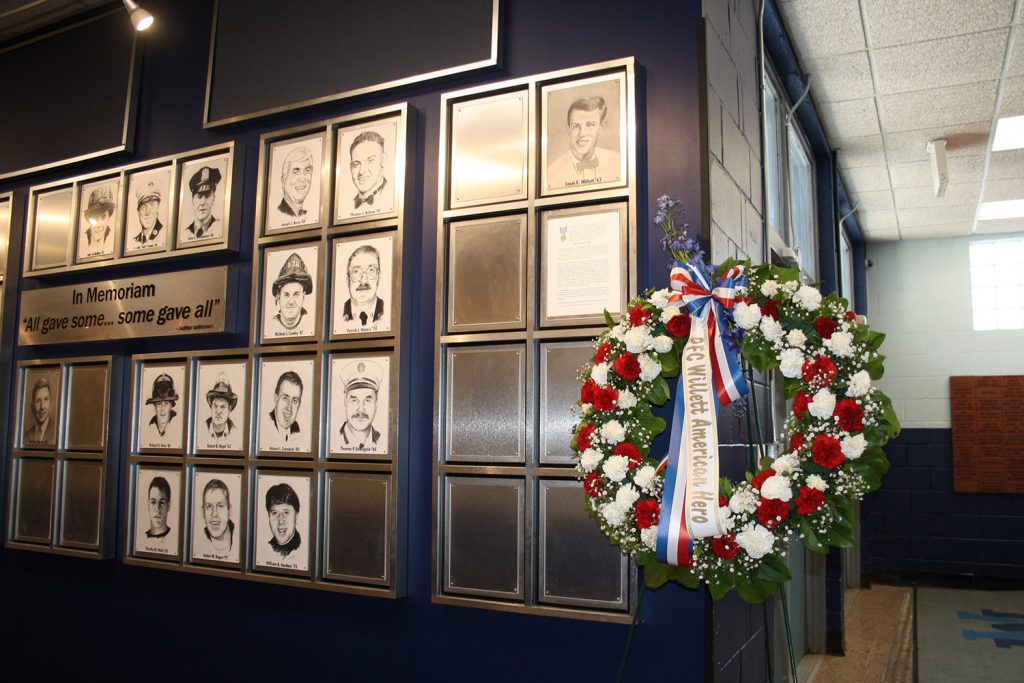 On Memorial Day, we remember the ultimate sacrifices made by the brave men and women of our armed forces. Each year, Molloy's Class of 1963 continues a special tradition in observation of Memorial Day, donating a memorial wreath in honor of their classmate, Private First Class Louis Willett '63. PFC Willett is a posthumous recipient of the Medal of Honor "for conspicuous gallantry and intrepidity at the risk of his life above and beyond the call of duty." He was mortally wounded on February 15, 1967, in Kontum Province, Vietnam, while purposefully drawing enemy fire away from his platoonmates, enabling their safe retreat. PFC Willett's bravery and selflessness continue to resonate with our community and especially our Class of 1963. Click the button below to read PFC Willett's Medal of Honor citation.
---
Archbishop Molloy High School congratulates Rev. Msgr. John A. McGuirl '63 on the 50th anniversary of his ordination to the priesthood. Thank you, Rev. Msgr. McGuirl, for your support of and service to the Archbishop Molloy High School community over the years.
---
Assistant Principal Dr. Des Flynn '97 recently ran into Br. Mike Sheerin at St. John's University. Br. Mike, a Campus Minister at St. John's, recently gave the Invocation at the start of the Commencement for the School of Education. Dr. Flynn is an Adjunct Professor at St. John's in the School of Education and was seated on stage with Br. Mike. Dr. Flynn and Br. Mike were happy to catch up after the ceremony.
---
Congratulations to Mr. AJ Power's ('84) latest Canine Companion trainee, Wontan, who has started his advanced training at the Canine Companions for Independence Center in Medford, New York. Wontan has brought smiles to the faces of many Stanners during his time with Mr. Power, but now he is moving one step closer toward finding someone who needs his help long-term. Good luck, Wontan!


Please pray for the repose of the soul of Ken Screven '68, brother of Earl Screven '67, who passed away on May 18, 2022. Born in the Bronx, Ken attended Archbishop Molloy High School and graduated from St. John's University in 1972. In 1977, when he was hired by WGY Radio/WRGB TV, he became the first African American man covering the news in the Capital Region. He served as reporter, co-anchor on the WRGB weekend news, and Capital Bureau Chief during his 38-year award-winning career before he retired in 2011. Predeceased by his parents, Earl B. Screven Sr., and Carrie Smith Screven; Ken is survived by his brother, Earl B. (Rosetta) Screven Jr. of Bowie, Md.; his aunt, Tammer Screven of Orangeburg, S.C.; several nieces, nephews, cousins, and countless friends. A celebration of life will be held 10:30 am Saturday, May 28, at the Palace Theatre, 19 Clinton Avenue in Albany, preceded by a viewing at 9:00 am