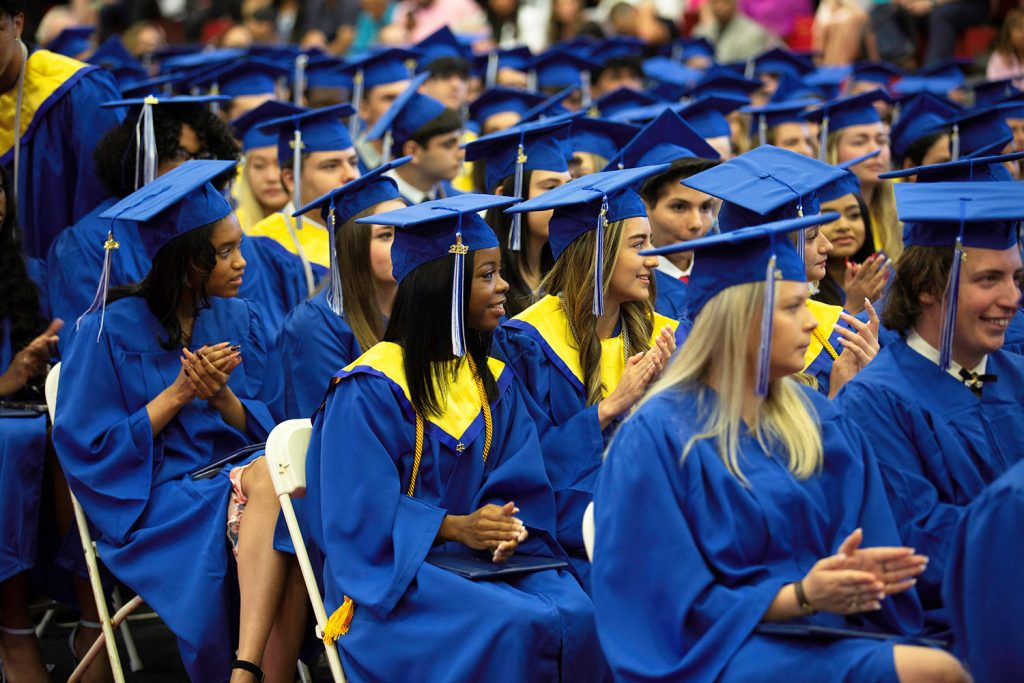 The Class of 2022 began high school as many Stanners before them — participating in school events, joining all sorts of teams and clubs, and making the most out of their time at Stanner High. Four years later, the Class of 2022 reflects on their place in history, having navigated virtual and hybrid learning, modified events, and a transition back to full in-person instruction. As seniors, they stepped up to become leaders, and contributed to what was an exciting and memorable year at Molloy. On June 5th, our seniors, who have overcome so much, stepped forward to accept their diplomas and officially become Archbishop Molloy High School alumni.
Our 383 graduates enjoyed many wonderful events to conclude their high school careers. These include Senior Prom at Leonard's Palazzo of Great Neck, the Athletic Awards and Academic Awards Ceremonies, our Graduation Liturgy at St. Nicholas of Tolentine RC Church, Commencement Exercises in the Carnesecca Arena at St. John's University, and their first alumni event — the Graduation Breakfast. These events all served as a celebration of our graduates, their achievements and friendships. We are so grateful that the Class of 2022 could enjoy all these events together and in-person.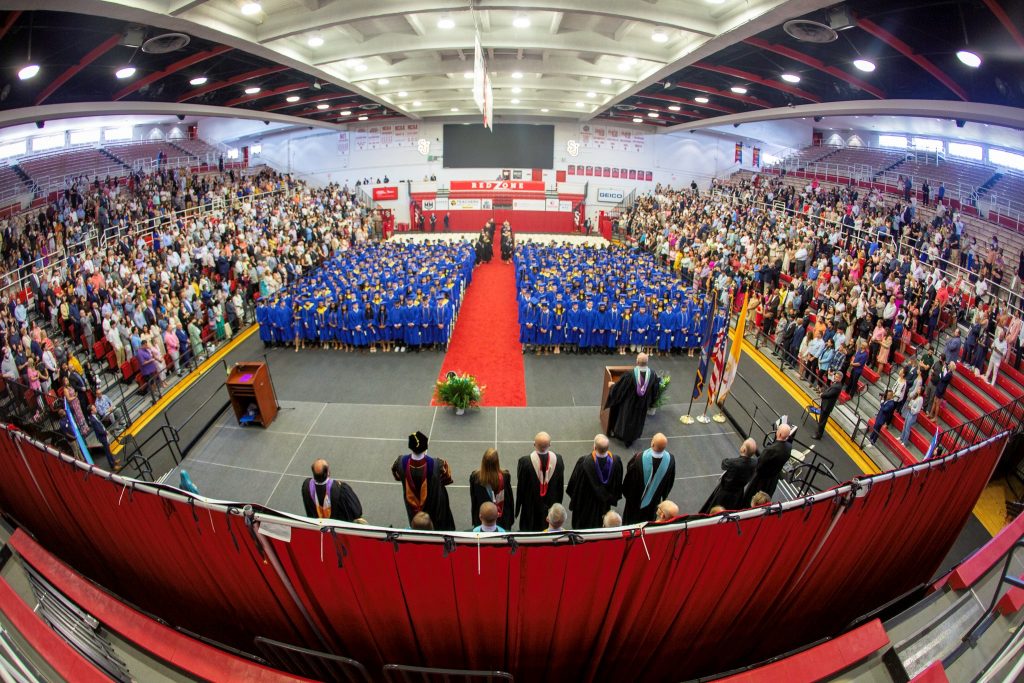 Commencement Exercises were held at St. John's University for the second straight year, and in the Carnesecca Arena for the first time. Administration, faculty, and staff, donning their own graduation robes, led the Class of 2022 into the arena. President Richard Karsten '81 welcomed and congratulated our graduates on their hard work over four challenging years. The Salutatorian, Patrick Logan '22, stepped up to the podium and spoke about taking risks and believing in yourself. The Valedictorian, Victoria Vlachos '22, shared the importance of simplicity and living in the moment (click the buttons below to read these speeches). Later, as family and friends cheered on, Principal Dr. Darius Penikas instructed the Class of 2022 to move their tassels from right to left, signifying the end of their high school journey, and the beginning of the next chapter in their lives.
Congratulations, Class of 2022! We are so proud of all you have accomplished. Please stay connected to the Administration, faculty, and staff at Molloy, and let us know if we can ever help you. We also invite you to click the buttons below to access photo galleries from the many senior events you have recently enjoyed, including Graduation. Non scholae sed vitae!
Graduation photos by Joe Licul.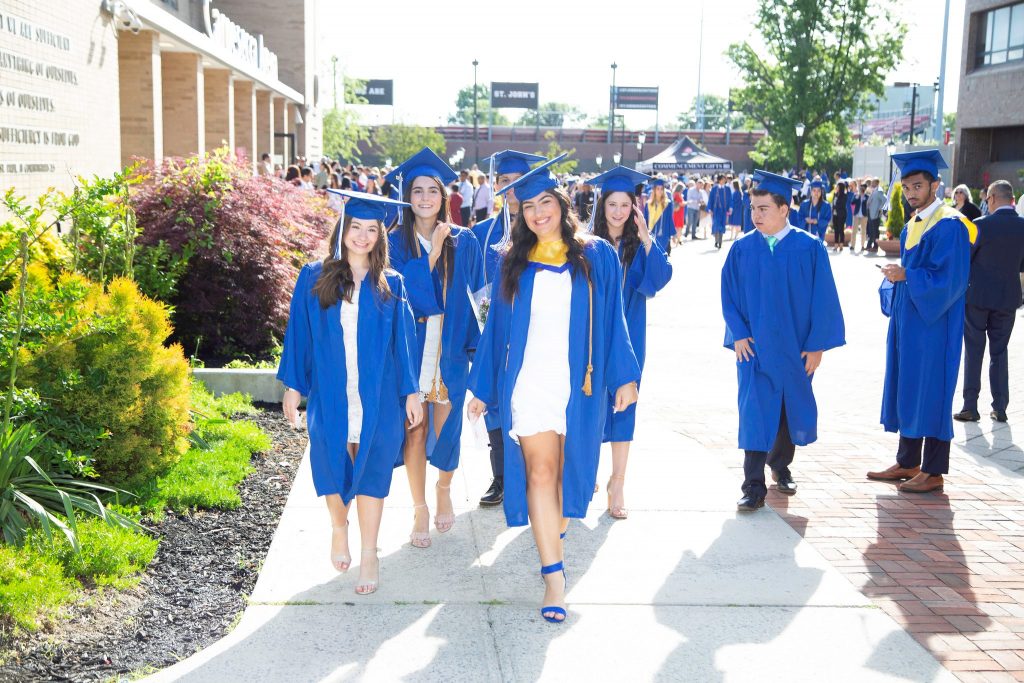 ---
Congratulations to Our Valedictorian & Salutatorian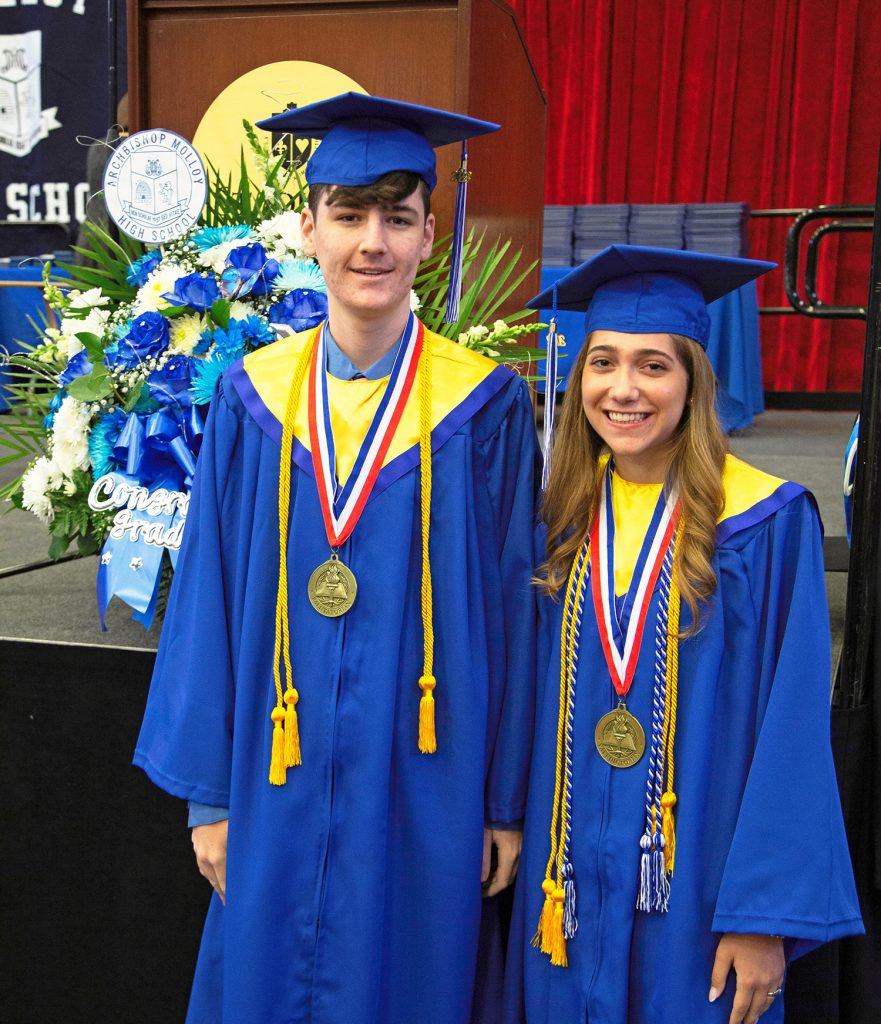 Molloy is proud to congratulate this year's Valedictorian, Victoria Vlachos '22, and Salutatorian, Patrick Logan '22. Victoria and Patrick have inspired us by being kind, highly active Stanners while excelling in and out of the classroom.
Victoria plans to study human biology, health and society at Cornell University in hopes of becoming a physician. Patrick will attend Villanova University this fall, where he will major in finance with the intention of earning a master's degree….click below for the full story
Click the image below to download the Senior Edition of The Stanner!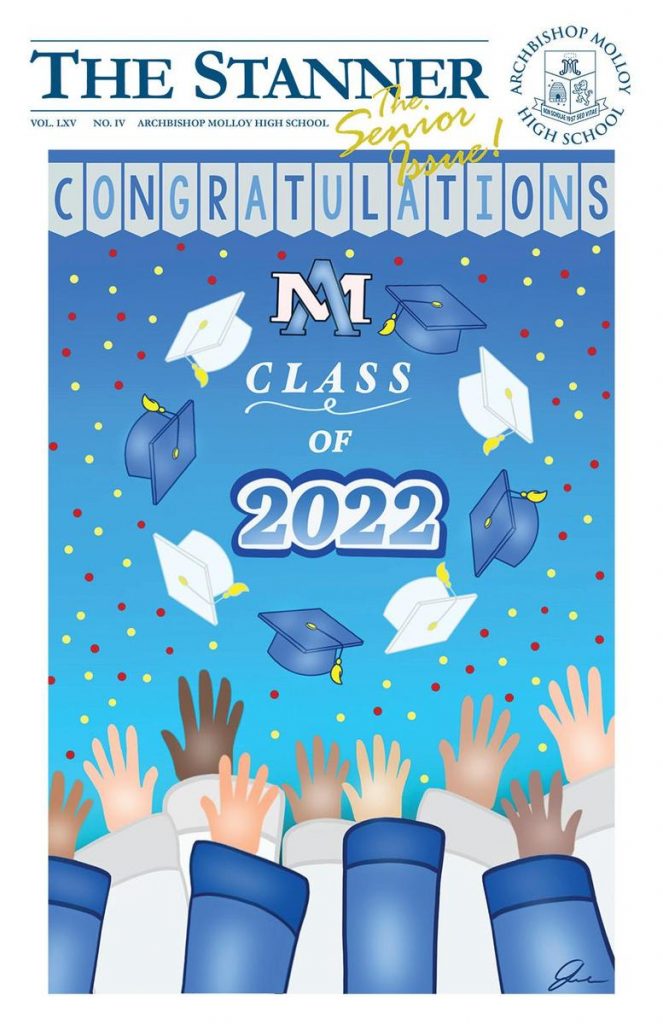 Fund For Molloy – Murphy Scholars – Your Gift, Your Impact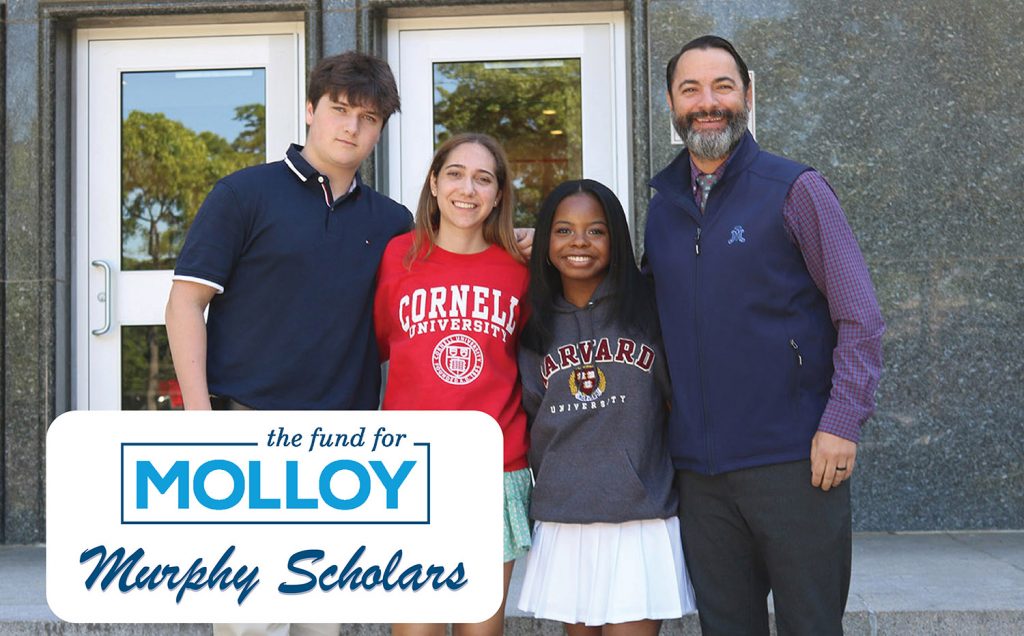 Support to the Fund For Molloy gives our school the opportunity to educate tomorrow's leaders and problem solvers. Stanners know that gifts to the Fund help Molloy remain innovative in how we support our educators, students, and Marist mission.
On #GivingTuesday (November 2021), we shared with you the stories of our Murphy Scholar recipients. We highlighted the impact of gifts to the Fund for Molloy, which provides resources to our summer experiential program – The Murphy Scholars. Reflecting upon the impact of the program, here are the Murphy Scholars once again as they share the impact of this innovative experience:
"Through the Murphy Scholars program and grant, I was able to take a college class in women's public health at Borough of Manhattan Community College. I learned alongside college students about women's health, inequities in the healthcare system, and how I could make a difference through policymaking. What I loved most of all was how much I was challenged and how much I was able to grow as a student. The overall experience reinforced my plan to study government in college, attend law school, and work in public service as an advocate for those overlooked in systems such as healthcare. I will be attending Harvard University in the fall where my concentration will be Government with a focus on public policy. Thanks to the Murphy Scholars grant, thanks to your endless and consistent support – you! – our benefactors, I am ecstatic to know I will be walking onto campus having already gained useful tools and skills through a college class environment."

– Keren Elmore '22
"I attended the Pre-Med Biology Pre-College Program at Stevens Institute of Technology. I conducted virtual lab experiments and spoke with current Steven's students about their college experiences. I learned about biomedical research and how to get involved in undergraduate research. My favorite part of the program was watching a live surgery virtually and speaking with the surgeon afterward, asking him questions about his career. In the fall I will be attending Cornell University and I intend on studying Human Biology, Health, and Society on a pre-med track. Having the opportunity to participate in the Stevens pre-college program further inspired me to pursue medicine and study biology in my undergraduate years. Before the program, I feared that it would be too difficult to become a physician, but getting to speak to and gain advice from current pre-med students assuaged my uncertainties. I'm grateful to have had the opportunity to participate in the program last summer."

– Victoria Vlachos '22
"As a Murphy Scholar I attended the summer immersion program at Wake Forest for Finance and Investment. The program introduced me to the principals of financial analysis, company and stock price evaluation. This program taught me how to use strategies to make the best educated decisions when trading. It was also very interesting to gain a deeper understanding of the variety of careers that are in the financial markets. I am excited to be attending Fordham University Gabelli School of Business this fall."

– Joe McGowan '22
As the school year comes to a close, it is not too late to make your annual gift to Molloy through the Fund. We thank you for your continued support and wish you a safe Summer!
---
New Stanner Life Magazine Is Out Now!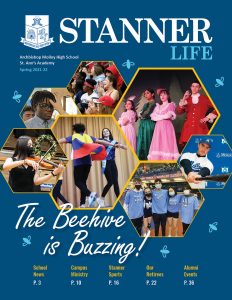 Archbishop Molloy High School is happy to share its latest Stanner Life magazine with you and your family. Our annual magazine has been mailed to Stanners and friends worldwide.
Our latest issue spotlights the vibrancy of Molloy during the 2021-22 school year, our new approach to Campus Ministry, several new Named Scholarships, an update on Marist Leadership, news from our alumni community, information about our School Board, and more.
If you have not already received the magazine, or you would like to request additional copies, please contact us at communications@molloyhs.org. Remember to provide your most up-to-date mailing address when you reach out to our team. A digital version of the magazine will be available on the Molloy website this summer.
---
Jim Kinnier Stanner Golf Classic Grosses over $370,000!

On behalf of the Stanner Alumni Center and everyone at Molloy, thank you to everyone who supported the 36th Annual Jim Kinnier Stanner Golf Classic on May 2, 2022. Whether you participated as a golfer, corporate sponsor, tennis player, benefactor, or volunteer, your support made this year's event a tremendous success.
We also thank Golf Chair Anthony DiRusso '80 of DiRusso Electric, Honorary Chairs Dean Speranza and Robert Speranza of Nouveau Elevator, our Golf Board, the Kinnier and Gibbons families, and all faculty and staff who helped make this year's outing a success.
We are pleased to announce that this year's Jim Kinnier Stanner Golf Classic grossed over $370,000 in support of education at Molloy! Incoming freshman students and future students entering Molloy will directly benefit from your philanthropy through our scholarship program.
Photo galleries from each golf course are now available! Click the buttons below for access.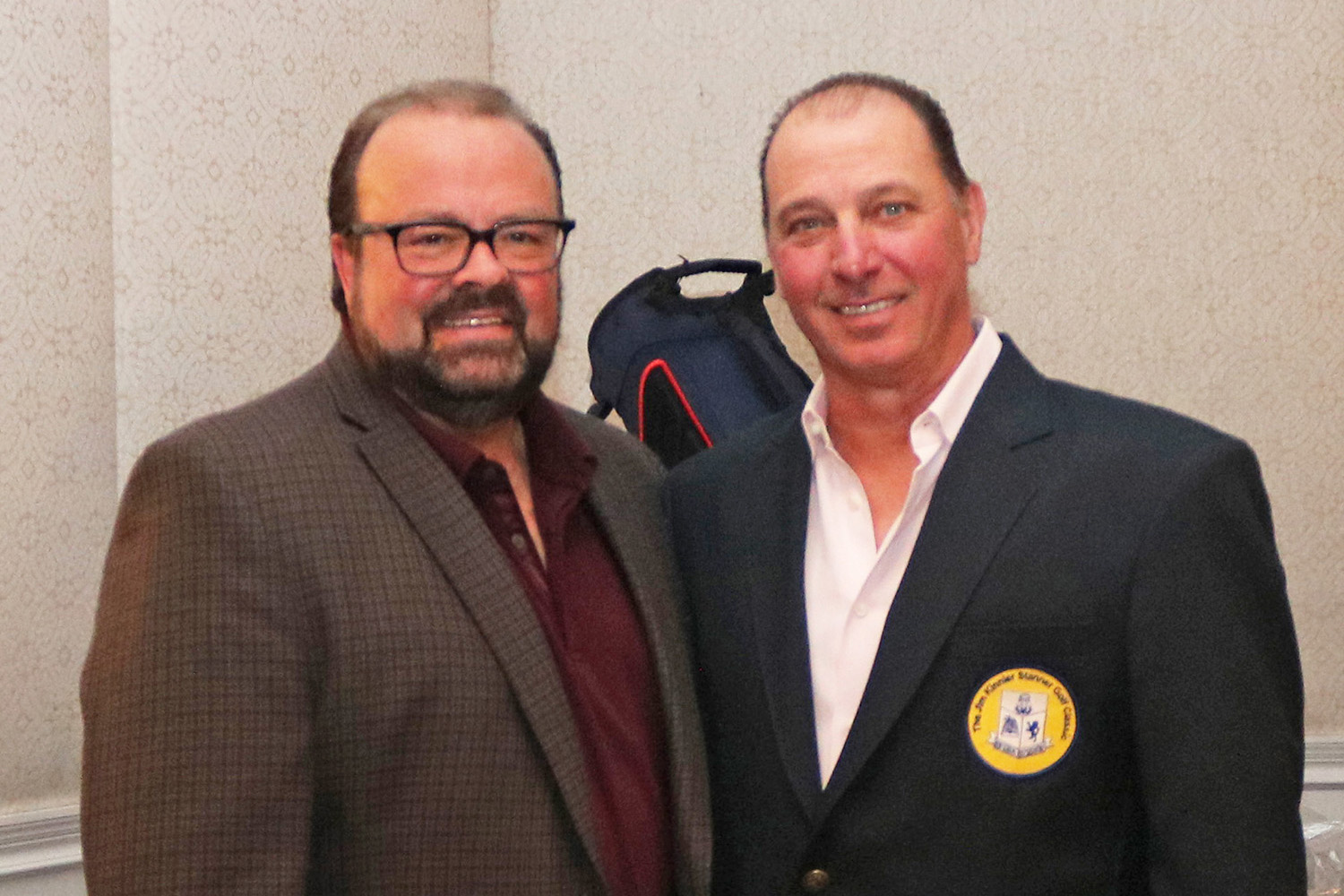 ---
Class of 2020 Reunites for Special BBQ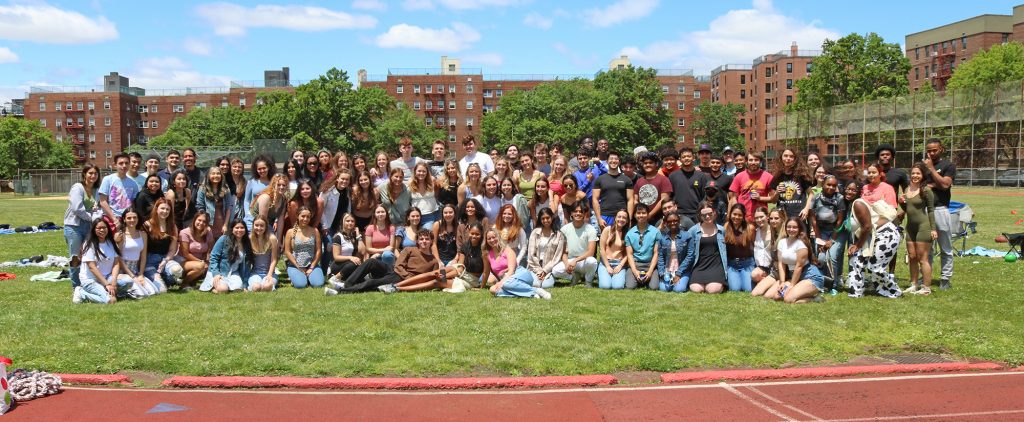 On Saturday, June 18th, Molloy was so happy to welcome its Class of 2020 back to Stanner Field for a special BBQ! Over 100 members of the Class of 2020 reunited to reminisce, see some of their former teachers, enjoy a meal together, and play lots of fun field games. It was a long time coming for the Class of 2020, who had missed out on so many of their senior events due to COVID-19.
It was a beautiful day spent with wonderful friends, and we feel blessed to have finally been able to celebrate with you, our Class of 2020. You will always hold a special place in our hearts. Thank you for coming, and we look forward to celebrating with you all again in the not-so-distant future! In the meantime, please click the button below to check out a full photo gallery from the event.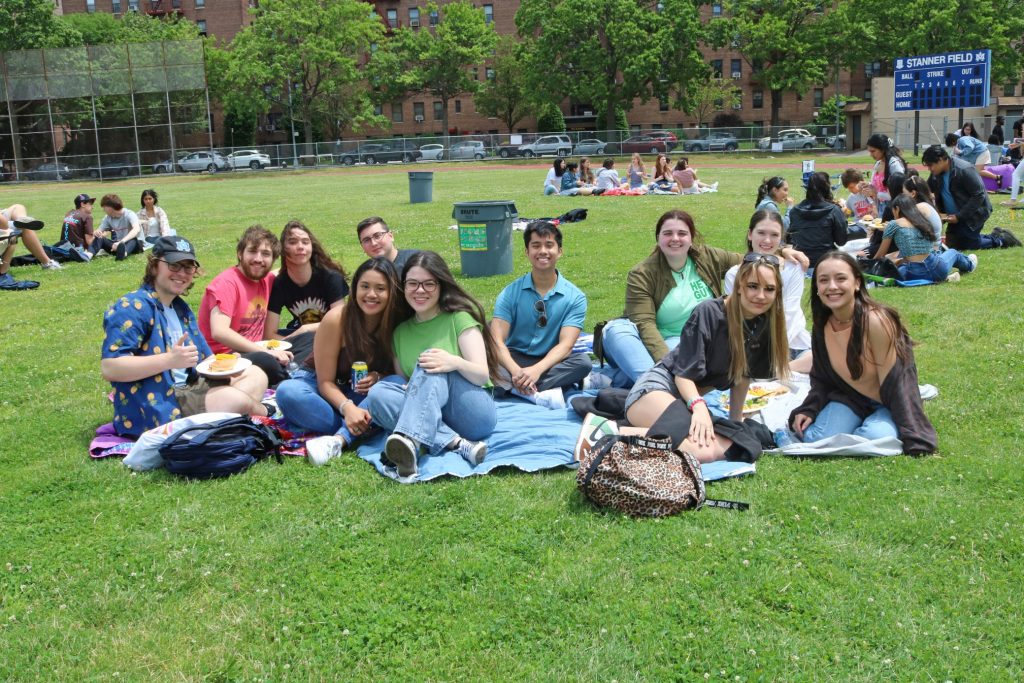 ---
Molloy Inducts 13 Onto Its Track & Field Wall of Honor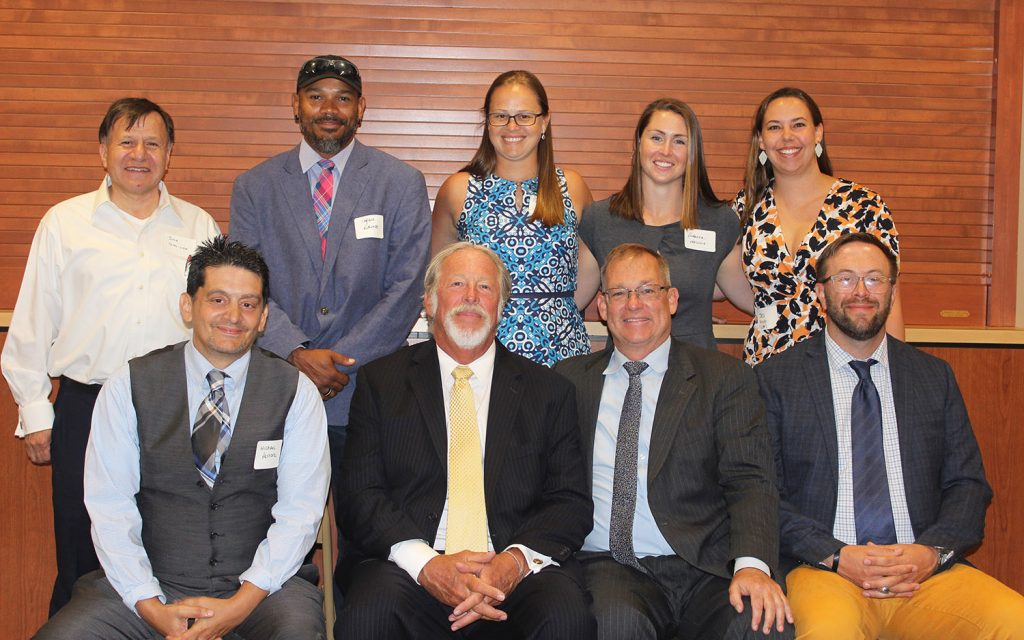 On Sunday, June 5th, Molloy welcomed its Track & Field community for a special event two years in the making. In a ceremony led by Mr. Joe Dombrowski, Molloy inducted nine individuals and one relay team onto its prestigious Track & Field Wall of Honor. This event was originally scheduled to take place in March 2020, but was postponed due to COVID-19.
The Track & Field Wall of Honor was first established during the 2010-11 school year. It recognizes outstanding athletes and coaches who have made a great impact on Molloy's track program, whether through personal or team achievements, or through their leadership as a dedicated coach.
The Beehive congratulates this year's inductees: Jose Bautista '76 (Cross Country, Steeplechase), Jessica Conter '08 (Hurdles, Long Jump, Pentathlon), Brittany Dombrowski '09 (Javelin), Dylan Dombrowski '07 (Long Jump, Triple Jump, Javelin, Pentathlon), Tony Perrone (Coach, posthumously) AJ Power '84 (Coach), Rebecca Power '08 (Pole Vault, Shot Put, Javelin), Rafael Ramos '96 (300 Meter Dash, 800 Meter Relay), Ed Walsh '66 (Two-Mile Run, Three-Mile Run), and the 1962 Indoor National Two Mile Relay championship team of Paul Daly '62, Richard Dillon '62, Joseph Hayes '62, and John Tietjen '62.
"The Wall of Honor event was a truly special occasion for our school as we recognized such an array of outstanding coaches and athletes," said Craig Katinas '93, Executive Director of Development. "For some, their impact is still being felt today through scholarships created in their honor by family, friends, and alumni. These wonderful scholarships directly impact students in need, empowering them financially to be able to attend Molloy."
We invite you to consider making a gift to any of the following scholarships honoring members of our Track & Field community which directly impact generations of Stanner: The Br. Patrick Hogan Fund; The Coach Tony Perrone Scholarship (created this year); The Frank Rienzo Scholarship; The Karina Vetrano Scholarship. If you have any questions, please contact Craig Katinas at the Stanner Alumni Center: ckatinas@molloyhs.org or 718.441.9210.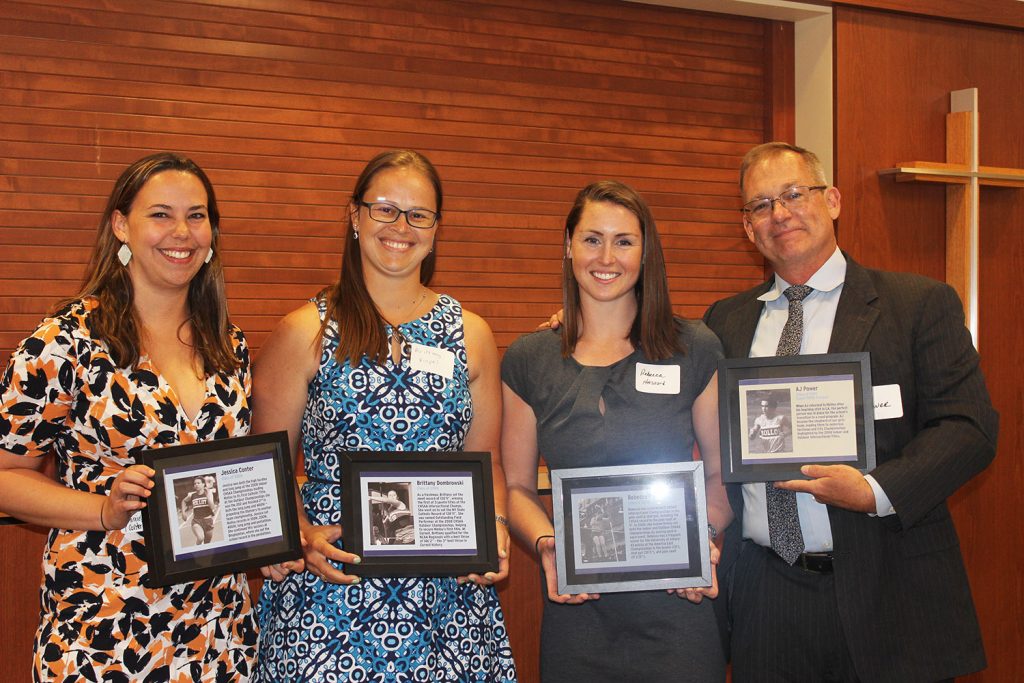 ---
Molloy Thanks Benefactors at Celebration Event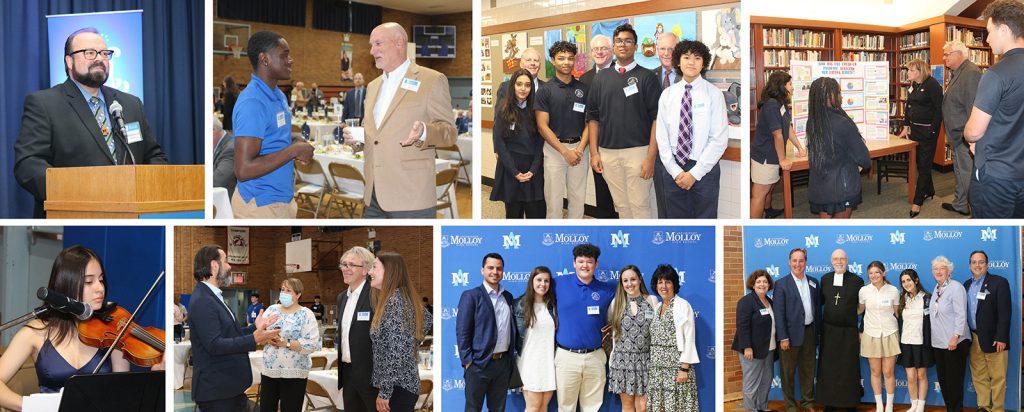 On behalf of the Marist Brothers, President Richard Karsten '81, our Administration, faculty, staff, and students, thank you to our community for your continued support of Archbishop Molloy High School. We offer special thanks to all who attended our Benefactor Celebration on May 10, 2022, our first such event in over two years.
We are grateful to have had the opportunity to welcome our benefactors back to Molloy and to thank you in person for all that you do to sustain academic excellence and enriching student life here on Manton Street. We hope that you enjoyed meeting the students who benefit from your philanthropy, as well as engaging with the student presenters who proudly shared their recent volunteer work or showcased their talents in the arts, computer science, and science research. It was a wonderful evening, and we thank you once again for the power of your presence.
We are excited to share a photo gallery from the event, which may include photos of you and your scholarship recipient(s). Click the button below to access the gallery. You may download photos using the options in the gallery. Once again, thank you for your continued support, and we look forward to seeing you during the 2022-23 school year!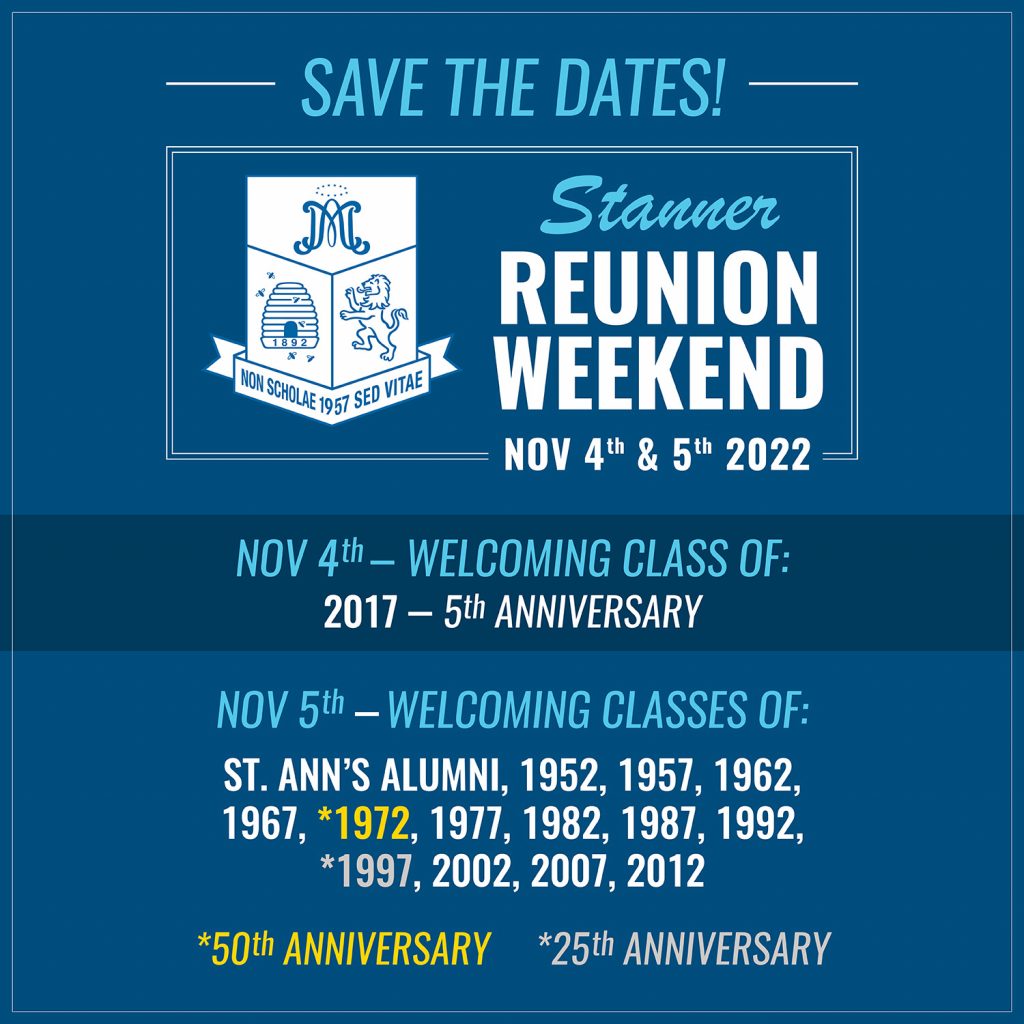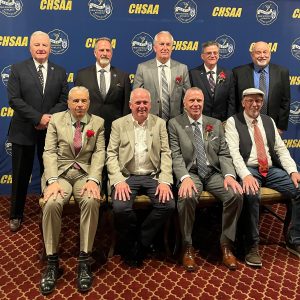 Congratulations to Frank Gambino '74, who was recently inducted into the Catholic High School Athletic Association (CHSAA) Hall of Fame!
Mr. Gambino ran track for all four of his years as a student at Molloy, 1970-1974. In 1981, he returned to his alma mater as a teacher, and three years later began coaching track and field. Over the course of 37 years, his teams have won 77 Brooklyn/Queens Championships and 13 City Championships. Mr. Gambino retired from coaching in 2021. "It was both inspiring and humbling to coach at Molloy," said Mr. Gambino during his induction speech, continuing, "The track program was quite a program to become a part of, and with an ensemble of coaches…we worked to honor that tradition."
---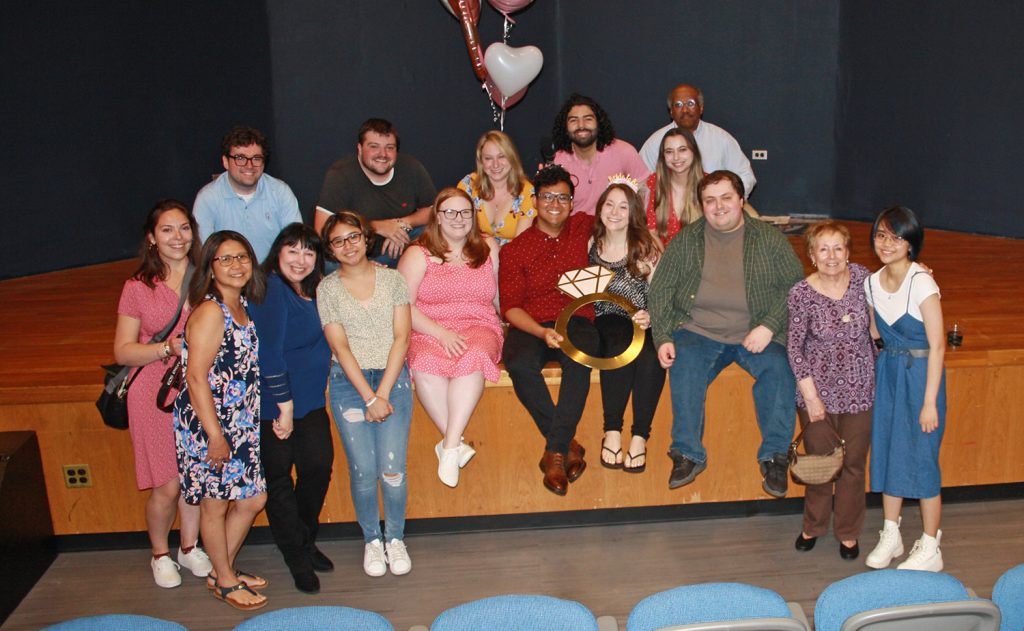 On Friday May 27th, Joanna Troyanos '15 and Eddie Victor '15 got engaged in the Ralph DeChiaro Theater, where they first met as sophomores at Molloy. They were surrounded by family (including Allison Troyanos Roth '04) and friends (including fellow classmates David Van Aken '15, Christian Martinez '15, Ryan Wecera '15, and Alexa Kober '15). Ms. Shannon Winters '06 and Mr. Chris Autera '16 were also present "behind the scenes." It was a true Stanner Players production! Congratulations to Joanna and Eddie on this next chapter of your lives!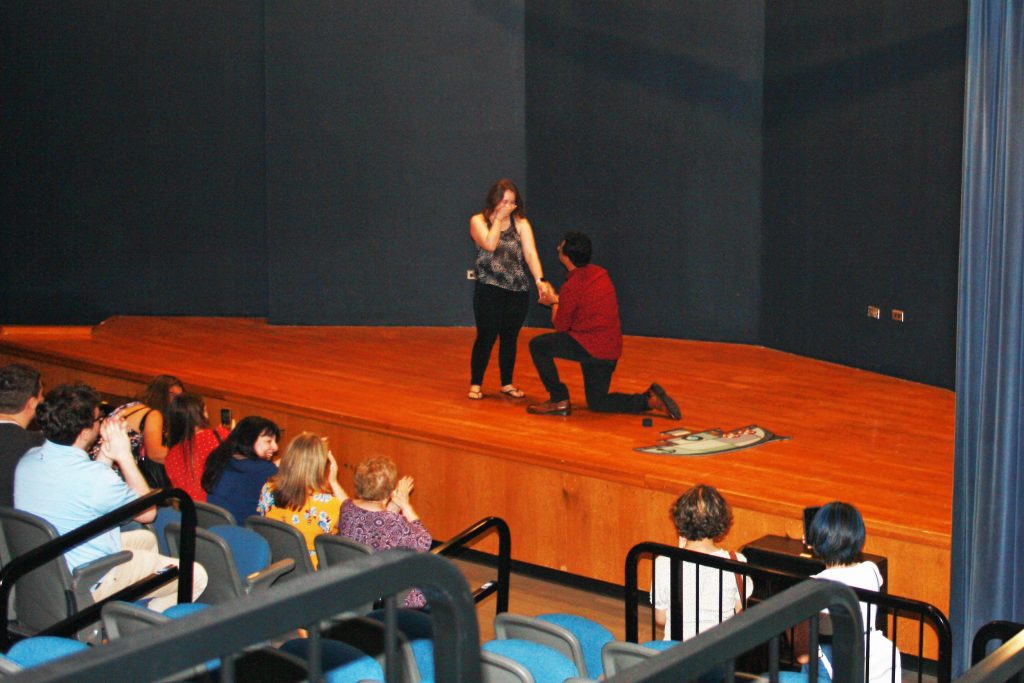 ---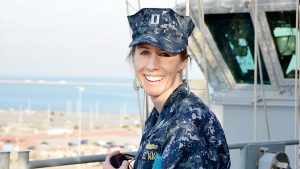 Sarah Kuehl '04 was recently featured in an article published by JPMorgan Chase & Co. Sarah is a Naval Academy graduate (2008) and previously worked as a Nuclear Surface Warfare Officer. In 2016, she entered the private sector, joining JPMorgan Chase and eventually earning the position of Executive Director of the JPMorgan Chase Institute. In the article, Sarah advocates for Carrying the Load, a non-profit dedicated to helping Americans remember the true meaning of Memorial Day. Sarah also reveals that the Navy is mobilizing her and that she will soon be deployed to serve in the Middle East until April 2023. Click the button below for the full story. Thank you for your service, Sarah! (Photo courtesy of Sarah Kuehl '04)
---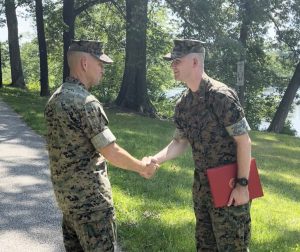 Liam Rock '16 was promoted to the rank of 1st Lieutenant in the United States Marine Corps on May 31, 2022. Liam graduated from the U.S. Naval Academy in 2020 with a degree in Cyber Operations and is currently a Cyberspace Officer at Marine Forces Cyberspace Command in Fort Meade, MD. Congratulations and thank you for your service, Liam!
---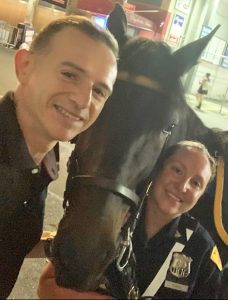 Joe Savino '86 shares a recent photo with fellow Mounted Trooper Justina Dinko '10, as they bumped into each other while Justina was working near Times Square. Joe is a proud former Mounted Trooper himself and always happy to connect with fellow Stanners on the job. Joe shares, "Justina is keeping the mounted tradition going. My former unit is in good hands. Stay safe, Justina!"
---
Position Available: Assistant Soccer Coach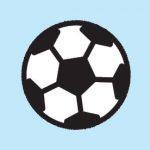 Attention Molloy Community! Our Athletic Department is seeking candidates for the position of Assistant Coach of the Boys Varsity Soccer team. If you or someone you know are qualified and might be interested in this opportunity, please contact athletics@molloyhs.org for more information.

We are saddened to share the passing of Gerald L. Sheehan, father of English teacher Jim Sheehan '75. Gerald passed away on Saturday, June 25, 2022. Please keep Gerald and the Sheehan family in your prayers during this difficult time.
We are saddened to share the passing of Angeline M. Lombardi, mother of science teacher Mark Lombardi. Angeline passed away on June 28, 2022. Please keep Angeline and the Lombardi family in your prayers during this difficult time.
We were recently informed of the passing of Richard L. Stuart '75 on July 3, 2021. Please keep Richard and his loved ones in your prayers. | Click Here for Memorial Page
---
---