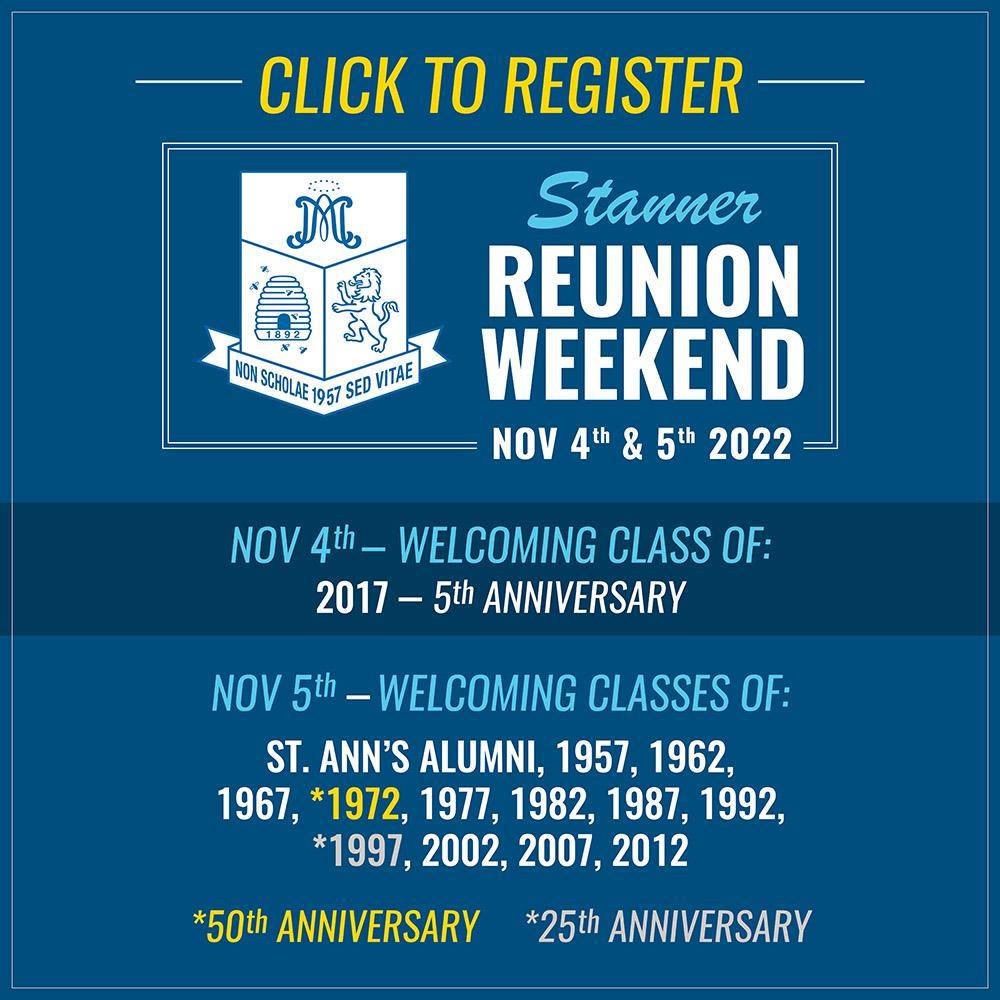 ---
Molloy Oktoberfest: Next Week!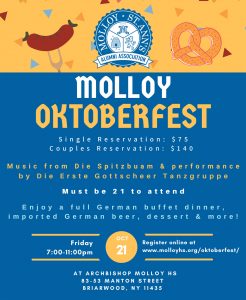 Attention Alumni and friends (Ages 21+): Molloy Oktoberfest is next week and time is running out to register! We've got a great crowd planning to attend, and you won't want to miss the fun.
Just Added: Stein Holding Competition – How strong are you? Participate in our stein holding contest at Oktoberfest and find out. We want to see who the strongest Stanner is! Entry is $10 and all participants get to keep a 1-liter Hofbräu stein. How does it work? There will be a women's round and a men's round where participants hold up a full stein and see how long they can hold it without losing proper form. Winners will take home a special prize and set a record for our newest Molloy tradition. With one week to go, you'd better start training!
---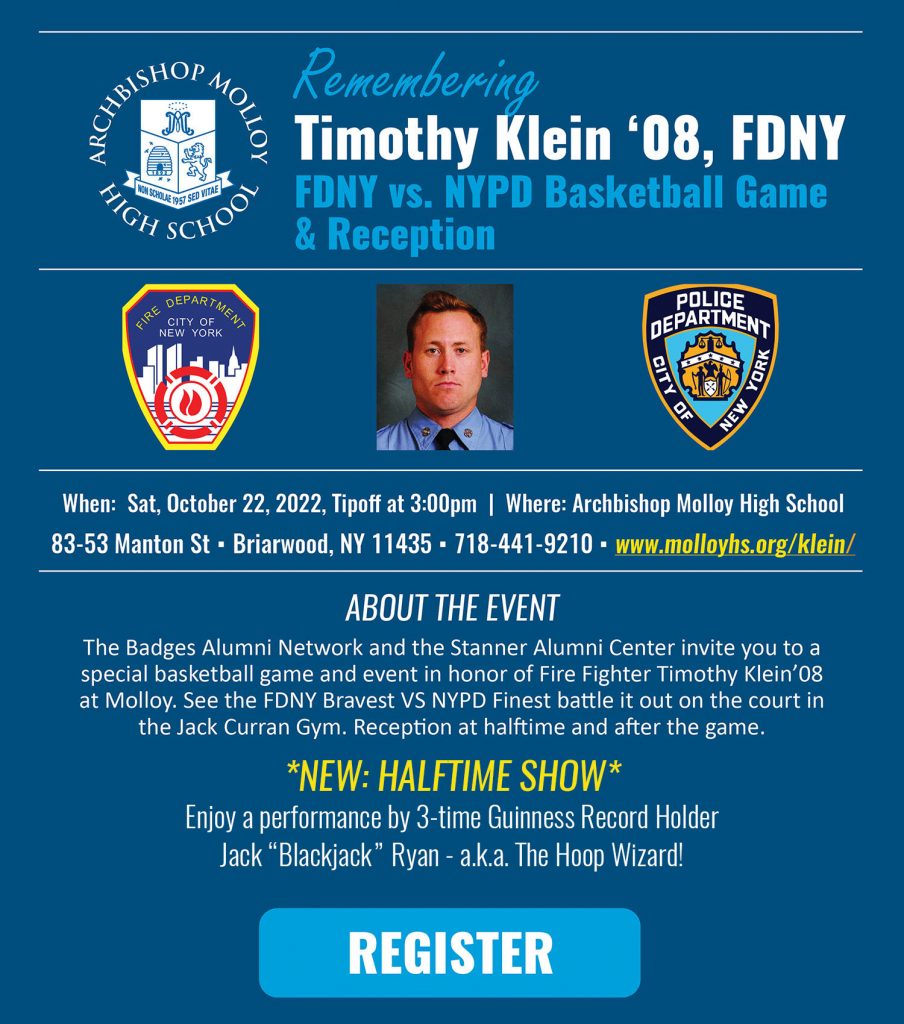 ---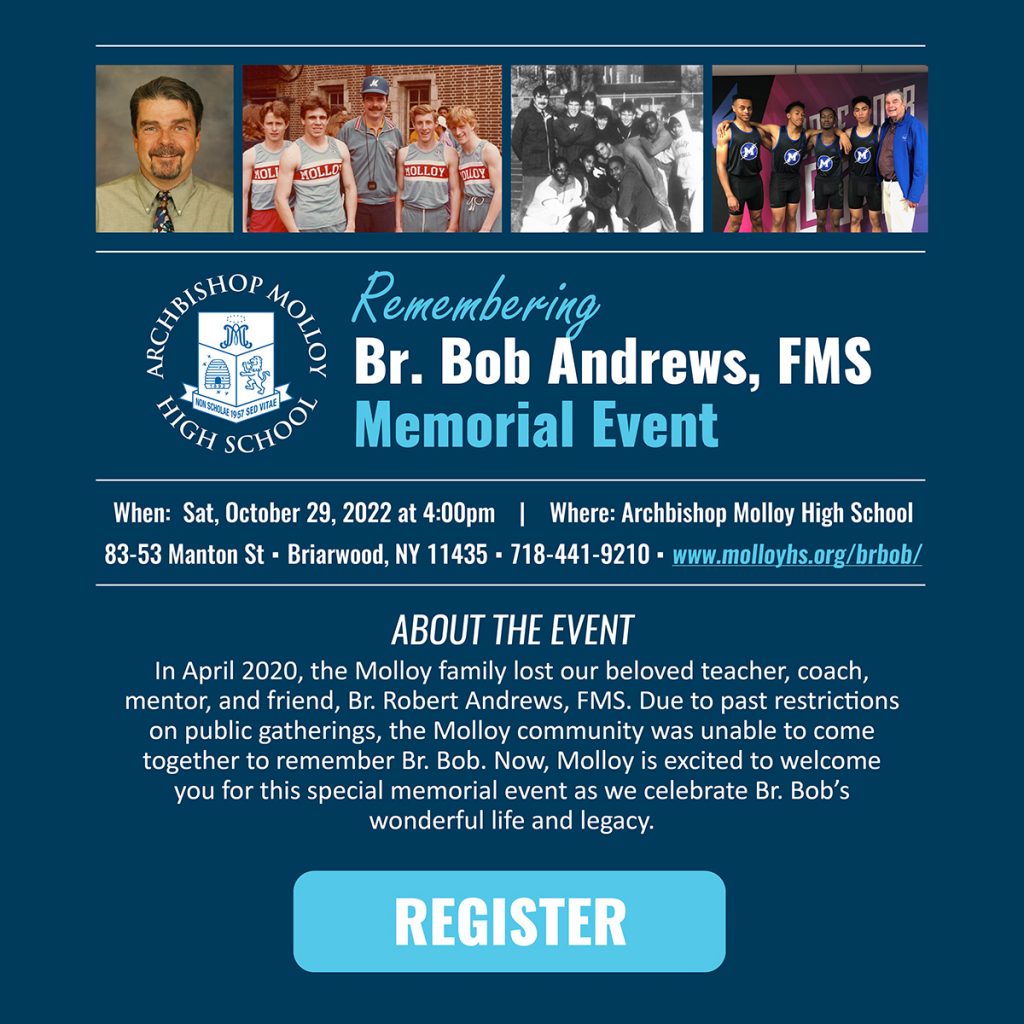 Liturgies of the Holy Spirit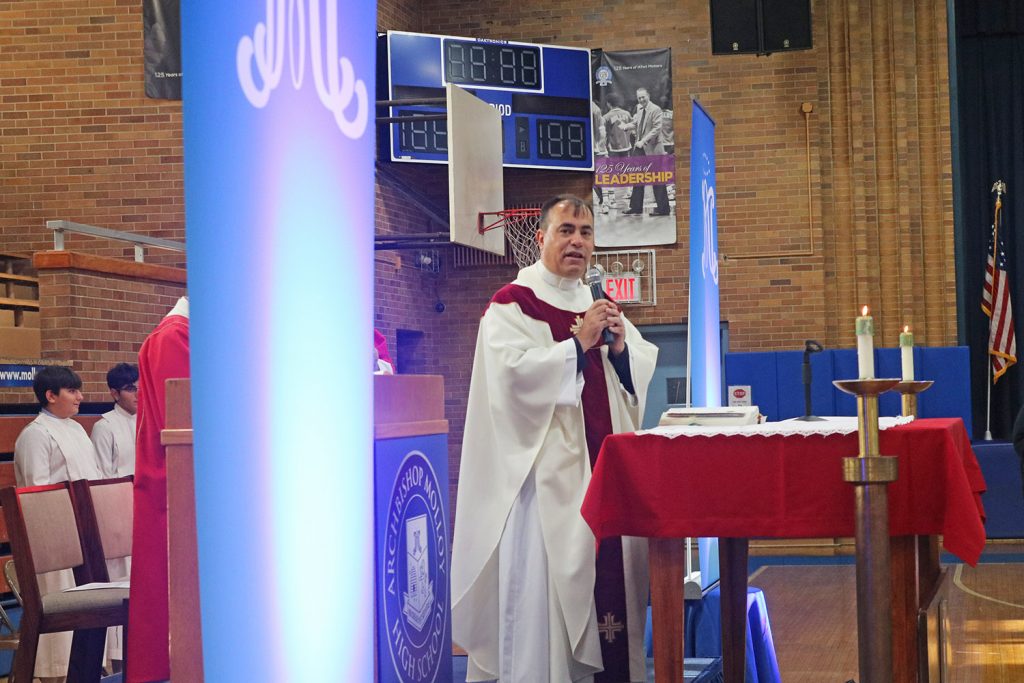 During the week of September 26th, freshmen, sophomores, and juniors each celebrated a Liturgy of the Holy Spirit (seniors celebrated their Liturgy with Bishop Robert Brennan on September 16th). This is annual tradition allows each class to pause from their routine class schedules, come together, and develop a deeper sense of community at the start of the school year.
A highlight of each Mass was the singing of Envía Tu Espíritu, which many alumni remember from their time at Molloy. Mr. Sheehan, Junior/Senior Chorus Director, spoke briefly to each grade prior to their Liturgy and explained the meaning of the song, "send forth your spirit." He shared that he enjoys featuring this upbeat song each year because it reflects the spirit of Molloy – and it's fun to sing, too. You can watch a clip of the chorus singing the song below!
---
Class of 2026 Enjoys Freshman Field Day!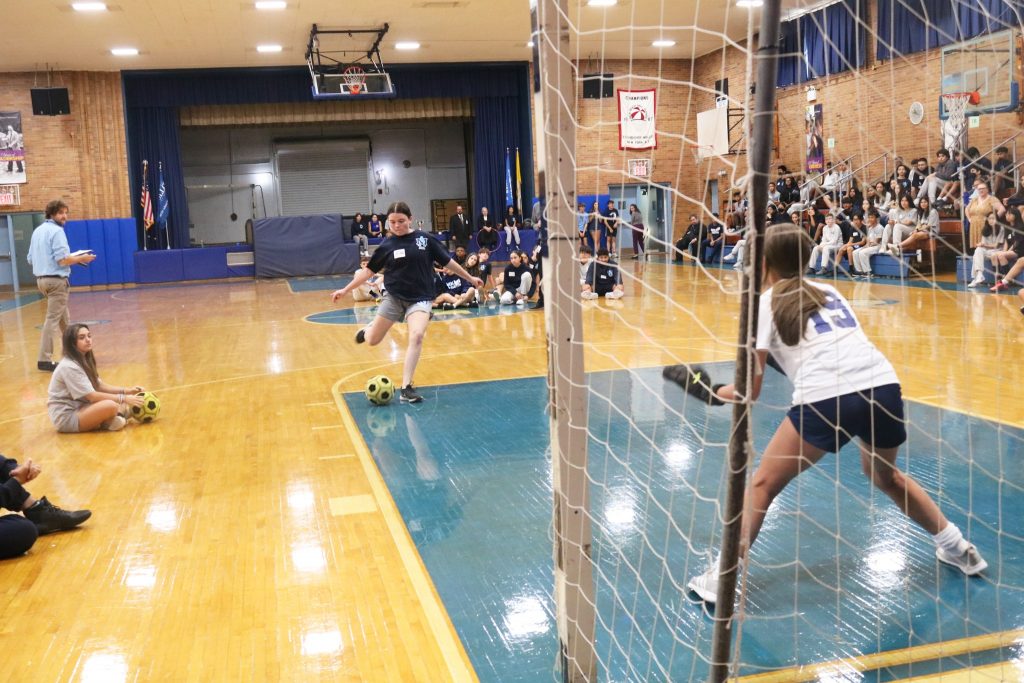 On September 30th, the Class of 2026 enjoyed another beloved Molloy tradition: Freshman Field Day! This event is an opportunity for our first-year students to make new friends and cheer each other on during a friendly competition between homerooms. A variety of academic and athletic challenges are featured including 100 Meter Run, 800 Meter Run, Basketball Knockout, Chess, History Challenge, Hula Hoop Relay, Long Jump, Shot Put Throw, One-Minute Challenge, Soccer Shootout, Softball Throw, and, of course, High Jump!
Hula Hoop Relay, a relatively new game, challenges a row of students holding hands to get a single hula hoop up and over each person from one end to the other without breaking the chain. During One-Minute Challenge, another relatively new game, each homeroom team stands in a circle and counts up to one minute. The winning team must drop to the ground at exactly or the closest to exactly one minute as possible. As is tradition, Freshman Field Day concluded with the High Jump. It is a difficult challenge, but it is an opportunity for all homerooms to rally around all the participants as they attempt to clear the bar while it gets higher and higher!
Congratulations to the top five homerooms by points scored: 5th Place: 1E with 92 points | 4th Place: 1J with 94 points | 3rd Place: 1H with 100 points | 2nd Place: 1A with 103 points | 1st Place: 1G with 141 points. Special thanks to Mr. Klimas, Mr. Kelly, our student and faculty volunteers coaches, and of course the Class of 2026 for making Freshman Field Day a great success!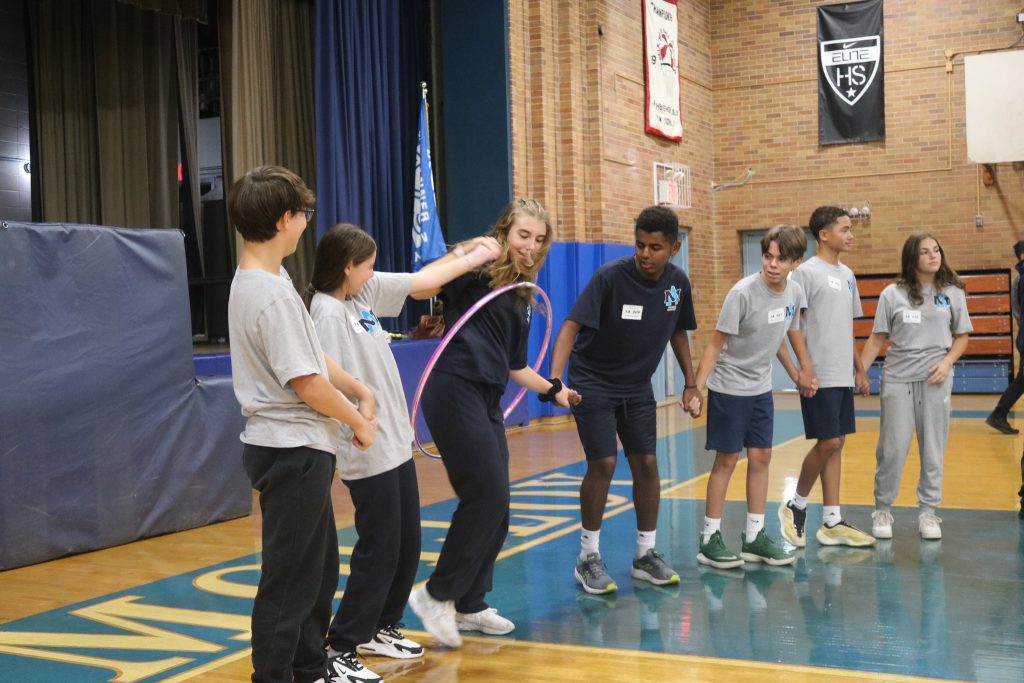 ---
Federal Air Marshal Chris Waters '05 Visits Molloy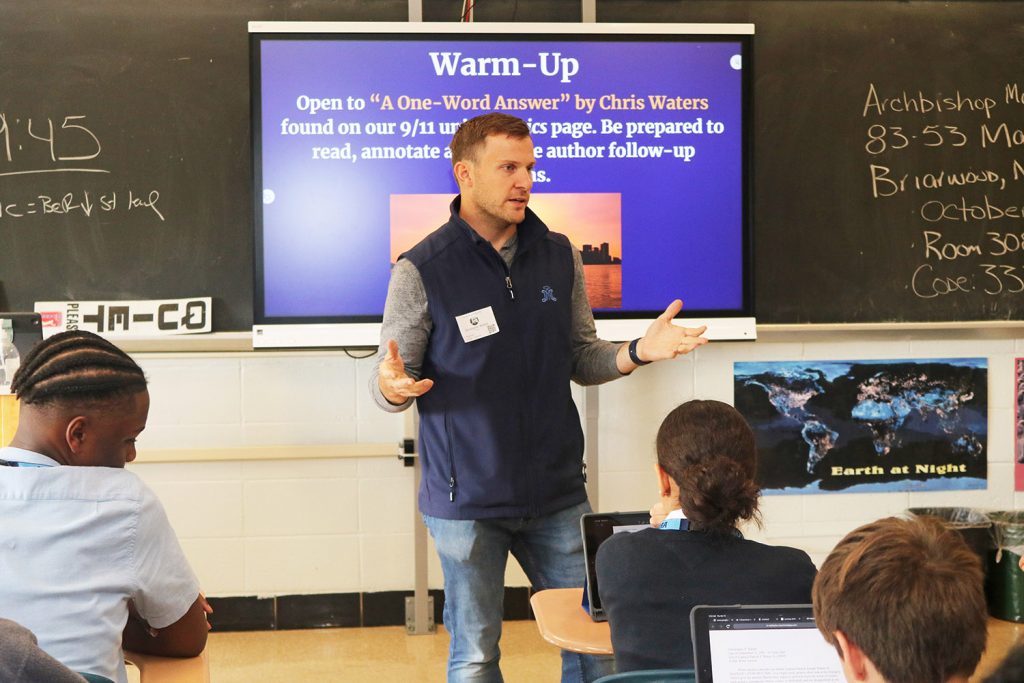 Back in September, Molloy shared a video produced by TSA which featured Chris Waters '05, a Senior Federal Air Marshal. In the video, Chris reflects on the 21st anniversary of September 11, 2001 and being at Molloy while the event unfolded. Chris also remembers his late father, fellow Stanner Capt. Patrick Waters' 74, FDNY, who tragically lost his life while attempting to help others at the World Trade Center.
On October 13th, English teacher Ms. Amanda Vicari invited Chris to Molloy to share his story with her sophomore classes. The sophomores had been working on an assignment through which they were analyzing different witness accounts of 9/11. One of the accounts was by Chris Waters, who had written an essay for the book We Will Never Forget: The Stories of Children of 9/11 First Responders. Chris noted at the beginning of his presentation that the sophomores were all born in the late 2000s, meaning they had only learned about 9/11 through stories and various media. They had not witnessed it firsthand as Chris and other generations had.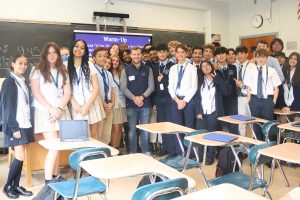 Chris supplemented what the students read in his essay by sharing his memories and feelings as the events of 9/11 unfolded. He asked the sophomores to close their eyes as he described his day – just his second day of freshman year at Molloy. He had not had the opportunity to make many friends yet, and he was already trying to adjust to a new environment. He recounted the initial first period announcement on the PA system from then Principal Br. Roy George. He recalled the confusion, disbelief, and receiving the news that his father, Capt. Patrick Waters, was killed in the north tower. While this event was horrific and traumatizing, Chris explained that he eventually accepted his father's death because he made the brave choice to protect and serve despite being off-duty at the time. "He loved his job. He was an ordinary man who did things extraordinarily well. Did he hear the evacuation order? Did he ignore it? It doesn't matter, because people needed help, and he made a choice to go in without orders," explained Chris.
Chris also talked about the months and years that followed. He and his family went through many stages of grief, and Chris saw his grades at school suffer as a result. He revealed that once he got to sophomore year, he benefited a great deal from Molloy's Peer Counseling program. He also made an effort to get more involved in after school activities. "The spirit of the school helped me," he said. Chris remains grateful for all the faculty, classmates, and counselors that supported him throughout his time of need. All the support he received from his family, friends, and his Molloy family eventually set him on a path to becoming a Federal Air Marshal. "I've made choices similar to my dad, to step in and help others," said Chris.
Special thanks to Chris Waters for visiting Molloy and providing our students with these valuable insights.
---
Something for Everyone at Activities Fair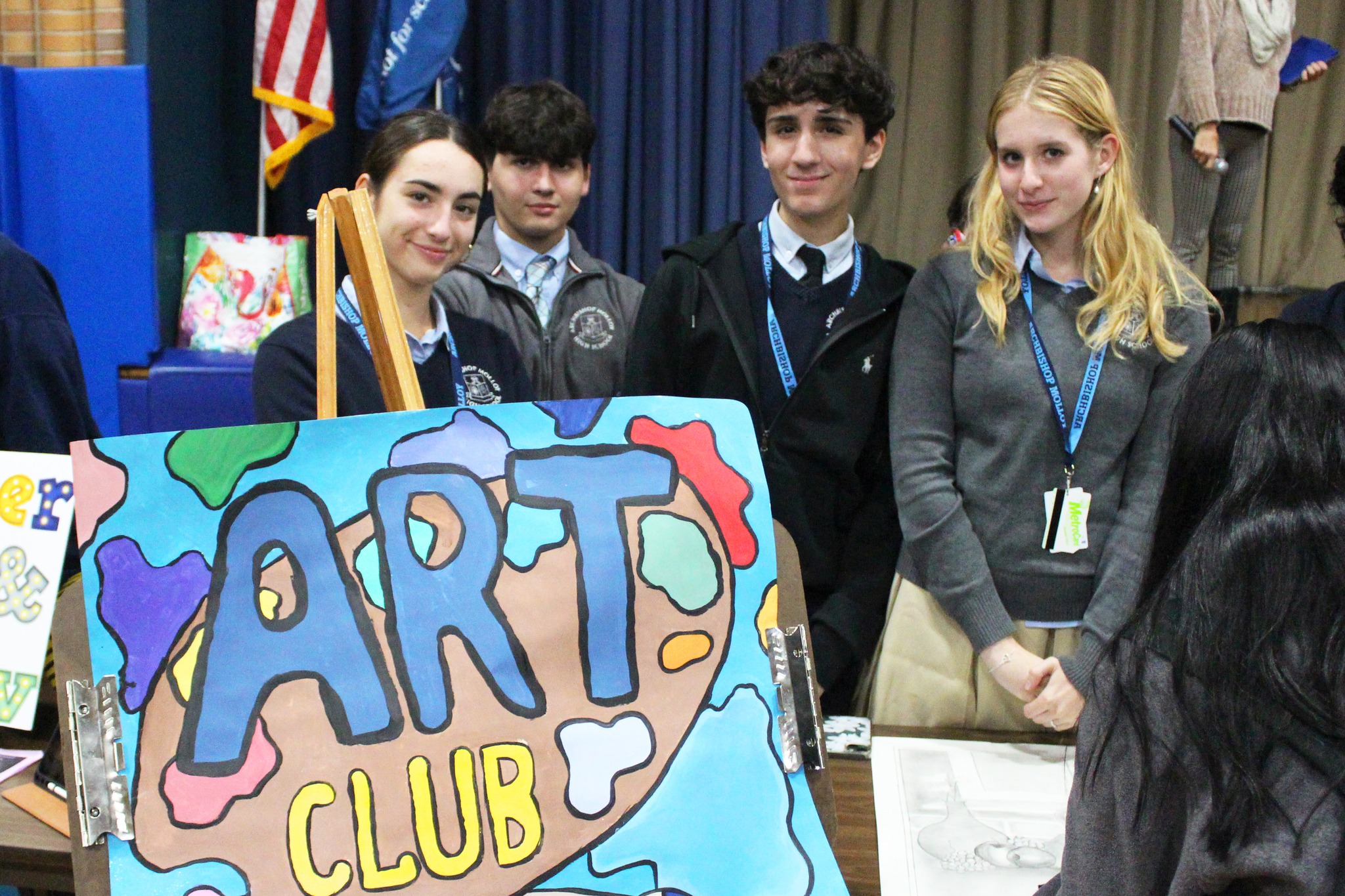 On October 5th, Molloy held its annual Activities Fair! Students searched the Jack Curran Gym for clubs and activities that matched their likes and interests. Many students also joined clubs that they may not have considered before! Everything from Art Club, to Speech and Debate Team, to the new Pre-Med Careers Club and Sports Management Club had a table full of helpful information, exciting displays, and demonstrations! Molloy's Step Team and Dance Team provided plenty of entertainment too, performing on stage for their fellow classmates.
It's never too late to join a club! Students still thinking about what to join should contact club moderators or club leaders for more info. Thank you to Ms. Murdocca and all the club members and moderators who made Activities Fair a success.
Photos by Photography Club members Ashley Tiwari '25 and Krystal Valentin '25.
---
Senior To Represent USA at Jr. World Karate Championship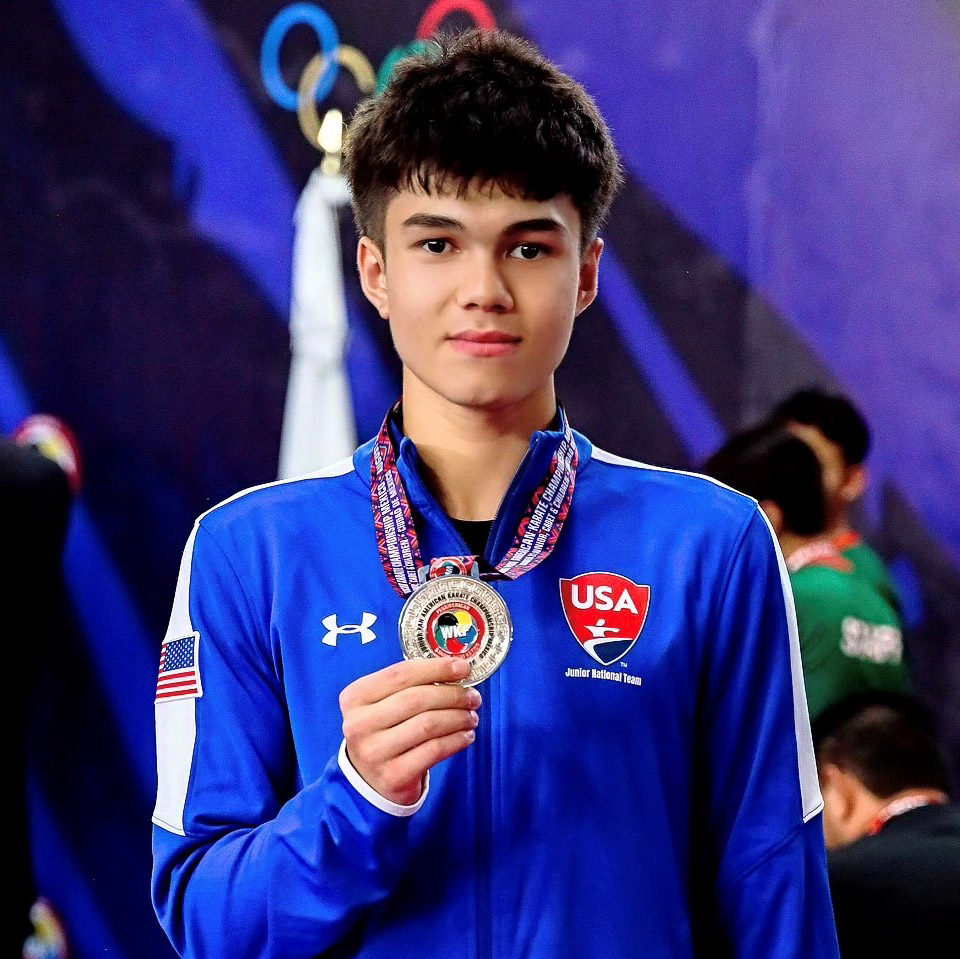 Senior Evangelos Akde '23 will represent Team USA at the Junior World Karate Championship in Turkey this month! Evangelos is a USA Karate Junior National Team member. He became a National Champion by winning a gold medal at the USA Karate National Championships in Spokane, Washington in July 2022 (Category: Male Kumite -68kg). That medal qualified him to represent Team USA at the Pan American Karate Championships in Mexico in August. He brought a silver medal home from that competition. Evangelos is currently ranked #16 in the world in his category.
---
Stanners Join Marist Students At LaValla Weekend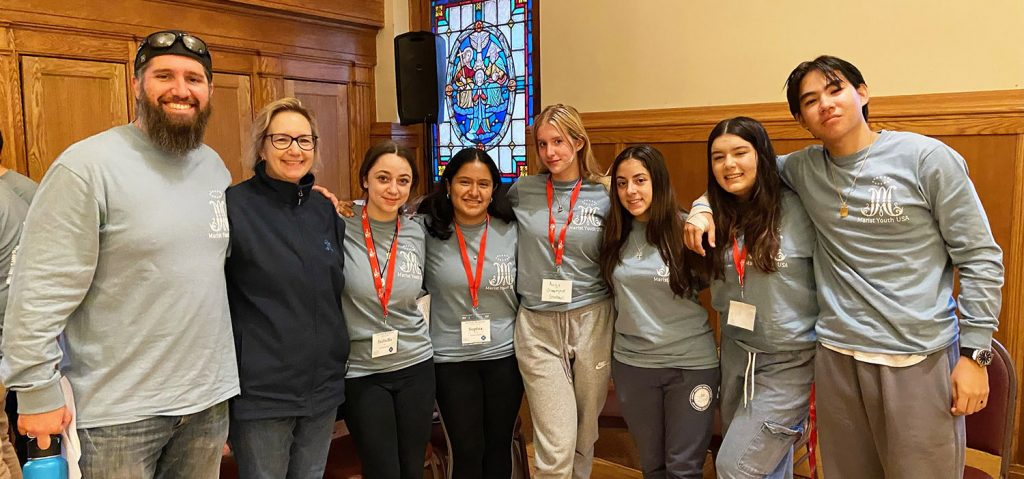 Molloy students recently participated in LaValla Weekend at the Marist Brothers' Center at Esopus. They were joined by students from other Marist schools in the US Province, including Central Catholic High School (Lawrence, MA), Saint Joseph Regional High School (Montvale, NJ), Christopher Columbus High School (Miami, FL), Saint Joseph Academy (Brownsville, TX), Marist High School (Chicago, IL), Mount Saint Michael Academy (Bronx, NY), Roselle Catholic High School (Roselle, NJ), and Ecole Secondaire Marcellin Champagnat (Quebec, Canada).
The weekend centered themes of caring for our world and environmental justice. Students spent time in an experience of solidarity and provided service work to the Marist Brothers' Center at Esopus community, including planting a pollinator garden on the property. Several Stanners shared their thoughts on the experience. Click the button below to read more from our students.
---
Mr. Santos Honored by High School Alma Mater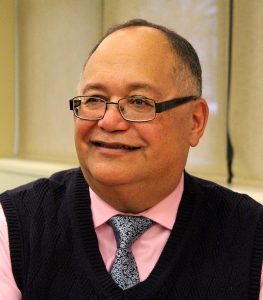 Congratulations to Mr. Lou Santos, who will be inducted into the Power Memorial Academy Hall of Fame on Saturday, November 12, 2022 at the Immaculate Conception Center in Douglaston. Mr. Santos will join his classmate Kareem Abdul Jabbar (previously inducted in 2011) from Power Memorial's Class of 1965. Although Power Memorial Academy has been permanently closed for some time, the school's Alumni Association remains active, inducting alumni and faculty into its Hall of Fame since 2011. An excerpt from a recent PWA alumni newsletter highlights just some of the many achievements of Mr. Santos:
"Three things come to mind when speaking of Lou Santos…teaching, coaching and community service. After graduating from Power, Lou received a BA in secondary education from St. John's University and an MA in Spanish from Iona College. After early stints at St. Raymond's, St. Michael's and St. Helena's, Lou settled down to teaching Spanish at Archbishop Molloy for 39 years. He showed an interest in coaching at age 16 and has coached every year since. In addition to coaching baseball and softball at the school's he's taught in, he's also coached at several area colleges, the CYO and Sandlot Athletic Alliance. While serving on the Boards of several colleges and youth organizations, he also engages in fundraising and donation efforts for organizations like Wounded Warriors and Ronald McDonald House, to name a few."

First Meeting of "Buzz Words" Alumni Book Club!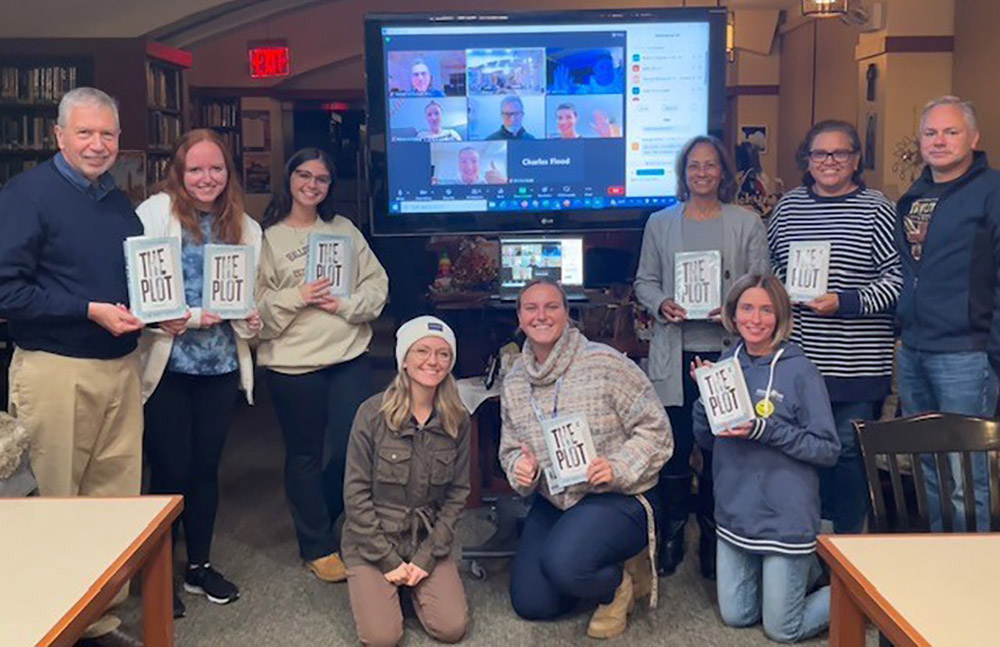 by Rebecca Wagner '14, Alumni Development Officer
In October, alumni and friends gathered for the first meeting of Buzz Words, the official alumni book club! The September read, The Plot by Jean Hanff Korelitz, was discussed by members who ranged from class years in the 1960s to recent grads of the 2010s. Past faculty and parents of current students were also among the participants!
A huge thank you to Dennis Vellucci for facilitating the first meeting. Dennis, along with other Molloy faculty favorites, will be back to lead and participate in more meetings throughout the year.
Interested? You can join anytime and start reading with us. To sign up, click the button below.
---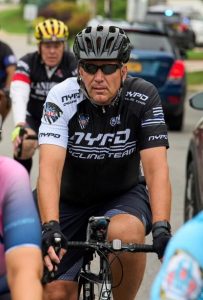 Mike Koubek '86 is an annual participant in the Tour de Force NY 9/11 Memorial Bike Ride. Mike rides in memory of his cousin, FDNY Captain Vincent Giammona, who died on September 11, 2001. Tour de Force NY raises funds for families of law enforcement officers nationwide who are killed in the line of duty, while remembering the victims of the September 11th terrorist attacks. This year's ride included four days in the Buffalo area around Niagara Falls, which went into Canada, around Lake Erie and stopped at Attica Prison. Mike is a Suffolk County police captain and a member of the NYPD and Adirondack Garda Cycling Teams.
---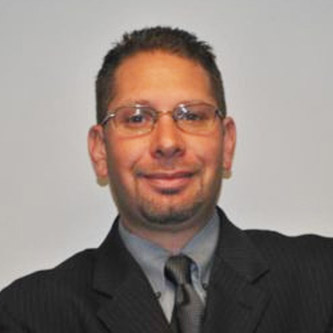 Michael D'Angelo '93 has been elected to the Management Advisory Board for Center of Innovative Hospitality Labor and Employment Relations (CIHLER) at Cornell University on behalf of Hyatt Hotels Corporation. Congratulations, Michael! Click the button below to read the full press release.
---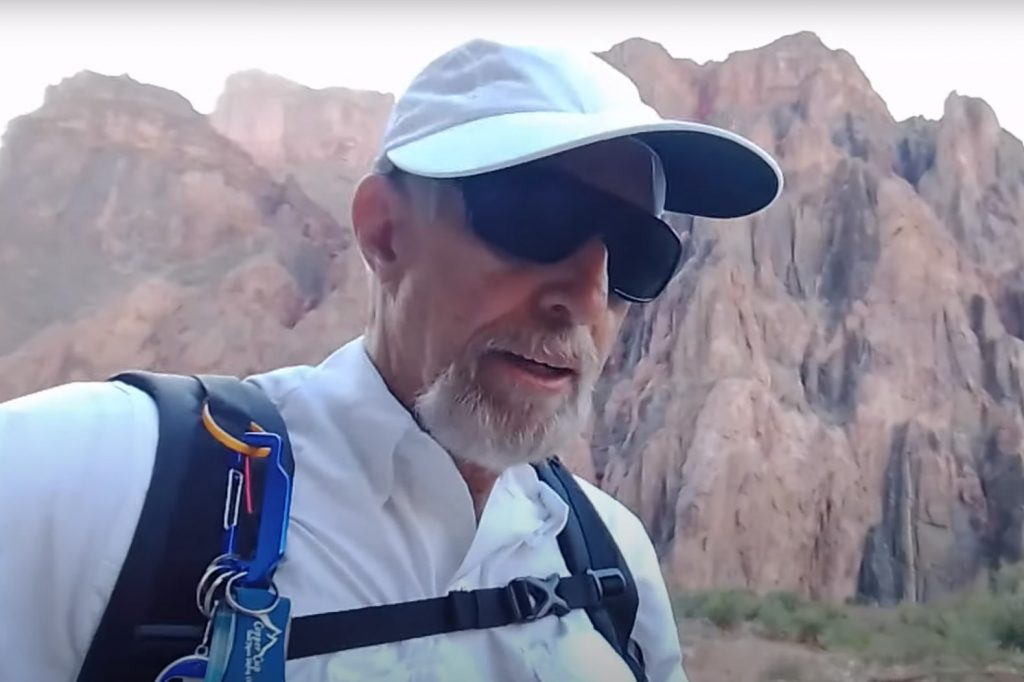 Dr. Bill Endy '68 recently returned from the Grand Canyon after hiking the "dreaded" south to north leg of the Rim to Rim to Rim hike. "I did this on the cusp of completing my 72nd trip around the sun," he said, adding that the 19 mile hike was brutal. "I made it in 15 hours and 35 minutes. My body held up relatively well, but the last two miles were a real slog," Dr. Endy shared. Despite the grueling nature of the hike, Dr. Endy, an experienced hiker, has no regrets. He documented the experience and has since added videos of the hike to his YouTube channel called "Aging Ungracefully Pushing The Limits." Dr. Endy launched the channel in 2021 as a way to challenge himself as well as to raise awareness for Molloy scholarship that honors his late friend and classmate, Lt. John "Jack" Gremse '68. Dr. Endy has been training and hiking around the Grand Canyon for months, including another Rim to Rim hike that was featured in our last Stanner Life magazine.
Dr. Endy hopes to reach 1,000 subscribers on Youtube so he can begin monetizing the channel. All funds raised through the Youtube channel will be donated to the Lt. John K. Gremse '68 Graduation Assistance Fund, which helps seniors facing financial burden to pay for tuition and ensure graduation.

We regret to announce the passing of Anthony "Tony" DiNome, St. Ann's Class of 1954. During his years at St. Ann's, he played baseball and basketball for legendary coach, Lou Carnesecca '43. He went on to a successful career as an educator and coach at Christ the King High School, Jericho High School, and C.W. Post College. He is survived by his wife of over 50 years, Maria and his daughters, Jean Marie, and Michele.
Wake for Anthony DiNome: Sunday 10/16 from 2-6:00pm; Vernon C. Wagner Funeral Home, 655 Old Country Road, Plainview, NY 11803
Funeral Mass: Monday 10/17 at 10:00am; Our Lady of Mercy Church, 500 S. Oyster Bay Road, Hicksville, NY 11801
---
Please pray for the repose of the soul of Mary Jean Green, aunt of Executive Director of Enrollment Management and Swim Coach, Heather Green-Wresch, as well as Keith Green '90, sister-in-law of Mr. and Mrs. Donald Green, and great aunt of Emma Wresch '20, Brooke Wresch '23, and Sean Green '25. All at Molloy send our deepest condolences.
---
Archbishop Molloy High School is saddened to share the passing of Elizabeth McCormack, mother of Robert McCormack, on October 10, 2022. She is survived by her sons and daughters-in-law: Kevin and Regina, Robert and Patricia, Christopher and Gilda; her grandchildren: Lauren, Allison, Kaitlyn, Matthew, Patrick, Elizabeth, Arthur, Kristina, and Mark; and her great-grandson Jackson; her brother-in-law Vincent and several beloved nieces and nephews, and many close friends. Please keep Elizabeth and her loved ones in your prayers. | Click Here for Memorial Page
---
Robert Giordanella '77 recently shared the passing of his brother, John Giordanella '82 (December 10, 2021), as well as the passing of their mother, Marie Giordanella (November 23, 2021). Please keep John, Marie, and the Giordanella family in your prayers.
---
---