AMHS Remembers FF Tim Klein During Special Game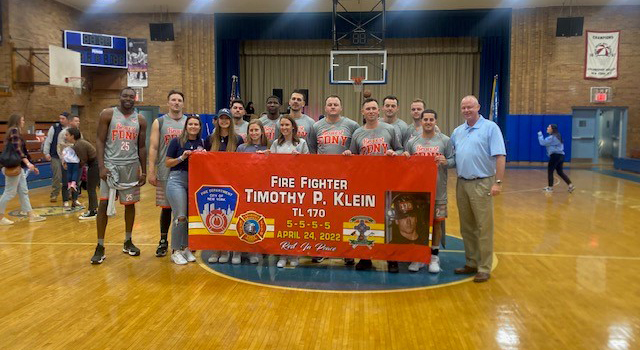 On Saturday, October 22nd, over 300 spectators witnessed an emotional basketball game on the hardwood in the Jack Curran Gym, as the FDNY and NYPD faced off in honor of two fallen heroes. The FDNY and NYPD basketball teams participated in a friendly yet competitive game that served to honor Firefighter Timothy Klein '08 and Det. Jason Conway. Both men lost their lives in the line of duty earlier this year. The FDNY and NYPD Ceremonial Units provided Colors and the National Anthem prior to tipoff.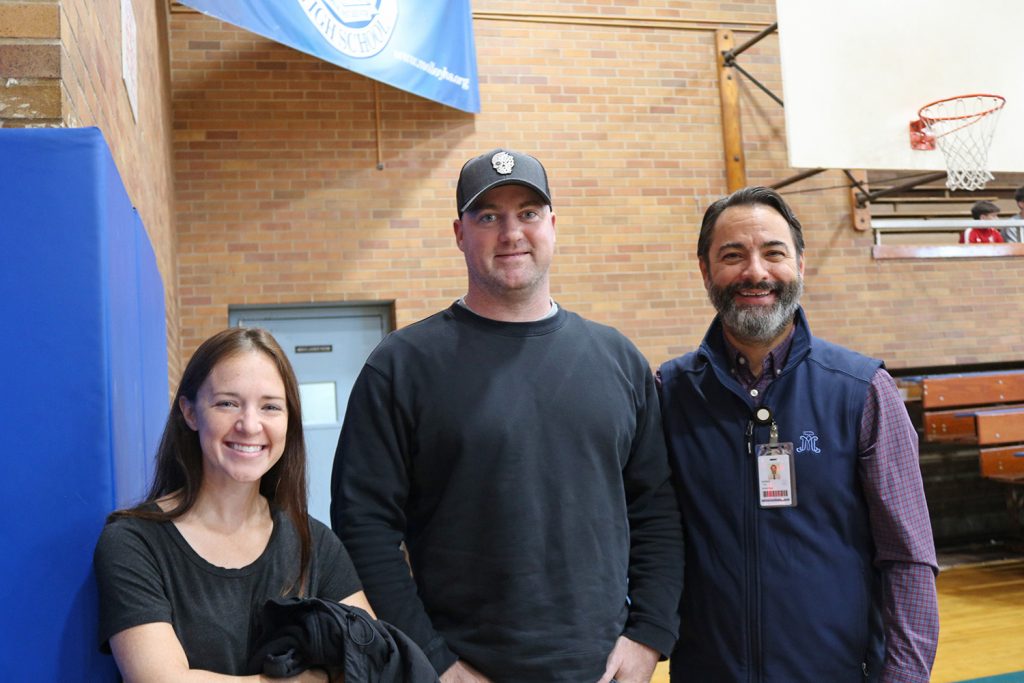 The event also included raffles, a kid-friendly halftime show performed by Blackjack Ryan (AKA "The Hoop Wizard"), and a special post-game reception sponsored by the Molloy Badges Network. The NYPD team topped the FDNY squad by a final score of 72-61, but the real winners are the future recipients of the Firefighter Timothy Klein Scholarship. Proceeds from the event will support this new scholarship benefiting Molloy students in Klein's memory.
"On behalf of the Marist Brothers and President Karsten '81, we are truly thankful to members of the FDNY and NYPD basketball teams, our generous sponsors, Mr. Ed Shannon '84, our halftime entertainer the "Hoop Wizard" Jack Ryan, our Faculty, Parent's Guild, and Staff for creating such a special day to honor of FF. Timothy Klein and Det. Jason Conway," said Craig Katinas '93, Executive Director of Development. "It was wonderful to see such a strong turnout from our Stanner family and friends to remember and honor two heroes of New York City."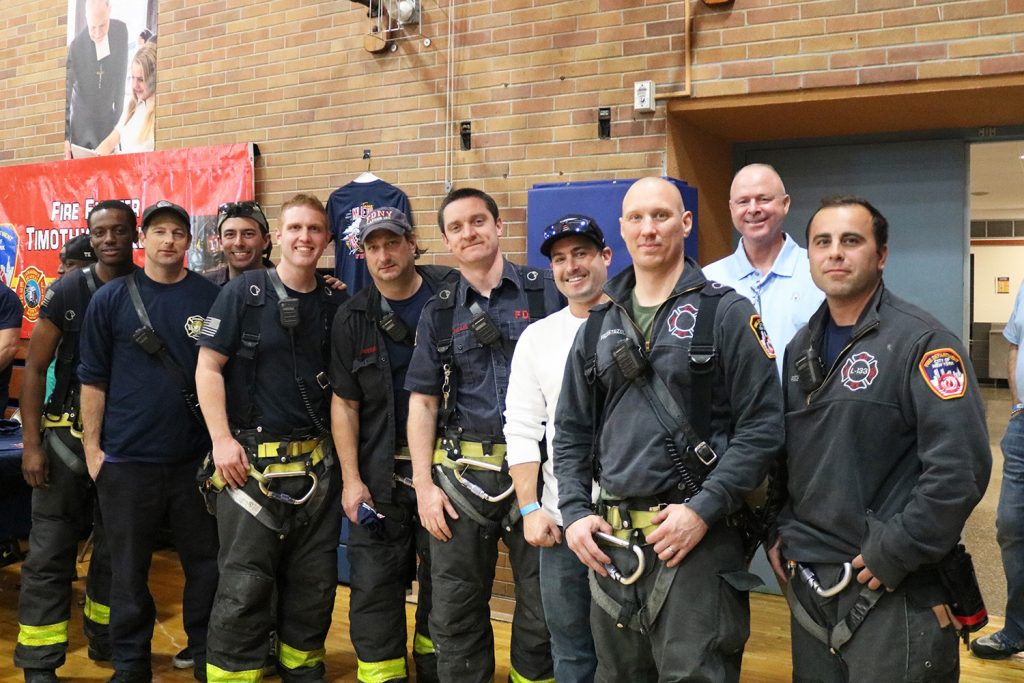 "This event was a great opportunity to come together as a school and community to honor and remember Firefighter Tim Klein," said Mr. Ed Shannon, Molloy's Director of Security and Klein's former basketball coach. "He is a true hero who gave his life in the Line of Duty trying to save others."
You can make a gift to support the Firefighter Timothy Klein Scholarship by clicking the button below. A full photo gallery is also available. Special thank you to our event sponsors: Stanner Alumni Center, Molloy Badges Network, Country Swag, The Hoop Wizard, Cabana Restaurant, CHSAA Referees, and FDNY Engine 323.
Congratulations to our raffle winners:
Super Raffle Winner: Mr. Phillip Miller
Door Raffle Winner: Mr. Victor Maldonado
---
Over 250 Celebrate Return of Molloy Oktoberfest!
On Friday, October 21st, Molloy brought back it's annual in-person Oktoberfest after a 3-year hiatus! Over 250 alumni, parents, and friends were in attendance and enjoyed a night full of food, live music, dancing, and more!
The entertainment included music performed by the renowned Die Spitzbuam band as well as spirited dances by Die Erste Gottscheer Tanzgruppe. Attendees enjoyed extra large Bavarian pretzels, a full German buffet dinner, homemade strudel, and refreshments courtesy of Hofbräu.
This year's Molloy Oktoberfest was bigger and better than ever in large part due to the enthusiasm and hard work of Ms. Rebecca Wagner '14, Molloy's Alumni Development Officer and organizer of the event. "It was really wonderful to see so many alums and friends of Molloy come together in a variety of ways," said Rebecca. "We had volunteers contribute by donating food and decorations, offering their time by setting up the room or serving food, helping to clean up at the end of the night, and many other ways. In the end, it resulted in a fabulous night with so many friends coming together to enjoy Oktoberfest!"
Proceeds from the event will support the Firefighter Timothy Klein Scholarship.
The Beehive extends a special thank you to Robert Schemitsch '78 for his generous support, as well as to our Parents Guild volunteers for their hard work. We can't wait to see everyone again next year. Until then, PROST!
---
Next Alumni Book Club Meeting Is Nov 2nd!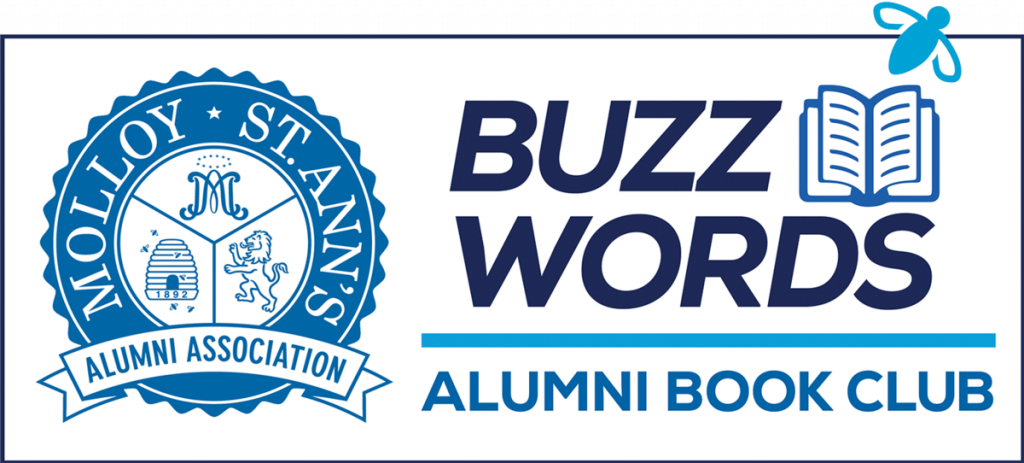 The next meeting of Molloy's Alumni Book Club "Buzz Words" is coming up on November 2nd! Those who have already joined the club will receive a confirmation email from Ms. Wagner soon.
Buzz Words participants read one book per month with a group discussion to follow. A different club member facilitates each monthly meeting. The first month's meeting was led by retired English teacher Mr. Dennis Vellucci, and more Molloy favorites are expected to participate in the future!
You can join Buzz Words any time. Click the button below for more information and to join. It's free!
---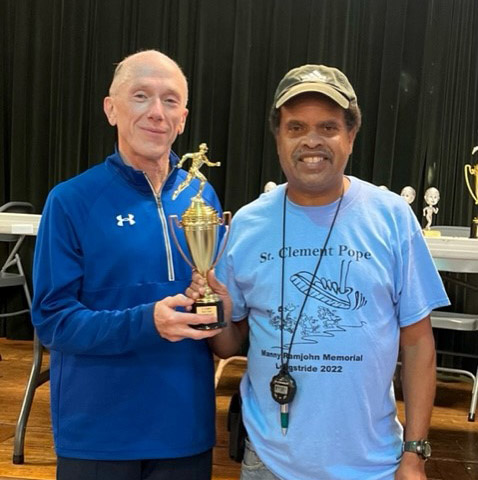 On Saturday, October 15th, St. Clement Track & Field, coached by Rob Pasqual '77, held their 1 mile walk/run. This year the winner was Rob's classmate, John Doyle '77, who ran a time of 6:05. John's wife Merl (Assistant to the President at Molloy) was the 3rd place overall finisher in the women's division. Rob's son, possible future Stanner Joey, age 9, was the fourth place overall finisher!


Over 3,000 Visitors Attend Molloy's Open House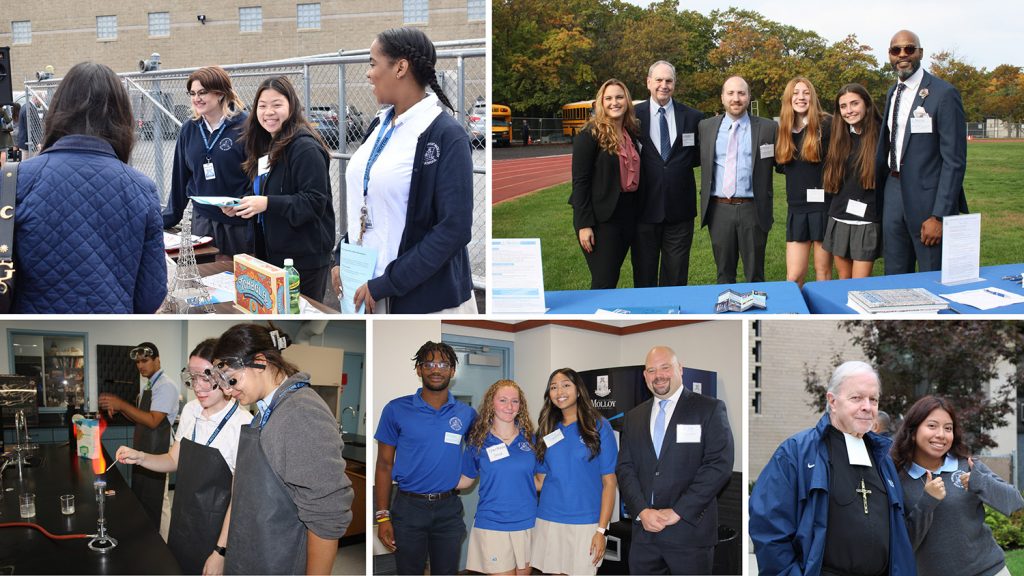 Molloy would like to thank the nearly 3,000 visitors that joined us for our 2022 Open House! The event, which reached capacity a week prior, allowed for prospective students and their families to meet Molloy's students, faculty, and staff, and learn about our academic departments, Campus Ministry, service opportunities, athletics, extracurricular activities, and much more. After listening to speeches from our Principal, Dr. Darius Penikas, as well as several of our outstanding students, families enjoyed a tour of the campus led by knowledgeable student guides. We hope everyone enjoyed meeting our volunteers, and we hope to welcome many of our guests back as Stanners next school year! If you'd like to learn more about Molloy, please reach out to admissions@molloyhs.org or visit www.molloyhs.org.
Photos by Photography Club members Camila Cabrales '25, Claudia Dunne '25, Stephen Krische '24, Serena Shao '24, Krystal Valentin '25.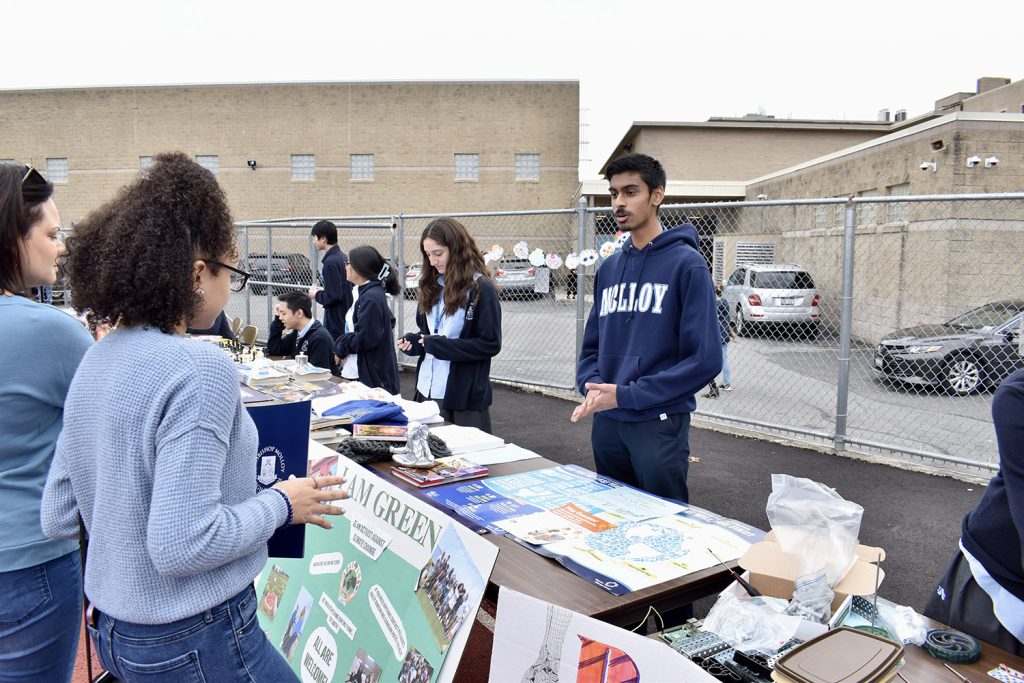 ---
Molloy Represented at Over 20 School Fairs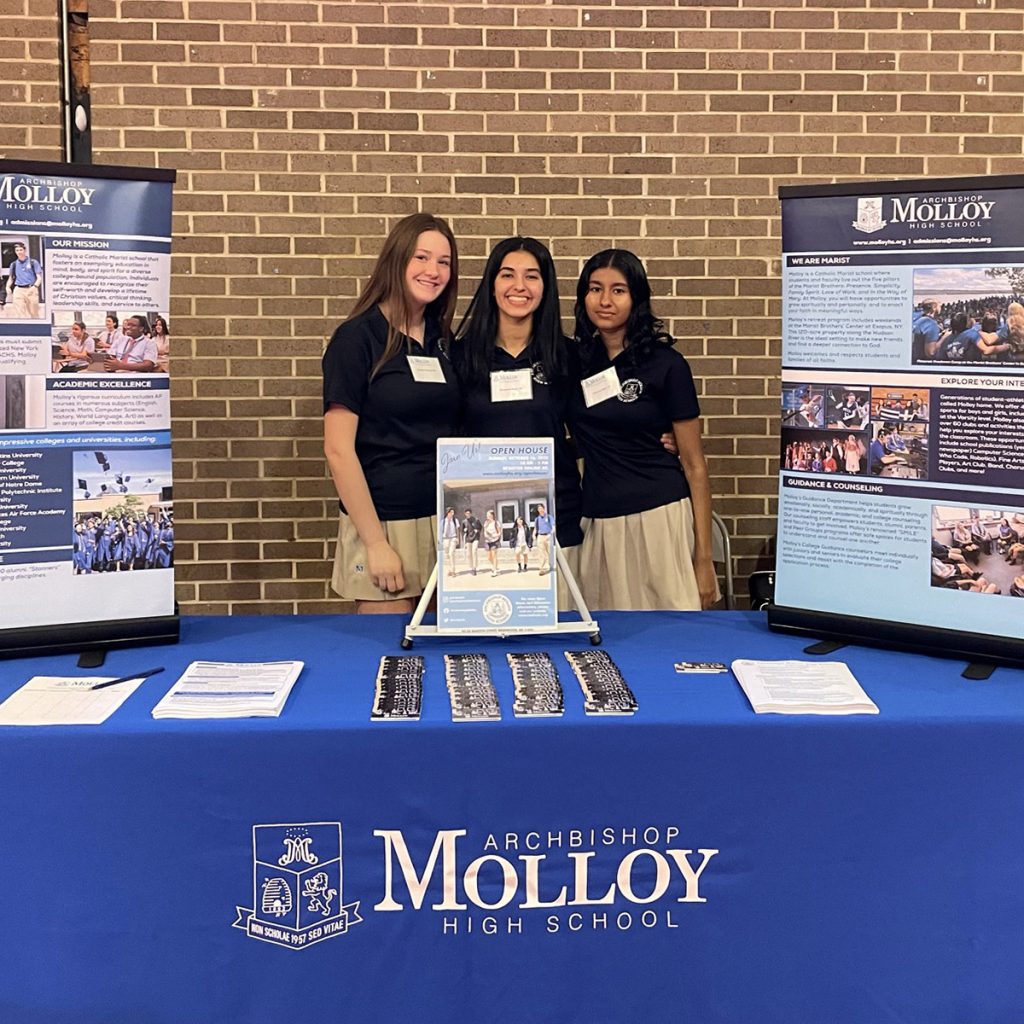 This fall, beyond Open House, Molloy's outreach included on-site visits at many grammar schools. In total, Molloy's Admissions Team (Ms. Green-Wresch, Mr. Turenne '98, and Mr. DiDonato '01) presented to over 20 schools. Additional faculty/staff member representatives included English Chairperson Mr. Sheehan '75, former (now-retired) Assistant Principal Ms. Safrey, Alumni Development Officer Ms. Wagner '14, and Administrative Assistant Ms. Cassillo — as well as several student volunteers from National Honor Society!
Schools Molloy visited included William Spyropoulos School (Flushing), Our Lady of Hope (Middle Village), Notre Dame School (New Hyde Park, LI), Immaculate Conception (Jamaica), St. Adalbert (Elmhurst), St. Stanislaus Kostka (Maspeth), Notre Dame Catholic Academy (Ridgewood), Middle Village Prep, and Our Lady of the Snows Catholic Academy (Floral Park).
It was a pleasure interacting with prospective students from many parishes! If any students or parents have additional questions, please contact admissions@molloyhs.org.
---
National Merit Scholarship – Commended Students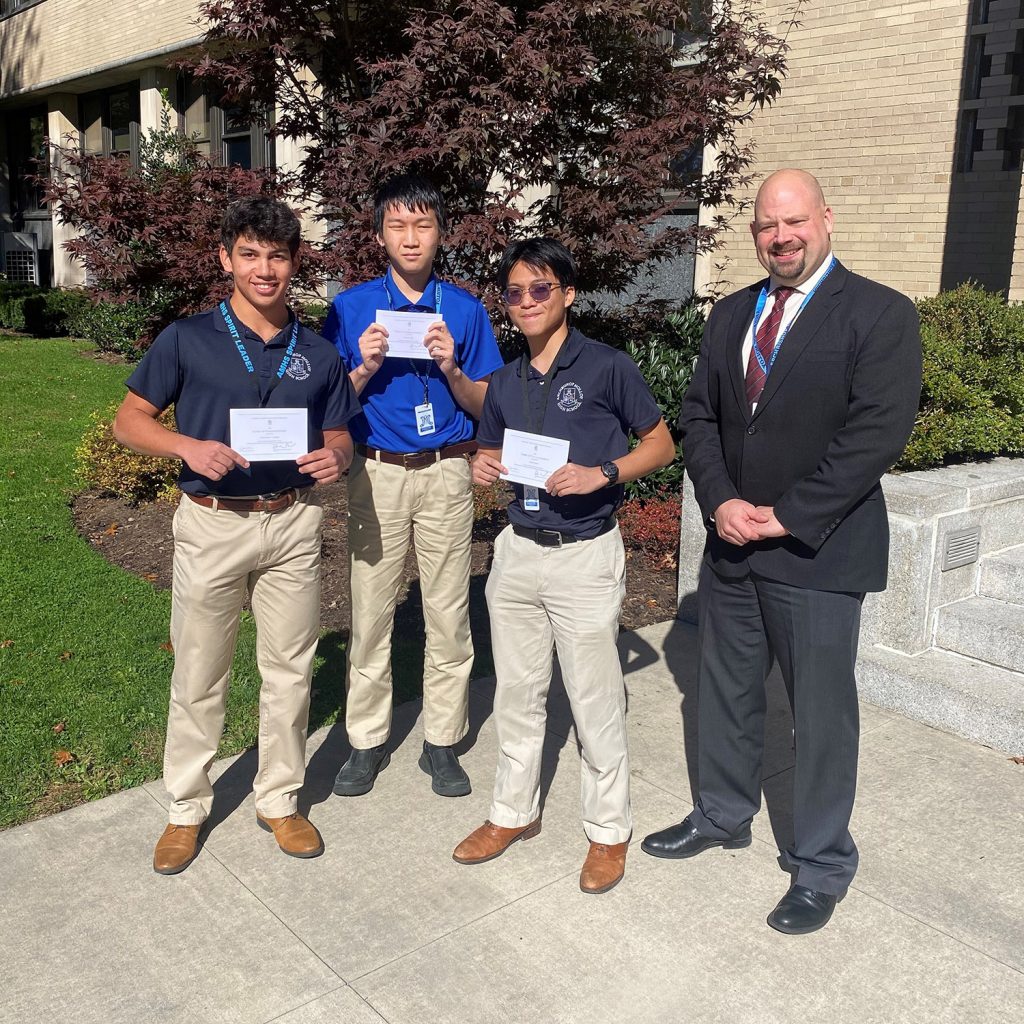 Principal Dr. Darius Penikas announced that Kevin Diep '23, Willie Kim '23, and Thomas Tabeek '23 have been named Commended Students in the 2023 National Merit Scholarship Program. A Letter of Commendation from the school and National Merit Scholarship Corporation (NMSC), which conducts the program, will be presented by the principal to these scholastically talented seniors.
About 34,000 Commended Students throughout the nation are being recognized for their exceptional academic promise. Although they will not continue in the 2023 competition for National Merit Scholarship awards, Commended Students placed among the top 50,000 students who entered the 2023 competition by taking the 2023 Preliminary SAT/National Merit Scholarship Qualifying Test (PSAT/NMSQT).
"Those being named Commended Students have demonstrated outstanding potential for academic success," commented a spokesperson for NMSC. "These students represent a valuable national resource; recognizing their accomplishments, as well as the key role their schools play in their academic development, is vital to the advancement of educational excellence in our nation. We hope that this recognition will help broaden their educational opportunities and encourage them as they continue their pursuit of academic success."
---
Seniors Earn Big Virtual Enterprise Win!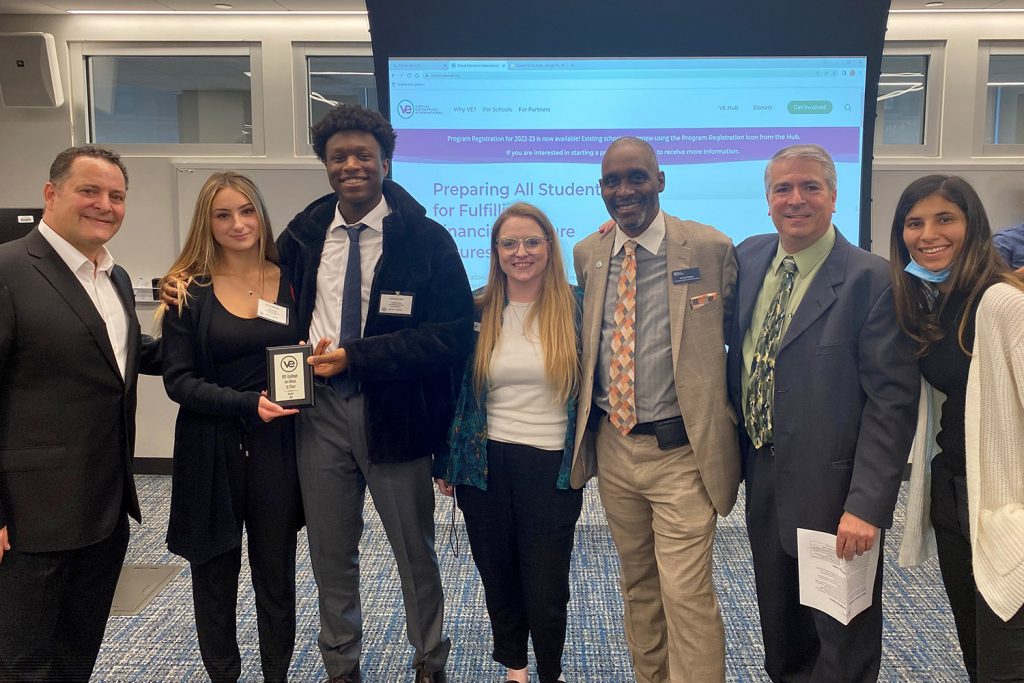 Molloy's two Virtual Enterprise classes placed 1st and 3rd at the Virtual Enterprise NYC Challenge on Friday, October 21st! The firm Helping Paw was represented by Anthony Kerr '23 and Daria Stachuland '23, and the firm Kuba was represented by Julian Aliperti '23, Muhammad Sultan '23, and Derek Zhao '23. Helping Paw is a business that provides animal care services, offering products to owners, as well as access to health and adoption services. Kuba is a gym app and website that provides a platform to meet a workout partner, doubling as a shop for health supplements and protein products.
About 40 teams from all five boroughs participated in the competition. The teams were divided into 5 divisions, and each division had 7 to 8 teams. Both Molloy teams were in the same division. Kuba took third place in the division, and Helping Paw took first place in the division with a score 4-points higher than any of the other schools in the competition. Helping Paw is Division and City Champion!
Congratulations to VE teacher Mr. Touzin and our senior entrepreneurs on such a wonderful job. In the words of Dr. Penikas: "Go Stanners!"
---
News From Campus Ministry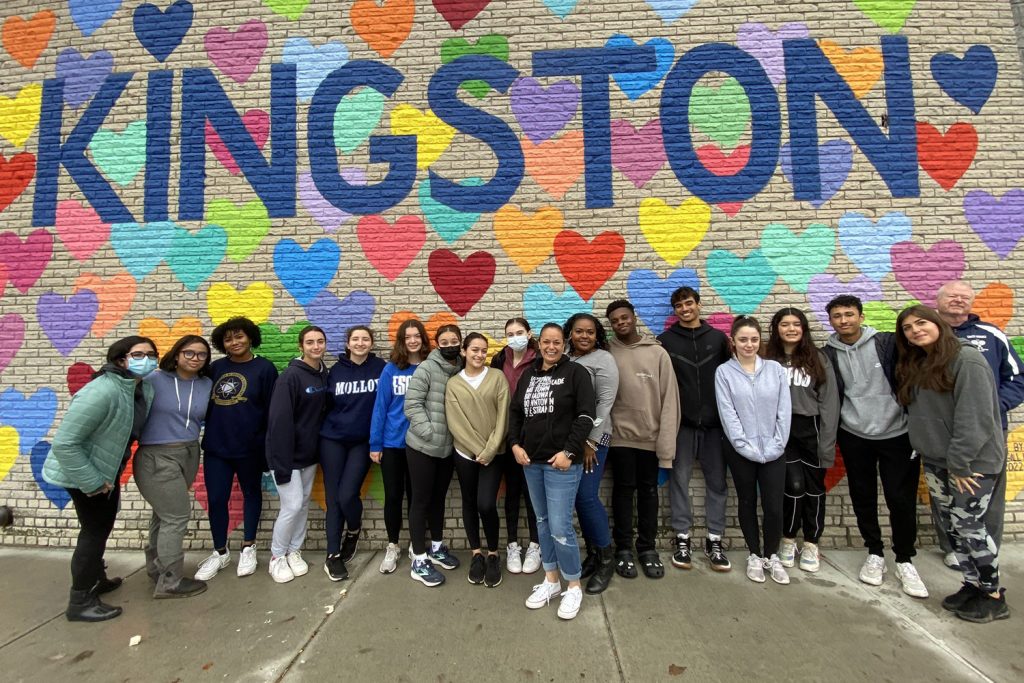 ESOPUS SERVICE RETREAT – During the weekend of October 16 & 17, Molloy held its first service retreat of the year at the Marist Brothers' Center at Esopus. On Sunday, our student and faculty volunteers served the Marist retreat community by helping with fall cleanup. On Monday, Stanners picked 21 cases of apples, 840 pounds from the orchards at the Hudson Valley Research Farm Lab. These apples were donated to People's Place (an organization that serves the community of Kingston), a wellness center, and a boutique thrift shop. Volunteers also used the apples to make 55 apple pies at the Angel Food East Pantry, a pantry that provides food to those in need around the Kingston area….click button below for full story.
GARDEN OF HOPE – On Wednesday, October 19th, Campus Ministry welcomed an organization called Garden of Hope to Molloy. Garden of Hope dedicates itself to serving, caring, and rebuilding the lives of people who have been exposed to domestic violence, sexual assault, and human trafficking. The organization specifically focuses its services toward the growing Chinese communities in the NYC area….click button below for full story.
---
Congrats to Our Brooklyn/Queens Champs!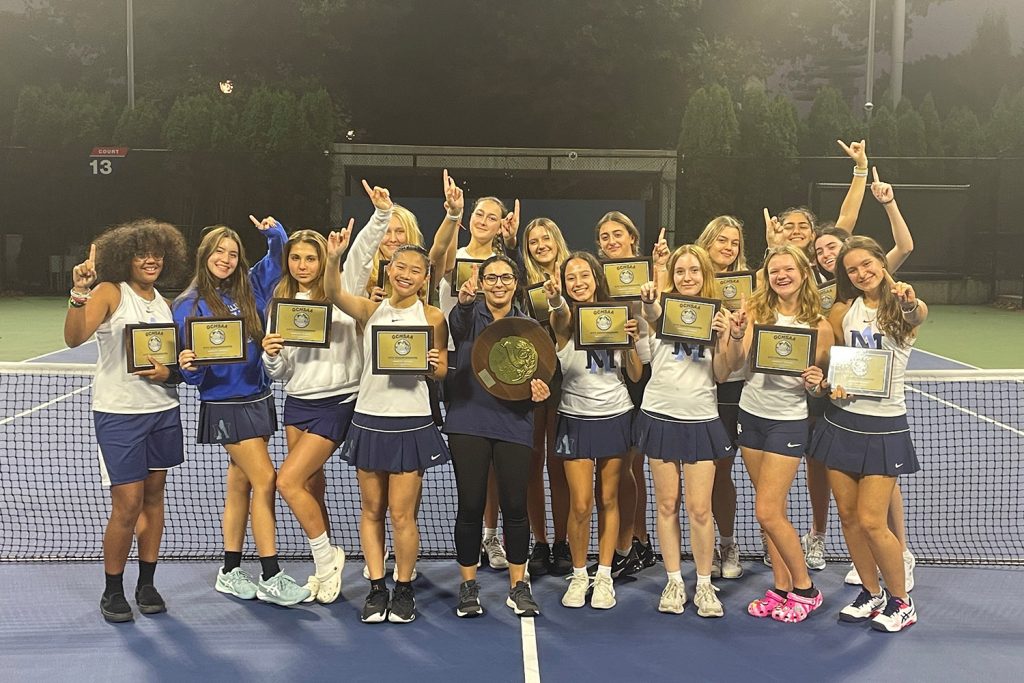 Congratulations to our Girls Varsity Tennis team (pictured above left), who have won the Brooklyn/Queens Championship for the fourth year in a row! Oliwia Grabowski '24 won 6-0 both sets for a fantastic match in second singles. Christina Kyrou '26 and Nicole Jurski '24 won 6-2 in both sets for first doubles! Kelly McGowan '25 and Angelina Vereshchagina '24 won 6-4 in both sets for second doubles. The night ended with a win against The Mary Louis Academy, 3-2. Great job, Stanners!
Congratulations to our Boys Varsity Soccer team (pictured above right), who defeated St. Francis Prep 1-0 last week to secure the Brooklyn/Queens Championship! The win earned them the #1 seed in the City Playoffs. The team also celebrated senior day!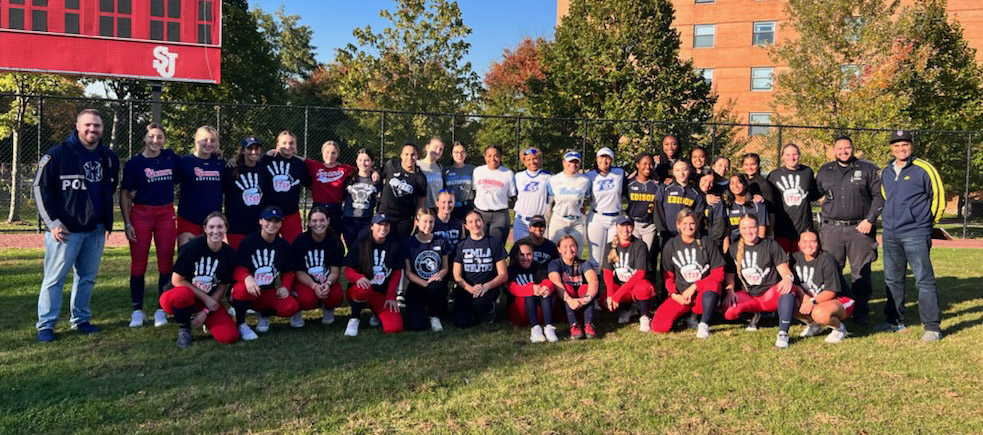 Congratulations to Jordyn Ferrandino '23, Taylor Ferrandino '26, Elizabeth Meade '26, and Gianna Spinelli '24, who recently participated in an Anti-Gun Violence Softball Clinic, hosted by St. John's University and the NYPD 107 YCOs.


*Note: Time is running out to register for the Reunion! This weekend is your last chance!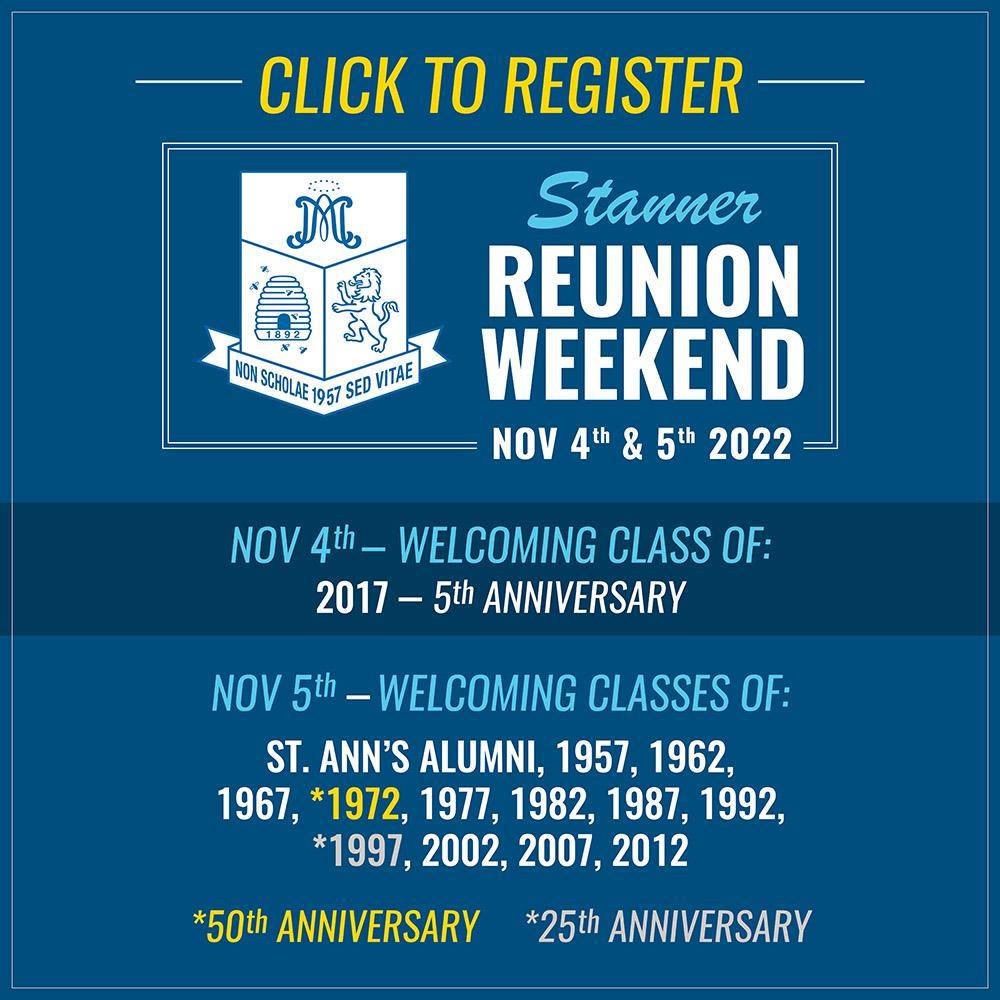 ---
*Note: Online registration for this weekend's Br. Bob Andrews Memorial Event is now closed. Please contact ckatinas@molloyhs.org for more information.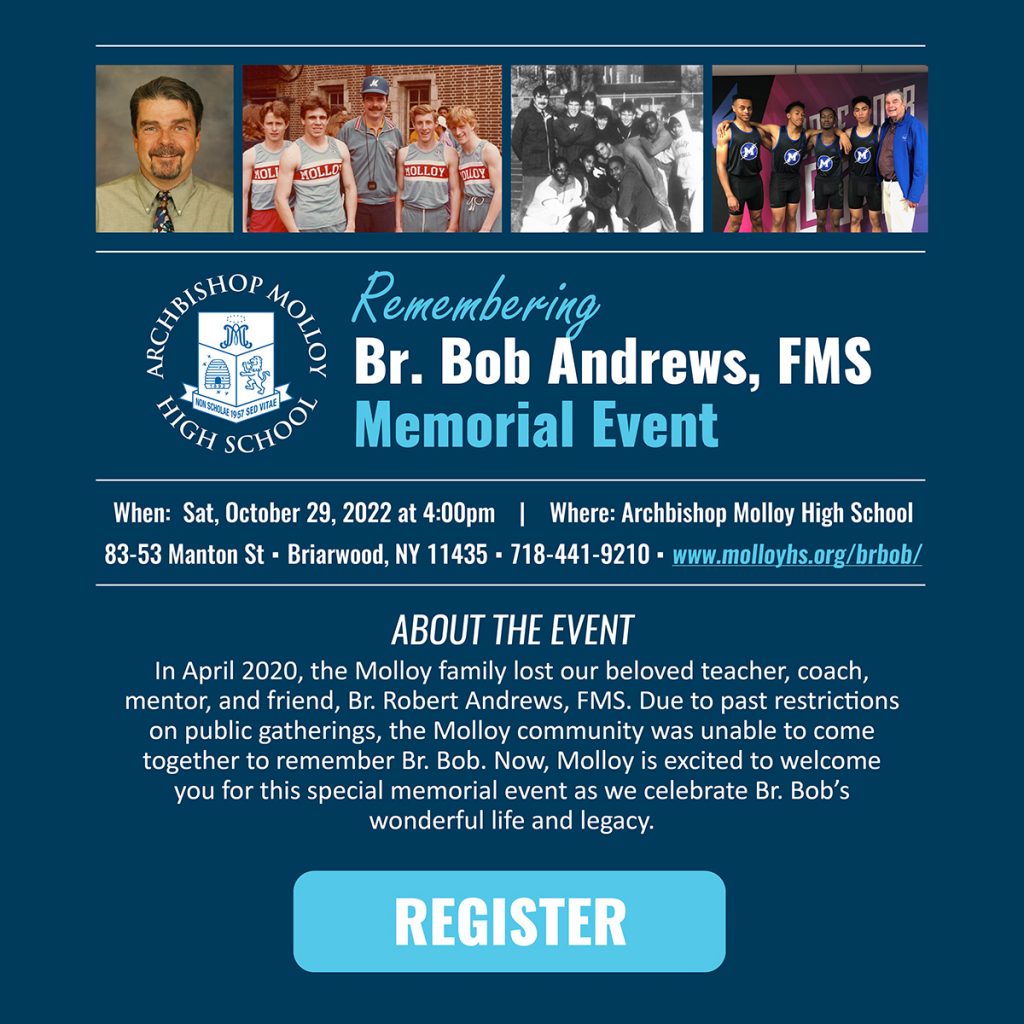 ---
*Note: Alumni can drop off donation items at Molloy's front security desk.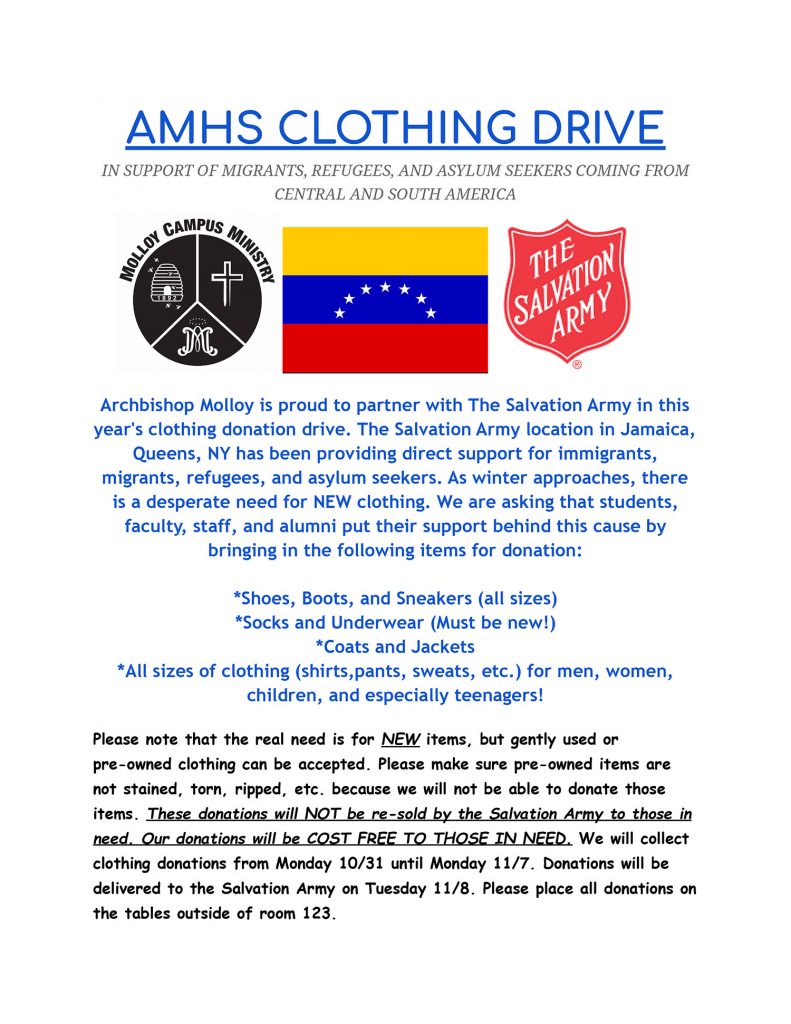 ---
*Note: Alumni can drop off donation items at the front security desk.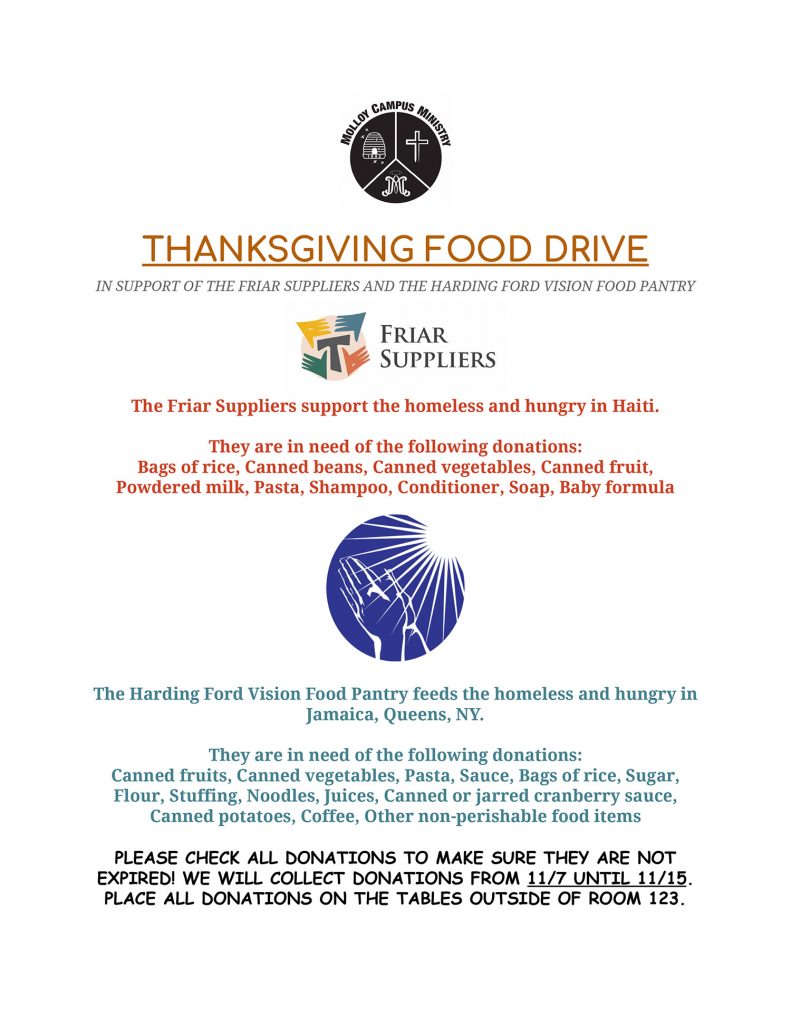 ---
*Note: The 2024 Holy Land Pilgrimage promoted below is an opportunity available to Alumni, Molloy Board Members, Faculty, Staff, Parents, Lay Marists, and Marists ages 21 and over. Those who are able to commit and register by November 30, 2022 will receive a $300 discount per person. Contact Ms. Dorothy DeNoto with all inquiries: ddenoto@molloyhs.org.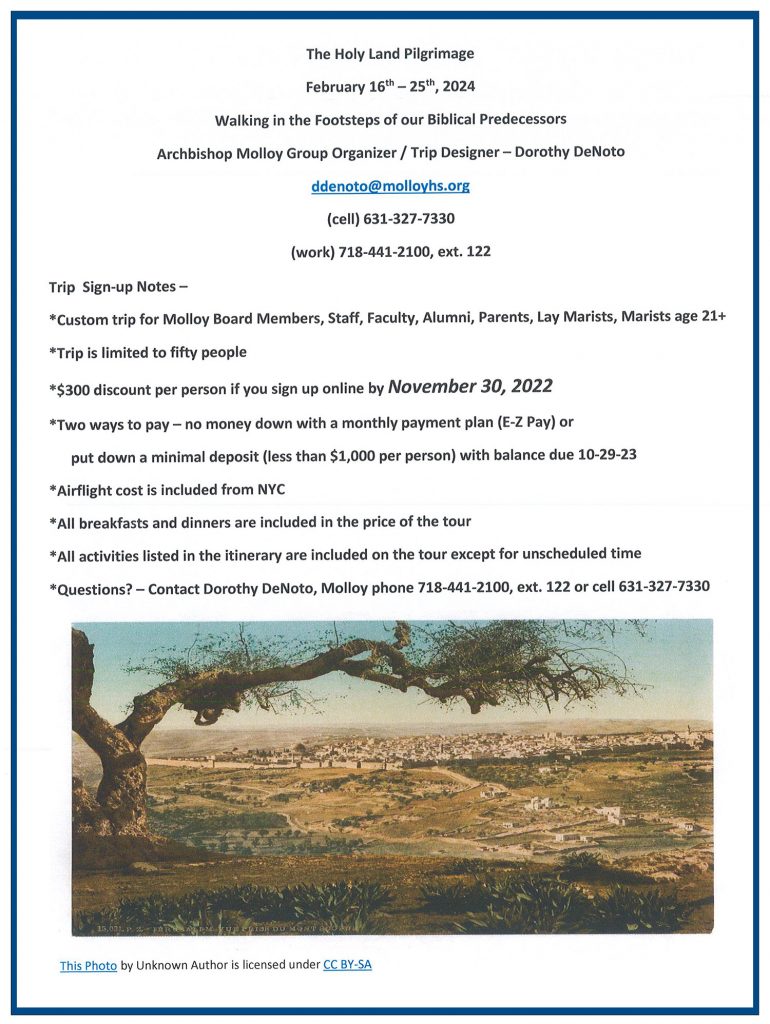 Please pray for the repose of the soul of John R. Curran, Jr. '68, who passed away on October 19, 2022. | Click Here for Memorial Page
---
We are saddened to share the passing of Arwin J. Castillo '02, who passed away on October 16, 2022. Arwin was beloved by many classmates, including those who knew him from the Chess Team, Sci-Fi Club, and Asian Club. Please join us in prayer for Arwin and his loved ones during this difficult time. | Click Here for Memorial Page
---
Please pray for the repose of the soul of Michael J. Bedosky Jr., father of Michael Bedosky '82. | Click Here for Memorial Page
---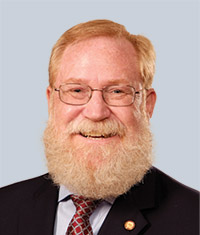 We are saddened to share the passing of Walter Charles "Rusty" Riese '69 on October 6, 2022. A prominent geologist, loving father, and consummate storyteller, he will be missed by countless friends, family, and colleagues. Rusty was the elder son of Katherine E. and Walter H. Riese of Baldwin, New York. He spent his childhood on Long Island with his Navy veteran parents and younger brother Sandy, and he attended Archbishop Molloy High School, where he excelled academically and lettered in track and field, principally as a shotput and javelin thrower. After his graduation in 1969, he departed for the greater Southwest, specifically New Mexico, to study earth sciences…..Click the button below to read Walter Riese's full obituary.