Stanner Reunion Weekend – THANK YOU!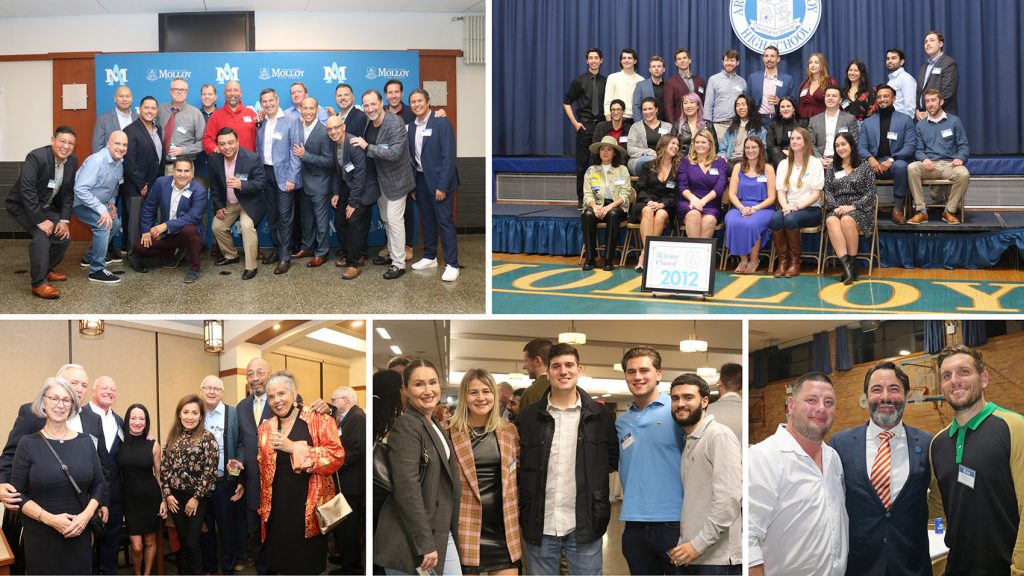 The Stanner Alumni Center and everyone at Molloy would like to sincerely thank the over 450 alumni and guests who attended our Reunion Weekend on November 4th and 5th. It was wonderful to share this memorable celebration with our class years ending in 2 and 7. Seven decades of alumni were represented throughout the weekend, including an alumnus of St. Ann's Academy! We hope that whether it was your first visit back to Molloy in five years or 60 years, reconnecting with old classmates and walking the halls of Stanner High was a great experience.
We would like to congratulate the Class of 1972, who celebrated their golden 50th anniversary! A sincere thank you to the Class of 1972 Reunion Committee, including Tony Blaha '72, Bob (Chung) Wu '72, Bill Farrell '72, Mike Francescone '72, Greg Indelicato '72, Don Jirak '72, and Joe Pando '72, for all your work reaching out to your classmates. Congratulations to the Class of 1997, who celebrated their silver 25th anniversary!
On Saturday night, the four members of the 1962 Indoor National 2-Mile Relay Champion team were in attendance to accept their Track & Field Wall of Honor plaques. The foursome of Paul Daly '62, Richard Dillon '62, Joseph Hayes '62, and John Tietjen '62 were inducted onto the wall back in June, but could not attend the induction event. It was wonderful to honor them all together during our Reunion Weekend.
Below you will find all the class photos, however we are still sorting through the rest of the photos from the weekend. A full photo gallery will be shared with all attendees by way of a follow-up email. If you have any questions or feedback, please contact alumni@molloyhs.org. Once again, thank you for celebrating with us!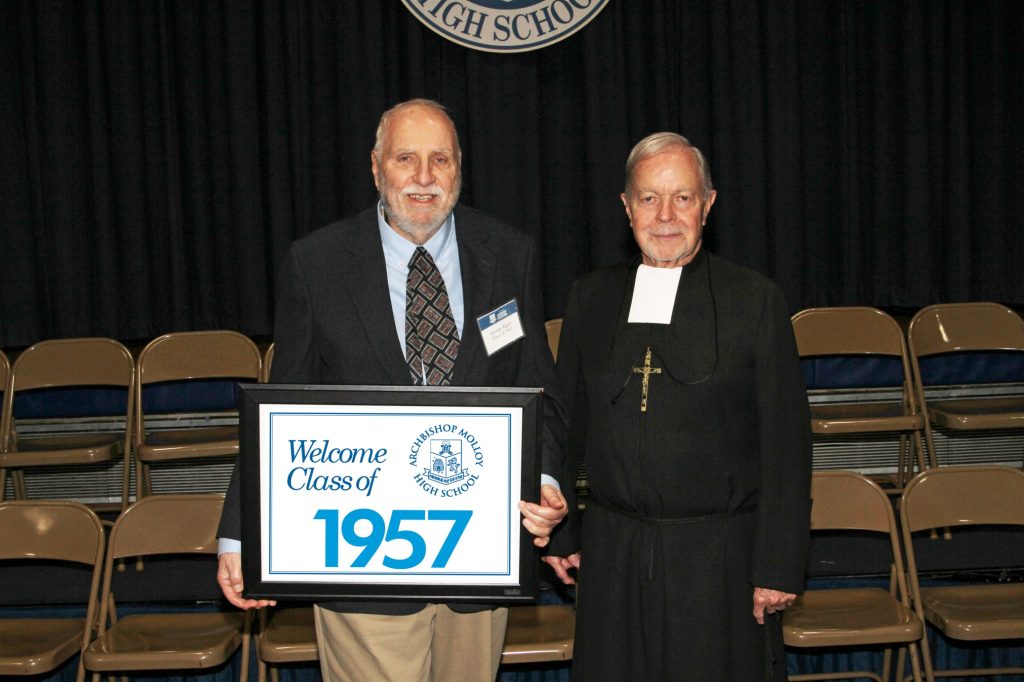 ---
Molloy Remembers Br. Bob Andrews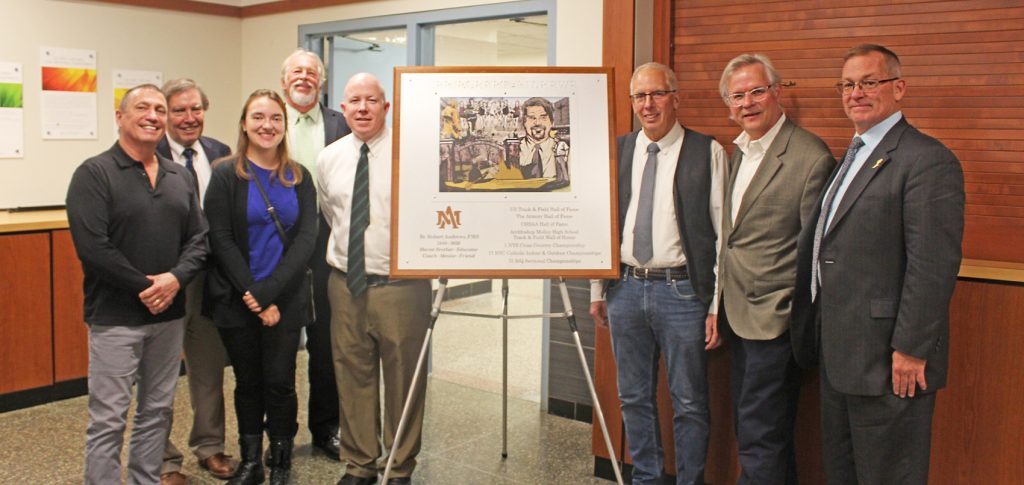 On Saturday, October 29th, members of the Molloy community, including our Track & Field community, gathered to remember a beloved Marist Brother, coach, teacher, mentor, and friend. In April 2020, we lost our beloved Br. Robert Andrews, who served Molloy for over 43 years. Known to many as Br. Bob, or simply Bob, he was a dedicated teacher and coach who inspired generations of Stanners in and out of the classroom. His coaching accolades include induction into numerous Halls of Fame, a NYS XC Championship, 17 NYC Catholic Indoor/Outdoor Championships, and 75 Brooklyn/Queens Championships. Beyond his professional success, he was a caring person who loved and helped everyone he met.
The event included a prayer service as well as a ceremony that featured several guest speakers. Br. Dan O'Riordan '85, US Provincial, offered comments via a pre-recorded message. "I had the privilege to run for Br. Bob Andrews….as well as coach with him in the 90s. He became a beloved friend and mentor in my life, and he will always be one of my greatest impacts," Br. Dan shared. Other speakers included Dan McGrath '01, William Vespe '92, Artie Dohler '82, and Frank Gambino '74, representing the many decades of Stanners Br. Bob coached and or worked alongside. The stories and experiences they shared reflected the relationships many others had with Br. Bob, and they painted a picture of a beloved figure who had a positive impact on countless people.
At the conclusion of the ceremony, the track coaches joined President Karsten '81 and Craig Katinas '93 in unveiling a new memorial plaque honoring Br. Bob. The plaque, which mirrors the style of a plaque honoring Jack Curran, now resides on the wall in Molloy's main lobby. It will greet all students, faculty, and visitors each day and serve as a reminder of the incredible legacy that Br. Bob has left at Molloy.
For those who were unable to attend the event, a video recording of the ceremony will be shared with our community soon. Until then, please click the button below to view our photo gallery. Special thanks to Bobby Oerzen '01 for allowing Molloy to use his original artwork as the centerpiece of our new plaque.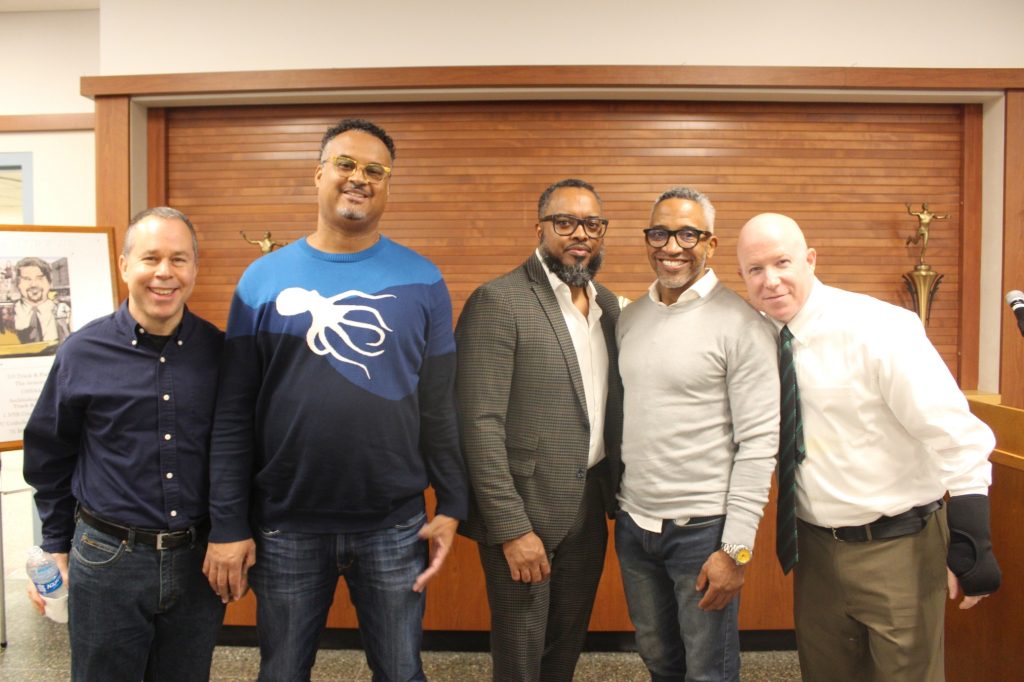 ---
Stanner-A-Thon 2022!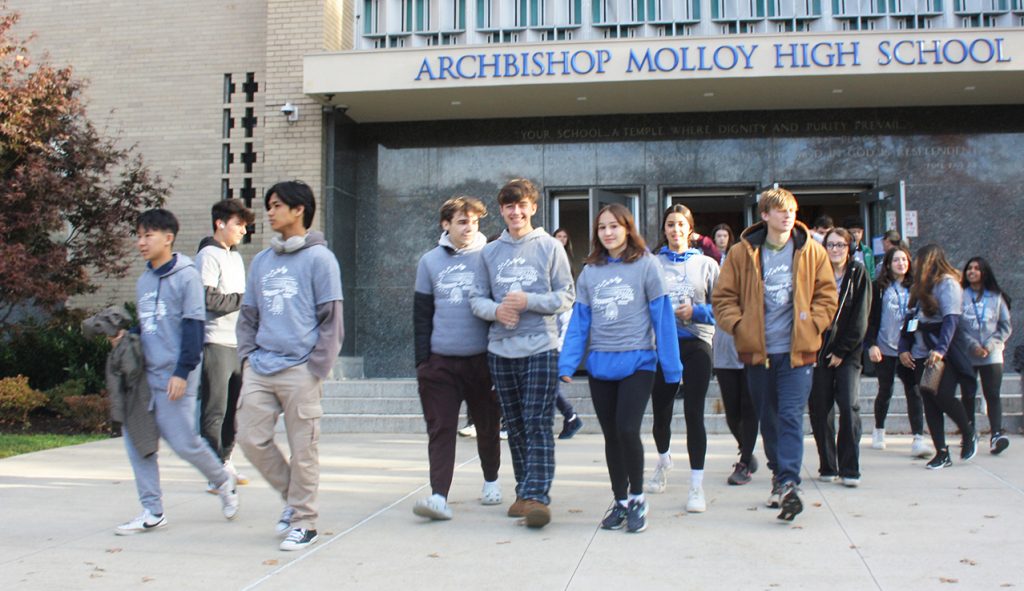 On Friday, October 28th, Molloy celebrated its annual Stanner-A-Thon! Previously known as the Walkathon, the Stanner-A-Thon includes the traditional walk for the freshman, sophomore, and junior classes, while seniors get to choose from a variety of fun alternate activities. These include the Game-a-Thon, Zumba, Video Game Tournament, Basketball Tournament, Art-A-Thon, Dodgeball, Trivia Contest, and the Br. Leo Memorial World Trade Center Walk.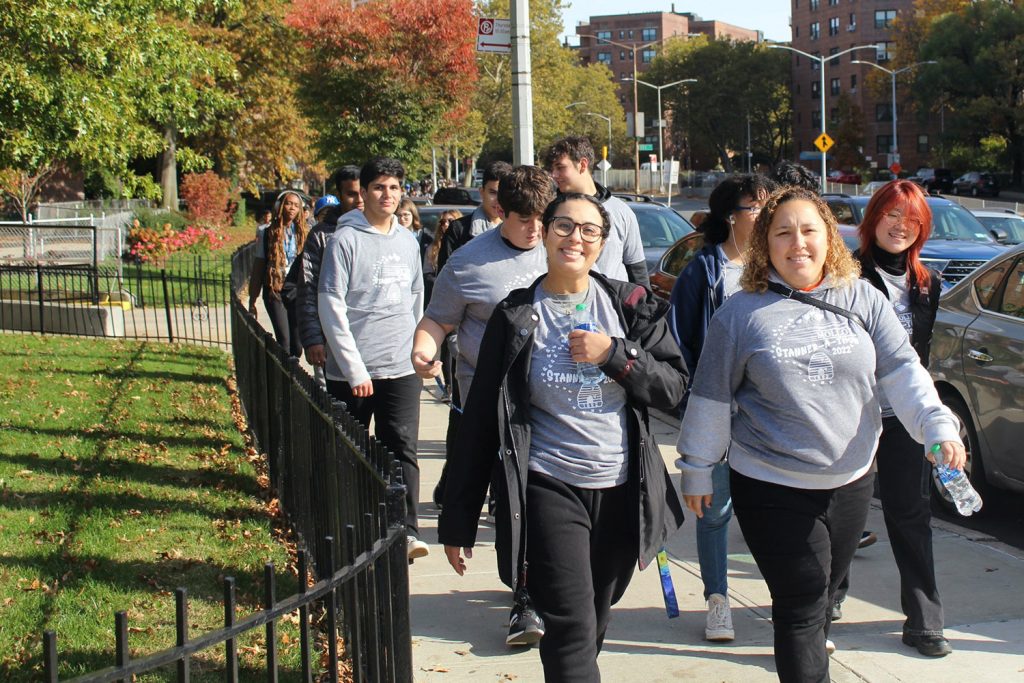 The Stanner-A-Thon is Molloy's annual student/family fundraiser which supports a different capital project around the school. In previous years, funds from the Walkathon / Stanner-A-Thon have helped Molloy to install air conditioning in every classroom, purchase new school buses, make improvements to the Dance Studio, purchase new cafeteria tables, build a Video Broadcast Studio, and make renovations to our library, gymnasiums, and chemistry lab. This year, funds raised in support of the Stanner-A-Thon will be used to refurbish and update Molloy's art room, as well as to purchase equipment needed for a soon-to-be constructed innovation lab!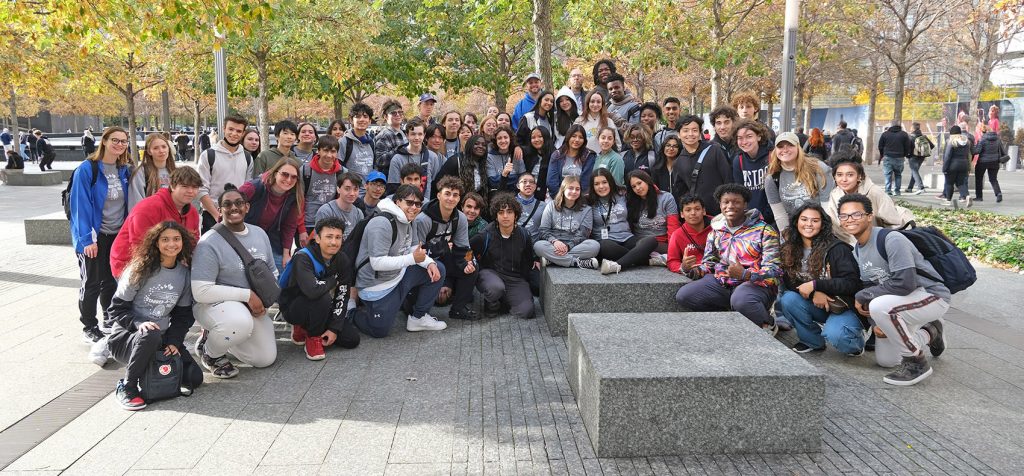 This year's World Trade Center Walk was one of the highlights of the day. Br. Leo Richard, founder of SMILE and Peer Groups, was known to enjoy long walks. He believed you could really get to know a person by walking a great distance while talking with them. That is the spirit of the 12 mile walk to the World Trade Center, led by Mr. Chris Dougherty '91. Mr. Dougherty, Guidance Chair and former student of Br. Leo's, organized over 60 seniors and a handful of chaperones for this year's journey. The route takes Molloy through Queens, Brooklyn, and Manhattan, all the way to the reflective pools at the World Trade Center Memorial. It was a fun day spent with great company, and an experience our seniors will never forget!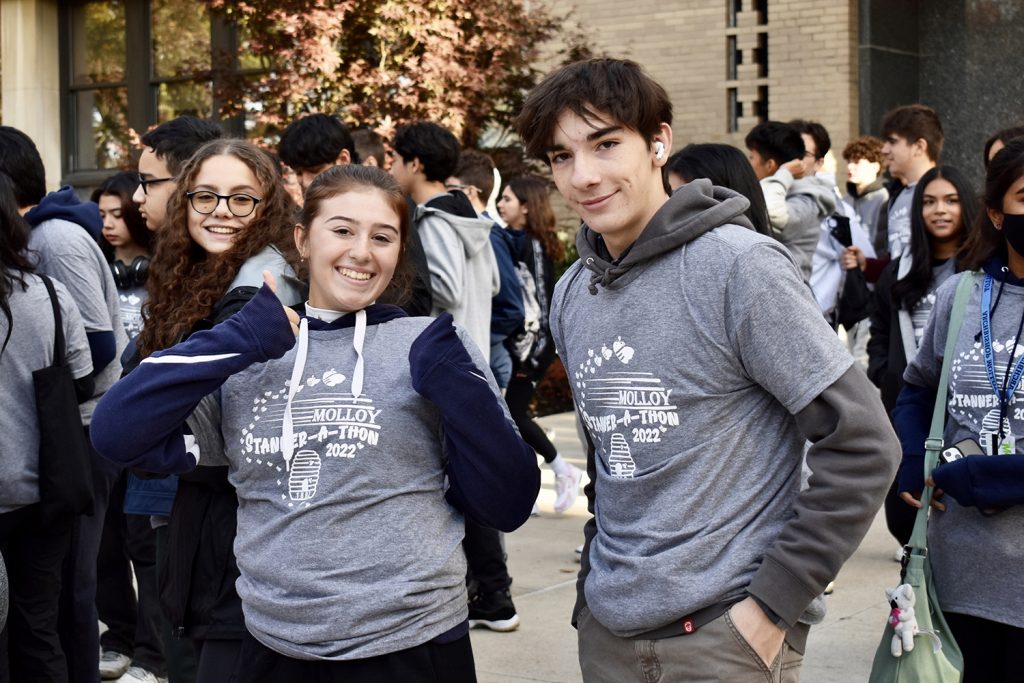 Photography Club Credits: Camila Cabrales '25, Anthony, Fontana '24, Armando Gutierrez '23, Stephen Krische '24, Anna Lampman '24, Aliana Rajkumar '25, Emma Rivera '24, Elliott Romero '24, Krystal Valentin '25
---
Senior Participates in Prestigious Research Program
During the summer of 2022, Hailey Ramzan '23 participated in Memorial Sloan Kettering's Human Oncology and Pathogenesis Summer Student Program. The program, also known as HOPP, gives high school students the opportunity for hands-on experience in state-of-the-art laboratories. Hailey was one of thirty students chosen to participate in the program out of the over 3000 international applicants!
Each participant was paired with a professional in the field of oncology that worked with them to conduct their very own independent research project. Hailey worked directly with her mentor in the Ross Levine Lab, a leading hematologic malignancy lab at MSKCC. Under the supervision of her mentor, she performed PCRs, flow cytometry, electroporation, DNA analysis, and other laboratory techniques. In addition to lab work, students listened to informative talks and networked with various professionals in multiple fields. Hailey shares, "I never would have known how much I love research if it weren't for this program. I knew I wanted to do something in the medical field, but after being exposed to these amazing labs I'm 100% certain that this is my calling!"
Throughout the summer, Hailey studied the JAK2 oncogene and its role in acute myeloid leukemia. She presented her findings to leading researchers in the oncology field who gave her critiques and comments, evaluating her work as they would fellow researchers. Her work, as well as the findings of the other participants, are being used in actual clinical trials. Additionally, Hailey and her mentor co-wrote an article that will appear in a future publication of ASHabstracts, a hematology journal!
Here at Molloy, Hailey is President of the Biology Club and an intern for Ms. Woo's freshman biology class. Her experience at Molloy encouraged her to apply for HOPP, and she is now currently applying to colleges to pursue a major in science. Congratulations, Hailey!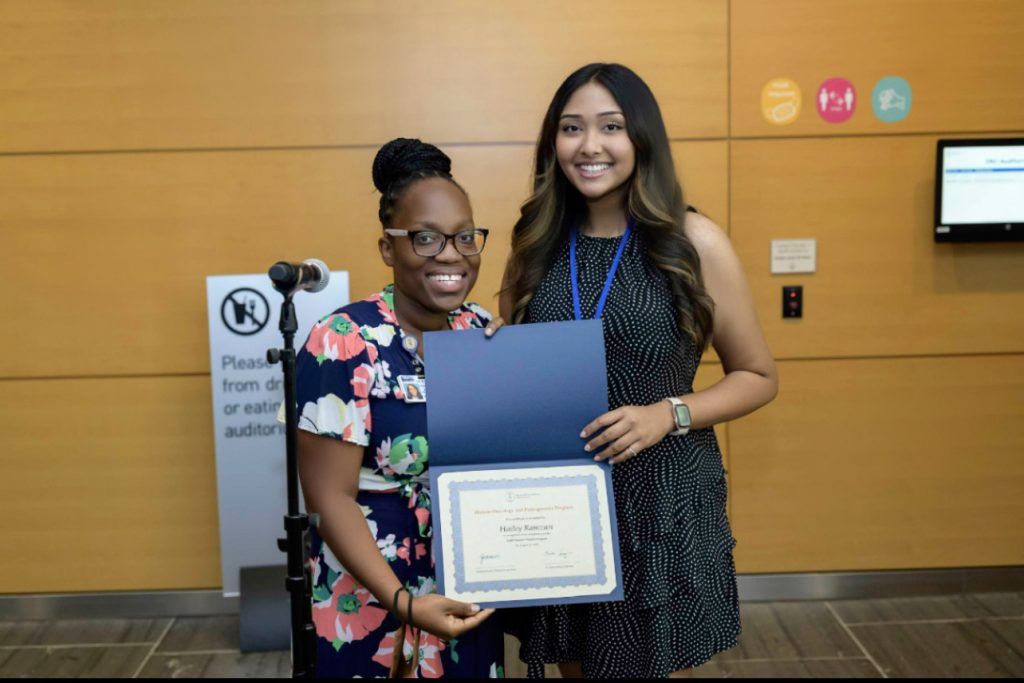 ---
JV Softball Team Honors First Responders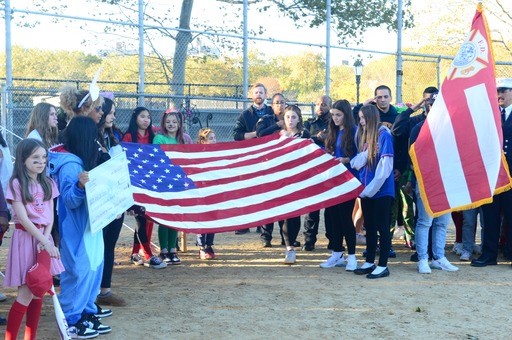 On October 27th, Coach Lou Santos and Molloy's JV Softball team took part in a Halloween Parade that honored first responders from the NYPD and FDNY. The team carried the American flag and helped make over 200 goodie bags for the first responders. Special thanks to Captain Joe Reznick '93, who brought out not only his FDNY squad, but the fire engine from Ladder 152 for pictures. The event was a total success!


---
---


Alumna Entrepreneur Visits Virtual Enterprise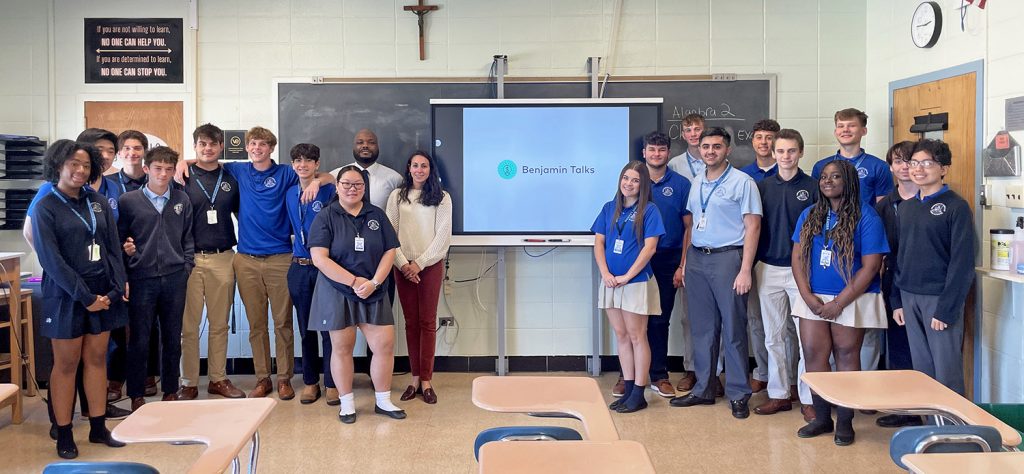 On Wednesday, October 19, 2022, Carissa Jordan '04 visited our Virtual Enterprise classes! Carissa spoke to our seniors about her career trajectory, from Wall Street, to mom, and then entrepreneur, as well as business planning, branding, and marketing.
Co-Founder and Co-CEO of Benjamin Talks, Carissa answered questions our students had about starting a business. She spoke about topics such as first developing the concept all the way through current manufacturing and storage. The company itself provides finance information and news to parents so that they can teach their kids about money very early on. The company mission is "to educate, engage, and empower children with the financial foundation they need to thrive."
Thank you, Carissa, for taking the time to speak to our budding entrepreneurs!
---
Stanner Head Coaches Connect!
It was a meetup of alums on the court as Western Connecticut State University played at George Washington University last weekend. We're proud to say both head coaches are Molloy alums. Despite working on opposing teams, our Stanners came together for a quick photo just before tip-off. It was a special occasion, as it was Chris Caputo's first game as head coach for George Washington University. Best of luck with the season gentlemen! Pictured L-R: Guy Rancourt '91 – Head Coach, Men's Basketball – Western Connecticut State University; Chris Caputo '98 – Head Coach, Men's Basketball – George Washington University.
---
Stanner Sworn In As Postmaster of Jamaica, NY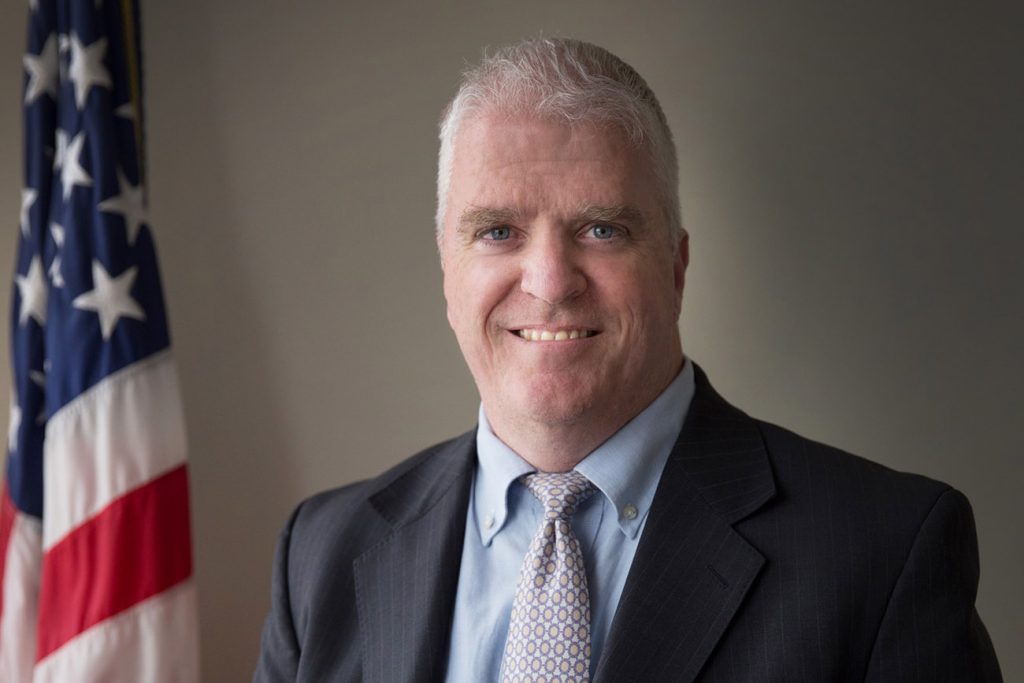 Congratulations to Dermot Tuohy '88, who was sworn in as Postmaster of Jamaica, NY on Friday, October 21, 2022. Mr. Tuohy took his oath of office during a ceremony in the Queens Borough Hall Atrium. According to a press release, Mr. Tuohy is a Marine Corps Veteran with 28 years of dedicated Postal Service experience. His oversight of Jamaica will include the Main Post Office, 18 postal stations, and five retail units throughout the area. Previously, Mr. Tuohy served the communities of Far Rockaway and Forest Hills.
---
Two 1963 Classmates Celebrate Marine Anniversary!
Dennis Doyle '63 and Mike Flanagan '63 have remained good friends since their days at Molloy. Last month, at the Marine Corps Base in Quantico, VA they reunited to celebrate a special anniversary. It was 55 years ago this past summer that the two newly minted 2nd Lieutenants from St. John's went on active duty. They were in the same platoon training together for 6 months. A year later they reunited in Vietnam. Mike served 3 years and Dennis 26 years. Dennis and Mike share: "All the best to our classmates! Semper FI!"
---
Did You Run The NYC Marathon?
Rob Jennings '89 shares that he completed his fifth New York City Marathon last weekend! Rob finished the race with a time of 4:32:08, just six seconds shy of last year's time. Rob is pictured during the leg in Long Island City. "It's always exciting spotting friends and family along the way. Especially last Sunday when it was unseasonably warm, those moments of encouragement really mattered," said Rob.
Stanners! Did you run the NYC Marathon? Please let us know! Contact beehive@molloyhs.org with your latest time or your all-time best finish.
---
Class of 1964 Meet-Up
Members of the Class of 1964 recently met up at McSorley's Old Ale House in lower Manhattan. Rick Lorenz '64 was the prime mover behind the luncheon meet-up. He and his wife stopped in NYC after returning from Germany on their way back home to Tacoma, Washington. Rick is also the host of monthly Class of '64 Zoom meetings. Pictured at the gathering are: Bob Mendelsohn '64, Neil Byrne (SFP alum), Barry Mastellone '64, Rick Lorenz '64, Peter Farrell '64, and Arnie Fleming '64.


Archbishop Molloy High School is deeply saddened to share the passing of John S. DiGirolamo '64 on October 28, 2022. John was a proud alumnus who volunteered in and around our community in a variety of ways, including as a Stanner Games meet official, a Reunion Class Agent, and as a regional volunteer who helped plan several events for our Connecticut Alumni Chapter. A Brooklyn native and graduate of Manhattan College, John served in Vietnam as a chaplain's assistant. He loves behind many family, friends, and classmates. We ask our community to please join us in prayer for John and his loved ones during this difficult time. Please click the following link for John's memorial page and full obituary. | Click Here for Memorial Page