Over 100 Alumni Return for Thanksgiving Liturgy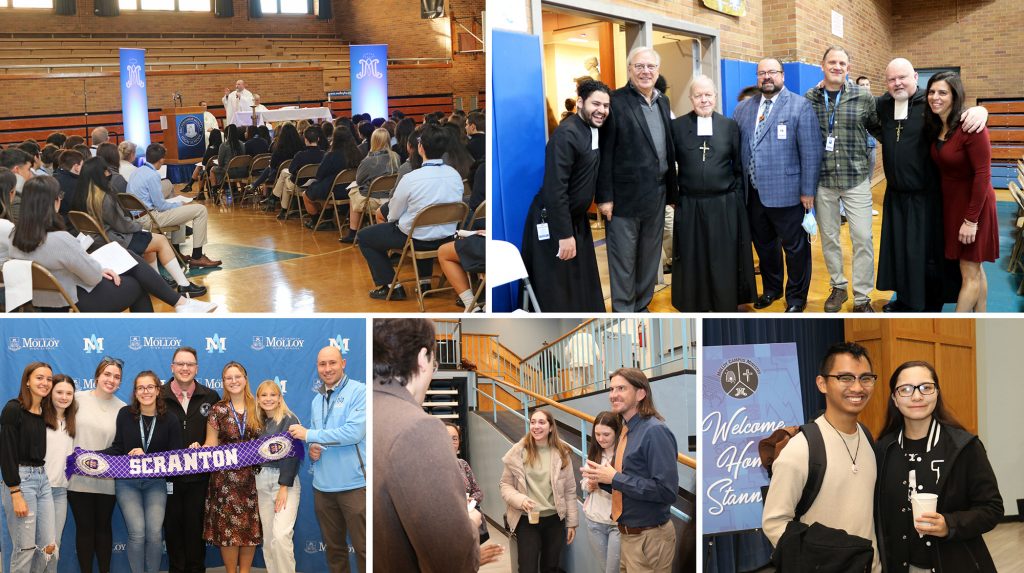 Today, November 23rd, Molloy celebrated its annual Thanksgiving Liturgy in the Jack Curran Gym! The Liturgy served as an opportunity for our students, faculty, staff, and over 100 alumni to come together, pause and reflect on what we are all thankful for.
Our celebrant, Fr. Sean Suckiel of the Holy Family parish, emphasized that everyone in attendance was made in the image and likeness of God, and that even when we may feel down or when things get tough, we are loved. The theme of the day was gratitude, being thankful for the opportunity to celebrate our Liturgy with our Stanner family in one room instead of having to distance ourselves from each other.
After the Liturgy, visiting alumni attended a reception where they enjoyed cookies and hot cocoa, got to catch up with each other, and say hello to some of their favorite faculty members!
Thank you to everyone who made this day one of community, thankfulness, love, and giving! Have a Happy Thanksgiving!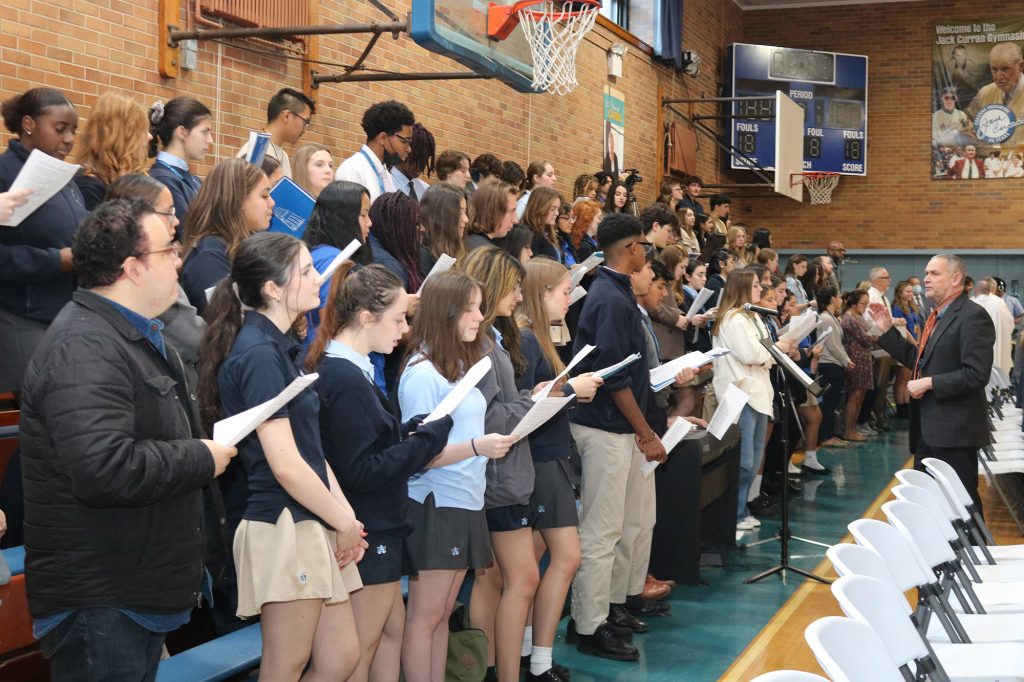 ---
Support Kaitlyn Mendoza Fund This Giving Tuesday

November 29, 2022 is Giving Tuesday, a worldwide celebration of giving to organizations and causes we are passionate about. This Giving Tuesday, our Stanner family will have an opportunity to support a cause near and dear to the hearts of many here at Molloy.
Last year, we mourned the passing of our beloved student, classmate, and friend, Kaitlyn Mendoza '22. Kaitlyn was a gifted young woman who excelled in her academics and on the tennis court. She also developed a passion for art, and she was a loyal and caring friend. Kaitlyn is dearly missed by all of us at Molloy.
Thanks to the generosity of CAPTRUST Community Foundation and an anonymous alumnus, a special gift challenge supporting The Kaitlyn Mendoza Fund will take place this Giving Tuesday. A special video presentation will premiere on social media and at www.molloyhs.org on November 29th at 11:00 AM ET. We invite you to watch the video to learn more about The Kaitlyn Mendoza Fund and this opportunity to support a wonderful cause in her memory.
If you would like to make a gift early, please click the button below to visit our online donation form. If you have any questions, please contact the Stanner Alumni Center (contact button below).
---
Stanner Reunion Weekend Photos Now Available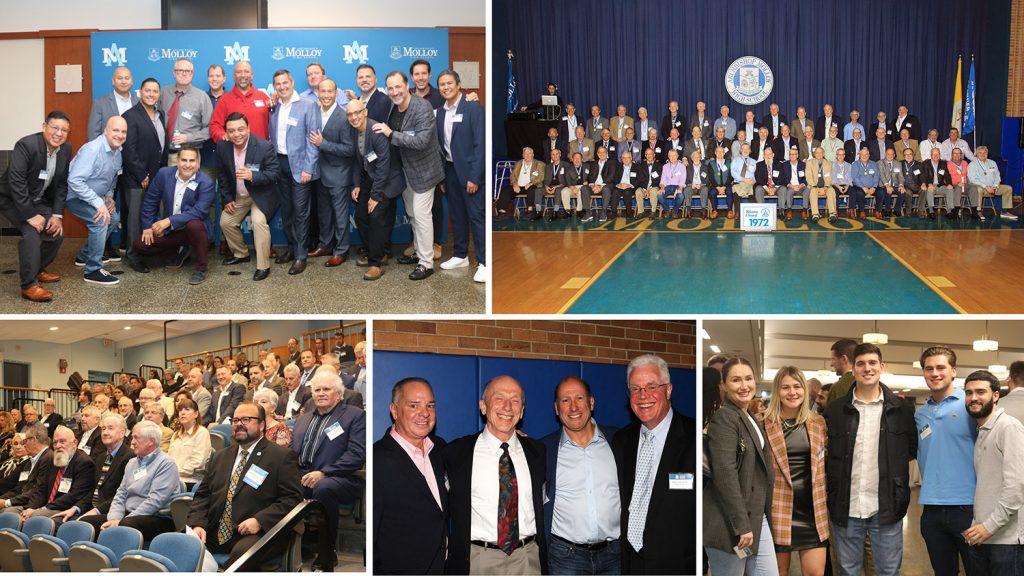 We are happy to share that full photo galleries from Stanner Reunion Weekend are now available! Click the buttons below to access the galleries on Flickr. The Stanner Alumni Center once again thanks and congratulates all alumni who celebrated with us earlier this month. It was a wonderful weekend, and we hope you enjoyed your visit back to Stanner High. If you have any questions or feedback, please contact alumni@molloyhs.org.
Special thanks to Frank Bailey '75 of Delmar Photography.
---
Stanners Support November Donation Drive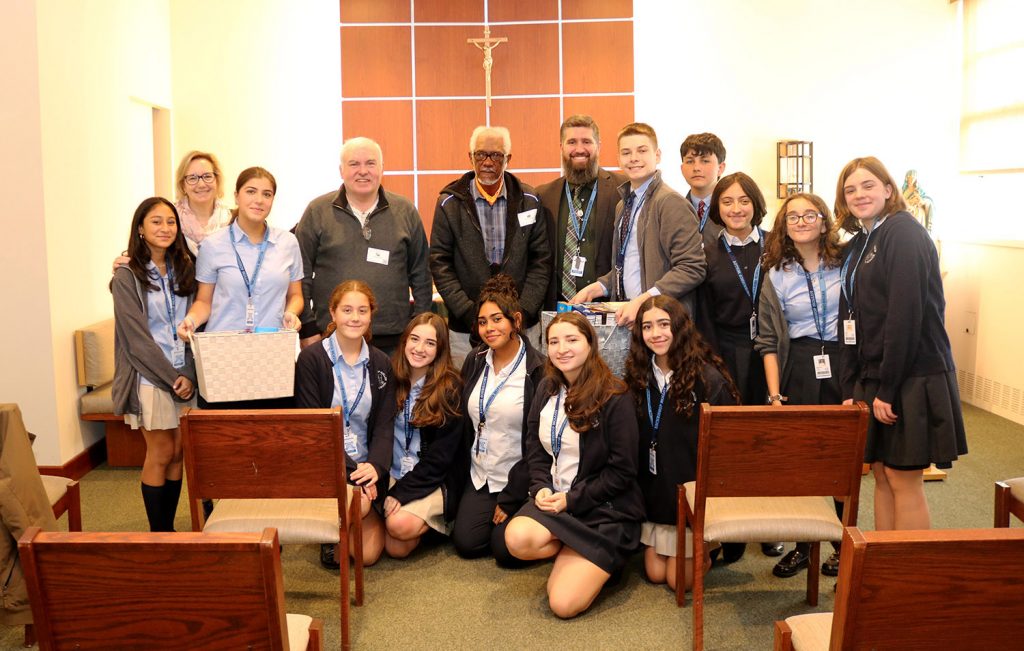 In the spirit of Thanksgiving, Stanners, faculty, and staff participated in a donation drive run by Campus Ministry, followed by a Thanksgiving prayer service. This year's drive benefited two tremendous organizations, The Friar Suppliers and The Harding Ford Vision Food Pantry.
The Friar Suppliers support the poor and hungry in Haiti. They build homes for those in need and operate an orphanage. They have helped thousands of Haitians to be fed, housed, and cared for. The Harding Ford Vision Pantry is located in Jamaica, Queens, NY. They serve hundreds of people every week on Wednesdays and Saturdays. Many of our students have provided community service at this pantry over the past few weeks, including a group of students who will represent Molloy at the pantry this Saturday, November 19th.
In total, our community collected and donated about 30 full boxes of food to the pantry, and five barrels of food for transport to Haiti! Bishop Brown, the founder of the pantry, spoke to our students about the urgency for food in his community, and was extremely grateful for Molloy's donations. Mr. Charles Moran, a representative of The Friar Suppliers, followed up with our Campus Ministers and shared, "I am continually inspired by our Marist Molloy community and how our students embrace their roles as servant leaders and agents of justice."
Thank you to all who participated in our Thanksgiving Donation Drive!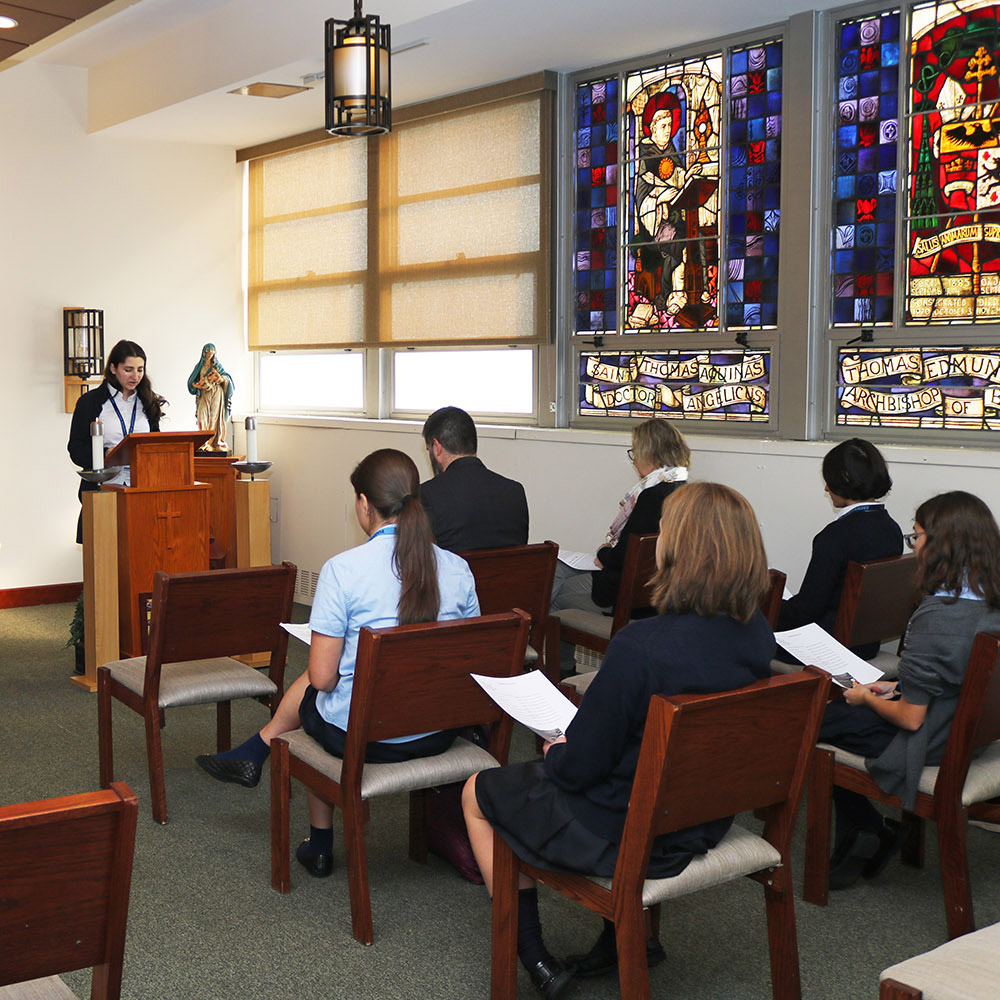 ---
Dress Down Fundraiser Helps Marists in Venezeula
The Marist Brothers recently provided an update in their weekly newsletter, following up on a Dress Down Fundraiser that Molloy students participated in earlier this fall. The fundraiser, organized by Molloy's Spanish Club during Hispanic Heritage Month, supported Marist educators in Venezuela who are in urgent need of supplies. Ms. Lori Wilson, Director of Campus Ministry & Marist Mission, commented, "Molloy's donations have made a difference for our Venezuela Marist family. Thank you for being people for others and caring about our 'extended family' who are struggling."
---
Social Studies Class Welcomes Veterans

On November 15th, three post 9/11 combat veterans served as virtual guest speakers in Mr. Beaudet's US History Class. Jason Smith, Sarah Rudder, and Melissa Lueck shared their background and experience in both the military and recovering from major physical and mental post-war injuries. Sarah Rudder was injured at the Pentagon the morning of September 11th and ultimately had her leg amputated. She has since gone on to win 18 medals at the Invictus Games. Jason suffered significant damage to his hand and both legs during an incident while deployed in Afghanistan. Melissa served in Iraq as a heavy equipment transporter and operator.
Some of the topics covered included enlisting at the age of 17, a woman's perspective of serving in the military and post-war experiences, the connection between physical activity and mental health, having a positive body image, the role of God in their lives, being kind, and the value of service. Mr. Beaudet's class was able to engage with these speakers through the Catch-A-Lift Fund, which provides physical and mental health services to post 9/11 combat veterans.
---
Speech & Debate Update
Molloy's Speech and Debate Team is competing in person this year at various schools in Brooklyn and Queens! They recently participated in a tournament at Xaverian High School. Micah Gagarin '24 and Joseph Castaño '24 placed 3rd in Public Forum Debate, while Muhammad Sultan '23 placed 4th in Lincoln-Douglas Debate.
Thank you to Micah's mother and Sofia's father, who served as judges along with Coach Ryan Curran and Dr. Mangar. If any alum or parent is interested in judging speech and/or debate at a tournament in Brooklyn or Queens, please contact communications@molloyhs.org.
Pictured: Top L-R: Coach Ryan Curran '22, Fabio Colindres '24, Astrid Cho '24, Moderator Dr. Jonathan Mangar '09, Muhammad Sultan '23. Bottom: Sofia Maroulis '25, Camila Burga-Alcon '25, Micah Gagarin '24, Joseph Castaño '24
---
News From Italian Club & Baking Club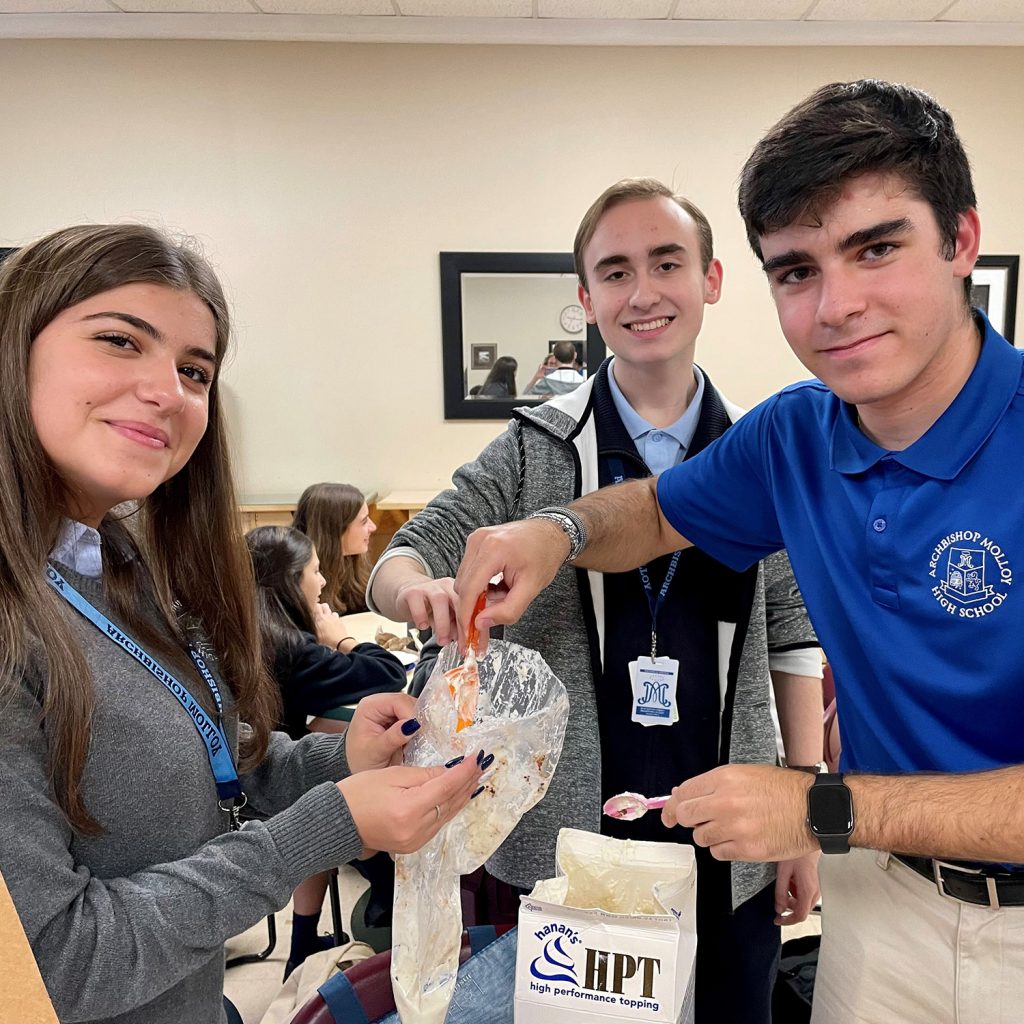 Earlier this month, Molloy's Italian Club met in the faculty cafeteria for a cannoli making party! Students should remember to keep an eye out for any club events that may be of interest. They're happening all the time! Thank you to moderator Ms. Bisceglia for sharing photos from the event.
The last week has seen many Molloy clubs and activities having their own Thanksgiving celebrations! On Friday, November 18th, our Baking Club filled the library with cakes, pies, and cookies, and watched March of the Wooden Soldiers. Club moderator Ms. DeNoto sat with club members, talking about the holidays and what they were thankful for. Just the day before, on Thursday the 17th, the Asian Club got together for an early Thanksgiving celebration. Students brought snacks and drinks to share with everyone for a potluck. They spent the time talking and laughing in community and played plenty of board games too! The Asian Club wishes everyone a very Happy Thanksgiving! On November 22nd, the Afro-Caribbean Club hosted their own Thanksgiving celebration in the theater! Moderator Mr. Turenne and club members brought a variety of different foods and spent the afternoon in each other's company! From all of Molloy's clubs, have a Happy Thanksgiving!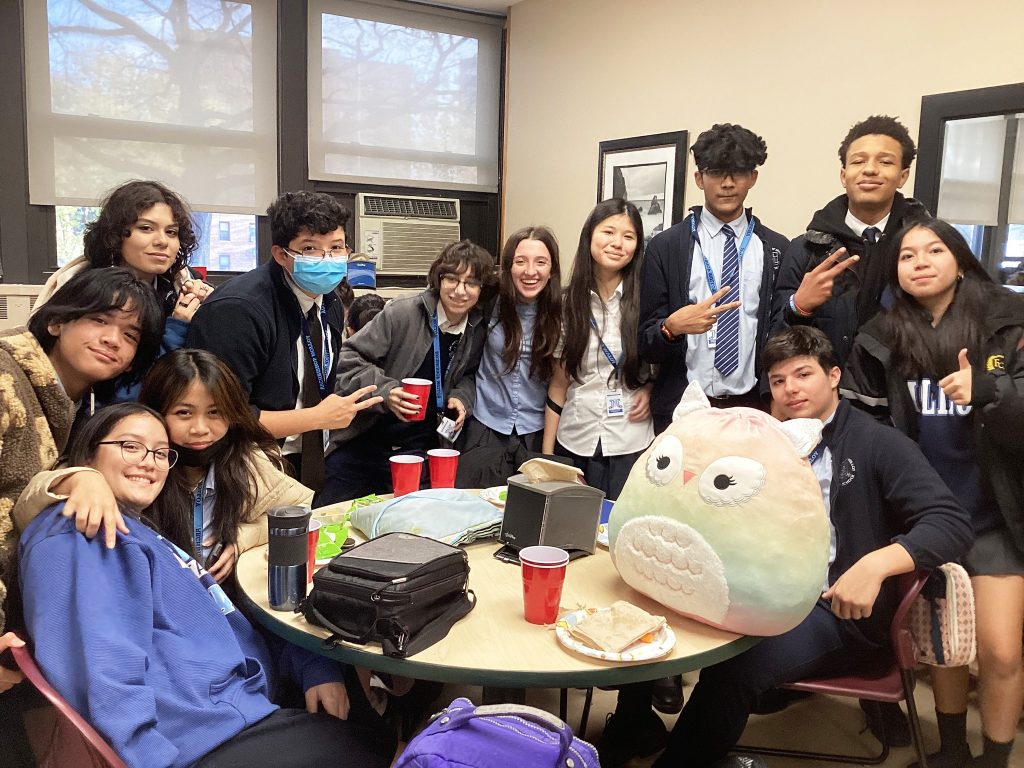 ---
---
---
*The next Book Club meeting is December 6th! Always accepting new members!
---
2024 Holy Land Pilgrimage – Last Chance for Discount!
Ms. Dorothy DeNoto, an Elite Leader for the educational travel company Passports, is offering a custom trip for Molloy Board Members, Faculty, Staff, Alumni, Parents, Lay Marists, and Marists age 21+. This 10 day journey through the Holy Land is the trip of a lifetime. Locations include Tel-Aviv, Yafo, Haifa, Tiberias and Jerusalem. Those who are able to commit and register by November 30, 2022 will receive a $300 discount per person. Contact Ms. DeNoto with all inquiries: ddenoto@molloyhs.org.


Continuing The Arts: Alumni Theater Panel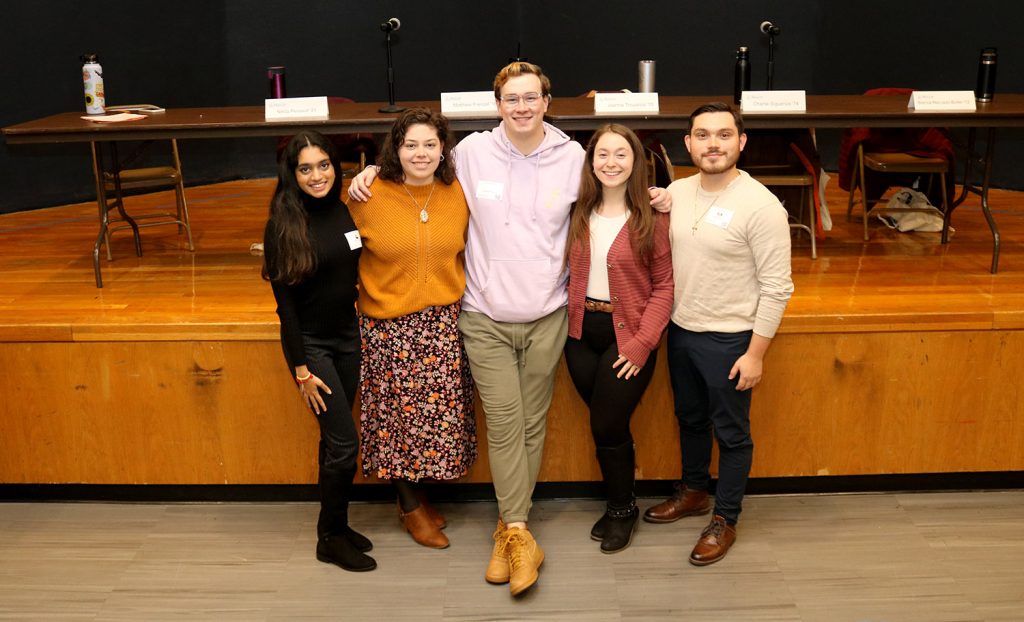 On November 17th, the Stanner Players hosted their annual Continuing the Arts alumni panel in the Ralph DeChiaro Theater. Five Stanner Players alumni served as panelists: Matt Frenzel '16, Bianca Mercado-Boller '12, Nikita Persaud '21, Charles Siguenza '14, and Joanna Troyanos '15. Each panelist shared their experiences in the arts/theater after graduating from Molloy, whether they pursued it as a career, a college extracurricular, or at the community level. The event served as a great source of information for students considering which path they may take after Molloy. Thank you to all of our panelists as well as Ms. Winters and Ms. Wagner for facilitating the event!
Click the thumbnail below for more information about our panelists.
---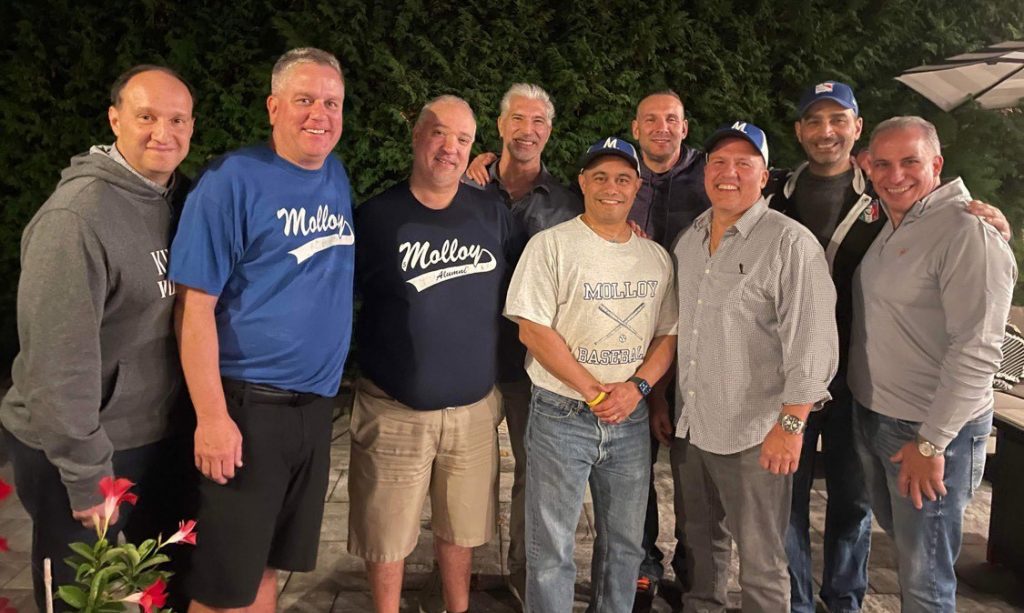 Members of Molloy's 1987 City Championship baseball team reunited on November 4th. The gathering was a celebration of the 35th anniversary of their championship! Those in attendance reminisced about their title run and playing for Coach Curran, and they even watched a recording of the entire game (the final score was 11-4 over Fordham Prep). | Pictured Left to right: Mike Genduso '88, Robert Metzger '88, Anthony Vicari, Jr. '88, Rob Kumbatovic '88, Andre Forte '87, Howard Storm '88, Frank Iacovano, '87, Victor Pugliano '88, and Robert Gucciardo '87.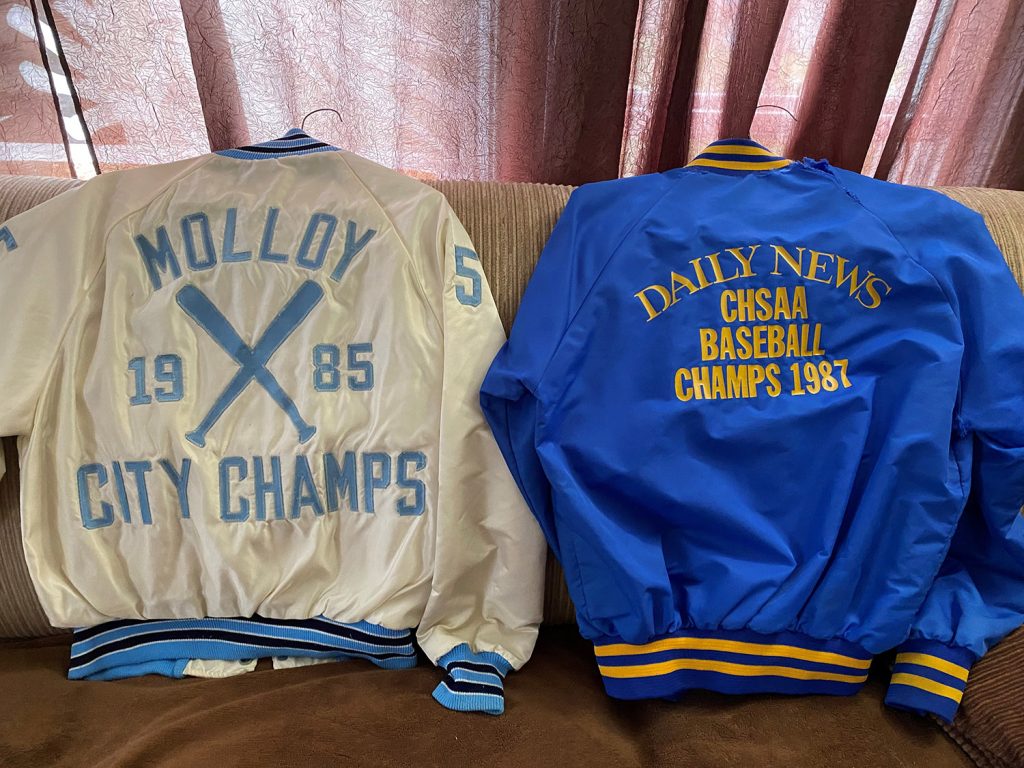 ---
Br. Rob Dittus '15, fellow USA novice Br. Ryan Richter, and Br. James McKnight '60 recently traveled to Medellín, Colombia to join other Marist Brother novices in the Arco Norte región. They spent two weeks at the novitiate in Colombia getting to know brothers and novices from Mexico, Guatemala, El Salvador, and Colombia — joining them in prayer, ministry, and community. (Thank you to the Marist Brothers for sharing this update!)
---
Congratulations to Mr. Lou Santos, who was recently honored by the Power Memorial High School Alumni Association with induction into the school's Hall of Fame. Pictured with Mr. Santos is longtime colleague and friend AJ Power '84.


Please pray for the repose of the soul of Ronald E. Agresti '58, who passed away November 3, 2022. | Click Here for Memorial Page
---
We are saddened to share the unexpected passing of George Patrick "Paddy" Mahoney '98 on June 12, 2022. He is survived by his sister Alicia and brothers Conor and Brian (88?). A graduate of SUNY Maritime, he achieved professional success as Director of Administration for the Staten Island Ferry. According to a friend, Paddy was a wonderful person who could always be counted on, and he will be missed dearly. Please keep George Patrick "Paddy" Mahoney in your prayers. | Click Here for Memorial Page