Giving Tuesday Update – THANK YOU!
On November 29, 2022 Molloy joined in the celebration of Giving Tuesday, a global day of giving to causes that are important to us and that which help others. Our goal for Giving Tuesday was to raise money in support of The Kaitlyn Mendoza Fund, benefiting young women entering Molloy in the future as well as our girls Tennis program. In addition to this, money was raised for many other scholarships here at Molloy.
Molloy and our Stanner Alumni Center are so grateful to each and every person who generously supported these efforts on Giving Tuesday and in the days since. It is through the kindness of others we are able to help so many amazing students!
Thanks to the generosity of our community, we have raised over $90,000 across a number of amazing scholarships here at Molloy. We are happy to share that over $30,000 of the total amount raised went to The Kaitlyn Mendoza Fund.
If you would like to learn more about this year's Giving Tuesday initiative, and about Kaitlyn Mendoza '22, you can still view the special video we shared on November 29th. Click Here to Watch
Just because Giving Tuesday is over doesn't mean you've missed your chance to give back to Molloy! There is still time to make your year-end gift. If you have questions about making a gift, contact the Stanner Alumni Center at 718-441-9210 or alumni@molloyhs.org. Once again, thank you!
---
"Be Like The Star" This Advent Season
Beginning the Church's Liturgical year, Advent is all about preparing for the arrival of Christ at Christmastime. This Advent season, Molloy's theme is "Be Like The Star, Lead Others to Christ."
Ms. Wilson wants to encourage students to "be the light that brings others to Christ." She explains, "We model the love of Jesus in how we treat others in our presence, our family spirit, our love of work." Campus Ministry encourages Stanners and friends, especially in this season of Advent, to treat others kindly and act in the way of God, because "we bring others to Christ much more by how we treat them than by the words we say."
---
You're Invited! The Stanner Players Present: Puffs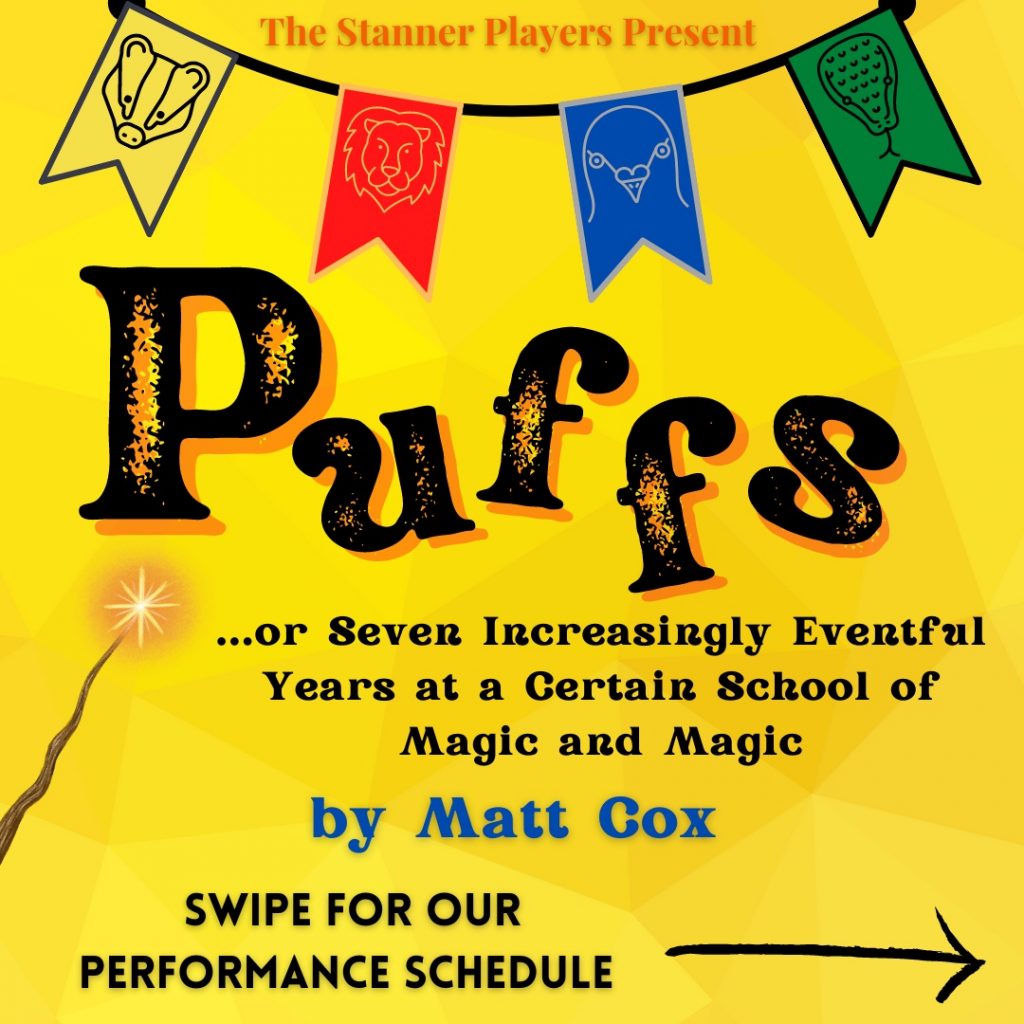 We invite our community to come out to Molloy this weekend to support the Stanner Players as they present their fall production of Puffs, or Seven Increasingly Eventful Years at a Certain School of Magic and Magic. Click the images below for a full list of performances and scan the QR code with your phone to purchase tickets. All performances will take place in Molloy's Ralph DeChiaro Theater. Bring a friend, come out and join the Stanner Players for a hilarious adventure with plenty of retro references!
---
Computer Science Education Week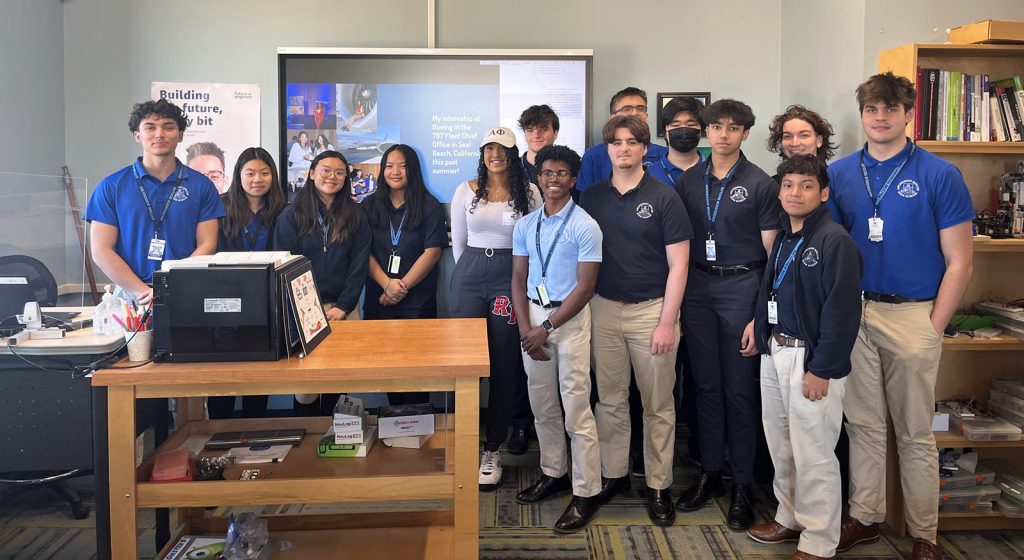 Molloy recently participated in Computer Science Education Week! Schools around the world welcomed guest speakers and participated in a variety of Computer Science & Engineering challenges in order to appeal to students deciding on what field to study. The theme of the week this year was to raise awareness about the many possibilities presented to those studying CS&E. Molloy was proud to participate in this event.
Prior to the official start of the event, Molloy had already hosted a number of professionals in the field to speak to Stanners. On November 17th, Alex Wolff from Amazon spoke to Mr. Touzin's Intro to Computer Science class; on November 22nd, Nirmala Ariel Narine '19 (pictured above center), an Aerospace Engineer at Boeing and music lover, visited Ms. Boral's Computer class and Ms. Yang's Music class to give presentations about connecting music and coding; on that same day, Cybersecurity Practitioner Dr. Kellep Charles spoke to Mr. Van Winkel's Computer Science Course; and on November 27th, Ms. Boral's Computer Science class virtually visited MIT's Quantum Computing Lab.
Katreena Mullican, the Principal Solutions Architect at Amazon, spoke to Ms. Boral's Computer Science Class today, marking the beginning of Computer Science Education Week! She gave Stanners an insight into her career, and what her workday at Amazon looks like. Molloy also participated in the week-long event, Your Voice is Power Hack-a-thon, in which students programmed code together, as well as the week-long Amazon Cyber Robotics Challenge, and the week-long 3D Christmas Ornament Competition.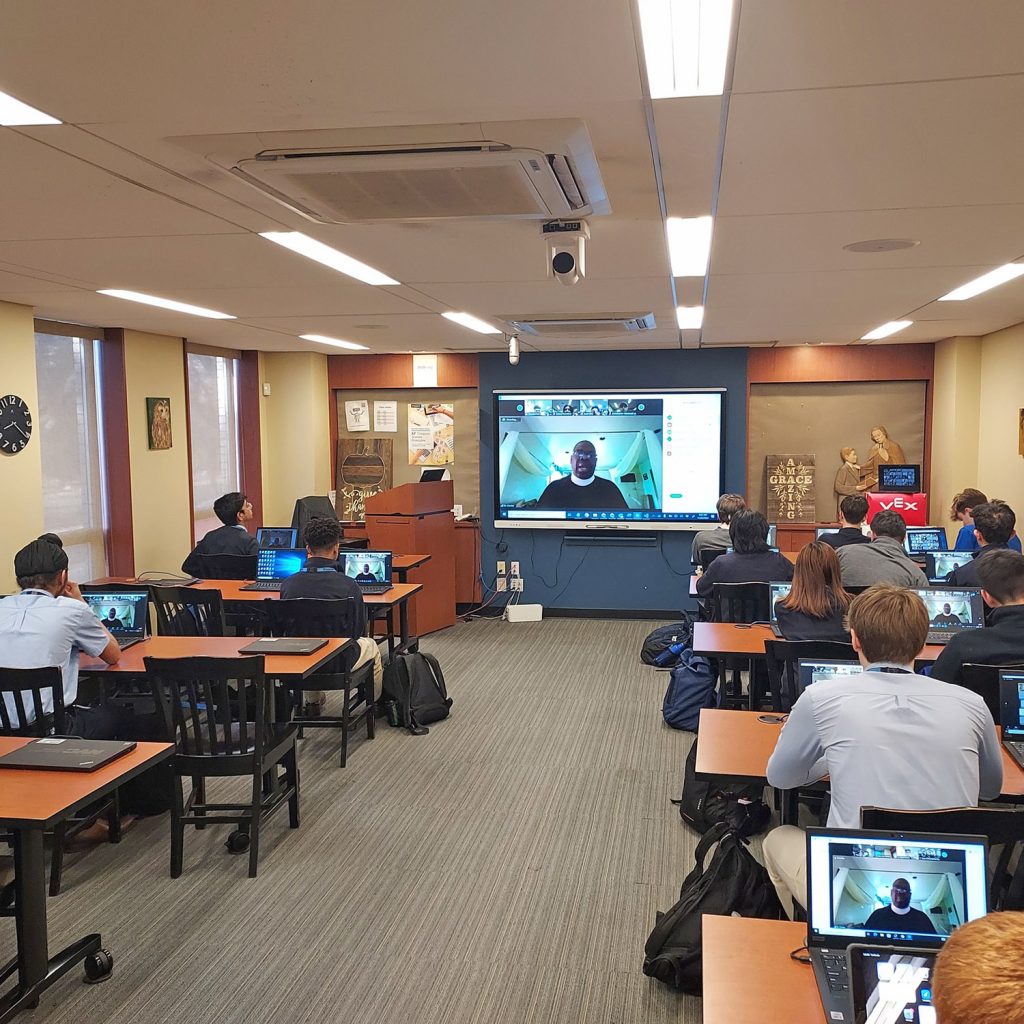 As part of Computer Science Education Week, Molloy's CS&E Department collaborated with the World Language Department to teach Stanners about Artificial Intelligence, but in Spanish! Dr. Mangar's Spanish class participated in the event "Hour of Code," in which students worked on a program that taught AI how to distinguish between fish and trash in the ocean.
Stanners in Dr. Mangar's '09 freshman/sophomore Spanish class were taught to feed the AI data about whether or not something belonged in the ocean, and after adding large amounts of data, the program was able to identify sea life itself! Weronika Chojnowski '26, a student in both Ms. Boral's Intro to Computer Science class and Dr. Mangar's Spanish class, led her classmates in understanding the program, circling the room and helping out when needed. At the end of the class period, students received a certificate, "For successful completion of the AI for Oceans Hour of Code!" Thank you, Ms. Boral and Dr. Mangar, for such an interesting collaboration.
Stay tuned for more updates regarding this event-filled week in our next Beehive!
---
Download The Stanner Newspaper – Fall 2022
We invite the Molloy community to download a digital version of the latest edition of The Stanner newspaper! The Stanner has been St. Ann's / Molloy's student newspaper for over 75 years. It features school news, student opinions, and other topics that interest our enthusiastic newspaper staff. Click the button below or the thumbnail to the right to download the latest issue.
---
Stanners Participate in Model UN Conference at Columbia University
Last month, Molloy's Model United Nations Club attended their first conference of the year at Columbia University's Morningside campus. Ten Molloy students, representing all grades, traveled with moderator Ms. Hipkin to Manhattan to compete against more than 100 students from several other NYC and Long Island schools during the day-long conference.
Run by Columbia University students, the conference featured committees on topics as varied as Chile's political crisis in 1973, the Wikileaks scandal, the Incan Empire, and indigenous rights in Latin America, as well as fictional committees on The Maze Runner and Game of Thrones. Students also got to hear an opening speech from the Ambassador of Poland to the United Nations, Krzysztof Szczerski, as well as panels from current Columbia students and alumni.
Stutee Oke '23, Laiba Ahmad '26, Moises Bien Nunag '25, Kida Bernal '25, Yosef Naser '26, Bryana Quintero '25, Gia Shinas '25, Tehya Ross '26, Valerie Savage '24, and Jules Nohar '25 did an excellent job, even though for most it was their first conference! Both Valerie Savage and Jules Nohar received awards, with Valerie receiving an Honorable Mention and Jules being recognized as the most improved delegate in their respective committees.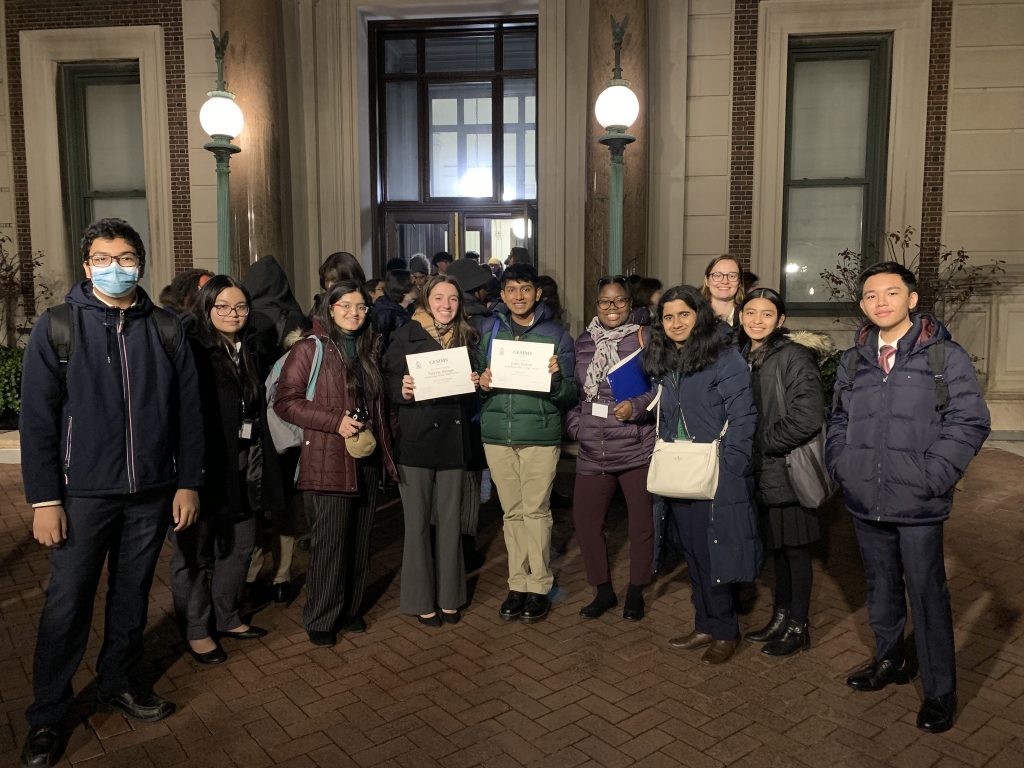 ---
Senior Publishes Her Own Self-Help Book
Amidst being in quarantine, wearing a mask, and social distancing from friends and family, Molloy senior Kamsi Nwasokwa '23 self-published a self-help book! Titled Become the Person of Your Dreams, the workbook is meant to inspire readers to reach their full potential.
Kamsi says that the inspiration for the book came during the Covid-19 Pandemic. "I noticed people lacking motivation," Kamsi shares, continuing, "There was this atmosphere of despair, and I wanted to do something to lift people's spirits." The book is meant to help people focus on themselves and find purpose in their lives, allowing them to "become the person of their dreams." Increasing your productivity, learning self discipline, and having a positive attitude are just some of the chapter focuses of the book.
Writing a book was not completely out of left field for Kamsi. Developing her love for writing since the first grade, it was Kamsi's dream for years to publish her own work. While her passion for writing never went away, growing up shifted her focus towards other responsibilities, such as school and her family. However, in 2020, her mother encouraged her to once again pick up the pen. "My mom was my main support," says Kamsi, "from when I was little until now, she told me to keep writing." Kamsi went from jotting down ideas that came naturally to her, to expanding those ideas into chapters that would make readers strive to be better.
At the end of the book, there is a writing section; pages with lined paper meant for reflection. When asked why, Kamsi said simply, "When you write, you remember." Readers are meant to answer prompts and reflect on the chapters they have read to internalize the messages Kamsi is teaching them. On the back cover of the book, a quote by Kamsi herself is featured. It reads, "You're the only person stopping yourself from becoming the person you were destined to be." She explains, "My target audience are people with passive mindsets, and I want people to know that they are in control of their own lives. I want them to acknowledge that, and to not take their lives for granted."
The book is available for purchase at Amazon.com. Thank you, Kamsi, for sharing your work, and congratulations!

**This event is next week! Register soon!**
---
Molloy's Christmas Concert
Date & Time: December 15, 2022 | 7:00 PM
Where: Jack Curran Gymnasium
Who: All Welcome!
Admission: Free
We invite all in our community to join us for our upcoming Christmas Concert, featuring talented Stanner musicians, singers, and visitors from Mr. Ken Farnum's MultiQuire! We look forward to an evening of classic and contemporary songs of the season! Performers include: Sophomore Chorus, Stage Band, String Ensemble, Junior-Senior Chorus, and Mr. Ken Farnum's MultiQuire (students from St. Catherine's, Fordham Prep, and Molloy).
---
**The Chorus Alumni Reunion is next week! Register soon!**
---
**Alumni and Parents are invited to participate in our Toy Drive!**

President Richard Karsten '81 and Br. Hank Hammer recently represented the Marist Brothers US Province at the Global Network of Marist Schools meeting in Mexico City. Hosted by the Marist Institute based in Rome, the gathering welcomed representatives from many Marist schools around the world in an effort to create a unified network. More info to come in our next Beehive!
---
A tradition among many Stanners is to come together and celebrate the experiences and bonds created at Molloy. Craig Katinas '93, Executive Director of Development, had the opportunity to join several Stanners from the Class of 1966 for their Christmas get-together at Leo's in Garden City. Memories and laughs were shared about beloved faculty like Brother Terence Jones and their time at Molloy. At the end of the lunch, Craig presented sweatshirts as a token of appreciation from President Richard Karsten '81 and the Stanner Alumni Center for their decades of stewardship to Molloy.
If you have a picture of your classmates celebrating during this Christmas season, please share it with the Stanner Alumni Center at alumni@molloyhs.org.
Pictured left to right: Jim Thornton '66, Jack M. Ryan '66, John Mansfield '66, Bob O'Kane '66, John Trustey '66, Gerry Villares '66, Tom Ahern '66, and Ken Farrell '66.
---
Coach Lou Santos recently enjoyed a mini-reunion with members of his 2011 JV Softball team at The Harrison in Floral Park. Pictured left to right: Theresa Conway '13, Geena Campisi '13, Kendall McNee '13, Jhanell Directo '13, Kristen Candelaria '13, and Danielle Klein '13.

Please pray for the repose of the soul of Vita Torregrossa, mother of Glenn DaGrossa. Vita passed away on November 26, 2022. | Click Here for Memorial Page
---
We are saddened to share the passing of Shane Schwarha '92, who passed away on November 25, 2022. He is survived by his daughter Sabrina, mother Catherine, and his brother Charles '90. Please keep Shane and his loved ones in your prayers.
---
We are saddened to share the passing of Christopher Ryan '00 on November 11, 2022. Cousins Bill Strauser '89 and Tom Strauser '91 shared, "Chris was a wonderful son, brother, uncle, cousin, and friend along with being a fantastic musician. He will be greatly missed by his mother Lisa, sister Katie, and entire circle of family and friends." Please keep Christopher and his loved ones in your prayers. | Click Here for Memorial Page
---
Please pray for the repose of the soul of Frank Curran, father of Patrick Curran '01. Frank passed away on Friday, November 11th. Per the website for Martin A. Gleason's Funeral Home, "Frank was a wonderful husband, father, and grandfather to his wife Marian, two sons Patrick and John, and 5 grandchildren, Ainsley, Charlotte, Kennedy, Jackson, and Arden."
---
Please join us in prayer for Robert E. Johnson '61, who passed away on June 20, 2022.
---
Please pray for the repose of the soul of Robert S. Morgan '67, who passed away on March 22, 2022. | Click Here for Memorial Page
---
Please join us in prayer for John F. Kimmins '68, who passed away on February 25, 2022. | Click Here for Memorial Page
---
Please pray for the repose of the soul of Donald Lane '54, who passed away on January 2, 2022. | Click Here for Memorial Page
---
---