Advent Liturgy & Christmas Cheer Parade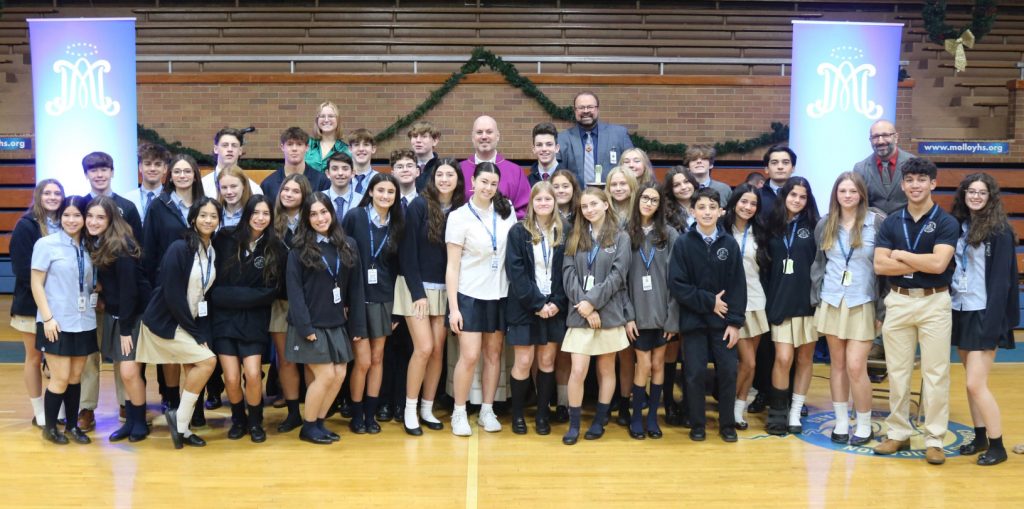 December 21st was filled with the spirit of the season as Molloy first celebrated its Advent Liturgy, and later, Stanners walked the halls singing Christmas songs led by Dr. Des Flynn '97 and the Christmas Cheer Committee!
Molloy students, faculty, and staff gathered together in the Jack Curran Gym to celebrate Mass and rejoice in the spirit of giving. Father Peter Purpura '99, from Our Lady of Hope parish in Middle Village, encouraged us to follow in Mary's footsteps, because "we are called to bring Christ to others by living lives of charity for one another." The Mass was given several unique touches, including a candlelight procession, a performance by Molloy's String Ensemble, and an interpretive dance (pictured below). After Mass, President Richard Karsten '81 joined students and other staff who previously attended Our Lady of Hope Catholic Academy for a group photo with Fr. Purpura.
As students were packing up for their break, the Christmas Cheer Committee walked up and down the hallways, signing carols! Accompanied by a few acoustic guitars, the committee made sure to leave Molloy with a positive, fun experience before their holiday vacation.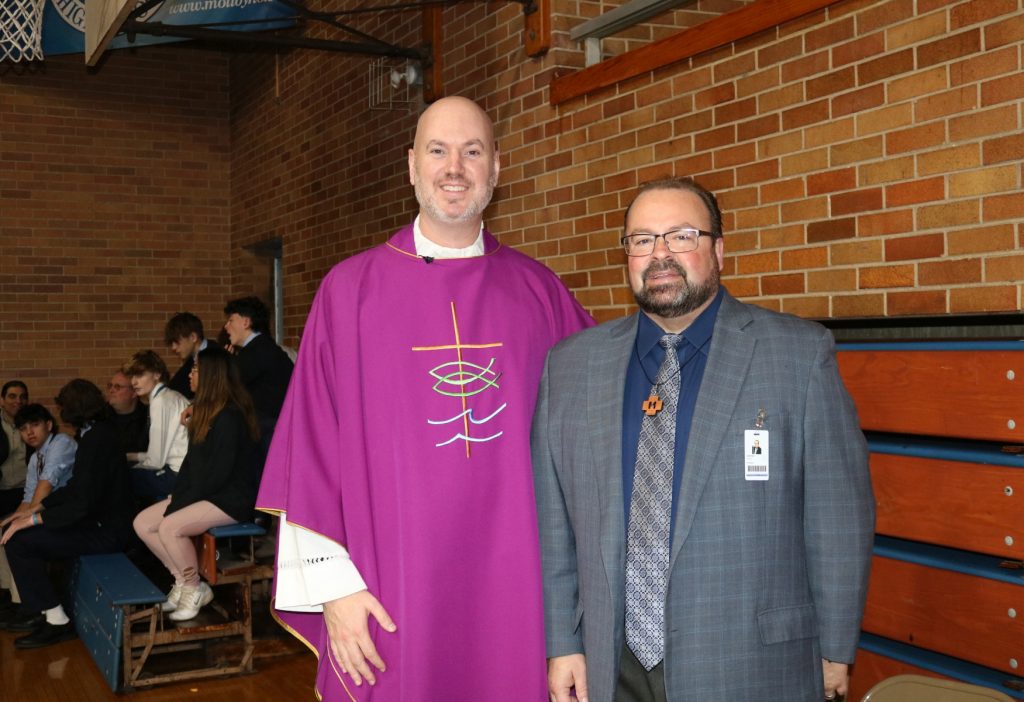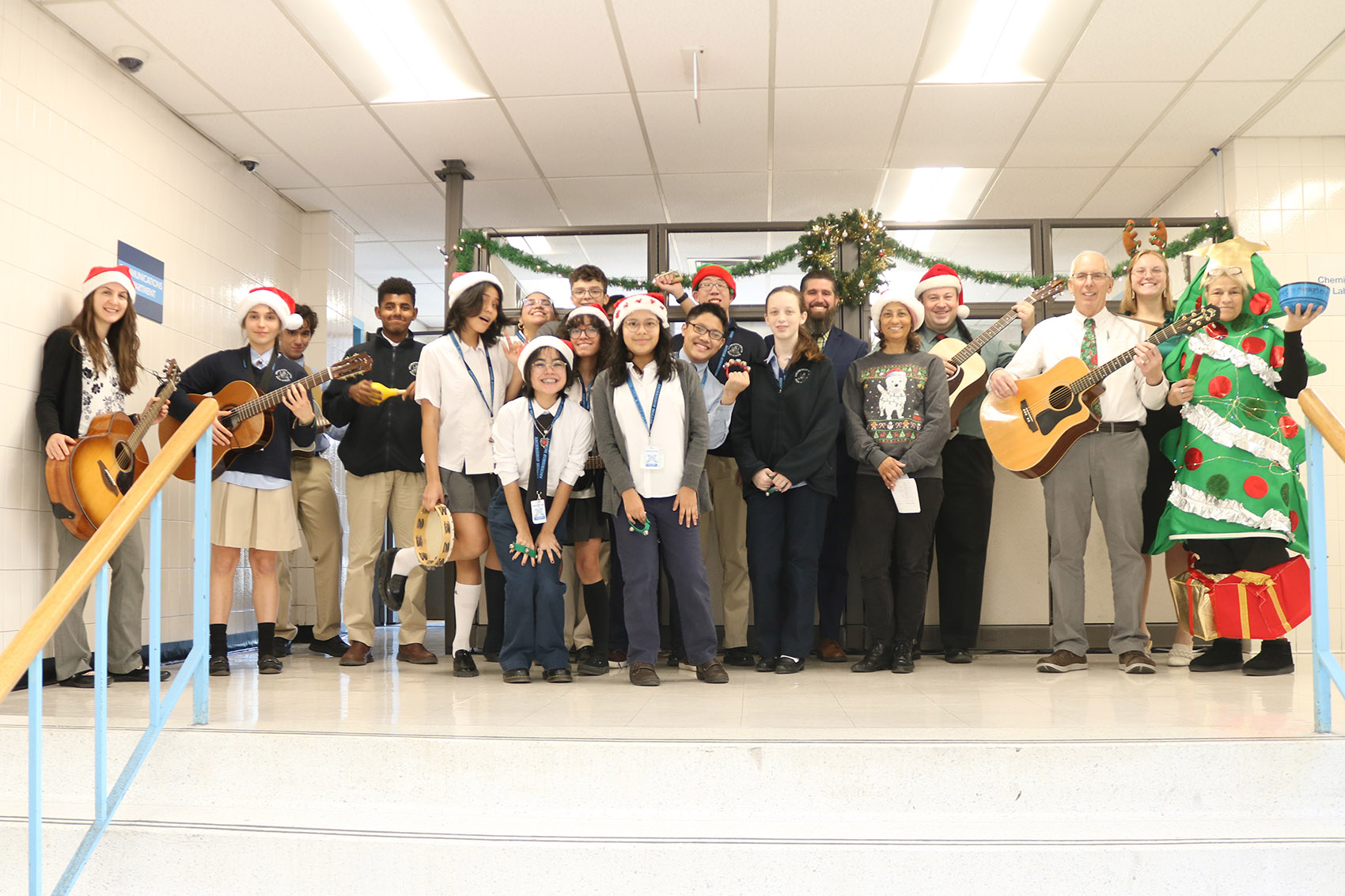 ---
Stanners Ring In The Season With Christmas Concert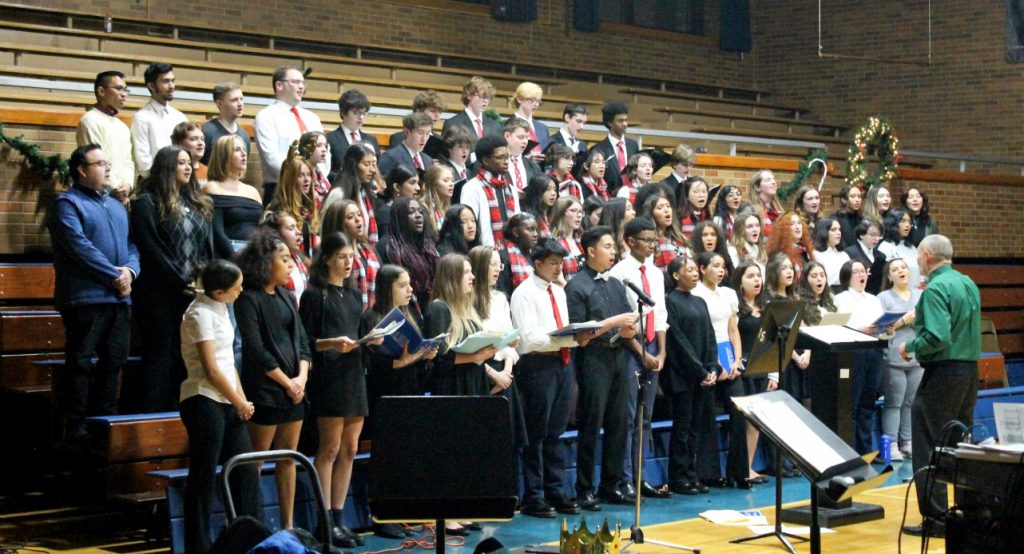 On December 15th, Molloy presented its annual Christmas Concert. The evening featured performances by our Sophomore Chorus, Concert Band, String Ensemble, and Junior/Senior Chorus. In addition, Molloy welcomed accompanist Mr. Kenneth Farnum Jr. and his MultiQuire, which featured singers from Fordham Preparatory School, St. Catharine Academy, and Molloy.
The concert showcased a wide selection of classic and contemporary Christmas songs, solo performances, and pieces from popular media. Click the button below to download the concert program for a full list of performances. Congratulations to all performers, and thank you to Ms. Ya Ting Yang (Soph Chorus, Concert Band, String Ensemble), Mr. Jim Sheehan '75 (Junior/Senior Chorus), and Mr. Kenneth Farnum Jr. for your hard work preparing this wonderful show.
The concert featured a big surprise to close out the night, as alumni of our Junior/Senior Chorus, who were in attendance for a mini-reunion, joined the MultiQuire and Sophomore Chorus for our first ever Combined Choruses performance! Our alumni joined in the singing of O Holy Night (A.C. Adam, J.S. Dwight) and Rejoice With Joyful Song (D. Ducote, M. Balhoff, G. Ault). You can watch these two performances via the video player below. Thank you to our alumni for this amazing moment!
Photos by Camila Cabrales '25, George Guaman '24, and Krystal Valentin '25.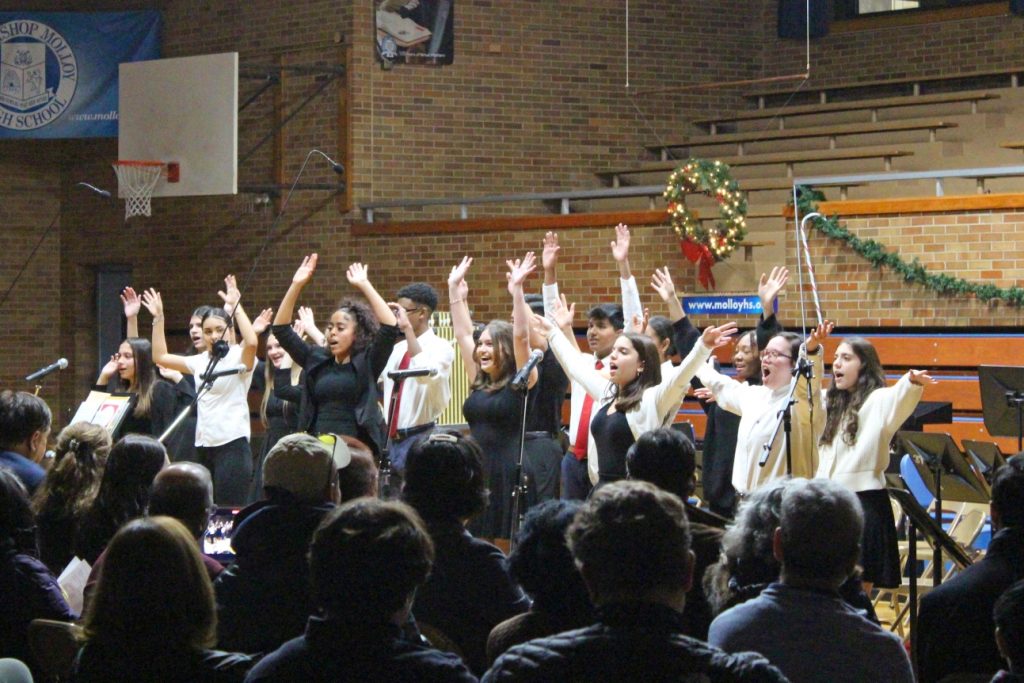 ---
Molloy Community Supports Toy Drive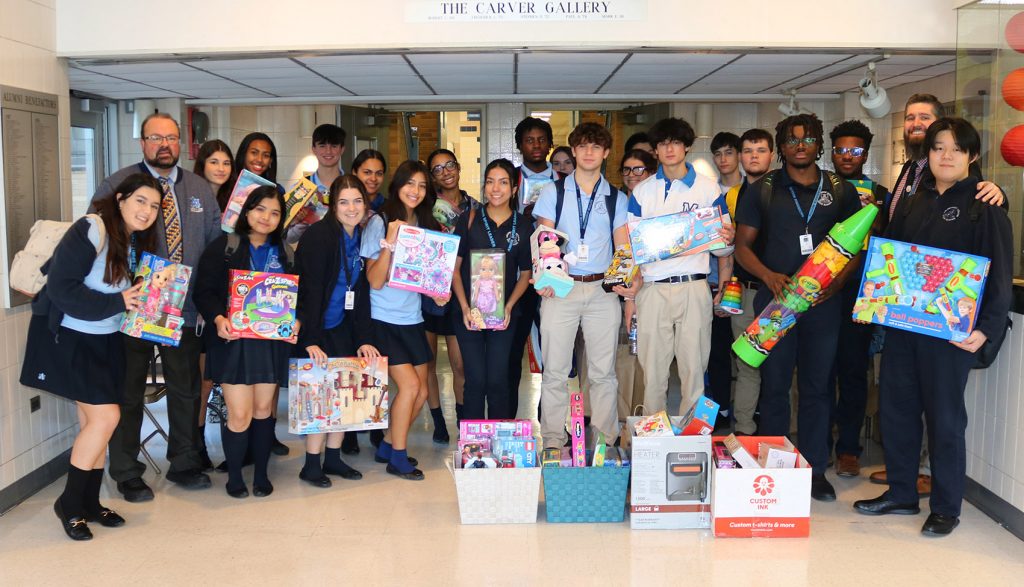 Throughout December, Stanners and friends supported a Toy Drive benefiting families in need. Over 400 new toys for children of all ages were collected. On December 20th, Molloy held a prayer service attended by students and faculty that centered the impact of generosity and giving during the Christmas season. After the prayer service, students presented all the toys to Mr. John Gonzalez of Catholic Charities, who will coordinate the distribution of the donations to families in Queens and Brooklyn this Christmas.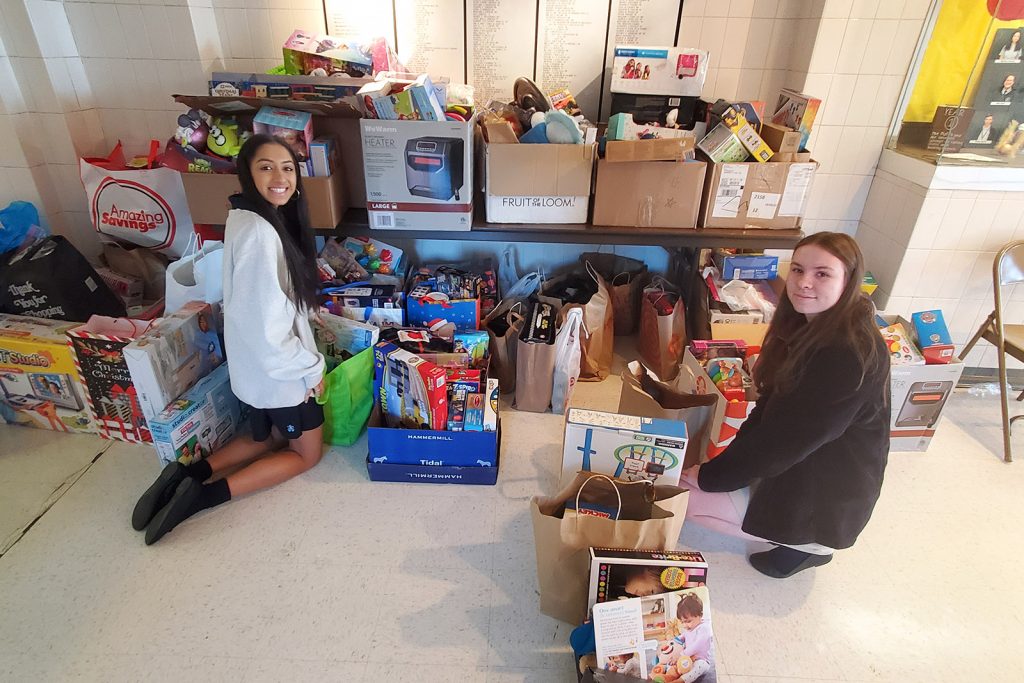 ---
Stanner Players Enjoy Successful Run of "Puffs"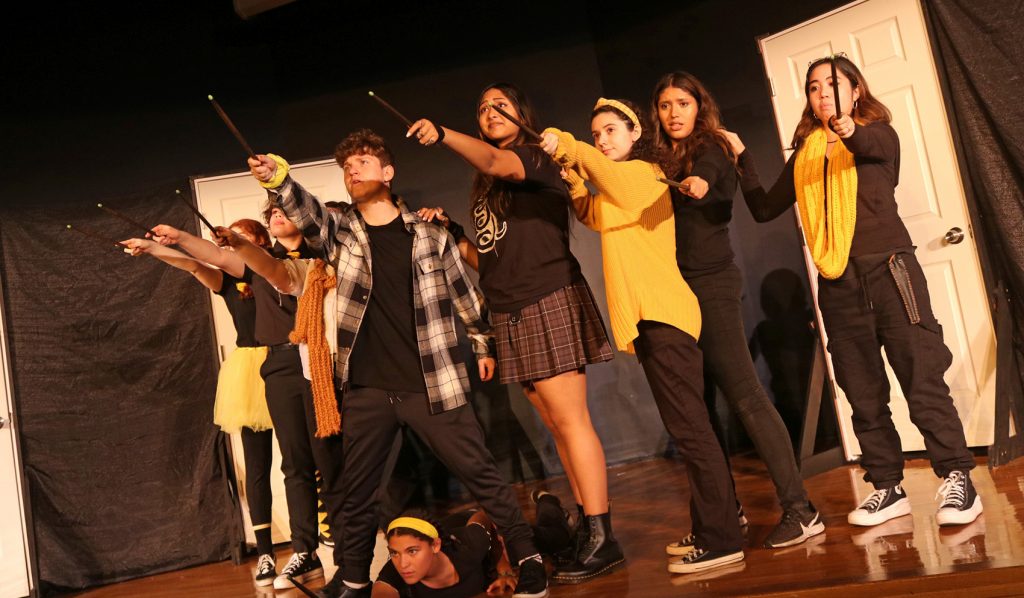 Congratulations to the Stanner Players, who recently delighted audiences with several successful performances of Puffs, or Seven Increasingly Eventful Years at a Certain School of Magic and Magic. This parody of the Harry Potter book series featured a large cast of talented Stanners, lots of costume changes, and plenty of retro references to keep audiences laughing from start to finish.
Every Stanner Players production takes weeks of hard work. From rehearsals, to set and audio design, to costumes and stage crew, the Stanner Players attend to every detail! Congratulations once again to the Stanner Players and Director Ms. Winters for a great show. Click the button below to read more about this year's cast, and stay tuned for news about our spring musical!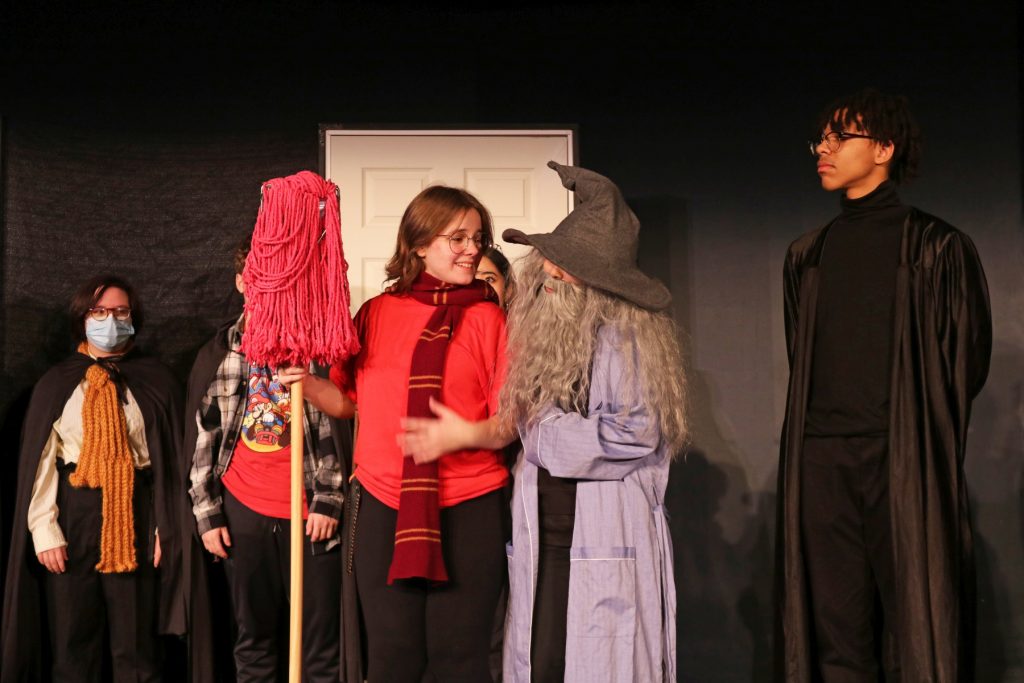 ---
Congratulations to Our NYSSMA Medal Recipients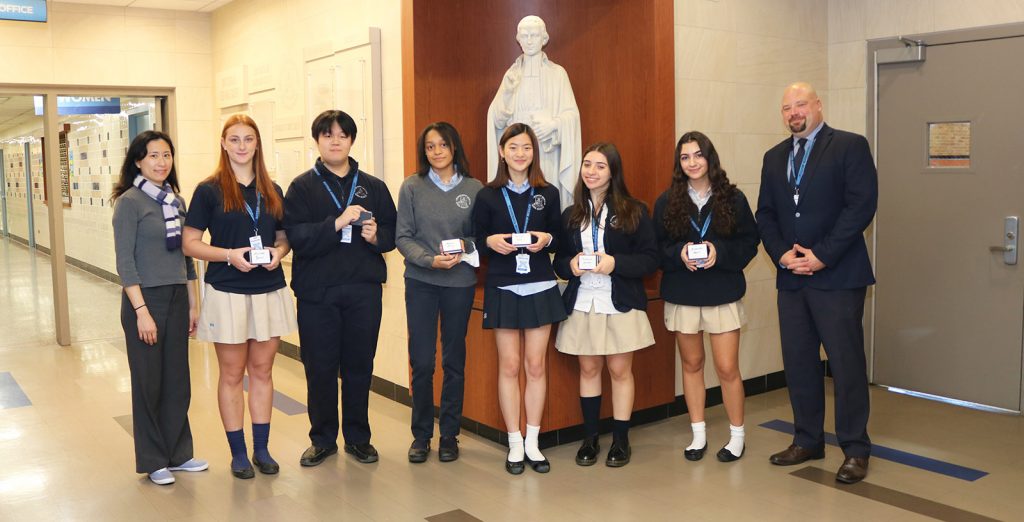 The New York State School Music Association (NYSSMA) is the New York branch of the National Association for Music Education. NYSSMA evaluates student musicians in New York, awarding them with medals based on their musical talent showcased during an evaluation process. This year, Molloy is proud to announce that six Stanners were evaluated and scored high enough to receive medals!
Pictured from left to right: Ms. Yang, Marissa Ramos '23, Justin Lim '23, Ariana Ashby '24, Bridget Jiang '24, Veronica Nerone '24, Alexandra Aronis '24, and Dr. Penikas.
A special shout out to Veronica Nerone, who not only was evaluated and received a medal, but auditioned for All-State and is a contender to perform in the NYSSMA Conference All-State Music Group!
---
Christmas Sweater Fundraiser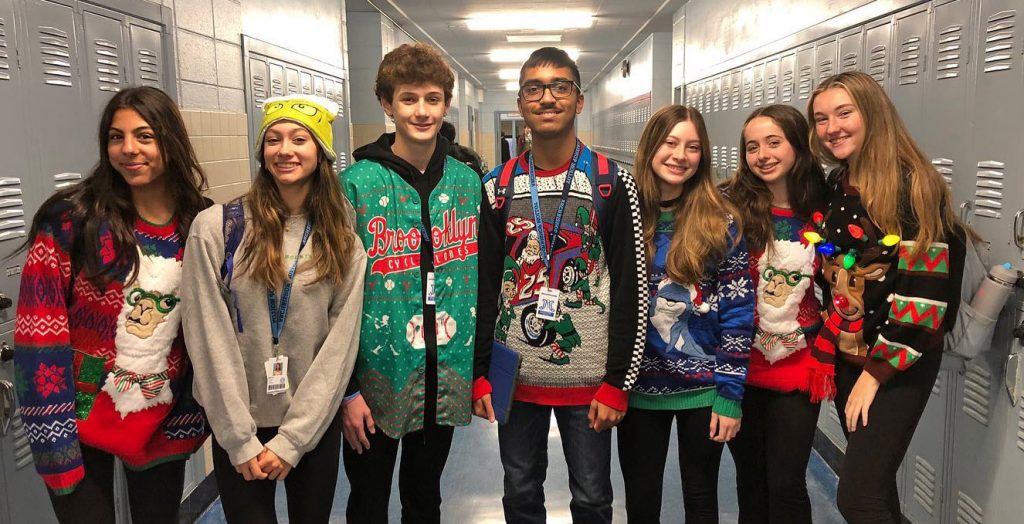 On December 16th, Stanners were encouraged to wear their most festive Christmas sweaters to school! Students and faculty alike went all out, making the last Friday before break one to remember.
Each student who participated in our Christmas dress down donated $3, with all proceeds going toward building a new Marist school in Liberia. Molloy is always encouraging students, factually, and staff to support our fellow Marists around the world.
---
Junior Reaches Finals of Seton Hall Competition
Since 2014, Seton Hall University has hosted its annual High School Pirates Pitch Competition, in which teenage entrepreneurs compete for scholarships. This year, Molloy junior Brianna Robinson '24 applied, was accepted, and made it all the way to the finals!
For years, Brianna has been interested in starting her own business. Before stepping foot in high school, she participated in Girls With Impact, an entrepreneurship program developed with Harvard leaders made specifically for teenage girls. The summer before her junior year, Brianna attended the Bossgirls summer program offered by CCNY, where she worked with a group of teenage girls to create their own product or service. Wanting to continue learning and expanding her own small business, Brianna sought the guidance of Mr. Touzin, who teaches math, business, and Virtual Enterprise at Molloy.
After hearing about Brianna's business, called Bri's Varia-teas, Mr. Touzin recommended she apply to Seton Hall's Pirates Pitch Contest. Brianna sells flavored sugar cubes to add to tea, sharing, "My business's purpose is to take basic tea flavors that people have in their homes and elevate them." Out of the 180 applicants from 15 U.S. states and five foreign countries, Brianna ended up as a top 10 finalist, getting the opportunity to pitch her business idea to Seton Hall business faculty and entrepreneurs!
Brianna shares that through this experience, she "gained a better understanding of what it means to really work on a business," and that "it all became very real!" By competing, she saw how business-minded she really is, and loved the rush of competition. Brianna ultimately walked out of the competition with a $4000 scholarship to Seton Hall. Congratulations, Brianna!


Alumni Soccer Reunion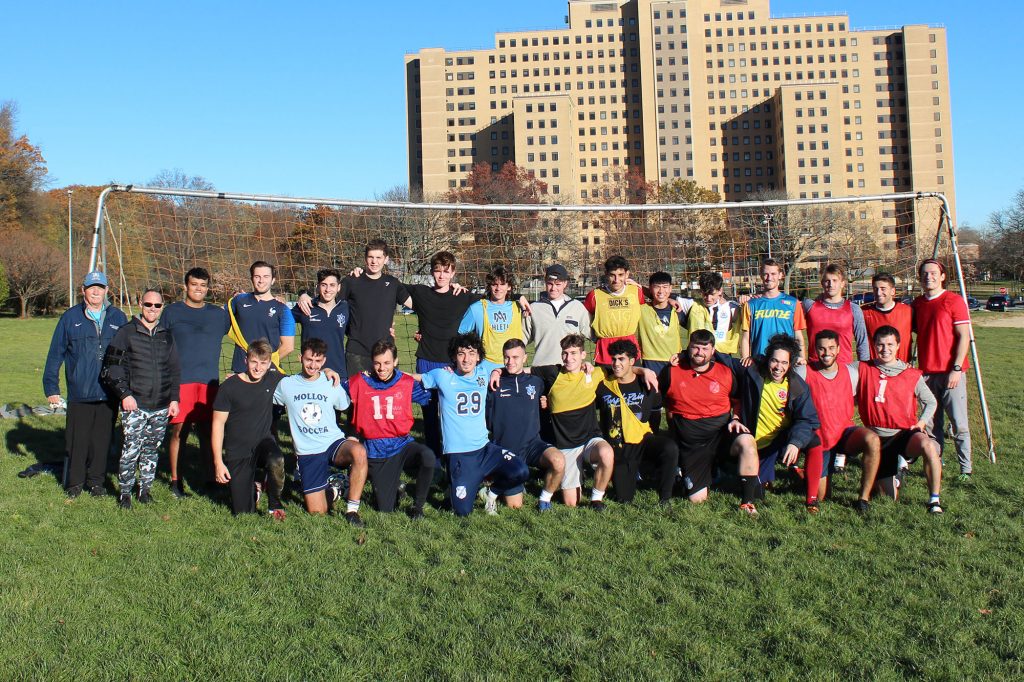 The Saturday after Thanksgiving, Molloy's soccer alumni came out to Alley Pond Park for a special reunion. Many coaches were in attendance to oversee a few alumni games, including Coach Kostel, Coach Wagner, Coach Whelan, Coach Zink, and Coach Weber. The women kicked off the day with the first game, followed by a series of smaller games played by the men. Alums from 2010 to 2022 were present and excited to get back on the field together. It was a great afternoon that served as a reminder of the lasting friendships and memories forged in Molloy's soccer program. Thank you to all who attended and please mark your calendars for the next soccer reunion over Thanksgiving weekend 2023!
---
Alumni Zumba Night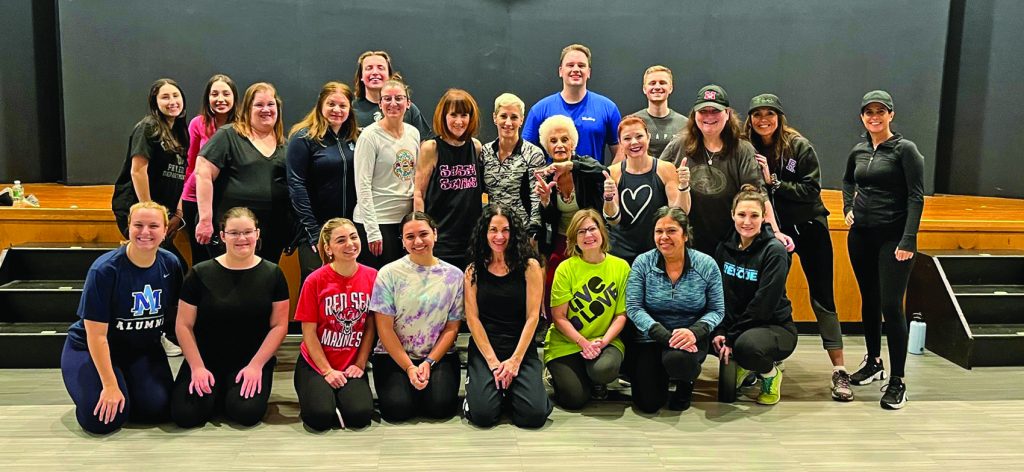 On December 13th, over 25 Stanners and friends enjoyed a Zumba class led by instructor Ms. Liz Murdocca. This high-energy event, hosted in Molloy's theater, was a fun way for participants to fit in a great workout before the holidays. We hope that this will become a frequent or even monthly event available to our alumni and friends. Thank you to all who attended.
---
Senator Addabbo '82 Visits Molloy
Thank you to NY State Senator Joseph Addabbo Jr. '82 for serving as a guest speaker at Molloy on December 15th. Senator Addabbo spoke to several senior classes about his work in public service and why it is important for elected officials to actively engage with and listen to the constituents in their communities. He also fielded many questions from the seniors about a range of topics. Thank you to social studies teacher Ms. Diana Rayappa '04 for arranging for Senator Addabbo's visit. Group photo: Tiffany Rodriguez '20, Mr. Barbera '76, Senator Addabbo, Mr. Shannon '84, and Ms. Rayappa.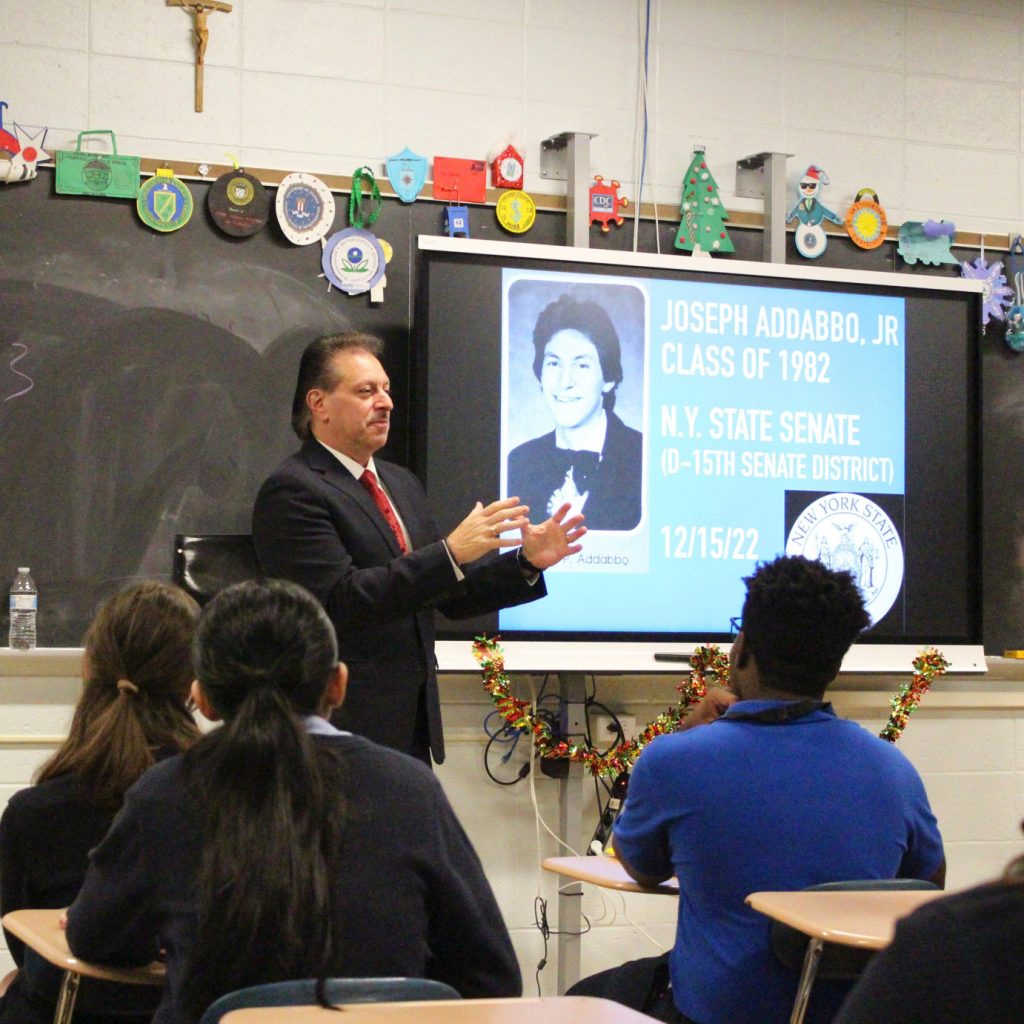 ---
Members of the Class of 1964 met up for a luncheon in Floral Park on December 10th. The lunch was dedicated to the memory of their classmate John DiGirolamo '64, who passed away in October. Those in attendance remembered John fondly and even sang a song that he loved. Pictured: Back Row – Frank Adamo '64, Jimmy O'Hare '64, Bruce Leon '64, Bob Kurth '64, Joe Sommers '64, Gene McParland '64; Front Row – Bill Nash '64, John Murphy '64, Barry Mastellone '64, Greg Spano '64; Framed photo of John DiGirolamo.
---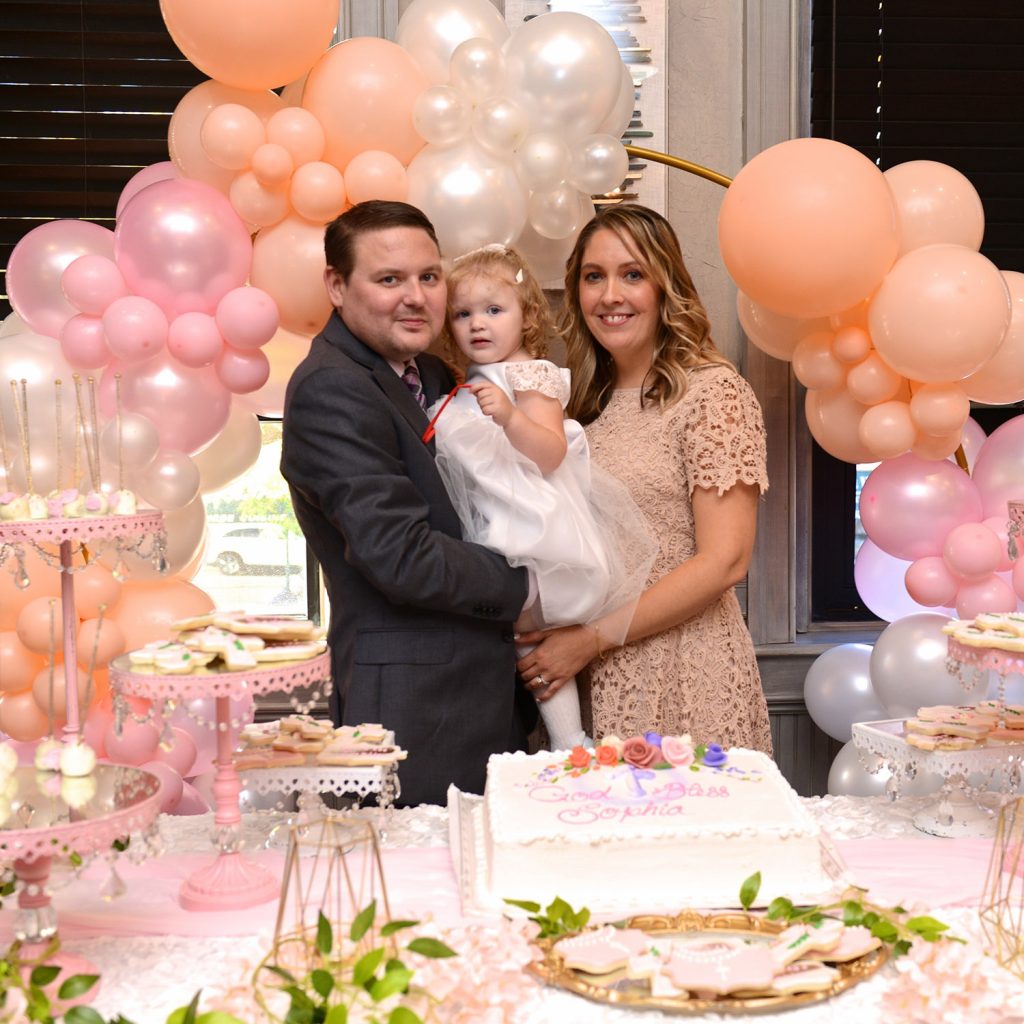 Congratulations to Jason Pitera '01 and Joanna Pitera as their daughter Sophia was baptized in October at Holy Cross Church in Maspeth.. Congratulations as well to Godparents Jonathan DiDonato '01 and Nicole DiDonato. Fun fact: Jason and Jonathan met and became close friends while attending Molloy together back in 1997! Pictured left to right: Pitera family; Pitera and DiDonato families; godparents and goddaughter.
---
Congratulations to John Duffy '73, an English professor at University of Notre Dame, who was recently awarded The Charles E. Sheedy Award for Excellence in Teaching from the College of Arts and Letters. One of John's classmates submitted a section of his speech that our Stanner community will appreciate:
"I must thank the late James Kinnier, high school history teacher, Archbishop Molloy High School, Queens, New York. I was an aimless high school sophomore when I had the good fortune to be enrolled in Mr. Kinnier's U.S. History class. Jim was the first person to treat me like an intellectual, by which I mean he asked me questions not to quiz me, but because he was genuinely interested in the topics he asked about. Even more implausibly, he actually listened to my replies as though I might have something interesting to say, which I almost certainly did not. Jim taught me about the art of asking meaningful questions and, even more critically, the importance of listening to the answers you may receive."

— Prof. John Duffy '73
---
Gary Colter '76, Kevin Dunn '78, John Holland '77, and Larry Vedilago '76 perform together as members of the rock band After Dark. On December 11th, Frank Gambino '74 enjoyed a performance by the band at Belle Harbor Yacht Club, during which they performed classic songs by The Grateful Dead and The Allman Brothers Band.
Pictured L-R: John Holland, Larry Vedilago, Kevin Dunn, and Gary Colter.

We are saddened to share the passing of Victor J. Zupa '59 on December 16, 2022. Victor was a proud Stanner who attended both St. Ann's Academy and Molloy. He regularly attended Molloy's St. Ann's Communion Breakfast, an event which honored the students of St. Ann's, and he always made sure to wear his class ring. He will be deeply missed. Please pray for Victor, his wife Mary, their children, and all their loved ones during this difficult time.
---
---