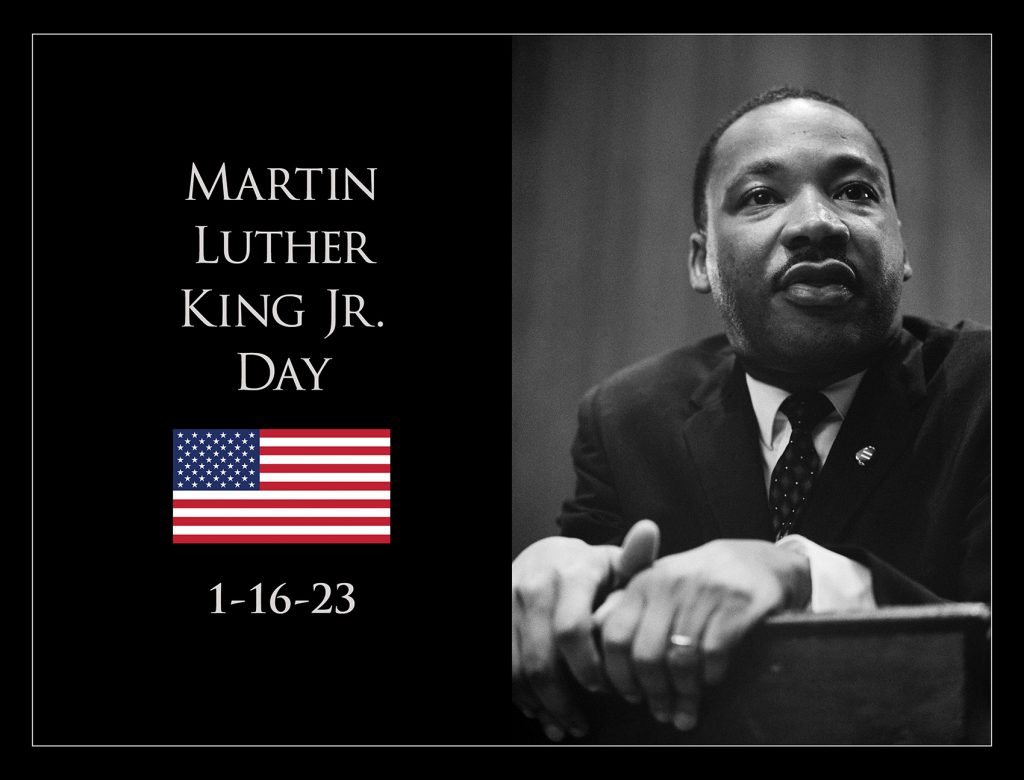 On Monday, January 16th, we celebrate the life, legacy, and impact of Dr. Martin Luther King, Jr. A fierce civil rights leader, Dr. King is known for his tireless efforts in the American civil rights movement. During this morning's announcements, Principal Dr. Penikas shared a video presentation of one of Dr. King's speeches, in which he talks about the difficulties of being a civil rights campaigner, and where he gets the strength to continue doing the work he does. In the speech, Dr. King exclaimed, "Sometimes I feel discouraged… but then the Holy Spirit revives my soul again." Happy Martin Luther King Jr. Day.

Christmas Gift Challenge – THANK YOU!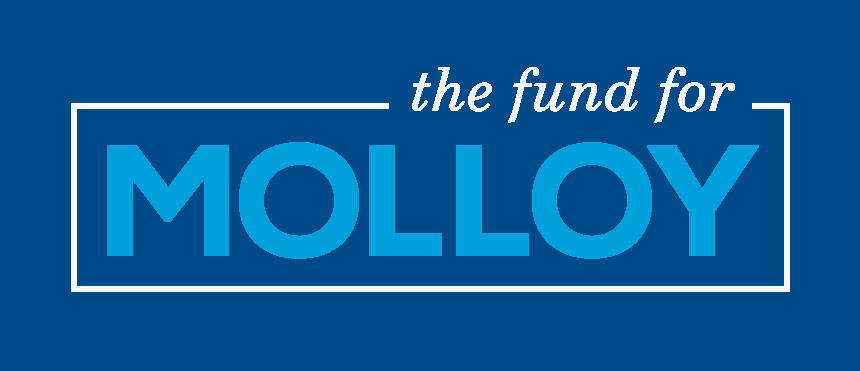 The Stanner Alumni Center hopes that our Molloy family had a wonderful Christmas season, and we wish you a happy and healthy New Year ahead.
From December 16th through the 31st, our community participated in a $50,000 Christmas Gift Challenge in support of our annual fund, the Fund for Molloy. We are excited to announce that thanks to your support, we surpassed our original goal of $150,000. Over 250 alumni participated in the challenge, and their generosity helped us raise over $256,000 in support of the Fund For Molloy and Needs-Based Tuition Assistance.
"It was wonderful to see so many Stanners embrace the spirit of giving in support of our Christmas Gift Challenge," shares Craig Katinas '93, Executive Director of Development. "We are so grateful for everyone who generously supports Molloy. On behalf of everyone here at Molloy: THANK YOU!"
---
Molloy Congratulates Accepted Students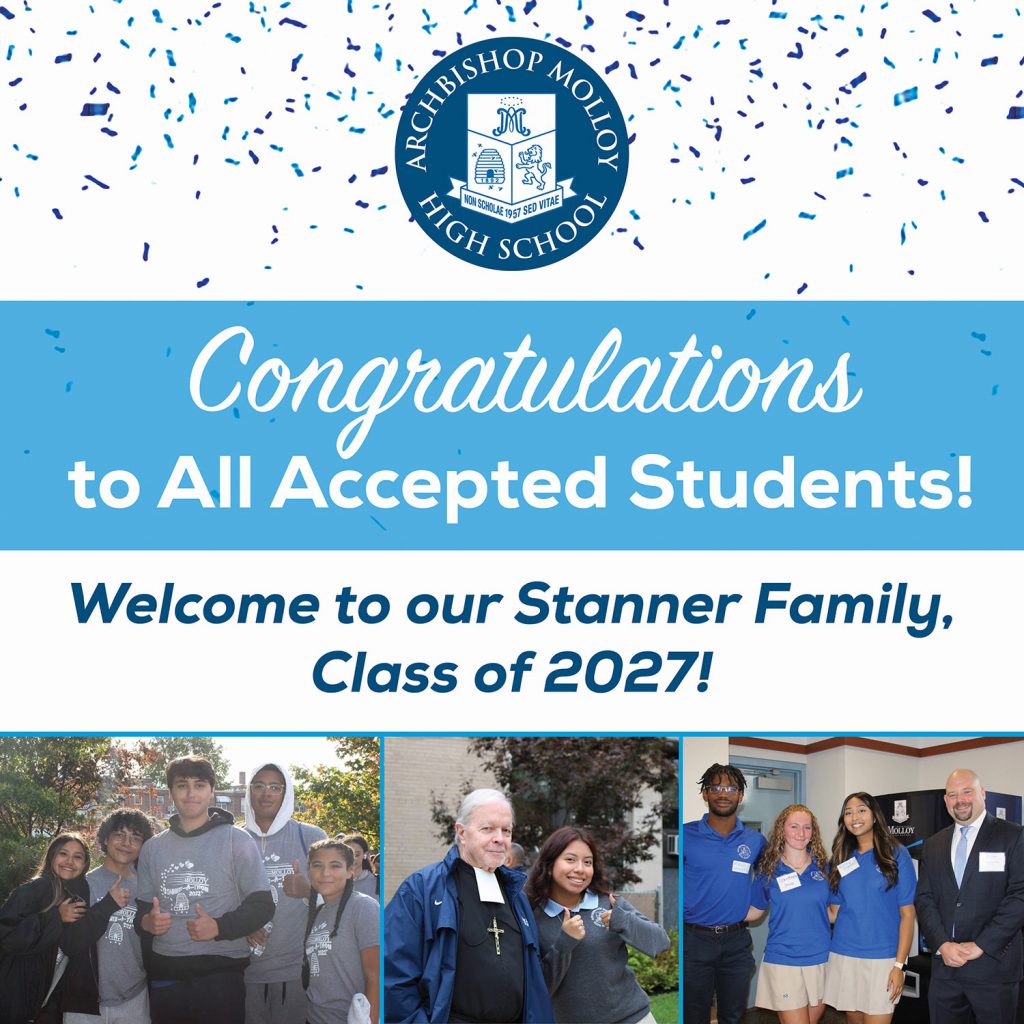 On Wednesday, January 11th, students who applied to Molloy received their admission decisions! Admission to Molloy is competitive, with only 400 available seats. Close to 2,000 students from all different schools, parishes, and neighborhoods applied to be a part of Molloy's Class of 2027. Students who were accepted received an email with a personalized congratulatory video, along with their acceptance letter, which included notations about scholarships and honors if awarded. Congratulations once again to all accepted students from the Class of 2027! Welcome to the Molloy family!
---
Molloy Represented at Champagnat Global Conference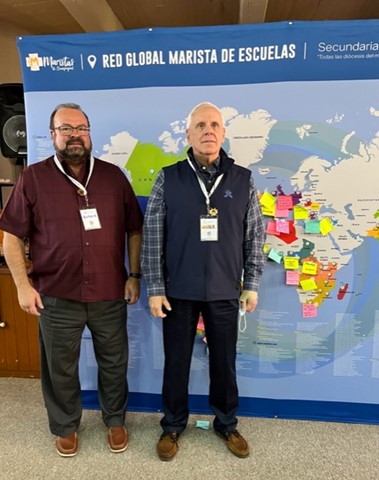 Back in late November and early December, Molloy President Richard Karsten '81 and Br. Hank Hammer, FMS, represented Molloy and the Marist US Province at the week-long Champagnat Global – Stronger Together conference in Mexico City. The conference, hosted by the Marist Institute headquartered in Rome, welcomed Marist Brothers and school leaders from around the world. The goal of the event was to showcase how strong our schools can be when we are working together as one global Marist network.
During the conference, Marist leaders were encouraged to consider new ways of collaborating with schools internationally. "We need to look beyond ourselves and be global citizens," said President Karsten. "Molloy and other schools are doing their part to support the Marist desire to create good Christians around the world. How we network beyond our borders is a part of our mission." President Karsten and Br. Hank contributed to the event by sharing a presentation titled "Keepers of the Charism" which outlined best practices for educating lay Marists about adult formation opportunities. "Marist Brothers and lay Marists work together in communion in many ways, including bridging our global network," said Karsten.
Molloy and other Marist schools are called to inspire students to think of themselves as part of a shared Marist community in a humanitarian sense. The Champagnat Global conference included conversations about ecology, diversity, social justice, and inequities – all from a place of solidarity. By affirming universal Marist values, the five pillars of Presence, Simplicity, Family Spirit, Love of Work, and In The Way of Mary, can be fulfilled.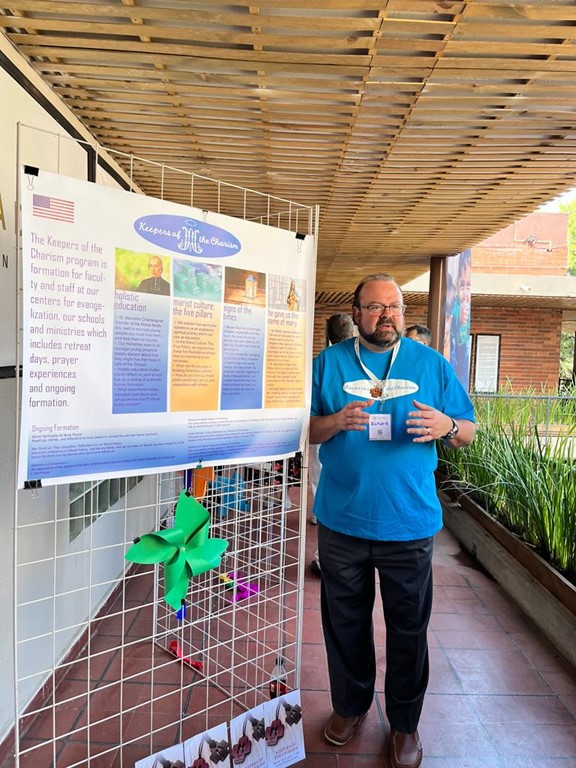 The conference featured guest speakers from Marist schools in the Philippines, Australia, and South Africa, who shared their perspectives on recent education trends and the Marist response to the needs of students and educators today. Br. Ben Consigli '80, who previously served as US Provincial, joined the conference virtually and shared his thoughts on the potential impact of the global network, particularly on schools in the United States. Consider that there are 600 Marist schools internationally, and the Marist schools in the US represent just 1% of the global network. One idea presented would connect US students with international students through writing, virtual gatherings, or even exchanges. Such experiences would remind them of the greater Marist world they are part of.
"The conference had wonderful energy and enthusiasm," said Br. Hank. "We went home with a lot of hope. We may live in different places and have different cultures, but we all possess shared Marist values."
---
A New Kind of Retreat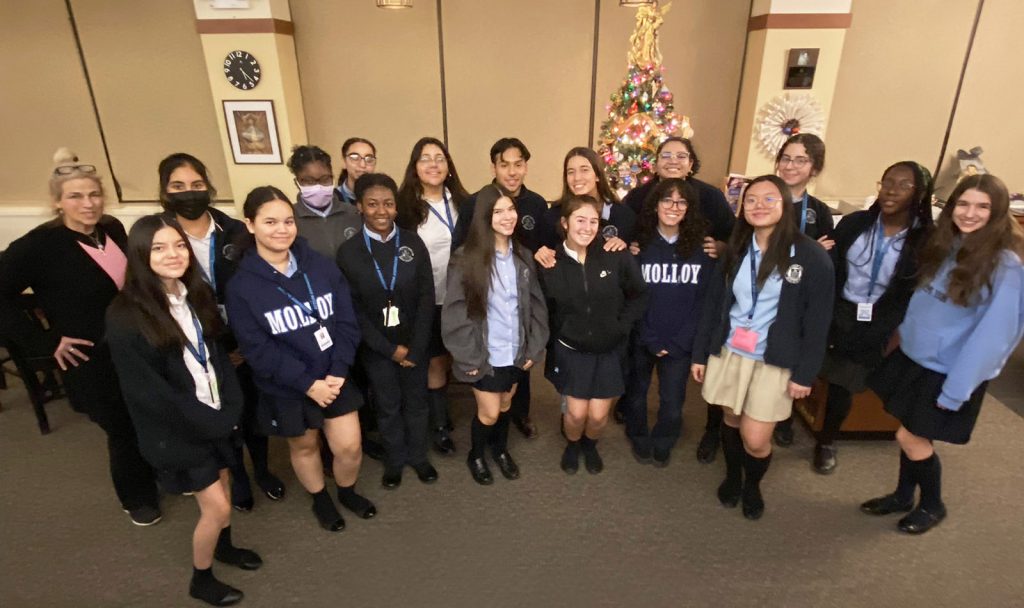 Earlier this school year, Campus Ministry launched a new kind of after school retreat that serves athletic teams. The Step Team and Varsity "B" Basketball Team were the first to participate. Each team's coach chose a theme for their retreat that would be relevant to their team while also underscoring Molloy's Marist mission. The Step Team's theme was unity, while Varsity "B" Basketball chose "Be Phenomenal" for their theme. Activities include an opening prayer and icebreakers that encourage students to get up, move around, and talk with one another. Retreats have also incorporated guest speakers. The retreats typically end with silent personal reflection, followed by a group prayer created by the team.
In December, Campus Ministry expanded this new type of retreat to clubs. The first club to participate was the Baking Club, who chose the theme "Gathered Around the Table". During the retreat, club members wrote notes of thanks and appreciation, paired them with chocolate chip cookies, and delivered them to faculty and staff mailboxes. Notes were written on star-shaped cards that coincided with Campus Ministry's "Be a Star" Advent theme.
Campus Ministry is excited to offer these retreat experiences to more teams and clubs after school. Coaches, club moderators, or student club leaders who are interested can contact Campus Ministry for more information.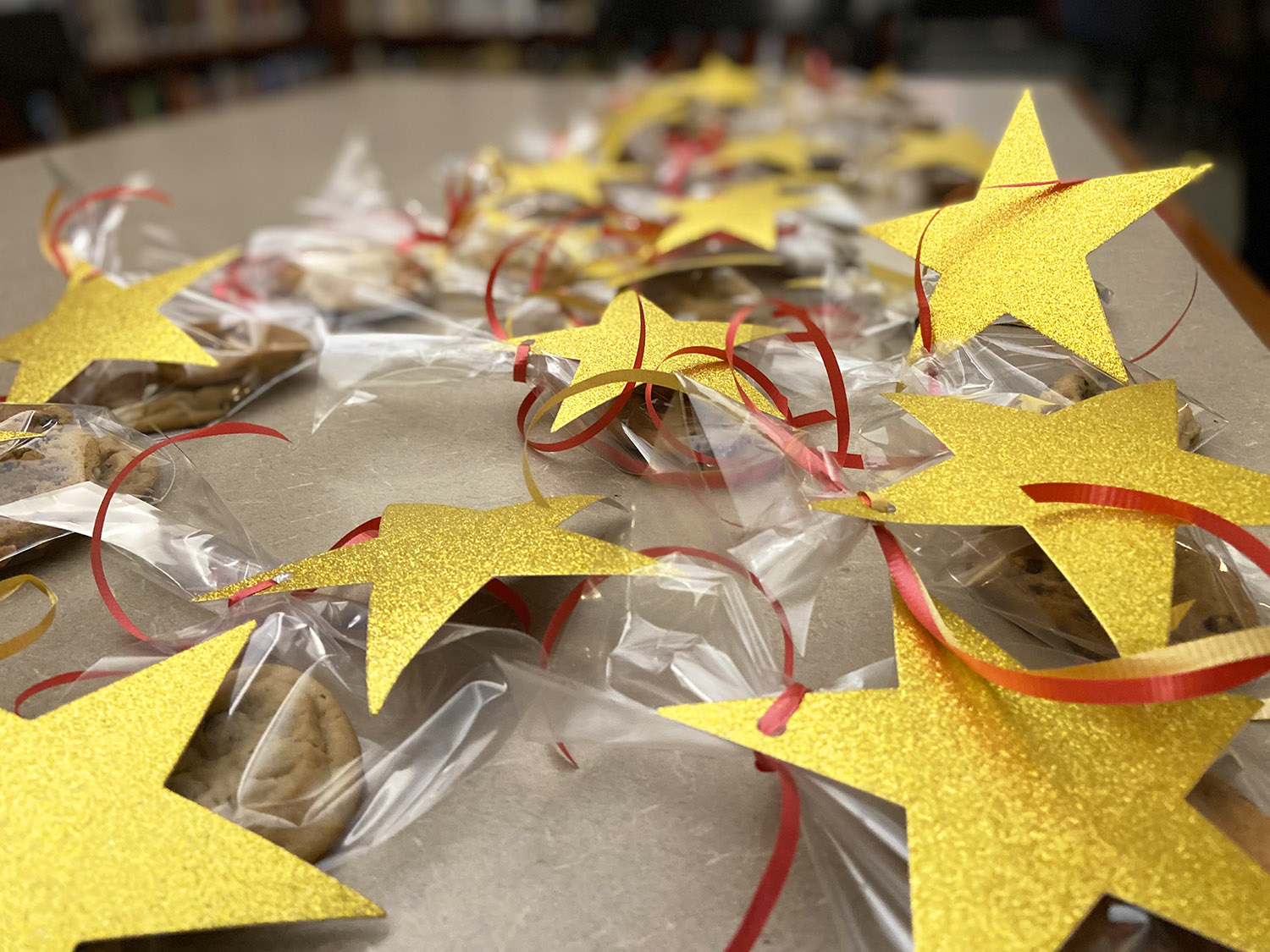 ---
Good Luck at Stanner Games!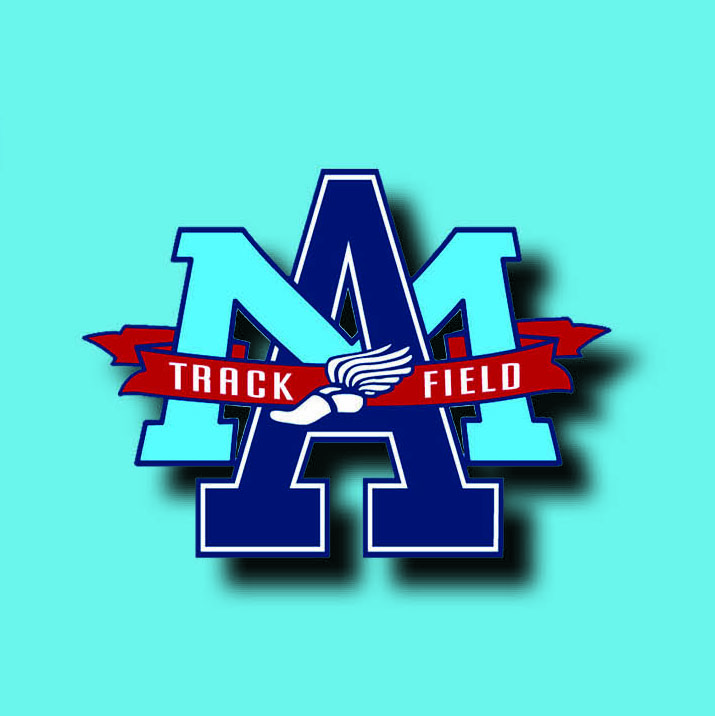 The Beehive wishes best of luck to all student-athletes, coaches, and volunteers who will be participating in this weekend's Stanner Games at the 168th Street Armory in Manhattan. On Sunday, January 15th, Molloy will host one of the premier invitational events of the indoor Track & Field season. Molloy athletes will join thousands from the tri-state area as they compete in a full-range of indoor Track & Field events.
We are grateful for our alumni and parent volunteers, who represent generations of Molloy graduates and Stanner families. In a special way, we remember John S. DiGirolamo '64, who passed away in October 2022. John was an avid Stanner Games volunteer and loved connecting with his Molloy family. We thank John for his many years of dedication to our track program and continue to keep him in our prayers.
Alumni and friends can watch a livestream of Stanner Games, though a subscription to Runnerspace.com is required. Click Here for More Information
We would also like to acknowledge some recent outstanding Track & Field performances. On Friday, January 6th, at the 168th Street Armory, Molloy's Spring Medley Relay Team of Camille Munoz '25, Jordyn Ferrandino '23, Brianna Poliseno '25, and Eva Gonzalez '24 qualified for the Nike Nationals on March 10th. Caroline Rozmus '24 won the Novice Pole Vault and Jordyn Ferrandino moved up to number 5 on the Molloy all-time list in the 55M dash.
---
Epiphany Prayer Service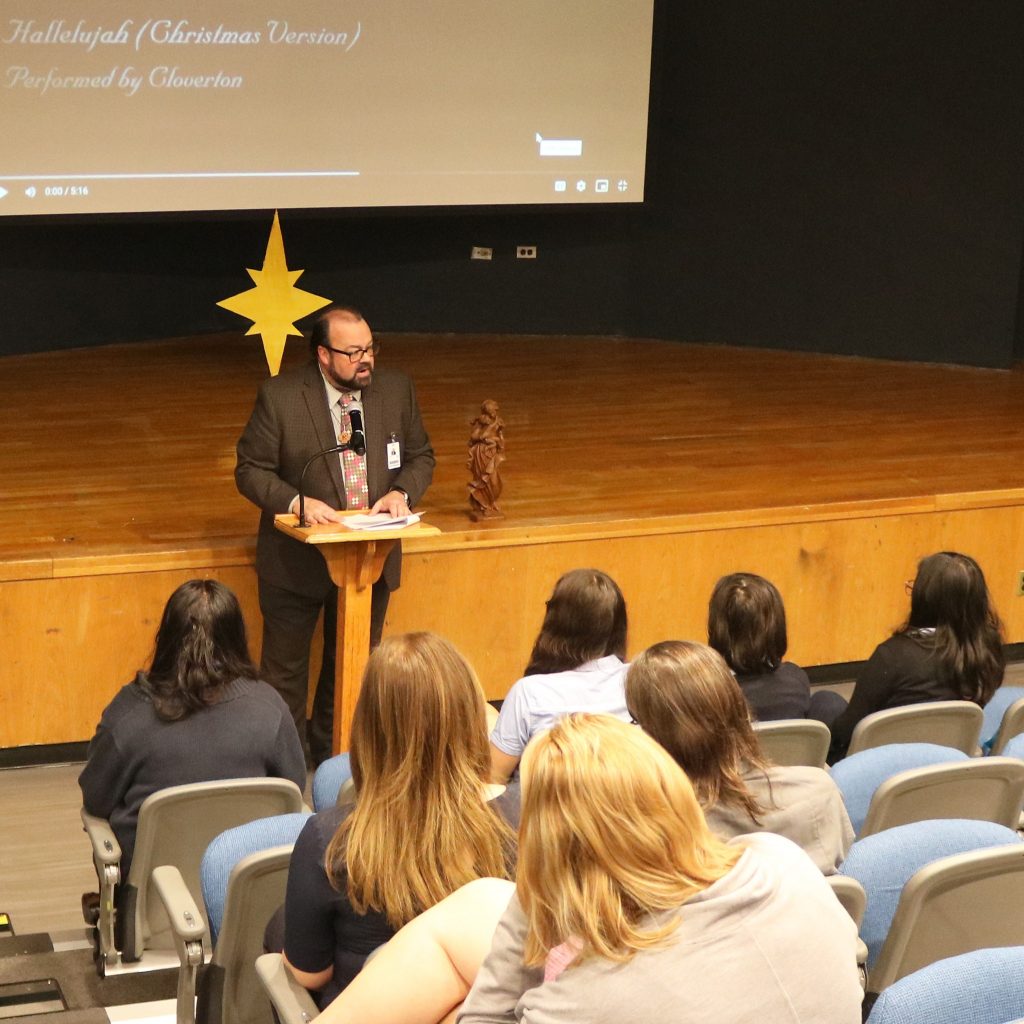 In celebration of The Epiphany of Our Lord, Campus Ministry held a special prayer service. Members read from the Holy Gospel describing the importance of the day, while staff and faculty members shared what they would present Christ had he been born in the present day. A puzzle to embody patience and a book to enlighten with words were among the gifts presented. The service was one to bring our school community together in Christ and remember the gifts of the Magi.
---
Annual Softball Clinic Hosted at Molloy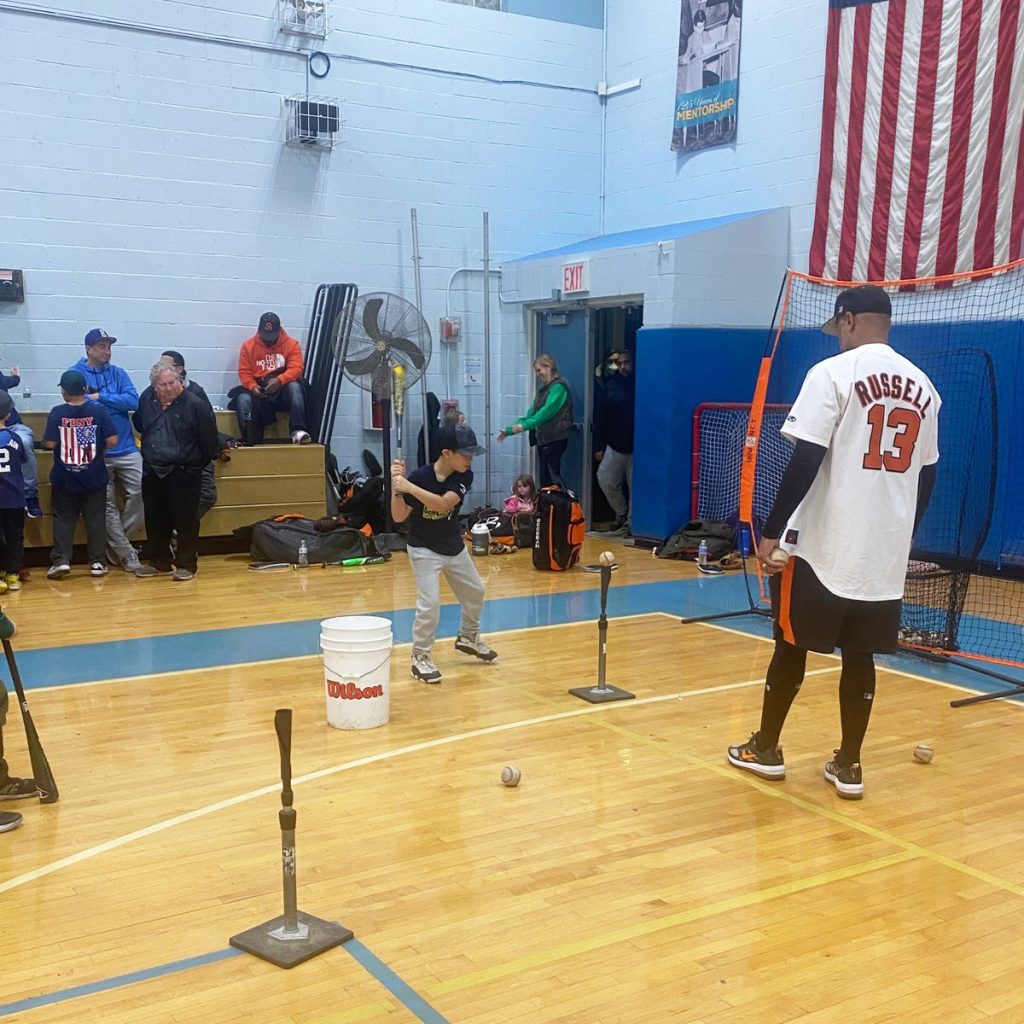 Mr. Lou Santos extends his thanks to Molloy for offering their facilities to host the 30th Annual Lou DeMartino Christmas Clinic, run by the Greater New York Sandlot Athletic Alliance (GNYSAA). Over 110 families attended the softball clinic held in Molloy's Captain Anthony Marsloe Gymnasium. The event served as a great opportunity for young aspiring softball players and a way for Molloy to help and connect with the community.
"The event, which was pro bono for all the kids in the area, was a huge success," said Mr. Santos. "We had a great volunteer staff including Eddie LaMarr (former Pitching Coach, St. John's University), Bill Blitzer (Head Scout, Chicago Cubs), Dan Palumbo (Area Scout, Philadelphia Phillies), Frank Del George (Xaverian HS), Gary Perone (General Manager & President, Staten Island Ferryhawks), Paul Busciolano (Vice President, HBQVB & GNYSAA), and Don Landolphi (Head Coach, NYC Team for the Blind).
"Thank you to the Molloy family for providing use of the gym to do what we do for these youngsters," said Mr. Victor Feld, President of the GNYSAA.

Support Our Upcoming "Midnight Run" Donation Drive
Beginning January 17th, Molloy will begin collecting donations in support of a "Midnight Run" that will deliver important items to people in need. Each grade level has been designated specific items to bring (students will receive more information soon), but alumni and Stanner families can also participate by donating these items. Donations will be accepted through January 26th.
ITEMS WE ARE ACCEPTING: men's socks, adult men's underwear (small, medium, large), adult men's undershirts (small, medium, large), travel size hand cream, wash cloths, disposable razors, travel size soap and shampoo, gallon size Ziploc bags, toothbrushes, and travel size toothpaste.
Donations can be brought to Molloy and left with the security desk near the main entrance. Contact communications@molloyhs.org for more information.

Dr. Fidel Valea, MD, '77 visited Molloy on December 16th to serve as a guest speaker for the Pre-Med Career Club. The following summary was written by Carly Meier '24: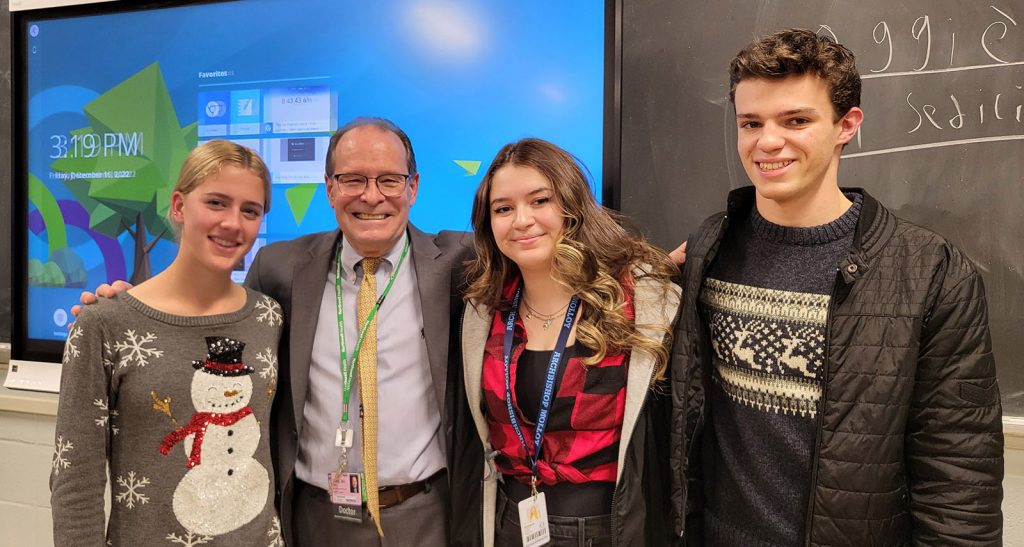 The Pre-Med Career Club welcomed Dr. Fidel Valea back to Archbishop Molloy on December 16th. He is a proud Stanner who graduated with the class of 1977. Dr. Valea currently specializes in Obstetrics and Gynecology at Northwell Health. During his visit, he shared heartfelt and funny stories about the experiences he's faced as a doctor. Dr. Valea also gave students important insight into what it takes to be a doctor and how time consuming the job can be. He stated that "although it is a lot of work, it truly pays off in the end." Club members asked him why he wanted to be a doctor, and he told the group "it's just what he's always wanted to do."

As a student at Molloy, he was strong in math and science and was captain of the track team. In order to specialize in surgery, you need great stamina, so his years at Molloy were already helping him to obtain the discipline he needed in order to eventually be a great doctor. He also wanted a job where he could use his hands, and knew surgery was the best fit for him.

We are so grateful Dr. Valea came back to Molloy to help the current students, and we are so happy that he could provide the Pre-Med Career Club with a great learning opportunity. Thank you Dr. Valea!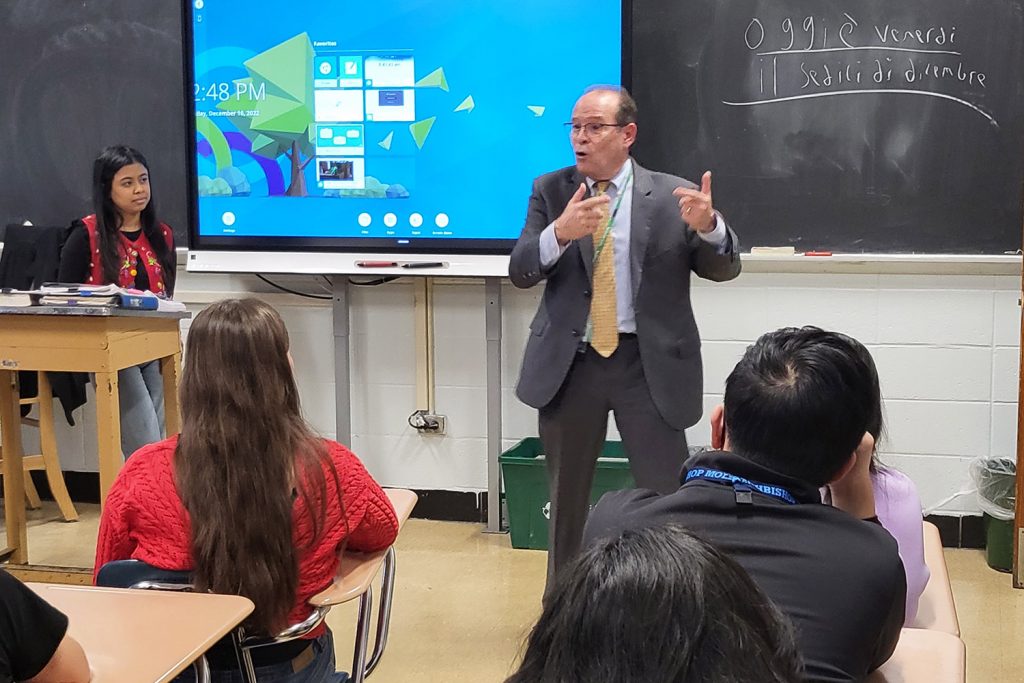 Please pray for the repose of the soul of John P. Hollywood '93, who passed away on December 23, 2022. | Click Here for Memorial Page
---
We are saddened to share the passing of Br. Joseph Teston, FMS, who passed away on December 22, 2022. A longtime friend of Molloy, Br. Teston became the first USA Marist Brother to celebrate his 100th birthday back in 2021. He enjoyed 83 years in ministry, including being among the first Brothers to begin the Marist Mission in the Philippines in 1948. He also briefly served both St. Ann's Academy (1948) and Molloy (1973) during his career. Please keep Br. Joseph Teston in your prayers, as well as his fellow Brothers at their residence in the Bronx. | Click Here for More Information
---
Please pray for the repose of the soul of Mr. Tony Cantu, who passed away on December 17, 2022. Mr. Cantu served as a teacher and campus minister for many years at our fellow Marist school St. Joseph Academy in Brownsville, Texas. Mr. Cantu was also part of one of the first Marists of Champagnat cohorts. | Click Here for More Information
---
Please pray for the repose of the soul of Eileen Furlong.
---
---