Earlier this week, Mr. Jeff Gallagher '88, longtime social studies teacher and track coach at Molloy, suffered a serious medical emergency. Mr. Gallagher is in serious but stable condition. He is in the company of family and friends and is receiving excellent medical care. We ask that our Stanner family please join us in praying for Mr. Gallagher, that he may experience a quick and full recovery. With respect to Mr. Gallagher and his family, we also ask that you please also respect their privacy at this time. We will keep our community updated as more information becomes available. In the meantime, we know that Mr. Gallagher will appreciate all the prayers and "Big Smiles" you are sending his way.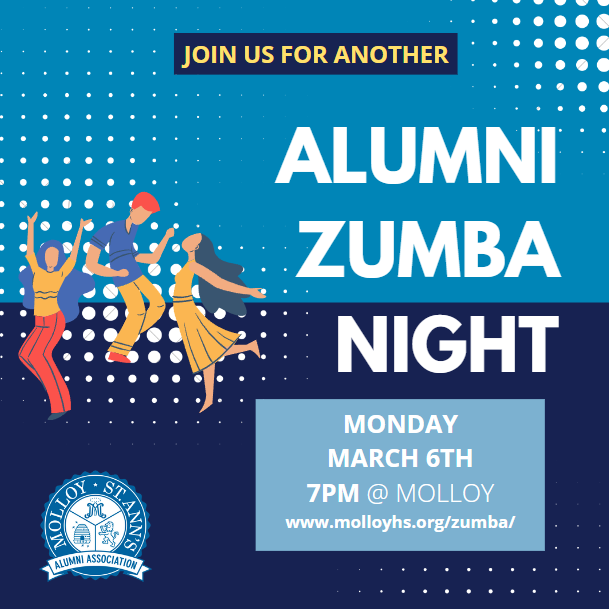 ---
Please join us on 3/25/23 as we honor two FDNY heroes.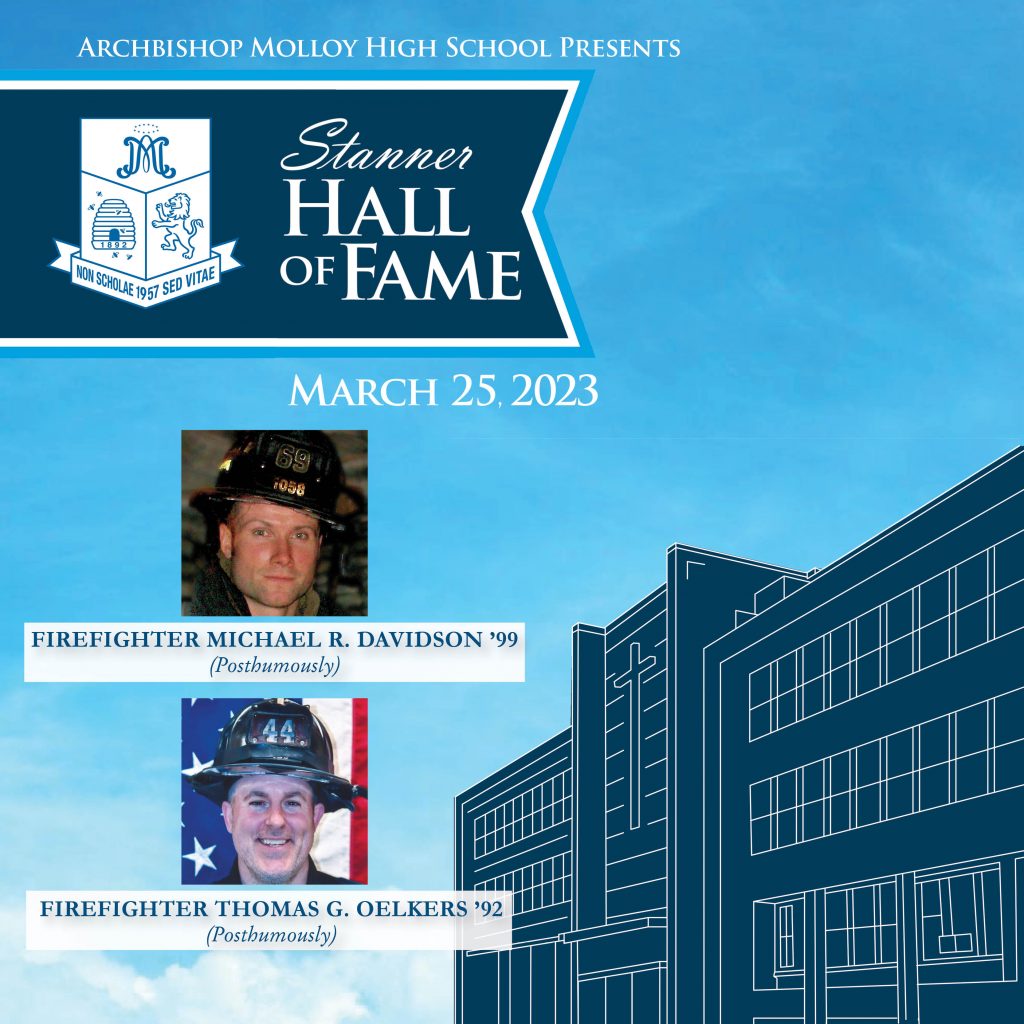 ---
Click flyer for more info about Radio Bingo on 3/31/23!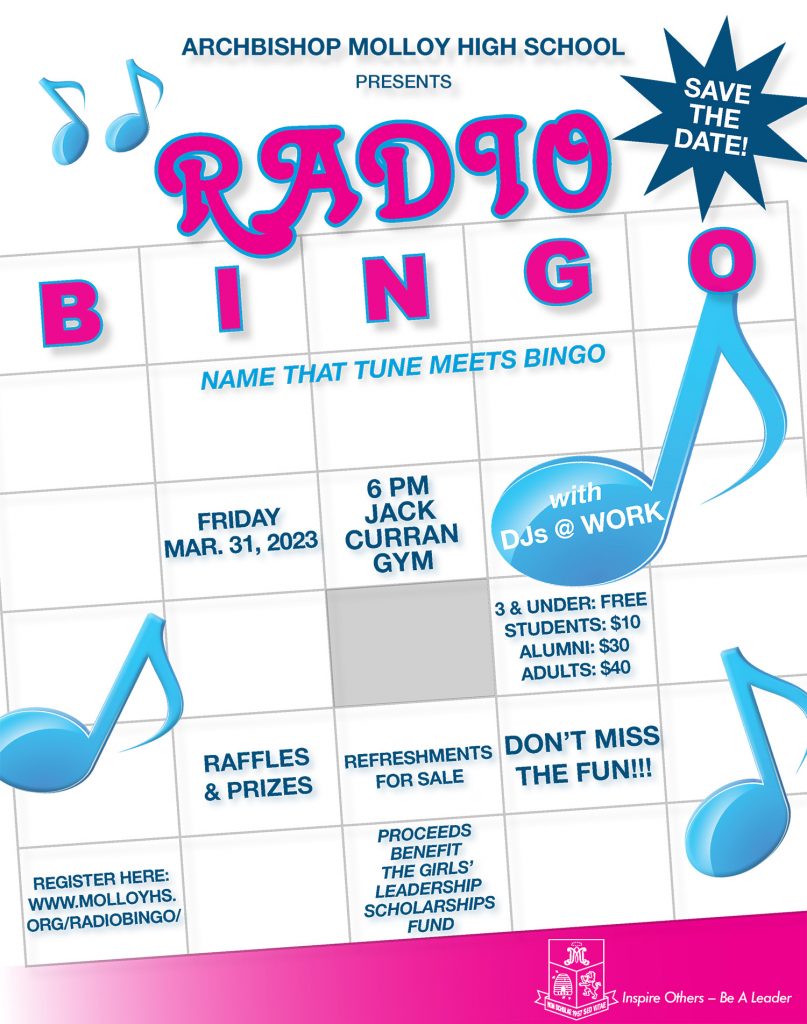 ---
Click flyer to register for the Jim Kinnier Stanner Golf Classic on 5/1/23!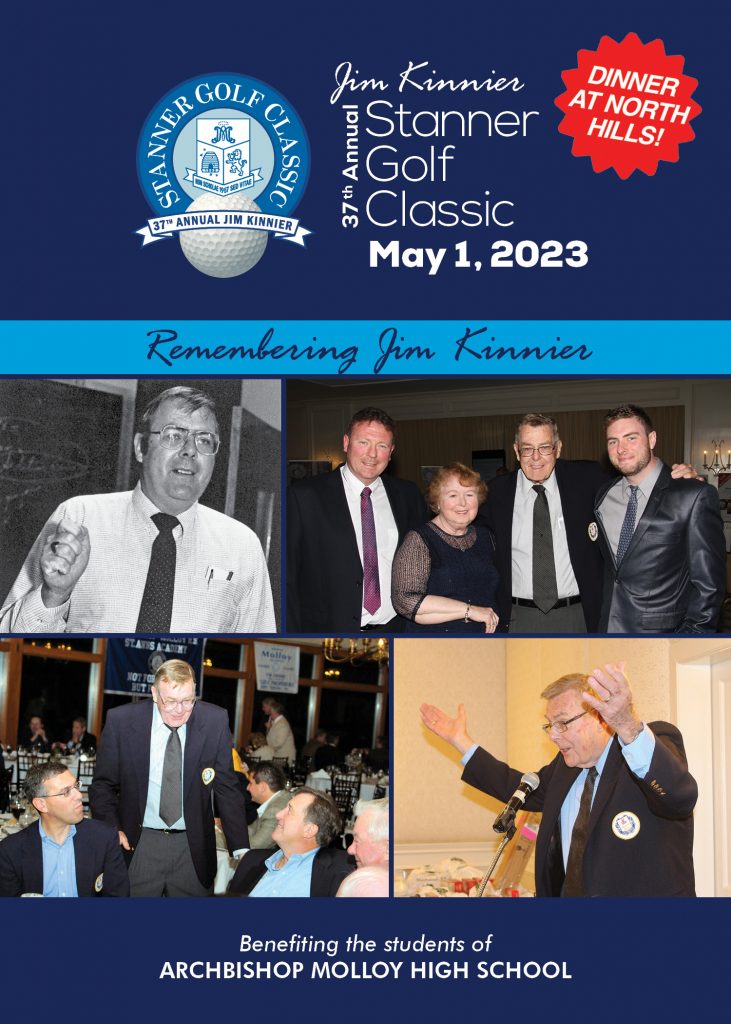 Stanner Life Magazine is Out Now!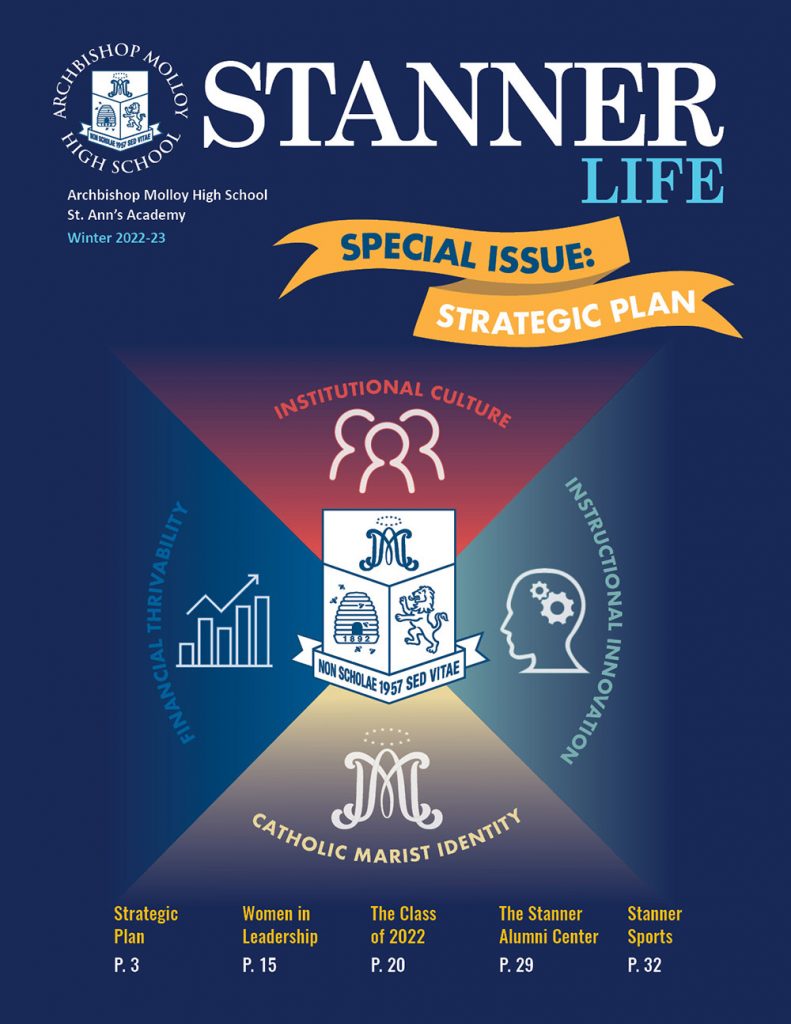 Our newest issue of Stanner Life magazine is out now! Please keep an eye on your mailbox over the coming days. Stanner Life is the official magazine of the Molloy community. This issue is a special edition highlighting the four goals of Molloy's Strategic Plan. We are excited to share the many initiatives of the plan we have achieved and the ongoing progress that continues to be made. Additional articles highlight aspects of the Strategic Plan in greater detail.
Please reach out to communications@molloyhs.org if you do not receive the magazine in February, if you would like to update your address or your child's address, or you would like to request additional printed copies.
---
Second Annual Freshman Day Retreats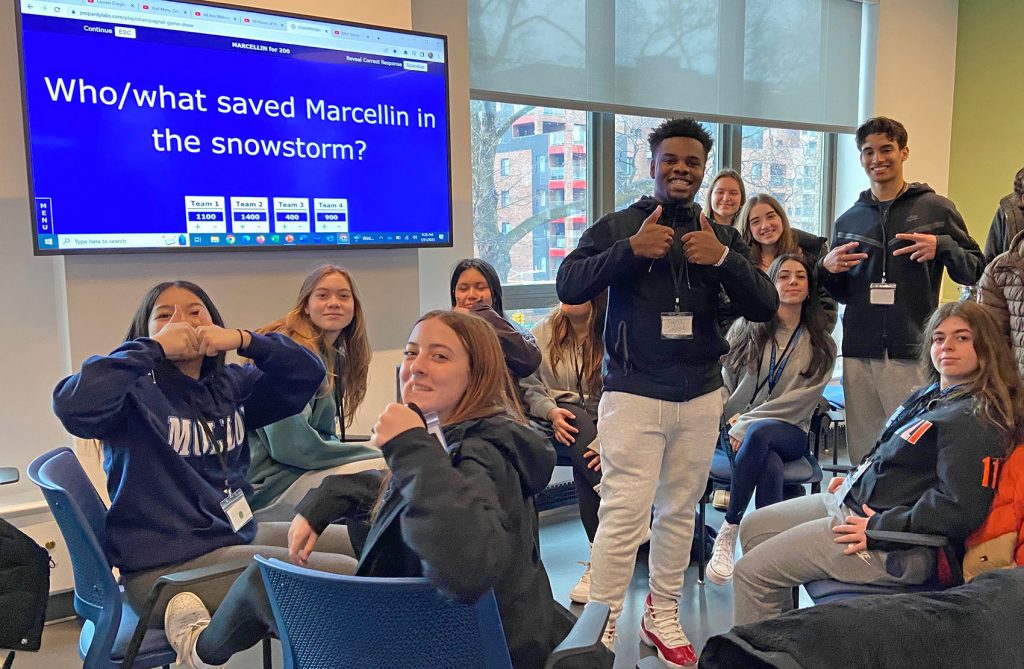 The Freshman Day Retreats have once again been a success! From January 30th – February 1st and on February 9th, members of the Class of 2026 visited Thomas Berry Place in Jamaica, Queens. There, freshmen were taught what it means to be a Marist Youth, participating in group bonding activities that strengthened their relationships with each other and the Marist faith.
During the retreat, Stanners learned about the five Marist Pillars: Presence, Simplicity, Family Spirit, Love of Work, and In the Way of Mary. Activities highlighted what it means to follow these pillars, as well as their importance to the Molloy community, in and out of school. Students learned about St. Marcellin Champagnat, and listened to talks given by fellow students about how Molloy has positively impacted them.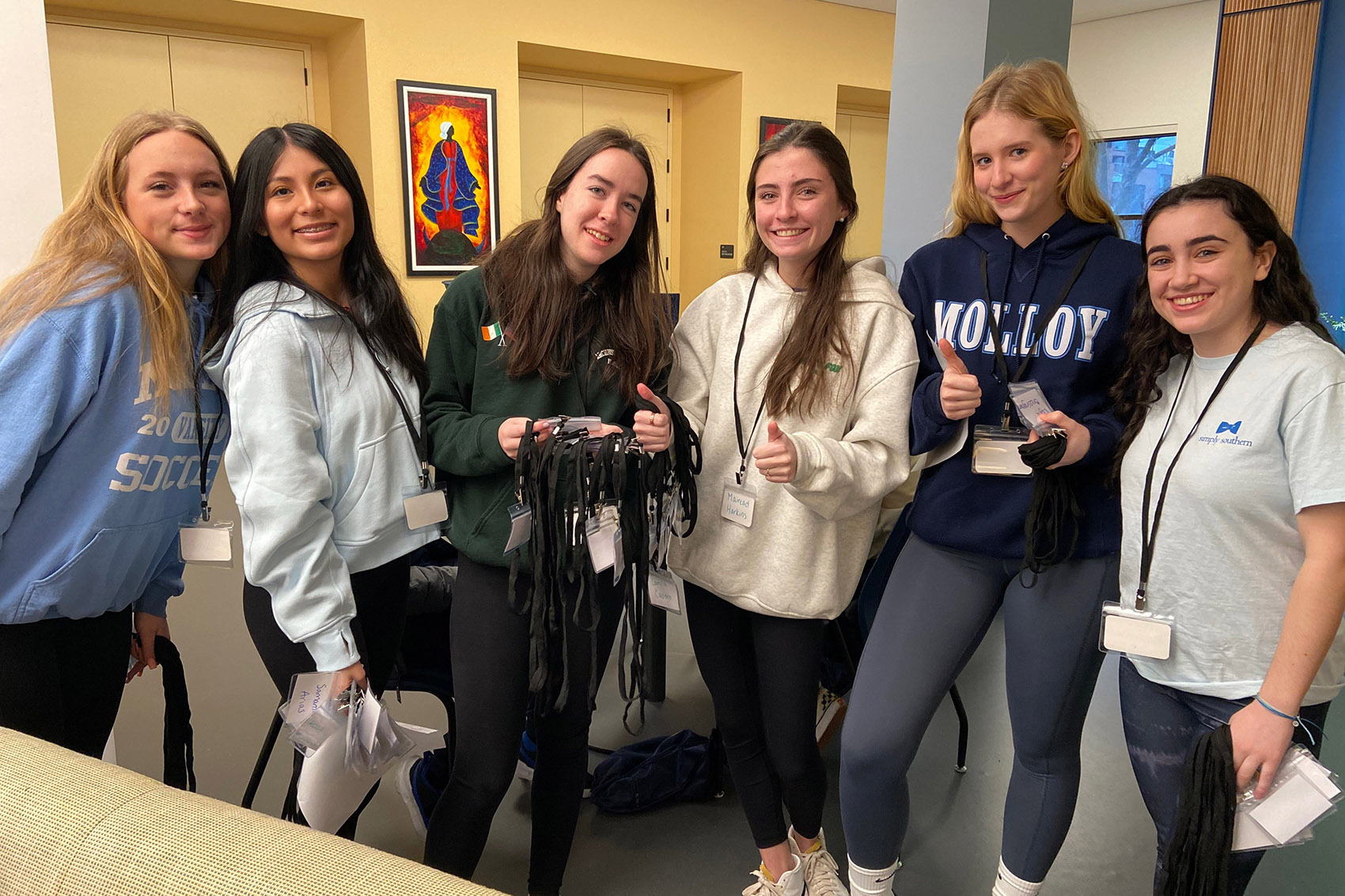 Although annual retreats are usually held at the Marist Brothers' Center at Esopus, the Freshman Day Retreats have shown students that the physical place is not as important as the people inhabiting it. Students learned about each other, participated in group activities, and built a community that will continue to grow through their four years at Molloy and beyond. Director of Marist Life and Mission Ms. Lori Wilson shares, "For most of the freshmen, it was their first retreat experience…and they were pleasantly surprised that they were able to do so much!" She also thanked the junior leaders, saying, "Our nine junior students who led the retreats worked hard, and felt like they accomplished what they had hoped for."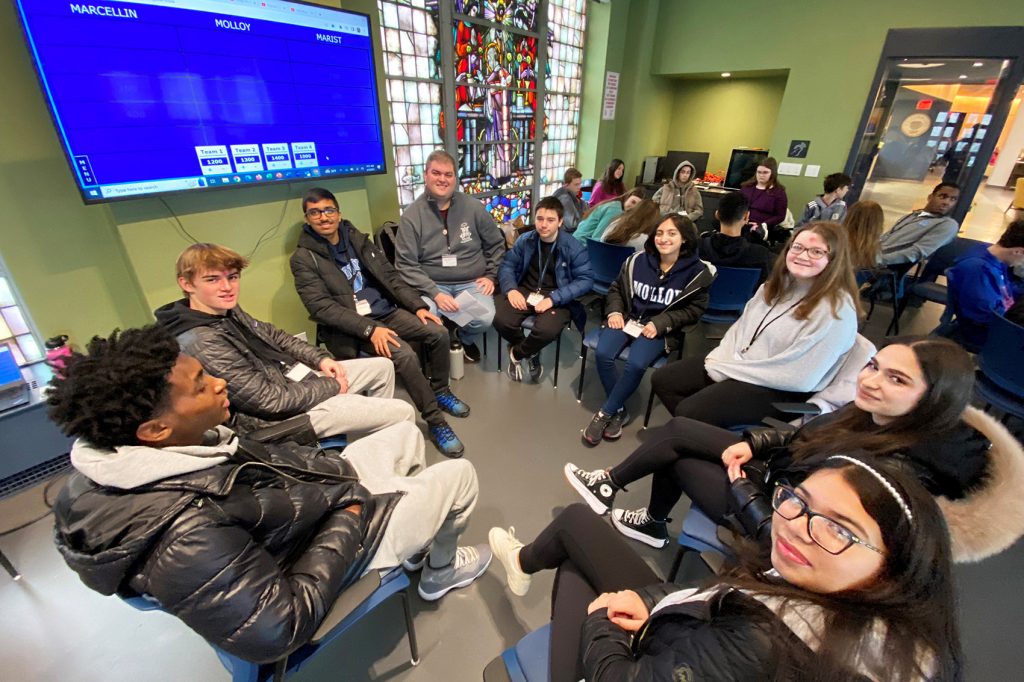 ---
Students Lead Prayer Service Reflecting on Legacy of Dr. Martin Luther King Jr.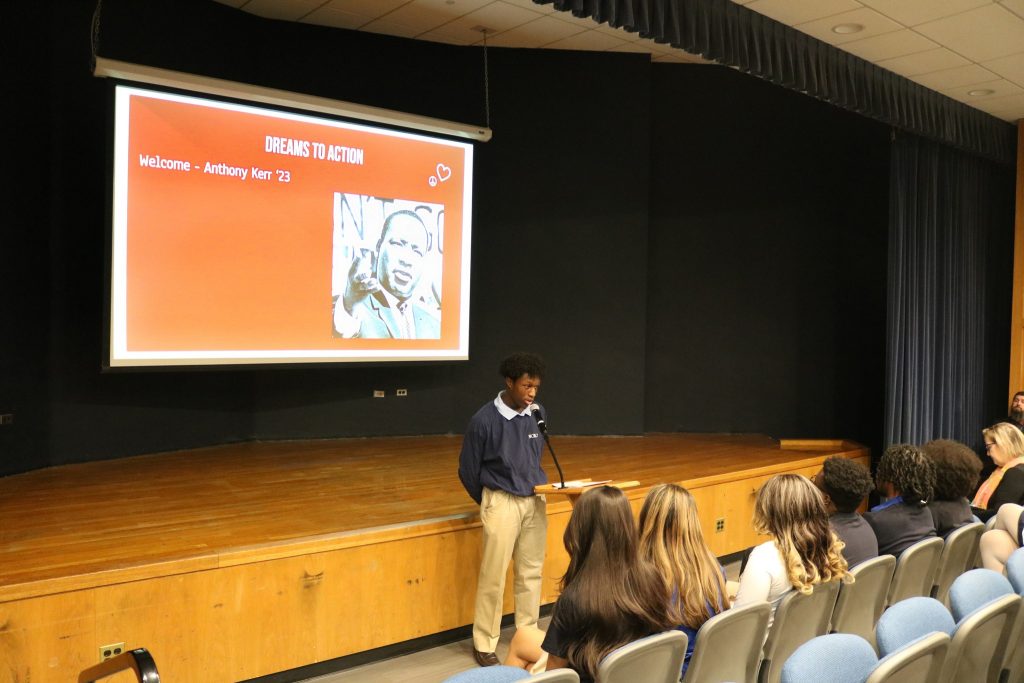 On February 2nd, Molloy held a prayer service in honor of Black History Month, reflecting on the legacy of Dr. Martin Luther King, Jr. The service was created and entirely led by students, who spoke, recited poetry, shared reflections, and performed.

Anthony Kerr '23 began the service with a welcome speech, encouraging everyone in attendance to "embrace change within ourselves and as a community," and to "believe in and fight for our dreams." Karolina Lundqvist '23 followed, singing "Amazing Grace" in the form of prayer. Abigail Mallia '23 read an excerpt from Dr. King's "I Have a Dream" speech, and Favour Olobor '23 reflected, saying, "I believe that our school community is capable of bringing dreams to action." Favour continued, "I have a dream that we as Stanners will live in such harmony that we will be an example to not only future Stanners, but to every single person we come across."

Aiden Wynter '23 and Tarik Lajoie '23 led intentions, praying for justice and equality. Antonia Dey '24 ended the service with an original poem, in collaboration with members of Molloy's Step Team, Jaiden Clarke '23, Gina Garcia '23, Favour Olobor '23, and Shathia Lupi O'Brien '24. Thank you to all who made the prayer service possible.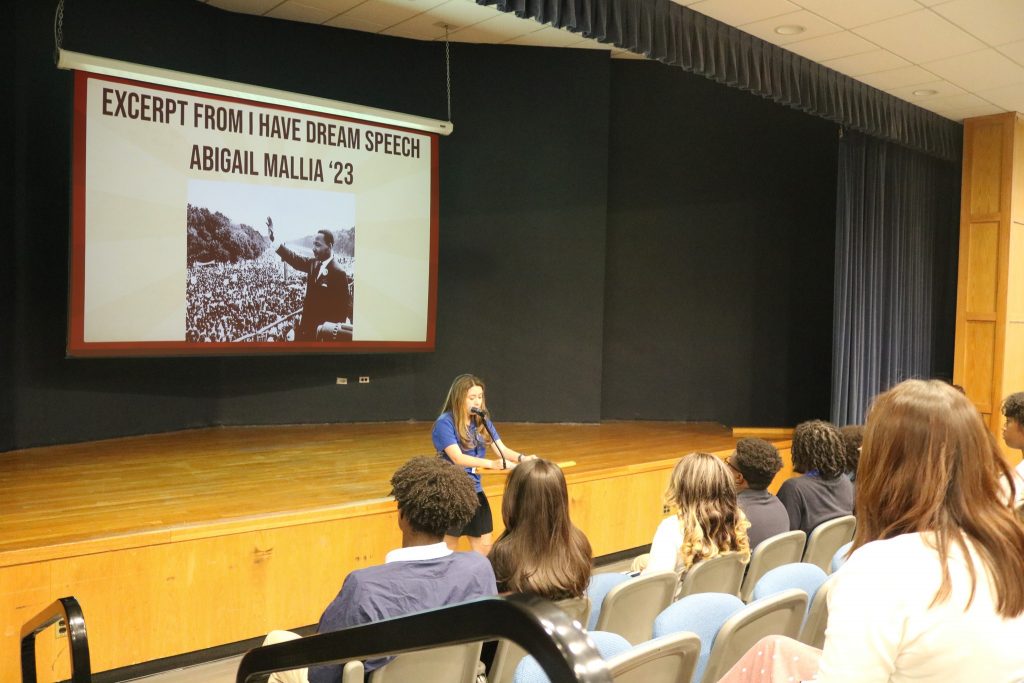 ---
Introducing: The Music Club!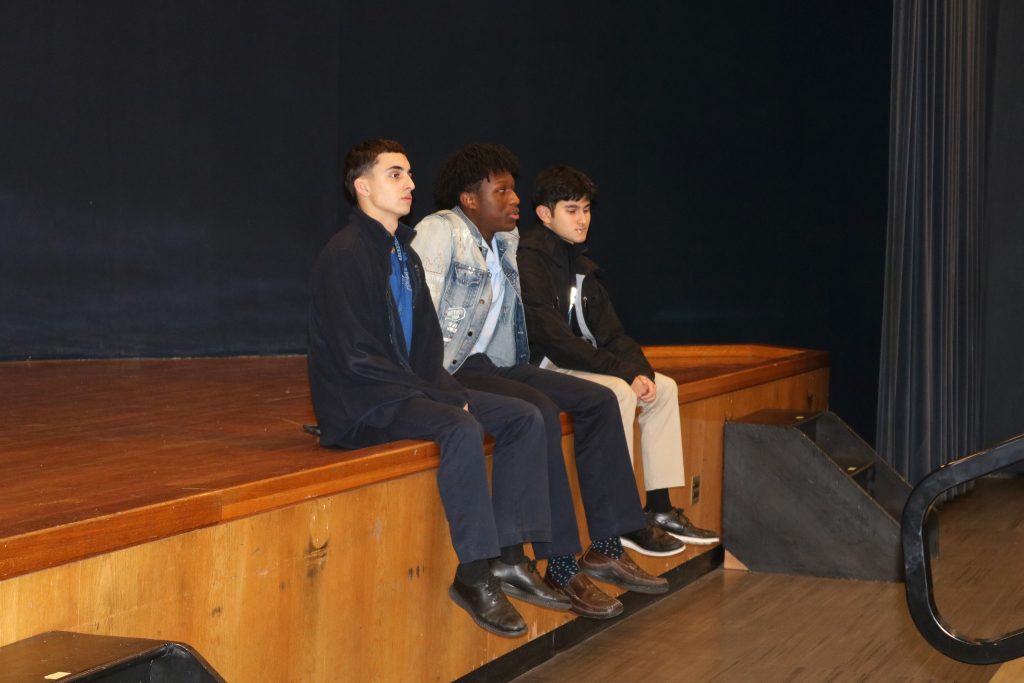 Molloy is proud to introduce its newest extracurricular, The Music Club! Started by senior Anthony Kerr '23, The Music Club has been an idea of his since his freshman year. After putting in the work, the club is now up and running!
The Music Club, which is open to all Stanners, is described as a space where people can come together to talk about, listen to, and create music. Its mission statement reads, "The Music Club aims to introduce a broad spectrum of musical genres that members of the Molloy community may not have typically been introduced to on their own." Some goals of the club include cultural education, analyzing song lyrics, emotional growth through community, manifesting positivity, and building a general interest in music.
The club's theme of unity did not come about by chance. As its founder, Anthony said that the idea for The Music Club solidified itself during the year of at-home learning, due to the pandemic. He shared, "Being in isolation, it seemed like the world was consumed with problem after problem. As a form of escapism, I turned to music. It got me through the pandemic and broadened my perspective on many things." He continued, "Music has the power to unify, educate, and bring joy regardless of differences, and I wanted to bring that to Molloy." After returning to school and discussing his idea with his friends, Ms. Murdocca, and Dr. Penikas, Anthony's club proposal was approved during his senior year!
The club, simply, is a forum where students and faculty are encouraged to come together and speak about music. Anthony shared, "I feel that oftentimes, we get so caught up in our schoolwork, and I wanted to create a place where we can incorporate our passions into school life. The Music Club is all-inclusive; we are interested in an array of different genres from popular to the obscure, as long as it promotes unity or understanding. We want people to feel welcomed to share their taste regardless of how different it is."….Click the button below to read the full story on Molloy's website.
---
Track & Field Update – City Champions!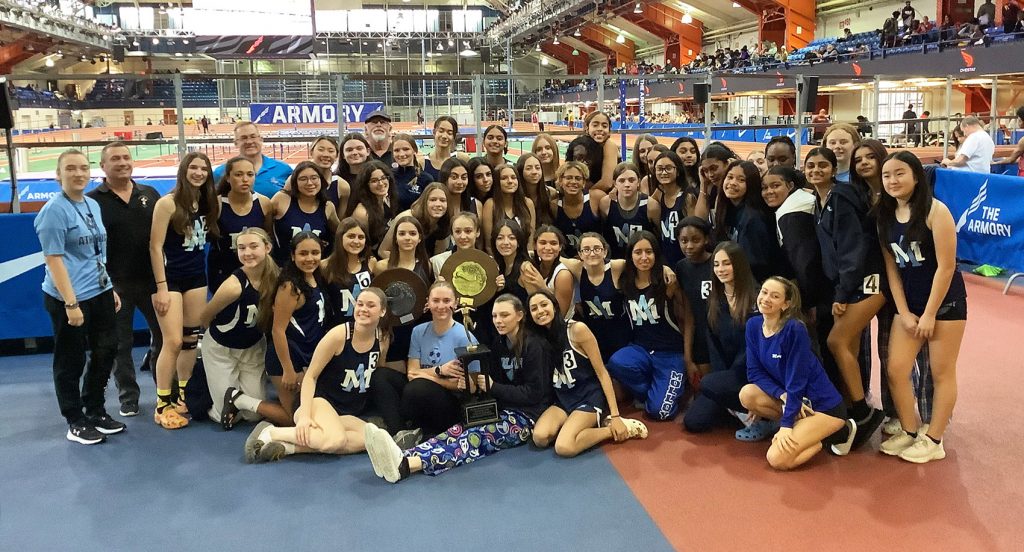 Congratulations to the Girls Track & Field team, who recently won the Indoor City Championship at the 168th Street Armory. Congratulations to all Stanners who did their best and came out on top! Below is a list of highlights from the meet:
Eva Gonzalez '24 won the Brooklyn Queens Outstanding Track Performer City Champion in the 600 meter run
Camille Munoz '25: City Champion 55 Meter High Hurdles
Caroline Rozmus '24: City Champion Pole Vault
Grace Murphy '23: Brooklyn Queens Champion 1000 Meter Run
Jordyn Ferrandino '23: Brooklyn Queens Champion 55 Meter Dash
Izabela Lis '24: Brooklyn Queens Champion Shot Put
For more Athletics news, visit @molloyhs_athletics on Instagram!
---
Mousouroulis '23 Scores 1000th Career Point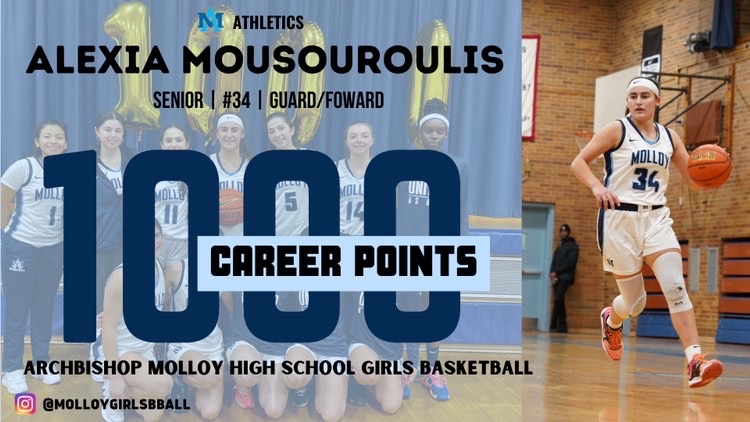 In January, Alexia Mousouroulis '23 scored her 1000th career point early into a game versus St. Francis Prep! Coach Joe Harnischfeger shared, "Alexia is our championship standard at Molloy. Her work ethic and focus off the court fuel her success on the court. I'm thrilled for her to reach her 1000th point and watch her undoubtedly succeed at NYU." Congratulations, Alexia!


Wine Tasting welcoming alumni, parents and friends ages 21+. Click flyer to register.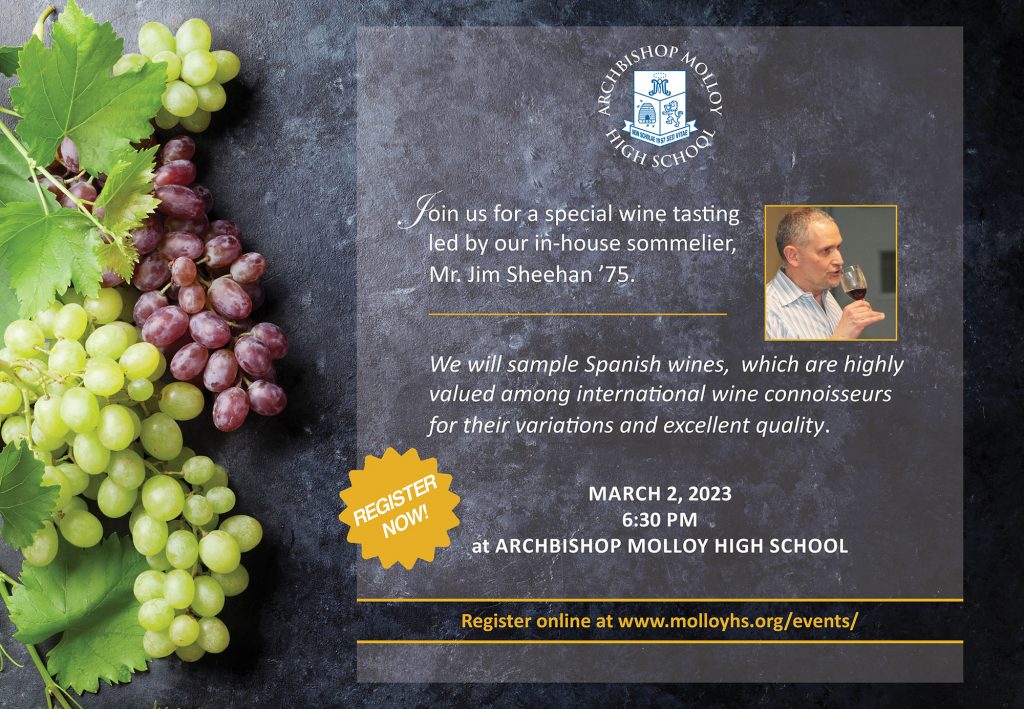 ---
Molloy Looking to Network with Freelancers!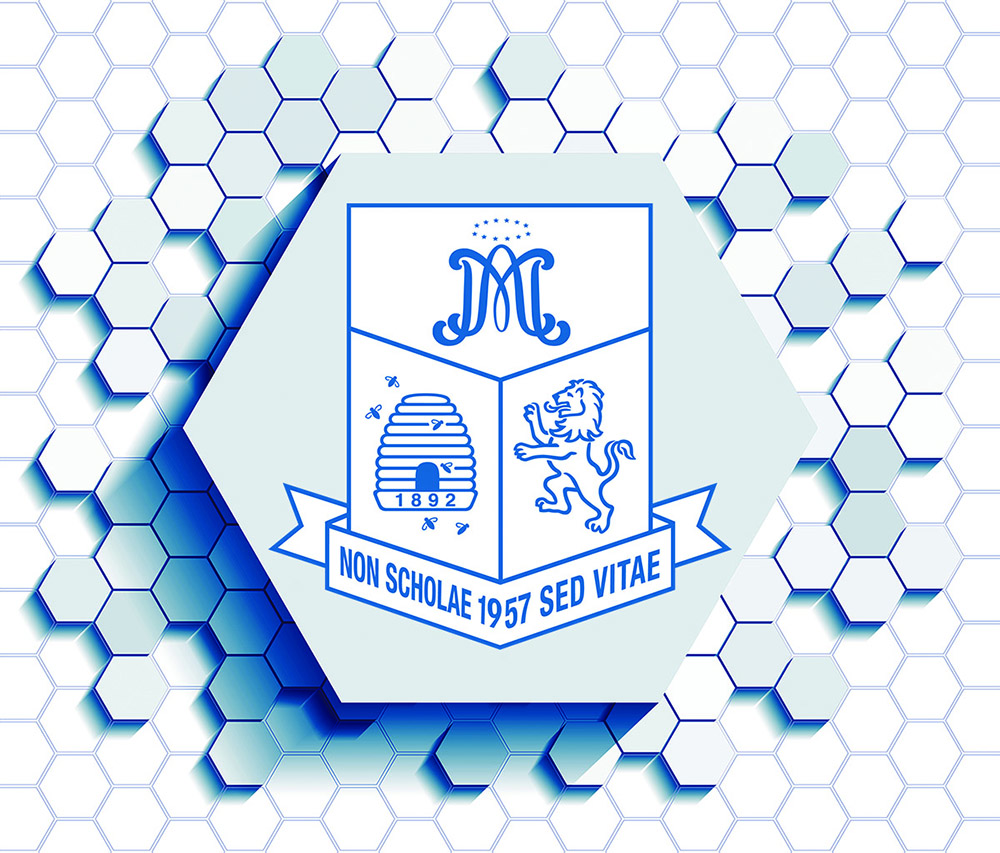 Molloy is looking to build our network of freelance talent and work with alumni and friends who could provide several creative services. We are interested in connecting with freelance event photographers, marketing photographers, videographers, and video editors. If you are interested in inquiring with Molloy about freelance opportunities, please click the button below to contact our Communications Department. Please consider sharing this information with a friend or family member who may be interested. We look forward to hearing from you!
---
"Buzz Words" Alumni Book Club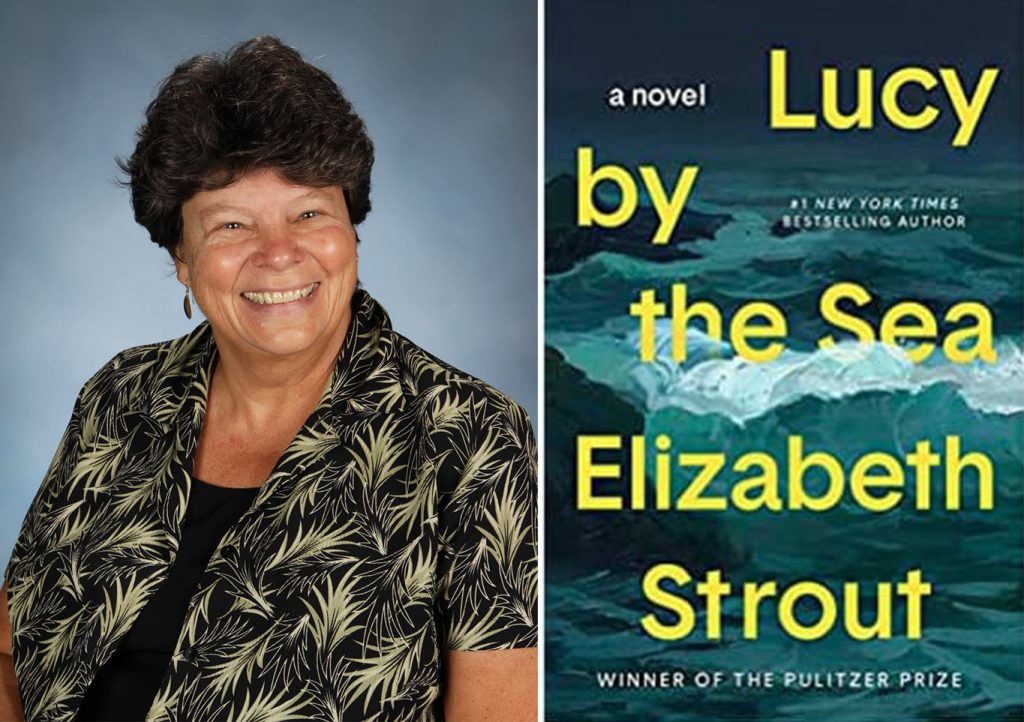 Calling all book lovers! You can still join Buzz Words, our alumni book club. Alumni, parents, and friends of Molloy are welcome!
The February read is Lucy by the Sea by Elizabeth Strout. The meeting discussion will be lead by the one and only Mary Pat Gannon, who is also a member of the book club!
Click the button below to join Buzz Words today.
---
Brendan Woods '16 was recently featured in an article in the NY Post! Brendan is among the latest class of FDNY graduates. 11 years ago, he and his father, Thomas Woods, sprung to action during the height of Superstorm Sandy, one of the strongest storms to affect New York City in recent memory. Together, Brendan and Thomas maneuvered the rising waters using a surfboard and a kayak to rescue neighbors and help families in Belle Harbor by assisting them to higher ground. The experience has always stayed with Brendan, and it inspired him to join New York's Bravest. Click the button below to read the full story. Congratulations, Brendan!
---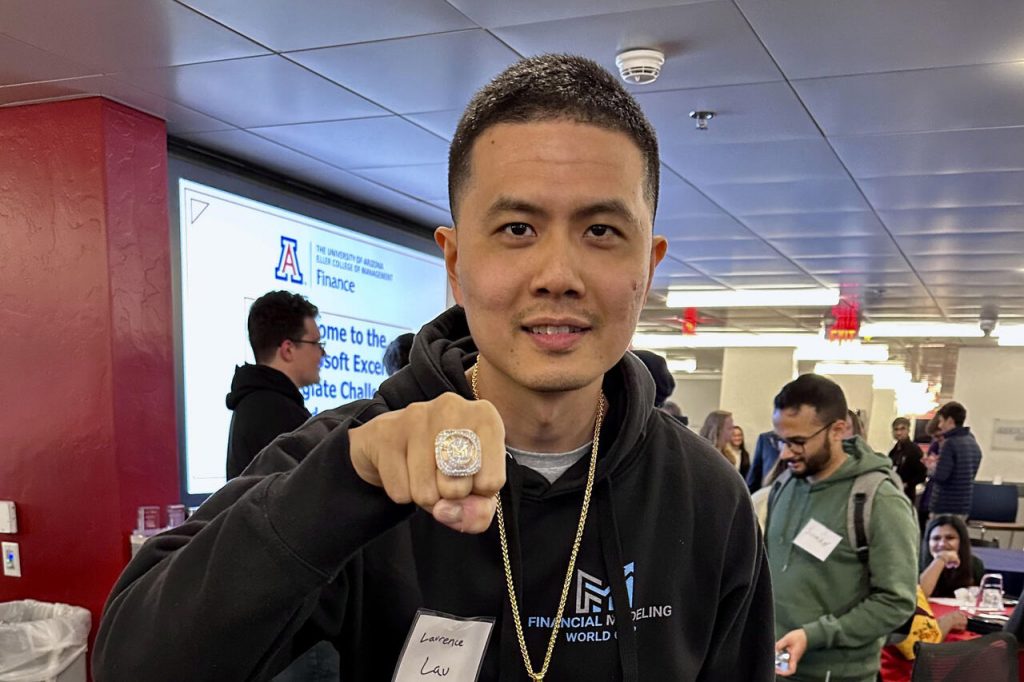 Laurence Lau '04 is the 2022 Financial Modeling World Cup (FMWC) Champion. He had been world ranked #1 until just this past week, and he continues to compete to try and regain the top spot. The competition features eight stages. For each stage, competitors attempt to solve three case studies under time pressure (two hours) and answer a series of questions based on the cases. The cases are solved entirely in Microsoft Excel with some form of financial modeling / data modeling. Points are awarded for correct answers within the time limit. Competitors' top six stages are totaled along with their season score, the latter of which is ranked from highest to lowest. Laurence shares, "I use the FMWC as a marketing tool for my business, The Golden Company, where we solve client problems through data-driven insights. Also for newcomers, the 2023 season starts on January 29th, so anyone who wants to challenge me is welcome to do so. I welcome all challengers!"
Resource Links: Current World Rankings | Winners Announcement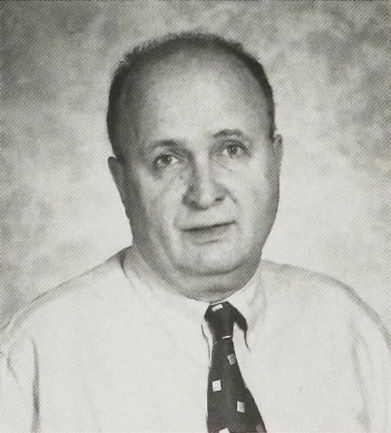 We are saddened to share the recent passing of Mr. Anthony A. Nicolini, Jr. Mr. Nicolini served as a member of Molloy's Religion Department for many years during his career. Please join us in prayer for Mr. Nicolini and his loved ones. Services have been shared below:
Reposing
Tuesday, February 14, 2023
3pm to 8pm
Conway Funeral Home
41-45 58th Street
Woodside, NY 11377
718 639-3220
Funeral Liturgy
Wednesday, February 15, 2023
10:30am
The Church of St. Luke in the Fields
487 Hudson Street
New York, NY 10014
---
Archbishop Molloy High School is saddened to share the sudden passing of Thomas M. Spedalere '93, son of Lou Santos. Thomas passed away on January 30, 2023. Please keep Thomas and his loved ones in your prayers.