We have many wonderful events coming up, including more to be announced soon! Please click any of the flyers below for more information or to register.
---
---
---
ABOUT STANNER HALL OF FAME INDUCTION: Molloy is proud to induct two FDNY heroes on Saturday, March 25, 2023. Firefighter Thomas G. Oelkers '92 was a 19-year veteran of the FDNY, Ladder Company 44. He also served 4 years with the NYPD. Thomas was a first responder at the World Trade Center following the terrorist attack on September 11, 2001. Sadly, Thomas passed away due to 9/11 related illness in 2021. Firefighter Michael R. Davidson '99 was a 15-year veteran of the FDNY serving Engine Company 69. Michael made the ultimate sacrifice while battling a five-alarm fire in Harlem in 2018. We invite our community to join us as we honor these Stanner heroes.
---
ABOUT RADIO BINGO: Molloy's GERLL Club is sponsoring a Radio Bingo evening on March 31st. Radio Bingo is played just like regular Bingo but involves identifying songs and dancing with a focus on enjoying the process. All proceeds raised from this event will support the Girls' Leadership Scholarship Fund, which will benefit exceptional young women entering Molloy in the future. Register at: www.molloyhs.org/radiobingo/
---
ABOUT LACROSSE 10 YEAR ANNIVERSARY: We are excited to welcome our Lacrosse alumni back for a special celebration, as we recognize 10 years of this incredible program! Alumni are invited to join Coach Scalice and her current Lacrosse players for this historic event, which will include an alumni vs. student game and a light reception to follow. Please join us!
---

Black History Month Celebration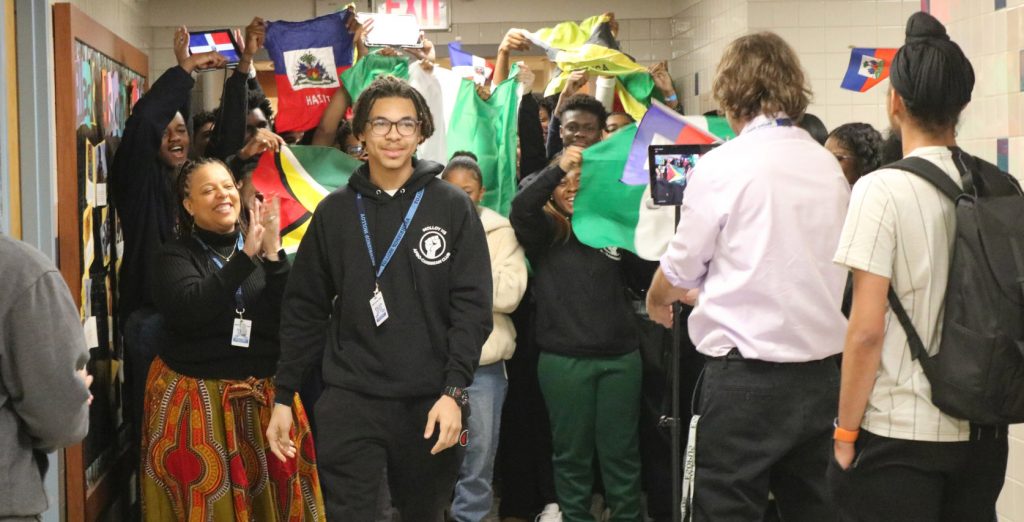 To celebrate Black History Month, students participated in a dress-down fundraiser to raise money for a new Marist school being built in Liberia. Members of the Afro-Caribbean Club, along with friends, also walked the halls during homeroom, carrying flags that embraced their heritage! Although Black History should be celebrated all-year round, Stanners were excited to close out the month with such a festive tradition!
Dr. Alice Prince said the parade was "amazing and exciting." She exclaimed, "The kids were radiating pure joy. I felt and saw the joy and pride, especially when they saw their teachers standing out in the hallway to cheer them on. The energy was electrifying!"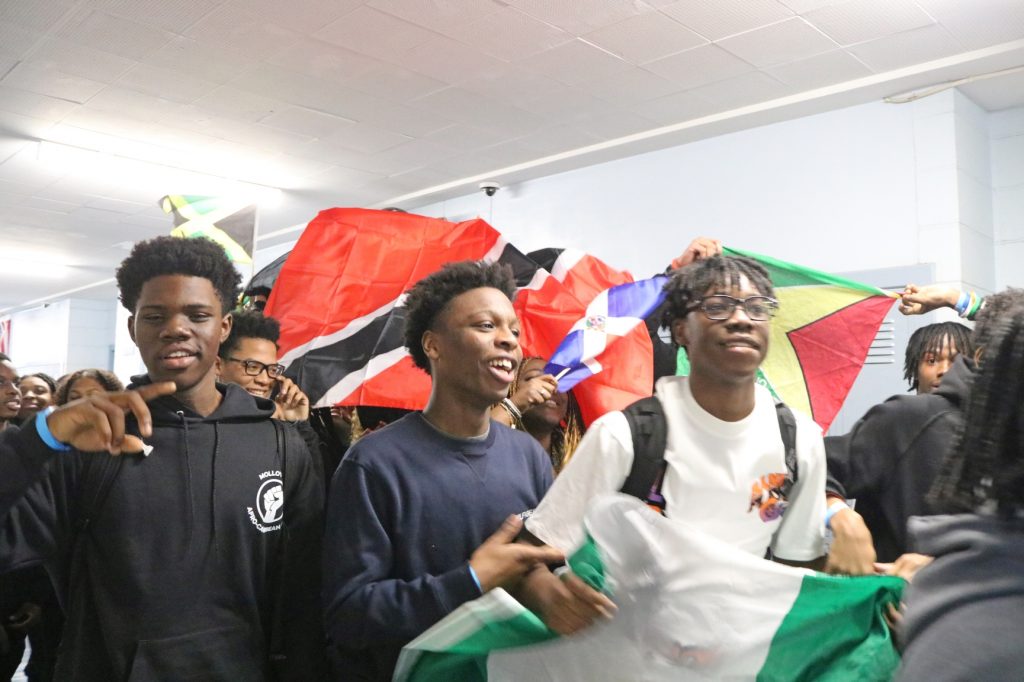 ---
Digital Stanner Life Magazine Now Available
Our newest issue of Stanner Life, the official magazine of the Molloy community, is out now! This issue is a special edition highlighting the four goals of Molloy's Strategic Plan. We are excited to share the many initiatives of the plan we have achieved and the ongoing progress that continues to be made. Additional articles highlight aspects of the Strategic Plan in greater detail.
If you have not received your physical copy yet, a digital version is available on our website! Click the button below for more info. You can also contact communications@molloyhs.org if you would like to update your mailing address in Molloy's records or if you would like to request a new physical copy.
---
Molloy Hosts "Chris Herren Talks"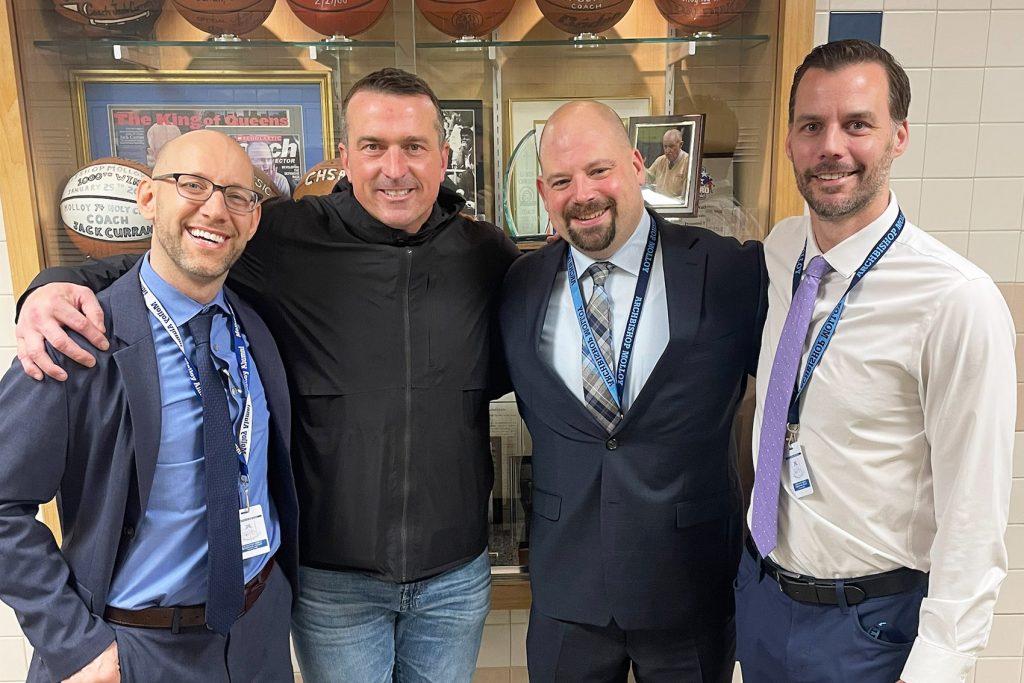 On Thursday, February 16th, Molloy welcomed a very important speaker to talk to our students about the dangers of drugs and alcohol. Chris Herren, former professional basketball player and author, graciously took the time to share his personal story of addiction and recovery. Later on that day, Mr. Herren returned to give another presentation to Stanner parents, giving them advice on how to assist their children if need be. "Chris Herren's talk about substance use and abuse was so powerful and impactful that, as one faculty member put it, 'you could hear a pin drop.' A big shout out to Mr. Beaudet for helping to bring Chris and his 'Herren Talks' to Molloy," said Mr. Dougherty.
ABOUT HERREN TALKS: Chris Herren was an All-American from Fall River, Massachusetts who broke scoring records and was recruited by the nations top colleges. He achieved his dream of playing in the NBA when he was drafted by the Denver Nuggets in 1999. Unfortunately, the disease of addiction stunted Herren's career and threw his life off-track. Alcohol and drug-free since August 1, 2008, Herren has become an inspirational public speaker, presenting to over one million students nationwide, with the goal of sparking honest discussions and making a positive difference in their lives. Chris Herren's "The First Day" empowers audiences and guides students to rethink how we look at the disease of addiction, from the last day to the first.
---
Principal Dr. Penikas Featured in Fordham Newsletter
Fordham University's Center for Educational Partnerships (CEP) has earned a reputation as one of New York City's most innovative and increasingly influential resources of its kind by promoting student achievement in Pre-K to Grade 12 schools, and by leveraging multi-tiered collaboration between an institution of higher education and school systems as the essential community link.
In their recent newsletter, Fordham's CEP spoke with Molloy's Principal Dr. Darius Penikas. The interview includes insight into how to motivate student and set expectations, how to reach students on a personal level, how to foster relationships with alumni, and advice for new school leaders, and more. Click the button below to read the full interview.
---
Molloy's Mission Trip to Lawrence, MA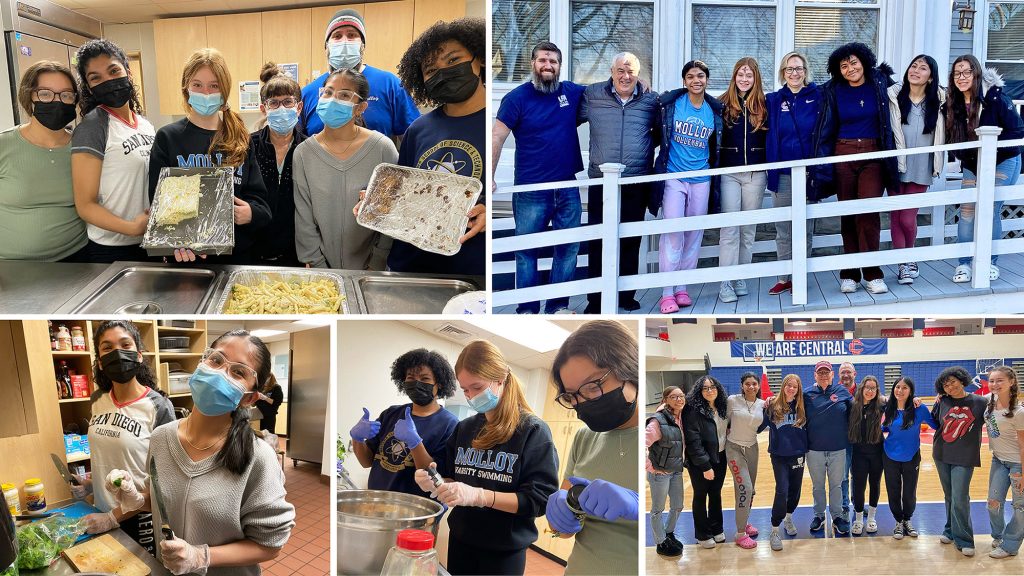 This past winter break, five students and two faculty members traveled to Lawrence, Massachusetts for a Marist mission trip. Stanners were hosted by Mr. Jim O'Neill at the Marist House of Hospitality, starting each day with a morning prayer, and ending each day with an evening reflection.
Molloy partnered with Lazarus Ministries in Lawrence, serving one day in their short-term shelter with women and children, another day at their soup kitchen serving breakfast and lunch, and in the afternoon hosting a party for moms and their children in transitional housing. On the last day, Stanners volunteered at a food pantry, handing out about 1,400 supplemental food bags and prepping that many bags for the following week's distribution.
Ms. Lori Wilson, Director of Campus Ministry and Marist Mission, shared, "We lived the Marist Mission of presence. We showed up, we saw, we helped in ways that we could, and we promised to come back to serve again." Imani Campbell '24 also shared, "This experience was humbling. I felt like I became a better person and I want to volunteer and open up more."
---
V-Day Fundraiser Supports Earthquake Victims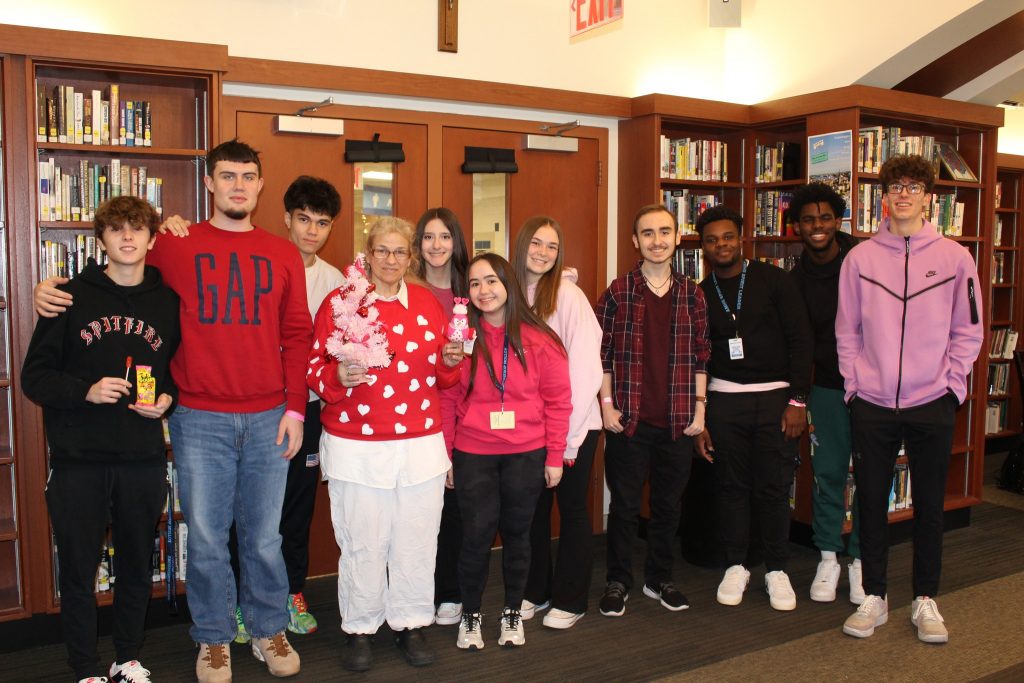 On February 14th, Stanners showed their Marist spirit by participating in a school-wide fundraiser! Students donated to support the Blue Marist Organization, which is providing relief to the earthquake victims in Syria.
Faculty, staff, and students dressed in St. Valentine's Day colors, enjoying a dress-down while also participating in a great cause. Thank you all who participated in this fundraiser.

Thank you to our entire community for your continued support and prayers for Mr. Jeff Gallagher '88. In February, Mr. Gallagher experienced a serious medical emergency. Mr. Gallagher's condition has been improving and he is in good spirits. Please continue to pray for a speedy and full recovery.

Stanners, Parents & Friends Enjoy Wine Tasting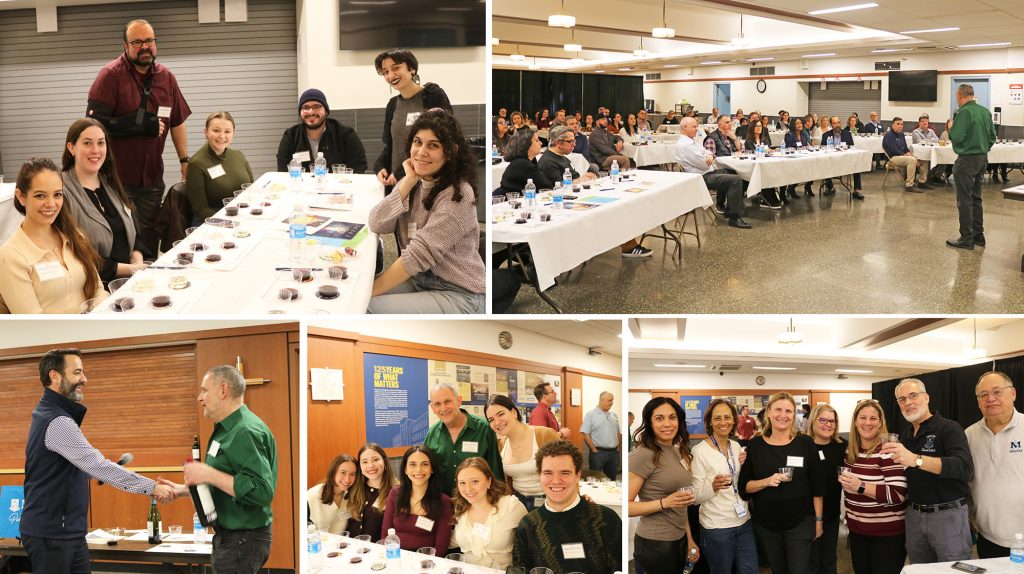 The Stanner Alumni Center extends a big thank you to the sellout crowd at yesterday's Wine Tasting with Jim Sheehan '75! We were delighted to host over 70 alumni, parents, and friends as Jim led us on a tour of Spanish wines. Participants learned how to appreciate the various qualities of each wine, as well as some general facts about the wines presented. Participants who were paying extra close attention during the event walked away with some great prizes after correctly answering some tough trivia questions. Thank you to Mr. Sheehan, our Parents Guild volunteers, and all who attended.
---
Stevenson Chittumuri '19 Serves as Guest Speaker
Thank you to Stevenson Chittumuri '19 for visiting Molloy and serving as a guest speaker on February 14th. Stevenson shared a presentation with Ms. Boral's computer science students and discussed his college path and professional background as well as some of the creative projects he has worked on.
Stevenson is currently pursuing a Master's Degree in Computer Science at NYIT after completing his Bachelor's Degree in Computer Science with a minor in Business. Earlier this month he began working in an IT role at Speakerbus, a global communications tech company specializing in trader voice systems and collaboration solutions for financial institutions. He spoke of his interest in creating videos and vlogging, and coding, and emphasized the importance of networking. During his presentation, Stevenson demonstrated his AutoPTZ camera (pictured below), which he programmed. AutoPTZ is an automated PTZ camera movement system that utilizes AI Facial Recognition and Motion Tracking algorithms.
Stevenson attributes much of his success in Computer Science to the guidance of Ms. Boral's world-class teaching methods. "Her dedication to her students' success helped me understand the fundamentals, and I was able to pass on that knowledge to my classmates and friends."
Stevenson urged Stanners to develop their skills and become valuable assets who will attract a wide range of employers. He also recommended taking AP and college credit courses while at Molloy to give them a greater advantage in college.
---
Good luck to Br. Dan O'Riordan' 85, US Provincial, as he travels to Rome for a meeting with all Marist Brother Provincials at the General House! Also, special thanks to Br. Dan for visiting Molloy this past week to support Campus Ministry's faculty and staff programming. Br. Dan led a discussion about practical spirituality. "It was a wonderful afternoon of keeping us all grounded to purpose and meaning," said Ms. Lori Wilson.
---
Congratulations to Pat Forde '93, who will serve as Deputy Grand Marshall for the Rockaway St. Patrick's Day Parade on Saturday, March 4th. Click the button below for a full bio about Pat. Good luck, Pat!
---
Thank you and congratulations to Anthony Carnacchio '06, Captain of the NYPD Baseball Team, and his squad for their recent donation to the Montefiore Einstein Children's Hospital. The donation came from proceeds of the NYPD's NY Finest Baseball Team charity games vs. the FDNY, with support from the NY Mets and the NY Boulders.
---
In February, Brian Baigorri '99 and a group of his classmates enjoyed their annual ski-trip to Vail, Colorado. Pictured left to right: William Woods '99, Brian, Daren Wigger '99, Matthew Lopez-Viola '99 and Kevin Duffy. Not pictured: James Rogers '99 and Matthew Daly '99.
---
It was great to see Brandon Lou '22 back at Molloy in February. Brandon came out to watch our Varsity "B" Basketball team's playoff game against Stepinac. He recently finished his first semester at Villanova, where he is studying Chemical Engineering. Brandon is pictured with Coach Vinny Leonardo and Coach Chris Murphy '87.

Last week, Archbishop Molloy High School was deeply saddened to announce the sudden passing of Mr. Charles J. "CJ" Mallia on February 16, 2023. Mr. Mallia was a member of Molloy's Administration, serving as Vice President of Technology and Innovation. Overall, he served Molloy for over 25 years, and his knowledge and expertise helped make Molloy the school it is today. Mr. Mallia is survived by his beloved wife Trisha, daughters Abigail '23, Sarah '26, Emma, and Charlotte, mother Mary, siblings Jason, Jessica, and Elizabeth, many cherished extended family, colleagues, and friends. We continue to pray for the repose of the soul of Mr. Mallia, and we pray for his loved ones during this difficult time. Please click the button below for our full remembrance.
---
Please pray for the repose of the soul of Julie Ann Balbi, wife of Kenneth Balbi '81. Julie passed away peacefully on February 27, 2023. | Click Here for Memorial Page
---
We were recently informed of the passing of Harold G. Studley '60 on November 9, 2021. Please keep Harold and his loved ones in your prayers.
---
---