ABOUT STANNER HALL OF FAME INDUCTION: Molloy will induct two FDNY heroes on Saturday, March 25, 2023. Firefighter Thomas G. Oelkers '92, a 19-year veteran of the FDNY, Ladder Company 44, was a first responder at the World Trade Center following the terrorist attack on September 11, 2001. Sadly, his extended time at the site resulted in 9/11 related illness, and he passed away due to complications in 2021. Firefighter Michael R. Davidson '99 was a 15-year veteran of the FDNY serving Engine Company 69. Michael made the ultimate sacrifice while battling a five-alarm fire in Harlem in 2018. His bravery ultimately led to new legislation requiring additional fire safety personnel on film sets in New York City. We invite our community to join us as we honor these inspiring Stanner heroes.
---
ABOUT RADIO BINGO: Molloy's GERLL Club is sponsoring Radio Bingo on March 31st! It's Name that Tune meets Bingo! There will be plenty of music and lots of prizes! All proceeds raised from this event will support the Girls' Leadership Scholarship Fund, which will benefit exceptional young women entering Molloy in the future. Register at: www.molloyhs.org/radiobingo/

OUR CASH CALENDAR IS NOW LIVE! Visit www.molloyhs.org/cashcalendar/ to purchase dates and have a chance at winning up to $500 cash!
---
ABOUT LACROSSE 10 YEAR ANNIVERSARY: We are excited to welcome our Lacrosse alumni back for a special celebration as we recognize 10 years of this incredible program! Alumni are invited to join Coach Scalice and her current Lacrosse players for this historic event, which will include some field exercises with an alumni panel and a light reception to follow. Please join us!
---
Join us for our second annual Stanner Players / Theater Arts + Improv Reception! Admission includes the reception and a ticket to our spring musical: Footloose! Alumni will enjoy VIP seating in the Ralph DeChiaro Theater. All proceeds will support the Stanner Players and help cover production costs. Click the flyer below for more info and to register.
---

Junior Leadership Liturgy & Class Rings!
On Thursday, March 9th, the Class of 2024 celebrated their Junior Leadership Liturgy, a Molloy tradition that prepares our juniors as they step up to become Stanner leaders. Family and friends gathered together in the Jack Curran Gym as celebrant Father Liju Augustine spoke about the juniors overcoming struggles and hardships on the way to living fulfilling lives. During Mass, the juniors received leadership pins, which symbolically mark the beginning of their role as mentors to the other students at Molloy.
Toward the end of Mass, Senior Hailey Ramzan '23 delivered insightful remarks, reminding the juniors that emerging from the challenges of the pandemic, including a freshman year that featured cohorts, has only made them stronger. She encouraged them to embrace their role as leaders, to never hesitate to help a fellow student in need, and to forge a memorable and impactful senior year. Following Mass, juniors received their class rings before joining their family and friends in the cafeteria for refreshments. Congratulations, Class of 2024!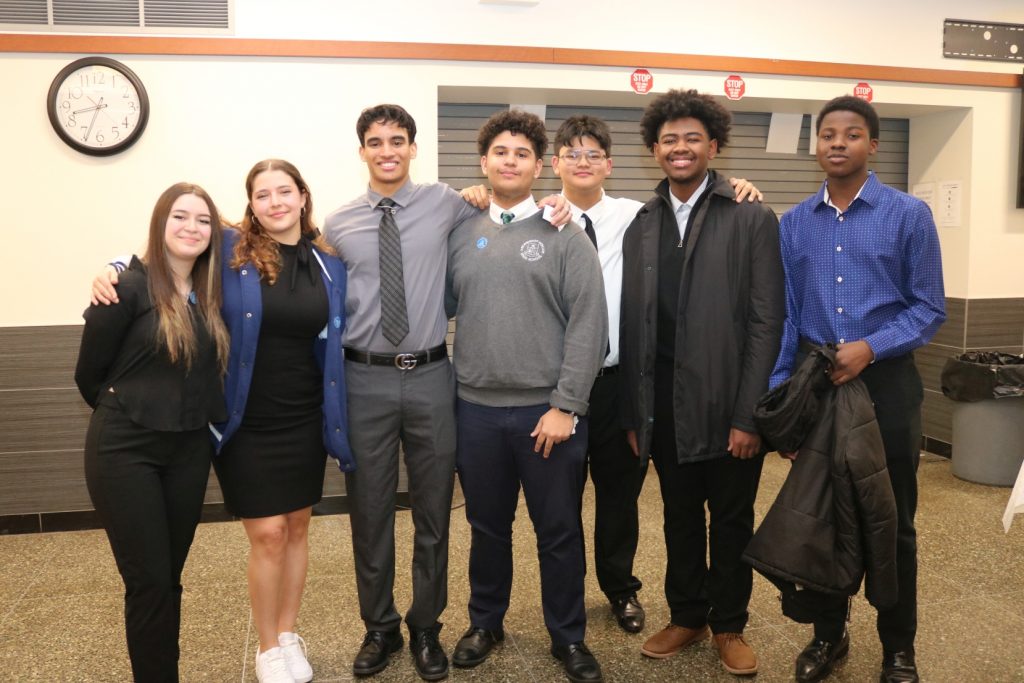 ---
Stanners Support Molloy Blood Drive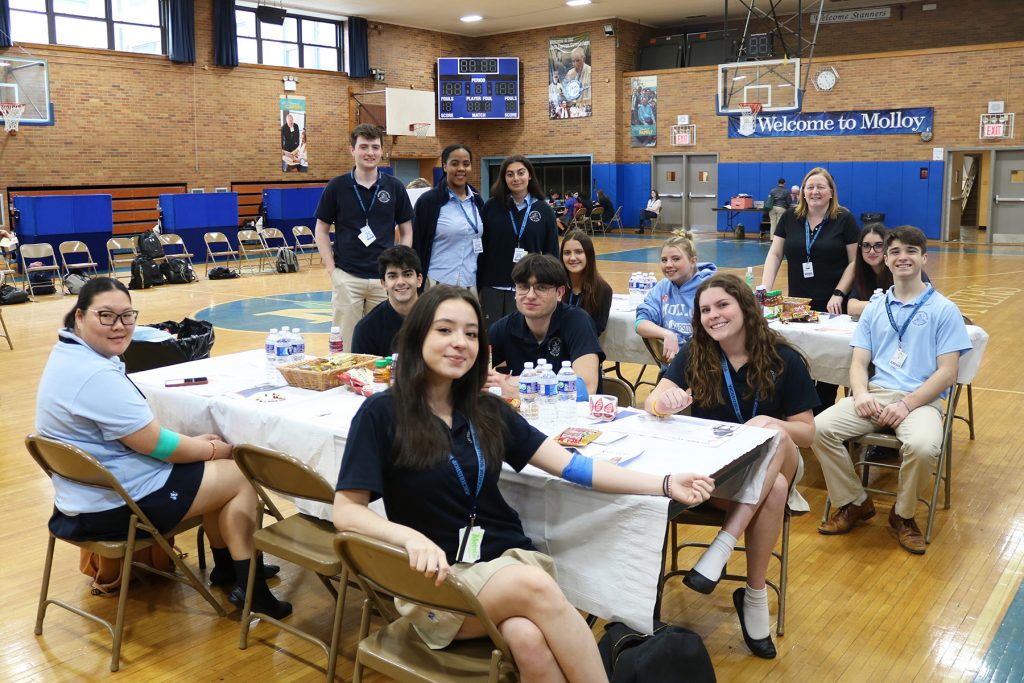 Molloy thanks our community for supporting this year's Blood Drive on March 7th! 102 registered donors contributed 76 whole blood donations, equating to more than 228 lives affected. Molloy was pleased to welcome New York Blood Center (NYBC), who helped facilitate our first Blood Drive since March 2020. In light of NYBC's recent declaration of a Blood Emergency, our community's life-saving donations are more critical than ever. Thank you to all who made an effort to donate, and thank you to Nurse Gallagher for all her hard work!
---
Stanner Women Enjoy "Beautiful Me" Workshops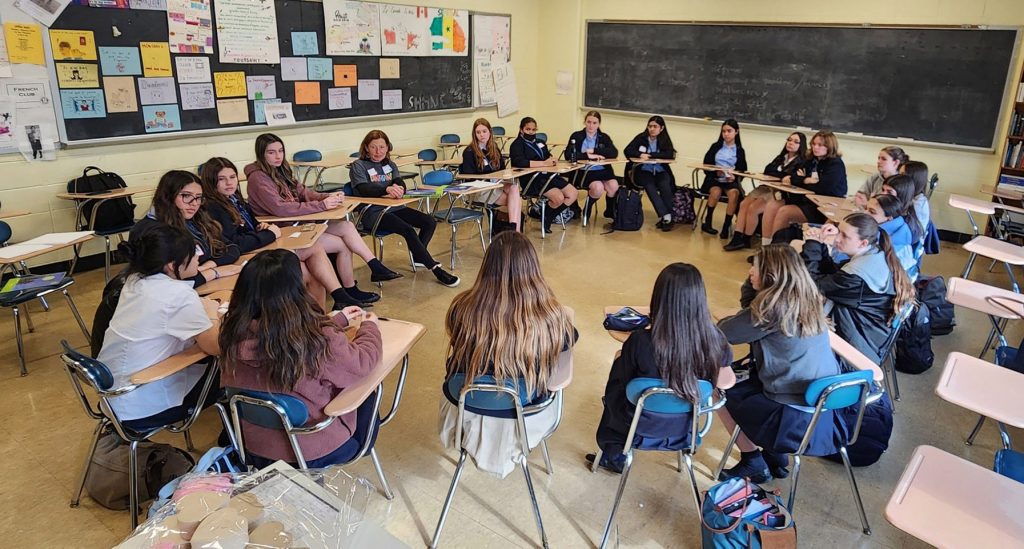 Happy Women's History Month! We at Molloy are thankful for all our female staff and faculty, who act as strong and intelligent role models for our students. As a part of Women's History Month, the GERLL Club has invited The Hance Family Foundation's Beautiful Me Project to offer workshops to our students. These workshops focus on engaging the young women at Molloy through activities and discussions that encourage and empower them!
On March 1st, the first workshop focused on confidence, as participants looked within themselves to recognize their own beautiful strengths. The second installment of the Beautiful Me workshop took place on March 8th, and the third will take place on March 29th. Each subsequent session focuses on a different theme with varying activities.
Thank you to Ms. Henning and Ms. Kobinski, moderators of the GERLL Club, for empowering our female students each and every day!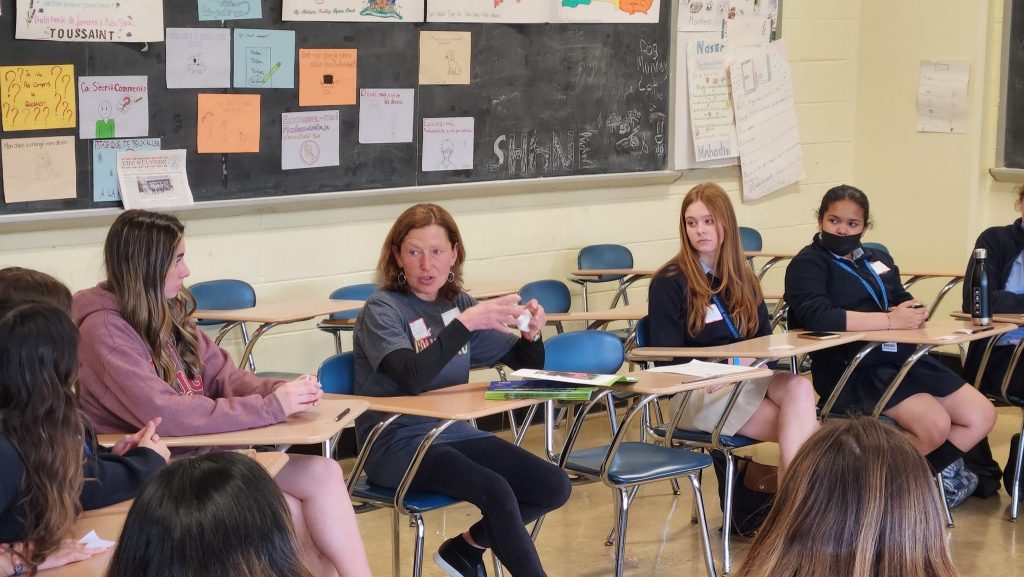 ---
Physics Lab Gets An Upgrade
Earlier this school year, Molloy's Physics Lab received an upgrade that has already helped facilitate new and exciting experiments. Molloy purchased new low-friction tracks that are conveniently stored on new wall racks in the lab. The tracks are accompanied by new pairs of carts (boxes with wheels), which fit on and move along the tracks.
"One of the awesome features of the carts is they are compatible with technology that allows us to record where they are located as they move along the tracks, giving us position information," explained Mr. Michael Nadeau, chairperson of Molloy's Science Department. This technology, implemented using a small tablet, reads location, velocity, acceleration, and other variables.
The new tracks and carts represent a whole new set of labs and phenomena for Stanners to explore. "The sky is the limit in terms of what we can investigate with the tracks," added Mr. Nadeau. "We have incorporated labs this year where students study the acceleration of the carts and the conservation of momentum during cart collisions. In the future, we will design labs that explore energy conservation, how frictional force affects the movement of objects, and so much more. These types of experiments expand the kind of data we can record and the real-world analysis we can do."
Here's a real-world example: consider how the acceleration of an object is indirectly related to its mass. As an object becomes bigger, it accelerates at a slower rate. A large truck cannot accelerate as fast as a smaller sports car, and so contact between two such moving vehicles would be greatly impacted by their mass and velocity. Insurance companies and law enforcement would consider such variables when assessing crash investigations.
Mr. Nadeau and the Science Department will continue to add cutting-edge equipment when possible. "Our physics labs were already exciting before, but the addition of the tracks has made a huge difference. We are very appreciative of the support from Molloy's administration, who helped make this possible."
---
Quantum Computing and AI Meetup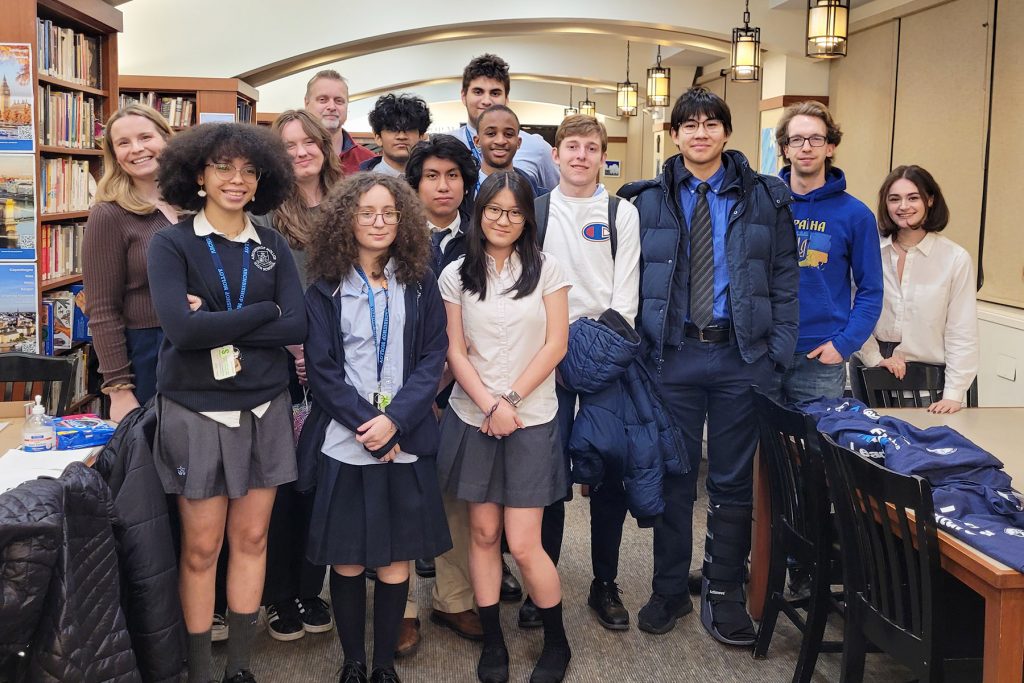 On March 3rd, Molloy hosted a Quantum Computing and Artificial Intelligence meet-up for New York City students, organized by The Coding School. The event was filled with engaging activities and delicious food, promoting a sense of camaraderie among the attendees.
One of the highlights of the event was the enlightening talk delivered by a renowned quantum physicist, Julián Martínez-Rincón Ph.D. Dr. Martínez-Rincón discussed his research done at Brookhaven Laboratories and the applications of quantum effects in physics for quantum computing, communications, and fundamental science. Molloy's quantum computing and AI students were particularly thrilled about the opportunity to visit Brookhaven Laboratories in fall 2023. This visit could provide them with a deeper understanding of the exciting possibilities offered by quantum computing and AI, and allow them to learn from experts in the field.
---
Stanner Sports Update
Earlier this month, Eva Gonzalez '24 qualified for the NYSPHSAA – New York State Championships. At this meet, Eva ran the 600 meter dash and set a new all-time Molloy record with a time of 1:36.76!
Congratulations to Eva Gonzalez '24, Aoife Garvey '25, Erika Strumpf '23 and Camille Munoz '25, who placed 3rd in the Emerging Elite 4×800 Meter Relay at the Nike Nationals on March 11th, setting a new Molloy record of 9:46.49! Eva's 800M split of 2:18.17 is also a new Molloy record!
---
Senior Will Enjoy Summer Program in Ireland
Molloy congratulates senior Grace Lanning '23 (pictured center), who was recently awarded The Mulcahy Scholarship, presented by the Aisling Irish Community Center in Yonkers, NY. As a recipient, Grace will join her fellow scholarship winners on a trip to Galway, Ireland this summer, where she will take part in a summer program offered by the Celtic Irish American Academy.

Tom Konchalski '64 to Posthumously Receive John Bunn Lifetime Achievement Award
In February, the Naismith Basketball Hall of Fame announced several award winners for 2023. Among them is the late Tom Konchalski '64, the renowned high school basketball scout who made a tremendous impact on the sport for over 40 years. Mr. Konchalski will posthumously receive the John Bunn Lifetime Achievement Award, the most prestigious honor bestowed by the Naismith Basketball Hall of Fame other than induction.
Mr. Konchalski scouted countless student-athletes during his career, many of whom went on to enjoy outstanding college and professional careers. His player evaluations, presented in his print-only newsletter called High School Basketball Illustrated (HSBI), were filled with his unique insights and highly coveted by coaches near and far. Beyond his work, he was a kind, empathetic, and genuine person who greeted everyone with a firm handshake and his undivided attention. He made a difference in the lives of so many people, and he continues to be deeply missed by our community. Click the button below for more info from NBA.com. | List of Past Recipients
---
Alumni Zumba Night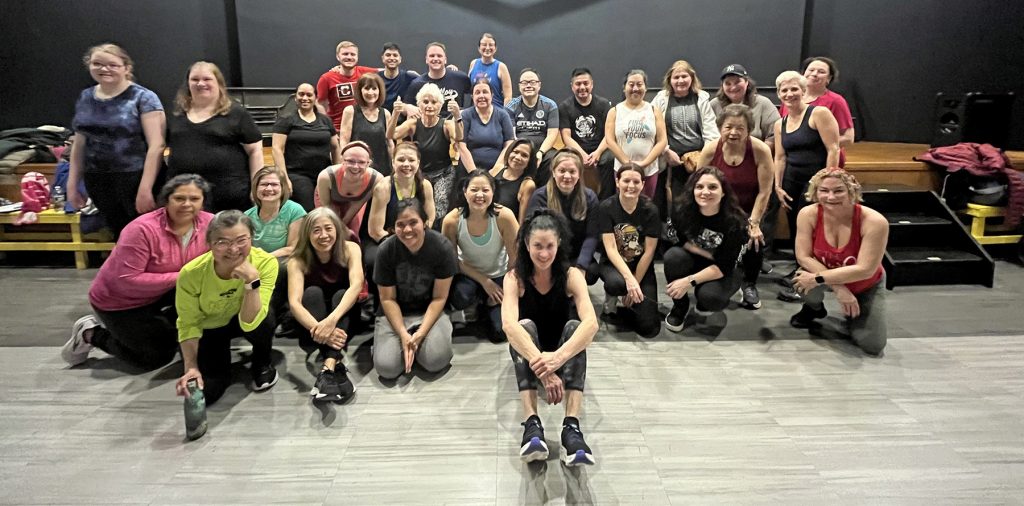 A great time was had by all at Molloy's second Alumni Zumba Night on Monday, March 6th! Alumni, current and past parents, and friends of Molloy joined us for a high-energy workout.
A big thank you to Ms. Liz Murdocca and Mr. Chris Autera '16 for leading dances, and Cheryl, our guest teacher. Don't worry if you couldn't make it, Zumba night will be back soon!
---
Congratulations to Rosalyn Gold-Onwude '05 (pictured above, bottom row right), who was part of ESPN's all-women led NBA game/studio broadcasts on International Women's Day, March 8th. Ros served as sideline reporter during ESPN's coverage of the Los Angeles Clippers vs. the Toronto Raptors. (Image courtesy of Rosalyn Gold-Onwude and ESPN)
---
Multi-time NBA All-Star Kenny Anderson '89 was recently featured in an article written by Joe Rexrode in the popular sports publication The Athletic. The article highlights Kenny and the success and personal fulfillment he has found while coaching at Fisk University. Fisk, located in Nashville, is identified by the US Department of Education as among the 107 Historically Black Colleges and Universities in the United States. Click the button below to read the article. *Note: a subscription is required to read The Athletic.
---
Congratulations to First Assistant U.S. Attorney Morris "Sonny" Pasqual '74, who will assume the position of United States Attorney on an acting basis effective March 11, 2023 in the Northern District of Illinois!
---
Congratulations to Bayram Hot '22, who was recently named Metro Atlantic Athletic Conference (MAAC) Rookie of the Week! Through this point in the season, the freshman third baseman has a .395 AVG with a .651 SLG% for the Marist College Red Foxes. Click here for more information | Stats Page (Image courtesy of Marist College)

Please pray for the repose of the soul of Henry J. Selah '63, who passed away last week. | Click Here for Memorial Page
---
Please pray for the repose of the soul of Margaret L. Pappas, mother of Thomas Pappas '77. Margaret passed away on March 8, 2023. | Click Here for Memorial Page
---
We are saddened to share the passing of James J. Carrino '58, brother of Gerald (Jerry) Carrino '64. James passed away on March 3, 2023 after a brief illness. James played for Coach Lou Carnesecca '43 during his Molloy basketball career. After graduating, James would keep in touch with Coach Carnesecca, speaking with him by phone every month for the next 60+ years. Please keep James and his loved ones in your prayers. | Click Here for Full Obituary
---
Please pray for the repose of the soul of Bruno J. Cappellini '52, who passed away on February 24, 2023. | Click Here for Memorial Page
---
Please pray for the repose of the soul of Richard J. Dietrich, father of Michael Dietrich '01, who passed away on February 5th after a long illness.
---
We were recently informed of the passing of Dr. Donald C. Brennan, MD, '62, who passed away in December 2021. Please keep Dr. Brennan and his loved ones in your prayers.
---
---