Molloy is offering Summer Enrichment Camps during the summer of 2023! Our camps provide a unique and exciting opportunity for rising 6th, 7th, and 8th graders to enjoy fun activities while learning about topics and areas in which they are interested.

We are offering two sessions this June/July. Programs to choose from include Entrepreneurship, Acting 101, Computer Science, Video Creation and Production, Principles of Rocketry, and more! The majors and minors within each of our two sessions will be taught by members of Molloy's outstanding and knowledgeable faculty and staff. Click the flyer above to learn more.
---
Limited availability remaining! Click below to RSVP soon.
---
---
The Stanner Players Present: Footloose!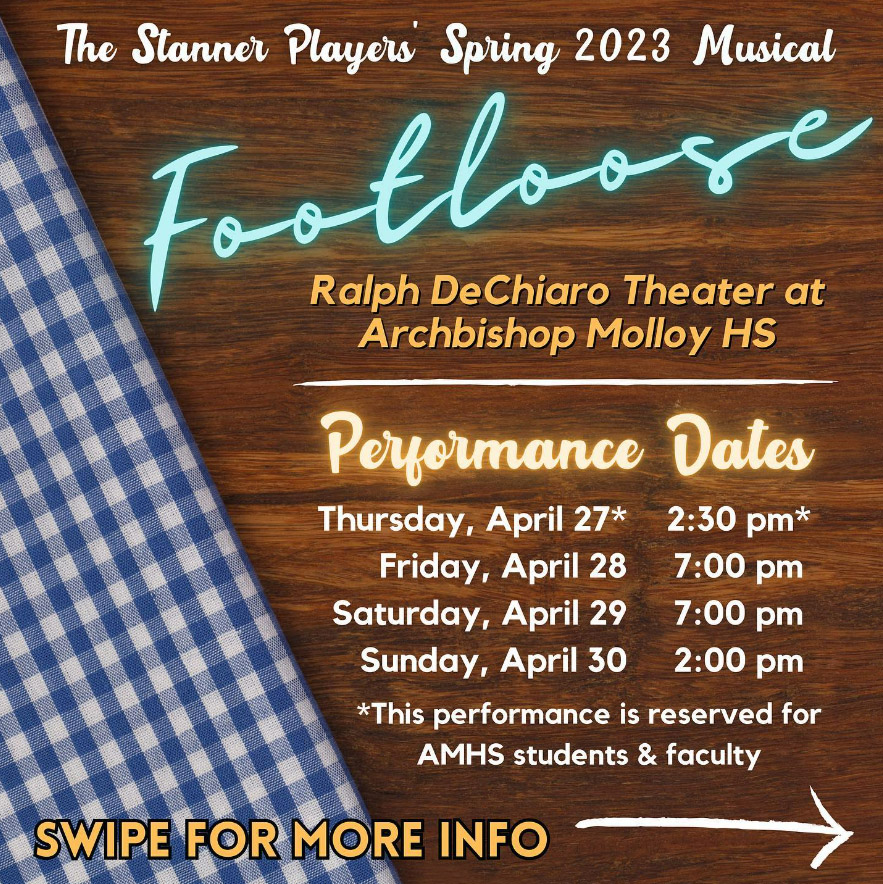 The Stanner Players' Spring Musical Footloose is just a few weeks away! Tickets are now available for purchase – either use the QR code in the gallery above or click the button below. We can't wait to kick off our Sunday shoes with you! (*Note: This offer is for public general admission tickets. To get VIP tickets for Saturday's Alumni Reception, you must purchase those tickets via the Molloy website).
---


Molloy Inducts FDNY Heroes Into Stanner Hall of Fame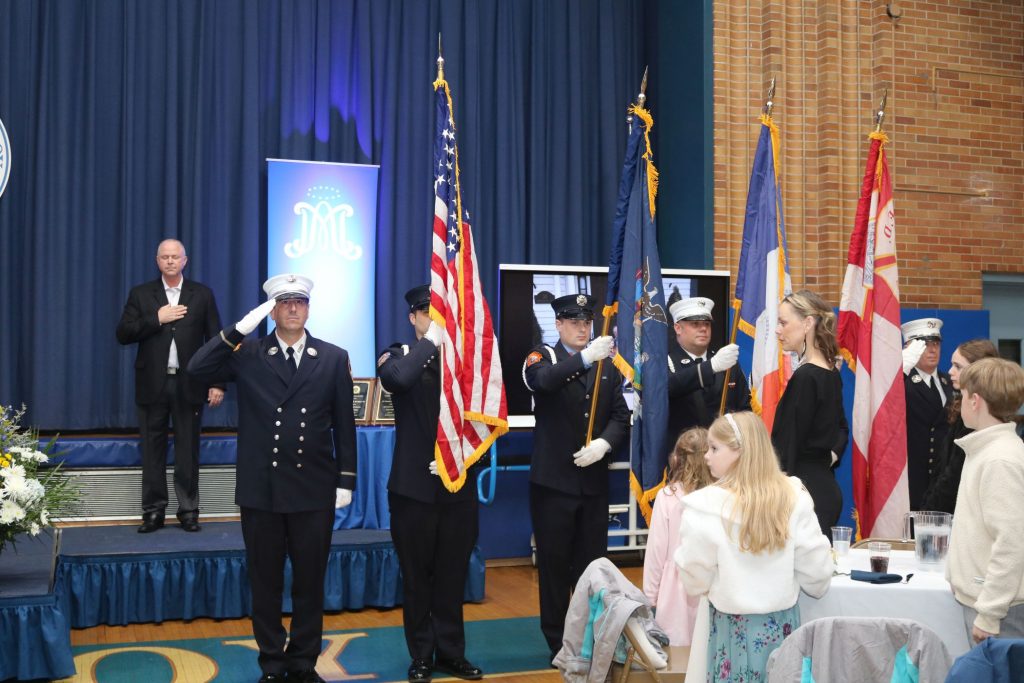 On Saturday, March 25th, Molloy inducted two FDNY heroes posthumously into the Stanner Hall of Fame. Family, friends, classmates, and FDNY colleagues came out to show support for the Davidson and Oelkers families as the late Firefighter Lt. Michael R. Davidson '99 and the late Firefighter Thomas G. Oelkers '92 were inducted into the Stanner Hall of Fame. Michael and Thomas join many other fallen heroes, and their portraits now reside side-by-side.
Michael's wife, Mrs. Eileen Davidson, accepted his plaque and shared a moving speech. She spoke of how her family is still coping with Michael's loss five years later, taking things one day at a time. She spoke of signs, and how a family photo with a timestamp of 3:33 and taken on 3/3, just days before Michael's passing, became a great comfort to her. Repeated threes, Eileen explained, are symbolic of angels. She shared a hope that everyone, through their grief journey, would find their threes – their signs of comfort when needed most. "We know in these moments our forever heroes are with us, eternalized in our hearts, minds, bodies, and souls. Eternalized in life and in death. It is an honor to have Michael's picture eternalized on these walls as a representation of what he has meant to so many."
Following Michael's induction, Thomas's wife, Mrs. Erika Oelkers, accepted his plaque and also shared emotional words. She said that although they both had fond memories at St. John's, "Tom's heart was always at Molloy. He said there was something special about this place, that you would only know if you went here." Erika reflected on Michael Davidson and Tom being cut from the same cloth. "They were two kids from Queens, both second generation firefighters, who had a love of service and family that bonds us all here today and forever. When I look at that wall and see their pictures together, my heart is full." She shared that she and the Oelkers family will always remember Tommy for how he lived – a loving and dedicated husband and father, and a proud firefighter with a great spirit of generosity. Erika is proud that that spirit will continue through a scholarship at Molloy: the Firefighter Tommy Oelkers Scholarship.
MORE ABOUT LT. DAVIDSON: Michael grew up in Woodside, Queens, where he attended St. Sebastian Academy. A graduate of Iona College, Michael began his tenure with the FDNY at the age of 22. As second-generation firefighter, he proudly served Engine Company 69 for fifteen years – until his final call on March 23, 2018. On that day, Michael responded to a five-alarm building fire on a film set in Harlem. Michael bravely and courageously entered the building, but tragically he did not survive. He was just 37 years old.

In 2021, Michael's tragic passing, and the persistence of his family and friends, inspired a law change that would ensure greater fire safety on film sets in New York City. The law requires a fire safety director to be on a film set at all times.

Michael is survived by his parents, Paula and Robert Davidson; his brother, Eric; his wife, Eileen; and their four beautiful children: Brooke, Joseph, Emily, and Amy. Michael was a friend to all he met; he was kind, compassionate, strong, and brave. He never wavered in truth or principle, and his love for his family and friends was palpable. Forever in our hearts, his family and friends honor his light every day.
MORE ABOUT FIREFIGHTER OELKERS: Growing up, Thomas attended St. Stanislaus Kostka School where he was an altar server, a Boy Scout, and loved playing baseball. After graduating from Molloy in 1992, Tom attended St. John's University, where he was a member of Pi Lambda Phi and held positions on their chapter executive board as KOE and Pledge Master. It was at St. John's that Tom met the love of his life, Erika Ryan. They were engaged in 1998 and married on October 8, 2000.

After graduating from SJU with a BS in Criminal Justice, Tom joined the NYPD. Tom started his career in Crown Heights, but spent most of his career in the Midtown North Precinct. Notably, Tom was part of the rescue and recovery efforts at the World Trade Center on September 11, 2001. He spent several weeks on the pile doing his best to help others. Shortly after this, Tom joined the FDNY in October 2001.

Initially assigned to Ladder 152 in Queens, Tom transferred to Engine 92-Ladder 44 in the South Bronx, NY where he spent his career. He was a beloved member of his firehouse, cooking up delicious meals while running firehouse events like German Night and the Annual Dinner Dance. He won a championship as an offensive lineman for the FDNY Bravest Football Team.

While Tom loved the FDNY, his pride and joy was always his three daughters; Camryn, Juliet, and Scarlett. He loved getting them on and off the bus for school, attending career day, and every soccer game and bike ride. Sadly, Tom was diagnosed with 9/11-related cancer in August 2020. After fighting courageously for 9 months, Tom lost his battle at the age of 46. Tom's bravery and sacrifice as a 9/11 first responder is inspiring, and his legacy lives on in the hearts and minds of all who knew him.
We extend our deep thanks and appreciation to the Davidson and Oelkers families, and thank you to the FDNY.
---
Radio Bingo is a Huge Success! $10,000 Raised!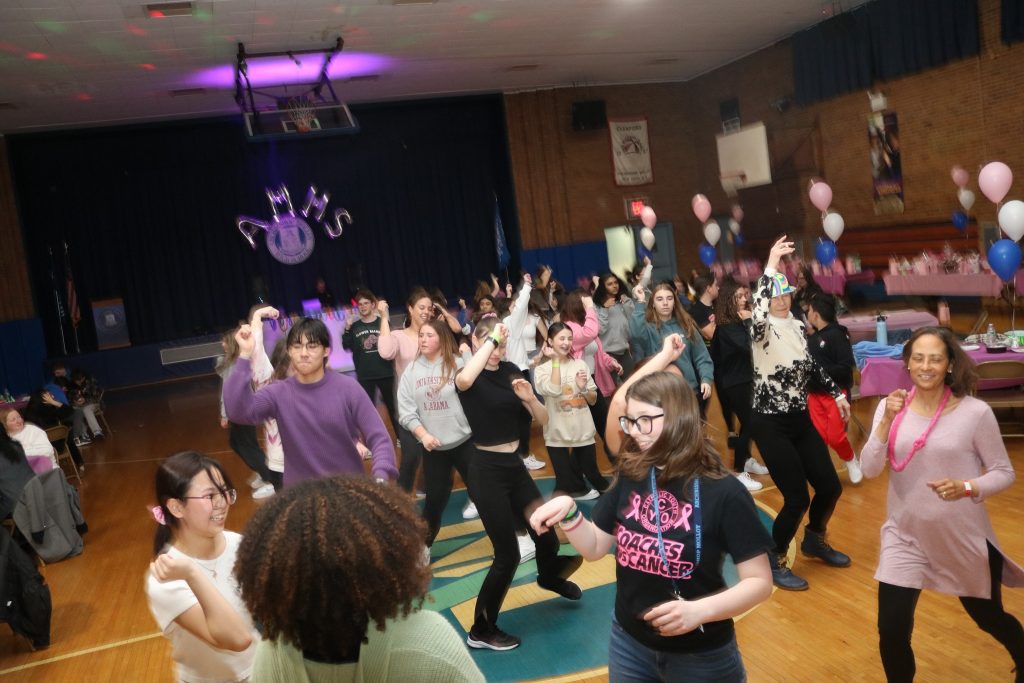 On Friday, March 31st, Molloy's GERLL Club hosted Radio Bingo, which acted as the culmination of a month-long celebration of Women's History Month! The night sold out, with everyone coming out to support the Girls' Leadership Scholarship Fund. Ms. Kerry Henning, Co-Moderator of GERLL Club, shares, "Radio Bingo was a huge success!"
Throughout the night, DJ's At Work played fun, popular songs in place of calling bingo numbers. Winners of bingo took home various prizes, such as Molloy apparel and bags, gift baskets, and more! There were multiple opportunities for dance breaks, as well as time to eat and chat with family and friends.
The Girls' Leadership Scholarship Fund was created by female faculty to help support and educate female students who might not be able to afford the cost of tuition. Ms. Henning shares, "We are proud to say that we raised approximately $10,000 through this year's Radio Bingo, which goes directly into the fund!" Thank you Ms. Henning, Ms. Sabina Kobinski, and GERLL Club for organizing such a wonderful event!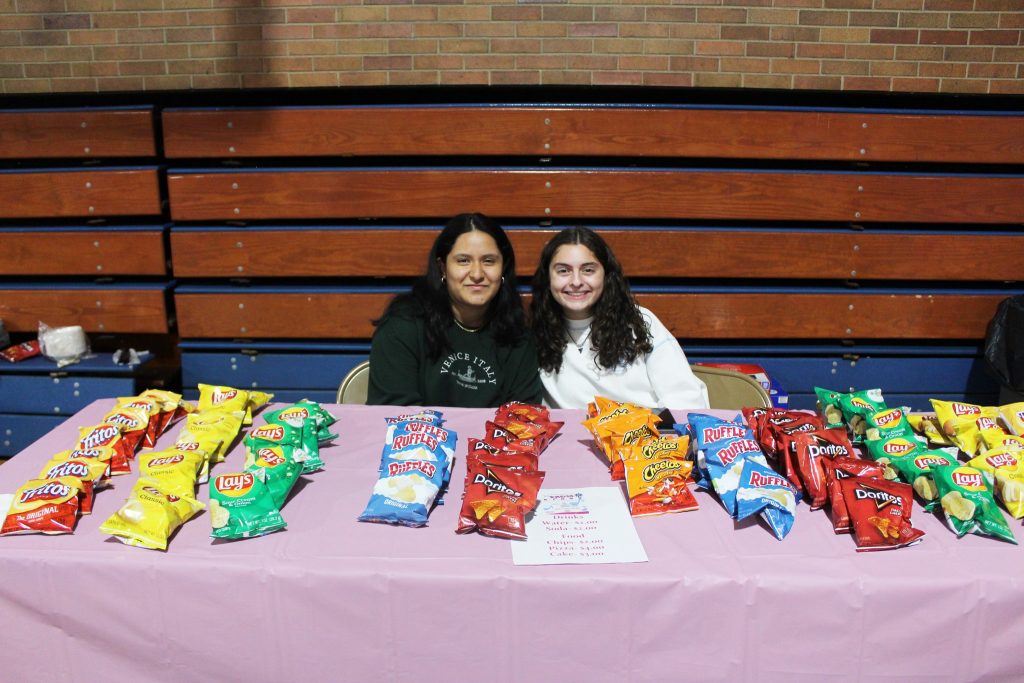 ---
"Spirit Week" a Grand Celebration of School Spirit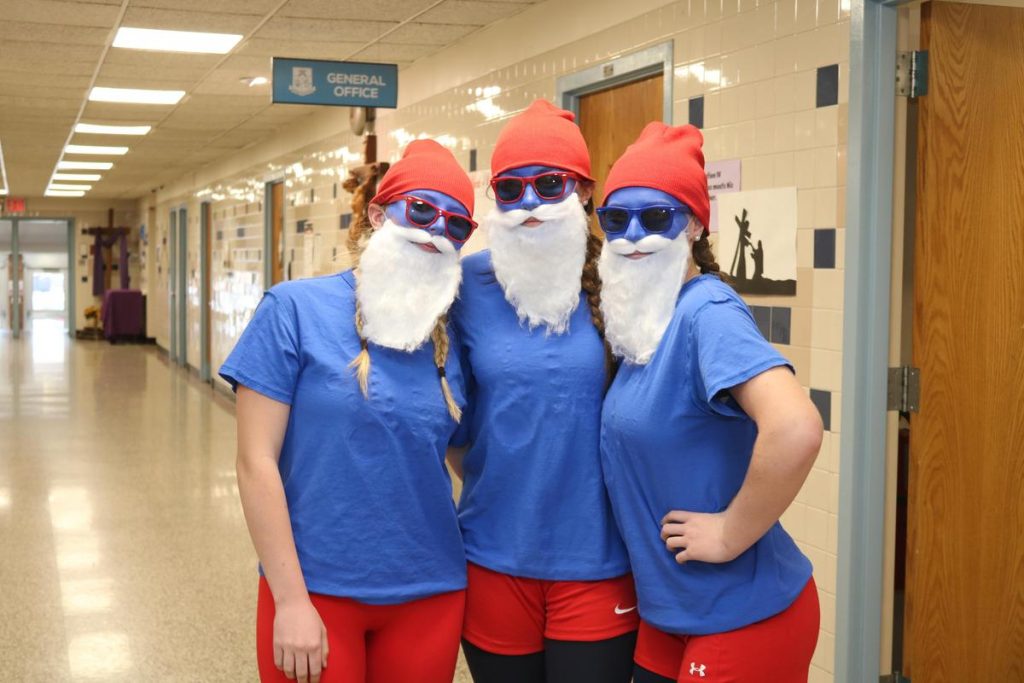 During the week of March 20th, Molloy celebrated our annual Spirit Week! From dress down days, to after school activities and contests, to memorable events, there were many ways for students and faculty alike to show their school spirit. Many of the activities throughout Spirit Week continued Molloy's ongoing support of the building of a Marist school in Liberia. Thank you to all students, faculty, staff, and families who supported our fundraiser!
DRESS DOWNS & CONTESTS: Each day was a different dress down theme, including Teen Tropes Day, Anything Goes Day, Colors Day, Cultural Day, and Pajama Day! Contests such as the Candy Count, Tik Tok Challenge, and Faculty/Music Match Game provided more opportunities for students to earn participation points for their grade. The grade with the most participation (spirit) points at the end of Spirit Week would earn their own dress down day later in the school year.
EVENTS: The after school events during Spirit Week were epic! On Monday, many clubs hosted their own activities throughout the building, offering students the opportunity to do everything from a Wii Dance Competition, to cleaning up the neighborhood with I AM Green, to enjoying ramen together. On Tuesday, Molloy hosted the Lip Sync Battle, which saw different teams take to the stage in the Jack Curran Gym to impress an audience of their peers with the best lip sync routines set to popular songs. Wednesday featured the Spirit Games, which includes physical challenges similar to Freshman Field Day. An exciting addition is the Tug of War, which saw each grade face off for ultimate victory. This year, the juniors upset the seniors to take the Tug of War and the most spirit points!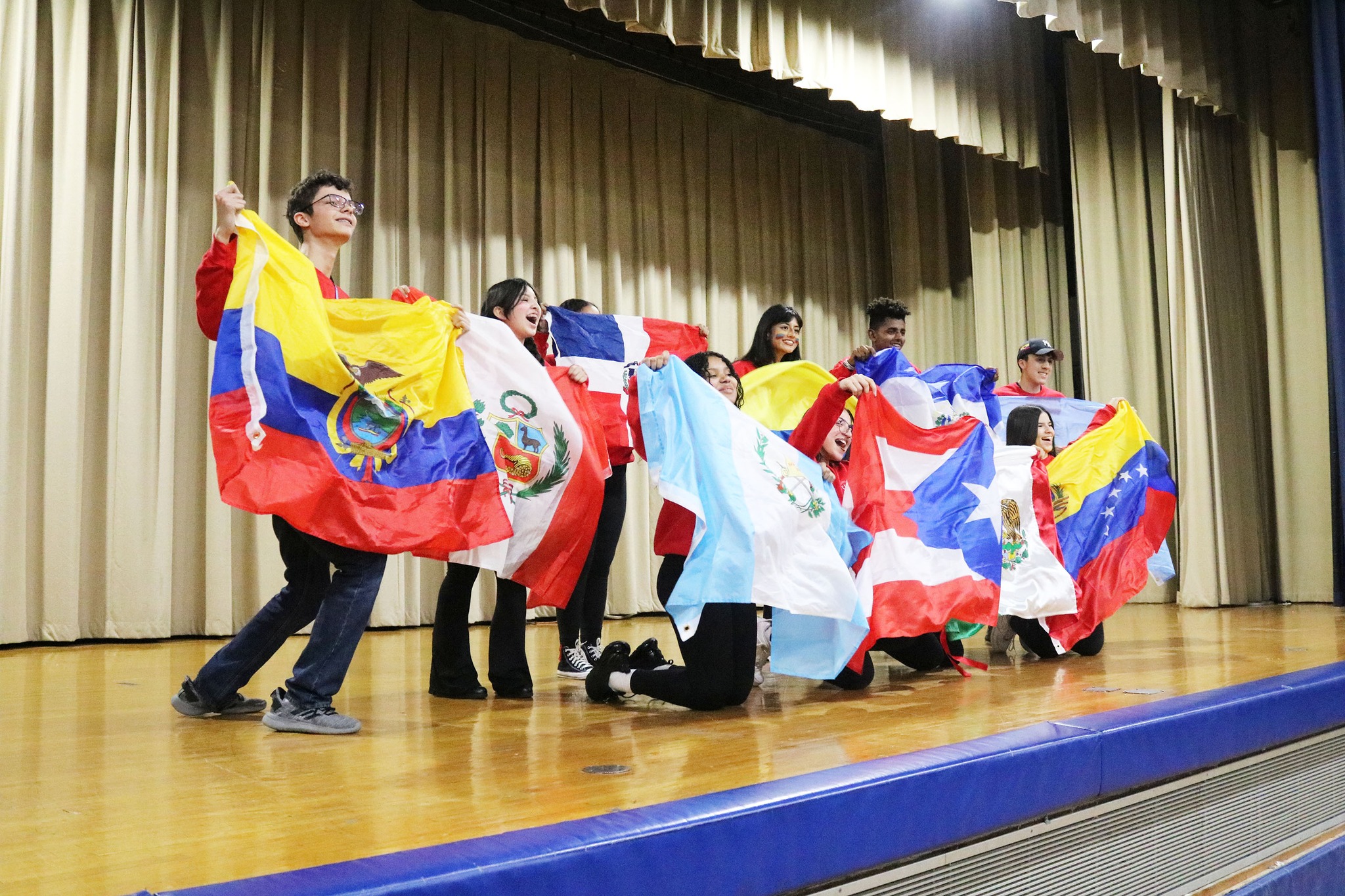 FESTIVAL OF CULTURES: The much-loved Festival of Cultures (formerly International Day) took place on Thursday 3/23 after school, and it was "one of the best we have ever had," according to Ms. Murdocca! Performances ranged from traditional Greek and Austrian dances, to a rendition of the Italian National Anthem, and more. All of Molloy's Culture Clubs hosted a table, sharing authentic snacks, meals, and giveaways to highlight the beauty of their heritage!
SENIORS VS. FACULTY BASKETBALL GAME: The final event of the week was the highly anticipated Seniors vs. Faculty Basketball Game, in which the Seniors dominated with a final score of 82-52! From the jump, the seniors set the tone with a scoring barrage within the first seconds of the game, and they never let go of their lead once. The crowd cheered from the moment the game began to the moment it ended, with the volume increasing as the Sassy Seniors took center court! Both Molloy's Step and Dance teams celebrated their Senior Day, marking the last performance for some of the members. In all, it was a great end for a memorable Spirit Week! Congratulations to the Seniors for earning the most spirit points throughout the week and earning a dress down day for their grade.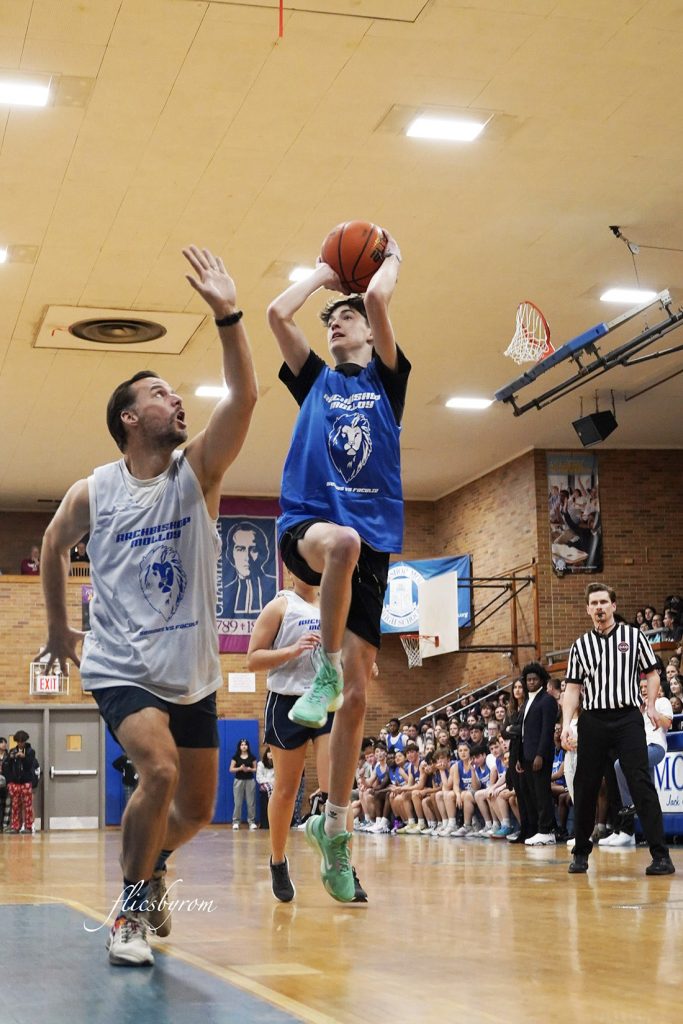 ---
Molloy Welcomes Class of 2027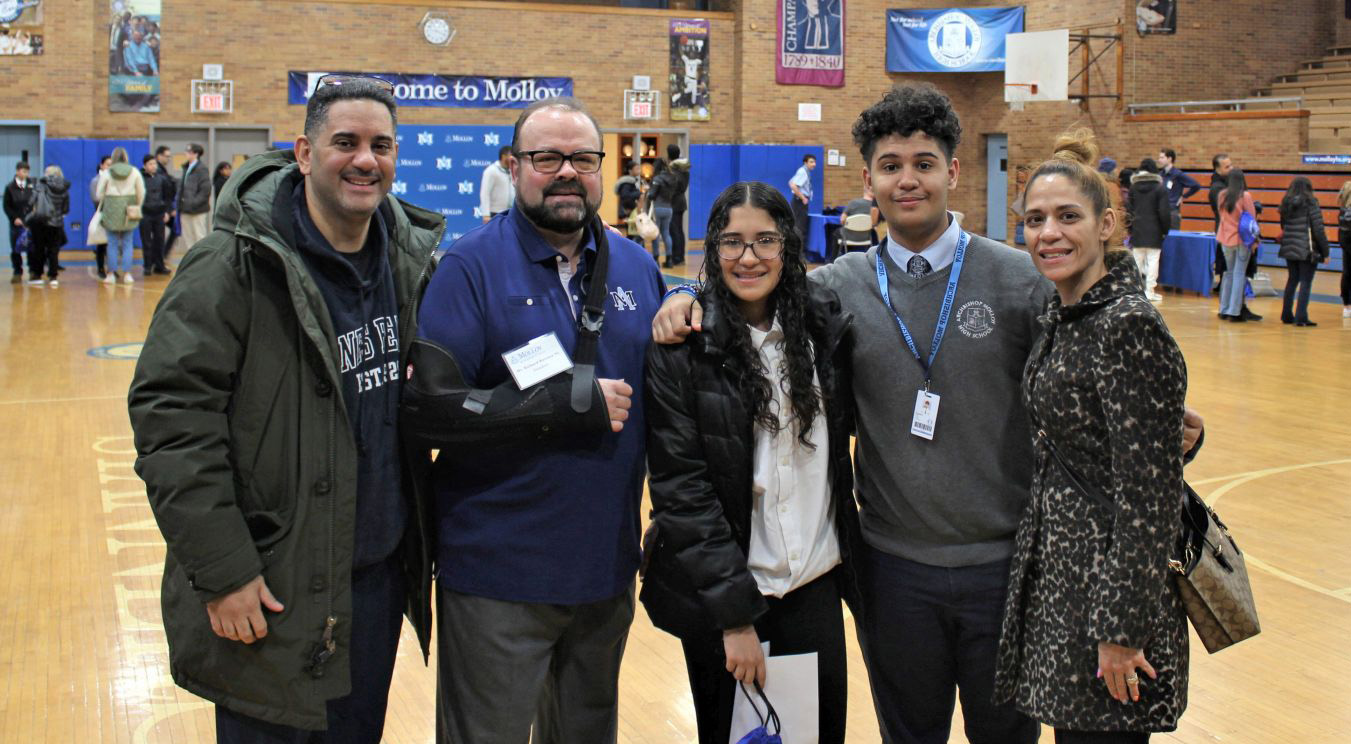 On Saturday, March 25th, over 350 families from the incoming 9th Grade class visited Molloy for our Freshman Welcome Event! Students from the Class of 2027 got to visit an array of tables representing different departments — including Academics, Admissions, Medical/Nurse, Freshman Camp, Finance, Athletics, Clubs & Activities, and more! Additionally, the incoming freshmen took their ID pictures, purchased apparel, and enjoyed delicious snacks. Special thanks to the members of the Class of 2027 and their families who joined us. We'd like to officially welcome you to the Molloy family!
---
Stanners Celebrate Lenten Liturgy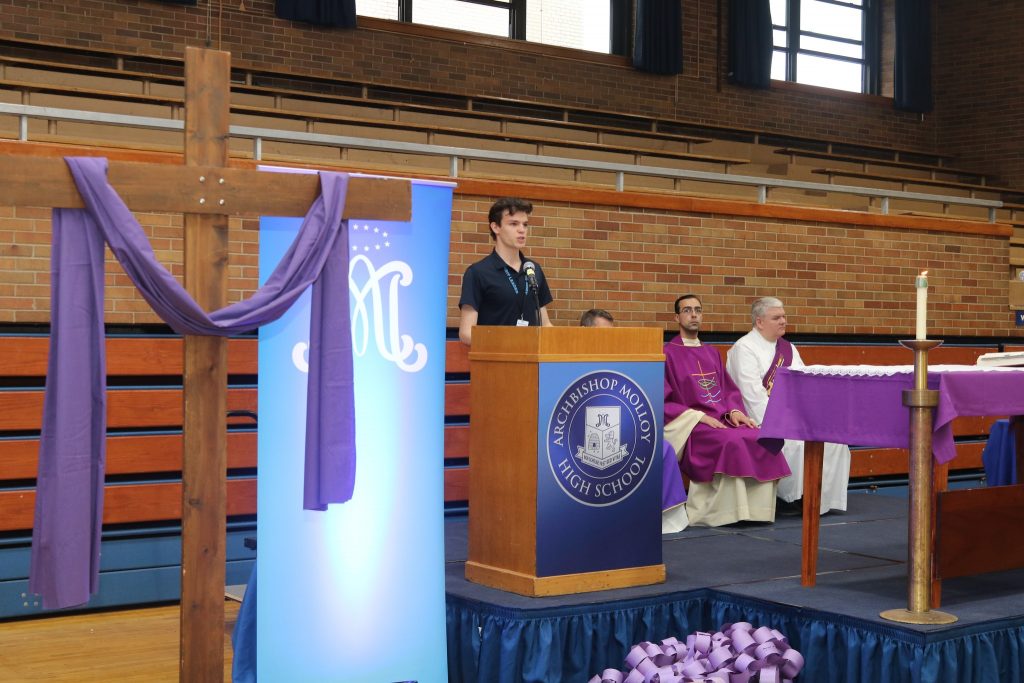 On April 5th, the Molloy community celebrated our Lenten Liturgy! This marked the first time Molloy celebrated two Liturgies back-to-back; the first welcomed freshman and sophomore classes, and the second welcomed junior and senior classes. This format allowed for all students to celebrate Mass together in-person, rather than streaming video to some students in their classrooms.
During Lent, we are called to change something in our lives to bring us closer to God. Throughout this season of Lent, Stanners created Lenten Links; students in every homeroom wrote a Lenten promise of conversion or transformation on a purple piece of paper. The strips of paper were turned into links and connected to form long strands. The links symbolize our interconnectedness, interdependence, and unity. The completed chains were carried into and displayed during each of today's Liturgies, highlighting our commitment to our Lenten promises. Special thanks to our celebrant, Father Anthony Rosado.
On behalf of everyone at Archbishop Molloy High School, we wish everyone a Blessed Easter!
---
Sophomore Wins "Your Voice Is Power" Grand Prize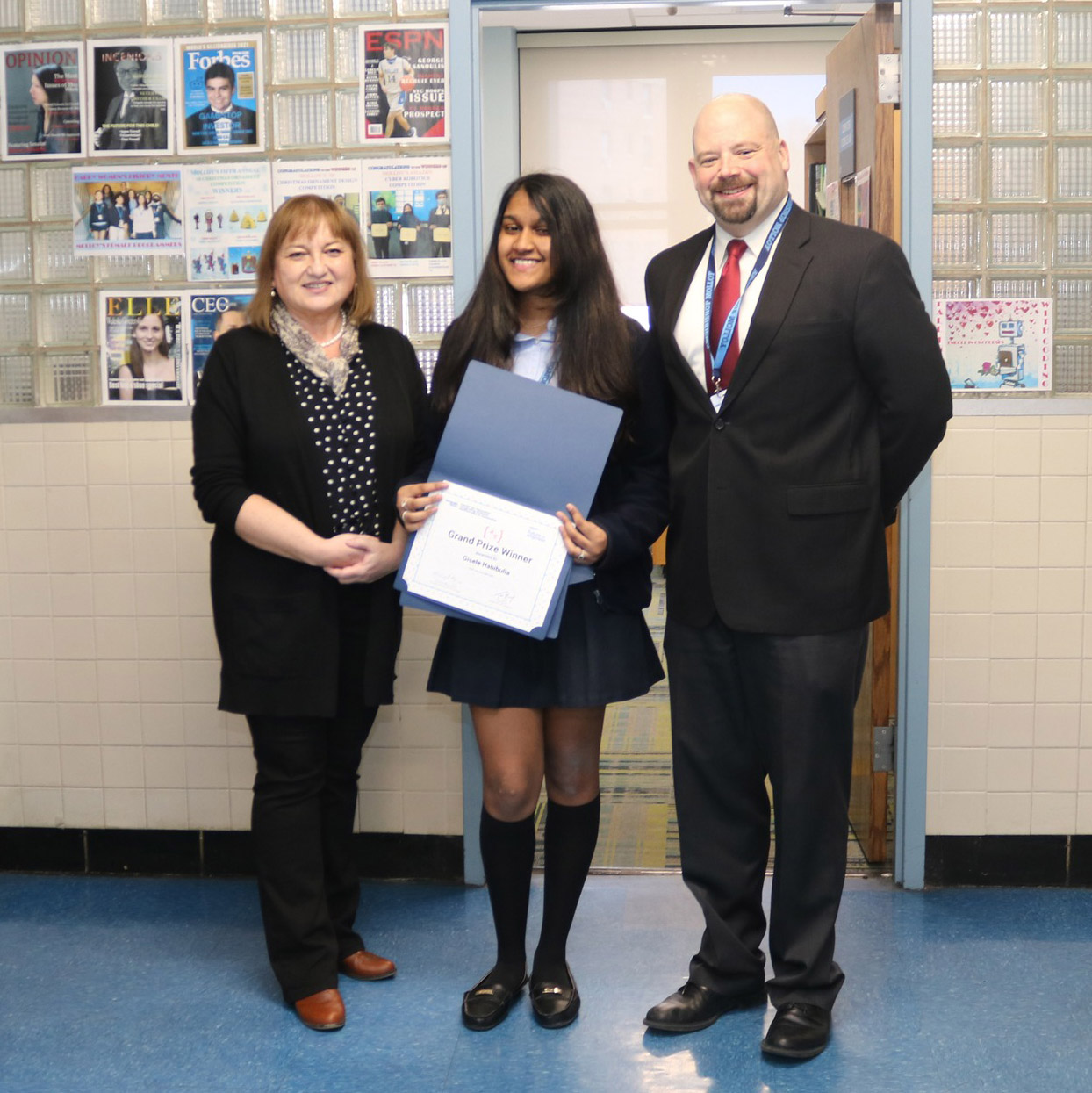 Georgia Tech and Amazon Future Engineer, in collaboration with pop singer Pharrell Williams, organized the national coding competition Your Voice is Power! The competition challenges students to explore the intersection of music, computer science, and entrepreneurship as tools for advancing social equity.
This year, one of the grand prize winner of the competition was Molloy sophomore Gisele Habibulla '25 (left center)! 458 high schools from 21 states participated in the Your Voice is Power competition, submitting a total of 600 entries. Gisele's complex and modular code written in Python earned her the top prize of $500, a swag bag, and a congratulatory video from Pharrell Williams! We would also like to congratulate Inom Mamadjonov '25 (right center), who was a runner-up in the competition.
Click the button below to read the full story on our website.
---
Mock Trial Team Advances to Elite Eight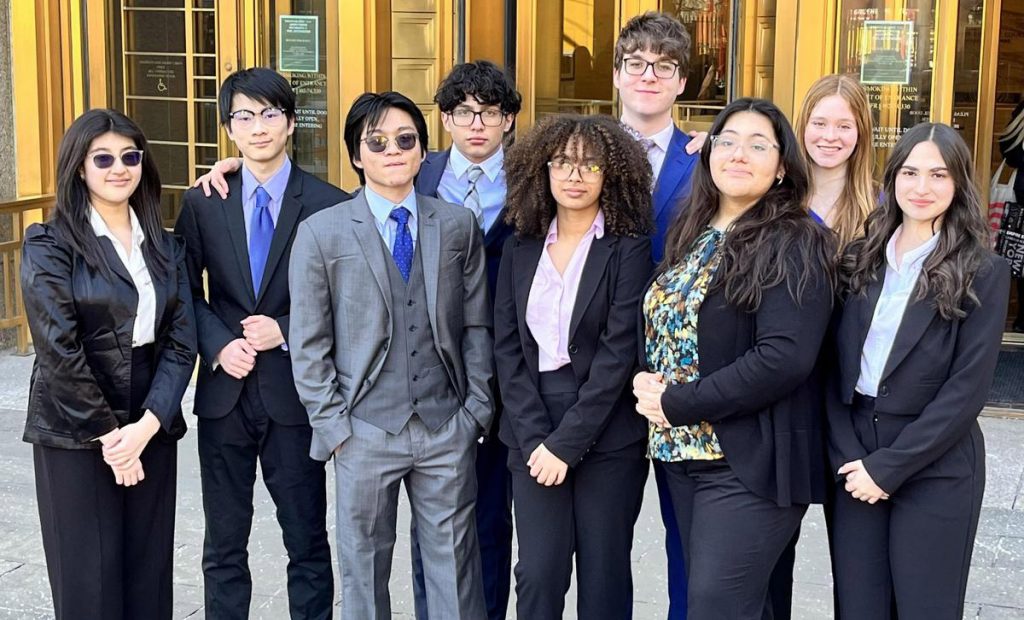 Every year, the New York State Bar Association's Justice Resource Center holds a trial competition, allowing high school students to experience the workings of a courtroom. Molloy is proud to announce that this year, our Mock Trial Team has advanced as one of the top eight high school teams in NYC!
Led by Ms. Diana Rayappa and Mr. Lou Barbera, the Mock Trial Team prepares students for a career in law. Ms. Rayappa shares, "This competition develops students' communication skills. They have to think on the spot, so they have to learn active listening. They become experts at thinking on their feet." Mr. Barbera proudly shares that he "had a number of Stanners go on to some of the top law schools in the country." This is the first time the team has made the "elite eight," and we can't wait for the next round on April 19, 2023!
Click the button below to read the full story on our website.
---
St. Ann's Courtyard Project Begins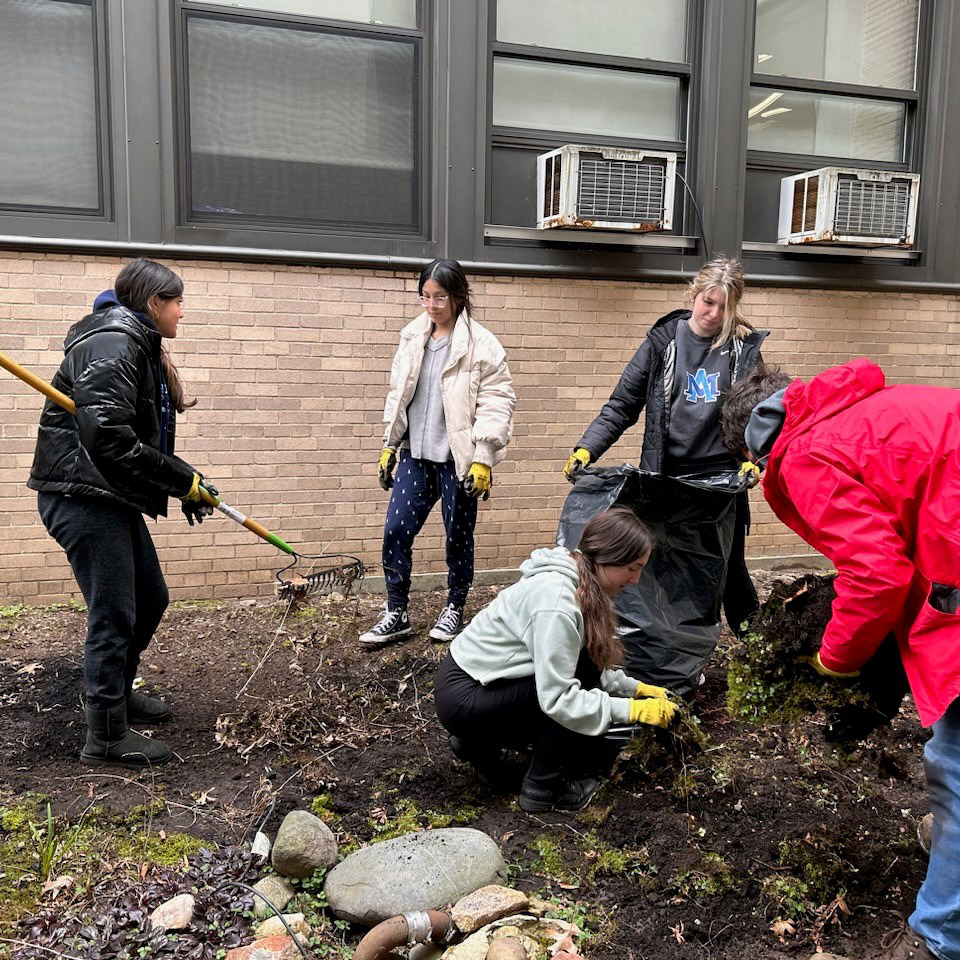 In March, student volunteers representing Campus Ministry came to Molloy on their day off to participate in the Green Team Garden Project. Students spent several hours cleaning up Molloy's St. Ann's Courtyard, located near the Ralph DeChiaro Theater. The courtyard is named for St. Ann's Academy, the school Molloy was first founded as in Manhattan back in 1892. The students' work was the first step toward creating a new garden prayer space! This project was made possible by a grant provided by the Marist Brothers US Province. The grant will help cover the cost of new plantings and the installation of a peace pole and prayer plaque.
---
Lenten Drive for Dominican Republic
Molloy celebrated Lent with the collection of sneakers, backpacks, laptops, iPads, and clothes for children in the Dominican Republic. The drive, sponsored by Athletic Director Mr. Mike McCleary, encouraged Stanners, family, and friends to support marginalized youth in the Dominican Republic. Ms. Lori Wilson, Director of Campus Ministry and Marist Mission, shares, "Molloy's students are good and care about those who don't have what they have. In their small way, they change the world for another person with their generosity."
---
Seniors Visit Disney World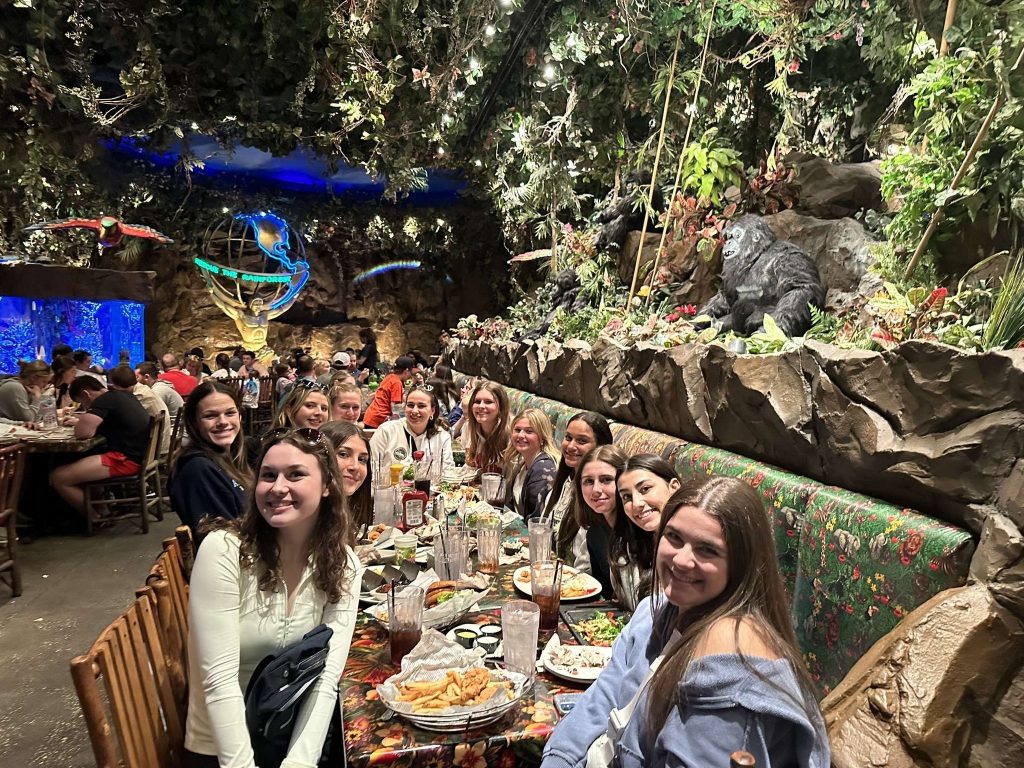 In March, members of the senior class went on their annual trip to Walt Disney World! Over 150 students and 15 faculty members enjoyed an extra-long weekend at Disney's Port Orleans Resort-Riverside, visiting multiple Disney parks. Check out some of the photos of our Class of 2023 and their magical trip!
---
POSITIONS AVAILABLE: Molloy Seeking Bus Drivers
Molloy is seeking school bus drivers with a valid NYS Class B driver's license with the Passenger Endorsement (P) and the School Bus Endorsement (S). This per-diem position requires candidates to drive athletic teams and other student based clubs to and from practice, games, and events. Candidates can be expected to drive on most school days, between 2:30 pm and 7:00pm, and occasionally on weekends. Candidates with a commercial driver's license who are eligible for the P and S endorsements are also encouraged to apply. Please submit your resumé to Mr. Edward Cameron at ecameron@molloyhs.org.
---
Combined No Hitter!
Congratulations to Kimberly Piazza '26 and Elizabeth Meade '26, who pitched a combined no hitter against St. Francis Prep in their JV Softball opener! The Stanners secured a decisive victory by a final score of 8-0.
Follow @molloyhs_athletics on Instagram for daily Stanner Sports news and updates!

Lacrosse Program Celebrates 10th Anniversary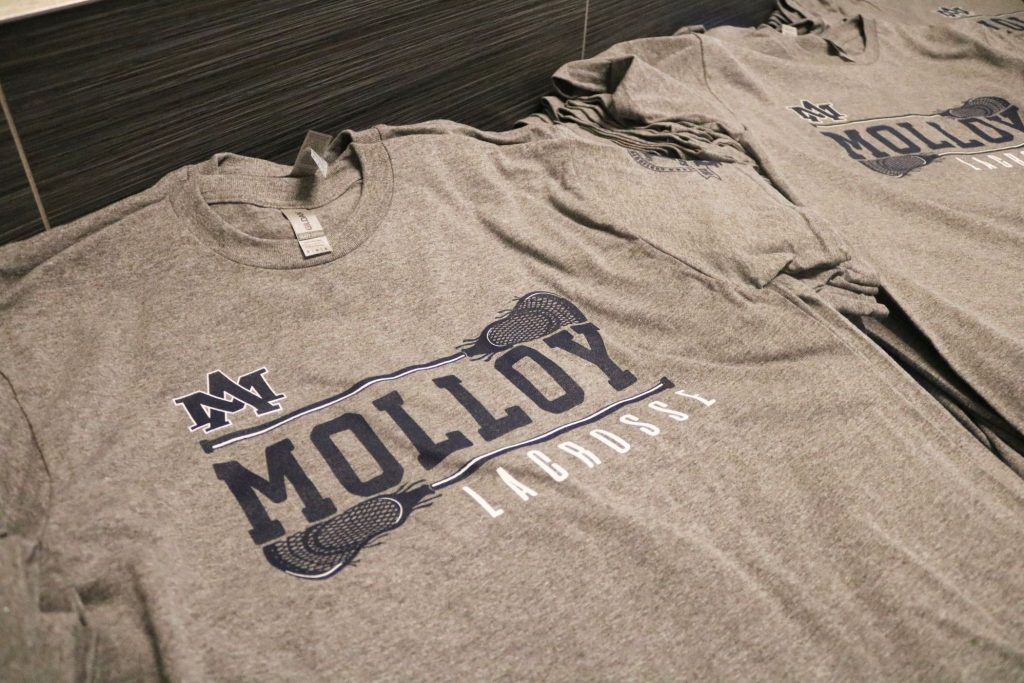 On Saturday, April 1st lacrosse alumni and current players gathered to commemorate 10 years of Varsity Lacrosse at Molloy. Coach Alison Scalice welcomed back the former players and was excited to celebrate the new legacy she helped to create at Molloy. Current players had the chance to speak with alumni who had played in the first few years of the program. After competing in an accuracy challenge in the gym, the group moved to the cafeteria for a light reception. A new tradition was born as the alumni players came up to the front of the room, grade by grade, to sign the lacrosse banner. As each new class graduates, the girls will get the opportunity to sign the banner, adding to the ever-growing lacrosse legacy at Molloy.
Shirts were sold to all in attendance to raise money for the team's senior day. The event was free for all who attended, but donations were encouraged, as the proceeds would go to support the Kaitlyn Grogan Memorial Fund! Thank you to Coach Scalice for her support, as well as Orlagh Brady '14 and Julia Watters '15, who spoke about their experiences being on the team and the impact it made on them.
---
Coach Larrañaga & Miami Reach NCAA Final Four
Congratulations to Coach Jim Larrañaga '67 and the University of Miami Hurricanes, who advanced to the first NCAA Final Four in school history after defeating the Texas Longhorns 88-81 on March 26th. This marked Coach Larrañaga's second Final Four appearance as a head coach, the first coming when he coached George Mason University to their historic Final Four appearance in 2006. Miami would ultimately be eliminated by the formidable UConn Huskies on April 1st 72-59. Coach Larrañaga later told the media that he is confident the team's young core will continue to grow and improve. Congratulations once again to Coach Larrañaga and the Miami Hurricanes on their historic season.
---
Pro Wrestler William Morrissey '05 Visits Molloy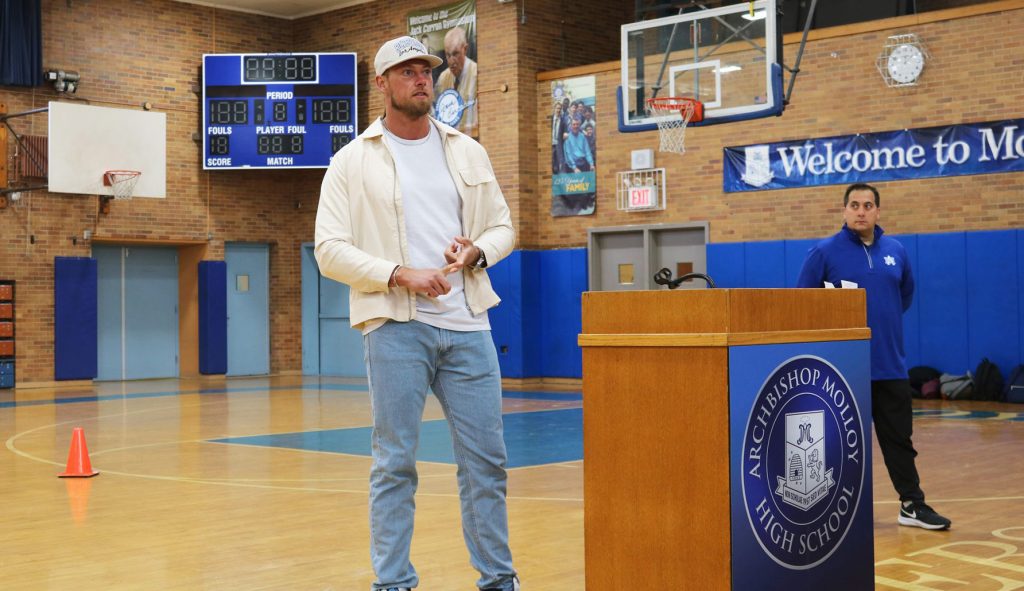 Professional wrestler William Morrissey '05 visited Molloy on Monday, April 3rd, to serve as a guest speaker in several Phys Ed classes. Morrissey, who is currently signed with All Elite Wrestling (AEW), shared his experiences with alcohol abuse in hopes of shedding light on the very real dangers of addiction. Morrissey was signed with World Wrestling Entertainment (WWE) and enjoying an amazing career opportunity, but his personal struggles with alcohol were among the reasons he was released from the company before he could truly make his mark. He shared that after the subsequent period when he was at his lowest, he realized it was important to be honest with himself, admit his struggles, and to seek out help. This realization ultimately saved his life and put him back on a path toward success. Molloy extends our sincerest thanks to William Morrissey for sharing his powerful story, and thank you to AEW and Rafael Morffi '89 for facilitating this visit!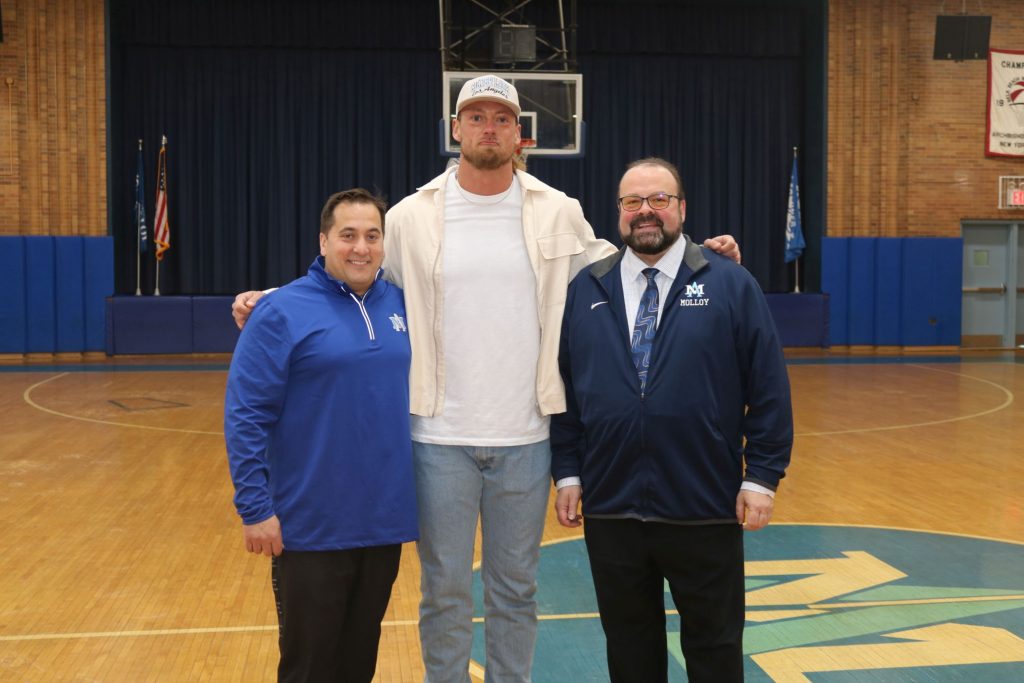 ---
In March, English teacher Mr. Dan O'Reilly '14 attended the Excellence in Teaching Conference at the University of Notre Dame. Mr. O'Reilly graduated with his Master's in Education from ND in 2020. There, he met up with current sophomore Nikki McNamara '21. Nikki, who was our Class of 2021 salutatorian, is studying Chemical Engineering. They caught up about all things Molloy and Notre Dame. Later on during the conference, Mr. O'Reilly got to meet author Neal Shusterman, whose books are read by many Molloy students, including in his own English classes.
---
Congratulations to Kelsey Carr '20 of the Seton Hall Pirates, who was named to the BIG EAST Weekly Honor Roll in March! According to Seton Hall Athletics, this marked the second straight week that Kelsey received a weekly honor from the league, as she was previously named BIG EAST Pitcher of the Week. She was honored thanks to her 2 wins and 1.50 ERA over 14 innings in three games, one of which was a complete game victory! Kelsey has been enjoying a great 2023 season on both sides of the ball, pitching to a 1.48 ERA in 71 innings with 63 strikeouts. Offensively, Kelsey has tallied 4 home runs, 12 RBI, and a .381 on base percentage. Kelsey was an elite softball player at Molloy, so we are not surprised she has continued her excellent play at Seton Hall! | More Info
---
This past winter, Kawan Lovelace '94 and Tom Farrell '61, two of Molloy's Olympians, coached St. John's University's Womens Track & Field team. Both attended the Big East Championships, where they took the accompanying photo together.


Molloy Remembers Mr. Kerry Hughes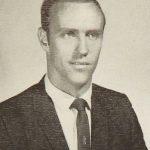 Archbishop Molloy High School is saddened to share the passing of Mr. Kerry K. Hughes on March 13, 2023. Mr. Hughes served as a Guidance Counselor at Molloy for over 40 years. He began working at Molloy in the early 1970s, then as Brother Kerry Hughes. While he did not continue his path as a Marist Brother, he did remain at Molloy, where he served in a variety of roles in the school's Guidance Department. These included Sophomore Counselor, Senior Group Counselor, College Guidance, Peer Counseling, College Advisor, and Personal Counselor. Mr. Hughes was named Guidance Chairperson in 1982 and served in that role until 1990. In addition to guidance, many Stanners fondly remember Mr. Hughes as their Driver's Ed teacher. Mr. Hughes retired after the 2011-12 school year. Please join us in prayer for Mr. Hughes and his loved ones, as well as the many students he helped throughout his career. | Click Here for Memorial Page
---
Please pray for the repose of the soul of Mary Jo Carnacchio (April 4, 2023), mother of Anthony '06 and Michael '10. | Click Here for Memorial Page
---
Please pray for the repose of the soul of Evangelina Plackis (April 2, 2023), mother of Jeffrey Plackis '84, after a courageous and dignified fight over the previous month, recovering from a stroke. Please also keep the Plackis family in your prayers. In lieu of flowers, the family of Evangelina Plackis kindly encourages donations to the Alzheimer's Association. | Link to Memorial page
---
Molloy is saddened to share the passing of Brian Timothy James Kelly (March 31, 2023), son of past staff member Maureen Kelly, father of Brianna Kelly '14, brother of Steven Kelly '90, uncle of Margaret Kelly '22 and Aidan Kelly '24, and cousin of Howard Scott '80. Please keep Brian and his loved ones in your prayers during this difficult time.
---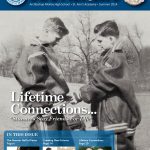 Molloy is saddened to share the passing of Ralph J. Benzenberg '60 (center photo, left) on March 27, 2023. After graduating from Molloy, Ralph attended Queens College and later entered the Marines, serving from 1964-1970. During his service, he reached the rank of Sergeant and received a Rifle Marksman Badge. He married Patricia Benzenberg in 1968 and later began a career in computer sales and management. Ralph was a proud Stanner who ran Track & Field with his classmate Richard Greene '60. In 2010, at their 50th Anniversary Molloy Reunion, Ralph and Richard used the opportunity to recreate an old photo of them together. In the photo, they are both wearing oversized track jackets, each helping the other work the jacket zipper. This photo would later be used on the cover of Stanner Life magazine in 2014 in relation to an article about lifelong friends. Please join Molloy in praying for Ralph and his loved ones. | Click Here for Memorial Page
---
Please pray for the repose of the soul of Harry Stafilias, father of Sarah Stafilias '23.
---
Please pray for the repose of the soul of Jonathan Moresco '99, who passed away on March 14, 2023.
---
Please pray for the repose of the soul of Josephine Podlovits, mother of Edward '76, Richard '77, and Steven '82. Josephine passed away on February 19, 2023.