Jim Kinnier Stanner Golf Classic – ONE WEEK AWAY!
Contact: Matt Rizzotti – 929.446.4470 | mrizzotti@molloyhs.org
Molloy's 37th Annual Jim Kinnier Stanner Golf Classic is just days away! Since 1987, the Classic has raised over $3 million in support of Molloy's scholarship program. Your support of the outing has helped Molloy award scholarships to many academically gifted students who may otherwise have been unable to attend Molloy due to financial difficulty. We anticipate that two more incoming freshmen will be awarded scholarships as a result of our community's participation in this year's event. On behalf of everyone at Molloy, THANK YOU!
Continue reading or click the buttons below to read our Digital Journal, place bids via our Online Auction, and learn more about this year's honoree, Mr. Kenneth Meier.
Congratulations to Kenneth Meier, 2023 Golf Chairperson
Molloy is excited to honor Mr. Kenneth Meier as our 2023 Golf Chairperson. Ken is a proud parent of four Stanners, Ava (Class of 2024), Bailey (2024), Carly (2024), and Shea (2022), and he has been a generous supporter of the Jim Kinnier Stanner Golf Classic since 2018. Professionally, Ken serves as Northeast Territory Vice President for Aflac, one of America's most recognizable insurance companies. He is the first Stanner parent to serve as Molloy's Golf Chairperson. We invite you to click the button below to learn more about Ken.
Remembering Jim Kinnier
Join us for this very special event as we remember Jim Kinnier, who passed away in June 2022. Jim's leadership and dedication to this outing, which he founded back in 1987, has created a legacy that will continue to help many students.
Event Journal
We invite you to read this year's event journal, which features more information about the Jim Kinnier Stanner Golf Classic as well as the history of the outing. You will also find many ads from alumni-owned or alumni-friendly businesses who support the event and our school's mission. We encourage you to join us in thanking and supporting these businesses. Click the button below to download the journal.
---
---
---
The Stanner Players Present: Footloose!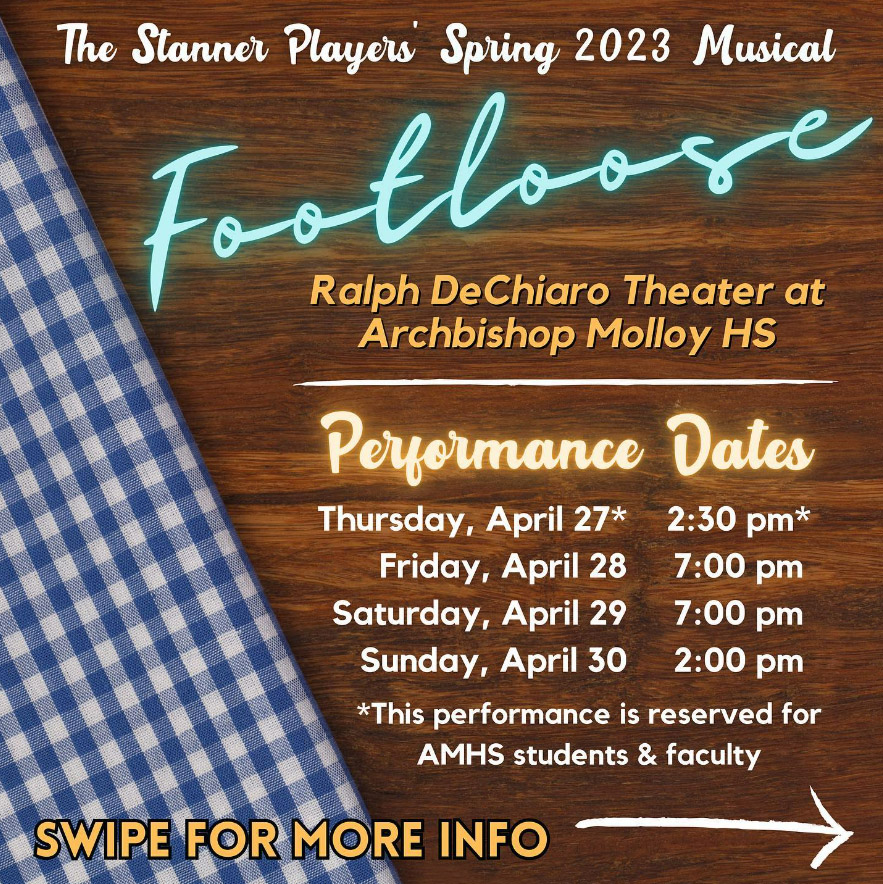 The Stanner Players' Spring Musical "Footloose" is just a few weeks away! Tickets are now available for purchase – either use the QR code in the gallery above or click the button below. Can't wait to kick off our Sunday shoes with you! (*Note: This offer is for public general admission tickets. To get VIP tickets for Saturday's Alumni Reception, you must purchase those tickets via the Molloy website).
---


Mock Trial Team Advances to City Final Four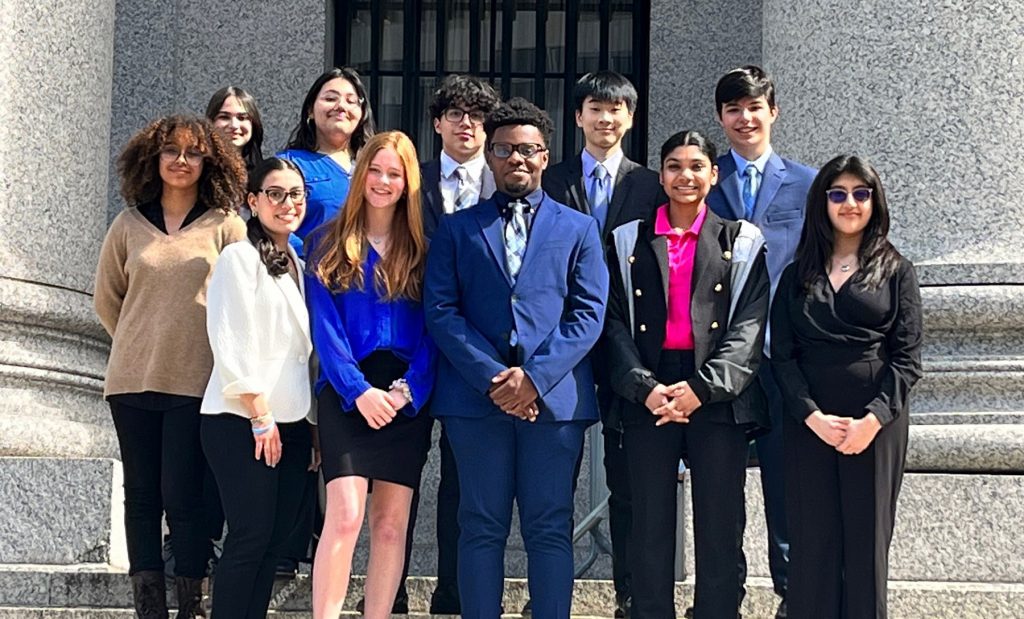 Congratulations to our Mock Trial Team and Moderator Ms. Diana Rayappa, as the team has advanced to the Final Four in New York City! The competition is run by the New York State Bar Association's Justice Resource Center.
Beginning with about 70 or so teams from around NYC, the competition starts with high school students from the same borough battling it out as attorneys and witnesses, aiming to score the most points from a panel of judges. Molloy's team won all three borough rounds, as well as the first round battling schools from around the city! Before each round, teams are given a case and must prepare to argue both sides, as they don't know what side they are going to argue until the day of the competition.
Our Mock Trial Team will next compete on Monday, April 24th, when they attempt to advance to the final round. Please join us in wishing them the best of luck as they look to continue their historic run!
---
Molloy Celebrates Our Benefactors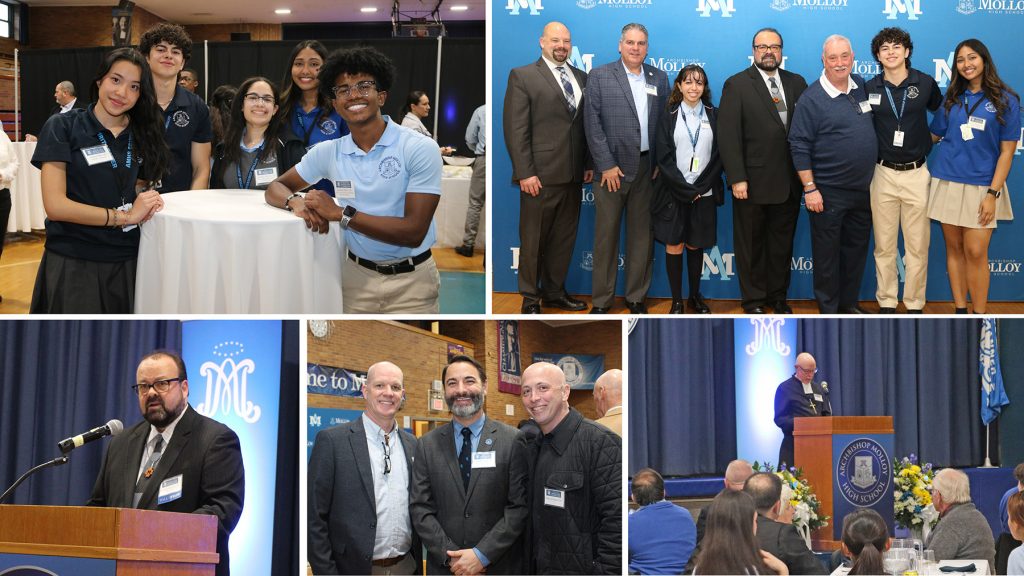 On Wednesday, March 29th, Molloy hosted its annual Benefactor Celebration. Benefactors had the opportunity to visit Molloy, share a meal with their scholarship recipients, and view presentations from Sports Management, Virtual Enterprise, Campus Ministry, and Guidance. By meeting with students that benefit from their philanthropy, as well as viewing the different programs students actively participate in, the celebration shows first hand what generosity does for the lives of Stanners.
Benefactors heard speeches from Executive Director of Development Craig Katinas '93, President Richard Karsten '81, and Stanner Hailey Ramzan '23. Hailey shared all of the opportunities afforded to her thanks to receiving a Molloy education, showing all in attendance that the support of Molloy is the support of Stanner futures. All of us at Molloy are thankful for our benefactors' continued support of our students, campus, and mission.
---
DiPietra Foundation Recognizes Molloy Photographers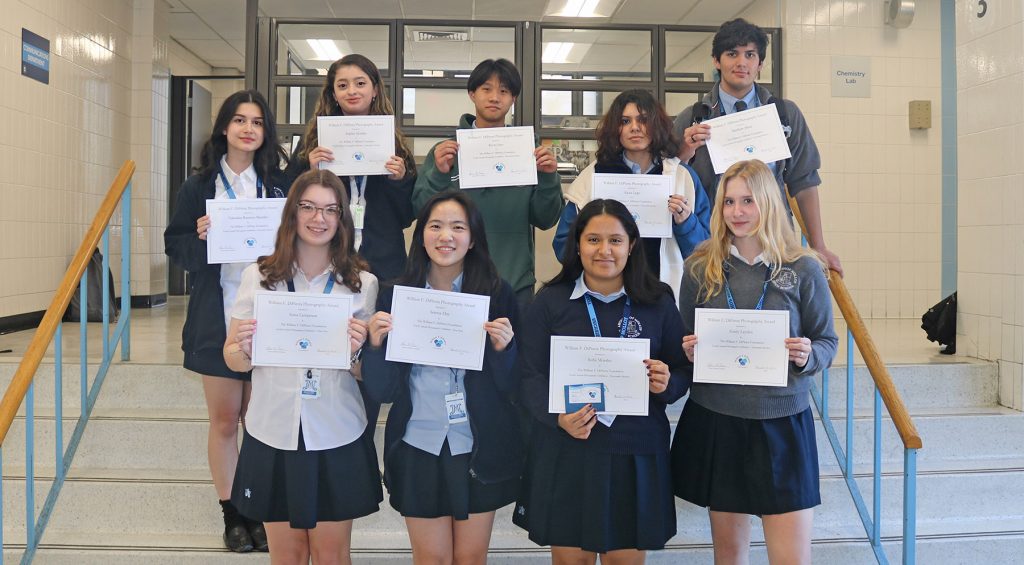 The William F. DiPietra Foundation provides grants and other prizes to Media Arts students at Fordham University, Long Island University, and Archbishop Molloy High School. Founder and President, Helen DiPietra, created the foundation to honor her late son William (Bill), a proud Stanner who had a passion for photography and filmmaking.
William F. DiPietra '94 loved his work as a filmmaker, director, and screenwriter. Unfortunately, Bill suffered from a serious illness and passed away in 2017 at the age of 41. To honor his legacy, Helen created several awards at institutions that were part of Bill's life, including LIU, Fordham, and Molloy. These awards recognize talented Media Arts students.
This year, the foundation graciously invited Molloy's Photography Club to participate in their annual online Photo Exhibition once again. Students were challenged to submit their top five original photos representing a theme of their choosing. Molloy submitted the work of 10 students, all of whom are now featured in the exhibition.
In a letter to the winners, Helen shared, "Your photos make ordinary places and things look special, sometimes even magical. I congratulate not just the ten students whose photos will be displayed, but all the club members who participated in this project." The William F. DiPietra Foundation also expressed their sincere thanks to Molloy for helping to continue Bill's legacy.
Congratulations to our top 10 winners:
First Place ($200): Serena Day '24 (Theme: "Icelandic Nature")
Second Place ($150): Anthony Romano '23 ("New York City at Night")
Third Place ($100): Anna Lampman '24 ("Sightseeing in Europe")
Honorable Mention ($50 Amazon Gift Cards): Emily Layden '24 ("Life on the Water"), Alexa Lugo '24 ("Sunsets"), Matthew Mena '24 ("Around New York City); Sofia Morales '24 ("Boston), Sophie Morales '26 ("Valhalla-The Heavens"), Valentina Ramirez-Mendez '25 ("A Day at the Met"), Ryota Sato '25 ("Let's Change Our Perspective")
Molloy thanks the William F. DiPietra Foundation for honoring Bill and celebrating the creativity of our students. See the Exhibition or learn more about Bill and the foundation by clicking the buttons below.
---
Molloy Hosts African Art Exhibit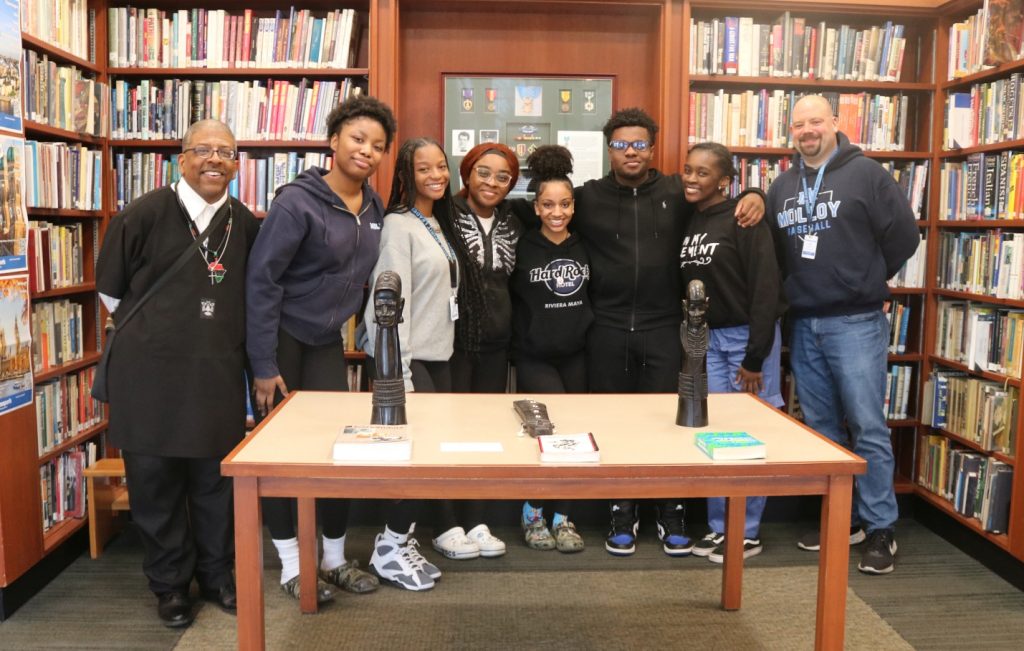 Written by Dawn Gilbert and Edited by Bianca Basone '15
On March 31, 2023, Molloy's Council for Diversity and Inclusion presented an African Art Exhibit in the school's William J. Murphy library. Seven art classes, faculty, and the larger student body of all backgrounds viewed the pieces of art and literature. All are from the collection of Stanner parent Damani Nyahuma. A founding member of the Parent Guild and co-chair of the Council's Black History Month group, Mr. Nyahuma started collecting art 25 years ago.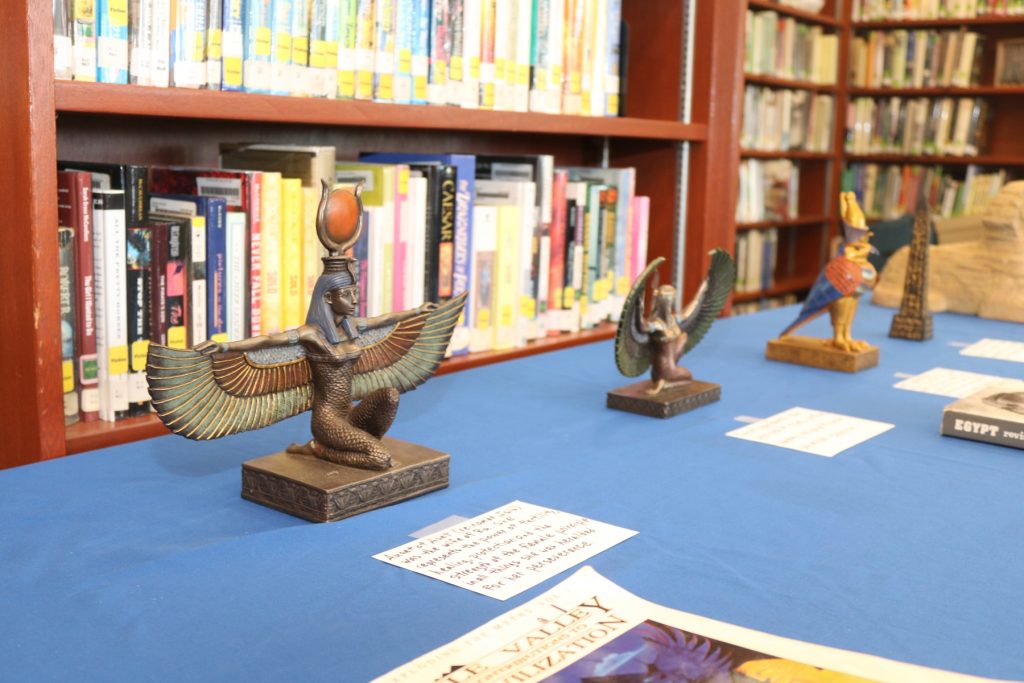 The collection included a variety of pieces from different cultural events, from street fairs in Brooklyn to museum pieces in Birmingham. Mr. Nyahuma displayed his first African exhibit at the Immaculate Conception School over 10 years ago. At that time, Mr. Nyahuma said people felt it was controversial to approach a "Black table" at a school art exhibit. However, that initial exhibit encouraged another parent of Haitian descent to approach him and have a bonding experience.
The intention of the exhibit was to expose the student body and staff to African art, culture, and literature. Students were able to make connections between ancient and current culture, and realize the representation of the continued African culture exists today in different modern forms.
Art pieces also displayed a piece of literature to relate the visual to background knowledge. For example, male and female statuettes from Kenya were displayed with the "Introduction to Black Studies" giving historical context to the figures. A portrait of President Obama was paired with a book about Adam Clayton Powell Jr., a prior African-American political pioneer. A Ghanaian unity statue was paired with the book "African Presence in Early America." All were welcome to touch the books and ask questions about the collection.
In addition to providing the collection, Mr. Nyahuma was present throughout the event to discuss the artwork and answer student questions about the related literature. Students had the opportunity to view all the display tables, and listen to Mr. Nyahuma speak about the mosaic of African culture from different places as well as "the culture of today's people." After the warm reception, Mr. Nyahuma hopes to continue annual art exhibitions that will also include Caribbean and Southern Black culture. Mr. Nyahuma concludes, "We all have a culture with something to contribute and start with talking together."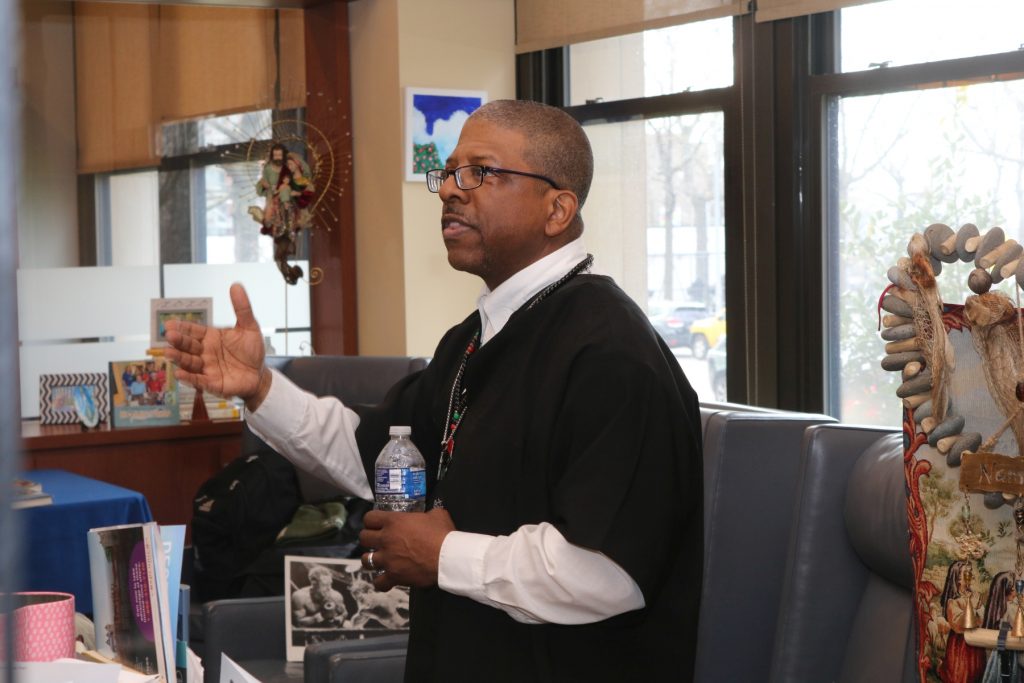 ---
Rho Kappa Social Studies Honor Society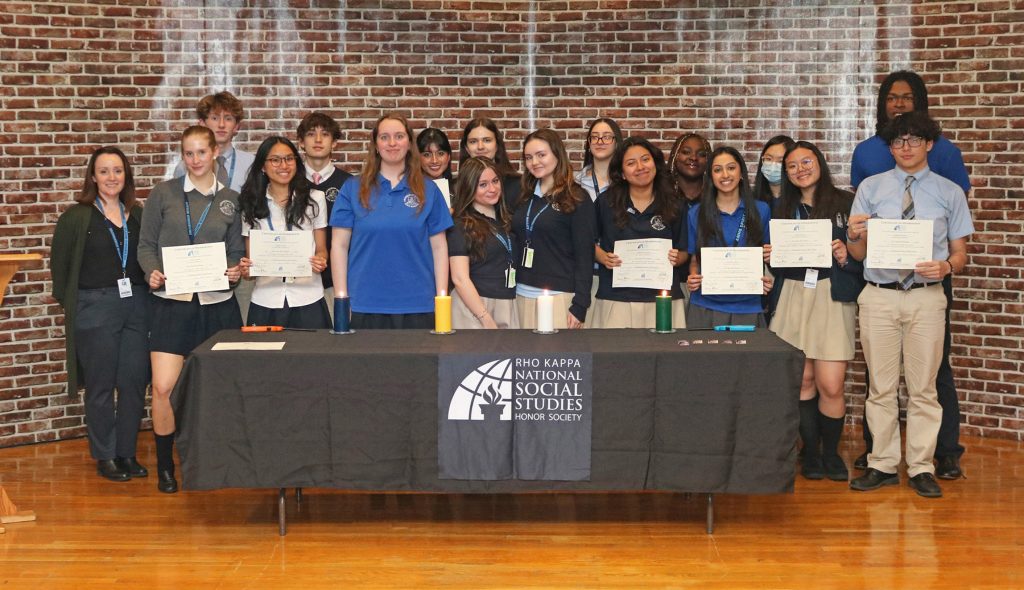 Earlier this spring, 18 juniors and seniors were inducted into the Ray Egan Rho Kappa Social Studies Honor Society. Mr. Raymond Egan began teaching at Molloy in the early 1960s, and eventually became the very first Chairperson of the History Department in the early 1970s. After Mr. Egan's passing in 2015, faculty members advocated for the society chapter at Molloy to be named after him, as he was a beloved educator who cared greatly for his students. Ashley Makowski '23, President of Rho Kappa, adds, "Mr. Egan was an inspirational teacher at Molloy who dedicated so much to our Stanner community by helping to shape it into what it is today, such as setting a precedent by being one of Molloy's first teachers who wasn't a Marist Brother."
Moderated by Ms. Jennifer Lamb of Molloy's Social Studies Department, the honor society recognizes student excellence in the field of Social Studies. Ashley says of her involvement, "Rho Kappa is a place where you connect with your peers and form friendships while demonstrating leadership skills to take with you after high school. We go to meetings to discuss what's happening in the world around us, go on trips to museums, and even host fun trivia games. We exemplify students of service, as a requirement of joining the society is to be active in community service." Vice President of the Honor Society Natalie Barrezueta '23 shares, "At the end of the day, Rho Kappa is a community. I'm grateful to have been a part of it."
---
ASL Club Hosts Special Event at Molloy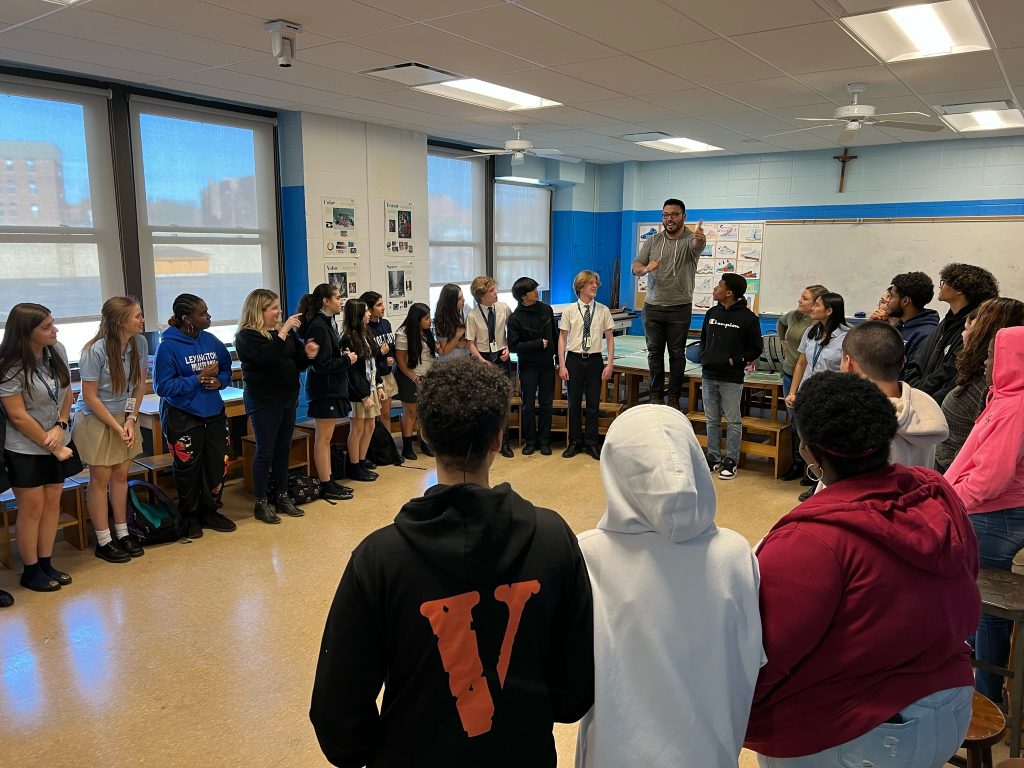 On Thursday, March 30th, the ASL Club held an event inviting high school students from Lexington School for the Deaf to come to Molloy, meet our students, and play games! Moderators of the club Dana McMenamin '09 and Henry Ventura '05 ran the event to "allow students the opportunity to use the ASL skills they have learned throughout the school year, as well as foster relationships between deaf and hearing students."
Dana and Henry are also the directors of Deaf Camp, held in Esopus every summer. Dana shared, "Several of the deaf and hearing students have met each other before from volunteering at camp last summer, and the event encouraged other students to apply this year by igniting their desire to learn more sign language!" Dana currently works at Lexington as a Speech Language Pathologist, and Henry previously worked there as a mental health counselor. He now works as a mental health counselor for the DOE with deaf and hard of hearing students.
At the event on Thursday, students played an ASL handshape game, where someone picks a handshape and then everyone goes around the circle taking turns identifying a sign with that handshape. The winners of the game won Molloy apparel! Another game was telephone, in which participants formed a sentence in ASL and passed it along, alternating between deaf and hearing students. Dana exclaimed, "We watched to see the differences between the initial message and the message that ended up being received by the last person. It provided many belly laughs among the students!" The event was such a success that the Lexington students requested to come back again!
Both moderators share, "We hope this is the start of a great relationship with the Lexington school so our students can build relationships among themselves and expand their skills!"
---
JV Softball Team Volunteers With NYC Parks
Earlier this month, Molloy's JV Softball team volunteered for the Pitch In With Parks program for NYC Parks. The team saw this as a great opportunity to give back to the parks where they play many of their games. The day featured a visit from Mayor Eric Adams as well as NY Mets mascot Mr. Met! All of Molloy's volunteers received two free tickets to a future Mets game. "It was a great day of community service and team bonding," said Coach Lou Santos.
---
Support Our Latest Donation Drive
Molloy is collecting items to support underserved and marginalized women in our local community. Students, faculty, staff, families, and alumni are invited to donate specific items in travel size only. Click the button below for the full list of items. The final day to donate items will be Friday, April 28th. Items can be left outside room 123, and those dropping off can leave their items at the front security desk.
---
Sports Summer Camps
The Beehive shares two opportunities for student-athletes this summer. First, Memorial 5 Camps offers opportunities to boys and girls (ages 6-15) in basketball and an Elite Baseball Camp for boys. The camps take place throughout July and offer full days of activity including morning stretch, instructional periods, games, lunch, contests, and more. The Elite Baseball Camp is for the serious player who wants to focus on intense training in the major skills of baseball.
All-Star Soccer Clinics are directed by CHSAA Hall of Fame Coach Andy Kostel. The camp is July 24-28 hosted at Alley Pond Park in Queens and welcomes boys and girls who strive to be the best soccer players they can be. The clinic is designed to provide an excellent learning environment for the game of soccer.
Click the buttons below to download PDF flyers for either camp.

Class of 1977 Continues Annual Tradition
by John Doyle '77
Earlier this year, the Class of 1977 restarted its pre-Covid annual tradition of fellowship by gathering in the faculty cafeteria at Molloy. Although we had just celebrated our 45th Anniversary Reunion in November, classmates were eager to not let another year pass without our annual get together. This tradition has come to mean reigniting lost friendships, remembering out Marist roots, and extending and deepening the bonds that we were so blessed to establish 45 years ago.
Our tradition has created new memories and also unearthed many that we had forgotten – sometimes intentionally! As the room filled with '77 Stanners, many reported being transported back in time to the days when we sat in room 123, taunted a teacher or contemplated skipping class – it's amazing how we quickly tapped into long term memories storage and felt like we were back in class for a night of nostalgia and laughter.
May God Bless All Stanners and remember all our classmates who have left this earthly life. We are Stanners For Life! Special thanks to Molloy's Craig Katinas '93 for facilitating our use of the cafeteria.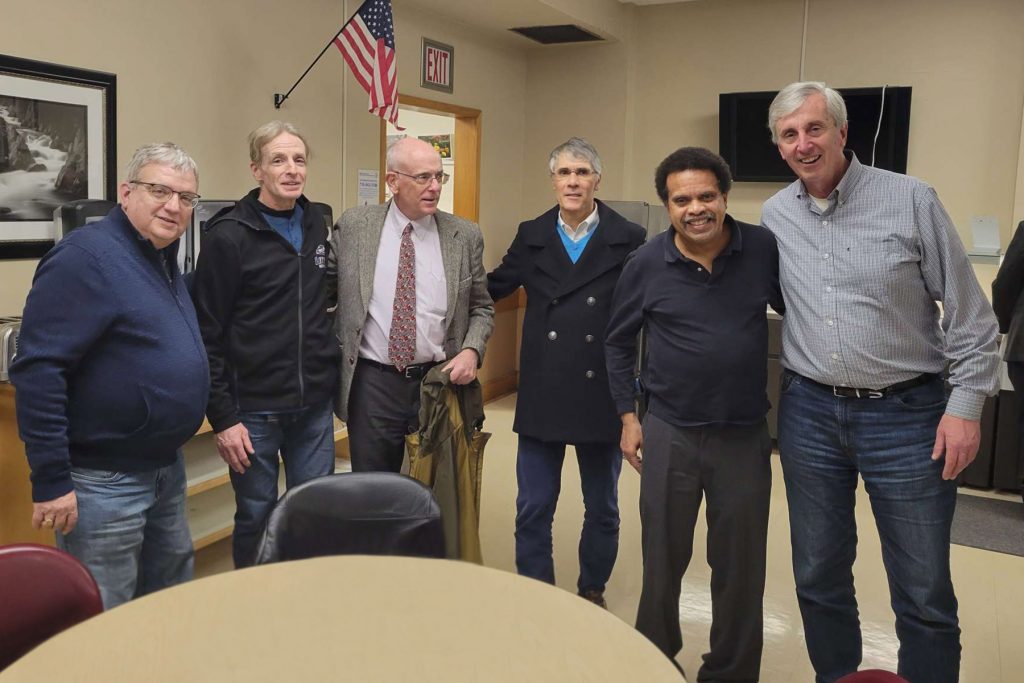 ---
Stanner Runners for Life!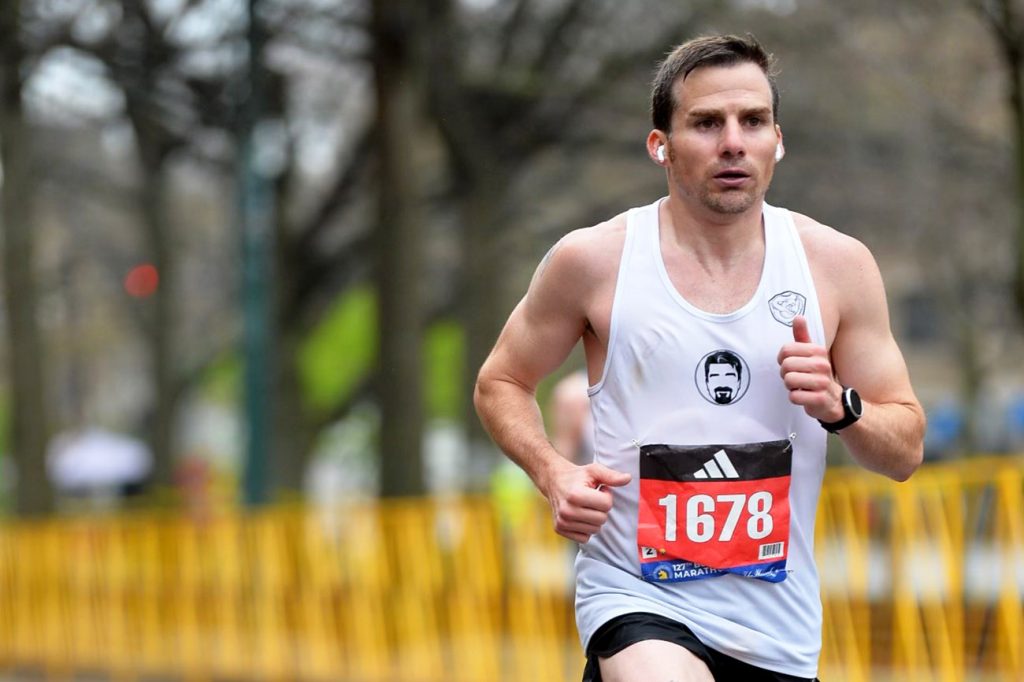 Congratulations to Dan McGrath '01, who recently completed the Boston Marathon in 2:33:15!
Last November, Jim Mahony '74 completed his 40th NYC Marathon in a time of 5:34. Jim is pictured second from the left at the finish with his family: wife Ginny, daughter Meghan, and son Tim. 2022 Marked Tim's 3rd NYC Marathon. Congratulations, Jim and Tim!
Have you run a marathon recently? Let us know! Contact alumni@molloyhs.org with the race, date, and your time.
---
Marc Garlasco '88 is training Ukrainian war crimes investigation teams in Poland for the Institute of International Criminal Investigations. When he is not in Poland he is working with the Pentagon as it develops the new US military CIVCAS policy slated to be released this spring.
---
Congratulations to Jill Santos Hutcheson '06 and Alex Hutcheson, who held their wedding reception in Atlanta on April 1st. The two were married back in September, but were excited to invite Stanners and friends from all over the US to celebrate!
Pictured: Lou Santos, Stephen Echeverri '06, Jill Santos Hutcheson, Alexis Galane '06, Lana (Belasic) Bansen '06, Laura Hackimer '06, Robert Leocadi '93, and Zoulaika Khristanne Corro (TMLA '06, sister of Tiffany Corro AMHS '16).
---
Congratulations to Enrique Fernandez '01 and his wife, Erin Fernandez, who wed on February 11, 2023. We wish you a lifetime of happiness!
---
The Notre Dame Swim team of New Hyde Park, coached by Paul Krische '81 and Dan Moore '95, won the Nassau/Suffolk CYO Division A Swim Championship at Eisenhower Aquatic Center on Saturday, April 1st with the help of multiple medal winners: Rowan Hayes '23 (meet record in Boys 15-18 50M Breaststroke), Joshua Chariah '25, and Brendan Twomey '25.
Pictured L-R: Brendan, Joshua, Paul Krische '81, and Rowan.
---
Judy Contino, wife of Michael Contino '68 and mother of Ryan Contino '96 and Patrick Contino '01, has co-authored a book with her granddaughter Adrianna Contino, daughter of Patrick. The book is entitled Chips and Salsa – The Best Snack Ever, an illustrated collection about healthy eating for the whole family! It is now available on Amazon.com and Barnes & Noble.com, and it is available as an e-book. | More Info
---
Jim Short '64 (pictured right) and Don Rudolph '73 (left) were very surprised to meet each other when they recently paired in a golf outing in Vero Beach, Florida! "Small world indeed," said Don, who is also looking forward to seeing his classmates at their 50th Anniversary Reunion this November.


Please pray for the repose of the soul of Maria "Marie" Forgione, grandmother of James Fusco '23 and Neil Prisco '23, who passed away on March 21st.