Open House — This Sunday!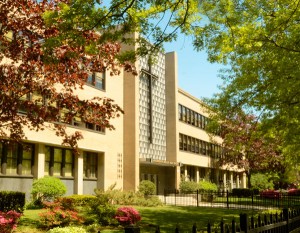 Everyone at Molloy is gearing up for this Sunday's Open House, where parents and 8th graders will be welcomed to Manton street for a closer look at what Stanner High has to offer. Last year we had many alumni visit us to express their excitement over sending their children to Molloy, and we look forward to meeting more alumni this Sunday. If you plan on visiting Molloy with your family, please be sure to stop by our table in the Jack Curran Gym or by the Stanner Alumni Center in Room 124 and say hello. You may also update us on what you have been up to, or pick up an alumni recommendation form, which can be very helpful in giving a student a final push into Molloy. We look forward to seeing you on Sunday!
The Stanner Alumni Reunion Is Approaching!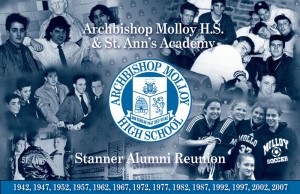 Register Online Now! By now, all alumni representing class years ending in 2 and 7 should have received a postcard invitation for this year's Stanner Alumni Reunion! On Saturday, November 3rd here at Molloy the Classes of 1942, 1947, 1952, 1957, 1962, 1967, 1972, 1977, 1982, 1987, 1992, 1997, 2002 and 2007 will reunite – some for the first time in many years. Being a part of the Stanner family is important to many of our alumni, and it shows when it comes time to reunite. Alumni from all corners of the country, as far as California and Hawaii, will travel back to New York to walk the halls of Archbishop Molloy High School and regale their classmates with stories from the "good ole' days." Complimenting these "Stanner Stories" is a full evening program that includes dinner, dancing, cocktails and much more. The reunion is always a memorable night, and we would be blessed to have you join us for all the fun at this year's event. The evening's program is as follows:
5:00pm – Mass of Remembrance (Ralph DeChiaro Theater)
6:00pm – 25th, 50th & 60th Anniversary Medal Presentations (Ralph DeChiaro Theater)
6:30pm – Cocktails, Dinner & Dancing
When registering online you can view a list of other Stanners in your year that have already signed up. Don't be discouraged if you only see a few names on the list, as in true Stanner fashion many wait until the last minute to register! However, if you don't see a friend's name on the list, SPREAD THE WORD! Please let your friends know that their reunion is quickly approaching and you would love to see them there! Single admission to the reunion is $100 while a couple can register for $150. The class of 1962 plus guest will enjoy complimentary admission in honor of their 50th anniversary. The class of 2007 will enjoy a reduced rate of $50 for a single admission and $100 for a couple's admission in honor of their 5th anniversary reunion. Register online or call Alumni Relations Director Maria Ford at (718) 441-9210 or email mford@molloyhs.org. Be sure to call us with any questions regarding hotels and other travel accommodations as well.
Hey We Miss You! Come Home, Come Home!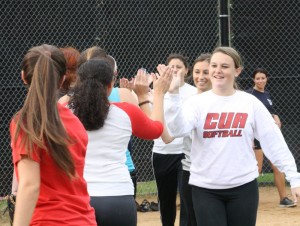 You may be wondering just what the headline for this story means. For Molloy's softball players and alums, there is no question what the reference is. A rally cry from the bench when a runner is on third base, "Hey we miss you, come home, come home," sometimes has the power to will that runner 60 more feet home to score. The support of teammates is paramount to the success of the team, and after over 10 years of JV and Varsity softball at Molloy, our alumnae have not forgotten this tradition. With the help of Coach Lou Santos, Coach Maureen Rosenbaum, and many alumni and parent volunteers, Molloy hosted its first Softball Reunion on Saturday, October 6th. Alumnae and parents, who began to arrive in the early afternoon, enjoyed a classic tailgater (thanks to grill master George Massowd). Special t-shirts featuring an original logo designed by parent John Kelly were also available for alumnae. The tailgate setup provided a relaxed atmosphere – perfect for Molloy's close-knit softball alumnae to mingle with each other as well as with the coaches who stood by them through good times and bad. "I expected them to come back," said Coach Santos, who always speaks fondly about his players.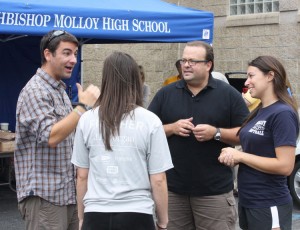 Following initial meeting and greeting, a number of alumnae in attendance geared up for a softball game on Stanner Field, and Coach Rosenbaum made sure to highlight the importance of that. "How many girls can say they've played on that field," Rosenbaum said proudly to a huddled group of her former players. The game was fun not only for those playing, but also for the parents in attendance, who have dedicated much of their time to supporting Molloy's softball teams. Mrs. Patti Shea, mother of Katie Shea '08, was one of our extremely helpful volunteers on Saturday. "I enjoyed being back at Molloy and seeing some of the people that were such a large part of what we did for those four years," said Mrs. Shea. "Softball became an integral part of who we were and who we are today. I look forward to our next reunion." Christina Delmaestro '04, a star pitcher for the Varsity team during her time at Molloy, also still carries strong feelings for her old team. "It is important for current players and recent alumni to remain connected. When you play on a team, you spend more time with your teammates and coaches than anyone else," said Christina. "Those are friendships that you'll have for years, and you never know where they will take you. I definitely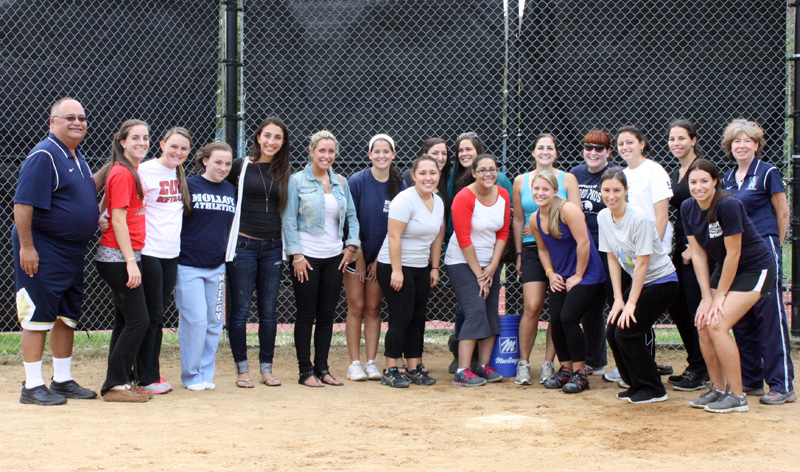 think this reunion was a success. It gave us a great place to start and we hope to continue this tradition." The words Mrs. Shea and Christina shared show how important softball is to all those who have been involved with the program over the past 10 years, and with the number of volunteers on hand on Saturday, it is fair to say that this dedicated community will come together for many years to come. We would like to express our sincerest thanks to all of our alumnae and volunteers who helped make this event possible. We would also like to thank Christina DelMaestro '04, Ray DelMaestro, Ray Goldbach, Patti Shea, George Massowd, Catie Massowd '08, John Kelly, Kayley Ferran '07, Matt Rizzotti '04 and John Cregan and everyone at Woodhaven House for their efforts in making this reunion a success.

Click here to view our full photo gallery from the 2012 Softball Alumnae Reunion.
Running For Andrew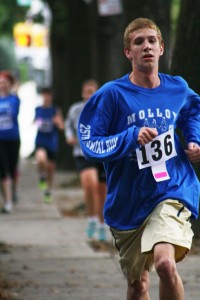 For over two decades, Molloy students, faculty, alumni, family members and friends have come together every October, rain or shine, for the school's annual 5K Fun Run. A chance for the Stanner community to share a healthy, good-spirited race, the Fun Run has been one of the most popular events at Molloy since its inception. In 1998, however, the race took on a whole new meaning following the tragic death of Andrew Harvey '98, a popular student athlete at Molloy. Mr. Frank Gambino '74, the main organizer of the Fun Run in addition to being Andrew's track coach, felt it more than fitting to attempt to rename the run in Andrew's memory. The event has since been known as the Andrew Harvey Memorial 5K Fun Run, which has given a new, deeper meaning to the event. In celebrating its 25th anniversary, a special long-sleeved t-shirt was given to every runner as they took to the streets of Briarwood. Our runners were thankful to evade the poor weather that was in the forecast too! Of course, not everyone is able to run the 5K, but there are always other ways to participate. The Fun Run also includes a One Mile race as well as a Little One's Dash for children representing different age levels.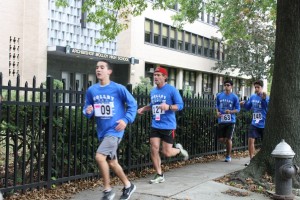 Following the 5K, everyone in attendance moved into the cafeteria for cake, bagels, rolls, coffee and juice. T-shirts from every race were on display, as well as video footage from a race that took place over 10 years ago. Mr. Gambino thanked everyone for attending before awarding medals for individual performances, including the top 3 finishers in each age group. This year's top time was 16.46 run by Dillion Scibelli '13, followed by Jacob Lascano with 17.03 and Branden Warders  with 17.24. This year's Fun Run was another great event and a credit to the outstanding work of many volunteers including Mr. Gambino, all of Molloy's track coaches, the Harvey Family and countless alumni. Thank you to the 164 runners that participated last weekend, and to everyone that continues to perpetuate this tradition as well as the lasting memory and spirit of Andrew Harvey.

Click here to view our full photo gallery from the Andrew Harvey Fun Run.
Around the School
Visitors From Afar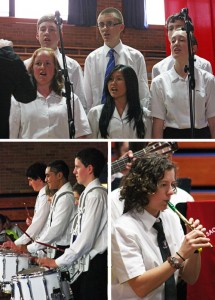 The students of Archbishop Molloy High School were fortunate to host some very special visitors recently, as students from St. John's College and Sacred Heart College, both of Hamilton, New Zealand, stopped by during their latest international music tour. College, of course, refers to the high school level in New Zealand, and members of the visiting chorus and band were very excited to meet other Marist teens in the United States. "Their music program performs in schools that have a Marist presence all around the world," said Br. Dan O'Riordan '85, a former Molloy faculty member who worked with Ms. MaryAnn Safrey, Mr. Jim Sheehan '75, and St. John's music director Mr. Glenn Parr to set up the visit to Molloy. "It is a great opportunity to show our students in the States that Champagnat's vision of educating youth has truly spread across the globe. Today, the Marist Brothers call 79 different countries home."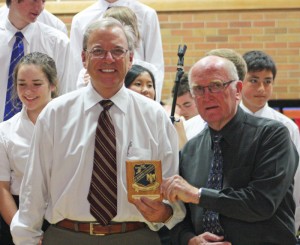 The afternoon performances included jazz, classical and contemporary pieces – and even rap! Some of the band members also got an opportunity to speak to our Stanners about life at their schools in New Zealand. Molloy was just one stop along their tour, which included performing for students at Mount St. Michael's, Roselle Catholic, and Marist Bayonne as well as for retired Marist Brothers at Champagnat Hall in the Bronx. Still, one of the highlights for the New Zealanders was hearing Molloy's junior/senior chorus greeting them with a few tunes of their own as they entered the Jack Curran Gym. "They loved it," said Br. Dan. "This trip already made a huge impact on their lives, and hearing the Molloy chorus was definitely one of their favorite moments." The students at St. John's and Sacred Heart are wonderful examples of the worldwide Marist Charism, and our Stanners were blessed to share an afternoon with them. Pictured, Principal Br. Thomas Schady accepts a plaque on behalf of everyone at Molloy from Mr. Glenn Parr.
Freshman Field Day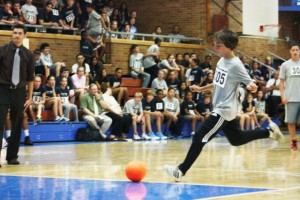 Following the tradition that new Molloy students have enjoyed for many years, the Class of 2016 displayed their budding Stanner pride, and homeroom pride too, during this year's Freshman Field Day. Each freshman homeroom bands together to top each other in a number of different sports and activities held throughout the afternoon. These events are moderated by a great number of dedicated faculty members, who know full well that this is an opportunity for the freshman class to "come out of their shells." Freshman camp does well to engage new students before they step foot on Manton street, but having an event like Freshman Field Day early in the year again reinforces the sense of community that the class will share over the next 4 years. Basketball, soccer, wheelbarrow and egg races, chess and trivia matches as well as numerous relay races on the track are just some of the events that students participate in throughout the afternoon. The day eventually culminates with the high jump, an event which naturally encourages all students to root for each other in not only attempting to clear the pole, but in trying to break the school records held by Willie Hall '58 (5 feet 6 inches) and Jaclyn Scagnelli '04 (4 feet 8 inches). Special thanks to all faculty members who helped in making Freshman Field Day a success for the Class of 2016. You can browse a selection of photos, courtesy of Ms. Laura Sawyer '07, below:
Other Upcoming Events
Baseball Alumni Reunion – TOMORROW!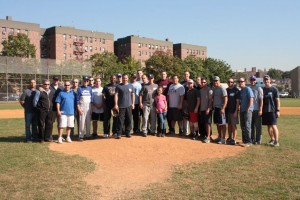 Register Online Now! (Link to be inserted) On Saturday, October 13th, our baseball alumni are once again invited to come back to Molloy for a fun yet competitive softball game on Stanner Field. Our former Varsity and JV players will enjoy catered 6 foot heroes, snacks, sodas and water following the game, which is set to start around 12:00PM. Registration for the game and food service will be $40 per person and includes a complimentary Molloy baseball cap. Following the food service at Molloy, our baseball alumni, both attendees and perhaps those that could not make the game, will be invited to a special happy hour hosted by Nicholas McKeon '96 at the Copper Door Tavern. Contact Joe Sommo '03 at jsommo@molloyhs.org for more info.
An Evening with the Honorable Charles J. Hynes '52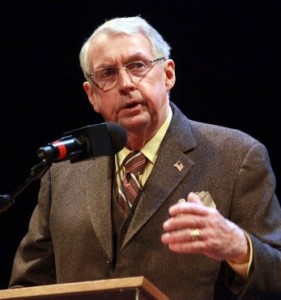 Register Online Now! The Molloy Lawyers Alumni Network is very pleased to welcome the Honorable Charles J. Hynes '52 to Molloy's Ralph DeChiaro Theater for a special evening on Tuesday, October 23rd. The Stanner Hall of Famer will share his wisdom with fellow alumni and guests, speaking about his work as the District Attorney of Kings County as well as how his faith and experience at St. Ann's helped shape his career. A cocktail reception will precede and follow the program. Register online by October 19th. A single online reservation is $15 while a registration at the door the day of the event will be $20. Contact Joe Sommo '03 at jsommo@molloyhs.org for more info.

Class Updates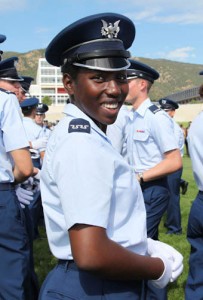 In June, we shared the story of Melissa Gabriel '12, one of Molloy's most active students over the past several years. After her Molloy graduation, Melissa almost immediately prepared to begin training in Colorado with the US Air Force Academy. As of today, Melissa's training has spanned just over 3 months, and while the work is certainly hard, she is definitely up to the task. Melissa has handled the tough atmosphere like a pro, but while she is enjoying her time in the Academy, she is also looking forward to visiting her family at home and at Molloy. Melissa hopes to return for Molloy's Thanksgiving Liturgy on November 21st and might also volunteer at our Winter Open House if her busy schedule allows. After that brief respite, it will be back to the grind. You can view some more photos from Melissa's training below.
The past 2 years have been both challenging and happy for Bill Ludwig '75 and the Ludwig family. Bill's father and family patriarch Henry Ludwig passed away on May 15th, just a little more than a month from his 95th birthday. As a decorated military officer (1st Lieutenant) who served in the Army in the Pacific during World War II, he was accorded the honor of being interred at Arlington National Cemetery in Virginia. On the positive side, Bill's sons had successful academic years. Thomas, his eldest, achieved AP Scholar with Distinction and completed his first year at Bucknell University. Andrew, Bill's middle son, is now a freshman at Susquehanna University. Youngest son Michael is a junior at Parsippany High School and recently completed his Eagle Service Project, after which he was awarded the rank of Eagle Scout at his Board of Review. As a result, all of the Ludwig boys of this generation have earned that rank. Bill is also looking forward to celebrating his 23rd anniversary wedding anniversary with wife Kathy this November. According to Bill, "It seems like only yesterday, but then again I still remember graduating from high school in 1975 and so many of my friends from back then."
Michael Maddalena and Maxim Magun, both Class of 2010, were recently featured on Fox 5 News for their efforts in prescription drug disposal at St. John's University. Michael is the President of the Phi Delta Chi Pharmacy fraternity while Maxim is the vice president. Together they participated in SJU's Annual Service Day by spreading the word about the importance of proper drug disposal, which helps keep children and environment safe from harm. According to Fox 5 News, roughly 60 pounds of old drugs were collected for disposal during the Service Day. You can read more about this story here.


Archbishop Molloy High School shares its thoughts and prayers with the family, friends and loved ones of Peter DeCurtis '71. Peter was a shining example of our school motto, "Not for school but for life." To honor the memory of Peter, family, friends and loved ones have established the Peter DeCurtis Memorial Fund at Molloy. Gifts in memory of Peter will directly impact our school's programs and services and continue our mission that began in 1892. Donations in support of the Peter DeCurtis Memorial Fund should be made out to: Archbishop Molloy High School, Stanner Alumni Center, 83-53 Manton Street, Briarwood, NY 11435. Checks and Money Orders should mark in the memo section: The Peter DeCurtis Memorial Fund. You may also donate online. For further information, please contact the Stanner Alumni Center at (718) 441-9210.

It is with great remorse that we share news of the passing of Alice Winters, grandmother of Ryan '12 and Shannon '06. We ask that the Stanner community please pray for Alice and the Winters family.

We are saddened to share news of the passing of Albert Contento, St. Ann's Class of 1954. Albert was a Stanner from early grades at the Academy all the way through graduation. He is survived by his wife, Ann Marie, three children and seven grandchildren. Please pray for Albert and his family.

We received news that Matthew Mannino '86 has passed away after battling a prolonged illness. Matthew had been living in Michigan. Please pray for Matthew.