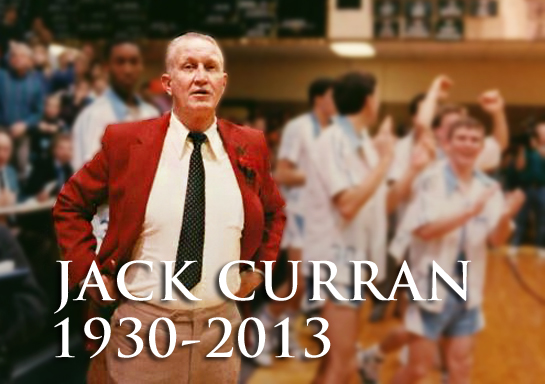 (The following is an article published on March 15th, 2013, which pays tribute to Jack Curran, Archbishop Molloy High School's legendary Varsity baseball and basketball coach, who passed away in his sleep the day prior. Coach Curran's presence is still felt by all of us at Molloy, and his legacy will continue to impact generations of Stanners. May he continue to rest in peace.)
Our Coach For All Time
by Joe Sommo '03
It was with deep sadness that Archbishop Molloy High School announced yesterday the passing of our beloved Coach Jack Curran. Coach passed away peacefully in his sleep early yesterday morning at the age of 82. Our thoughts and prayers continue to be with his family, friends, and the countless players whose lives he impacted for 55 years.
Jack Curran was a legend. There are no other words to describe a man that pioneered an athletic program for over half a century, resulting in 2,680 total wins against just 960 losses and a 74% winning percentage. Mediocrity had no place in Curran's playbook. He was a natural leader, carrying himself in a way he knew his players would respect and imitate. "It's mostly being you," Curran spoke of his strategy as a coach in an undated interview with Coachad.com. "And it's about making sure you always do what's right, and trying to set the right example. Kids are very observant of how you react to different situations. They know that you're trying to help them…they will respond to you." The proof is in the numbers, as Curran remains the winningest coach in New York State history, with a Varsity basketball record of 972-437 and a Varsity baseball record of 1,708-523. These are marks that may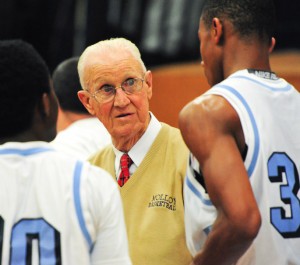 never be surpassed.
Raised in the Bronx on Webb Avenue, Coach Curran graduated from All Hallows High School. Sports were in Curran's blood early on in his life, as he played games of all kinds with his siblings. He would go out in the morning and play sports all day on his street until the sun went down, recalling "We'd crush down tin cans for [hockey] pucks, and get mad when cars drove by." At All Hallows, Curran played football, basketball and baseball under Coach Vic King – an early role model for the budding young athlete. According to Curran, King was a dominant personality; a tough, forceful guy. Curran would later adopt these ideals as his own.
Curran's athletic talent stayed with him through his childhood and into St. John's University on a basketball scholarship. However, his passion for baseball is what became most prominent in those years, where he not only pitched like an ace for the baseball team, but assumed the role of team captain in his senior year. He performed at a very high level as a collegiate player, high enough in fact that the Brooklyn Dodgers and Philadelphia Phillies would scout and recruit him in subsequent years. He pitched with heart – even after a broken vertebra threatened his career. He would finish that season before moving on from the Phillies organization.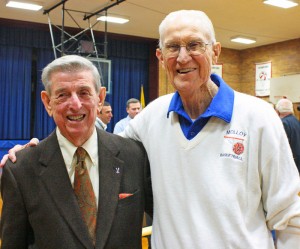 In 1958, Curran learned of an opening at Archbishop Molloy High School after Lou Carnesecca accepted a job as Head Basketball Coach of St. John's University. Encouraged by Carnesecca and others to apply for the position, Curran earned an interview and was soon hired to become the head basketball and baseball coach at Molloy. This proved to be a landmark event not only for Molloy, but for the landscape of New York sports.
The accolades Coach would receive throughout his 55 year career are reflective of a man who cherished the balance of winning with the total development of the student athlete in mind, body and spirit. The CHSAA Coach of the Year award was given to Curran an astonishing 25 times in baseball and 22 times in basketball. He was awarded the National High School Coaches Association Award for District I in 1971, 1988 and 1990. He has been inducted into nine Halls of Fame including the National High School Athletic Coaches Association Hall of Fame, St. John's University Hall of Fame, NY State Basketball Hall of Fame, CHSAA Hall of Fame, Westchester County Sports Hall of Fame, All Hallows HS Hall of Fame, Basketball Old-Timers of America Hall of Fame, NYC Basketball Hall of Fame, and the Stanner Hall of Fame.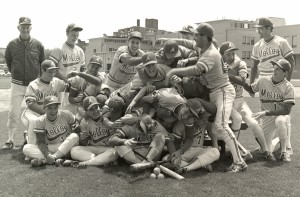 The accolades do not stop at hall of fame inductions. Curran was named National High School Coach of the Year in 1990 for basketball and in 1988 for baseball, and Regional Coach of the year in 1971 and 1988 – all by the National Athletic Coaches Association. He was named Kodak Legendary Coach of the Year 1988-1989 at the Downtown Athletic Club, and Coach of the Decade 1980-1990 at the Beach Ball Classic in Myrtle Beach, South Carolina. Coach Curran was also one of the first recipients of the Frank McGuire Award for Outstanding High School Coaches. He was named the Coach of the Century by Scholastic Coach. On March 28, 2006 he received the Basketball Hall of Fame Legendary High School Coach Award.
The list continues. Curran was named National Coach of the Year by the National High School Coaches Association in Boys' Basketball for 2009. Also in 2009, Coach Curran was honored for his contribution to the New York City Baseball Community at KeySpan Park before a Brooklyn Cyclones game. On November 19, 2009 Coach Curran received the Joe Lapchick Character Award. On February 27, 2011, he was named Coach of the Year in both Baseball and Basketball by Sports Faith International.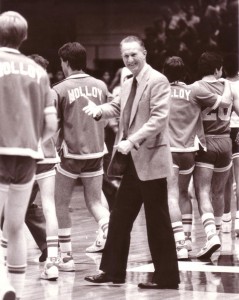 Curran was renowned amongst his peers and throughout the sports world. In the midst of his great success, and having just coached players including but not limited to Kevin Joyce, Jim Larranaga, Brian Winters and Bob Carver, Curran was presented with a lucrative offer in 1969. Former Boston Celtics great Bob Cousy had resigned as head basketball coach of Boston College, and they viewed Curran as the man for the job. Curran considered their offer, but ultimately chose to remain at Molloy. Not only was Coach dedicated to his mother, who lived in New York and required his attention at an older age, but his passion for Molloy and its athletes also remained strong, and he believed he could replicate the great moments he and his teams produced in the late 1960's. To his credit, Curran immediately proved that his choice was the right one. He would go on to lead Molloy's 1970 Varsity baseball team to an undefeated 36-0 season en route to the coveted City Championship. The team's undefeated mark is a record that would stand for over 35 years. In all, Curran's teams have gone on to win 17 baseball CHSAA City Championships and five basketball CHSAA City Championships. In 1969, 1973, 1974 and 1987 Curran led Molloy to the CHSAA City title in both basketball and baseball, a feat that no other coach has accomplished even once. It goes without saying that Molloy and its athletes were fortunate to have Coach stay, even when others sought to recruit him.
In addition to his demeanor as a coach, Curran was also an individual steeped in faith. He attended Mass daily, and his devotion to his Catholic faith had much to do with the type of man he was, and the values he passed along to his athletes. He maintained a strong relationship with the Marist Brothers at Molloy during his tenure, including his Assistant Coach for Varsity Baseball and longtime friend Br. James Vagan. The two are pictured accepting the City Championship at Yankee Stadium in 1994.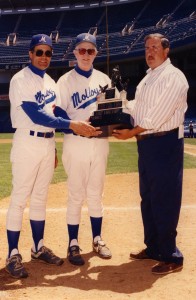 Coach Curran was a nationally respected figure in his own right. All along, however, the true beneficiaries of his talents as a Head Coach were his athletes. So many young men were influenced and nurtured by Curran, from the ordinary player to the future Olympian. His leadership was paramount to Molloy's baseball and basketball programs, and as such, on September 29th, 2000, Molloy renamed its gymnasium in Jack's honor. At times, the storied history of the Jack Curran Gymnasium seemed to transcend normal high school athletics. No one would argue that Molloy's hallowed hardwood truly belonged to Curran, but while he might have admitted that he experienced much success throughout his career, he would always be quick to credit that success to the performance of his athletes. This was the kind of man Curran was.
On February 8, 2008 Archbishop Molloy celebrated Coach Curran's fiftieth year at the school by rededicating the gym named in his honor. In 2012, the gym would undergo a massive renovation to modernize and update its court, bleachers, curtains and lighting. Coach was said to love the improvement, particularly the bright new shade that now imbued the court. In celebration of these updates, Molloy had planned another rededication of the gym in Coach's honor on February 8th, 2013 during a triple header versus rival Christ the King High School. Unfortunately, the event was postponed due to inclement weather. Asked if he had been excited for the planned rededication, Coach simply remarked, "That's great, but I'd rather just win the game!" (Pictured below, Curran is honored in 2008 for 50 years coaching at Molloy. Photo by Tom Harrison '00)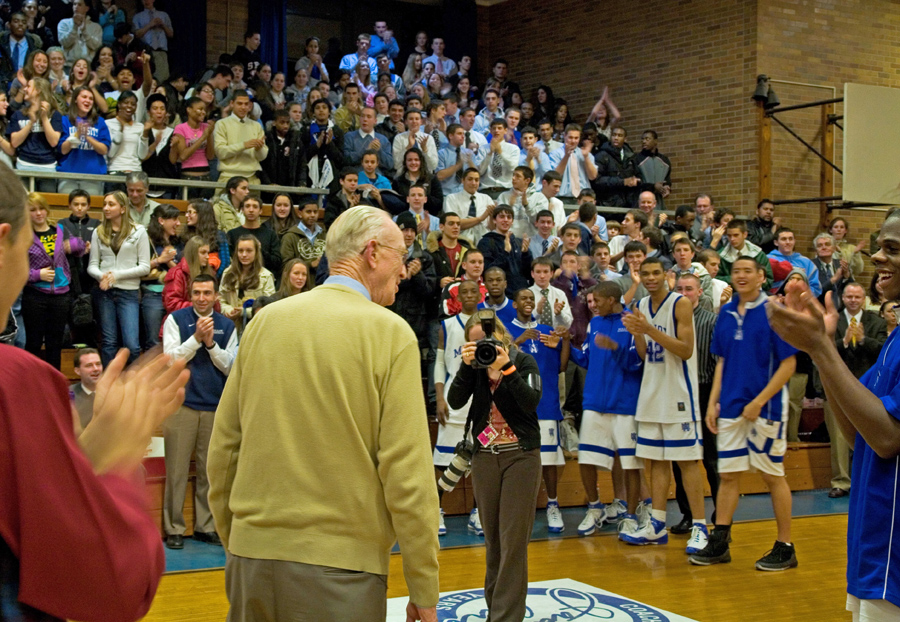 Curran's basketball teams have won 21 Queens Divisional Championships, 14 Brooklyn-Queens Championships and a multitude of invitational and classic tournament titles. Curran's baseball teams have earned 28 trips to the CHSAA championship game and have won 24 Queens Divisional titles and fall crowns. At one time he achieved a then national record of 68 consecutive league victories.
Under his tutelage, Curran produced numerous NBA stars including the aforementioned Kevin Joyce '69 and Brian Winters '70, Kenny Smith '83, Kenny Anderson '89, Robert Werdan '88 and Sundiata Gaines '04. He also developed MLB players including the St. Louis Cardinals'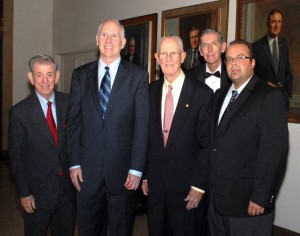 Ed Kurpiel '71 and current New York Mets outfielder Mike Baxter '02, and acted as a true mentor to many standout college athletes such as Harvard's Ralph James '87 and Louisville's Russ Smith '09.
In reality, the list of great athletes Curran developed is much longer – and he remembered every one of them. At a recent baseball reunion in October 2012, Curran could be heard from the dugout commenting on the performances of alumni during a softball game. "He always had a good arm," Coach remarked after one play. "He was a great base stealer for us," he commented for another. In Coach's eyes, his players never left him; not 5 years, 10 years, or even 25 years after graduating from Molloy. He remained a figure in their lives because he not only appreciated their contributions to his teams, but because he truly cared for their futures.
As news of Curran's passing spread throughout the sports world, his highest profile players all publicly expressed their great sadness, but also their love for their Coach. On Twitter, Kenny Smith and others paid tribute to Coach. Kenny Anderson tweeted a photo wearing a shirt from Curran's Summer Camp, which he has been involved with in recent years. On Facebook, many other former players and alumni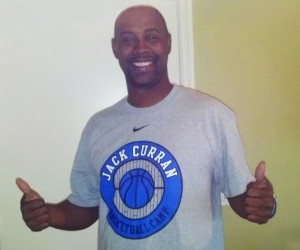 shared the same sentiment. "I'll never forget him," said Phil Caracci '75. "God bless Coach Curran, a great example of Stanner values for all of us," commented William Previdi '75. "A true Stanner in body and spirit. Your legacy will define what it is to be a Stanner forever," an eloquent statement shared by Christopher Dolengewicz '92. Otoja Abit '03, who played for both Carnesecca at St. John's and Curran at Molloy, reflected, "I wouldn't be where I am right now in life without Coach's guidance and support. Making you proud by success seems trivial if we weren't all able to make you proud as respectful men…your candor has been instilled on me to this day and you'll forever live on in my heart." Curran was a guiding figure for many, and remains a continued source of inspiration to us all.
Despite all the attention and accolades he received as a legendary Head Coach, Curran remained humble until his final days. He continued to credit all of his success to his players, and one must assume that he may never have wavered from that mindset.
Players' Day / Rededication of Jack Curran Gym



When: Saturday, April 27th, 2013
Where: Archbishop Molloy High School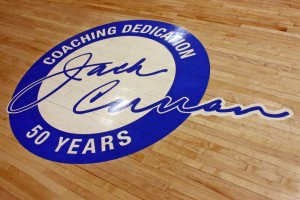 On Saturday, April 27th, 2013, Archbishop Molloy High School will honor the memory of Coach Jack Curran by inviting his former baseball players, basketball players, and friends to a special Players' Day, coinciding with our Rededication of the Jack Curran Gymnasium. Check-in will begin at 11:30 AM. Our outdoor tailgating portion of the day, including food and beverages, will begin around 12:00 PM near Stanner Field as the Molloy Varsity baseball team takes on rival Chaminade. Following the conclusion of Molloy vs. Chaminade, guests will be invited inside for our Rededication of the Jack Curran Gymnasium, where we plan to pay tribute to Coach Jack Curran, the man who pioneered basketball and baseball at Molloy and beyond for 55 years. A reception will follow the Rededication, as well as a special viewing of MSG Varsity's "Legends of Coaching" video, which features Coaches Jack Curran, Lou Carnesecca and Frank Rienzo. There is no registration fee for this event. Please help us celebrate Coach's life on April 27th by attending this event in his honor. Register online or contact the Stanner Alumni Center at (718) 441-9210 or email Joe Sommo '03 at jsommo@molloyhs.org for more information.

After word of Coach Curran's passing spread through the Molloy community, it soon traveled through the sports world. Curran, was remembered in wide array of publications, radio and television broadcasts in a matter of hours. The outpouring of love and respect for Coach Curran has been overwhelming, and most would agree he truly deserves all the attention. We have compiled a number of media stories as well as other articles of note below. One of the most heartfelt and powerful interviews was conducted by MSG Varsity, where host and friend Mike Quick spoke of what Coach Curran meant to New York City.
New York Times | NY Daily News | ESPN | Newsday | Sports Illustrated | CBS | Fox Sports | NBC | Wall Street Journal | Queens Courier | Queens Chronicle | Thoughts from Mike Baxter '02 | Thoughts from Kenny Smith '89 | USA Today | Thoughts from Jim Larranaga '67 | The Tablet | Rick Pitino Comments | Comments from Russ Smith '09 | Pix 11