Russdiculous! Smith & Louisville Are NCAA Champs
Russ Smith '09 has been front and center during the past 2 NCAA Tournaments. Last year's "March Madness" saw Smith's Louisville Cardinals grind their way to the Final Four before losing to Kentucky 69 – 61 during the National Semifinals. In 2013, Smith and the Cardinals, under the guidance of Coach Rick Pitino, had their eyes set on redemption – and the NCAA Championship. As the calendar flipped to March, the Cardinals were hoping to enter the Midwest bracket as the number one seed, and Smith was preparing with his teammates for what they knew would be a very tough month. Then, on March 14th, Smith received a call he hoped he would never get. Coach Jack Curran, a mentor and friend to Russ and thousands more, had passed away suddenly at age 82. (AP Photo/Frank Franklin II)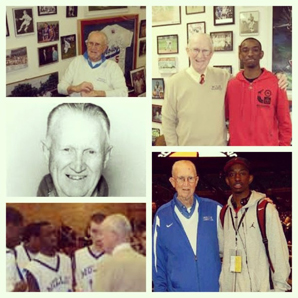 The legendary Curran had maintained a strong relationship with many of his former players over the course of his 55 years at Molloy. Russ Smith was no exception. The 21 year old 6ft guard routinely visited and spoke with Curran whenever he could, and even volunteered at Molloy by participating in workout drills and helping to guide Curran's current players. Upon learning the news of Curran's passing, Smith was shaken up. "He was everything to me," Smith would later be quoted in the NY Daily News. Smith also posted a photo collage (right) on Instagram, including a touching tribute which included the words, "Rest in Peace to my Friend, Coach, Brother, Father, Advisor, Wizard, Teacher, Helper, Wiseman…and those words are just understatements of how great of a man he really is." However, while this was certainly a time of mourning for thousands in the Molloy community including Smith, he had no choice but to make his way to practice and prepare for action later that evening. Finding inner strength, and inspired by Coach's spirit, Smith scored 28 points later that night versus Villanova, shooting 7-of-12 from the field and 10-of-11 from the free throw line and helping Louisville reach the semifinals of the Big East Tournament. During post game interviews, Smith remarked, "Today is definitely Coach Curran day for me, and it will be for the rest of my life." Louisville would eventually win the Big East Championship, defeating Syracuse 78 – 61 at Madison Square Garden.
Despite the tragic passing of Coach Curran weighing heavily on his heart and mind, Smith would go on to perform exceptionally well throughout the NCAA Tournament. One of his best performances came in Louisville's Sweet Sixteen game versus Oregon in which he matched his career high with 31 points. In their Elite Eight contest against Duke, Smith put up 23 points and would later be awarded Most Outstanding Player honors for the Midwest Region. On Twitter, #RussSmith and #Russdiculous (his nickname coined by Coach Pitino) were trending. Former NBA Champ Kenny Smith '83 routinely tweeted about the success of the younger Smith, who he connected to Curran during many national TV broadcasts. Others on Twitter, including NBC's Bruce Beck, were also covering Smith's performances, particularly the leadership he was displaying in light of the passing of his mentor just weeks before.
Not fazed by the hype, Smith once again led Louisville in scoring during their Final Four game versus Wichita State, posting 21 points in an extremely tight 72 – 68 win. While the title game against Michigan was not his strongest, Smith still played hard and cont
ributed to what would become the Cardinals' third championship. With the win, Russ Smith became the second Stanner to win the NCAA Tournament. The first was Tommy Kearns '54 with North Carolina in 1957. Others who have made it to the Final Four include Kenny Anderson '89, Rosalyn Gold-Onwude '05 (Women's Tournament), and Jim Larranaga '67 (as a coach). Following a period of well-deserved celebration, news trickled through the media that Smith was considering forgoing his senior year at Louisville and entering the NBA Draft. While this decision has not been finalized by any means, it has sparked much discussion about the guard's future. While there is some debate over whether he should make the leap to the big show, most would agree that Smith's future is bright. One thing is for sure, the Molloy community will watch Smith's career closely, as he has the potential to solidify himself as one of Jack Curran's all time greats. (Photo: NCAA Photos, Chris Steppi) (AP Photo/Chris O'Meara)
---
Jim Larranaga '67 Named AP Coach of the Year
Jim Larranaga '67 was honored with The Associated Press College Basketball Coach of the Year Award on April 4th for his work in leading the University of Miami's Hurricanes to the ACC Tournament Title. This marked the first tournament title in the program's history and came in Larranaga's second year at the helm in Miami. Larranaga became the second Stanner to receive the prestigious AP award, following in the footsteps of fellow coaching great Lou Carnesecca '43, who received the honor in 1983 and 1985. "We want guys who are achievers," said Larranaga following a press conference. "Some people might say overachievers, but in our minds once you set a goal, you know exactly what you're trying to achieve and you work towards that, and having fun is a part of that." Larranaga made it clear he wanted his team to have as much fun as possible during their tournament run. "That doesn't mean be silly and goof off," explained Larranaga. "It means when we practice, be excited about being there, have a lot of enthusiasm, pump each other up, and pat each other on the back."
---
Sports Update
Congratulations to our JV Girls softball team, who recently won the 2013 Easter Tournament Championship. Also recently, several Molloy basketball players including Amani Tatum '13, Marko Kozul '13, and Chaz Watler '13 competed in the 2013 Mayor's Cup Games at Baruch College. These games showcase many of the top players in the city, and our Stanners were honored to be chosen. Marko was interviewed by The Tablet's Jim Mancari before his game and spoke about playing in honor of Coach Curran, and playing up to the level Curran always told him he could reach. Marko's interview can be found at the 38 second mark in the video below. The Tablet also highlighted several Molloy players, including those previously mentioned as well as CJ Davis '14, in their High School All-Star Basketball Teams for 2013. You can read that article HERE.
---
Around the School
Spirit Week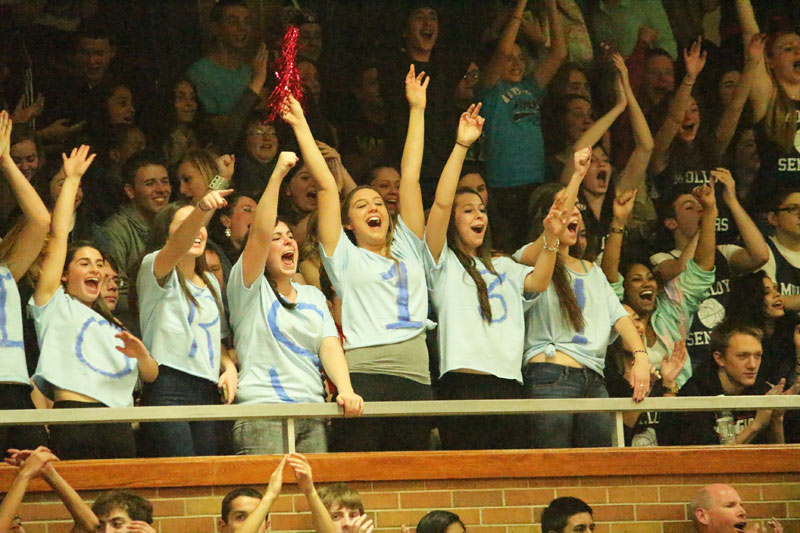 Students got an opportunity to sing, dance, team up and dress down to show their school pride during Molloy's annual Spirit Week. Spirit Week encourages students to participate in a number of different team activities, contests and class-wide challenges in an effort to see which class can boast the most school spirit. Several themes carry students through the week, including dress down days focused on ethnic heritage, sporting Molloy gear, and this year's overall theme, decades. On decades day, students wore fashion from a particular decade, with freshmen showing off the 1960's, sophomores the 70's, juniors the 80's and seniors the 90's. Even the Molloy faculty got involved, fashioning a 1950's look. In addition, homerooms decorated doors and halls with their themes, with winning designs earning a future dress down day. After school activities including "Stanner (Family) Feud," "Molloy Idol," dodge ball and ping-pong tournaments, and dance performances allowed students to work together or cheer each other on, which is part of what the Stanner Spirit is all about. The last big event of the week was the Faculty-Senior Basketball Game, where a full house in the Jack Curran Gym witnessed the seniors sneak out a 72-68 victory over the faculty. The game was very exciting, ending Spirit Week on a high note. Browse some great photos from the week below:
---
Mike Contino '68 Talks Tariff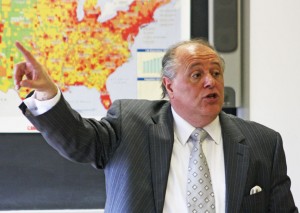 Students in Mr. Diorio's Government class enjoyed a visit from Mr. Mike Contino '68, a retired National Import Specialist with US Customs and an enthusiastic Stanner who always loves to volunteer his time at his alma mater. Mr. Contino spoke about the history of the Tariff, what it is, and its global and domestic impact, including how a free market affects the daily lives of students in ways they would never think of. At one point in his lecture, Mr. Contino asked students how many jobs they thought are involved in supplying jeans in stores they shop in. The US Customs expert was able to count no less than 22 different jobs associated with getting the jeans to the store, including conceptualization, production, shipping, and storage among many others (cycle of economic development). Mr. Contino also spoke about the multinational corporation McDonald's, pointing out that it began as one lone restaurant in California before eventually expanding across the globe. All this, Mr. Contino explained, is because of the Tariff. "It's a simple system that provides access to the market. You want it? You can have it," said Mr. Contino emphatically. Always moving his hands and speaking with conviction, Mr. Contino is a wonderful guest speaker, and Mr. Diorio and his students were very happy to have him in for the day.
---
Other Upcoming Events
Tribute to Coach Jack Curran
Players' Day / Jack Curran Gym Rededication

When: Saturday, April 27th, 2013
Molloy vs. Chaminade: 11:30 – 3:00pm
Registration Begins: 3:00pm
Memorial Mass: 3:30pm
Reception: 5:00 – 7:00pm
REGISTRATION NOW CLOSED
On Saturday, April 27th, 2013, Archbishop Molloy High School will honor the memory of Coach Jack Curran by inviting his former baseball players, basketball players, and friends to a special Players' Day, coinciding with our Rededication of the Jack Curran Gymnasium. Check-in will begin at 11:30 AM. Our outdoor tailgating portion of the day, including food and beverages, will begin around 12:00 PM near Stanner Field as the Molloy Varsity baseball team takes on rival Chaminade. Following the conclusion of Molloy vs. Chaminade, guests will be invited inside for our Rededication of the Jack Curran Gymnasium, where we plan to pay tribute to Coach Jack Curran, the man who pioneered basketball and baseball at Molloy and beyond for 55 years. A reception will follow the Rededication, as well as a special viewing of MSG Varsity's "Legends of Coaching" video, which features Coaches Jack Curran, Lou Carnesecca and Frank Rienzo. Please help us celebrate Coach's life on April 27th by attending this event in his honor. Register online or contact Joe Sommo '03 at jsommo@molloyhs.org for more info. In addition, Coach Curran's family is encouraging alumni and friends who knew him well to share their stories and experiences. Family members have since established the email coachjackcurran@gmail.com and encourage everyone to share what they can.
---
11th Annual Tommy Ashton 3-on-3 Basketball Tournament
When: April 26th and 27th, 2013
Where: St. Sebastian Parish Center, 39-60 57th Street, Woodside, NY 11377
The Thomas Ashton Foundation announces the 11th Annual Tommy Ashton 3-on-3 Basketball Tournament to be held on April 26th and 27th, 2013 at St. Sebastian Parish Center. The Tournament's goal is remembering and honoring Tommy Ashton '97, a young man who was tragically killed in the attacks on the World Trade Center on September 11, 2001. In memory of Tommy, the generosity of numerous sponsors, participants, volunteers and spectators has enabled the tournament to donate over $230,000 to worthwhile charitable organizations and local projects. This year's proceeds will be donated to worthwhile programs/projects benefiting St. Sebastian Parish and the Woodside, Queens community. In addition, a donation will be made to the FRAXA Research Foundation, whose mission is to accelerate progress toward effective treatments and ultimately a cure for Fragile X Syndrome (the most common inherited cause of intellectual disabilities and the most common known cause of autism) by directly funding the most promising research worldwide. The Thomas Ashton Foundation has also been instrumental in establishing the Thomas J. Ashton Memorial Scholarship at Molloy, which supports deserving students, allowing them to receive an excellent education. If you would like to learn more about this event, please visit alumni.molloyhs.org or check out www.thomasashtonfoundation.com.

Beth Terranova '08 has been involved in competitive weightlifting since high school. Lately she has been focusing more on her studies, working to earn a doctorate in physical therapy. However, Beth still trains when she can, and recently she represented Hunter College by competing in the National University Weightlifting Championships, which is an Olympic-style weightlifting competition. Beth won the bronze medal in the Snatch event and placed fourth in the Clean & Jerk event. Overall, Beth was ranked 6th in the competition; her best performance at these championship games having competed in them once before. "It's more of a hobby now, but weightlifting definitely sparked my interest in injury prevention and rehabilitation."" says Beth, who is looking forward to finishing her degree and working professionally as a physical therapist. Beth would like to offer advice to any alumni interested in competitive weightlifting, and encourages those who would like to learn more to email her at bethnterranova@gmail.com.


We received news of the passing of Dr. Paul R. Pastorini '73 on September 28th, 2012. According to his loving wife Vita, Paul was an active alumnus who enjoyed attending the Stanner Golf Classic with his son. Vita asks that those in our community please keep her husband Paul in their thoughts and prayers.

The Maltaghati family asks that the Stanner community pray for family patriarch Angelo Maltaghati, who passed away in December. Angelo is father of Louis '69, Martin '72, and Paul '78 and grandfather of Joseph '13. All continue to miss him dearly, and ask that you keep him in your prayers.