Over 270 Golfers Tee Off At Stanner Golf Classic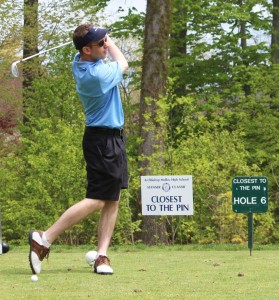 For 27 years, Archbishop Molloy High School has been blessed by the generosity of its alumni community in support of the Jim Kinnier Stanner Golf Classic. Molloy's largest all class annual reunion, the Stanner Golf Classic invites all alumni, family members and friends to two prestigious golf courses on Long Island for a fun day of golf, camaraderie, prizes, and more. At the crux of it all, however, are the many students benefiting from Molloy's outstanding scholarship program. Money raised by the Classic directly impacts deserving students by giving their families the financial flexibility needed to enroll their child or children at Molloy. These students may otherwise not be able to enjoy the Molloy experience, including the tradition of Marist faith as well as excellence in academics and athletics.
On May 6th, ov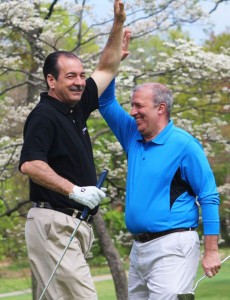 er 270 golfers, as well as many additional dinner guests, filled out this year's reservations at Plandome Country Club and North Hills Country Club. It was an absolutely gorgeous day, which only fueled the enthusiasm of our golfers. Upon checking in, each golfer received a bag of "goodies" including a hat, golf shirt, golf balls, tees and some even received larger door prizes. Following a delicious buffet breakfast, golfers enjoyed many perks on the courses including food, soft drinks, cigars and adult beverages. Golfers also recognized longtime Golf Board member and founding Golf Chairman, the late Joe Gordon '64, as they came upon Hole 16, now known as the "Joe Gordon Fox Hole."
After finishing the final hole, golfers made their way to the clubhouse at North Hills for cocktails and dinner. During the cocktail hour, Jim Kinnier and Joe Smith, founders of the Classic along with the late John Gibbons, spoke about the aforementioned Joe Gordon. Jim described Gordon as a rock, someone who was always there to see things through, and in Jim's words, "He made so much possible." The Gordon family received a gift on behalf of the Molloy family in remembering Joe and his many contributions to the outing for over 25 years. Later, Molloy President Richard Karsten '81 and Principal Br. Thomas Schady introduced Sara Rudomen '17, this year's recipient of the Jim Kinnier Scholarship. Sara, following in her brother's footsteps, is eager to attend Molloy this coming September. Sara even spoke to the crowd briefly, thanking everyone for their generosity and assuring all in attendance that she would make the most of the amazing opportunity she has been given.
Many corporate sponsorships make the Stanner Golf Classic possible, and Molloy's recognition and thanks for their generosity was on display throughout the day via signage at the country clubs as well as out on the courses. In addition, a golf journal was produced, showcasing many Stanner businesses as well as businesses of friends who chose to support Molloy's students this year. The journal also served as a way for members of our community to congratulate this year's Golf Chairman, Neil Duffy '93, as well as our Honorary Chairperson, Maria Ford. Neil, a longtime member of the Golf Board, provided exceptional work this year, encouraging many new sponsorships to support Molloy as well as offering fresh ideas and perspectives to the planning phases of the outing. Maria, Molloy's Alumni Relations Director, has been the head organizer of the Classic for over 17 years, and her dedication was just as strong leading up to May 6th. It was no surprise to many that with Neil and Maria leading the charge, this year's attendance numbers bested past years.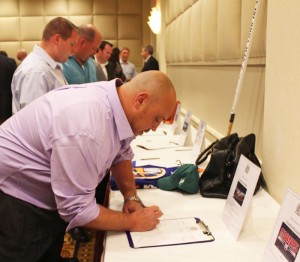 At dinner, guests placed bids on items in our silent auction including sports ticket packages, getaway retreats, autographed sports memorabilia, and generous wine and liquor baskets. In addition, several items were put up for live auction, creating a true buzz in the room. Each item elicited multiple back and forth bids, which was thrilling to see. These items, including Lunch with Police Commissioner Ray Kelly '59, a meet and greet package with Mets Outfielder Mike Baxter '02, dinner prepared by President Karsten and dinner at Rao's Restaurant truly made an impact as they combined to raise over $16,000 as bidding concluded. Also during dinner, the evening's honorees had a chance to address the crowd. Chairman Duffy thanked everyone for their support, and acknowledged he owes much to his alma mater. "Molloy changed my life. It is the reason I have my career today," said Neil, who believes he is only doing what is right in giving back to the school that has done so much for him. Honorary Chairperson Maria Ford shared similar words of thanks. "I am a true believer in foundations. A strong foundation is what makes us the person we are," said Maria. "I am fortunate to have a strong foundation in my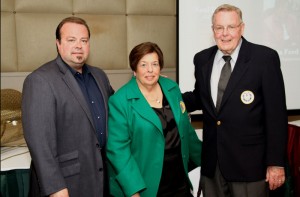 mom Millie, husband Tom, children Jennifer, Jeff, Terrence and Ledja and my love, my grandson Thomas. Here at Molloy, we are very fortunate to have a very strong foundation led by the Marist Brothers, Administration, faculty and staff and all who care deeply about our students." Maria also referenced the over $2 million dollars raised in support of Molloy scholarships over the past 27 years. "This is a phenomenal amount of money raised by a high school for a 1 day event every year."
As the evening came to a close, the success of the day's outing ensured that Molloy had successfully secured the futures of more bright young Stanners. Their great potential in life is what drives this outing each year. Thank you to all who have supported the Stanner Golf Classic and Molloy's mission to educate youth in the Marist tradition of mind, body and spirit. We'll see you out on the greens next year!
View full PDF of this year's Golf Journal

View Full Photo Gallery from the Stanner Golf Classic


Like the Stanner Golf Classic on Facebook
Molloy Seeks Coaching Candidates

Molloy is undergoing a search for Boys Varsity Basketball and Baseball head coaches. Candidates should have coaching experience at the high school level and have a willingness to work with assistant coaches and willingness to abide by the code of conduct set forth by the CHSAA. In a statement, President Richard Karsten acknowledged, "We can never replace our legendary Coach Curran, but we are seeking the best candidates to coach our boys' Varsity teams to take the programs forward." Interested candidates should send their contact info and resume in writing to the attention of Principal Br. Thomas Schady at 83-53 Manton Street, Briarwood, NY 11435.
Around the School
NCAA Champ Visits Molloy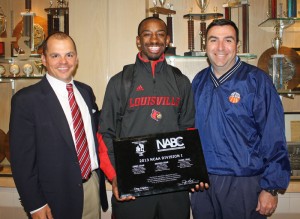 Russ Smith '09, Molloy's second NCAA Champion, recently returned to Manton Street and spent time with coaches, teachers, and many of our students. It's no secret that Russ is kind of a big deal, and students were itching at the opportunity to meet a Stanner and Louisville legend in the making. Russ was happy to oblige everyone who wanted to shake hands and take photos, and he relished in the excitement that was bustling through the halls of Molloy. Luckily for students taking photos, Russ brought the same iconic smile that many fans across the country became accustomed to on television and in other media during March Madness. Russ also brought a piece of history back to his alma mater, presenting Athletic Director Mike McCleary with his 2013 NCAA Division 1 All-American plaque. As inscribed on the plaque, "The National Association of Basketball Coaches honor the Players selected by Coaches as All-Americans for their outstanding play and noteworthy achievement in our great American game of basketball." The award is notarized with signatures by Larry Gipson, President of the National Association of Basketball Coaches (NABC) as well as Executive Director James A. Haney. Russ' plaque will reside in the trophy case outside the locker room, which also houses Diocesan and State Championships as well Player of the Year awards from fellow Stanner great Kenny Anderson '89. Russ is looking forward to returning to Louisville for his senior year and continuing to build on all of his 2012/13's success.
Science Symposium A Success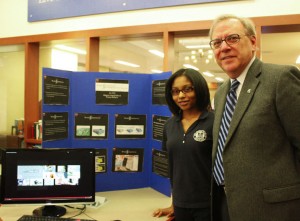 This May, students were asked to lend their support to a different kind of event after school. It's easy to find our students cheering for the home team in the Jack Curran Gymnasium, or sitting in awe of performances by the Stanner Players in the Ralph DeChiaro Theater. This time, however, students came out in droves to support their scientifically inclined classmates for the Third Annual Science Symposium. Encouraging thinking "outside the box," the Science Symposium validates the hard work of many of Molloy's talented students and shows that their scientific research is not only relevant, but often essential to everyday life. The William J. Murphy Library was literally packed with students interested in their friends' presentations, which spanned subjects from Sustainable Airport Design (Derrick Adam), to Effects of Electricity and Magnetic Fields on Plant Growth (Thomas Brinskelle), to studies of Anorexia (Tatiana Requijo) and taking surveys (Francisco Cid0), to The Evolution and Diversification of Eusocial Insects During the Palaeogene (Shilpa Matthews). In total, 21 presenters explained their studies to their classmates, all of whom had very genuine interest in the work of their peers. In addition, many faculty members surveyed the wide array of projects, and presenters showed no signs of intimidation in explaining their research to some of Molloy's finest teachers.
Gearing Up For Summer At Esopus

Spending time at Esopus has been a Stanner tradition for generations. Visiting the beautiful 120 acre camp brings students greater knowledge of the Marist tradition, and a deeper understanding of themselves as they continue to experience the challenges of youth. This month, Mr. Brian Klimas '98, a math teacher at Molloy and a past and current Esopus enthusiast, joined other members of a faculty committee tasked with choosing hard-working students to take leadership roles at this year's summer camps. As a result, 18 students were chosen to serve on the Kitchen Crew, which has always been a highly sought after role at Esopus camps. Many alumni have fond memories of working in the kitchen, and of the bonds they formed with their classmates while doing so. In addition, 19 sophomores and 18 juniors were chosen as Freshman Camp leaders. These students will help guide incoming freshmen who are just beginning to understand what "Non scholae sed vitae" is all about. "Many hard choices needed to be made," said Mr. Klimas, who acknowledged that there are many deserving students who want to become Esopus leaders. Still, there are many other opportunities to get involved at Esopus, as class retreats, Marist Youth Gatherings, and other events keep students engaged throughout the year.
Paying Tribute to Private Louis Willett '63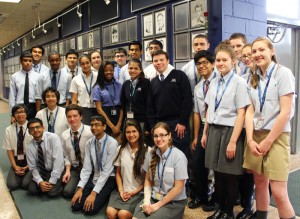 A Molloy history class recently carried on the tradition started by Mr. Jeff Gallagher '88 many years ago, paying tribute to Private First Class Louis Edward Willet '63. Private Willet was a 21 year old rifleman and a member of Company C, 1st Battalion, 12th Infantry, 4th Infantry Division in 1967 during the Vietnam War. Stationed in Kontum Province, Private Willet's Company was conducting a security sweep when enemy forces opened fire, pinning down the US soldiers. Putting his own safety aside, Private Willet rose up to distract the enemy, drawing heavy gunfire. His heroics ultimately cost him his life as he would fall in battle, but he did not die in vain. The US Army would later recognize Private Willet's bravery by posthumously awarding him with the Medal of Honor. In anticipation of Memorial Day, Mr. Gallagher and his history class visited the Stanner Hall of Fame, placing a single rose next to Private Willet's portrait, acknowledging his Medal of Honor citation, and praying for him and his lasting memory.
Upcoming Events
6th Annual Katy Grogan Scholarship Walk-A-Thon
When: Wed, June 12th, 2013, 6pm – 8pm
Walk-A-Thon: Raymond O'Connor Park (32nd Ave and 210th St, Bayside)
Reception: Knights of Columbus (Pope Pius XII #4255 Bell Blvd btwn 35th & 36th Ave)
In case of rain, go directly to Knights of Columbus for Food & Drinks, 6pm – 10pm
On Wednesday, June 12th, members of the Stanner community are invited to attend an event helping future Molloy students in the memory of Kaitlyn Maureen Grogan '08. Katy was an exceptional human being. She was beloved by her family, and excelled in academics and athletics and held many friendships at Molloy. Sadly on February 15th, 2008, Katy was killed in a tragic automobile accident while on a trip in Florida. Just 18 years old, Katy's smile lifted all those around her. Even now, her spirit continues to brighten people's lives through the Katy Grogan Scholarship Fund, which grants deserving students from Sacred Heart of Jesus Grammar School (Katy's other alma mater) the opportunity to attend Molloy. Last year, Julia Rosa '12 was the first graduating recipient of Katy's scholarship, and she was very humbled in receiving that distinction. "This scholarship will help jump-start more students in a very meaningful way, just like it did for me," said Julia. Please click on the accompanying flyer for more information on this event.
The Bronx Wanderers
When: Saturday, June 29th, 2013
Where: 4300 Murdock Avenue, Bronx NY 10466
GA Tickets: $25 Advance ($35 at the door)
VIP Tickets: $50 Advance ($60 at the Door)
Refreshments Available
Molloy's friends over at Mount Saint Michael Academy in The Bronx, a fellow Marist Brothers institution, are inviting members of the Stanner family out to their school for an evening of singing and dancing with The Bronx Wanderers, a local doo-wop and oldies group putting their own spin on the '50s & '60s. The evening will be hosted by DJ Dennis Dion Nardone of the "Remember Then Doo-Wop Show." Doors open at 7:00pm, show starts at 8:30pm.  Please call Mr. Frank J. Pellegrino at (718) 881-0485 or email backtothemount@gmail.com to purchase advance tickets or for more information.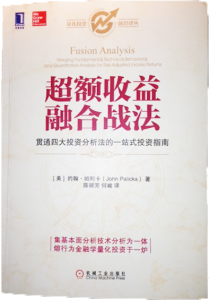 John Palicka '67 is proud to announce that his innovative finance book, Fusion Analysis, has garnered global interest. John's book was just recently translated into Mandarin in advance of the book's promotion in the Chinese market.
Operation Dreamcatchers, the volunteer initiative founded by Melissa Buchan '08, Melissa Bhikham '08, and Stacy Lalman '08, is set to begin its 2013 Mission to Guyana in late June. The focus of OD's fourth mission is to service the underprivileged by organizing and distributing supplies to of-need individuals and medical facilities in different communities. These supplies include medical instruments, basic medical tools, and other items of need. "Throughout the mission, we work as a team to build an enriching experience that enables volunteers to immerse themselves in the healthcare and culture of Guyana," say the Dreamcatchers. "We volunteer, observe, and donate to a variety of facilities, hospitals, orphanages, and health fairs. We also directly engage the community by creating fun-filled activities for children in orphanages and by visiting the homes of disabled individuals to personally donate supplies." For more, visit Operation Dreamcatchers on Facebook.


We are saddened to share news of the passing of Vito Valerio, father of Michael '01 and uncle of Joanna Sawyer '05 and Laura Sawyer '07. Please keep Vito and his family in your thoughts and prayers.

Please pray for the repose of the soul of Mary Saldok, wife of John '63. Mary passed away recently after losing a courageous battle against cancer. John and Mary were married for 44 years. Please keep the Saldok family in your thoughts and prayers.

Bill Ludwig '75 asks that the alumni community please pray for his mother, Margaret Ludwig, who passed away in January at the age of 94. Margaret was a strong proponent of Catholic education, as all 4 of her children attended Catholic grammar schools and high schools. Neither Margaret nor her husband Henry had the privilege to attend Catholic schools. According to Bill, "A member of the greatest generation, she was recently interred next to her husband Henry at Arlington National Cemetery in Virginia. She was an impact-type person without the drama; a sweet, generous, caring, intelligent woman who made the world a better place by her presence." Please say a prayer for Margaret.

Please continue to remember those who have lose their lives and whose lives have been forever changed as a result of the recent extreme weather in Oklahoma and throughout the Midwest.